This double chocolate peanut butter baked oatmeal is the perfect start to the day during the cooler months (or at anytime of year!). I love it when it's cold and frosty outside and I can cosy up with a slice of this, even as an afternoon snack or dessert!
So I fell head over heels in love with baked oatmeal for breakfast a few years ago . This double chocolate peanut butter baked oatmeal is one of my favourites. I can't get enough of it! It is packed full of great ingredients which give you a balanced start to the day and the oats will keep you fuller for longer too. I absolutely love chocolate and peanut butter together and there is little else cosier in a warming breakfast bowl. This baked oatmeal is like a cross between a brownie and oatmeal; it's the lovechild of such beauty and joy. Chocolatey, peanut buttery swirls of bliss. What's not to love?!
I've been learning a lot about my relationship with food and I am not one for feeling "guilty" or shaming about food. This is NOT a guilty pleasure, but just pure pleasure as Nigella would say. I don't believe in making food a moral issue. It's about listening to your body and how it feels. I feel best in balance and when things are off balance I can feel that. So I just adjust. Food isn't just nutrients, it's experiences, it's who you share it with, it's the emotions it evokes when you take that first bite and sit scribbling your new recipe down because you feel like you've nailed it. Food doesn't need to be earned, it doesn't need to be "worked off" nor is it a reason to feel guilty. So this is effectively a brownie baked oatmeal for breakfast. I couldn't be any happier with it! So who wants a slice?!
Let's get to it!
What ingredients do I need for double chocolate peanut butter baked oatmeal?
Rolled Oats - I love using large old fashioned rolled oats for this because it gives the best texture.
Cocoa Powder - Use whatever cocoa powder you can get hold of, even use cacao powder if you like, for a richer chocolate flavour.
Baking Powder - Make sure you use fresh raising agents, this helps with making sure the baked oatmeal is not too dense.
Sea Salt - well, if you know me well enough, salt and chocolate are a must. Just. Has. To. Be.
Peanut Butter - so there's a gazillion types of peanut butter out there, but for this recipe, please use a 'natural' one, just nuts and salt blended. This is because you'll find it difficult to incorporate ones that are set with palm oil. I highly recommend and love using Pip&Nut Deep Roast, Pic's or Manilife, but use whatever you have available.
Egg - I use an UK large egg, so that would be an US Extra Large. To make this vegan, you can use a flax egg (and make sure you use non-dairy milk too). I haven't tested it, but it should work just fine.
Maple Syrup - Sweetness comes from the syrup and also it adds a depth of flavour too, feel free to substitute with another liquid sweetener like honey or agave syrup or even golden syrup if that's what you have.
Milk - Now this recipe is not picky about what type of milk, I use whatever I have on hand. Dairy or dairy free. Both work just fine.
Chocolate Chips - I use the big bag of chocolate chips from Costco, but use whatever ones you like. The recipe is for DOUBLE chocolate, so don't skip these!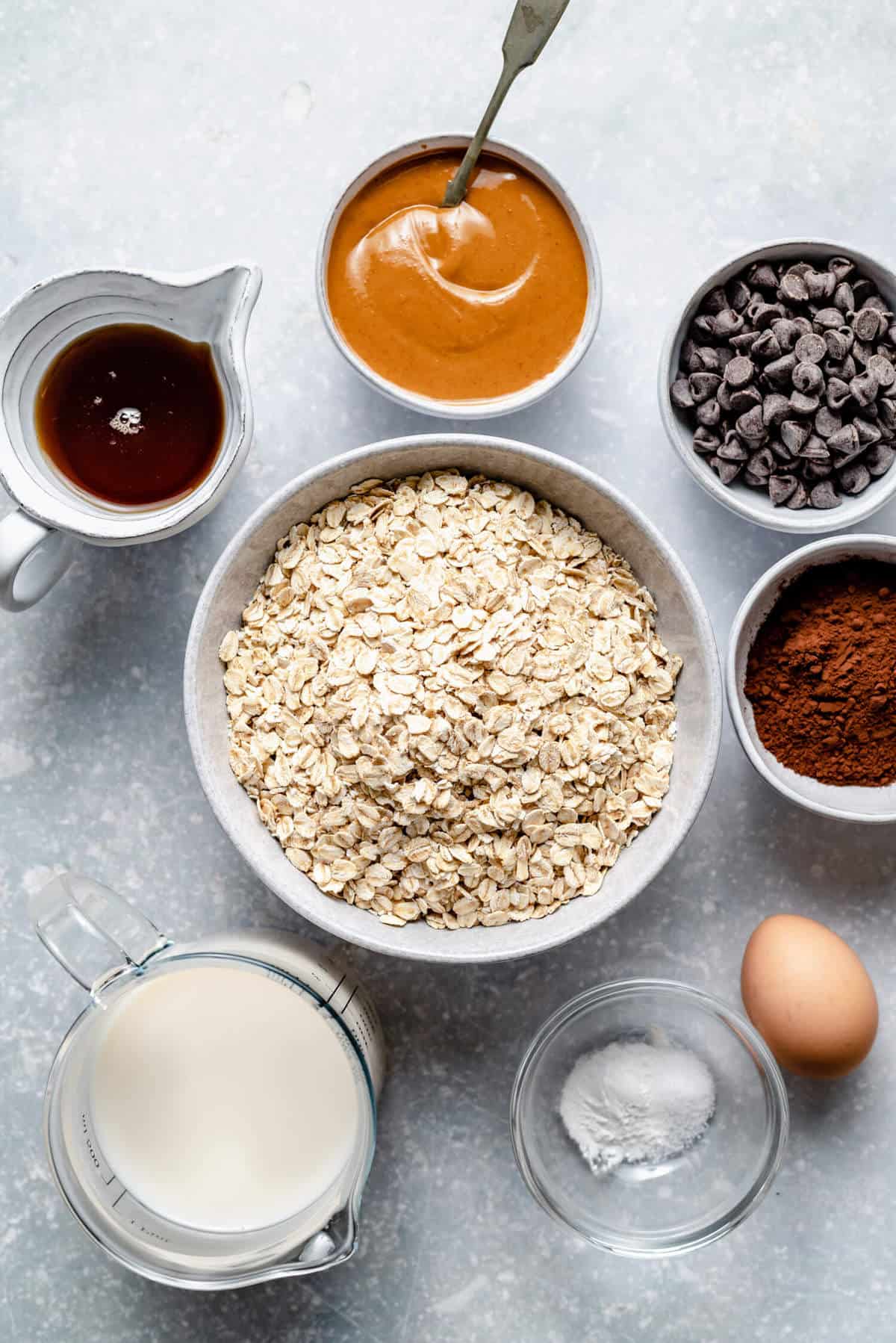 How do I make double chocolate Peanut Butter Baked oatmeal?
This is so simple to whip together and it's a great one for the kids to get involved in too! Here's how:
First thing, preheat the oven to 180C/350F. Prepare an 8 x 8 baking dish by greasing with butter or oil. This just helps it not stick so much.
Get yourself a medium bowl and stir together the oats, cocoa powder, baking powder and salt.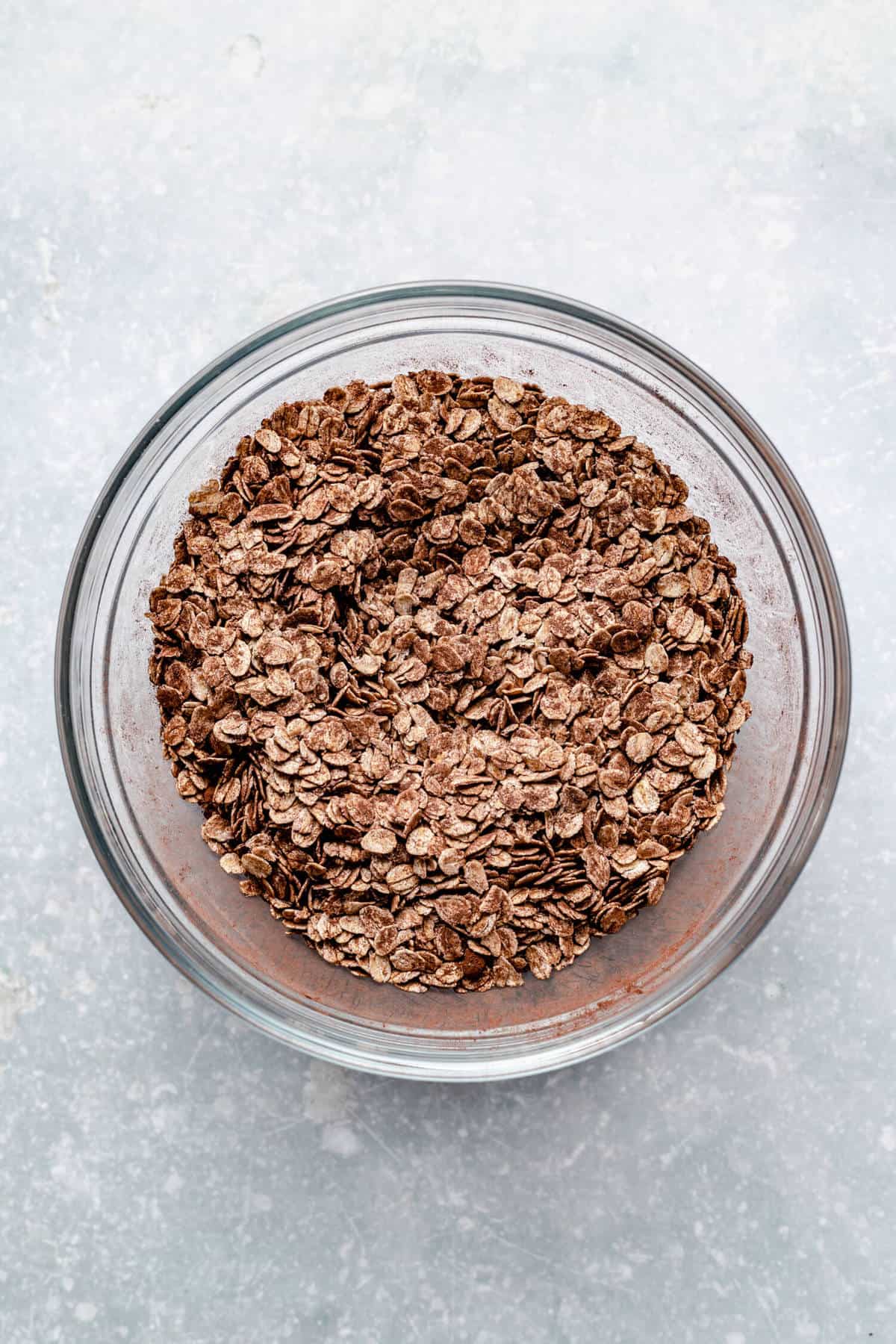 In a larger mixing bowl, whisk together the peanut butter, egg and maple syrup until smooth (this is why you need natural not set peanut butter). Once combined, gradually whisk in the milk until fully combined.
Put the dry ingredients into the wet ingredients and stir to combine, making sure everything is well mixed, then scatter in the chocolate chips and stir throughout the batter.
Pour the batter into your prepared baking dish and dollop some extra peanut butter on top and swirl it with a cocktail stick. Scatter with extra chocolate chips if you desire.
Bake it on the middle shelf in the preheated oven for 35-40 minutes until set.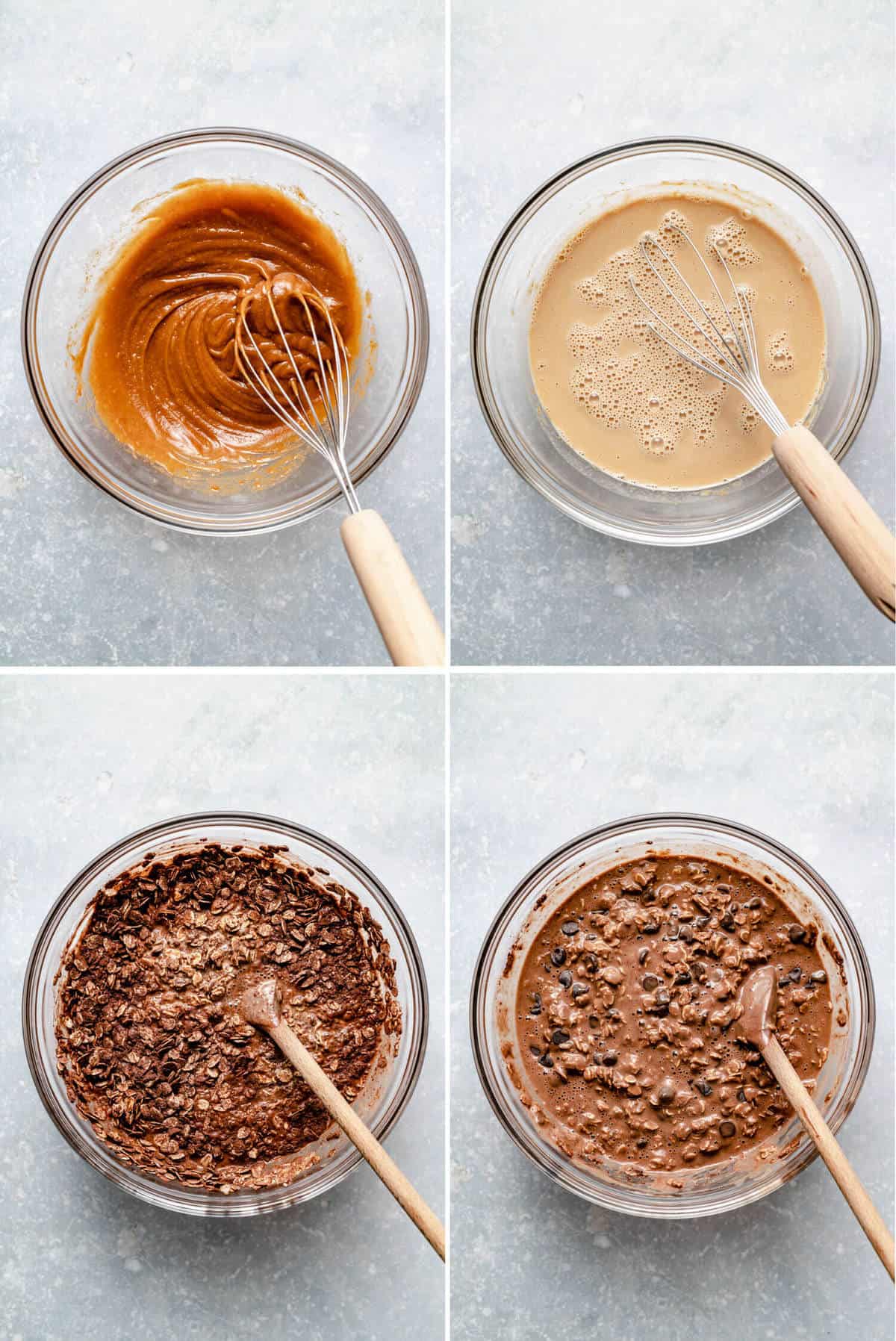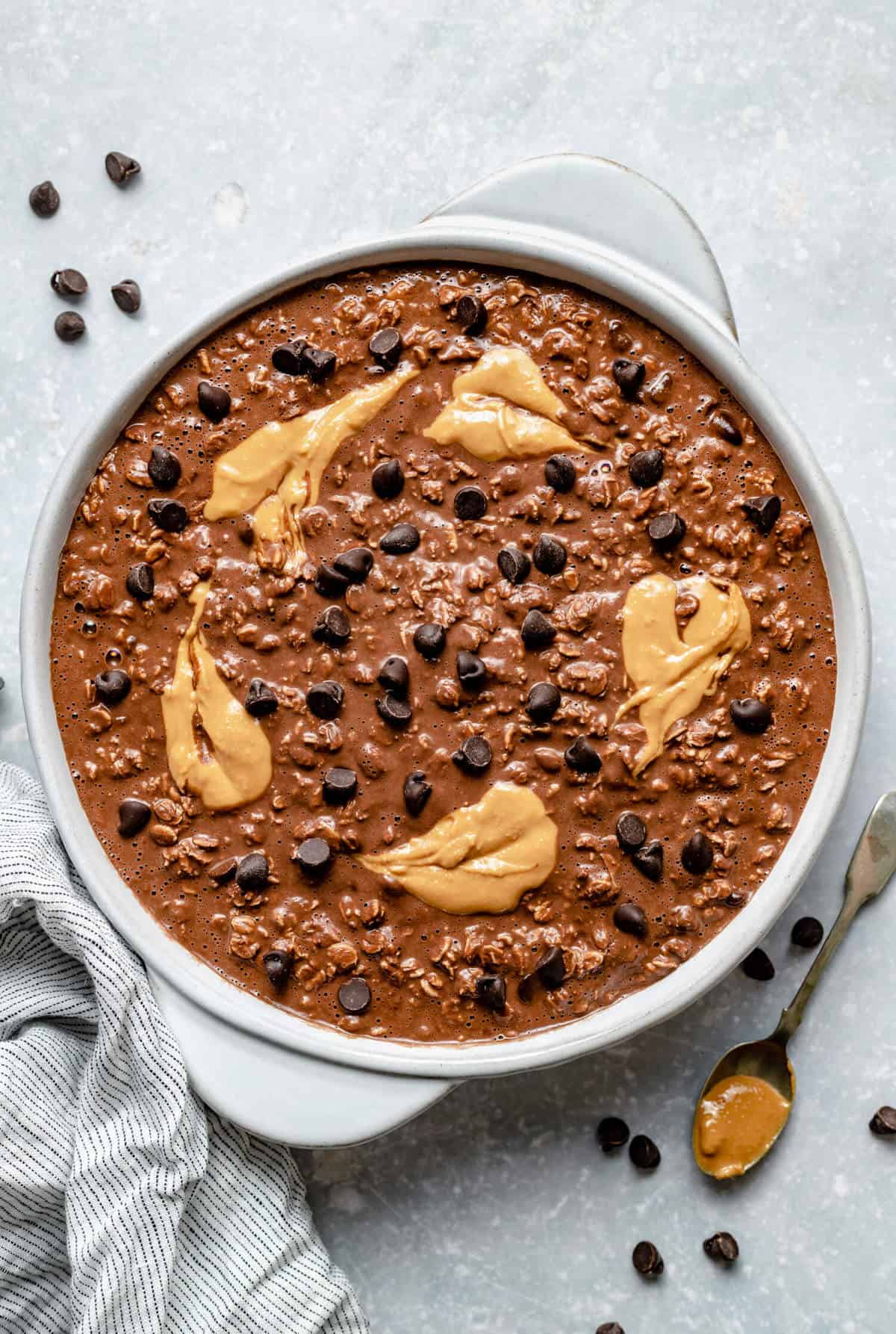 Can I make this vegan?
Yes, substitute the milk for non dairy milk, use a flax egg instead of the egg and make sure you use maple syrup or agave syrup, not honey.
I would say that the texture would be different with the flax egg, but it should work just fine.
How to serve it?
I would recommend serving with a splash of milk, an extra drizzle of peanut butter and a hot drink, it makes beautiful chocolatey milk as you eat! My husband loves to tuck into his like a brownie but either way is great. Eat whilst it is still warm or reheat slices in an oven preheated to 180C/350F for about 10 minutes or until warmed through.
This would be perfect to serve at a weekend or celebratory brunch or even as a delicious afternoon or after dinner snack!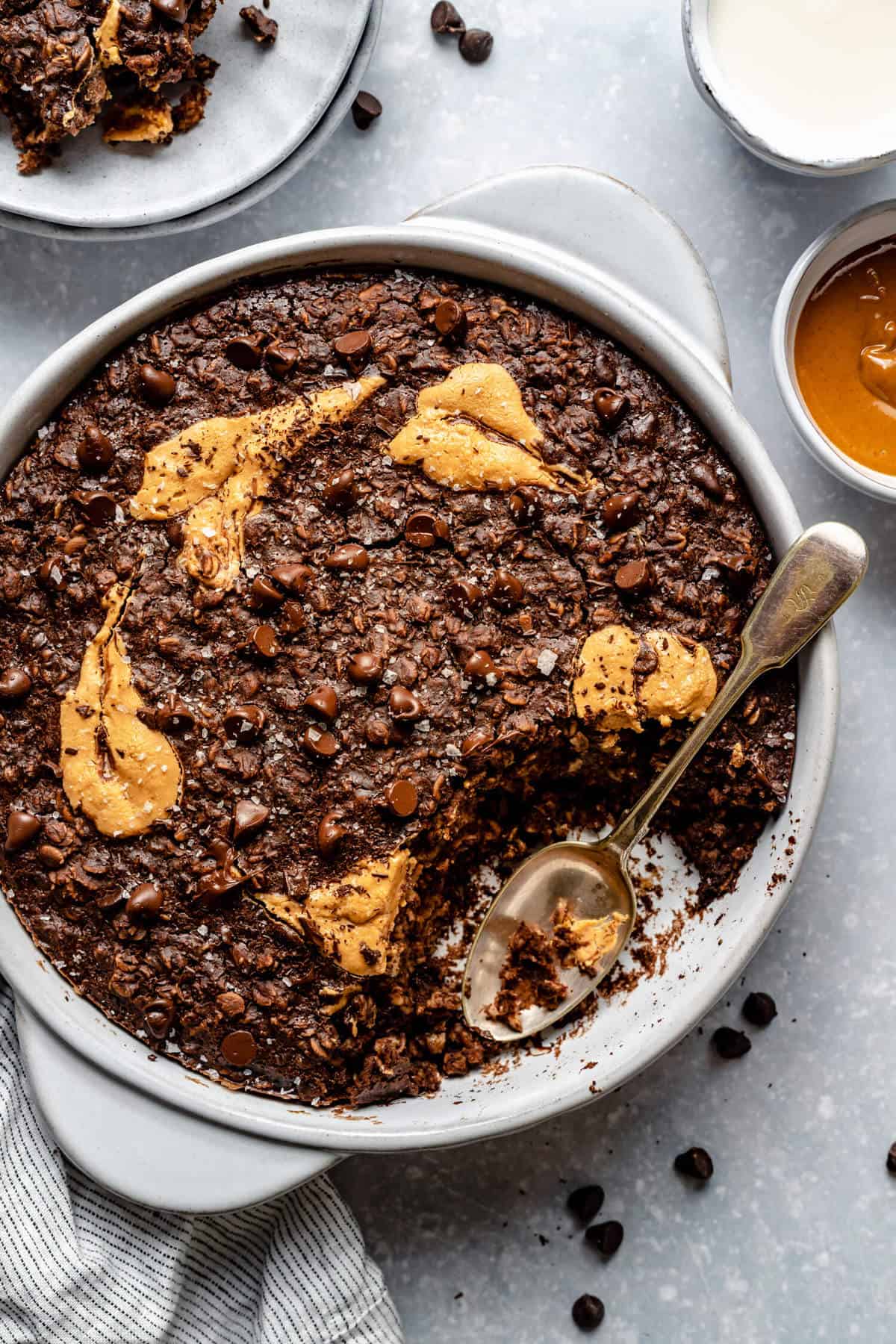 How to store it?
Wrap the dish the oatmeal was baked in with cling film or an alternative food wrap such as beeswax wrap after it has cooled and store in the fridge. The double chocolate peanut butter baked oatmeal will last in the fridge for 3-4 days.
If you don't have space in the fridge you can wrap it and store it in a cool place.
Can I bake it ahead of time?
YES! Absolutely, then just heat it back up as you desire the next morning or for a few days after. Just reheat in a 180C/350F oven for 10-15 minutes until hot in the middle and the chocolate is all gooey. You can bake the oatmeal 3-4 days ahead. Just follow the baking instructions first time round and then store in the fridge as above.
This is the perfect breakfast/brunch/dessert for any festive occasion or just as an unapologetically delicious weekend breakfast or brunch. Now what's stopping you? Get in the kitchen and bake yourself this wonderful baked oatmeal and tuck in with your favourite person, or devour it all on your own!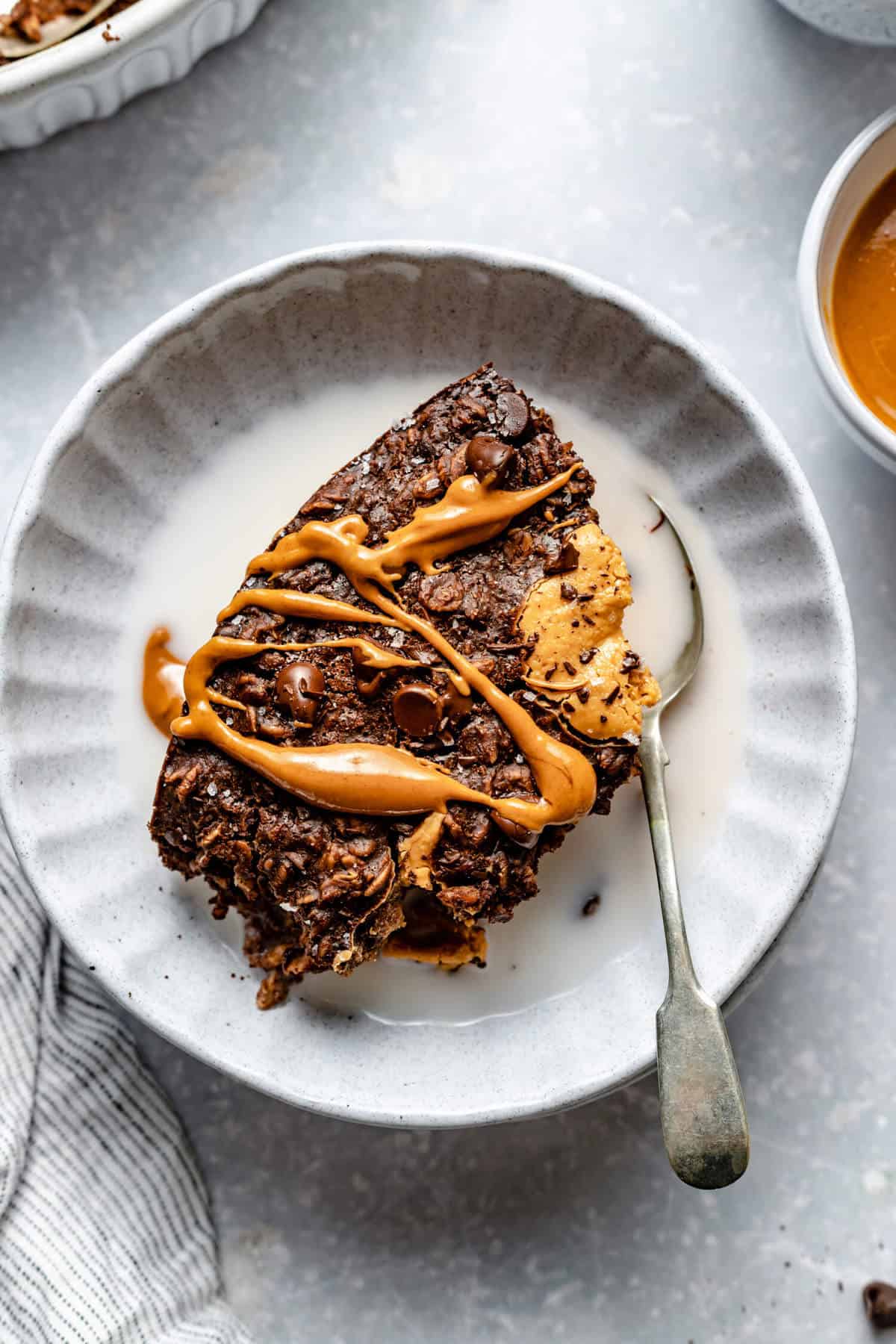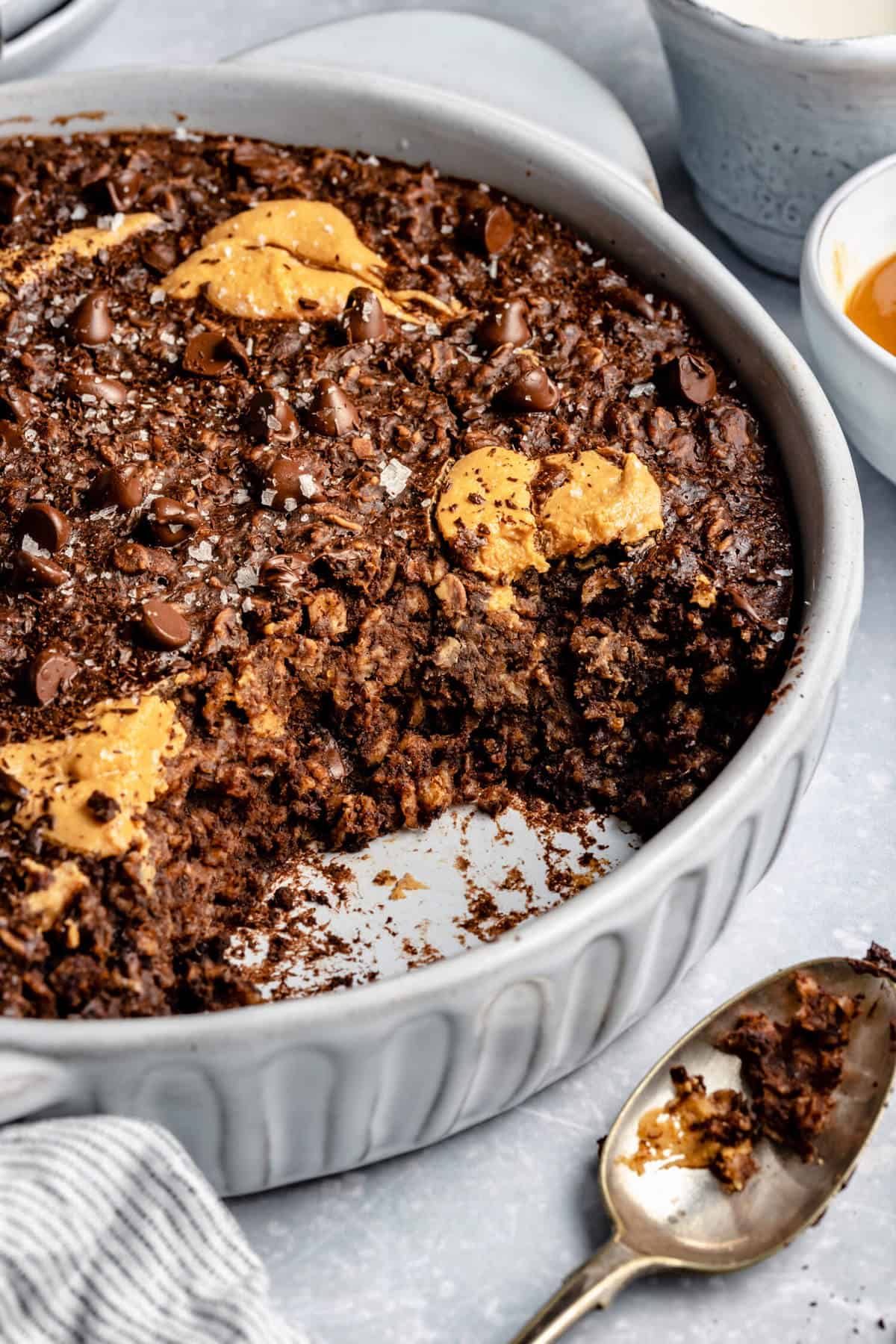 I hope you'll give this double chocolate peanut butter baked oatmeal a try! If you make it, be sure to leave a comment, rate the recipe and tag me on Instagram! I love to see your creations!
If you're looking for more breakfast ideas, why not try: