This Italian sausage ragu with pappardelle is super tasty and more importantly quick and easy to make; whip it up in under 30 minutes. Using simple and accessible ingredients, it's perfect for a midweek meal when you're in a rush!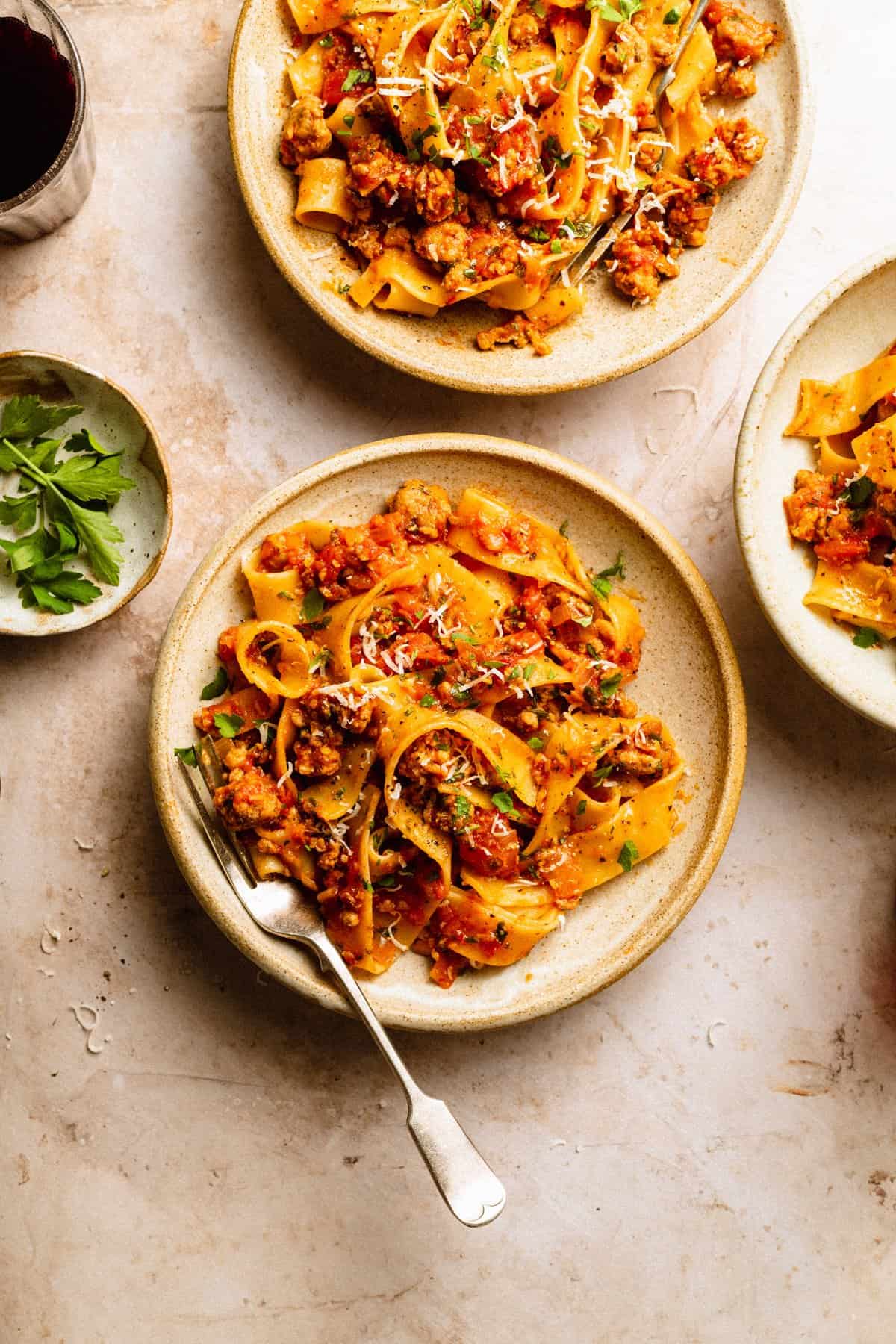 I love to whip up something quick and delicious for dinner and this simple Italian sausage ragu is absolutely *chef's kiss* perfect for that. It's full of flavour like you wouldn't believe, despite being so quick to make and you only need a few simple ingredients. It's like magic in a pan! This meal is perfect for when you are tight for time or want something with minimal effort but need something satisfying. It's easily customisable to your tastes and what ingredients you have too, be sure to check out the suggestions for substitutions below.
Ragu is often created and simmered over a long period of time to get the most flavour out of the meaty sauce. I can promise you this easy Italian sausage ragu will not disappoint in the flavour realm and it really is as easy to make as it says and all in around 30 minutes. You may also want to check out these chicken sausage recipes too!
So let's get to it! Don't forget to leave a comment and rate the recipe to let us know what you think, I love hearing from you!
Jump to: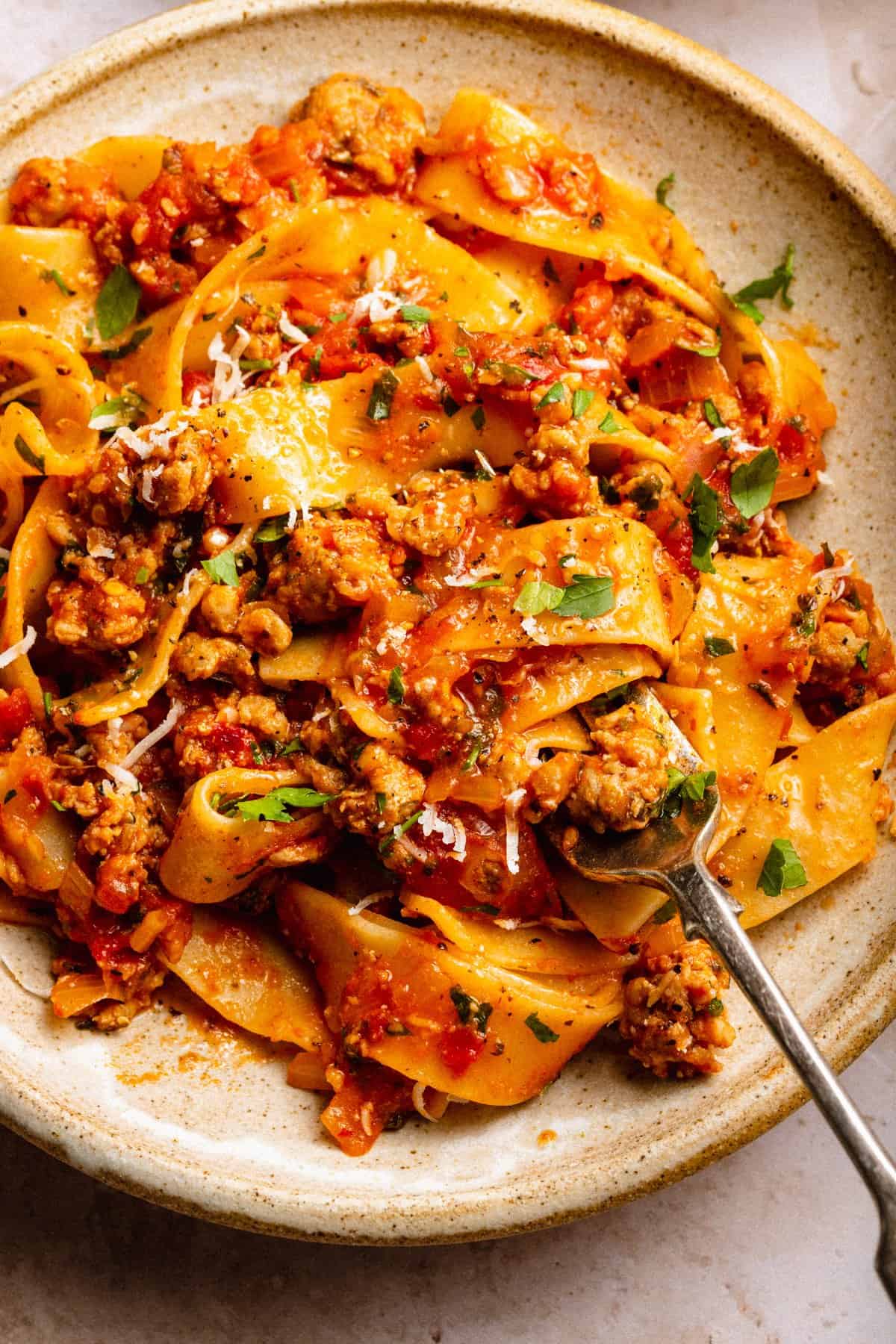 Why you'll love this
Economical - times are difficult for many people and this recipe is very economical. Sausages are usually very cheap but can be stretched a long way within this sausage ragu. Whilst saving your pennies, you'll also be satisfied with a meal like this.
Versatile - the sausage ragu is very simple and you can adjust it as much as you like with what you have. I keep it simple here as it's super flavourful. But you can customise it however you wish.
Gluten free - all you need to do to ensure this is gluten free is source gluten free sausages which are readily available nowadays, as well as gluten free pasta.
Meal prep - this sausage ragu is perfect for meal prep; make up the sauce and you can store it ready for when you need it. You can also put it in the freezer for up to 3 months to have an easy, ready to go to meal on hand in the future.
Ingredients
You only need a few simple ingredients for this Italian sausage ragu and you'll be throwing it together and enjoying it in no time! Here's what you need: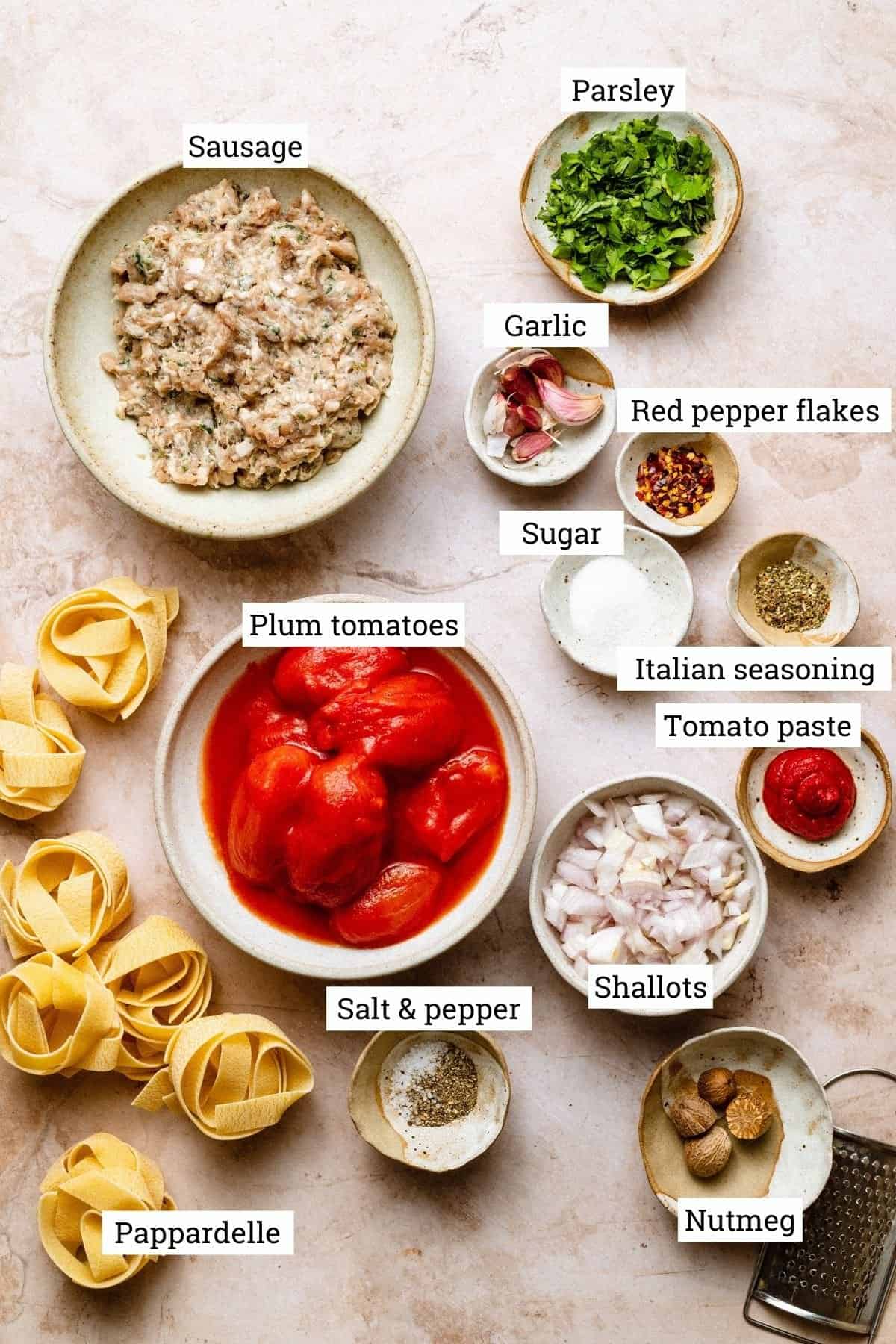 Sausages - I recommend using pork sausages for this, although the first time I made it I used venison sausages and it was really special. However, for access and ease stick with pork. I've tried it with turkey and chicken and it's just not the same.
Aromatics - you'll need a few aromatics to really make this sing even more: chilli flakes, Italian seasoning, shallot and fresh garlic. Simple yet delicious!
Sauce - for the sauce you'll need a touch of tomato purée (paste) and a can of plum tomatoes, I love using the san marzano ones but any plum tomatoes work.
Store cupboard - all these flavours need balancing out with some staples; a touch of sugar, salt, black pepper and a touch of grated nutmeg.
Parsley - this is optional but just adds a little fresh herby flavour to the ragu.
Pappardelle - I love using pappardelle for this, if you can get the stuff which was made using a bronze die, it creates a rougher surface on the pasta to better hold onto the sauce. Any pasta will do though!
How to make it
This Italian sausage ragu is simple to throw together, just follow the steps below to create this delicious dish: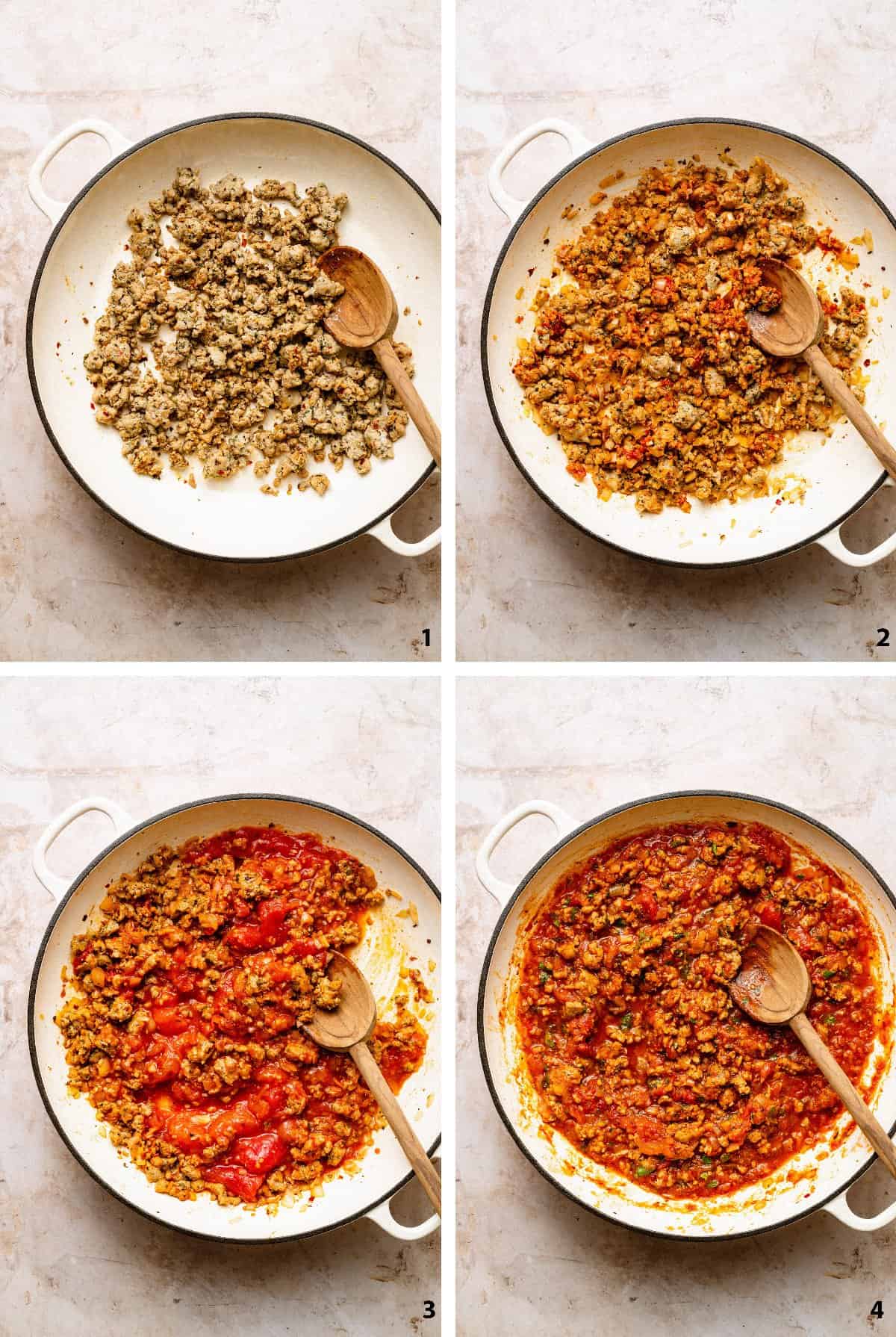 Over a medium-high heat in a large skillet sauté the sausage meat with the Italian seasoning and chilli flakes. Break up the sausage with a spoon, you should get some browning on the meat which adds flavour.
Add the diced shallot and sauté with the meat until softened, about 2-3 minutes. Add the tomato purée along with the minced garlic and cook for a further minute.
Add the plum tomatoes and use the back of a spoon to break them up.
Whilst breaking up the tomatoes, add ⅓ cup of water, sugar, salt, pepper and nutmeg. Stir together and simmer for 10-15 minutes. Taste and check for seasoning. Stir through the chopped parsley if using. Once the sauce has reduced in volume, thickened and flavour has developed, toss through the cooked pappardelle and serve immediately with grated parmesan and more freshly chopped parsley.
Customisations
I know you all love substitutions so here are some suggestions:
Sausages - I recommend using pork sausages, however if you can't have pork for any reason you can substitute directly for venison or beef sausages. In fact, you can use any sausage you like, I've tried this with chicken and turkey sausages and although tasty, it just wasn't the same for me. Use whatever you've got. I've done this with Toulouse-style sausages but a quality Italian style sausage works perfectly. Note: in the UK, fresh sausages are always cased, so simply squeeze them out to make the ragu. In the US, you can just use Italian sausage.
Tomatoes - San marzano tomatoes are high on the leader table for making quality tomato sauces so I will definitely recommend them, but if you don't have plum tomatoes just use standard chopped, or even finely chopped canned tomatoes. You'll just have a slightly different texture of sauce.
Seasoning - This sausage ragu is so variable, instead of using Italian seasoning you could use rosemary, thyme or some crushed fennel seeds along with the chilli flakes.
Pasta - Here i've used pappardelle, but feel free to use whatever pasta you have and prefer to use. This can quite easily be made gluten free if you substitute for gluten free pasta.
Scale up - This easy Italian sausage ragu is so simple to scale up if you are catering for more people, just double or triple accordingly.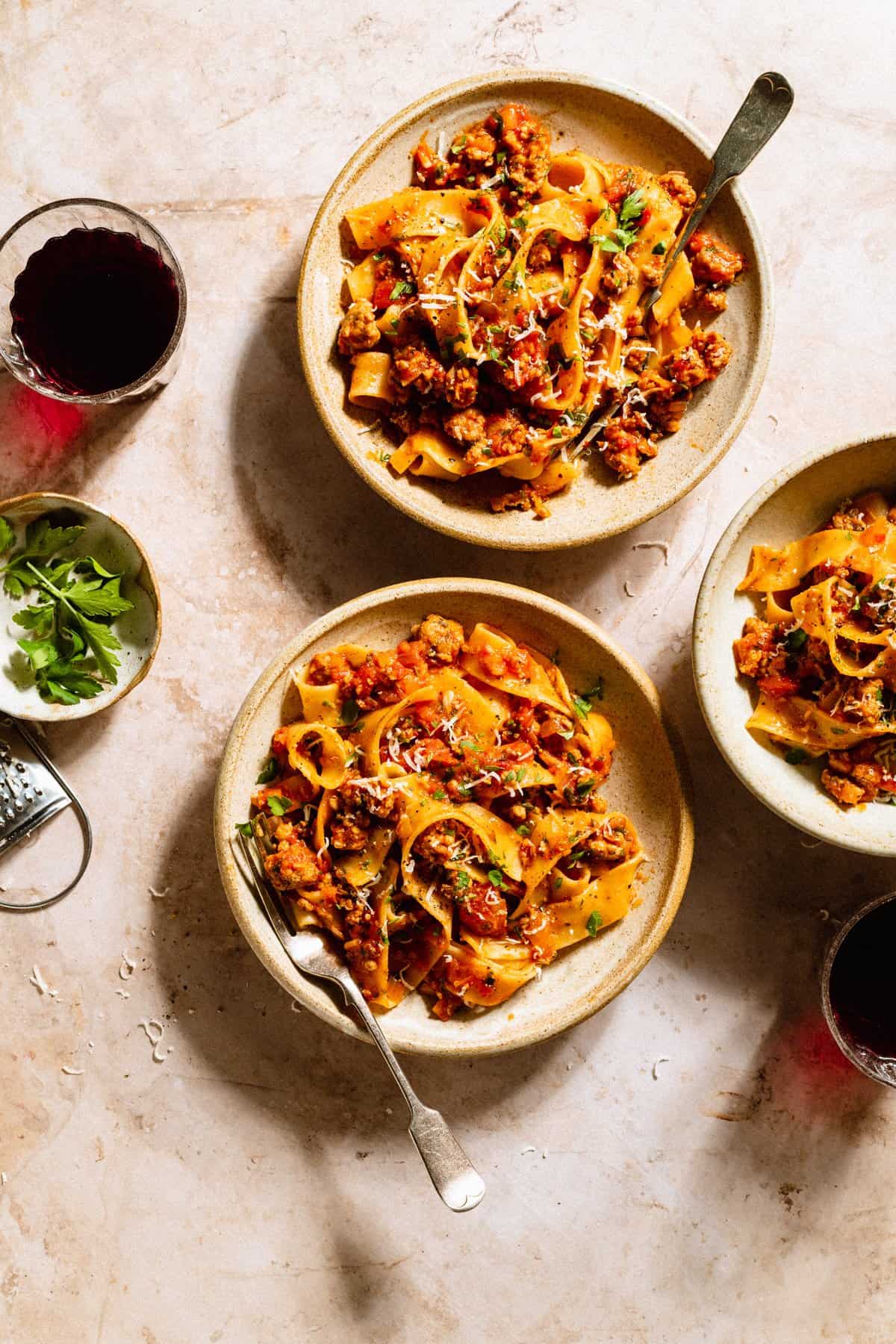 FAQs
How to store it?

If making ahead and storing the ragu by itself, just store in an air tight container in the fridge for up to 3 days until you wish to use it. Reheat it and toss throughout some cooked pasta. If you have mixed the pasta throughout it and have leftovers you can store it in the fridge exactly the same way, the reheating process is just slightly different. I would recommend storing it without the pasta if possible.
How to reheat?

Reheating the sausage ragu without pasta can be done on the stove top or in a microwave. You may just need to add a splash of water to aid loosening it ready for the cooked pasta. If you have got pasta within the sauce stored in the fridge, your best option is to microwave, do this for 2-3 minutes until hot throughout and the sauce will loosen up as it heats. You can try and heat it on the stove top but the pasta is likely to break up into lots of pieces.
How much water do I cook pasta in?

My rule of thumb is you need 4 litres of water per 500g of pasta. Give your pasta room to move around. Also ensure you season it well - use 1.5 - 2 tablespoons of kosher salt per 4 litres. This will season your pasta and don't worry you won't consume it all. It's only cooking in it for a short period of time.
More pasta recipes
I hope you love this awesome Italian sausage ragu with pappardelle! If you make it, be sure to leave a comment, rate the recipe and tag me on Instagram! I love seeing your creations!
📖 Recipe
Easy Italian Sausage Ragu with Pappardelle
A simple and flavour packed sausage ragu served with pappardelle - a perfect midweek meal for when you are short on time.
Print Recipe
Pin Recipe
⭐️ Rate Recipe
Ingredients
To garnish
freshly grated parmesan

fresh chopped parsley
Instructions
Heat a large skillet over medium high heat and add the olive oil if your pan is prone to sticking. Add the sausage meat along with the Italian seasoning and chilli flakes and break up with a wooden spoon, frying for 7-10 minutes until browned and slightly crispy.

1 pound fresh pork or venison sausages,

1 tablespoon olive oil,

½ teaspoon chilli flakes,

½ teaspoon Italian seasoning

Add the shallot and fry for a few minutes until the shallot begins to soften. Add the garlic and tomato purée and stir and cook for another minute.

1 shallot,

2 garlic cloves,

1 tablespoon tomato purée

Add the plum tomatoes and use the wooden spoon to break them up.

Add the water, sugar, nutmeg and salt and pepper. Simmer over medium heat for 10-15 minutes until slightly thickened and rich looking. Whilst this is simmering, cook your pappardelle according to the packet instructions (mine took 9 minutes). Stir in the parsley, taste and add any additional seasoning.

⅓ cup water,

1 teaspoon sugar,

½ teaspoon sea salt,

¼ teaspoon ground black pepper,

¼ cup fresh chopped parsley,

⅛ teaspoon freshly grated nutmeg,

10 oz dried pappardelle

Toss the cooked pappardelle throughout the ragu and loosen down with a little of the water from cooking the pasta if needed. Serve immediately with freshly grated parmesan and chopped parsley.

freshly grated parmesan,

fresh chopped parsley
Notes
Making ahead - if you want to make this ragu ahead of time, simply don't add the pasta in at the end, cool it down and store it in an air tight container in the fridge (up to 3 days) until ready to use. 
Sausage - in the UK, our sausages are always cased, so in this recipe, simply squeeze the sausage out of the casings and proceed with the recipe. You could also use a packet of sausagemeat. In the US, simply use 1 pound of Italian or other sausage. 
Nutrition
Serving:
1
g
|
Calories:
644
kcal
|
Carbohydrates:
61
g
|
Protein:
24.8
g
|
Fat:
32.7
g
|
Saturated Fat:
11.5
g
|
Polyunsaturated Fat:
4.5
g
|
Monounsaturated Fat:
14.5
g
|
Cholesterol:
76
mg
|
Sodium:
1032
mg
|
Potassium:
570.4
mg
|
Fiber:
3.4
g
|
Sugar:
4.5
g
|
Vitamin A:
44.7
IU
|
Vitamin C:
13.4
mg
|
Calcium:
50.9
mg
|
Iron:
4.3
mg
Did you make this recipe?
Leave a comment below with how you got on and don't forget to give the recipe a rating ⭐️⭐️⭐️⭐️⭐️. You can also tag @eatloveeats on Instagram - we love to see your creations!