This Creamy Chicken Sausage Skillet makes for a quick and easy weeknight dinner filled with plenty of veggies.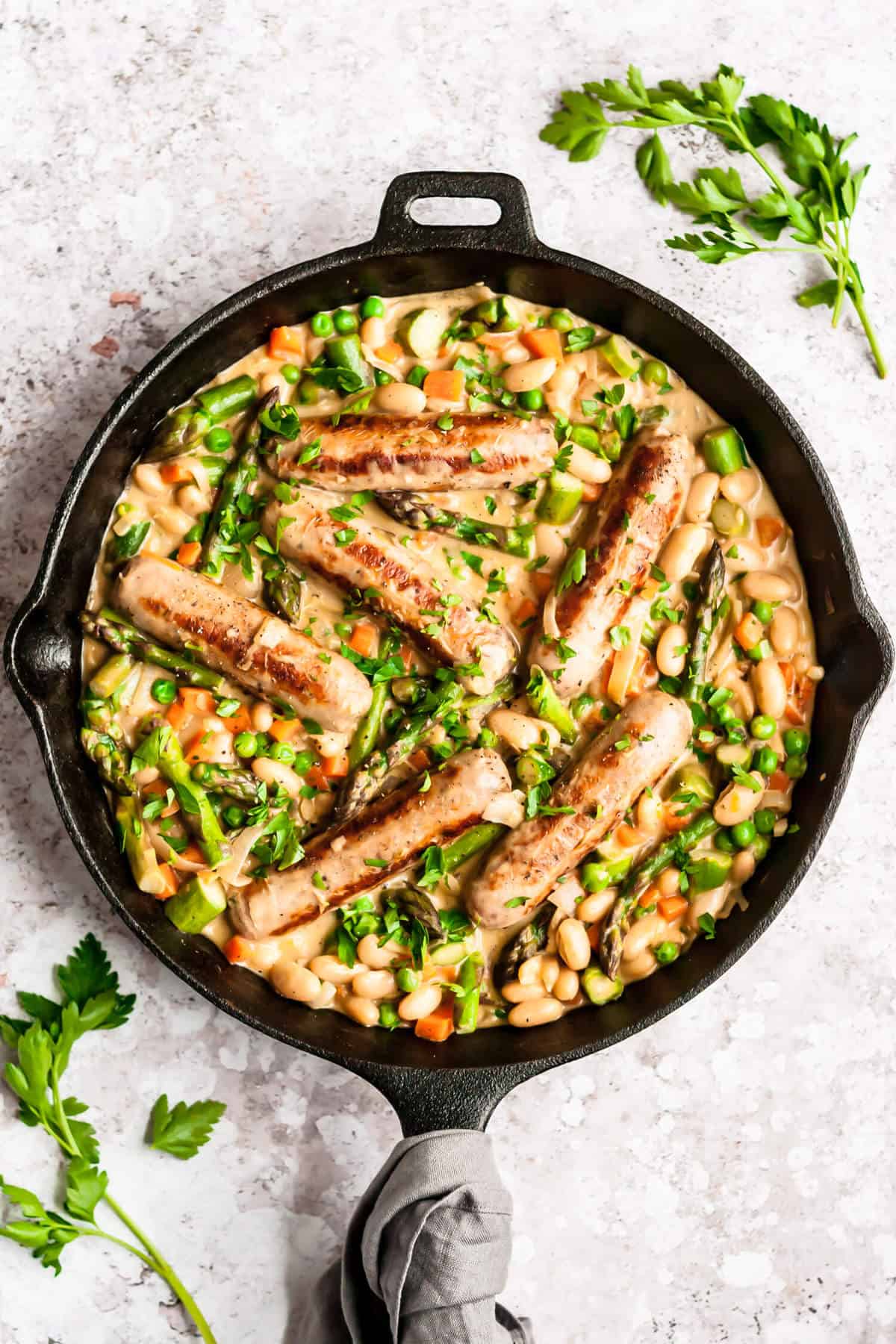 Well, hi! It's been a while since I last posted here. In fact, my last post, this chocolate chip zucchini bread, was published last October. Wow, crazy. I'm not sure if anybody has noticed my absence, but I'll talk a little about it anyway!
So, the last couple of times we spoke, I was in a bit of a creative funk. Or maybe a lot of one. And truth be told, I'm not so great at dealing with that. So that's why there haven't been any recipes here for a while. It's not necessarily that I don't have ideas, it's just that I quickly devolve into that place where I start telling myself my idea is not interesting enough, or popular enough, or trendy enough, or simple enough. And then I get to the place where the idea just fizzles away and I can't quite get it to solidify in my brain. I know, I know. I hear how crazy I sound. (And I've seen all the memes on the internet with the skeleton who just wanted the free recipe but had to scroll past a life story to get there, so I'll try and keep it snappy.)
In the meantime, I've been working on improving my photography and I've taken some opportunities to take it to the next level. At the end of last year I started working with some amazing people and I've been really busy freelancing as a food photographer ever since! It got to the point where it was getting very stressful to balance with my main job and so I took the leap to take my business full time at the end of March! Um, best job ever? I think so! I absolutely love what I do and I'm having so much fun honing my craft. I've got a lot of work to do to close 'the gap' (love this quote and I need to remind myself of it more often!) but I'm getting there and loving the journey. Which brings me to today, when I'm posting my first new recipe in months, all being well the first of many! The creative juices are beginning to flow again, thankfully.
Onto today's recipe! This Creamy Chicken Sausage Skillet with Asparagus and Peas is the kind of food I'm craving at the moment. Unfortunately, the weather missed the memo that it's now June and supposed to be warm and sunny. No, it's been pouring it down with rain and cold enough that I had to resort to wearing my winter coat and boots when I went out last week. It is thankfully starting to improve now (I think!). On days like that we need comfort food and this more than fits the bill. Plus, it's the perfect way to round out asparagus season!
For this super simple skillet, you'll need:
Chicken or turkey sausages
Carrot
Shallots (or sub white onion, it'll just take a little longer to cook)
Garlic
Asparagus
Flour to thicken the sauce
Dijon mustard
Chicken stock
Frozen peas
Cannellini beans (or beans of choice - chickpeas would be delicious)
Cream
Simply cook your sausages, saute your veggies and simmer it all together in a super quick and delicious sauce. It all happens in one pan! I like to serve this with some fresh bread for dunking in the light, creamy sauce. This dish takes no time to put together, making it perfect for easy weeknight dinners.