This post contains affiliate links from which we could earn a small commission. Please read our Privacy Policy for more information.
These sticky spicy baked chicken wings are incredibly easy to make and super crispy too! Coated with a gorgeous sticky and spicy chipotle lime sauce that makes you keep going back for more.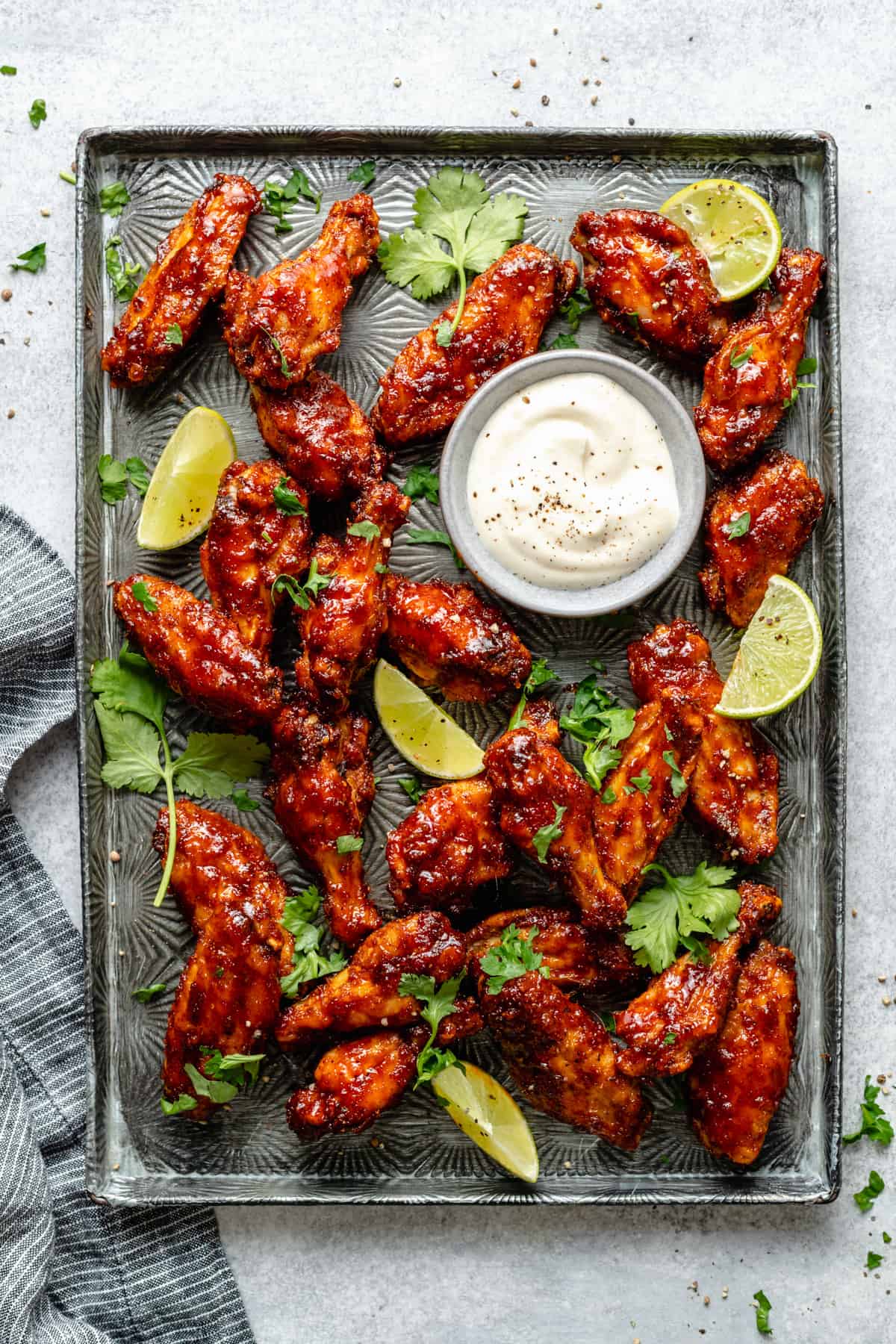 You guys are in for a real treat here, my husband created these insanely delicious chicken wings that I couldn't resist sharing with you. They are perfect any time of the year, but would make great appetizers for parties in the holiday season, or most popularly game season for those who enjoy sports. Regardless of when you make them, they are to die for and so versatile!
This recipe is all about upping your chicken wing game; we've got you sorted with all the tips and tricks you could possibly need to make the BEST baked chicken wings you can impress all your friends with. Chicken wings are far too under utilised and baking them really does make for a lighter meal option too. These are so easy and approachable you'll be tucking into them in no time.
I love hearing from you so please leave a comment with how you got on and how much you love these sticky spicy baked chicken wings. Also don't forget to rate the recipe!
Jump to: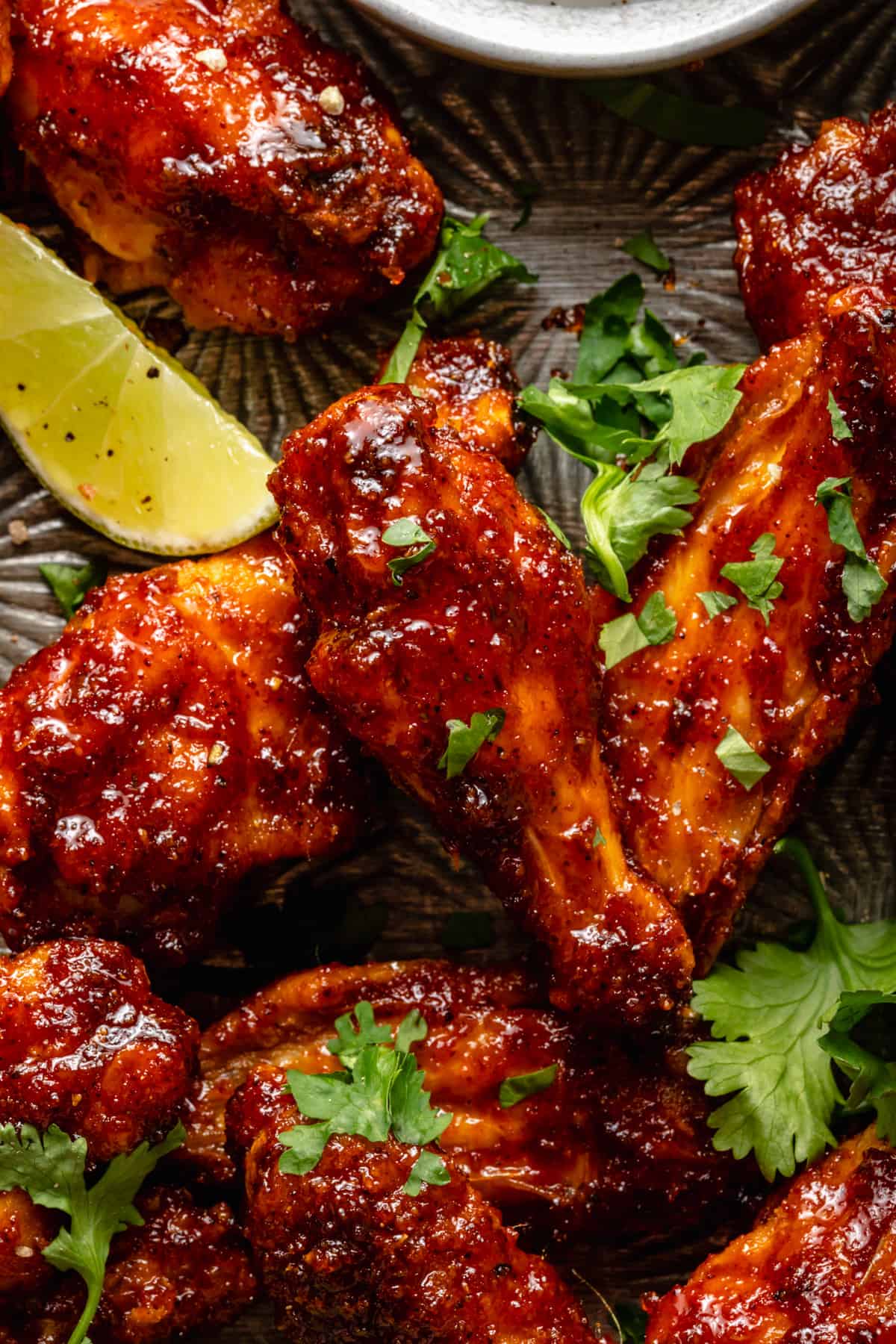 What makes these the best?
These are the reasons you need these baked chicken wings in your life:
Easy - for this recipe you only need to follow a few simple steps to provide you with the best crispy baked chicken wings you'll have ever had.
Crispy - we've got all the tips and tricks you need to make these super crispy chicken wings, it works so well too! We've tested many, many times various blends to make them super crispy and we've settled on the BEST way - a blend of baking powder and rice flour. Read more in the post below for reasons why!
Adaptable - we're giving you the best base crispy baked chicken wing recipe and you can customise these as much as you want with toppings and sauces. We'll give you a bunch of ideas later on.
Full on flavour - chicken wings are full of flavour and season up nicely. We can't be having a bland appetizer or main meal now can we? And don't forget the incredible sticky chipotle lime sauce! Plus, we've included a recipe for a super simple creamy dipping sauce which goes perfectly with the sticky sauce.
Appetizers - what better way to get a feast started than with these handy flavour bomb bites that will get the taste buds buzzing!
Entertaining - these are perfect for entertaining! Make big batches to enjoy for a movie night or while watching the superbowl or whatever floats your boat!
Ingredients
You only need very simple ingredients that are readily available for these sticky spicy baked chicken wings. This is what you'll need:
For the wings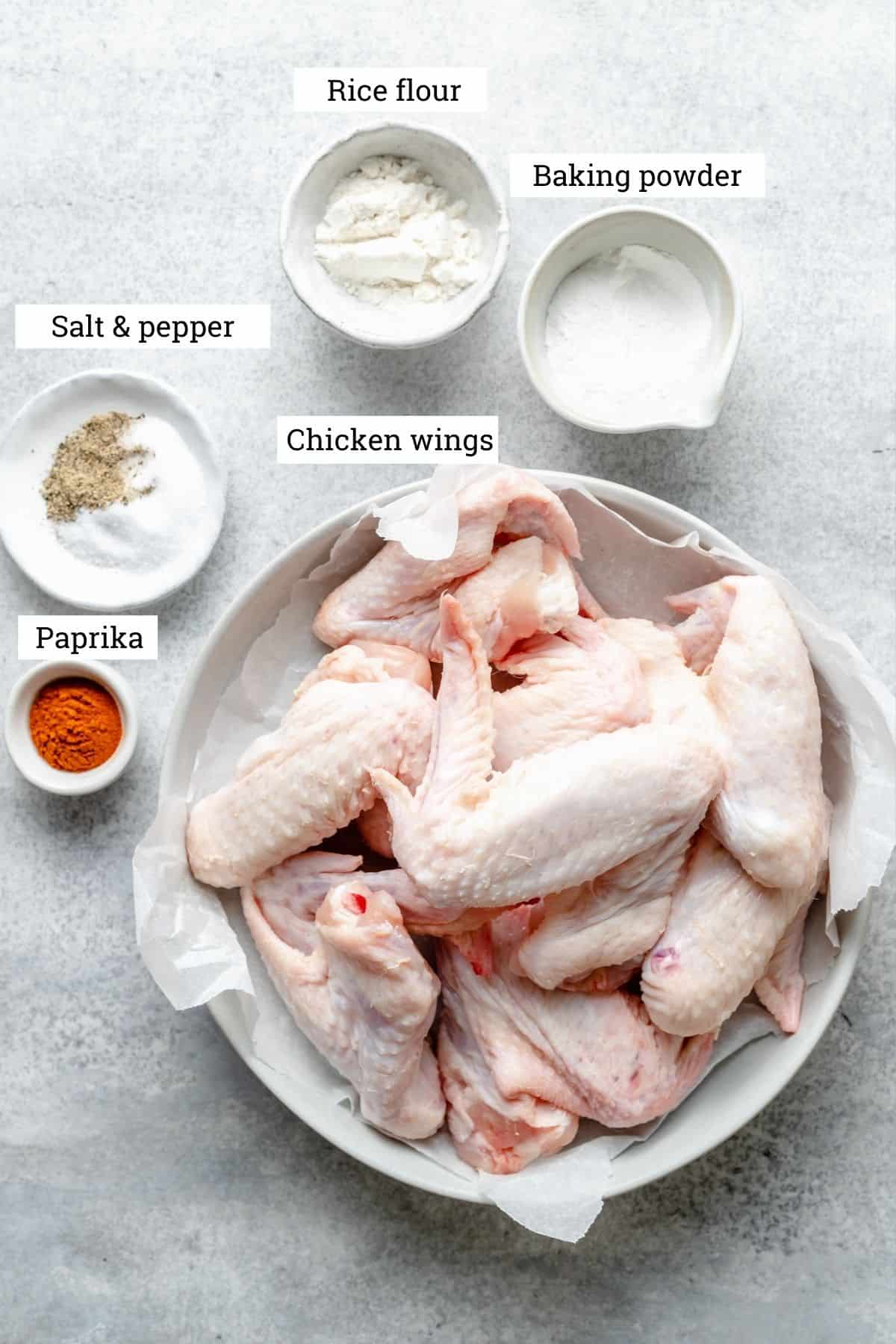 Chicken wings - as chicken wings are pretty cheap, get the best and highest welfare chicken you can.
Baking powder - this alkalizing agent is one half of the key to CRISPY chicken wings. Make sure the baking powder is aluminium free. Trust me it works!
Rice flour - the other half of the key to these insanely crispy baked chicken wings is rice flour, readily available in most supermarkets; it also keeps these gluten free.
Seasoning - the wings get seasoned with paprika, salt and freshly ground black pepper.
For the chipotle lime sauce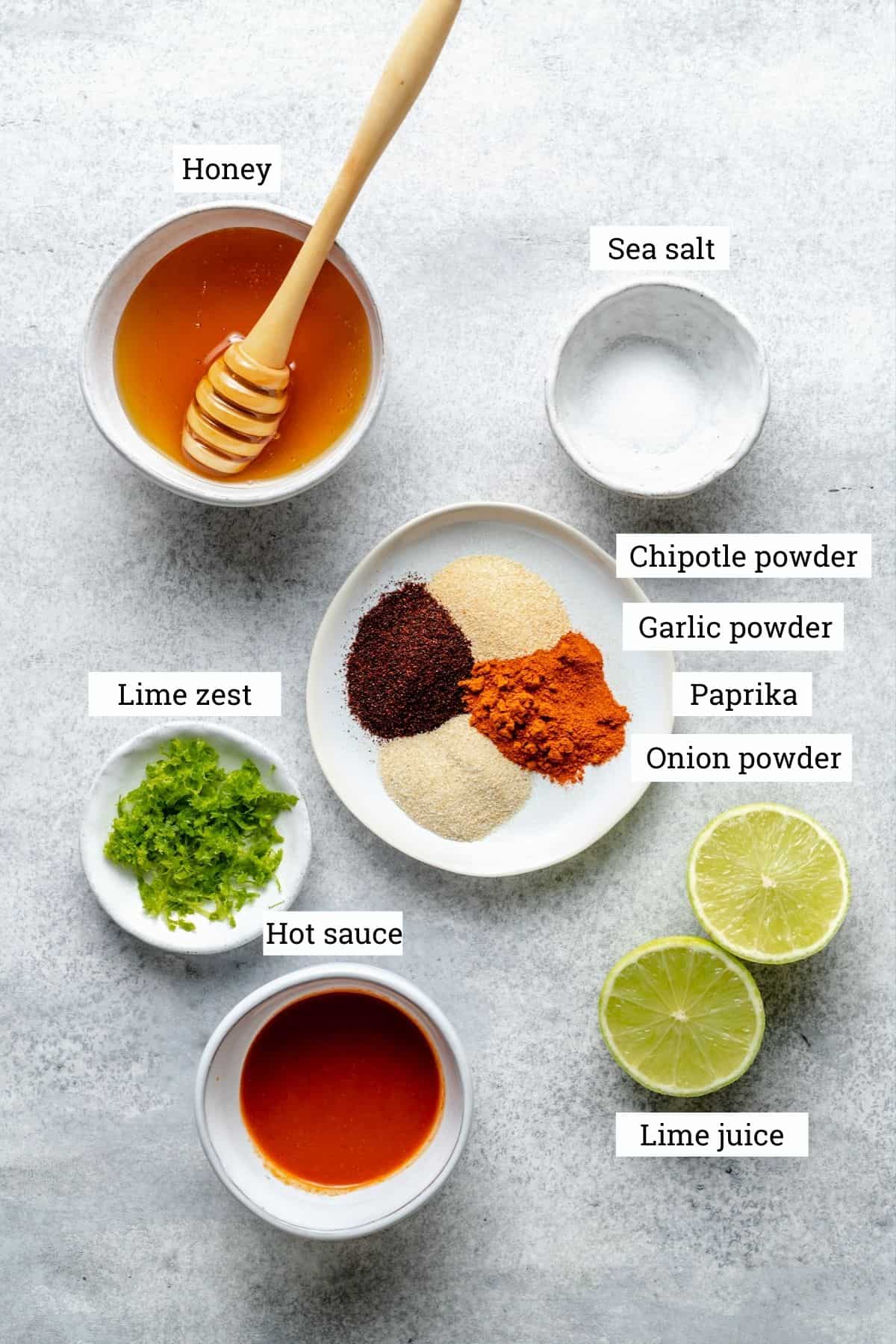 Spices - my husband's secret (not so secret now!) savoury spice blend for this sauce uses garlic powder, onion powder, chipotle powder and paprika.
Lime - you'll use the juice and zest of a lime, adding a lovely zing of acidity and freshness.
Honey - a good amount of honey is important for the stickiness of the sauce, it also adds a nice level of sweetness to balance it all out.
Hot sauce - did I say spicy wings? Yes, this sauce is great with the addition of hot sauce, you can use whatever you like depending on your taste.
Customisations
These baked chicken wings are so easy to customise. Here are some recommendations:
Plain - These wings are perfectly crispy, golden and tasty just as they are with a creamy dip or dipped into your favourite hot sauce.
Garlic parmesan - This is another of my favourite flavourings. Just melt some butter and gently sauté some minced garlic in it until fragrant. Toss the wings through the garlic butter in a large bowl and add a good handful of finely grated parmesan. Toss together and devour!
Buffalo sauce - You could go through the hassle of making your own buffalo sauce, but it's just easier to use one you know you love.
Smoked BBQ - You can make your own or just get shop bought. I love this roasted strawberry barbecue sauce by Jessica in the Kitchen.
How to make these
These baked chicken wings are very straightforward to make. Follow these steps to make them: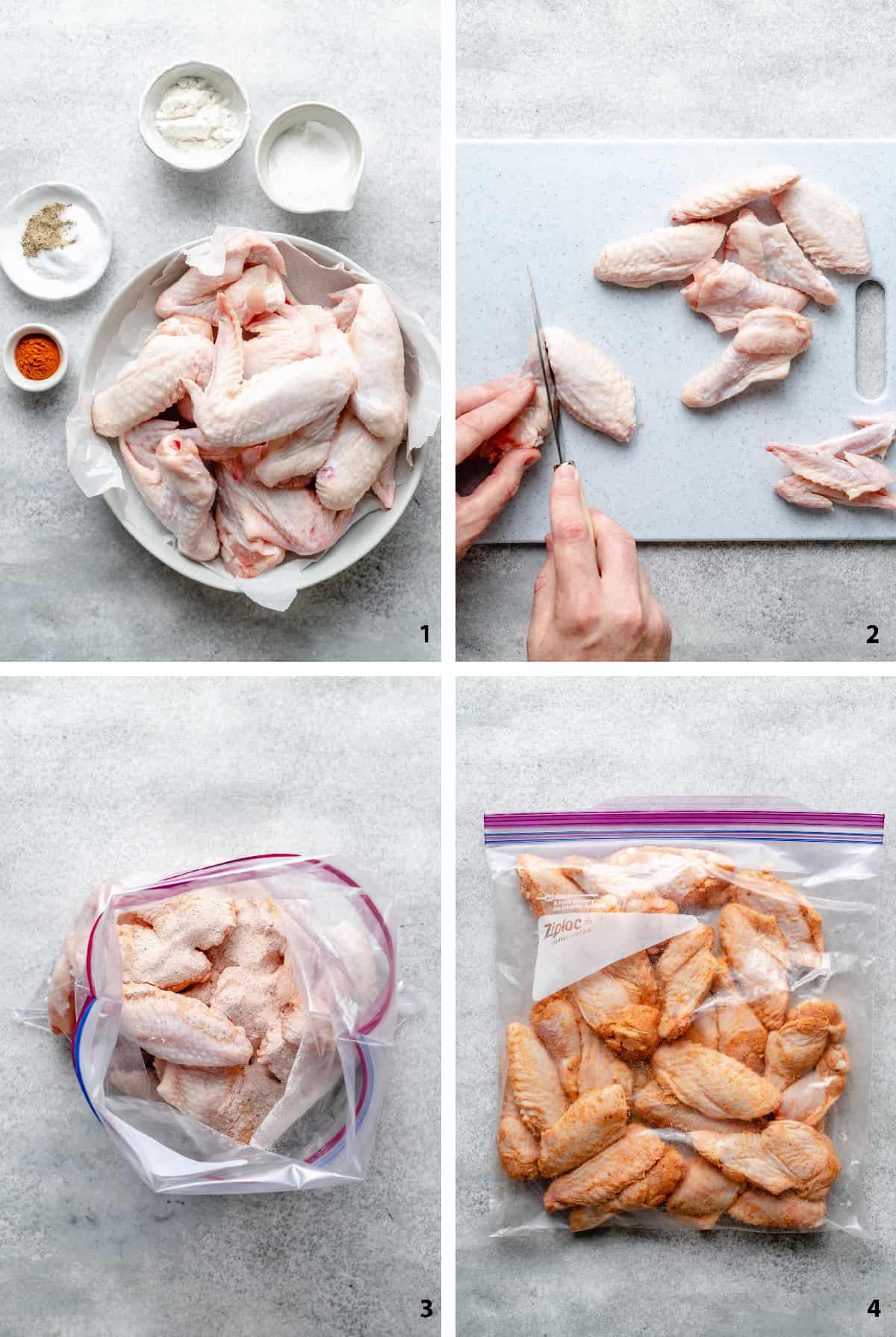 Get the chicken wings, baking powder, rice flour, paprika salt and pepper ready.
Whilst the oven is preheating, split the chicken wings in half into the drummette and wingette (flat). Remove the wing tips (you can use them in chicken broth). Dry the chicken wing parts with a paper towel to ensure they are completely dry.
Put the spices and baking powder in a small bowl and pour over the chicken wings in a freezer bag.
Seal the freezer bag with air in like a pillow and shake the wings in the spices to ensure they are evenly and fully coated.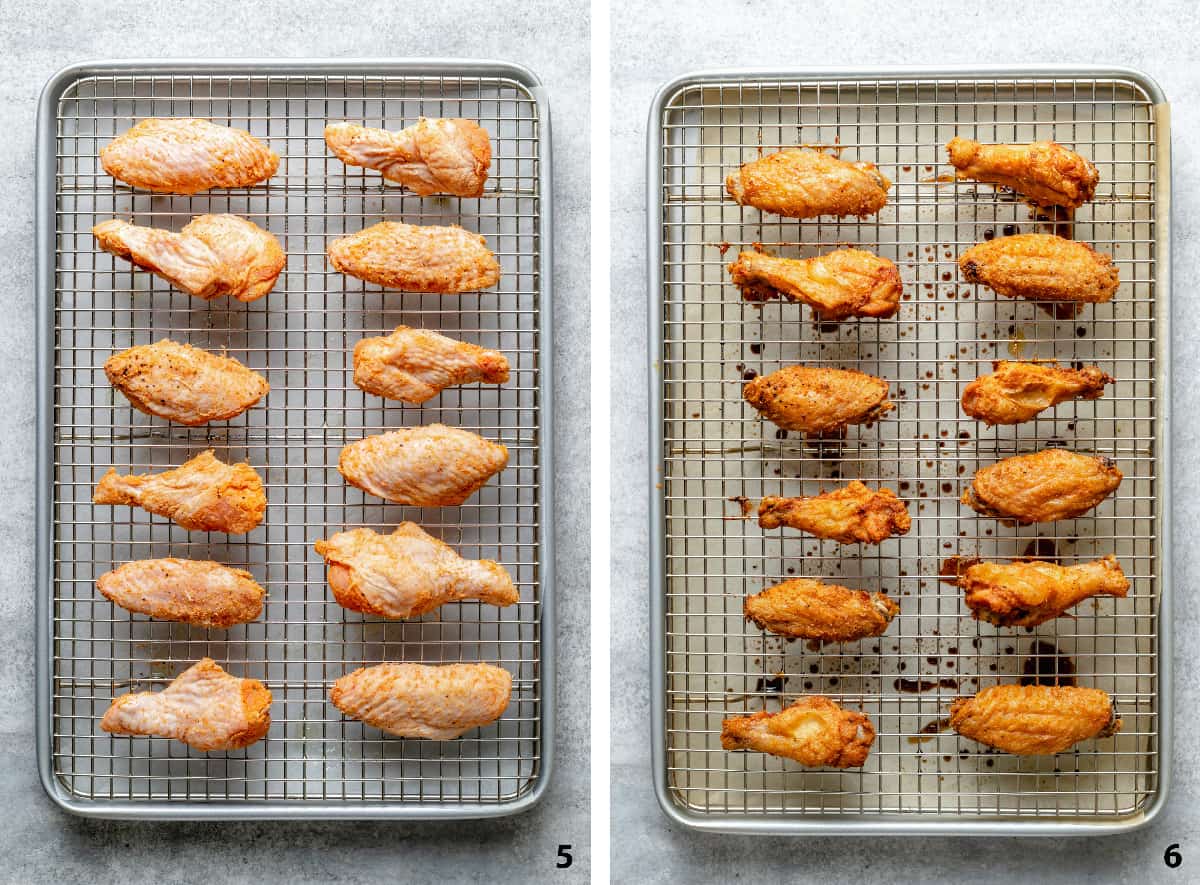 Place the spice coated wings on a lightly greased wire rack over a baking sheet lined with foil or parchment paper.
Bake the wings in the oven for 40-50 minutes turning half way through, until the wings are super crispy and golden.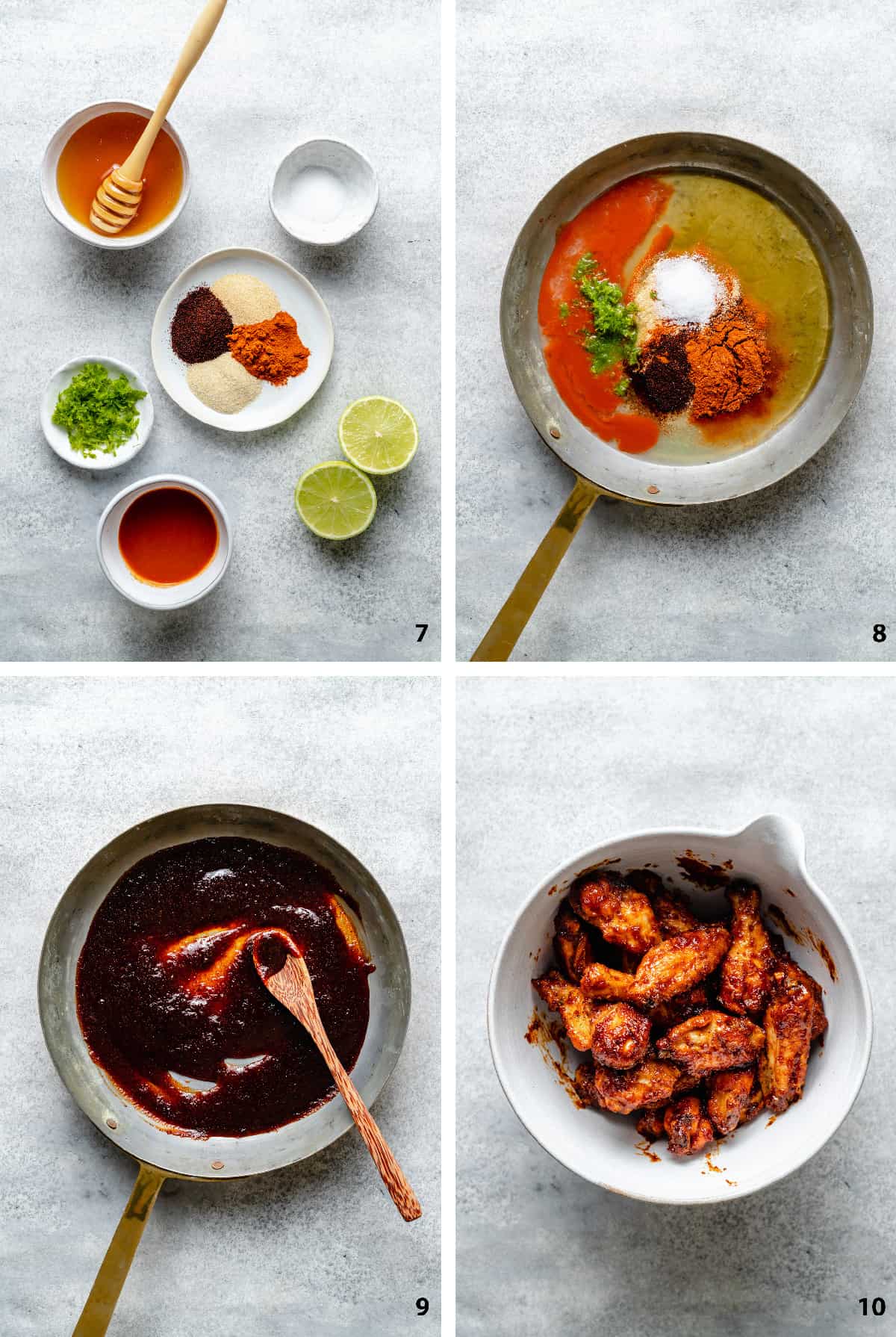 Get all the spices you need with the honey, hot sauce, lime juice and zest.
Place all the ingredients for the chipotle lime sauce in a small skillet.
Mix together the ingredients and warm together over medium high heat. Reduce by about a third until almost the thickness of honey, about 2-3 minutes.
Toss the baked wings in the sauce in a large bowl and serve whilst hot, sticky and still crispy! Serve with a creamy dipping sauce (see recipe card for a quick sauce recipe!)
Recipe tips
Here are some tips that will help you make the most of this recipe.
Cutting the wings - If you pinch your fingers at the joints of the wings you will feel where you need to slice, it'll dip inwards at a ball joint which you can then slice through. Don't attempt to cut through bone unless you have a cleaver and that will just make a mess. Work smart not hard.
Baking powder & rice flour - most recipes out there for crispy baked chicken wings with baking powder have one issue. Too much baking powder makes the wings taste like baking powder. The most important thing about this recipe is that you will use rice flour in conjunction with baking powder which gives it double the crisping effect and you don't have the issue with it tasting metallic or chemically. Ensuring you use aluminium-free baking powder will help with this too.
Dry the wings - ensure you mop up any extra moisture on those wing pieces with a paper towel before you add the spices. There will be enough residual moisture in the wings for the seasoning to stick to them. Excess moisture means you'll have an issue with them crisping up as the baking powder and rice flour will have more work to do than they can handle.
Wire rack - use a little cooking spray on a wire rack to ensure the wings don't stick. Also make sure to line the baking sheet underneath the wire rack with parchment paper or aluminium foil as any fat can be caught and not burn hard onto the baking sheet.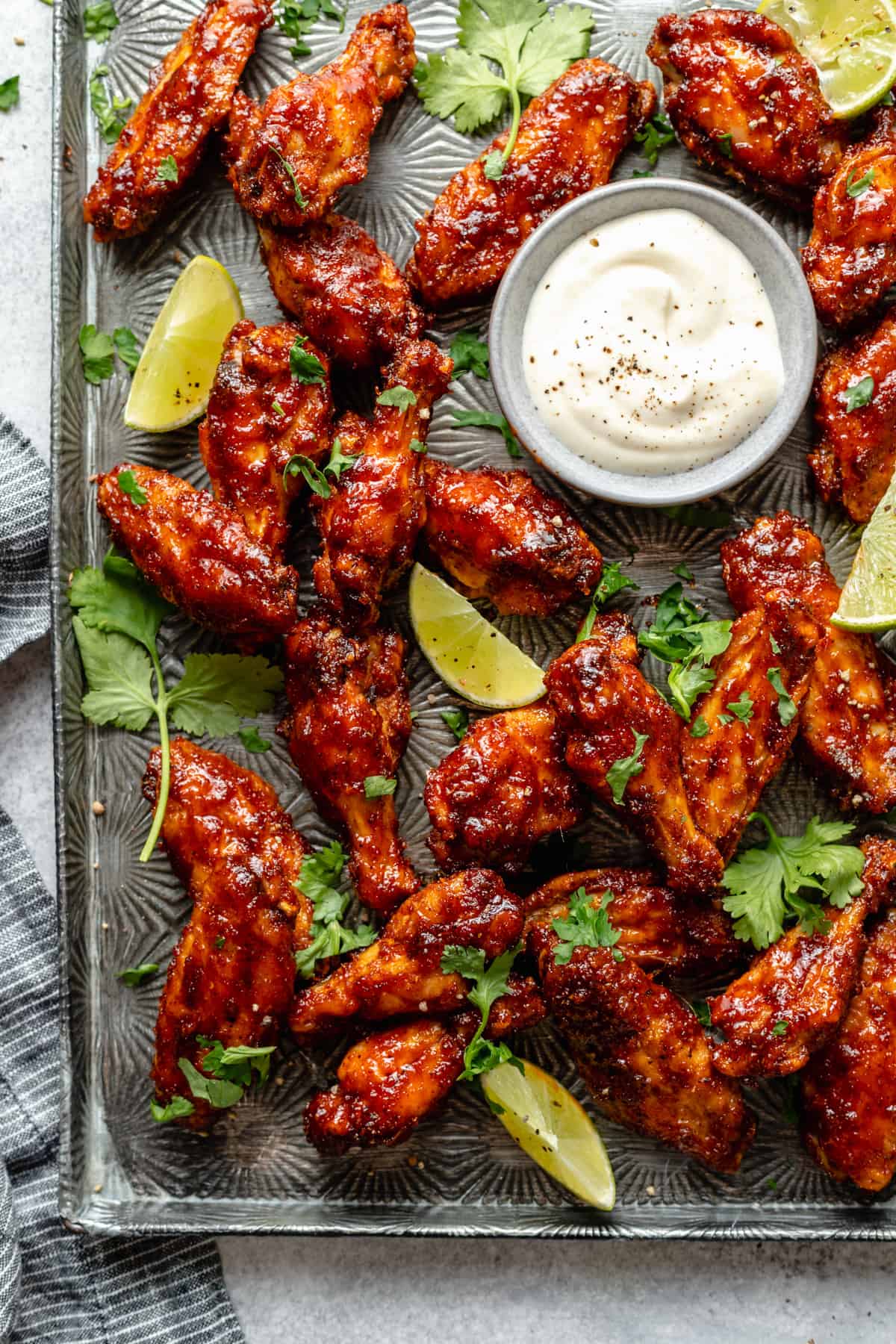 FAQs
What does baking powder do to wings?

Baking powder has the effect of making your chicken wings really crispy. It draws the moisture from the chicken skin allowing it to crisp up nicely. It also raises the alkalinity of the skin and starts breaking down the proteins in the skin which aids browning and extra crispiness. Using too much baking powder can make the wings take on a chemical flavour or taste a bit metallic, which is why we use it alongside rice flour.
What does rice flour do to wings?

Rice flour is highly absorbent and increases the surface area of the skin of the chicken wing. Doing this allows the heat of the oven to evaporate the moisture and makes the chicken skin super crispy. 
Can I store these?

These wings are best eaten fresh so you can enjoy the crispiness the most. They also keep for a few days in the fridge and are still very tasty cold. You could reheat them in the oven too but just be aware of the sticky sauce, it may burn if left cooking for too long. If you think you won't eat them all straight away, refrain from tossing all of the wings in the sauce and they should stay a little crispier that way.
Why do my chicken wings taste bitter with using baking powder?

Most other crispy baked chicken wing recipes use solely baking powder and this is the reason why. Baking powder tends to contain sodium aluminium sulphate and this can give a bitter taste in larger quantities. In this recipe we use a blend of baking powder and rice flour which ELIMINATES this bitterness so you can enjoy your crispy wings even more!
More tasty chicken recipes
I hope you love these sticky spicy baked chicken wings as much as we do. If you make them, be sure to leave a comment, rate the recipe and tag #eatloveeats on Instagram! I love to see your creations!