This post contains affiliate links from which we could earn a small commission. Please read our Privacy Policy for more information.
These are THE ultimate biscoff brownies, super quick and easy to throw together and oh so fudgy! The only brownie recipe you need in your life with huge lumps of biscoff that make them even more perfect!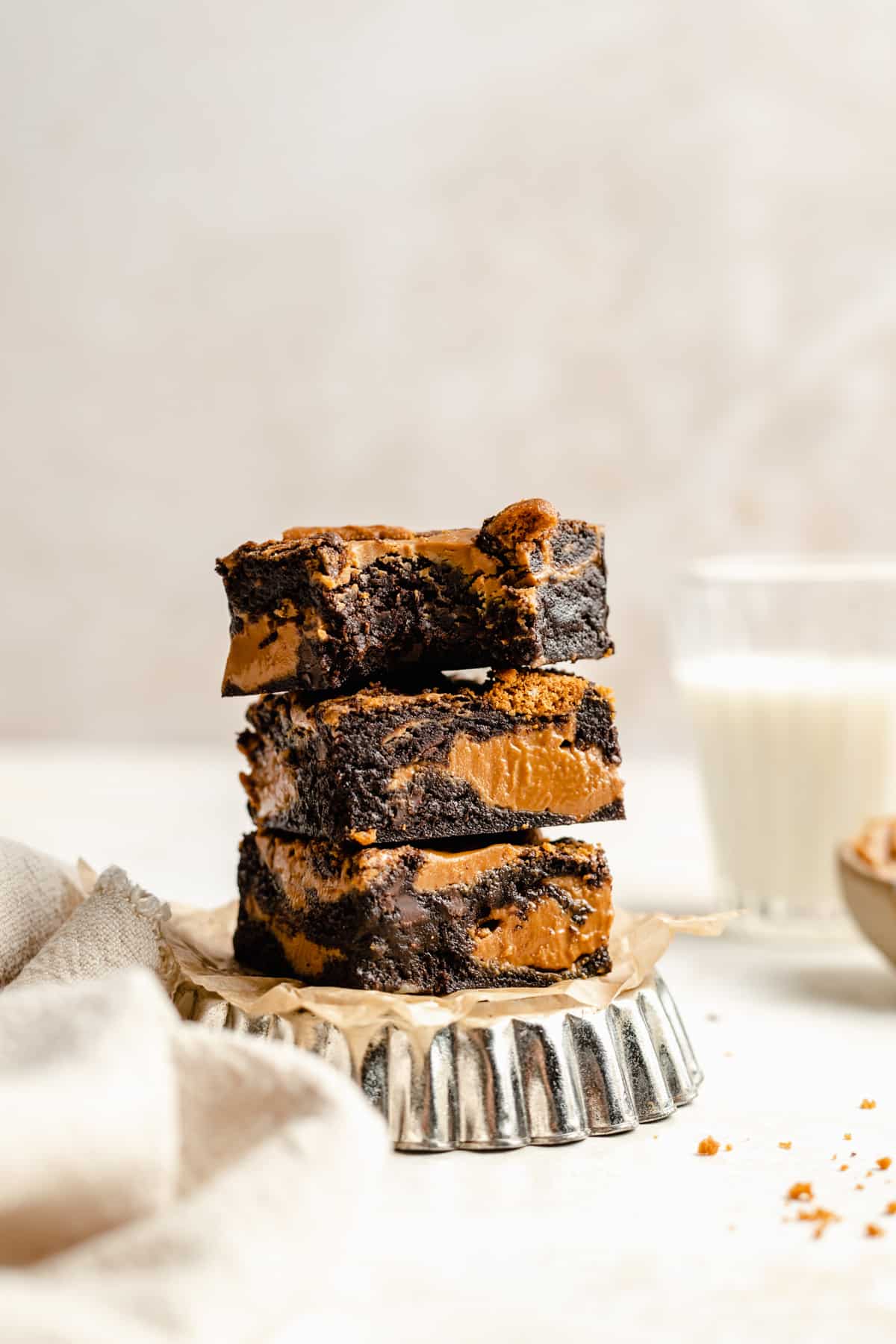 When it comes to brownies it's all about fudgy in my house. I can't understand cakey brownies and there is nothing more disappointing than getting a brownie at a cafe and finding it to be cakey. Ahh! When I'm in the mood for cake, I'll order cake. HA! This family is totally fudgy brownie crazy and these biscoff brownies HIT the bullseye for the criteria. They are made even more epic with huge dollops of biscoff (cookie butter) throughout the mix. Oh and don't forget the chunks of chocolate too! We've gone all out on these special brownies. Zero guilt, no shame - just pleasure and joy!
I've been making brownies using this method for a long time. They're based on Alice Medrich's brownie recipe via Cookie and Kate. They're totally fool proof and so reliably gooey it's unreal. These brownies are so quick and easy to whip together you'll be sitting back and enjoying the chocolatey aromas emitting from your oven in no time! If you love biscoff as much as we do, you definitely need these biscoff white chocolate chip oatmeal cookies in your life too!
I love hearing from you so please leave a comment with how you got on and how much you love these incredible biscoff brownies. Also don't forget to rate the recipe!
Let's get to making these biscoff brownies! Use the links below to jump to wherever you want on this page.
Jump to: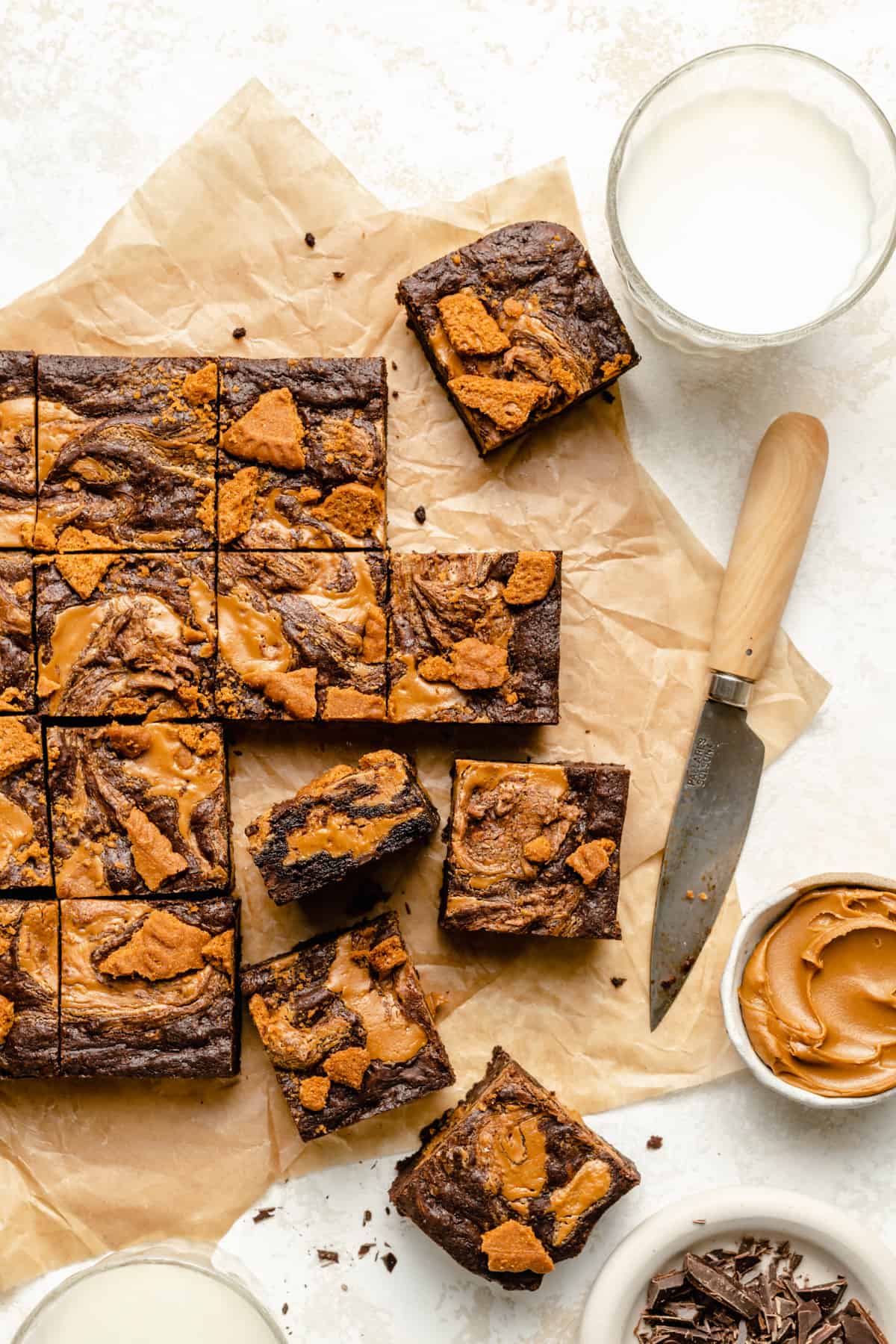 What makes these the best
These are the reasons you need these fudgy biscoff brownies in your life:
Quick & easy - the recipe uses very simple ingredients that are readily available. There is NO melting chocolate, NO whipping up eggs, NO messing around. It really is so simple and it uses only one bowl!
Fudgy - these brownies and the method used GUARANTEES fudgy brownies every time. The sort of brownie that leaves teeth marks in it when you take a bite. Now THAT's what I'm talking about. The most insanely delicious biscoff brownies you could ever make!
Cocoa powder - regardless of what others claim, cocoa powder IS real chocolate. It's the basis of all chocolate bars. Using cocoa powder allows us to control the fat and sugar within the brownie, which keeps the middles softer. It also means we can make them intensely chocolatey. Using this method eliminates the need for melting chocolate which is an extra step we don't need when we just want ooey gooey fudgy brownies as quick as possible. Right?!
Biscoff - cookie butter or Lotus Biscoff Spread is the perfectly spiced caramel flavoured spread that works SO well with chocolate.
Ingredients
You only need very simple ingredients that are readily available for these ultimate biscoff brownies. This is what you'll need: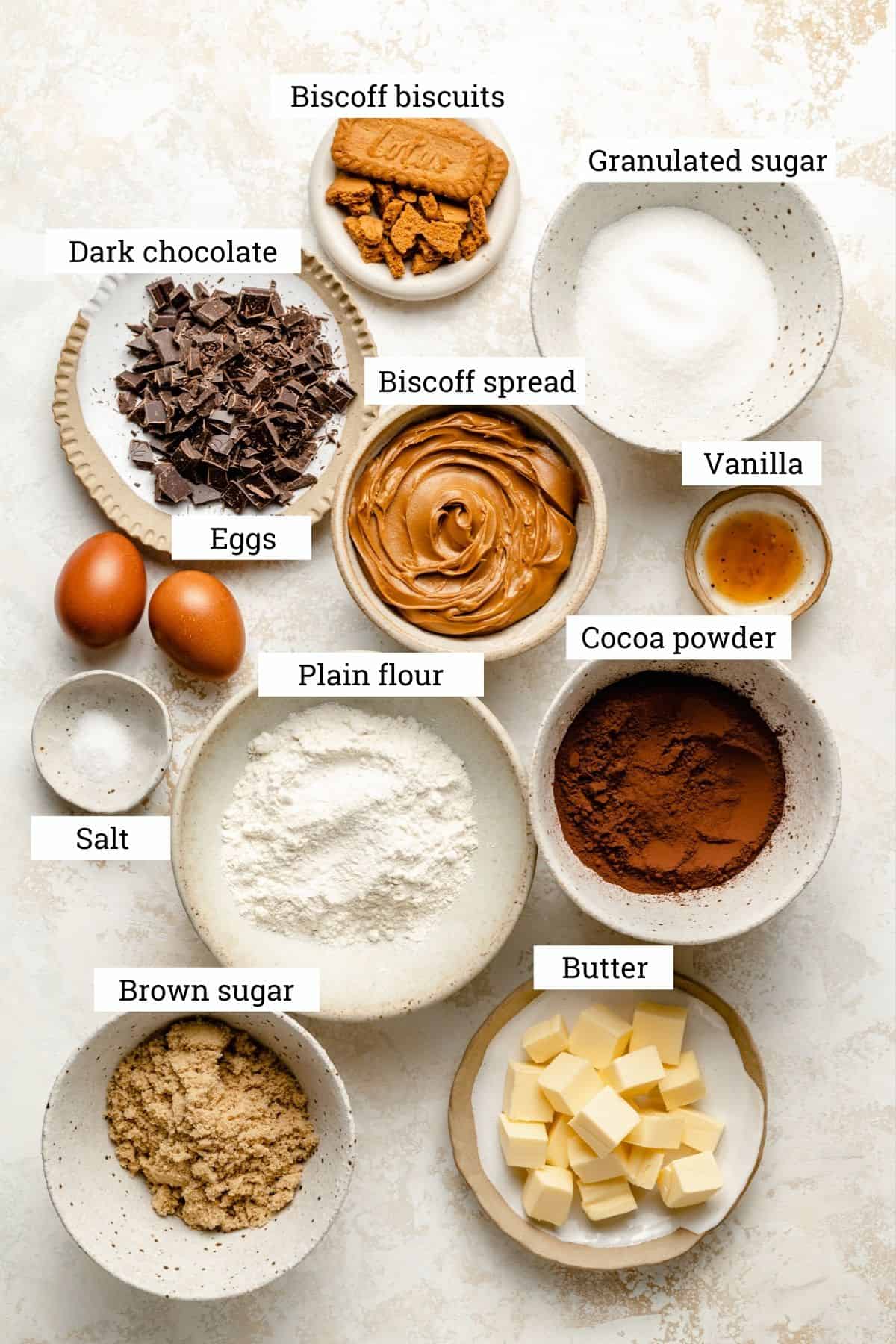 Butter - in almost all baking scenarios I recommend using unsalted butter as it allows you to control the amount of salt which is needed when seasoning your brownie mix.
Sugar - you'll use both granulated sugar and soft brown sugar in this brownie mix which adds to the fudginess.
Eggs - eggs are a wonderful thing and perfect for brownies, you don't need to whip them up as I find that makes the brownie cakey!
Cocoa powder - you can use any unsweetened cocoa powder, but if you use natural, not dutch processed (without acidity regulator) you'll get a richer, more chocolatey brownie.
Store cupboard - you'll need all purpose (plain) flour, vanilla extract and fine sea salt to season the brownies which will enhance the chocolate flavour.
Dark chocolate - you'll need a dark chocolate bar. I love using a bar to chop into chunks but you can also use chocolate chips.
Biscoff - the crowning glory of these biscoff brownies is the super tasty biscoff cookie spread. I like using smooth, but if you want you can use crunchy. You won't regret it either way. You can also top the brownies with crushed biscoff biscuits.
Customisations/substitutions
Here are some recommendations for customisations and substitutions:
Sugar - if you don't have soft brown sugar on hand you can just use granulated sugar for the total quantity of sugar.
Mix-ins - you can switch out the biscoff for peanut butter if you wish, but I do recommend keeping the biscoff in place. You could also throw in some nuts, or crushed biscoff biscuits throughout the brownie batter, but take care not to add too many or crush them too finely as they could make the brownie dry.
Chocolate - you can use chocolate chips instead of a chocolate bar chopped up. You could also switch the type, or use milk or white chocolate chips to mix things up.
How to make it
These biscoff brownies are very straightforward to make. Follow these steps to make them: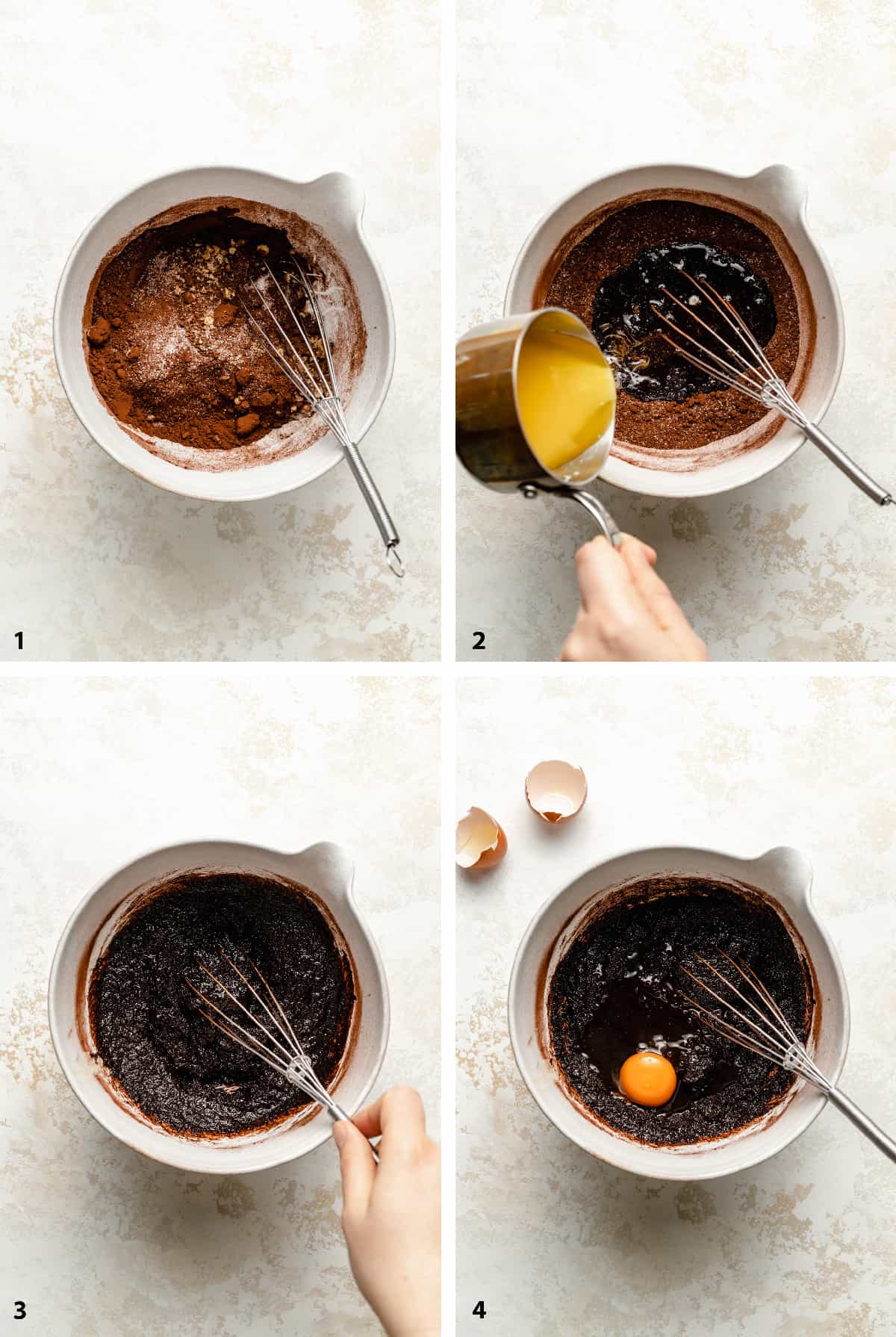 Mix the granulated sugar, brown sugar and cocoa powder together in a medium bowl with a whisk.
Pour in the melted butter whilst it is still hot.
Whisk in the melted butter until the mixture is fully combined. The mixture will look grainy and this is fine.
Add an egg one at a time and whisk in until fully incorporated between each egg.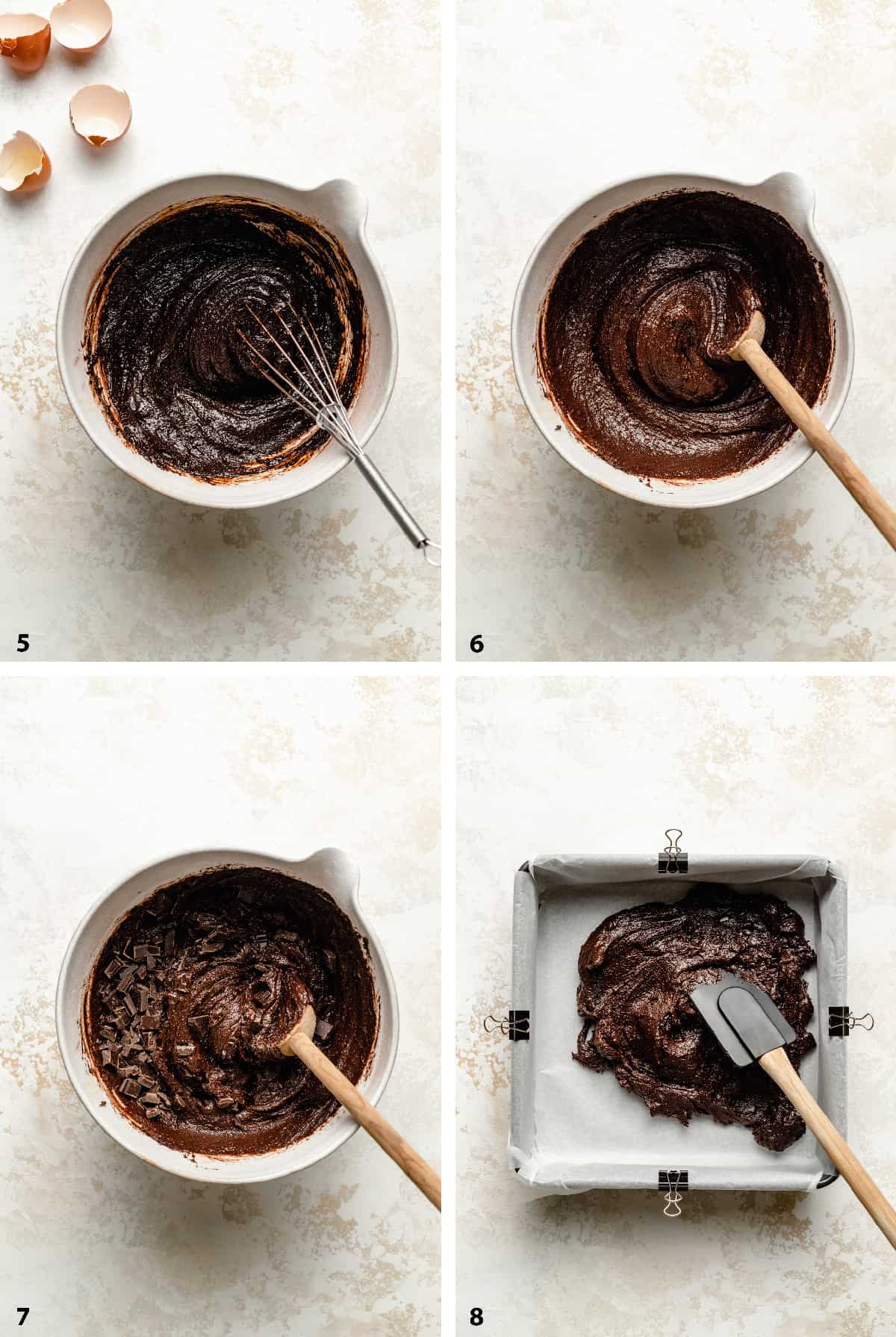 The mixture should look smoother after you've mixed in the final egg.
Add the flour and stir the brownie mix for 40-50 strokes until glossy and smooth, this tightens the batter.
Add in the chopped chocolate chunks and stir throughout the batter with a spoon.
Scoop just under half the brownie batter into a pre-prepared parchment lined 8 x 8 baking tin and spread out evenly with a spatula.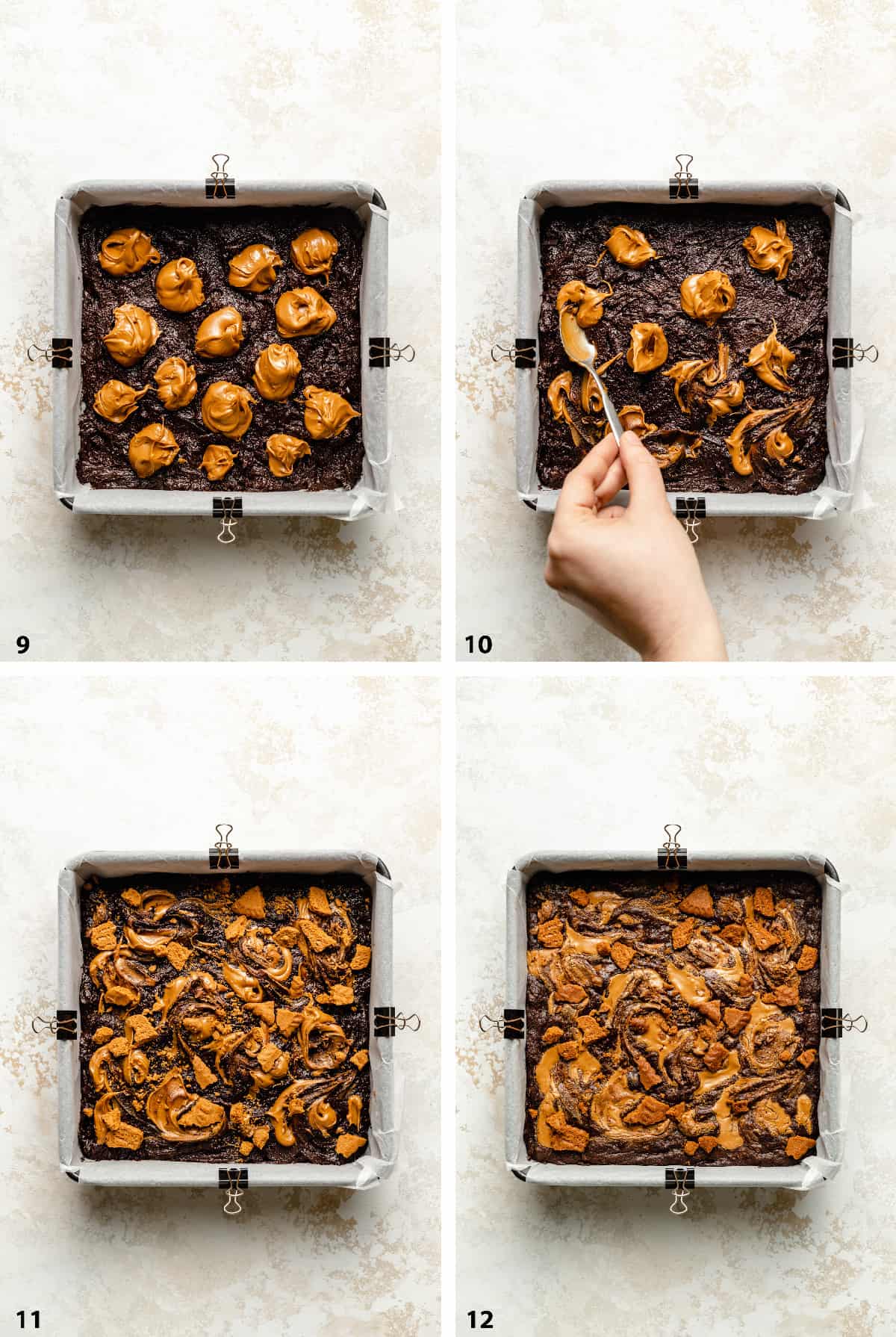 Create some little dips with the back of a spoon in the brownie batter and spoon heaping teaspoons of biscoff into them. About ⅔rds of a cup.
Spoon the remaining brownie batter on the top of the first layer being careful not to mix the biscoff into the batter (see tips). Then spoon dollops of the remaining biscoff (⅓ cup) on top of the brownie.
Swirl the biscoff on top flicking a little of the brownie batter within it. (see tips)
Bake your biscoff brownie in a preheated oven at 160C/320F for 25-35 minutes.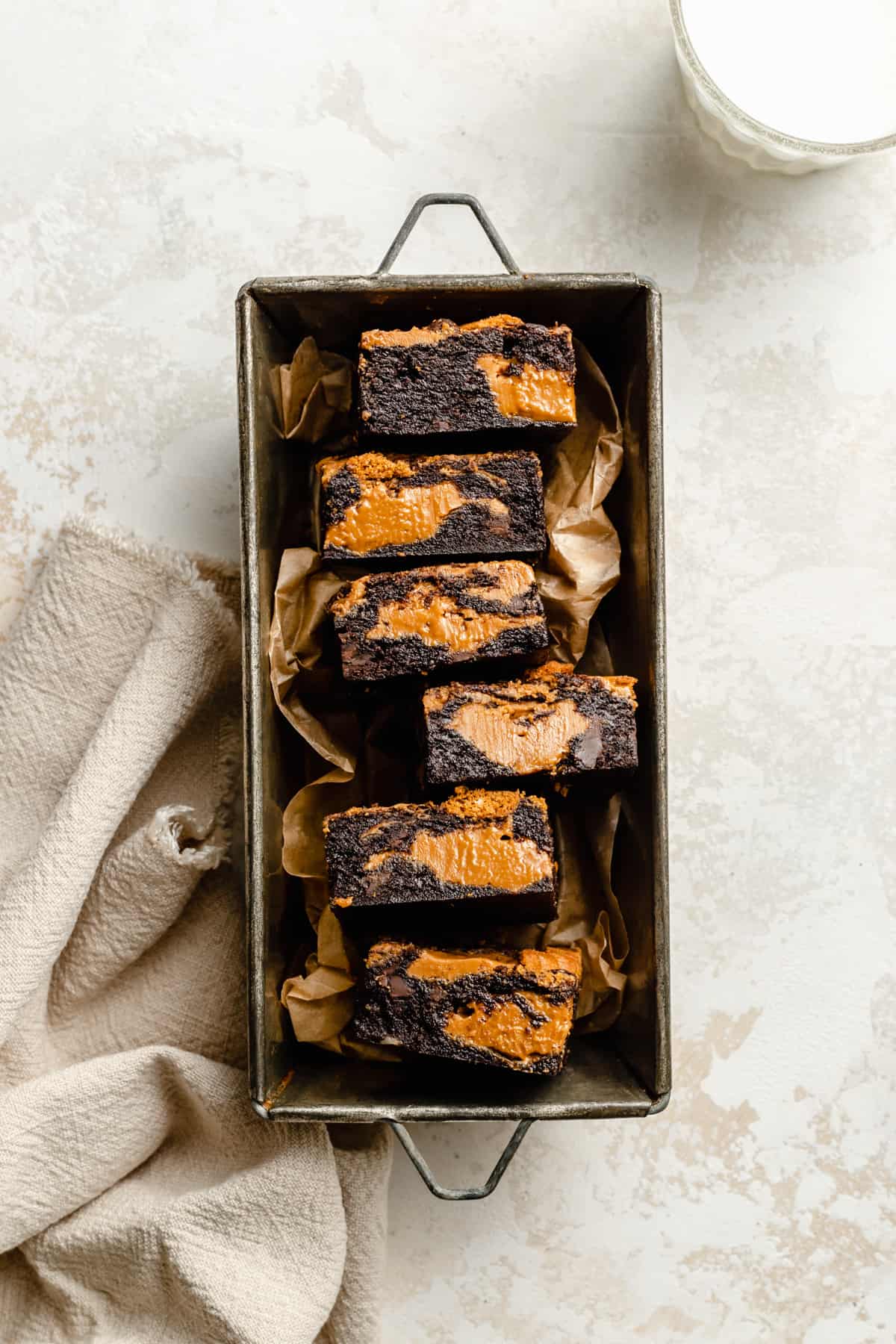 Recipe tips
Here are some tips that will help you get the most out of this biscoff brownie recipe.
Microwave - Using a microwave to melt the butter in the same bowl you make the brownie mix in saves you a pan in washing up but also makes the recipe even faster. Just make sure the melted butter is still hot when adding the sugar and cocoa powder.
Layering - when spooning on the top layer of the brownie batter, do it in dollops across the top between the biscoff lumps and use a spatula to join them all together. Doing it this way will allow you to do this without smearing all the biscoff lumps into the batter. You want to see big chunks of biscoff when you cut through the brownie.
Biscoff topping - when swirling the biscoff on top, pick some of the brownie batter up in the swirl and put it through the biscoff. Doing this prevents the biscoff topping from melting and pooling in a sheet across the top of the brownie which if it does, it'll just dry out.
FAQs
What is the key to fudgy brownies?

Essentially, more fat and less flour. Using cocoa powder in this recipe allows us to control this much more than the variability of fat in a chocolate bar. The amount of sugar or eggs doesn't directly have an effect on whether it is fudgy but I have found that some recipes using whipped up eggs do tend to lead to a more cakey brownie. This recipe only calls for a smallish amount of flour.
How to tell if a brownie is cooked?

You should have a slight wobble, but most importantly you have a cake tester come out with a few crumble and looking slightly wet still. If it comes out with just batter all over it, keep baking it. If you find that your brownie is underbaked, you can place it in the fridge to firm it up. It's better to slightly underbake than overbake!
How to store brownies

If you can make these last, more power to you! I would recommend storing them in an airtight container at room temperature for 4-5 days. If they end up a little stale you could always reheat them in the oven or microwave for a bit. You can also store them in the fridge and they will stay fudgy too!
More incredible baking recipes...
I hope you love these ultimate biscoff brownies as much as we do. If you make them, be sure to leave a comment, rate the recipe and tag #eatloveeats on Instagram! I love to see your creations!