This post contains affiliate links from which we could earn a small commission. Please read our Privacy Policy for more information.
These biscoff white chocolate chip oatmeal cookies are thick and chewy and so moreish! They're so easy to whip together and only require a few simple ingredients. They're all you could ever want in an oatmeal cookie. Soft and chewy is the only way forward here! The spiced biscoff adds a fall touch to these oatmeal cookies, making them even more perfect.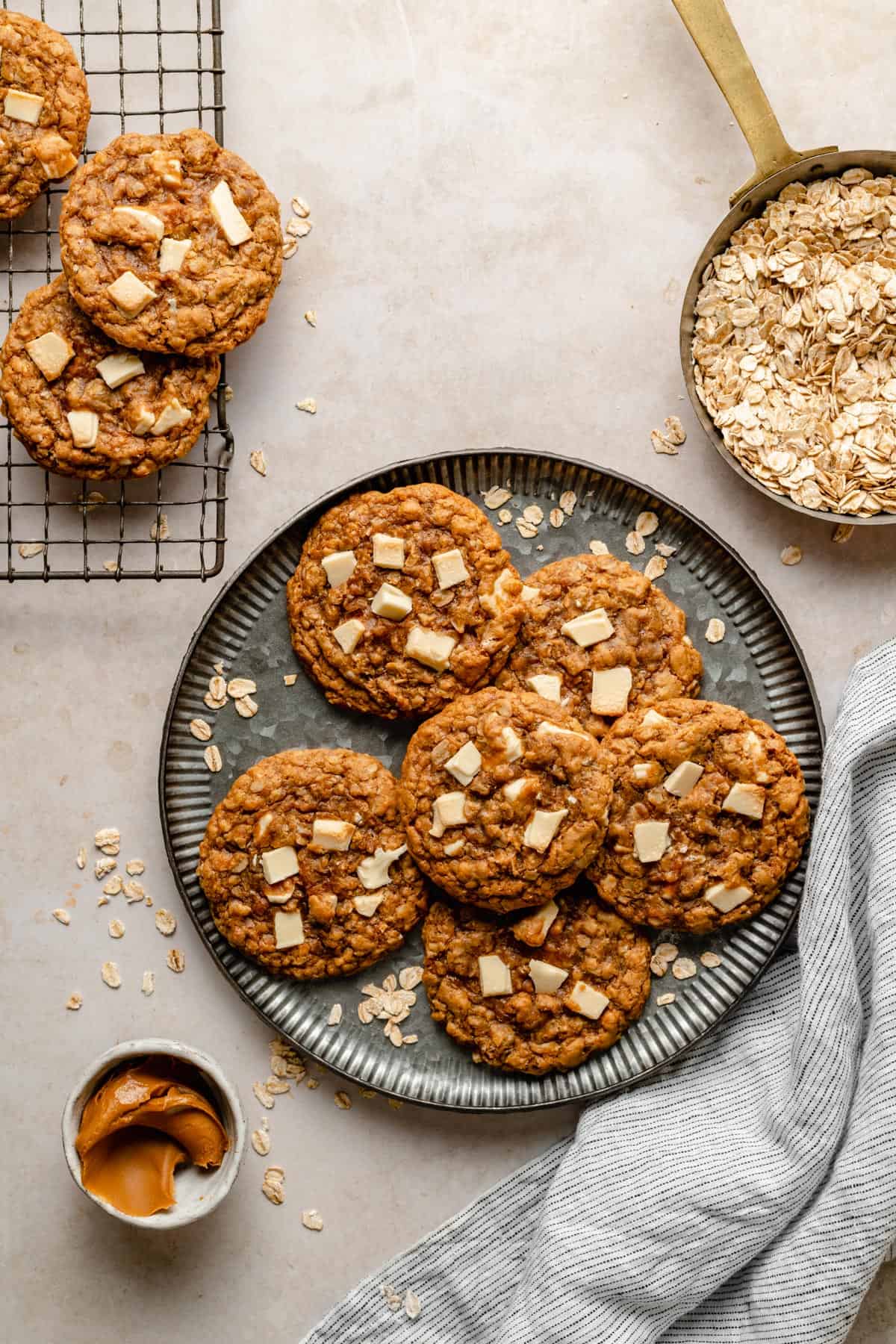 I love cookies and the best cookies are the soft and chewy ones, right? Chocolate chip cookies are obviously the most popular, but I mean, there's little better than a soft chewy oatmeal cookie! The kind of cookie you just can't resist going back for another one straight after finishing one. These biscoff white chocolate chip oatmeal cookies ARE. JUST. THAT. The must eat at least two at a time type of cookie.
Biscoff, or cookie butter as it's known in the US, is a special kind of thing isn't it? A butter made of ground up speculoos biscuits that is just so much better than the sum of its parts. Maybe that's just me. But I mean come on, COOKIE BUTTER. How could we go wrong with that?
Lotus biscoff biscuits/cookies are perfectly spiced with notes of cinnamon that match beautifully with oats and white chocolate. These cookies are perfect any time of the year, but are a great start to preparing to wind down for fall. With the weather being so changeable lately I'm already feeling the season start to change… a little too early for me personally. But there's nothing wrong with a bit of cloudy day baking!
I know you'll love making and sharing these oatmeal cookies with friends and family, so share the love and let us know how you get on in the comments! Don't forget to rate the recipe too 🙂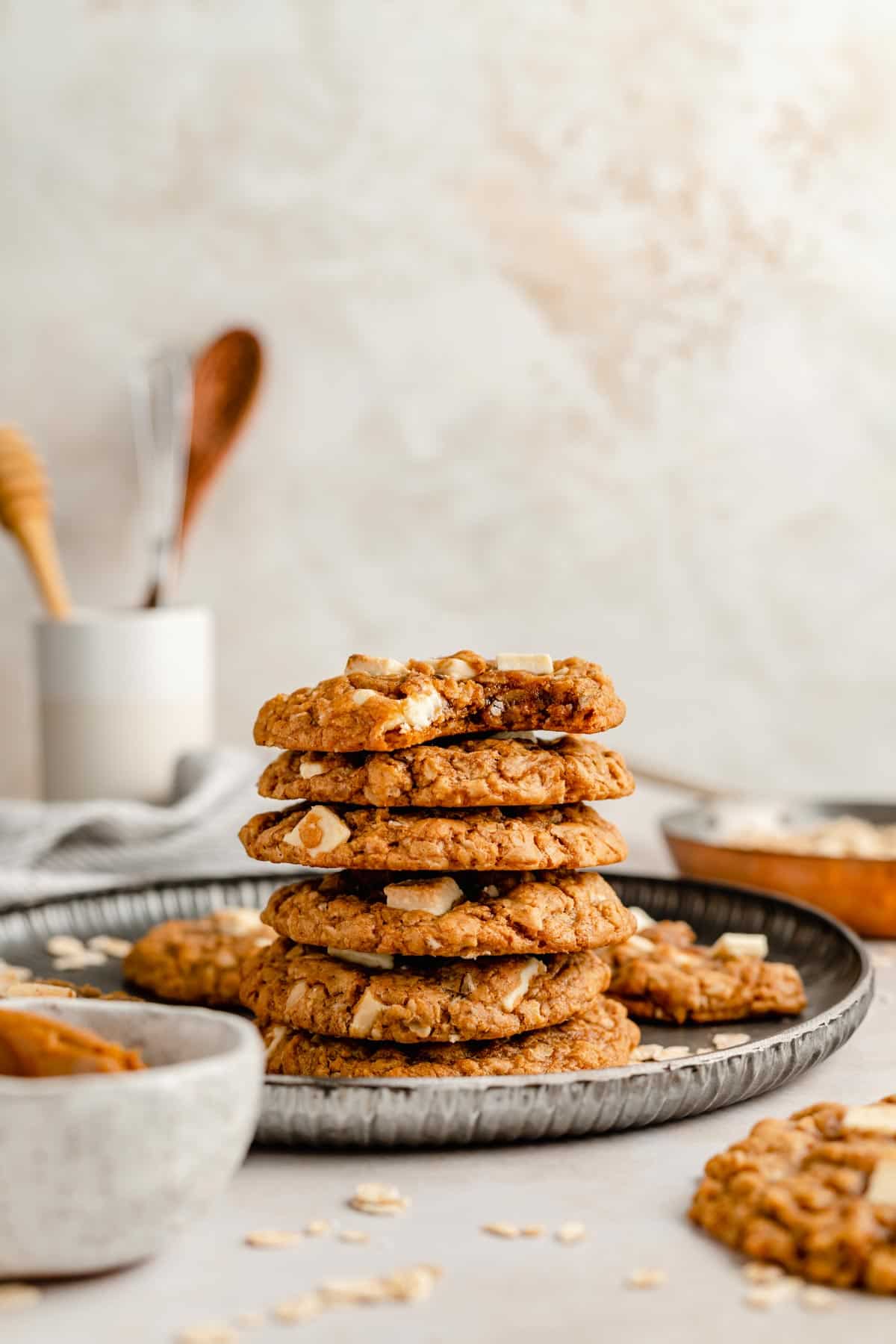 What ingredients do I need?
You really don't need a huge number of ingredients for these biscoff white chocolate chip oatmeal cookies. They are so quick and easy to throw together you'll be snacking on these in no time! Here's what you need: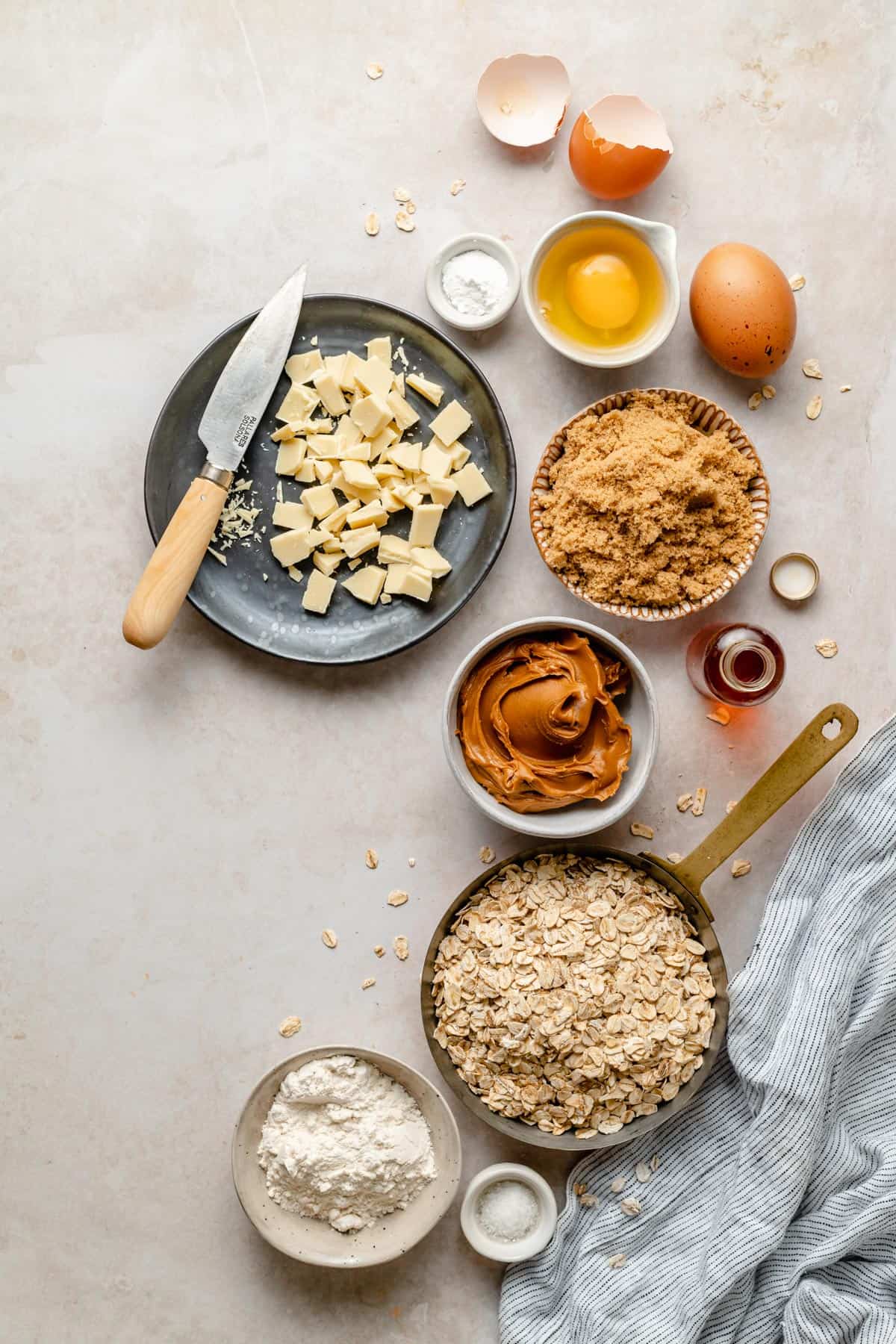 Smooth biscoff spread - This biscoff spread is the central flavouring of these gorgeously chewy oatmeal cookies. Most shops should have it but you can find it online too.
Light brown sugar - brown sugar adds to the lovely caramel notes of the biscoff spread.
Eggs - use what you have access to, but here we use medium eggs (UK) which would be US large.
Baking staples - You'll need some cupboard baking staples; all purpose flour, vanilla extract, baking powder and fine sea salt.
The right oats - You can't make oatmeal cookies without quality oats; I use old fashioned jumbo rolled oats that just give the perfect texture here.
White chocolate chips - You can use white chocolate chips or cut a white chocolate bar into chunks, either works well.
Optional customisations/swaps
Chocolate chips - we've tried these with dark chocolate, you can do it with milk too, but I believe the white chocolate adds to the creaminess of the biscoff without overpowering it. I personally prefer the chocolate chunks but anything chocolatey is just the best.
Gluten free? - It wouldn't be possible to make these gluten free as the biscoff spread contains wheat. You may be interested in these though: Cashew Butter Granola Bars.
If you want to see more gluten free options for cookies, let me know in the comments!
Vegan? - The good news is that biscoff is vegan friendly. I couldn't comment as to whether these cookies would work with a flax egg substitution as I haven't tested it. But if you do! Let me know in the comments below! We love hearing from you. 🙂 xo
What makes these the best cookies?
Old fashioned oats - If you want the right texture for an oatmeal cookie, you really need to hook yourself up with jumbo old fashioned oats. These give the perfect chewiness; quick oats just don't give the same texture.
Biscoff Spread - This spread is wonderful, it replaces the fat content of the cookie but adds caramelised biscuit and cinnamon flavours that just elevate the oatmeal cookie to the next level! I like to use the smooth biscoff spread, but you could use crunchy if you prefer.
Chocolate chips/chunks - What cookie is not made better with chocolate chips? You tell me, I'll be waiting. I bet you can't think of one. Chocolate chips are quintessentially one of the best things about cookies! If you like chocolate chip cookies as much as we do: try these popcorn chocolate chip cookies.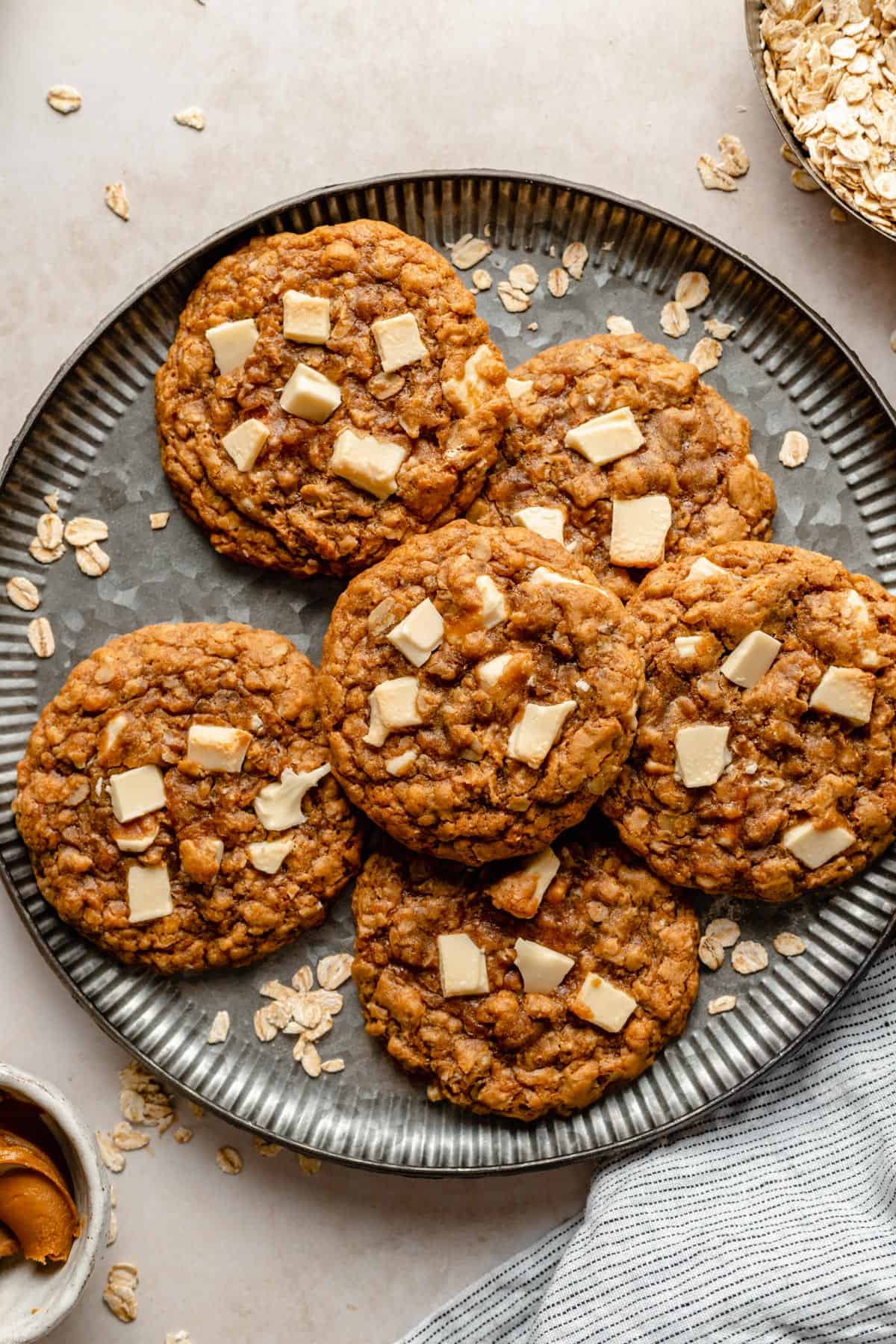 Tips and tricks for making these
These biscoff white chocolate oatmeal cookies are so quick and easy to make you'll be devouring them in no time! We love to help make recipes and baking recipes that are approachable for all. Follow these easy step by step photos to keep you on track and you won't go wrong. Here we go:
First in a large mixing bowl get all your wet ingredients together and mix together with a wooden spoon until combined. You should get a nice thick paste.
Place your dry ingredients on top of the wet ingredient paste.
Gently stir together the wet and dry ingredients until combined into a thick cookie batter.
Pour your white chocolate chunks or chips, whichever you are using, onto the cookie batter.
Gently stir the chocolate chunks/chips throughout the cookie batter.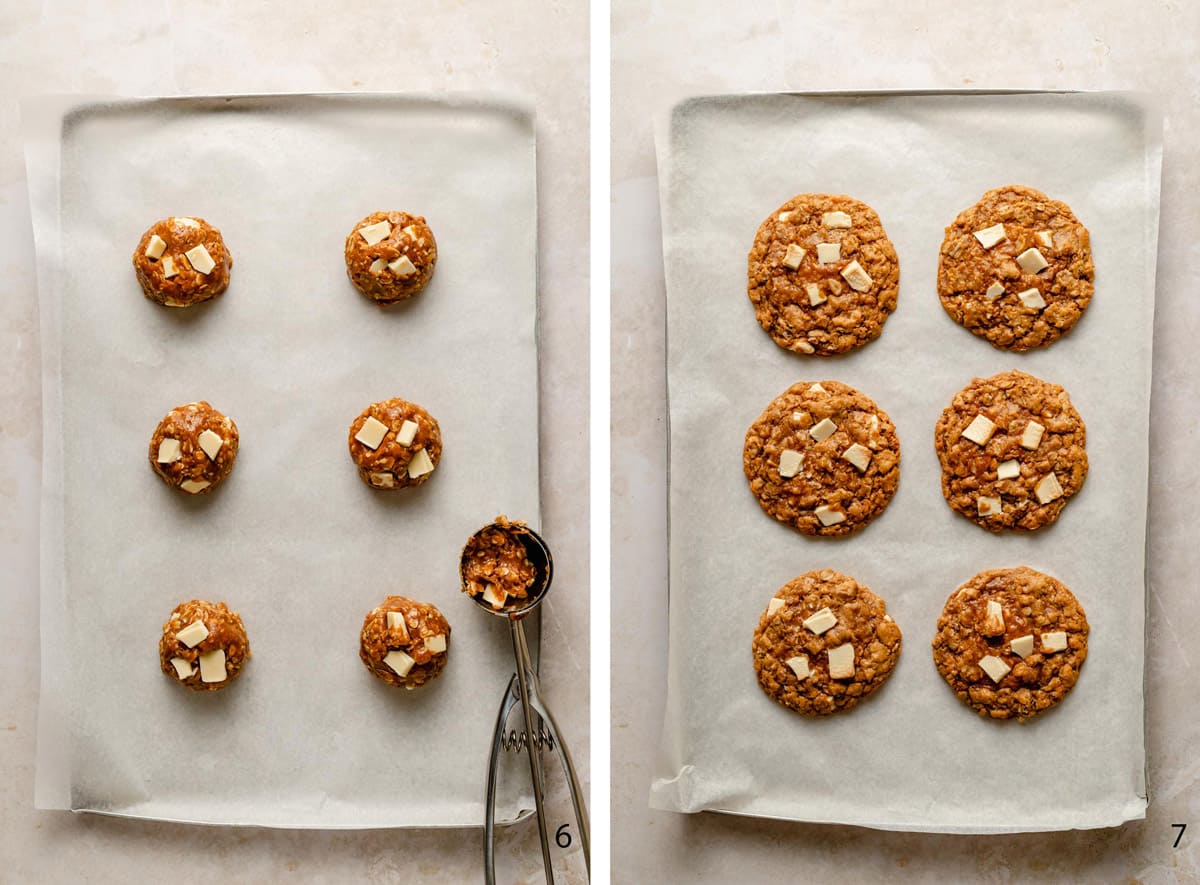 Using a medium cookie scoop (two tablespoons), measure out your batter and place onto a parchment lined baking sheet, 6-7 cookies per sheet. No need to roll them into balls, but you can if you want.
Tip #1 - don't flatten them before baking, this makes for a lovely thick cookie.
Bake the cookies in a preheated oven at 180C/350F for 10-12 minutes or until set on the edges but still slightly gooey in the middle.
Tip #2 - Mine are perfect at 10 minutes. Add a few extra chocolate pieces to the top if desired to make them look extra delicious.
Tip #3 - Leave to cool on the baking sheet for 10 minutes - they'll continue to set on the baking sheet and will be perfectly gooey and fudgy in the middle.
Now just admire this photo and get baking some cookies! You don't want to miss out on these, trust me 😍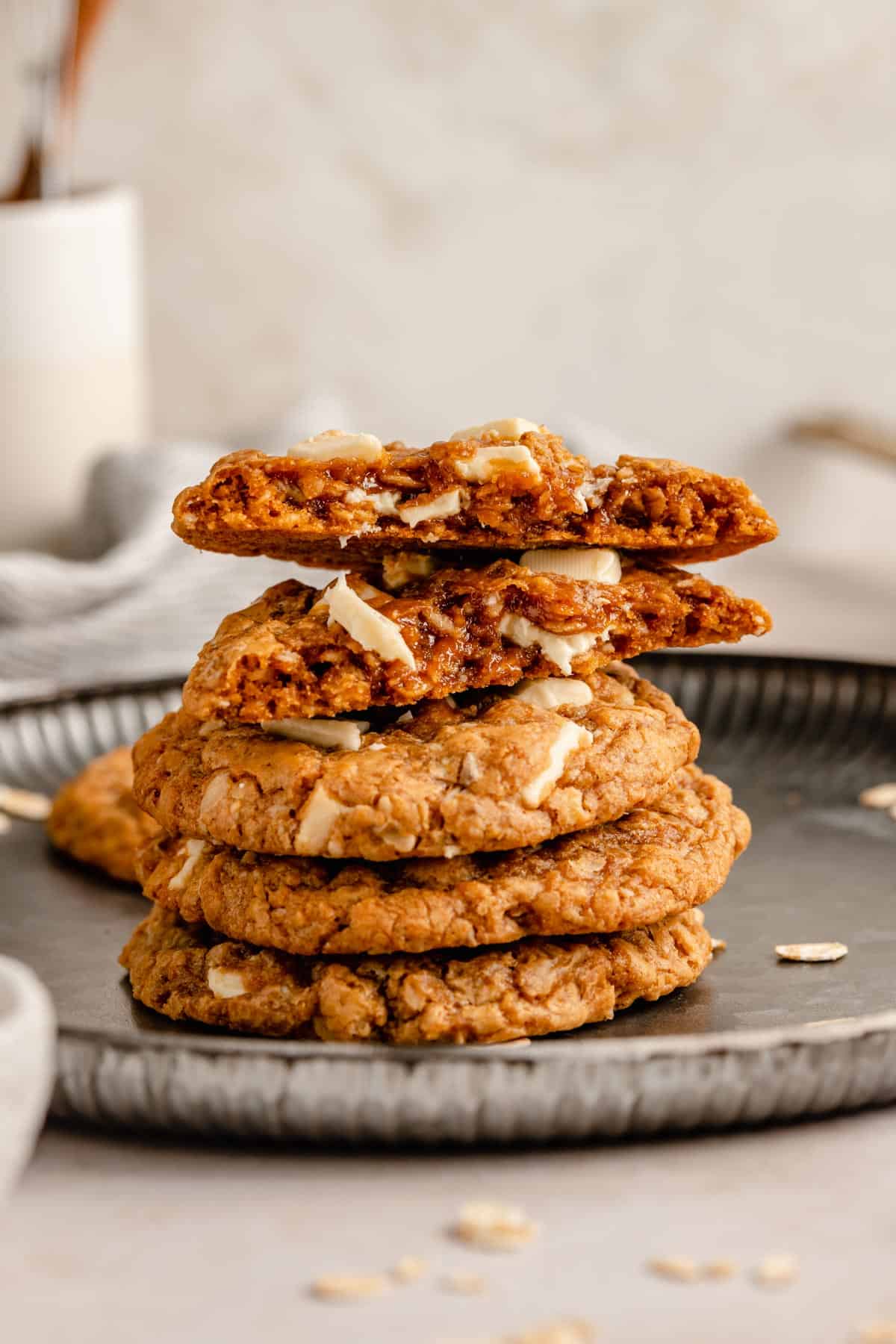 Frequently Asked Questions...
How to store biscoff white chocolate chip oatmeal cookies?

As with all cookies, they are best on the day of baking, but if you need to store them they are good for up to 3 days in an airtight container.  But I promise you they will NOT last that long. They definitely don't in my house 😂

Can I freeze these cookies?
There are two ways to do this: 

Freeze before cooking - to do this option, get up to stage 6 in the tips above and place the cookie sheet in the freezer to freeze the cookie balls solid, you can then place them in a ziplock bag and freeze them at -18C for up to 3 months. This is a great option to have as a reserve especially when you have a hankering for a cookie but don't want a full batch! In my house they are called emergency cookies; you know you always need them on hand. 

Cooking from frozen - Preheat the oven to 180C/350F as per the recipe, place your frozen cookie dough balls on a parchment paper lined baking sheet and bake for 10-12 minutes until starting to crisp at the edges and gooey in the middle. (unfrozen ones take 10 minutes, the frozen ones may take a few minutes extra) 

Freeze after cooking - Now this is if you have baked them and realise you can't consume them all fairly quickly. Just let them cool, then place them in a ziplock bag and freeze them. When you get a hankering for a cookie, you can get them out, defrost them and then enjoy either simply defrosted or you can reheat them for a few minutes in the oven. 
Fancy baking more? Check these out!
I hope you love these biscoff white chocolate chip oatmeal cookies as much as we do. If you make them, be sure to leave a comment, rate the recipe and tag me on Instagram! I love to see your creations!