These biscoff cookies with white chocolate chips are thick and chewy and so moreish! They're so easy to whip together and only require a few simple ingredients, one bowl and a spoon.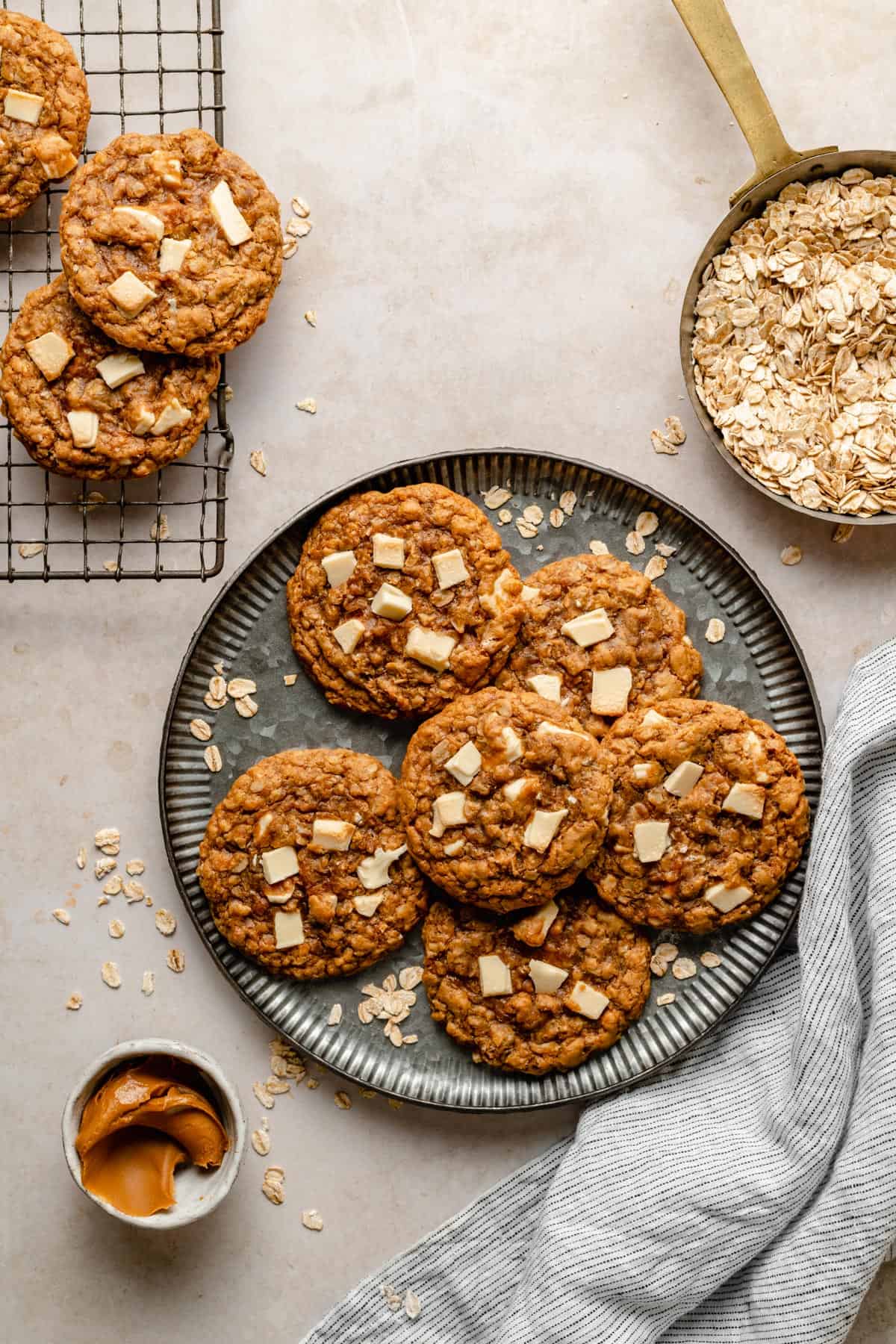 We love cookies and the best cookies are the soft and chewy ones, right? The kind of cookie where you just can't resist going back for another one straight after finishing one. These biscoff cookies ARE. JUST. THAT. Super chewy, super moreish, the must eat at least two at a time type of cookie.
Biscoff, or cookie butter as it's often known in the US, is a special kind of thing isn't it? A butter made of ground up speculoos biscuits that is just so much better than the sum of its parts. Maybe that's just us. But come on, COOKIE BUTTER. How could we go wrong with that? You definitely need to try our biscoff brownies and biscoff pancakes, too!
Lotus biscoff cookies are perfectly spiced with notes of cinnamon that match beautifully with oats and white chocolate. These cookies are perfect any time of the year, but are a great start to preparing to wind down for fall. Especially in the run up to the festive season.
We know you'll love making and sharing these biscoff cookies with friends and family, so share the love and let us know how you get on in the comments! Don't forget to rate the recipe too.
Jump to:
What makes these the best cookies?
These chewy biscoff cookies are the best and here are the reasons you need to make them part of your cookie baking life:
Old fashioned oats - if you want the right texture for an oatmeal cookie, you really need to hook yourself up with jumbo old fashioned oats. These give the perfect chewiness; quick oats just don't give the same texture.
Biscoff spread - This spread is wonderful, it replaces the fat content of the cookie but adds caramelised cookie and cinnamon flavors that elevate the oatmeal cookie to the next level. We're talking major biscoff flavor in these cookies!
Chocolate chips/chunks - chocolate chips are quintessentially one of the best things about cookies! If you like chocolate chip cookies as much as we do: try these popcorn chocolate chip cookies.
One bowl - less washing up is always a winner for us and using only one bowl, these biscoff cookies are quick and easy to throw together.
No chill - just like many of our other cookies, these biscoff cookies don't require any chill time which means you'll get your cookies faster! WOO!
Ingredients
The ingredients for these chewy biscoff cookies are easily accessible and readily available. Here's what you need: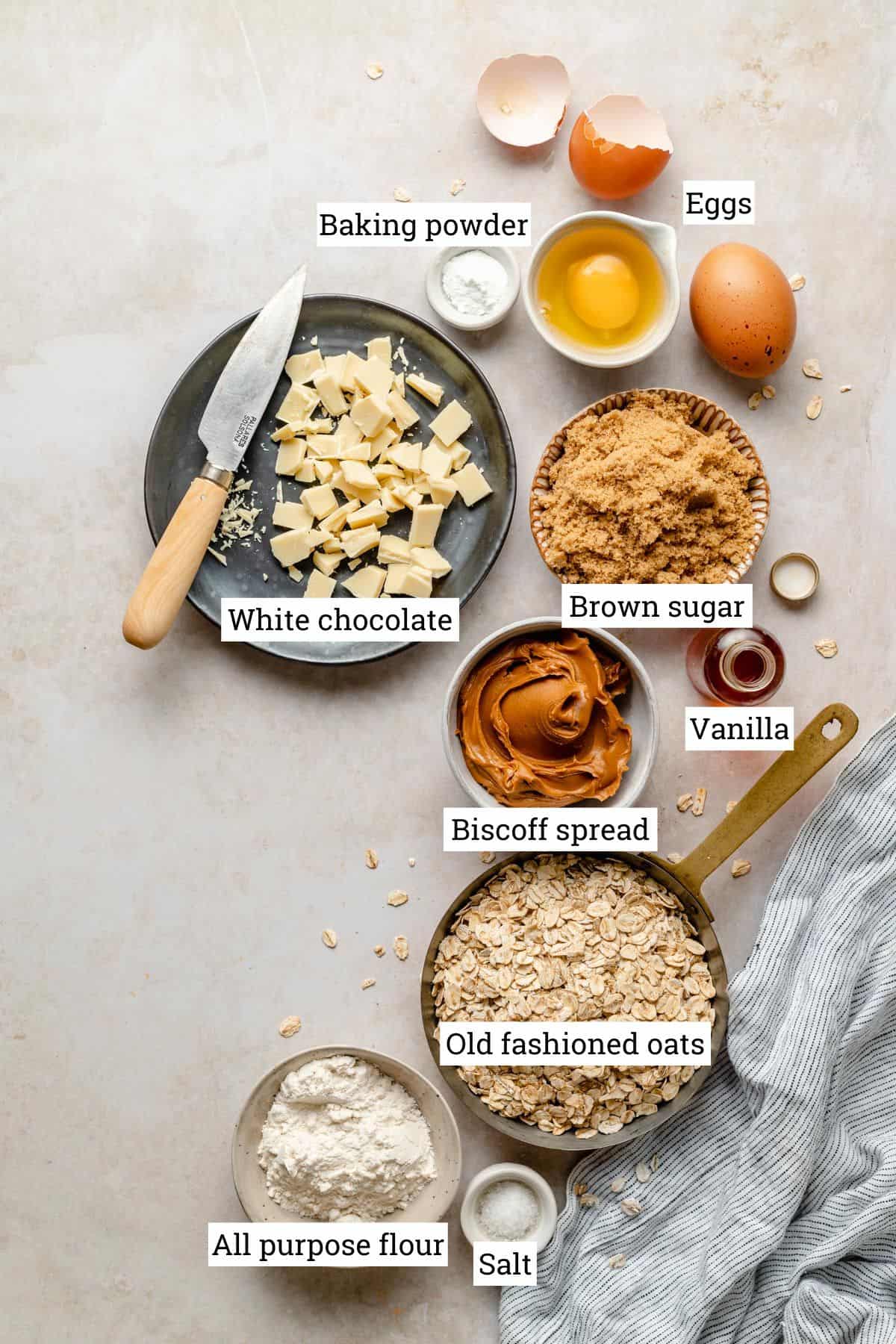 Smooth biscoff spread - this biscoff spread is the central flavoring of these gorgeously chewy oatmeal cookies. Most shops should have it but you can find it online too.
Light brown sugar - brown sugar adds to the lovely caramel notes of the biscoff spread.
The right oats - you can't make these cookies without quality oats; we use old fashioned jumbo rolled oats that give the perfect texture here.
White chocolate chips - you can use white chocolate chips or cut a white chocolate bar into chunks, either works well.
Customizations
We know you love mixing things up with recipes so here are some recommendations for these biscoff cookies:
Chocolate chips - we've tried these with dark chocolate and you can use milk too, but we believe the white chocolate adds to the creaminess of the biscoff without overpowering it. We personally prefer the chocolate chunks but anything chocolatey is just the best.
Gluten free? - it wouldn't be possible to make these gluten free as the biscoff spread contains wheat. You may be interested in these though: cashew butter granola bars.
If you want to see more gluten free options for cookies, let us know in the comments!
Vegan? - The good news is that biscoff is vegan friendly. We couldn't comment as to whether these cookies would work with a flax egg substitution as we haven't tested it. But if you do, let us know in the comments below!
How to make biscoff cookies
These biscoff cookies are so quick and easy to make you'll be devouring them in no time! Follow this easy step by step guide to keep you on track and you won't go wrong. Here we go: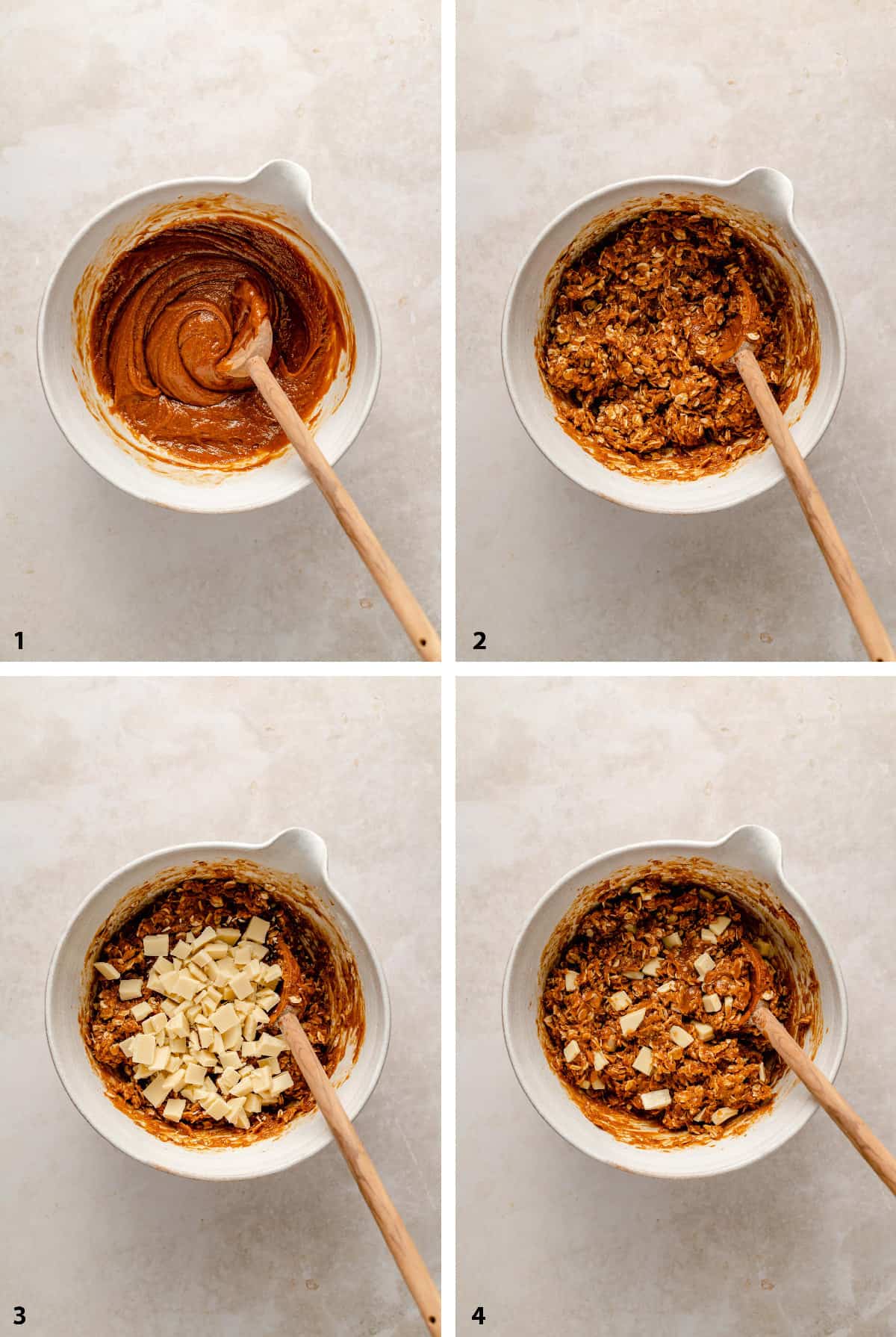 First in a large mixing bowl get all your wet ingredients together and mix with a wooden spoon until combined. You should get a nice thick paste. Place your dry ingredients on top of the wet ingredient paste.
Gently stir together the wet and dry ingredients until combined into a thick cookie batter.
Pour your white chocolate chunks or chips, whichever you are using, onto the cookie batter.
Gently stir the chocolate chunks/chips throughout the cookie batter.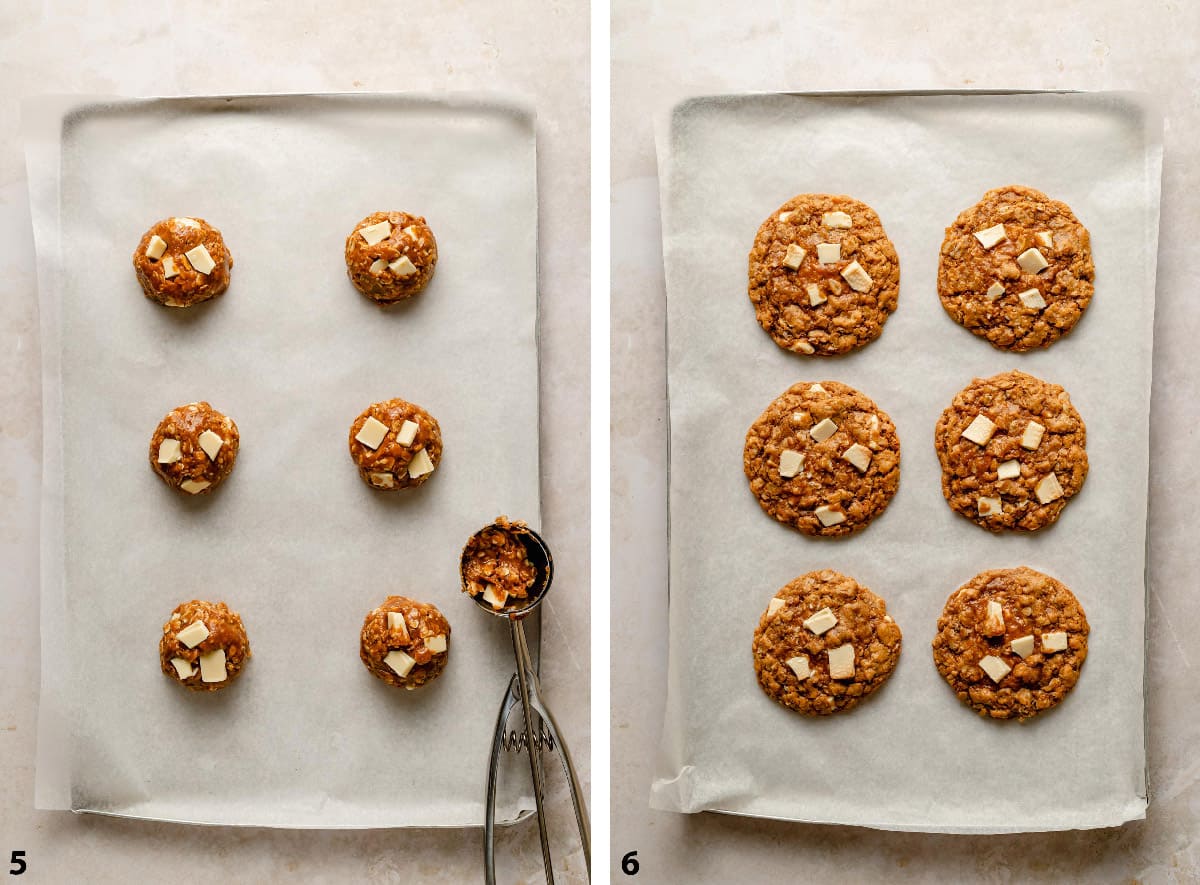 Using a medium cookie scoop (two tablespoons), measure out your batter and place onto a parchment lined baking sheet, 6-7 cookies per sheet. No need to roll them into balls, but you can if you want.
Bake the cookies in a preheated oven at 180oC/350oF for 10-12 minutes or until set on the edges but still slightly gooey in the middle.
Expert tips
For the best success with these biscoff cookies be sure to follow these expert tips that'll help you along the way:
Thick - don't flatten them before baking, this makes for a lovely thick cookie. Add a few extra chocolate pieces to the top if desired to make them look extra delicious.
Baking time - our biscoff cookies are perfect at 10 minutes. They might take a couple of minutes longer but be sure not to overbake! We want these to be nice and gooey.
Cooling - leave to cool on the baking sheet for 10 minutes - they'll continue to set on the baking sheet and will be perfectly gooey and fudgy in the middle.
Can I freeze these cookies?
There are two ways to freeze biscoff cookies, heres how:
Freeze before cooking - scoop the cookie dough onto a baking sheet and place in the freezer to freeze the cookie balls solid, you can then place them in a ziplock bag and freeze them at -18oC for up to 3 months.
Cooking from frozen - preheat the oven to 180oC/350oF as per the recipe, place your frozen cookie dough balls on a parchment paper lined baking sheet and bake for 10-12 minutes until starting to crisp at the edges and gooey in the middle (unfrozen ones take about 10 minutes, the frozen ones may take a few minutes extra).
Freeze after cooking - allow the cookies cool, then place them in a ziplock bag and freeze them. When you get a hankering for a cookie, you can get them out, defrost them and then enjoy either simply defrosted or you can reheat them for a few minutes in the oven.
Recipe FAQs
How to store biscoff cookies?

As with all cookies, they are best on the day of baking, but if you need to store them they are good for up to 3 days in an airtight container.  But we promise you they will NOT last that long. For longer storage they can be kept in the freezer for up to 3 months. They taste great frozen too!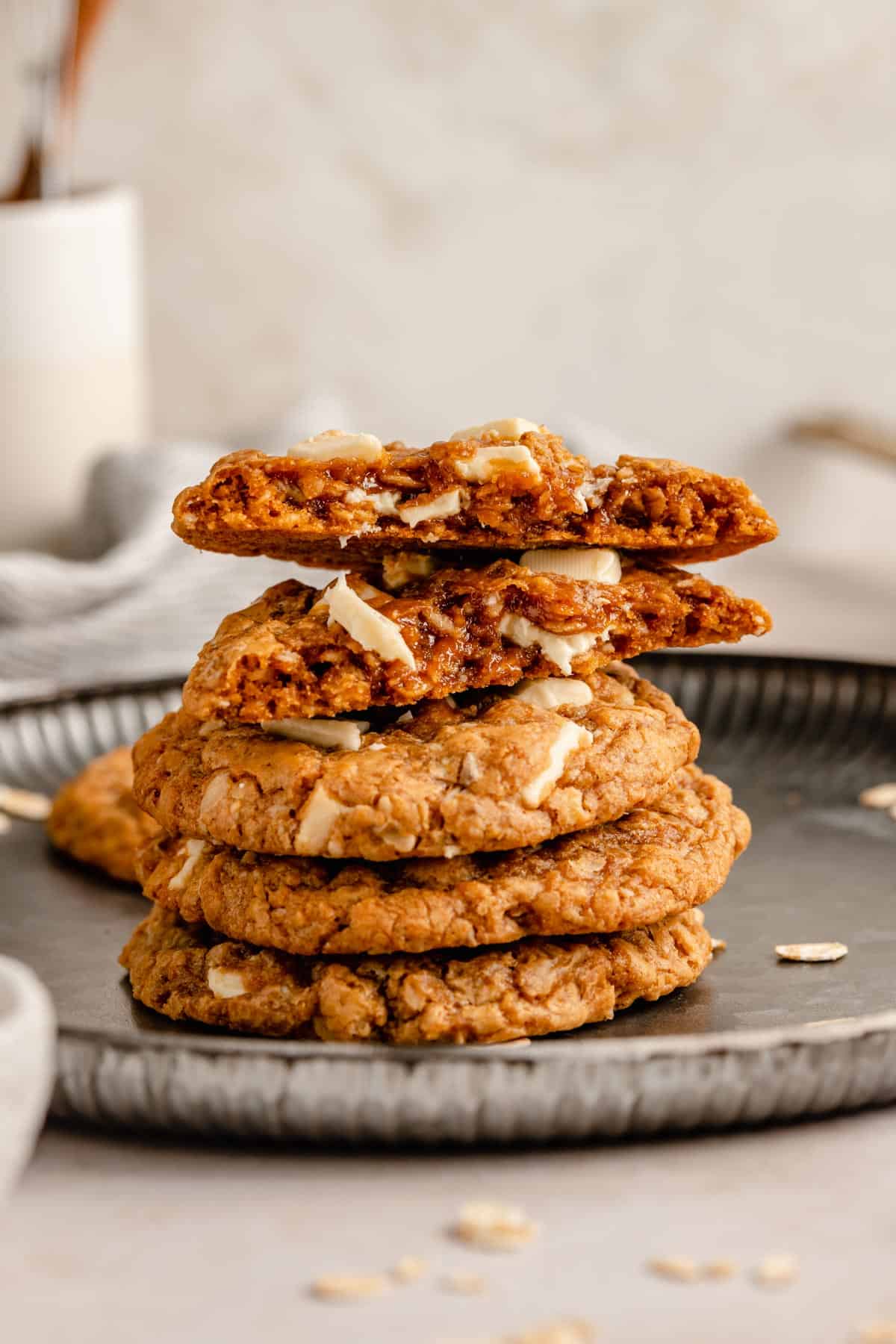 Related Recipes
If you loved this chewy biscoff cookies recipe you definitely need to check out our baking recipes. Here are some recommendations to get you started:
Love this recipe? Leave us a 5-star ⭐️⭐️⭐️⭐️⭐️ rating in the recipe below and don't forget to leave a review in the comments section underneath the recipe. We love hearing from you!
Why not follow along with us on our social media channels @Instagram @Facebook and @Pinterest and tag us with #eatloveeats when you've tried one of our recipes!
📖 Recipe
Chewy Biscoff Cookies with Chocolate Chunks
The ultimate recipe for an ooey gooey and chewy biscoff cookies loaded with white chocolate. You'll keep going back for more!
Print Recipe
Pin Recipe
⭐️ Rate Recipe
Instructions
Preheat oven to 180°C/350°F. Line a baking sheet with parchment paper or a silicone baking mat.
Mix the wet ingredients
In a large mixing bowl, stir together the wet ingredients until combined into a thick paste.

1 cup smooth biscoff spread,

½ cup packed light brown sugar,

2 medium eggs,

1 teaspoon vanilla extract
Mix in the dry ingredients
Add the dry ingredients, stir to combine into cookie batter.

1 ½ cups old fashioned rolled oats,

⅓ cup all purpose flour,

½ teaspoon baking powder,

¼ teaspoon fine sea salt

Fold in the white chocolate chips until evenly distributed.

½ cup white chocolate chips, plus extra for the tops
Prepare for baking
Scoop balls of dough using a medium (2 tablespoon) cookie scoop and place on the prepared baking sheet (about 6-7 per sheet, no need to roll into balls but don't flatten)

Bake in the preheated oven for 10-12 minutes or until set on the edges but still slightly gooey in the middle. Mine are perfect at 10 minutes. Add a few extra chocolate pieces to the top if desired. Leave to cool on the baking sheet for 10 minutes - they'll continue to set on the baking sheet and will be perfectly gooey and fudgy in the middle. Transfer to a wire rack to cool completely.
Notes
Don't flatten the cookie dough ball before baking to give you a nice thick biscoff cookie.
Bake until the edges are golden and allow to cool on the tray to finish off baking.
Store in an air tight container or in the freezer before or after baking. 
Nutrition
Calories:
226
kcal
|
Carbohydrates:
23.7
g
|
Protein:
6.6
g
|
Fat:
12
g
|
Saturated Fat:
3.4
g
|
Polyunsaturated Fat:
2.5
g
|
Monounsaturated Fat:
5.6
g
|
Cholesterol:
24.7
mg
|
Sodium:
61.7
mg
|
Potassium:
291.5
mg
|
Fiber:
1.9
g
|
Sugar:
13.2
g
|
Vitamin A:
10.6
IU
|
Calcium:
51.4
mg
|
Iron:
1
mg
Did you make this recipe?
Leave a comment below with how you got on and don't forget to give the recipe a rating ⭐️⭐️⭐️⭐️⭐️. You can also tag @eatloveeats on Instagram - we love to see your creations!