These Cashew Butter Granola Bars are the perfect no-bake snack to have on hand at any time of day! Try my delicious cherry pistachio or blueberry pecan variations or come up with your own flavour combinations!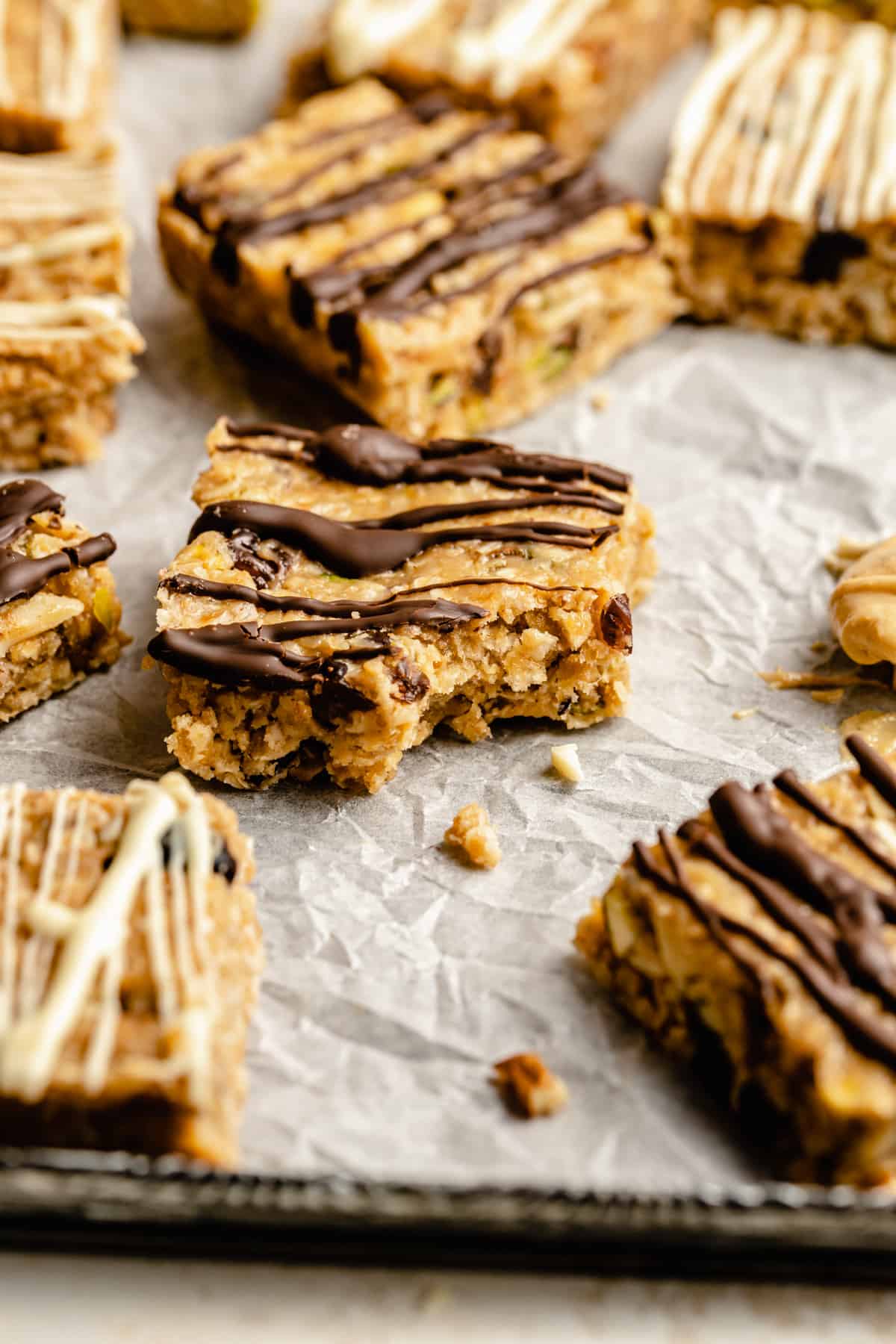 These are hands down the best granola bars I have ever made. The very best! Say it with me: cashew butter granola bars. I declare that all granola bars should be made with cashew butter from now on! There's just something about it when it's mixed together with all of the other ingredients, it reminds me of the taste of cake batter or something? I don't know, that might be a stretch. But it's good, trust me.
Another thing that's good about these granola bars? They're infinitely customisable according to what you have in your cupboard or what you fancy in that particular moment. I'm starting you off with my blueberry pecan and cherry pistachio (my personal favourite) versions today!
What ingredients do I need to make granola bars?
These cashew butter granola bars are so easy to make and you just need a few simple ingredients to make them!
quick/instant oats - for these granola bars you need the fine, quick cooking oats as opposed to the jumbo/old-fashioned rolled oats as they absorb the wet ingredients much better than the larger oats! Save those for baked oatmeal instead.
ground flaxseed - also known as ground or milled linseed, this helps to bind the bars together as well as adding extra fibre and omega-3s (always a bonus!)
flaked almonds or shredded or flaked unsweetened coconut - I like to vary this ingredient based on the other add-ins I'm going to be using but basically anything flaked goes! Flaked buckwheat would be a delicious and crunchy addition or you could replace this element with more oats if you prefer.
fine sea salt - for flavour! If you use salted nut butter, you may wish to reduce or omit this.
cashew butter - helps to bind these bars together and make them taste amazing! You could use peanut, almond, pecan or any other nut butter your heart desires - macadamia would be incredible (although expensive!) Cashew butter can also be pricey, so if you have a reasonably high powered food processor or blender, I recommend making your own! I've found that certain supermarkets sell packets of roasted salted cashews at really inexpensive prices and they're perfect for throwing into your food processor or blender as is and making tasty cashew butter, no roasting required! It also just occurred to me that my Chocolate Almond Pecan Butter would make for an insanely good version of these granola bars too. Just putting that out there.
pure maple syrup - sweetens the granola bars and adds that classic toasty maple flavour too. You could use honey or any other preferred liquid sweetener instead, if liked.
vanilla extract - in combination with the cashew butter and maple syrup, vanilla gives these bars the cake batter flavour I was talking about above. You could use another flavouring like almond extract if you like, but I'd recommend using a lot less than stipulated.
dried fruit - my favourites are cherries and blueberries but you could use any dried fruit you like. The possibilities are endless! Try raisins, golden raisins, apricots, banana chips, dates, mango, cranberries... I could go on!
nuts - as with the dried fruit, you can use whatever you like here. The nice thing about using cashew butter is that it's pretty neutral and makes the perfect base for any add-ins you might like. Pistachios and pecans are my personal favourites, but you could try almonds, walnuts, hazelnuts, brazil nuts or even pumpkin or sunflower seeds!
chocolate - a drizzle of melted chocolate is the perfect way to finish off these granola bars, but you can leave it off if you prefer.
How to make cashew butter granola bars
It's easier than you might think to make super yummy granola bars. Speaking as someone who is continuously looking to improve their snack game, I'd say this is pretty awesome news! They take very little time to whip up and there's no need to bake them either - win, win!
Start by gathering together your dry ingredients in a mixing bowl. Stir them together until well combined.
In a separate mixing bowl, add your wet ingredients - cashew butter, pure maple syrup and vanilla extract. Gently mix them together until you have a smooth mixture. Lick the spoon because it's delicious, but try not to eat it all!
Add the dry ingredients to the wet ingredients and stir until everything is well coated. This mixture will be stiff but keep stirring to ensure you don't have any dry pockets. Stir in your add-ins.
Pour into an 8"x4" loaf tin which has been lined with greaseproof or parchment paper and press down firmly and evenly. Use the bottom of a glass to help you do this more easily.
Place the loaf tin in the fridge for about an hour to allow the bars to set up. Drizzle with melted chocolate and return to the fridge for a few minutes before cutting into 8 squares.
Store in the fridge for up to a week or in the freezer if you'd like to keep them on hand longer (in theory). My husband and I like to eat these straight from the freezer!
Feel free to double the recipe and use an 8"x8" square tin instead to make 16 squares. I often like to make two batches in loaf tins so I can have two different varieties on hand, but if you know you'd like more of one, then I definitely recommend doubling the recipe.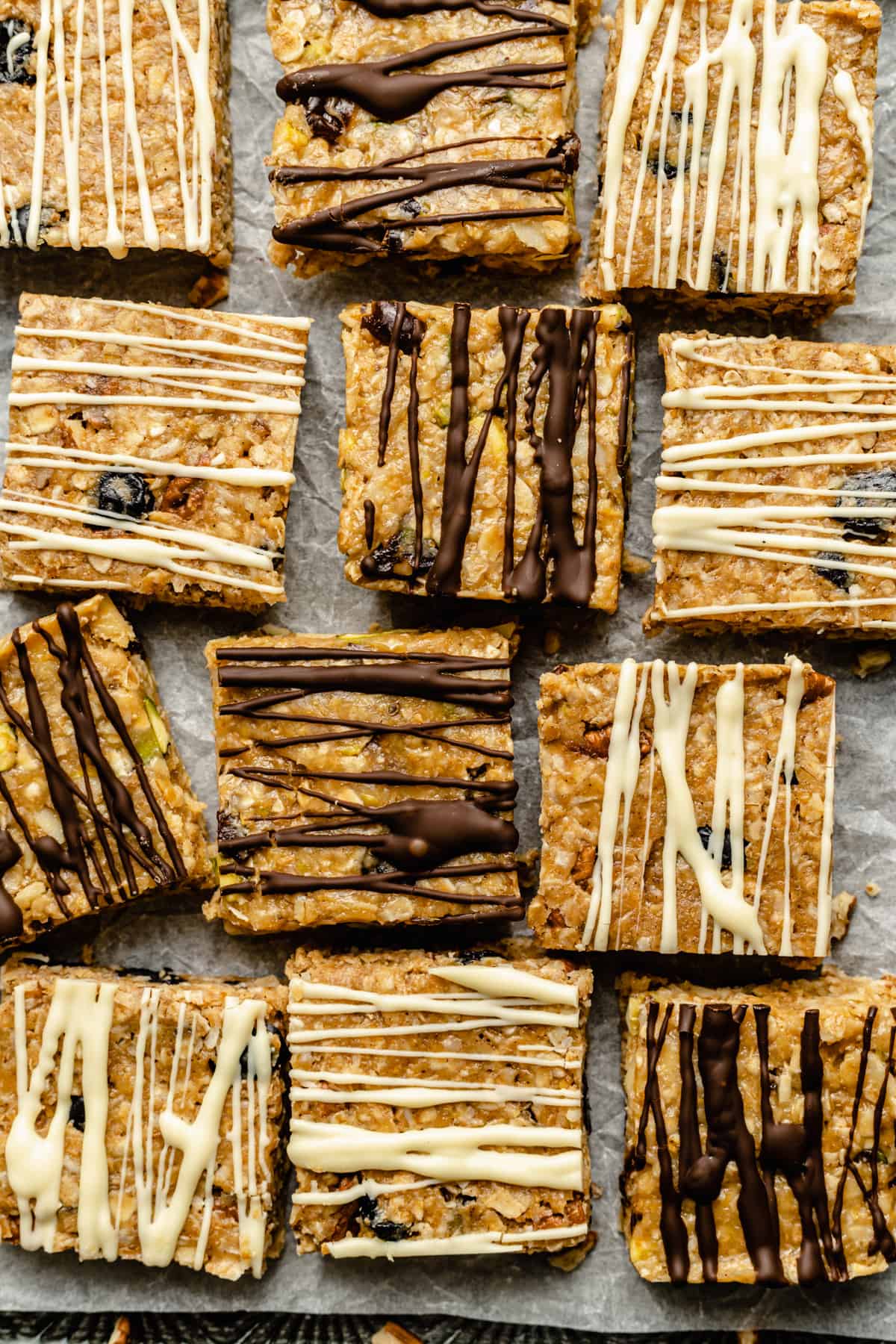 I hope you love these cashew butter granola bars! If you make them, be sure to leave a comment, rate the recipe and tag me on Instagram! I'd love to see what fun granola bar combinations you come up with!