This post contains affiliate links from which we could earn a small commission. Please read our Privacy Policy for more information.
This spiced sweet potato and carrot soup is creamy, silky and light, perfect to warm you through for your mid week meals. It's easy to prepare and cooks in around 30 minutes, creating a vibrant soup.
This recipe was taken from the archives and given a refresh with new photos (I've left an old one at the bottom of the post to show the difference) and retested to improve the flavour and recipe, providing process steps and adjustments to the ingredients to ensure it was the best it could be. It was originally published on Eat Love Eat on November 17 2016.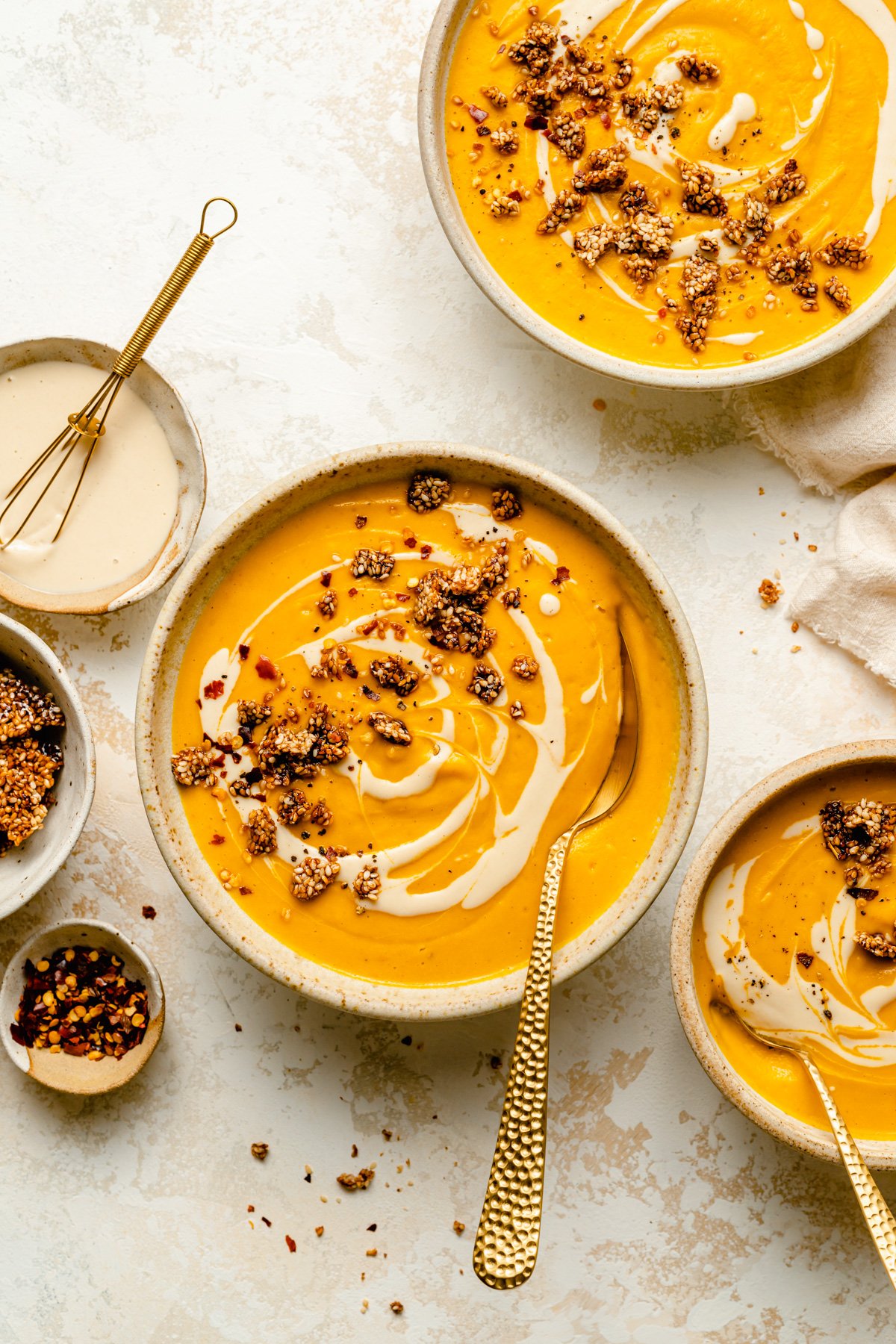 It's winter and I just want to cosy up with a bowl of this steaming hot spiced sweet potato and carrot soup! I don't know about you, but I don't particularly like the idea of deprivation or the pressure surrounding this time of year to restrict and consume food and ideologies that are shrouded in diet culture. It's the middle of winter still and it's freezing cold (well, it is here at any rate). I love my cosy food and this spiced sweet potato and carrot soup is exactly that. It doesn't ascribe to any particular lifestyle choice but it's souper tasty and thats all you need to know! And if you're anything like me, you'll also love these cosy meals during these chilly months:
This sweet potato and carrot soup is beautifully spiced (but not spicy) and perfectly complemented by the addition of creamy tahini. I like my soups to be easy but satisfyingly flavourful. It's creamy, warming and the spices are lifted up with a touch of lime juice that makes this light but filling; perfect for the start of the year.
So let's get to it! I know you'll love this sweet potato soup recipe, so enjoy making it and when you do leave us a comment and a rating below as I love hearing from you.
Jump to: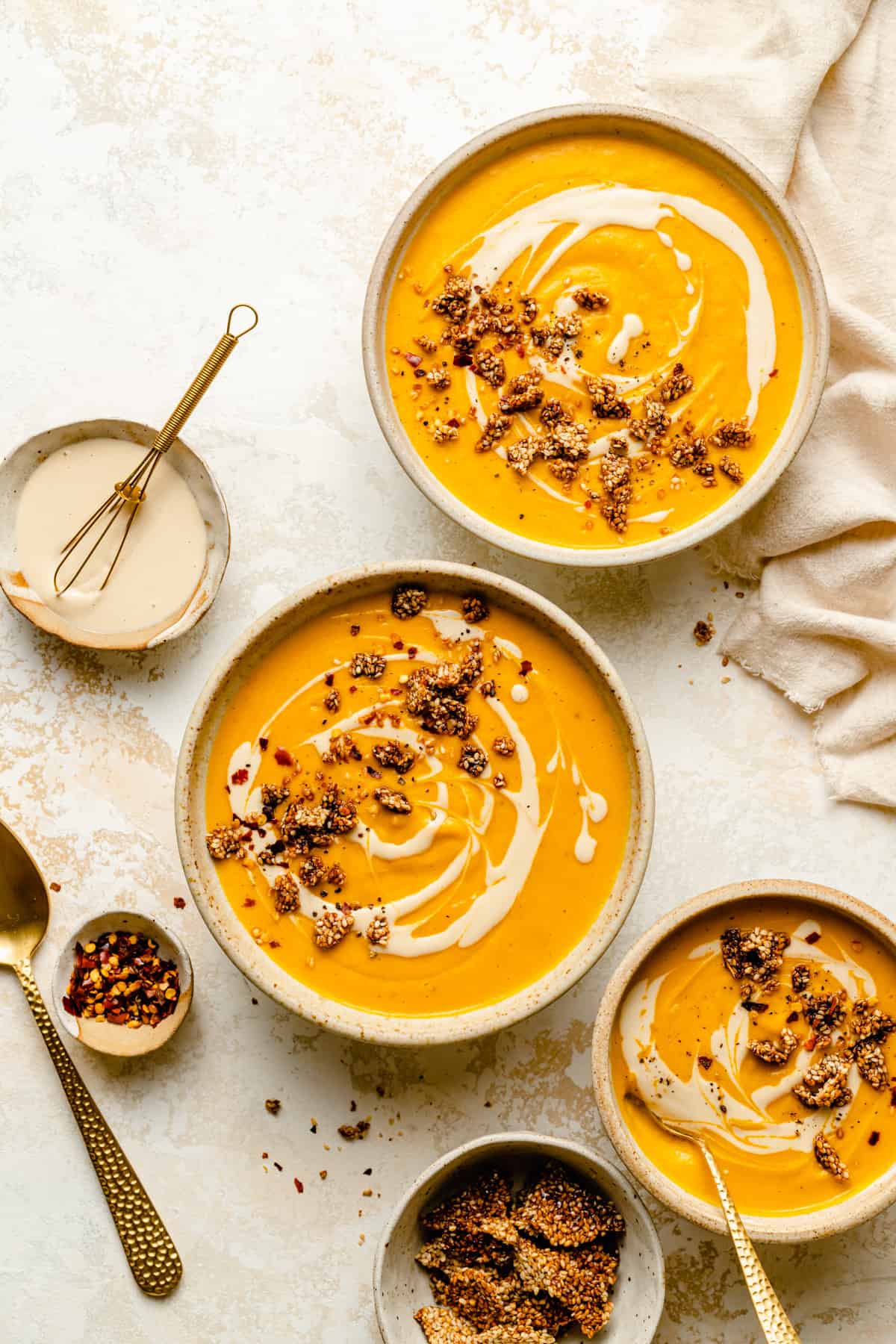 What makes this the best soup?
Warming - there's nothing better than a bowl of warming soup on a freezing cold day. Especially home made soup.
Easy - this soup is a one pot job. Simply sauté the veggies, add the spices and stock and simmer. You'll finish it off with the final addition of tahini and lime juice and blend. It's really that easy!
Creamy - I find a puréed soup to be quite creamy anyway but the addition of tahini rounds all the flavours together and makes it even more creamy without any cream! A bonus for those who need to be dairy free.
Meal prep - soup is one of those amazingly versatile recipes that store well and even get better in flavour the next day. This soup stores well but also it is easily scalable where you can make lots of portions to freeze or have throughout the week.
Blending - often it's suggested that soup be blended with a stick blender for ease but I don't recommend it. As convenient as it is, it just does NOT deliver on the smooth creamy texture that you can get from a jug blender and it often leaves a gritty, not fully smooth consistency. For those who love soup, it's definitely worth getting a jug blender.
What ingredients do I need?
For this sweet potato and carrot soup you don't need many ingredients to make a beautiful warming lunch or supper. Here's what you'll need: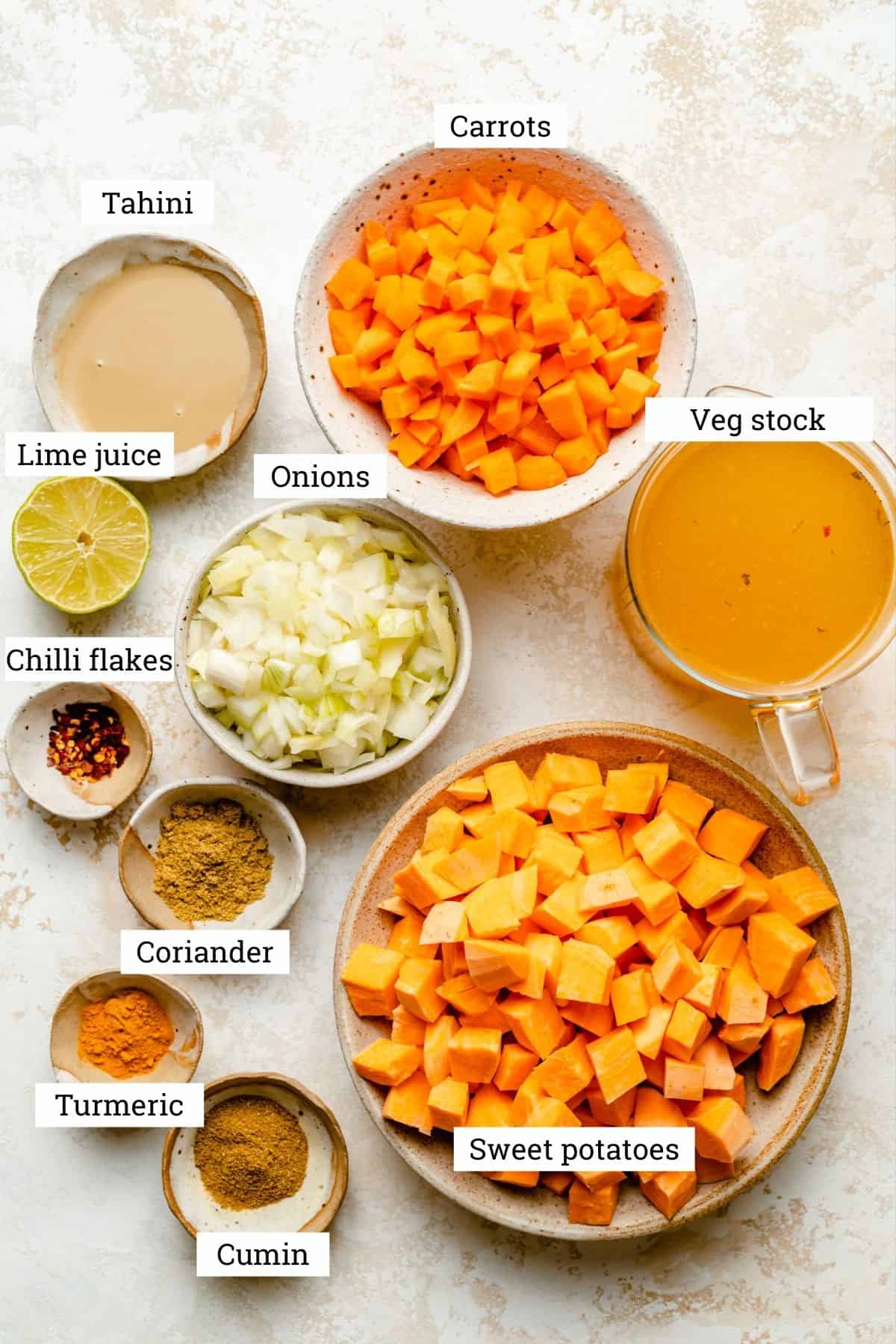 Sweet potato - Sweet potato is a great vegetable which is still in season now. I prefer to use the orange ones rather than white sweet potato for this soup, but you can use either.
Carrots & onions - Most soups have a bulking base of vegetables and this sweet potato soup is no different. You'll need some carrots & onions for this; if you are sensitive to onions you could substitute for the white part of a leek.
Spices - you'll be using ground cumin, ground coriander and ground turmeric powder for extra warmth and depth of flavour. You'll also be using chilli flakes, often called red pepper flakes in the States. I used aleppo chilli flakes (also sometimes known as pul biber).
Stock - you can use chicken or vegetable depending on your preferences. Use a vegan vegetable stock to make this soup vegan if you prefer.
Tahini - You'll be using tahini in a variety of ways, for the creaminess of the soup, and if you decide to make it, the tahini drizzle for serving.
Lime - it may seem a bit odd but a little lime juice really takes the spicing and flavour of the soup to the next level, lifting everything up and making those tastebuds dance.
Sesame brittle (optional) - if you decide to make the sesame brittle you'll need sesame seeds, maple syrup, soy sauce and a dash of oil.
How to make it
This sweet potato and carrot soup is so easy to put together just follow these simple steps to success!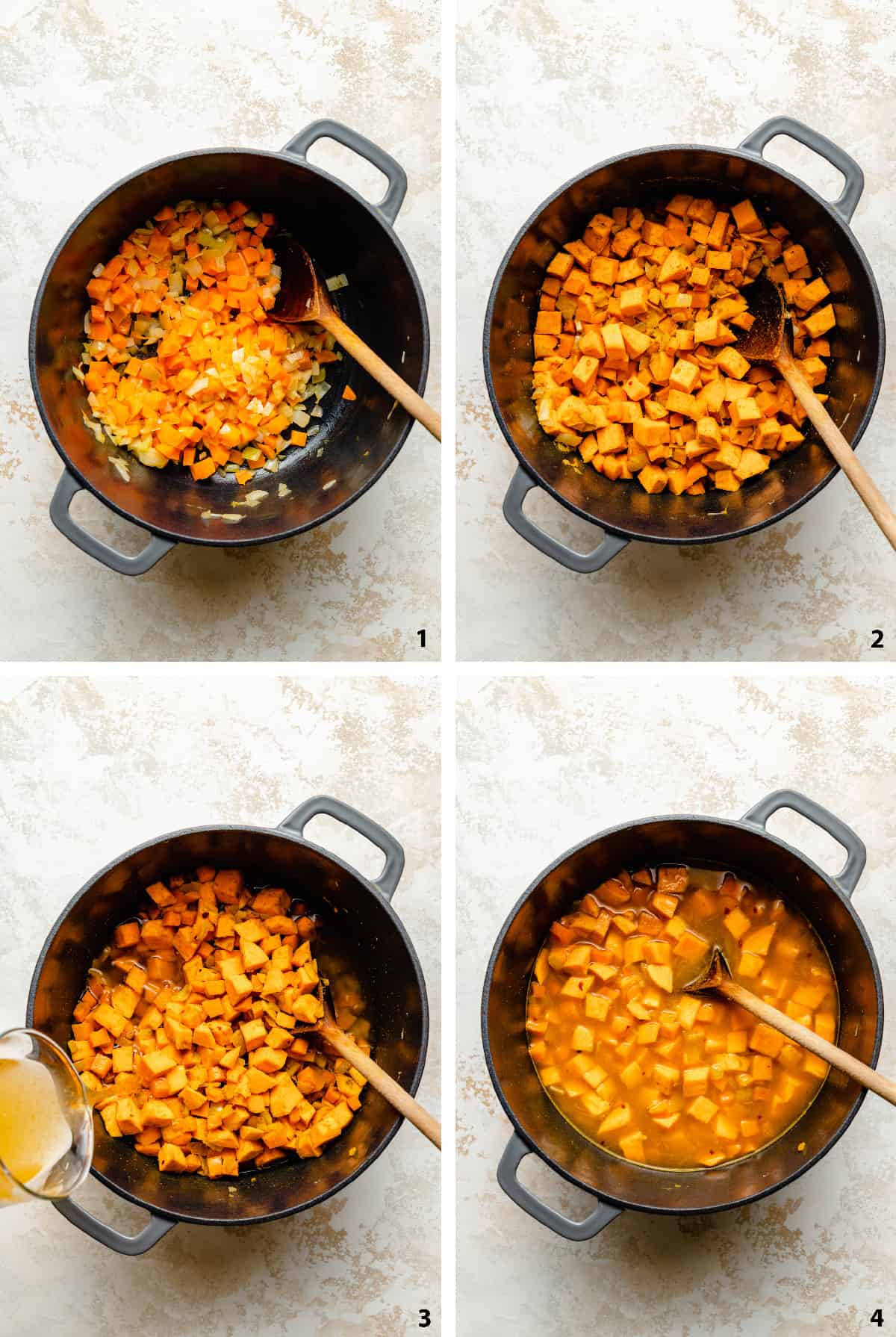 Heat a tablespoon of oil in a large pan, once it's shimmering and hot, add the onions and carrots with a pinch of salt, sauté until the onion is soft and translucent, about 5 minutes.
Add the sweet potato chunks and spices and stir to coat all the veggies in the spices, cook for another 2-3 minutes.
Pour over the vegetable stock and bring to a boil.
Once boiling, reduce the heat to medium-low and cover with a lid, allow to simmer for 15 - 20 minutes or until the sweet potato is tender.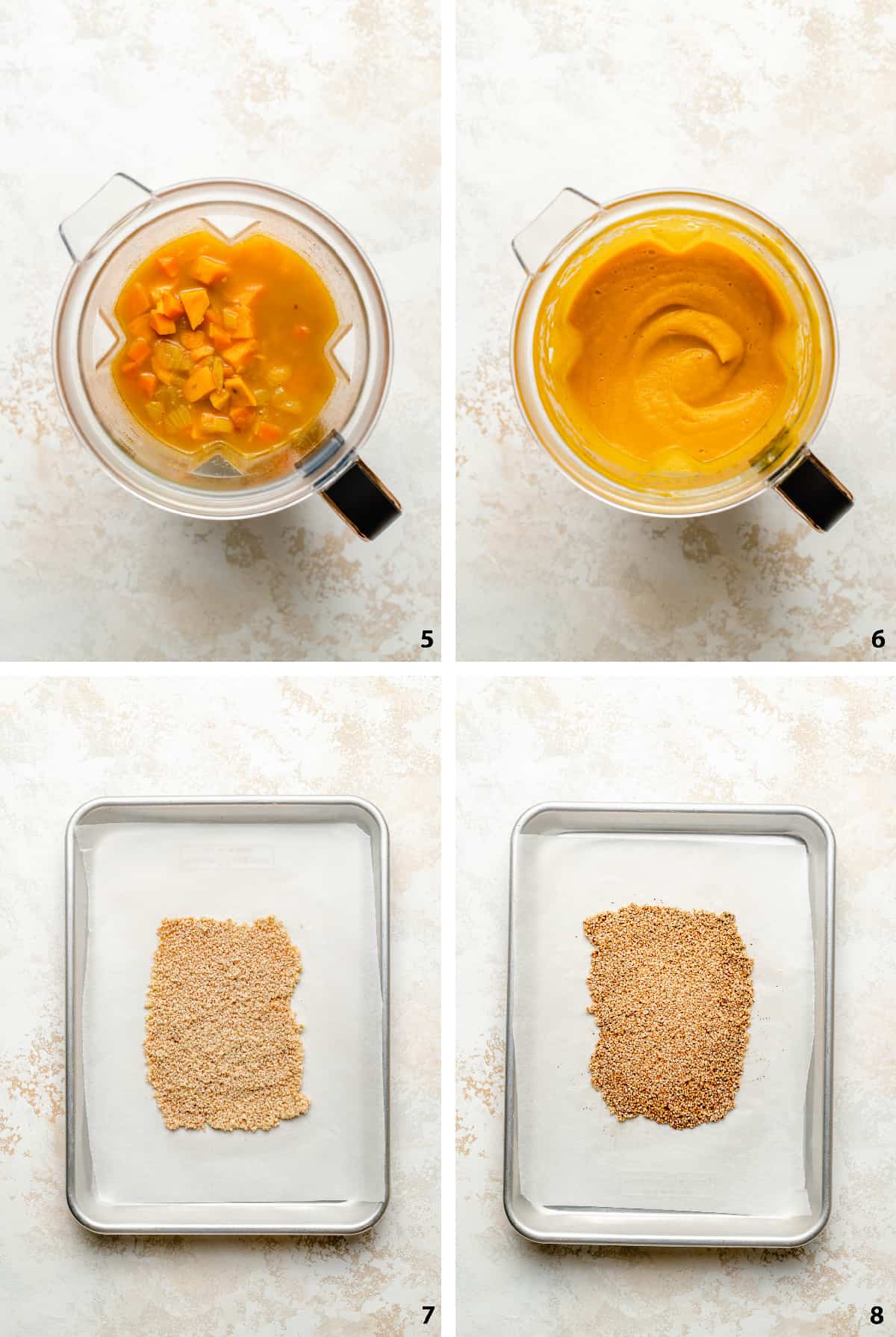 Place all the soup in the jug blender with the tahini and lime juice (make sure not to overfill, do it in batches if necessary).
Blend the sweet potato and carrot soup until completely smooth (1-2 minutes on high).
To make the sesame brittle, mix together the sesame seeds, maple syrup, soy sauce and oil in a small bowl and spread out thinly on a parchment lined baking sheet.
Bake in an oven preheated to 150C/300F for 20 minutes until lightly golden. It will still seem soft, but then solidify on cooling.
Tips & tricks
You've got what you need, now here's some tips and tricks to ensure you are successful. Included are some alternatives if desired.
Sensitive to onions? - Some people are sensitive to onions and if that's you, you can try using shallots or the white part of leeks as they are sweeter, or even use celery. The soup will have a different flavour from this substitution though.
Want more protein? This soup already has about 15-20% of your protein for the day, but you can also add in chickpeas for more protein, you'll just need to add more liquid to get the right consistency.
Vegan? - This soup is already vegan as I make it with vegetable stock. This includes all the optional toppings.
More spice? - If you fancy a good kick of heat, add more chilli flakes, it's personal preference and dependant on if serving to children also.
Cooking time - Carrots and sweet potatoes cook at different rates as they have different densities, if you ensure you prepare your carrots like in the ingredients photo above you'll have no issues with them cooking through for the recipe.
Blending - make sure you are aware of how to safely blend the hot soup in your blender. Don't over fill it and blend in batches if necessary. Also, make sure you wash out your blender immediately, otherwise the turmeric could stain your blender jug.
How to serve it
A few suggestions on serving this soup:
Sesame brittle - this is optional in the recipe below but I recommend it, it adds a toasted sweet and salty and sesame note to the topping. Just don't over cook it otherwise it'll become very bitter. A tiny bit of bitterness works well with the soup.
Tahini drizzle - this is a great addition to the top of the soup; its nutty, creamy and slightly zingy from the lime juice. Think of it as an alternative to a drizzle of cream!
Cream - alternatively, if you have it on hand, you can drizzle some cream or yoghurt over the top as you serve.
Bread - bread is a must with soup, or enjoy dipping in some crackers or rice crisps instead.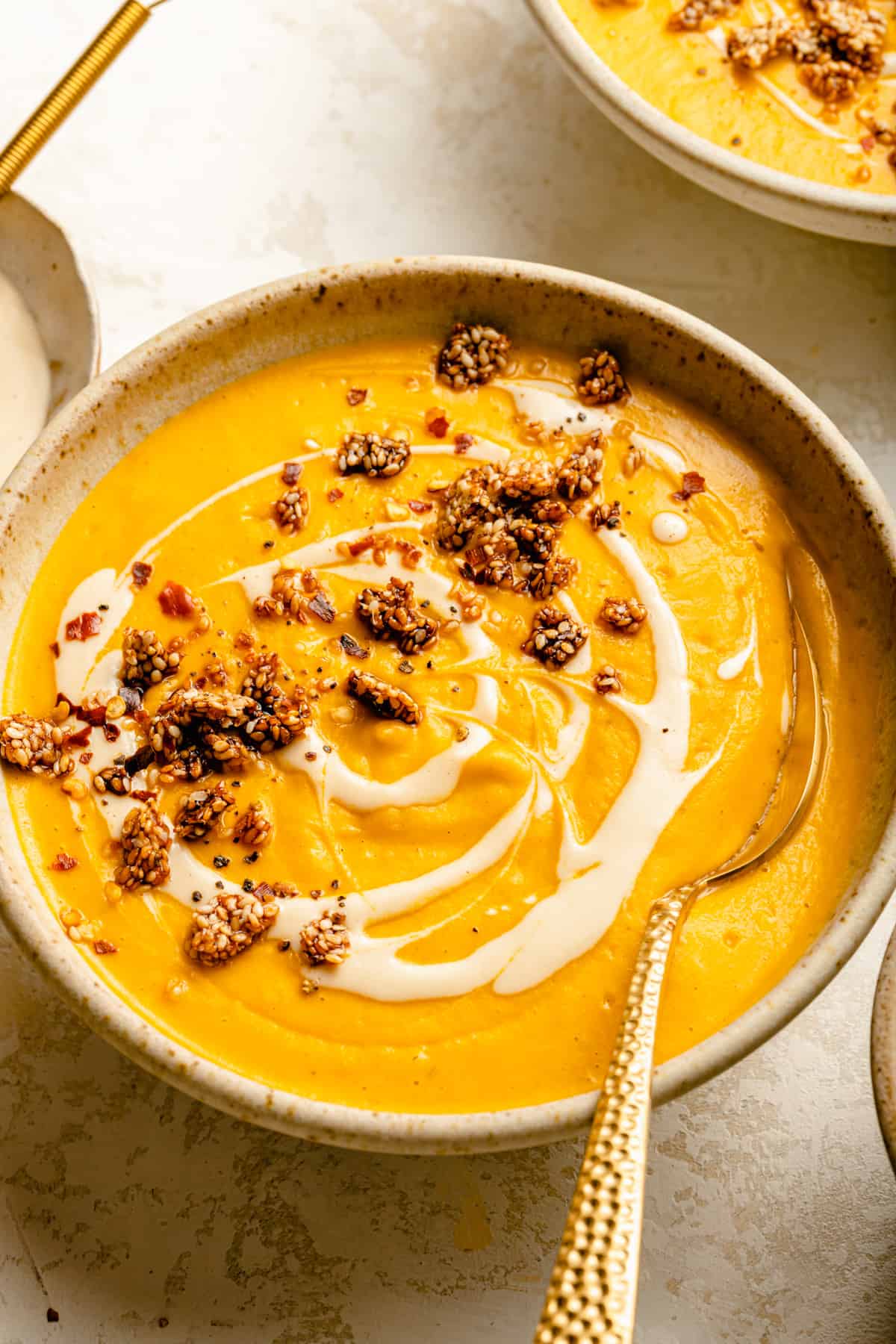 FAQs
Can I double this recipe?
Yes, absolutely! This sweet potato and carrot soup only makes about 1 litre of soup, about 3 portions or 4 small bowls. Feel free to double or even triple the recipe to create enough for your needs. I like freezing this soup too.
Can I freeze leftovers?
Yes! This soup freezes well. Just blend the soup and let it cool completely and freeze in portion sizes in individual airtight containers. It will last well for up to 3 months in the freezer at -18C.
How do I store this soup?
I recommend storing in an airtight container in the fridge for up to 5 days or freezing the soup if wanting to keep it longer than this.
How to reheat this soup?

If frozen, I recommend defrosting in the fridge overnight until completely frost free. To reheat in the microwave, place in a microwave safe container and heat for 1-2 minutes on high, stirring occasionally. Or reheat over a medium heat in a saucepan on the stove until piping hot.
Want more warming soups?
I hope you love this sweet potato and carrot soup as much as we do. If you make it, be sure to leave a comment, rate the recipe and tag #eatloveeats on Instagram! I love to see your creations!