It's soup season! More specifically, Sweet Potato Tahini Soup season.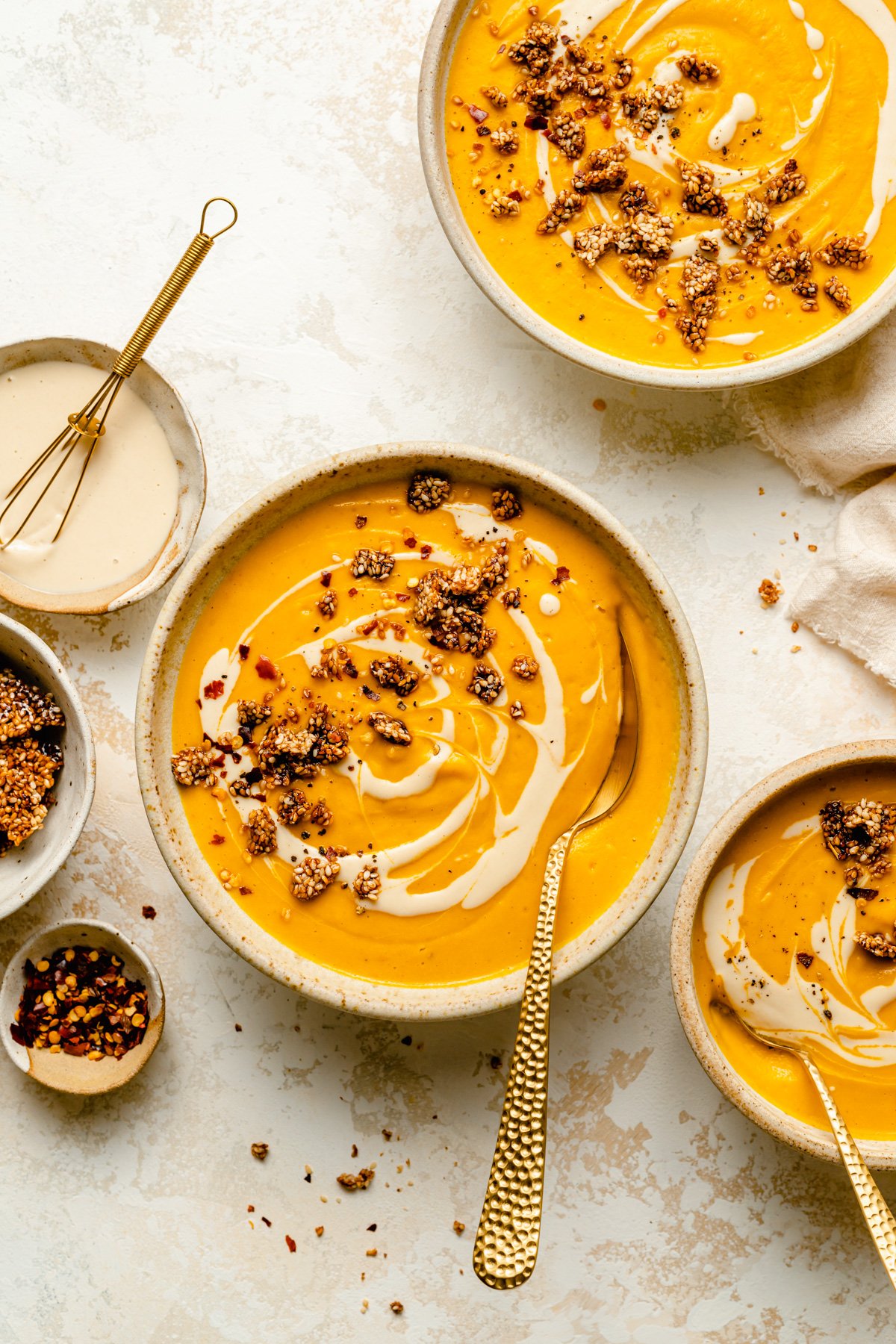 I've really been craving soups lately, which isn't always a given for me. But currently - yes. I think it has to do with the fact that it's been really quite chilly lately, way cooler than it should be at this time of year I think. I don't know, I'm probably wrong about that - I have no concept of time. I feel as though summer was yesterday, although of course, in reality, it's nearly Christmas! How is that so? And most importantly, what will you be eating?! Is it too early to be planning Christmas dinner? I guess my American friends are currently focused solely on Thanksgiving so the answer to that question may be yes! (But if not, do let me know!)
I'm totally fascinated by Thanksgiving. Obviously, being a Brit, it's not something I have ever celebrated (yet!), but from what I've seen here on the internet, it looks awesome! I love that you get not one, but two epic feasts to enjoy during the winter season. And sweet potato casserole? That kinda just blows my mind. A side dish topped with marshmallows?! I guess it's one of those 'don't knock it until you've tried it' dishes? But what really gets me? THE PIES. Oh my goodness. So many pies. Pecan, pumpkin, sweet potato, apple...and my personal favourite that I've seen lately, chocolate chip cookie. I seriously need that pie in my life!
In fact, I really need to make some more pies. I make plenty of savoury ones, especially at this time of year when we're constantly craving serious comfort food in this house. But I really need to get my sweet pie act together! Any suggestions for the best autumnal sweet pie fillings? I feel a need to have a play with some pastry dough. Although I've just realised that I don't actually own a proper pie dish! A round one, I mean. Gosh, that might have to be rectified. Anyway, let me know pie filling suggestions in the comments!
Even though I won't be celebrating Thanksgiving a week today, I'll certainly be getting my fill of sweet potatoes in the form of Sweet Potato Tahini Soup! Ah, this soup. It's simple but truly delicious. I've mentioned before that I used to have a hard time eating foods that were both savoury AND sweet. I'm largely over this now and have grown to appreciate how incredible that combination can be (case in point). There are still exceptions though, one of them being winter squash. I know everybody raves about them at this time of year and I really want to love them, especially as they're so pretty but I just don't! The day that you see a savoury squash recipe (or let's face it, any squash recipe) here on the blog will be a monumental day. I hope that day comes because it's basically the only vegetable that I don't love (ok, turnips may be the only other, though I do need to give them another chance!).
Anyway, my point is that despite its inherent sweetness, I find sweet potato to be one of the most delicious vegetables ever! It's sweetness is somehow naturally perfectly balanced and I love it. I wanted to enrich this soup with tahini because I envisaged that the subtle bitterness of tahini would play off the, er, sweetness of the sweet potato and be incredibly delicious. I WAS NOT WRONG. The base of the soup is a gently spiced mix of onions and carrots and it's finished off with just a squeeze of lime juice to lift all of the flavours. On top is a simple tahini swirl because there is no such thing as too much tahini. And then there's a final flourish in the form of a quick sesame brittle. You don't have to make this but it adds a different textural dimension and enhances the flavour of the tahini in the soup - plus it's super simple so why not? This Sweet Potato Tahini Soup is silky and warming and just everything you could possibly need on a cold and blustery day. And a wonderful addition to your Thanksgiving table, perhaps? Oh and this soup is naturally vegan and gluten free so it's perfect for entertaining those guests who might have special dietary needs - win!