This post contains affiliate links from which we could earn a small commission. Please read our Privacy Policy for more information.
This is the ultimate peanut butter hot chocolate, rich and indulgent and so quick and easy to make (under 10 minutes). It's perfect all year round but even more special during the holiday season. All you have to do is decide how to top your perfect hot chocolate!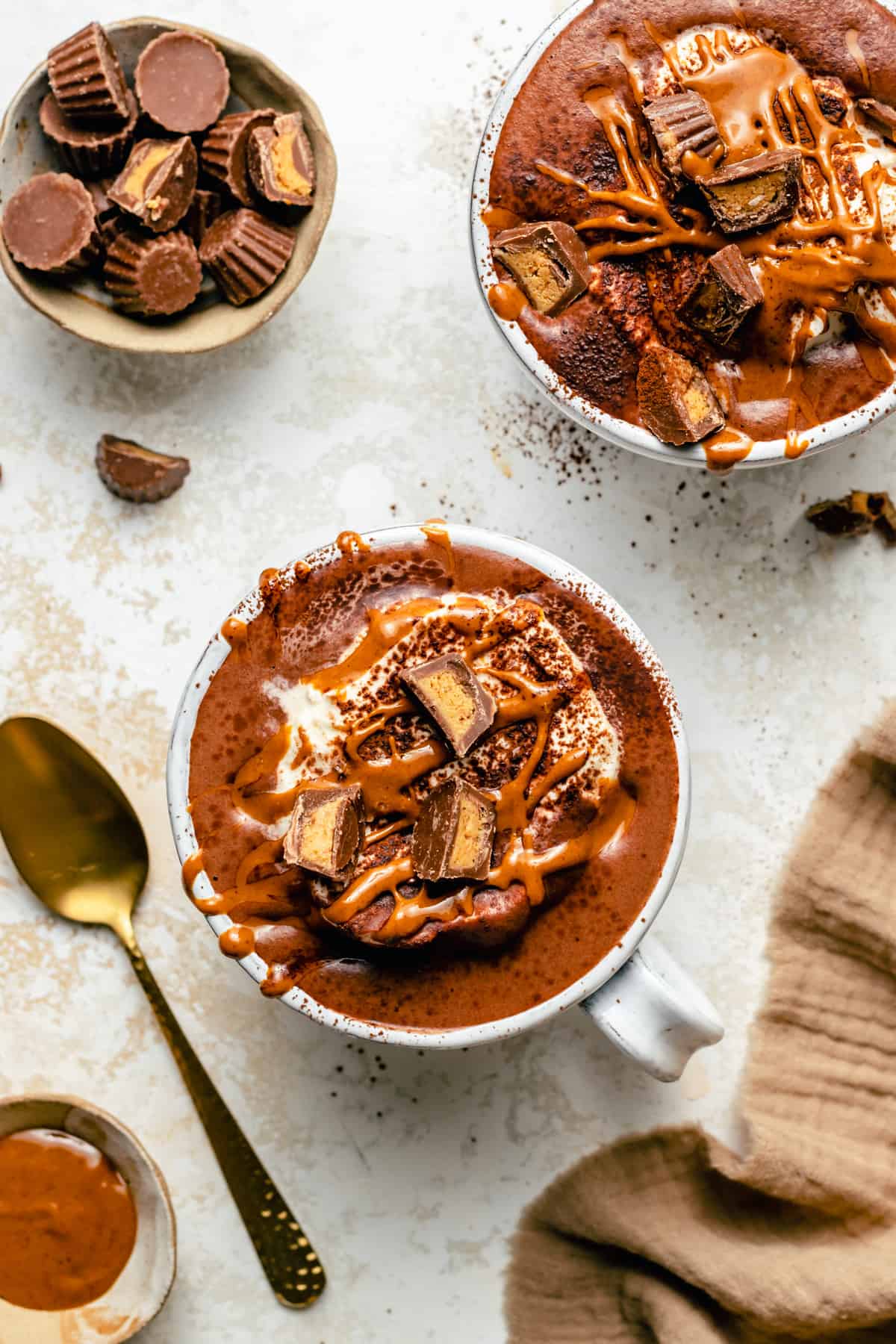 I know I'm not alone when it comes to enjoying a good hot chocolate, you've been raving about and enjoying my peppermint hot chocolate so much this festive season. So I thought why not give you another one to enjoy?! This peanut butter hot chocolate is beautifully rich and matches perfectly with peanut butter. It's like sipping on a molten peanut butter cup, but better! Talking about peanut butter cups... make sure you try my dark chocolate cashew butter cup version!
I'm totally up for mixing things up with respect to toppings, but most traditionally I love a good dollop of freshly whipped cream. The beauty of this peanut butter hot chocolate is you have the freedom to do whatever you want with the toppings, so check out the rest of the post for tips and tricks and topping suggestions. You can jump to where you need to on the page with the links below. 
I love hearing from you so please leave a comment with how you got on and how much you love this peanut butter hot chocolate... also don't forget to rate the recipe!
Jump to:
What makes this the best?
These are the reasons you need to make this peanut butter hot chocolate this holiday season!
Easy - as hot chocolate goes, it's very easy to make in general. Following a few simple steps gets you started and you can customise as you see fit!
Rich - there's nothing worse than a watery and bland hot chocolate. You'll love this peanut butter hot chocolate as it's rich and delicious!
Fun - it's fun to decorate and enjoy hot chocolate (or hot cocoa if you prefer to call it that where you are from) together. Get the whole family involved in personalising the toppings for their own mug. Perfect for the festive and holiday season to cosy up with whilst watching a movie. 
Ingredients
This recipe only has very simple ingredients that are readily available. This is what you'll need: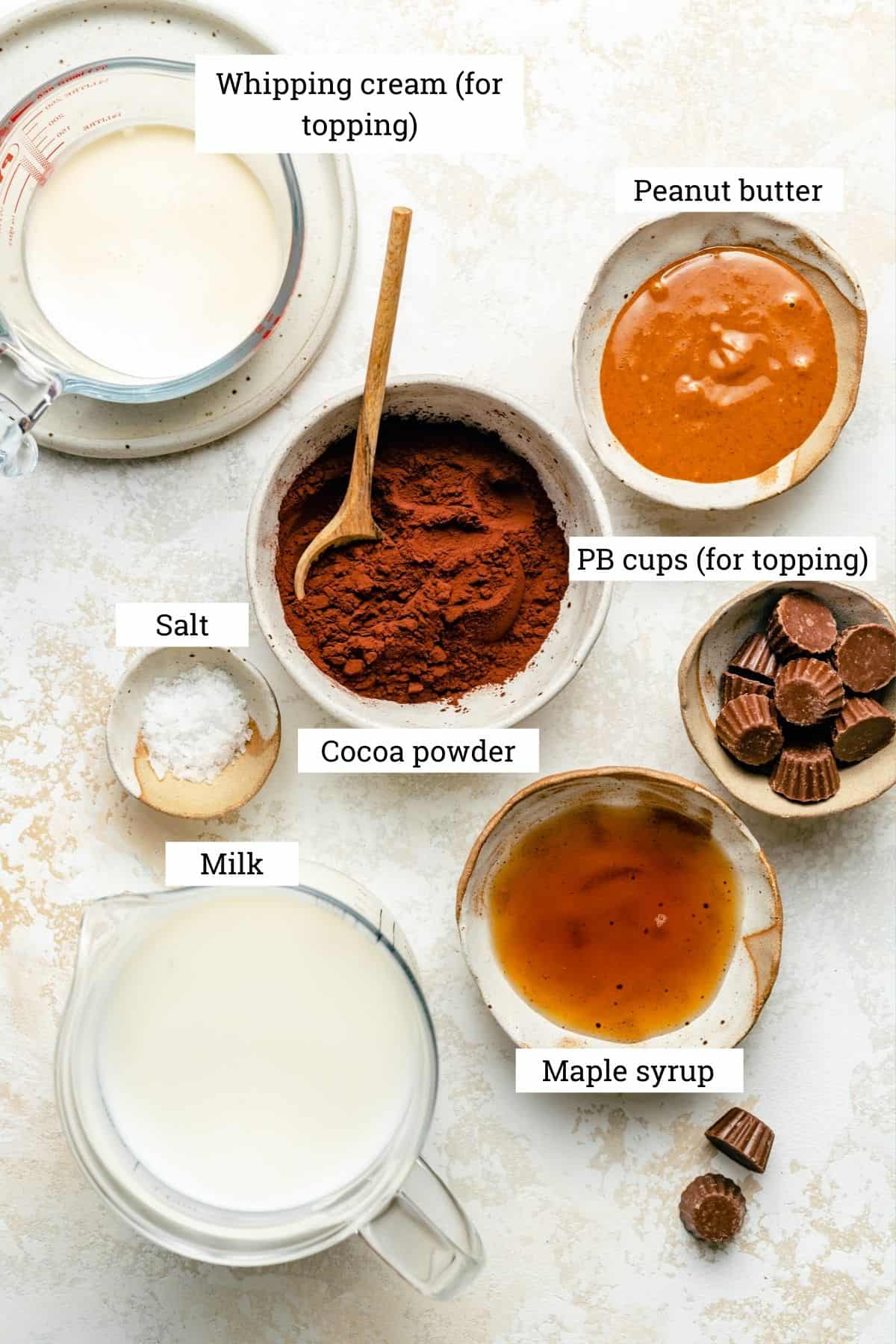 Milk - I love using dairy milk, it's such a wonderful product especially when its ethically and regeneratively produced. I recommend using dairy milk as it has a natural sweetness and creaminess to it which makes the perfect hot chocolate. If you wish to use dairy free, I would recommend oat milk as it has a nice creaminess to it. Almond and soya milk tend not to have enough depth for this rich peanut butter hot chocolate
Cocoa powder - use your favourite unsweetened cocoa powder. It's that simple.
Peanut butter - I recommend using a dark roast peanut butter as it creates the most beautiful flavour in your hot chocolate, but you can use whatever you've got, just make sure it's smooth.
Maple syrup - Personally, I can't drink pure cocoa as it's a bit too bitter for me, so you'll need some maple syrup or you can use another sweetener of your choice, to sweeten your hot chocolate. Coconut sugar will give a caramel note to the drink, or you could use regular brown or white sugar.
Toppings - you can use whatever toppings you like; whipped cream, marshmallows, chocolate shavings, cocoa powder, extra peanut butter and peanut butter cups are all great options!
How to make this drink
This hot chocolate drink is so simple to throw together, just follow these steps to make it: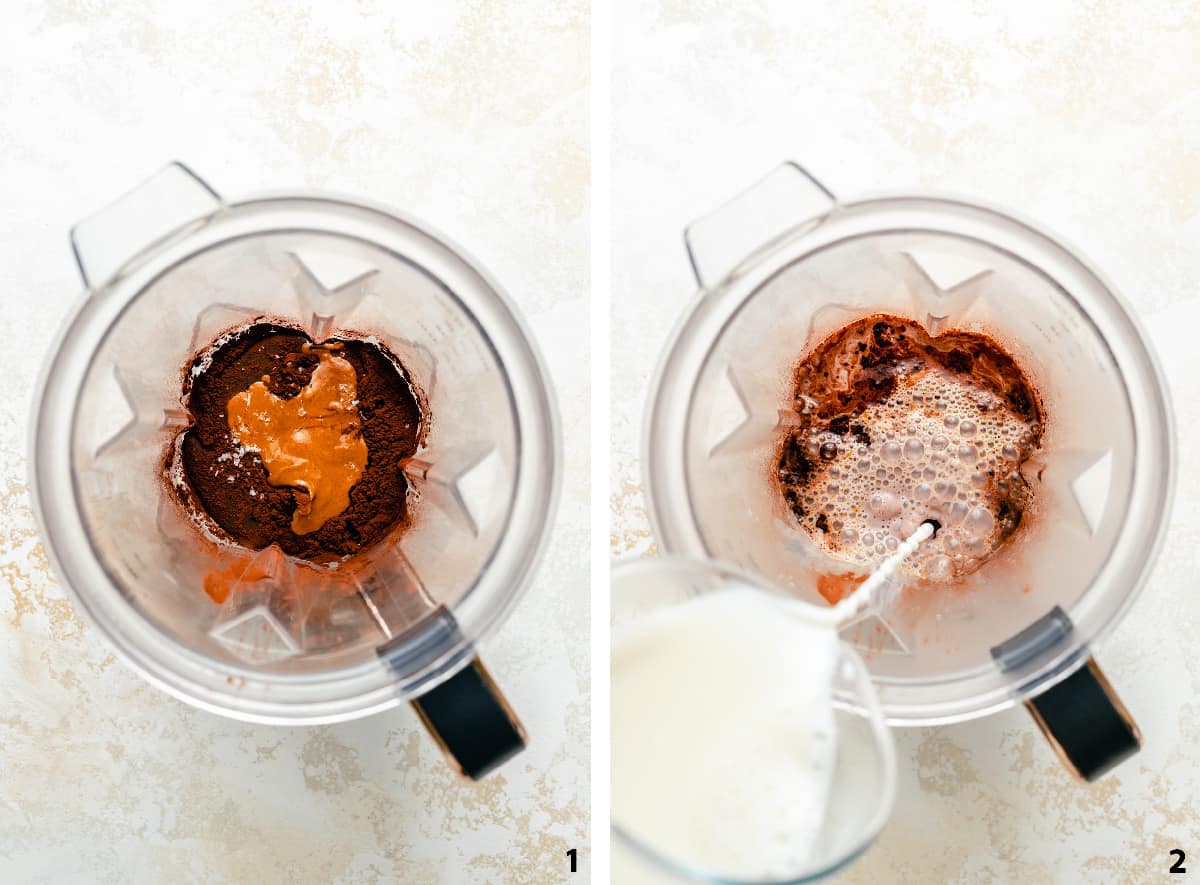 Place the cocoa powder, peanut butter and maple syrup in the jug of a blender, or the jug of a stick blender.
Pour milk that has been heated until steaming hot in a saucepan on the stove over the ingredients in the blender.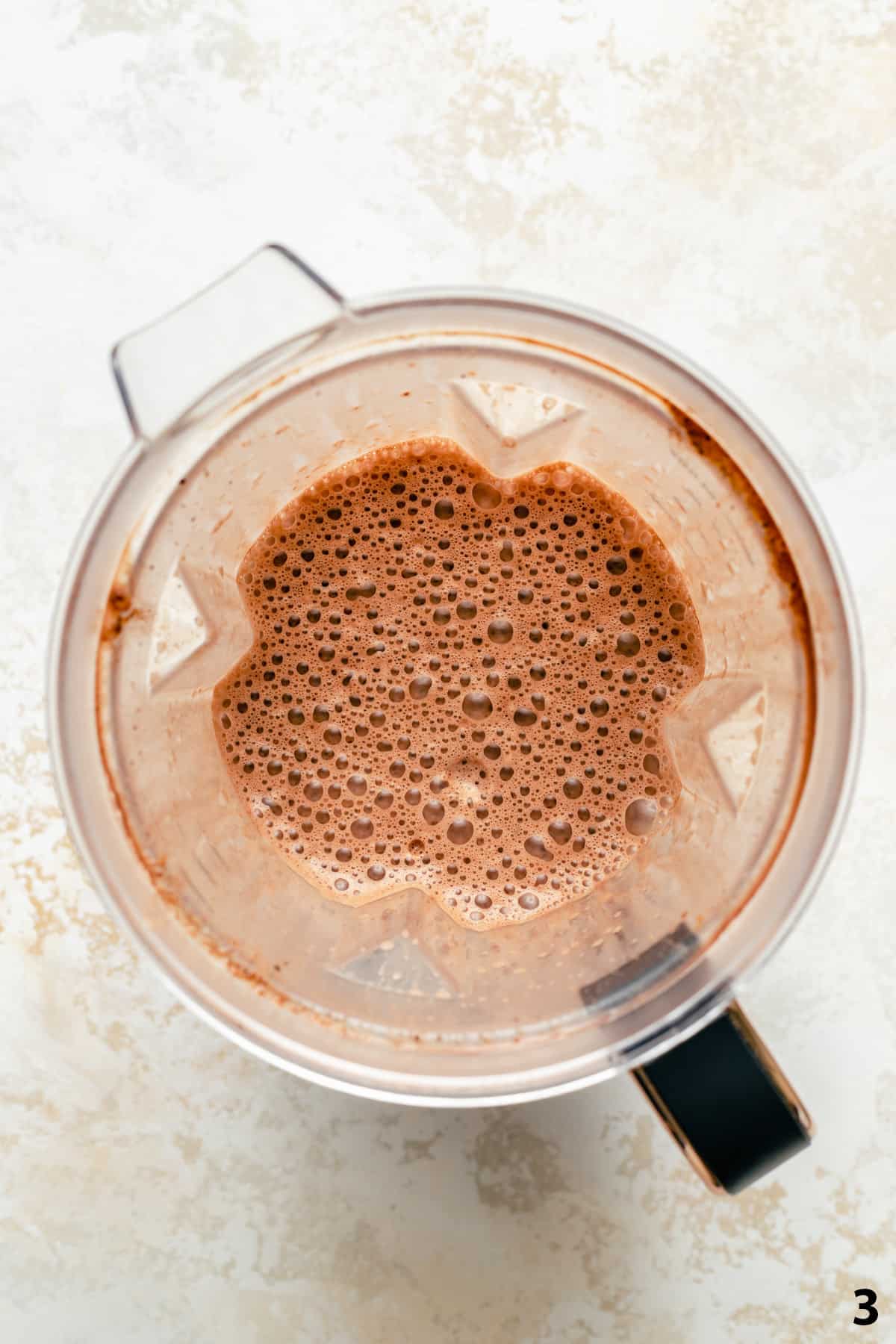 Blend for 10-15 seconds until fully combined and serve immediately.
Recipe tips
Here are some tips that will make this recipe a success for you.
Blender type - you can use either a jug blender or stick blender. We've shown the hot chocolate being made in a jug blender above as it was the best way to illustrate the process, but I believe using a stick blender is the most effective way of combining it all. The reason is that you get a finer foam on the top of the drink and the jug blender will just create a bit more foam.
Sweetness - I think this is the perfect balance of bitter, sweet and nuttiness, but if you prefer it a bit more or less sweet, adjust to your preference.
Peanut butter - I love using dark roast peanut butter as it gives a much richer peanut butter flavour in the hot chocolate. You can use whichever peanut butter is your favourite though. I do only recommend using smooth as you won't be blending it for long enough to deal with the chunks in crunchy peanut butter. Also, if your peanut butter is already quite salty, you might not need to add an extra pinch of salt, so add according to your preference.
No blender? - You can absolutely make this if you don't have a blender or stick blender, just whisk everything together well in a saucepan and heat until steaming. It just won't be as smooth as if you had blended it and you might have a few peanut butter chunks. Still delicious!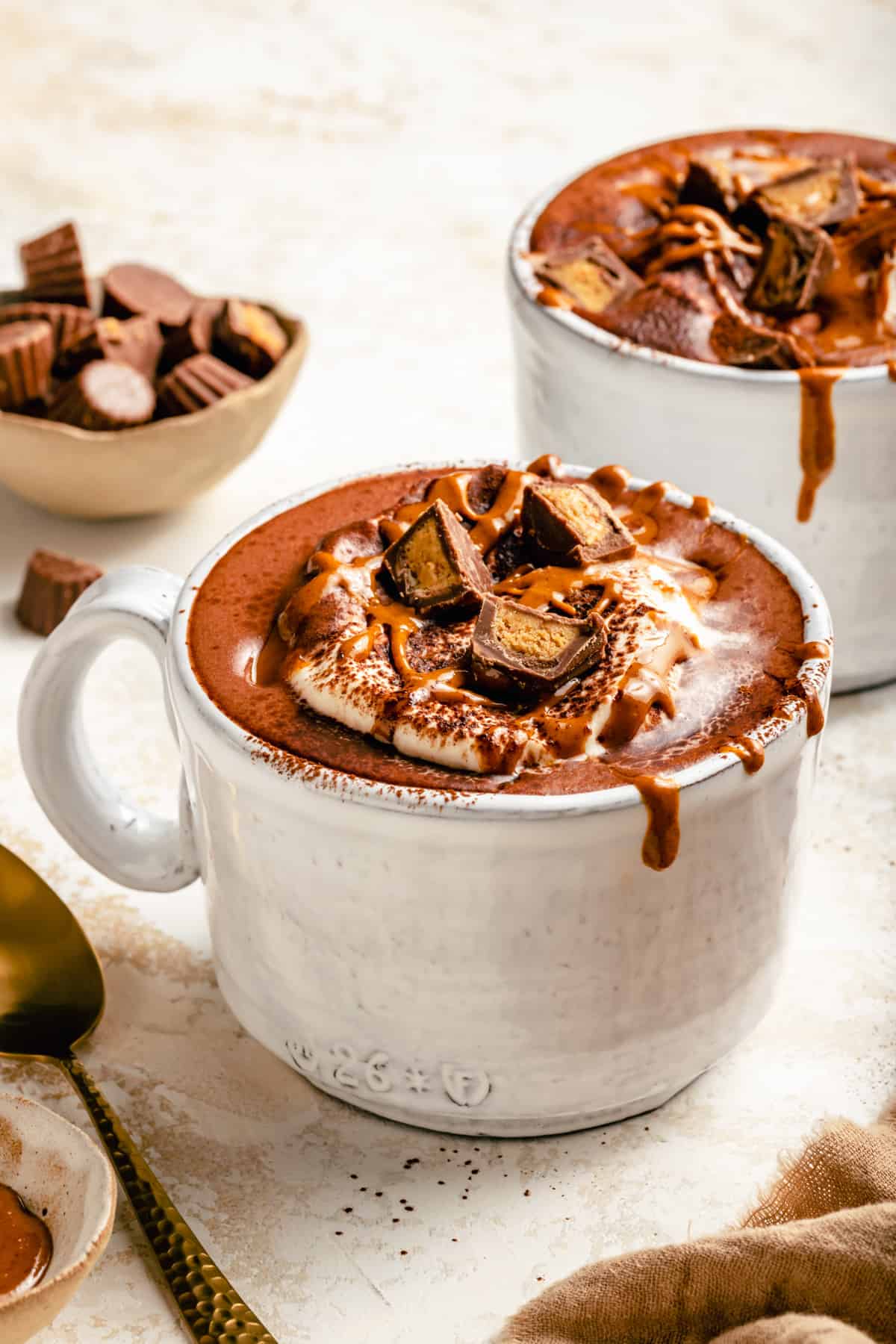 FAQs
Can I make it ahead?

Yes, absolutely! You can just prepare the peanut butter, cocoa powder and maple syrup mix as a paste and store it in an air tight container until you want to use it. Just remember how many portions you will have prepared as the recipe as written is for one mug only.
Can I drink it cold?

Yes! It would make a very nice cold peanut butter chocolate milk drink. I would recommend making it with hot milk to ensure you get all the mix combined into the milk. Let it cool, then put it in the fridge before enjoying.
Want more drinks?
I hope you love this epic peanut butter hot chocolate as much as we do. If you make it, be sure to leave a comment, rate the recipe and tag me on Instagram! I love to see your creations!