This peppermint ganache hot chocolate is so simple to make and perfectly luxurious to warm you through as you cosy up during the festive season.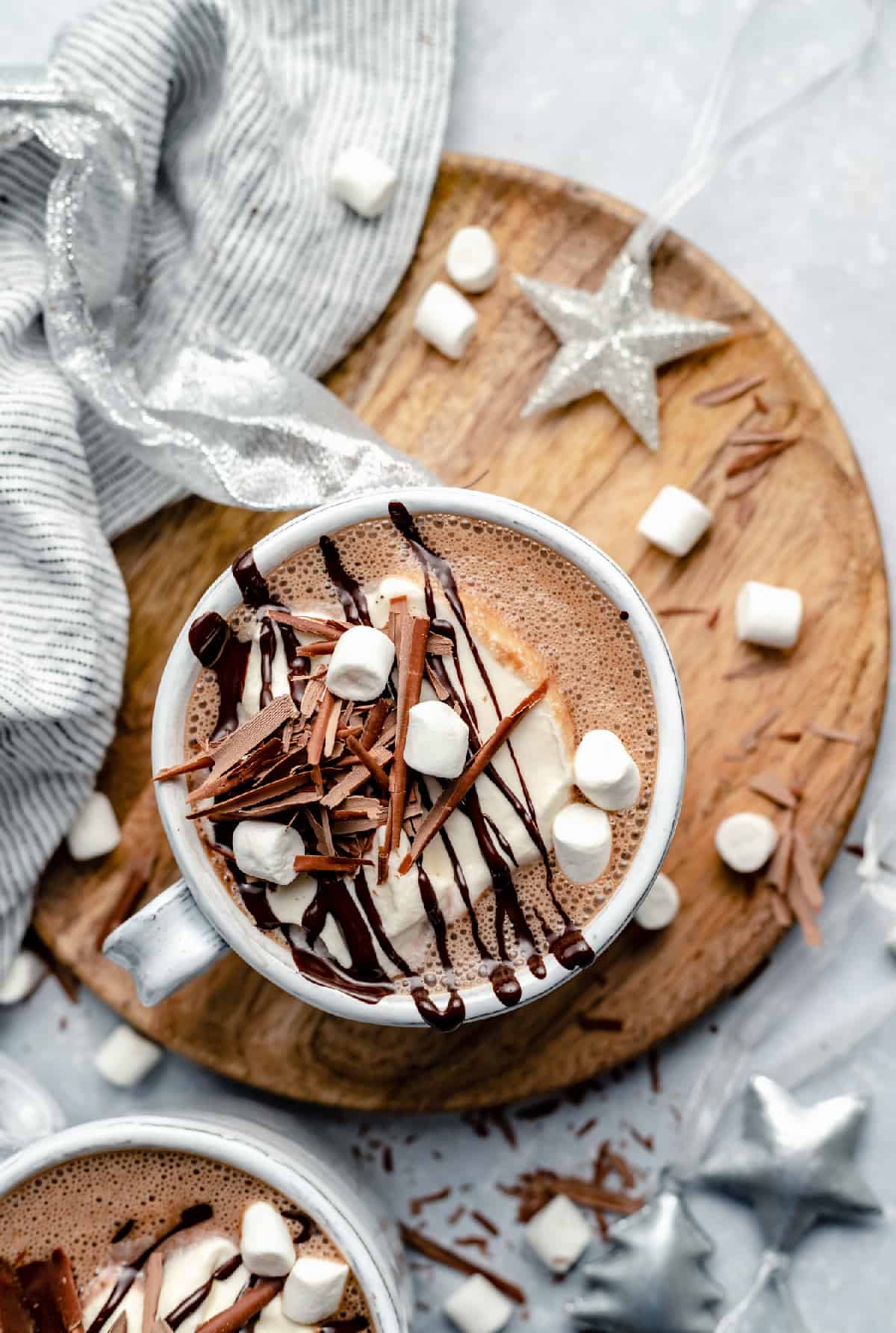 So, welcome to the world of my peppermint ganache hot chocolate! I really love a good hot chocolate anyway, but something just makes it even more special during the winter months when it's grim outside and you can cosy up in the evening with a warming mug of it. The idea of making ganache was twofold – I can keep it in the fridge in balls ready for making a luxurious hot chocolate when I want and also I can dip in and have a gorgeous truffle to savour with the actual drink too! Win win!
Ganache is lovely and rich and makes for the perfect mug of hot chocolate. It's quick to make and store, ready to go whenever you want it, so why not give it a go this season!
What ingredients do I need?
Dark Chocolate – I use dark chocolate (70% cocoa solids) for the richest of hot chocolates, but you may use milk or white chocolate in the ganache, if you desire a sweeter drink.
Double Cream/Heavy Cream – I use double cream which has a fat content of 48%, so if you use one with less than that (i.e. heavy cream) it will probably make a softer ganache. I haven't tried it, but I'm pretty sure you could use a soya or oat cream to make a vegan version.
Sea salt – Salt is chocolate's best friend, enough said.
Peppermint Extract – I tested this out with a couple of varieties of extract - the quality of the extract really does make a difference to the flavour of your hot chocolate. Nielsen Massey is my favourite. Get the best you can afford, or whatever is easiest for you.
Maple Syrup – If using dark chocolate you can sweeten it to taste with your favourite sweetener, I've used a splash of maple syrup here.
Milk – I used dairy milk, but if you want to make it dairy free or enjoy the flavour of an alternative to milk, then use whichever you desire. Oat milk hot chocolate is especially good!
How Do I Make Peppermint Ganache Hot Chocolate?
This is so simple you could do it blindfolded, but there are some tips to keep in mind that will prevent any issues. So make sure you read through if you haven't made ganache before. Let's get started!
To make the ganache:
Start by heating the cream in a small saucepan over a medium heat until scalded (this means small bubbles are starting to form) - once scalded take the cream off the heat.
Whilst the cream is heating, chop the chocolate finely and place it into a bowl with the salt.
Pour the scalded cream on top of the finely chopped chocolate and leave it to sit for 5 minutes. Then stir the mixture together until its combine and there are no lumps of chocolate left. Add the peppermint extract and stir to combine.
You can either leave it in the bowl to set on the side or pour it into a small dish to set.
I'd recommend leaving it to set outside of the fridge as then the ganache will still be soft enough to scoop with a spoon and roll into balls of about 1 tablespoon in size. Or you can keep it in a tray in the fridge and scoop out what you need when you make your drink.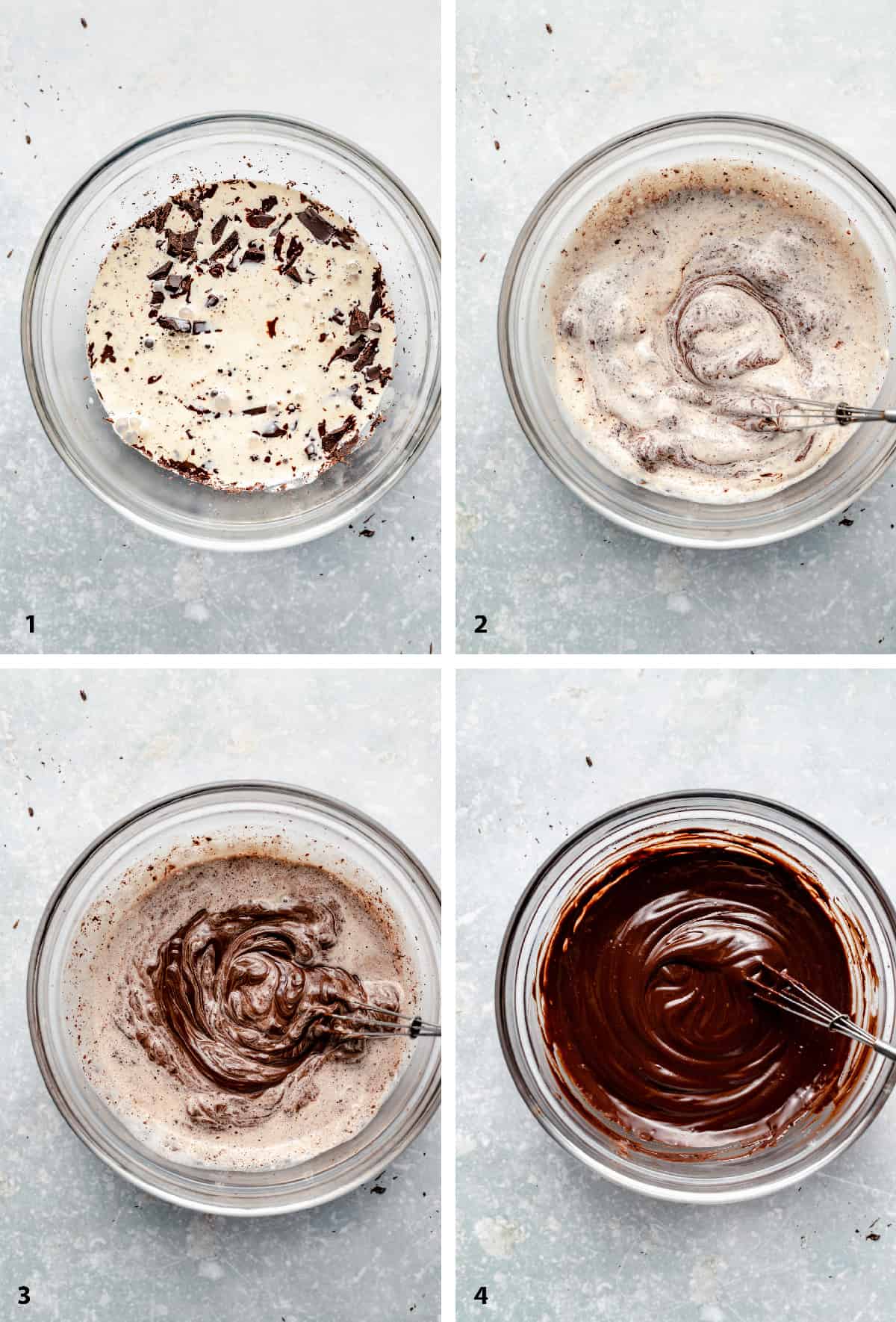 To make the hot chocolate:
Take two balls (2 tablespoons) of your ganache and put it into a mug with a dash of hot milk (you can use a microwave or a mini saucepan to do this).
The ganache should melt into the hot milk and you should be left with a pool of melted chocolate at the bottom of your mug or pan depending on which method you choose.
Once melted, pour over some additional hot milk and whisk together to combine, serve with whipped cream/spray cream, chocolate shavings and marshmallows.
Why has my ganache split?
This can be for a variety of factors:
Your cream was too hot - Scalding means bringing it up to the boil but not boiling. The high heat can cause the cocoa butter to split out of the chocolate.
Whisking too vigorously whilst making it - this can also separate the components of the chocolate and it looks a bit messy as the fat splits out, especially if the mixture hasn't had time to all come to the same temperature.
The type of chocolate you use - use at least 50% cocoa solids dark chocolate for dark, 42% for milk and 25-30% for white.
The type of peppermint extract you are using.
If my ganache splits, what do I do?
There are a couple of ways of doing this:
Place your ganache bowl over the gentle heat of a bain marie (a pan with some gentle heated water underneath - make sure the bowl does not touch the water) and stir the mixture until it warms and comes back together.
Pour a little warm milk or cream (1-2 tablespoons) into the ganache whilst it is warming over a bain marie and gently stir, this shall bring it together quite easily. I have most often used this or the above method if I have accidentally split my ganache.
Add more chocolate - just ensure your ganache mixture is warm and your chocolate is finely chopped, though this will adjust the ratios and make a much firmer ganache.
Can I prepare ahead?
Absolutely! I would even say double the recipe and make extra ganache balls as truffles to have alongside your drink! You can keep them naked or dust them with some cocoa powder to serve and then you have plenty for hot chocolate and treats.
I hope you'll give this peppermint ganache hot chocolate a try! If you make it, be sure to leave a comment, rate the recipe and tag me on Instagram! I love to see your creations!
If you're looking for more Christmas recipes, why not try: