This peppermint hot chocolate is so simple to make and perfectly luxurious to warm you through as you cosy up during the festive season. It's made with ganache which also doubles up to make chocolate truffles to serve alongside!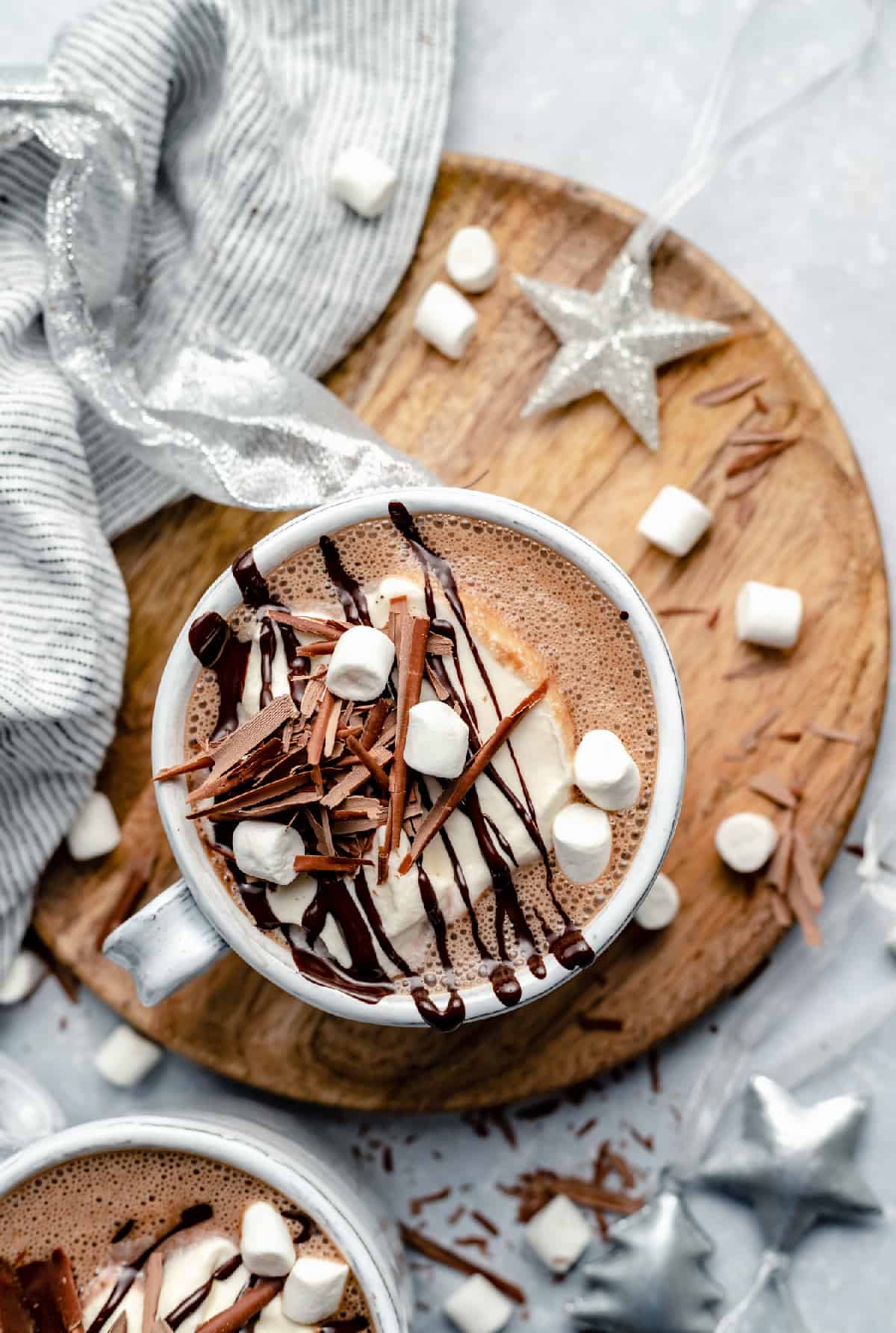 So, welcome to the festive world of our peppermint hot chocolate! We love a really good hot chocolate anyway, but something just makes it even more special during the winter months when it's grim outside and you can cosy up in the evening with a warming mugful.
The idea of making ganache was twofold – you can keep it in the fridge in balls ready for making a luxurious hot chocolate whenever you want and you can also dip in and have a gorgeous truffle to savor with the actual drink too! Win win!
This peppermint hot chocolate is made with ganache. It's lovely and rich and makes for the perfect mug of hot chocolate. It's quick to make and store, ready to go whenever you want it, so why not give it a go this season! Oh and for a mint overload, don't forget to try it with these mint chocolate chip cookies too!
We know you'll love this peppermint hot chocolate this festive season, don't forget to leave us a comment with how much you love it and leave a rating too! You'll also love this peanut butter hot chocolate to cosy up with this season!
Jump to:
⭐ What makes this the best?
There are many reasons why this is the best peppermint hot chocolate, here are just a few of them:
No cocoa powder - It's made with a real chocolate ganache so no cocoa powder in sight! Cocoa powder can get quite bitter in a hot chocolate if you don't get the right balance of sweetness and making your own ganache with a balanced bar of chocolate is a great way around this.
Make ahead - you can make the ganache and have a stash of peppermint ganache balls in the fridge ready for your peppermint hot chocolate or even just a snack truffle during the festive season!
Peppermint - peppermint and chocolate make the most incredible flavor combination and it's got that extra Christmas feel to it. YUM!
Luxury - this peppermint hot chocolate is totally luxurious with the real chocolate ganache that is used. Making it the perfect festive drink you'll have on hand all season.
🥘 Ingredients
You only need simple accessible ingredients for this recipe. This is what you'll need: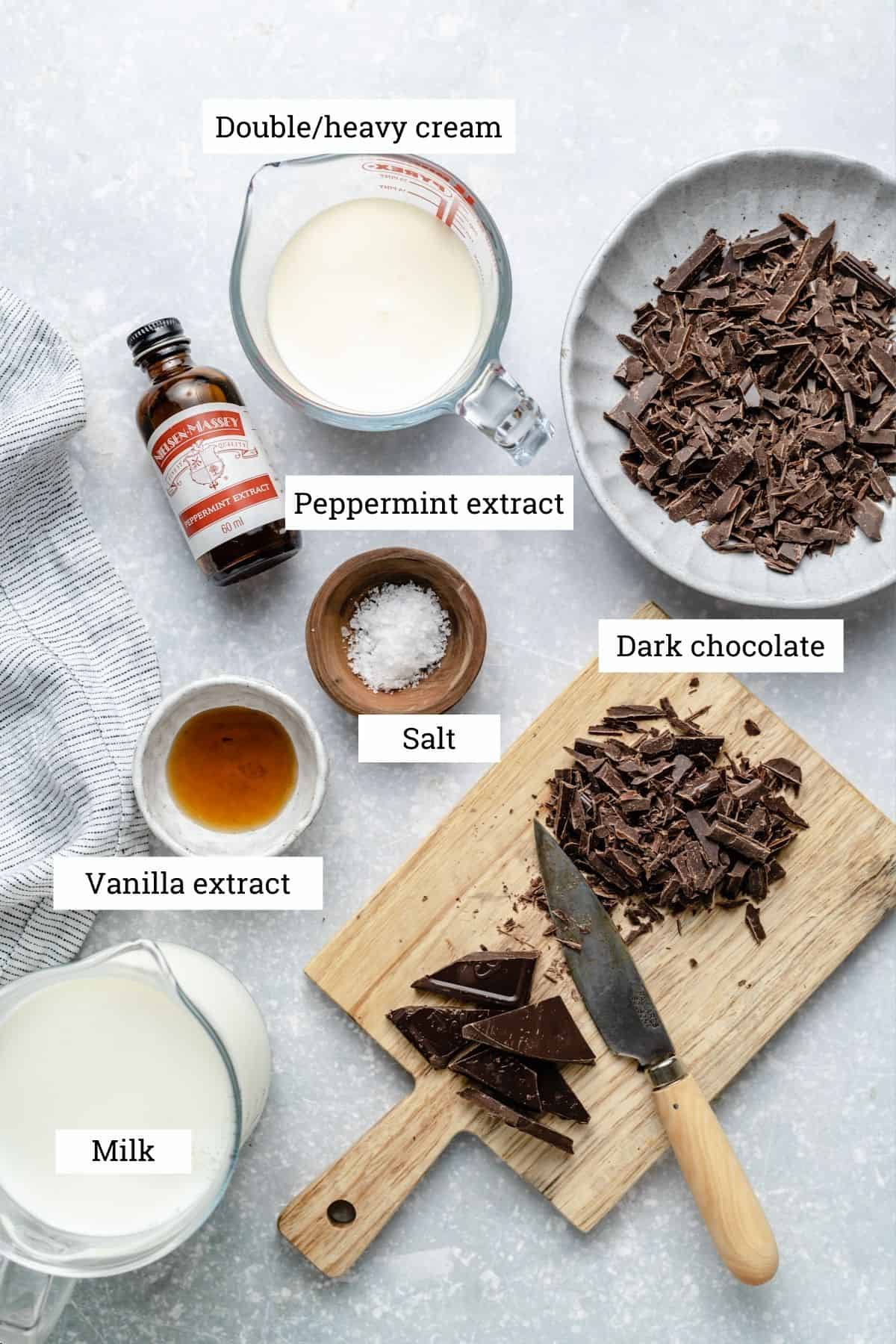 Dark chocolate – we use dark chocolate (70% cocoa solids) for the richest hot chocolate, but you may use milk or white chocolate in the ganache, if you desire a sweeter drink.
Cream – we use double cream which has a fat content of 48%, so if you use one with less than that (i.e. heavy cream) it will probably make a softer ganache.
Peppermint extract – we tested this out with a couple of varieties of extract - the quality of the extract really does make a difference to the flavor of your hot chocolate. Nielsen Massey peppermint extract is our favorite. Get the best you can afford, or whatever is easiest for you.
Maple syrup – if using dark chocolate you can sweeten your drink to taste with your favorite sweetener. We've used a splash of maple syrup here.
Milk – we used dairy milk, but if you want to make it dairy free or enjoy the flavor of an alternative to milk, then use whichever you desire. Oat milk hot chocolate is especially good!
📖 Customisations
We know you love to customize and mix up recipes so here are some recommendations for this peppermint hot chocolate:
Make it vegan - make the ganache vegan by using soy milk or a vegan cream substitute and vegan friendly dark chocolate. We've not tested the ganache this way, but have seen others successfully do so. Use the ratio of 1:1.5 milk:dark chocolate using the same method in the recipe below.
Use a different extract - the world's your oyster when it comes to flavors. We would recommend orange, hazelnut and vanilla extract.
Use a different milk - you can use soy milk, oat milk, almond milk or even coconut milk to finish off the hot chocolate if you wish.
Crushed candy canes - instead of chocolate shavings you can sprinkle over crushed candy canes or peppermints for an even more festive hot chocolate. Or even some chopped peppermint bark!
🥣 How do I make peppermint hot chocolate?
Follow this easy step by step guide to help you create the ganache for this peppermint hot chocolate. Let's get started!
To make the ganache: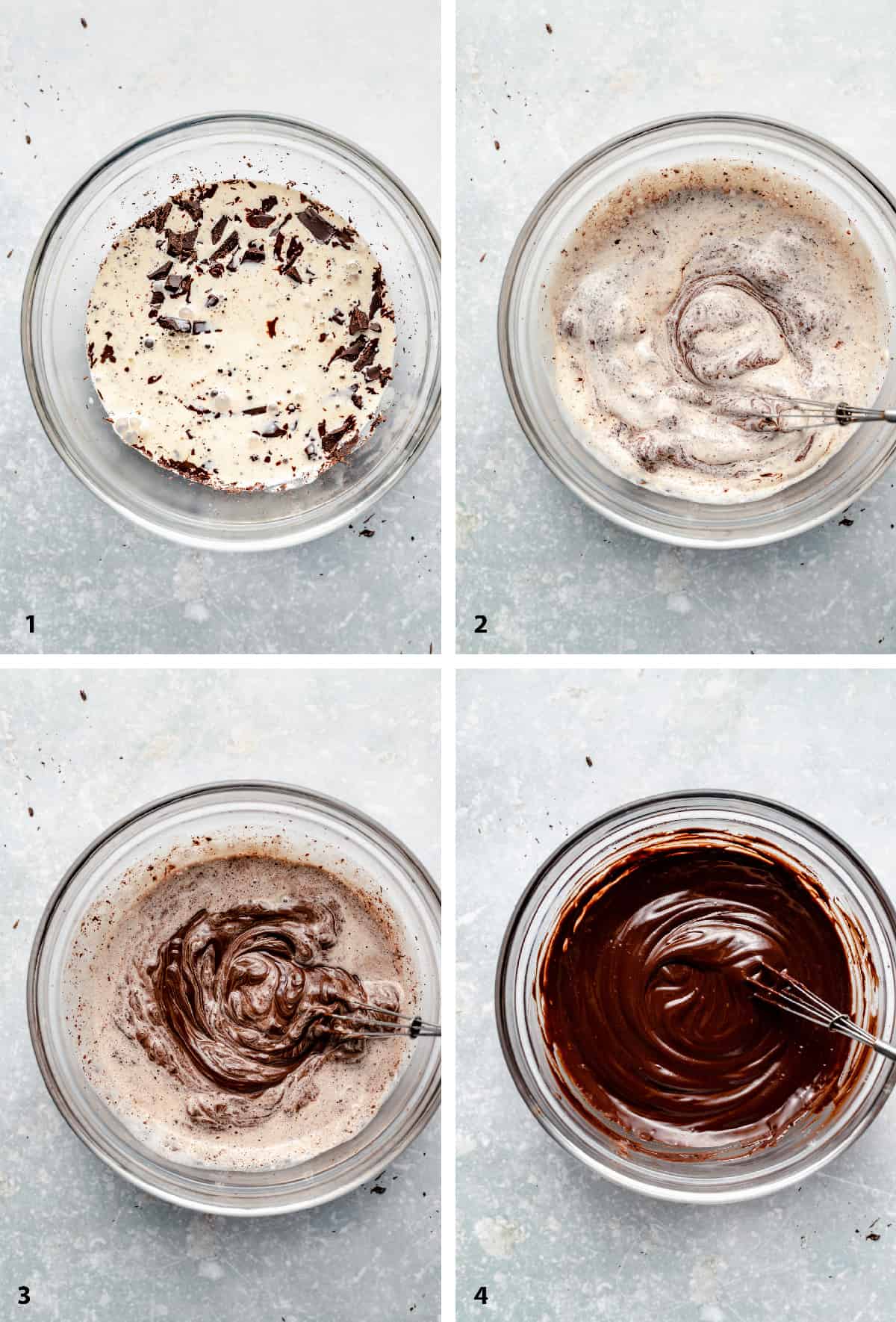 Start by heating the cream in a small saucepan over a medium heat until scalded. Once scalded take the cream off the heat. Pour the scalded cream on top of the finely chopped chocolate and leave it to sit for 5 minutes.
After 5 minutes, gradually stir the mixture together.
You'll start to see the chocolate melt into the cream. Keep stirring gently until there are no lumps of chocolate left. Add the peppermint extract and stir to combine. 
You can either leave it in the bowl to set on the side or pour it into a small dish to set. 
To make the hot chocolate:
Melt two tablespoons of your ganache in a mug with a dash of hot milk. You'll get a pool of melted chocolate milk at the bottom of your mug or pan.  
Once melted, pour over some additional hot milk and whisk together to combine. Serve with whipped cream/squirty cream, chocolate shavings and marshmallows. 
👩🏻‍🍳 Expert tips
Here are some tips for you to make the most of this peppermint hot chocolate recipe:
Chocolate - make sure your chocolate is finely chopped, this helps the scalding hot cream to melt it completely.
Scalding - scalded milk is heated to 82oC/180oF (you can use a digital thermometer to help with this). You'll know it's close as the milk steams and small bubbles are starting to form but it is not boiling.
Setting the ganache - set the ganache on the counter top. It'll still be soft enough to scoop with a spoon and roll into balls of about 1 tablespoon in size. You can keep it in in the fridge and scoop out what you need when you make your drink, it'll just be a lot firmer to scoop. If in a hot climate, set in the fridge.
Microwave - this is probably the fastest way to make your peppermint hot chocolate, get the ganache and a little milk in your mug and heat in the microwave in 30 second intervals, stirring in between until you have a pool of molten chocolate. Add the rest of the milk and heat to the desired drinking temperature.
💭 Recipe FAQs
Why has my ganache split?

This can be for a variety of factors:

Your cream was too hot - scalding means bringing it up to the boil but not boiling. The high heat can cause the cocoa butter to split out of the chocolate.
 
Whisking too vigorously whilst making it - this can also separate the components of the chocolate and it looks a bit messy as the fat splits out, especially if the mixture hasn't had time to come to a consistent temperature.

The type of chocolate you use - use at least 50% cocoa solids dark chocolate for dark, 42% for milk chocolate and 25-30% for white chocolate. Use the best quality chocolate you can.
If my ganache splits, what do I do?

There are a couple of ways of fixing this:

1. Place your ganache bowl over the gentle heat of a bain marie (a pan with some gentle heated water underneath - make sure the bowl does not touch the water) and stir the mixture until it warms and comes back together. 

2. Pour a little warm milk or cream (1-2 tablespoons) into the ganache whilst it is warming over a bain marie and gently stir, this should bring it together quite easily. We have most often used this or the above method if we have accidentally split our ganache.

3. Add more chocolate - just ensure your ganache mixture is warm and your chocolate is finely chopped, though this will adjust the ratios and make a much firmer ganache. 
Can I prepare ahead?

Absolutely! We would even say double the recipe and make extra ganache balls as truffles to enjoy alongside your drink! You can keep them naked or dust them with some cocoa powder to serve and then you have plenty for hot chocolate and treats. 
How do I store ganache?

You have a few options:

Room temperature - It'll last the shortest time, probably 2-3 days, just store it in an airtight container.

In the fridge - Store in an airtight in the fridge for up to a month. Perfect time for storage over the festive period.

In the freezer - Ganache can be stored in the freezer for up to 3 months in an airtight container.
☕ More festive recipes just for you
Love this peppermint hot chocolate recipe? Then you'll definitely want to check out more of our holiday recipes. Here are some suggestions to get you started:
Love this recipe? Leave us a 5-star ⭐️⭐️⭐️⭐️⭐️ rating in the recipe below and don't forget to leave a review in the comments section underneath the recipe. We love hearing from you!
Why not follow along with us on our social media channels @Instagram @Facebook and @Pinterest and tag us with #eatloveeats when you've tried one of our recipes!
📖 Recipe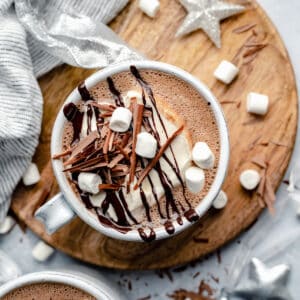 Peppermint Hot Chocolate
A mug of rich warming peppermint hot chocolate made with a beautiful ganache. Easy to make ahead and provides you with silky mint chocolate truffles too!
Print Recipe
Pin Recipe
⭐️ Rate Recipe
Instructions
Heat the cream in a saucepan over medium heat until scalded (until small bubbles begin to form) then take the cream off the heat.

Pour the cream over the chocolate and salt in a bowl and leave to sit for 5 minutes then stir until combined.

3 ½ ounces 70% dark chocolate,

⅛ teaspoon sea salt

Add peppermint extract and stir to combine. Leave to cool and put in the fridge.

½ teaspoon peppermint extract

Scoop 2 tablespoons or two small balls into a mug with a splash of hot milk and whisk together until melted into a chocolate pool. You can do this in the microwave or in a saucepan over a low/medium heat too. Once melted add more hot milk and sweeten with maple syrup if desired and stir together.

1 teaspoon maple syrup,

1 cup milk of choice

Top with your favourite toppings, we used whipped cream, chocolate shavings and marshmallows.
Notes
Scalded milk is heated to 82°C/180°F (you can use a digital thermometer to help with this). You'll know its close as the milk steams and small bubbles are starting to form but it is not boiling.
Roll the ganache into 1 tablespoon balls and store in the fridge in an air tight container ready for whenever you a ready to make a drink.
Use the microwave to melt your ganache in preparing the peppermint hot chocolate.
Nutrition
Calories:
282
kcal
|
Carbohydrates:
20.6
g
|
Protein:
9.9
g
|
Fat:
18
g
|
Saturated Fat:
11
g
|
Polyunsaturated Fat:
0.7
g
|
Monounsaturated Fat:
5.4
g
|
Cholesterol:
38.9
mg
|
Sodium:
171.6
mg
|
Potassium:
480.4
mg
|
Fiber:
1.8
g
|
Sugar:
17.6
g
|
Vitamin A:
137.4
IU
|
Vitamin C:
0.6
mg
|
Calcium:
318.3
mg
|
Iron:
2.1
mg
Did you make this recipe?
Leave a comment below with how you got on and don't forget to give the recipe a rating ⭐️⭐️⭐️⭐️⭐️. You can also tag @eatloveeats on Instagram - we love to see your creations!