This post contains affiliate links from which we could earn a small commission. Please read our Privacy Policy for more information.
These double chocolate chip mint cookies are so quick and easy to whip together and fill the house with the aromas of chocolate and peppermint. This no chill cookie dough means you'll be enjoying cookies in under 30 minutes!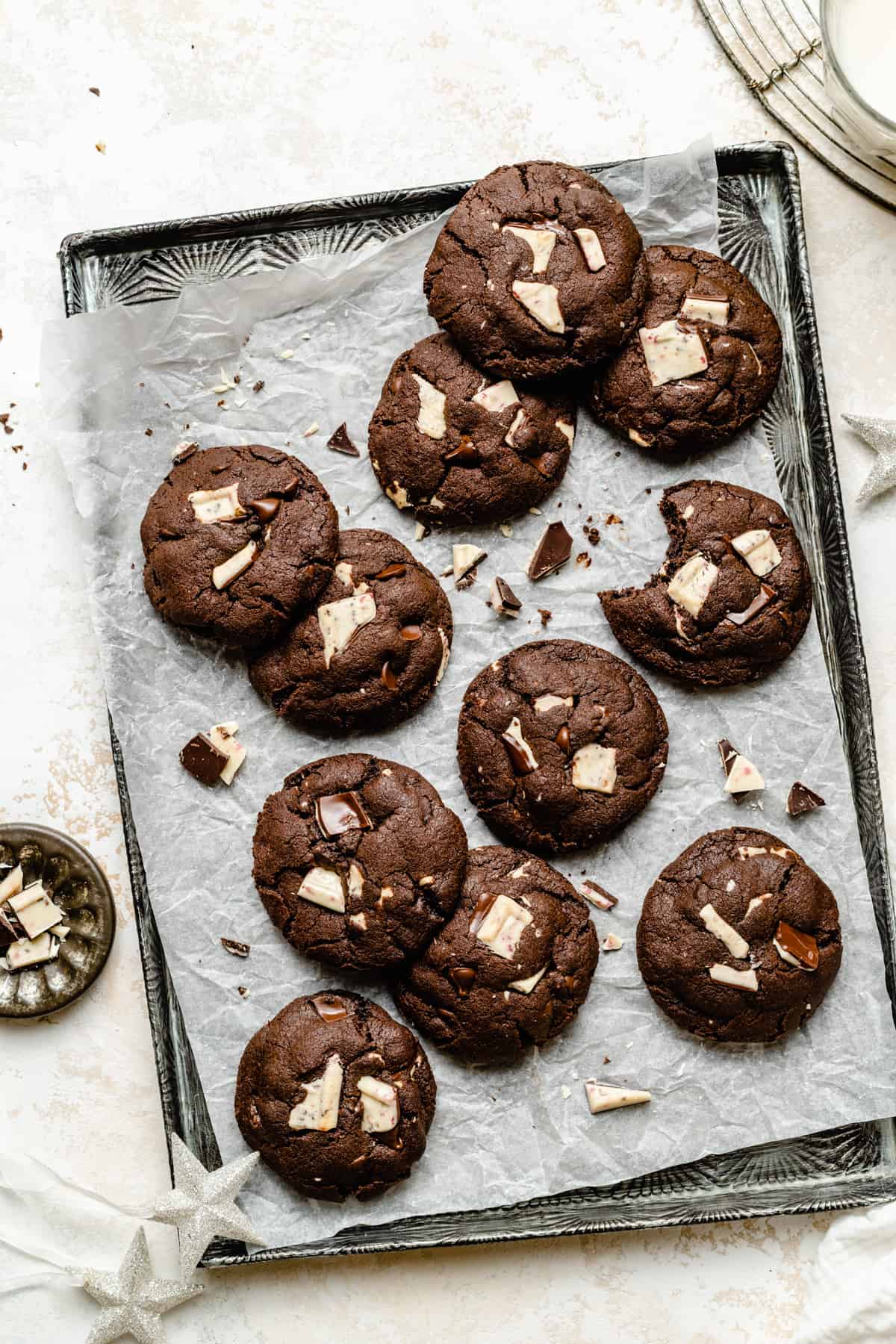 It's officially cookie season and have I got a treat for you! These epic, fudgy chocolate chip mint cookies are super special, packed with beautiful peppermint extract that just permeates the house as they bake. Oh and they have chocolate chips AND peppermint bark in them. You're impressed aren't you? I know you are! These are a real hit in my house and I know they will be in yours too! Other treats we like during the holidays are these White Chocolate Nutmeg Truffles, they also make a great edible gift.
These cookies are sure to wow your friends and family. Cookies are a huge part of the run up into the holiday season for our home but let's be honest it's like that all year round anyway! Ha! You can't go wrong with a double chocolate chip cookie but mix that with mint and peppermint bark and it is completely on another level and perfect for the festive season. Let's get to it, just follow the links below to get to exactly where you want on this page.
I love hearing from you so please leave a comment with how you got on and how much you love these amazing chocolate chip mint cookies. Also don't forget to rate the recipe!
Jump to: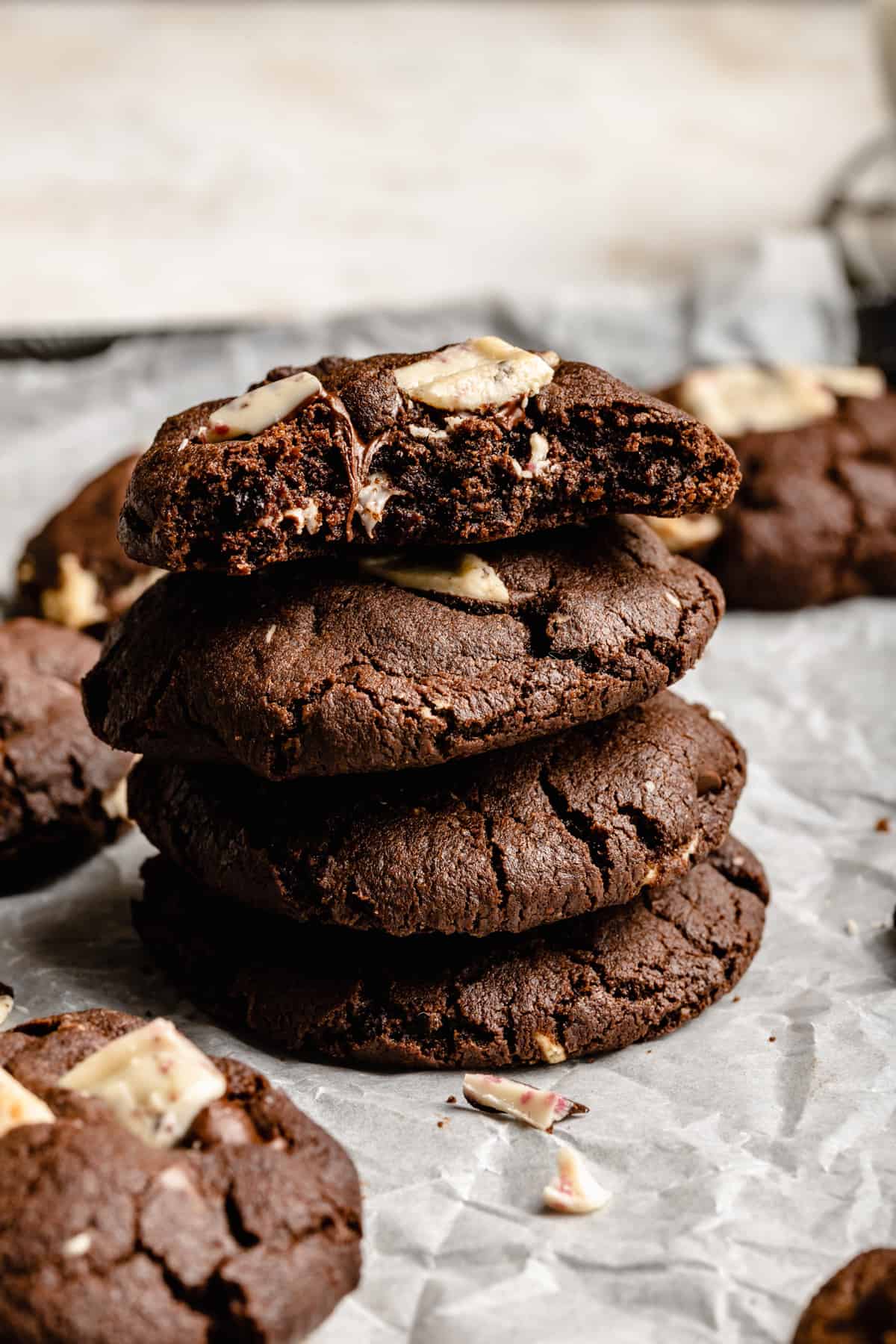 What makes these the best?
These are the reasons you need these chocolate chip mint cookies in your life and why they're awesome!
Peppermint - some flavours are just a match made in heaven. Chocolate and mint is one of them; it's definitely one of my favourite flavourings during the holiday season.
Double trouble - what makes a chocolate chip cookie even better? Adding more chocolate! Double chocolate for these cookies makes them even better. (Technically triple chocolate with the white chocolate on the peppermint bark!)
Reliable - I love a reliable recipe, I mean one that just works perfectly every time. These are those. Enjoy!
Gooey - I love a gooey chewy cookie and these don't disappoint. Full of pools of chocolate and delicious peppermint bark, what's not to love?!
Addictive - in this house, a reliable test to see if a recipe is good is that it gets made over and over and devoured in no time by my husband. These chocolate mint cookies are truly addictive (and got wolfed down by my husband in record time)!
Ingredients
These chocolate chip mint cookies have very simple ingredients that are readily available. This is what you'll need: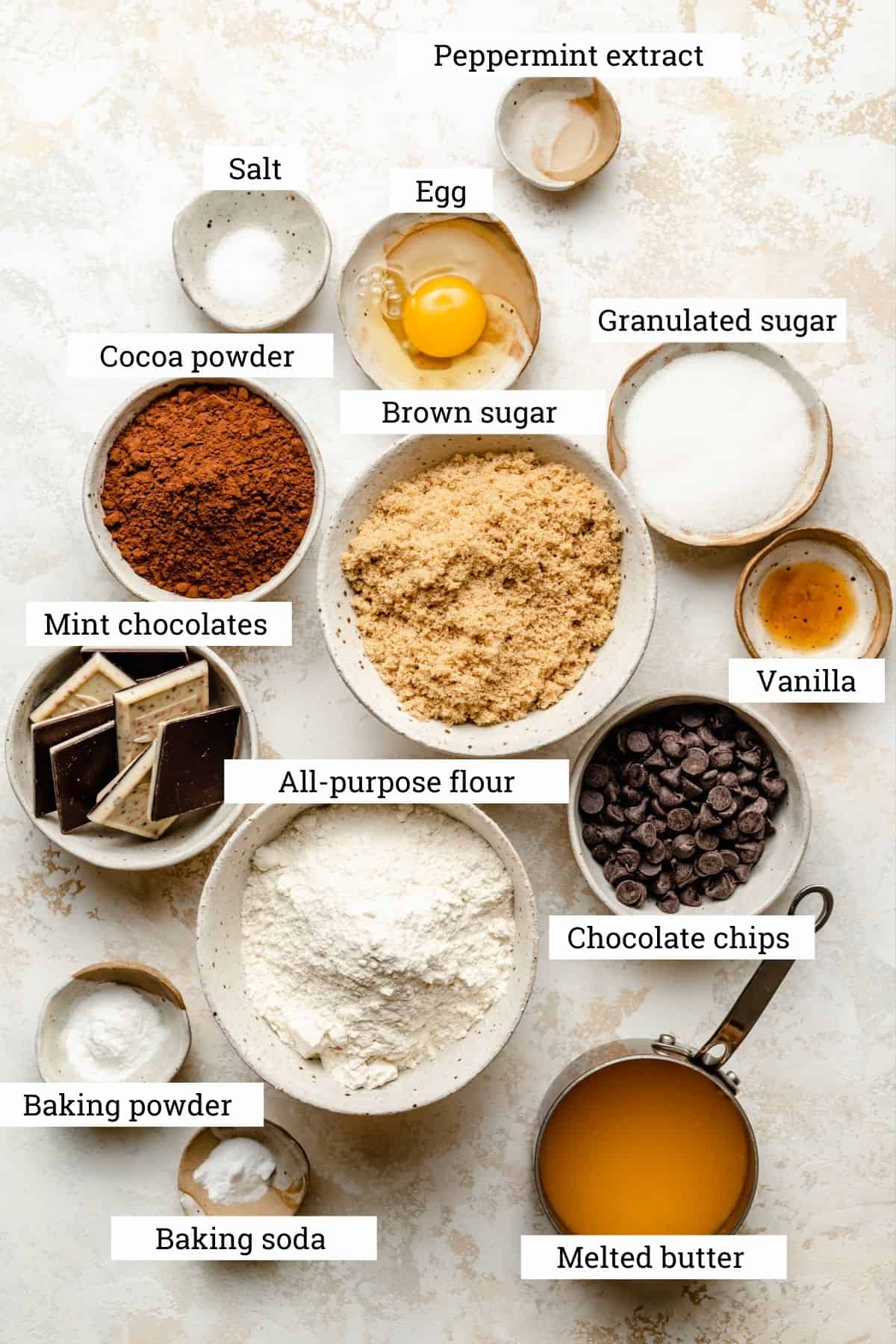 Butter - I find all butter cookies are the most flavoursome and you'll need unsalted butter for these cookies.
Dry ingredients - You'll need standard store cupboard staples such as all purpose (plain) flour, cocoa powder, baking powder, baking soda and fine sea salt.
Sugar - you'll be using soft light brown sugar and granulated sugar. They have different flavours but also they act on the structure of the cookie.
Egg - you'll need an egg, which provides moisture and protein. The moisture aids binding with the starch and proteins in the flour. The protein helps create a chewy cookie.
Extracts - the most important flavour you'll need is obviously peppermint extract, get the highest quality one you can afford as it really does make a difference in flavour. You'll also need vanilla extract.
Chocolate - to add more chocolatey flavour you'll need chocolate chips and also Ghirardelli peppermint bark.
Customisations
These chocolate chip mint cookies can be adapted in a few ways. Here are some recommendations:
Peppermint bark - I love using Ghirardelli peppermint bark in these cookies, but it is difficult to come by in the UK. In the States you're good to go, if not use Andes chocolate mints or any other peppermint bark. If you can't find or don't want to use it you can switch out for a mint chocolate bar.
Chocolate chips - I used semisweet chocolate chips in the photos but white chocolate chips are also incredibly delicious, especially if you can't get hold of peppermint bark!
Spread - I personally think these are perfect as they are but if you want a thinner cookie you can up the amount of granulated sugar and reduce the brown sugar to give you a bit more spread. If you want to do this, try 175g brown sugar and 75g granulated sugar.
Extracts - you can try a different flavour if you wanted, I'd recommend coffee, orange or almond extract. Just adjust the flavour profile of the chocolate chips or chocolate used in the cookie accordingly.
How to make them
These chocolate mint cookies are so simple to whip up you will be snacking on them in no time. Follow these steps to make them:
Start by melting the butter in a small pan. In a medium mixing bowl, combine the all-purpose (plain) flour, cocoa powder, baking powder, baking soda (bicarbonate of soda) and fine sea salt. Stir together using a whisk, to ensure all the ingredients are evenly distributed, set aside.
In the bowl of a stand mixer, combine the brown sugar and granulated sugar with the slightly cooled (but still warm) melted butter. Mix on medium speed, just until well combined. (Alternatively use a large mixing bowl and an electric hand mixer).
Add the egg, vanilla and peppermint extract to the butter and sugar mixture and continue to mix on medium speed until well combined, about 1 minute.
Add all the dry ingredients into the wet and mix until just combined.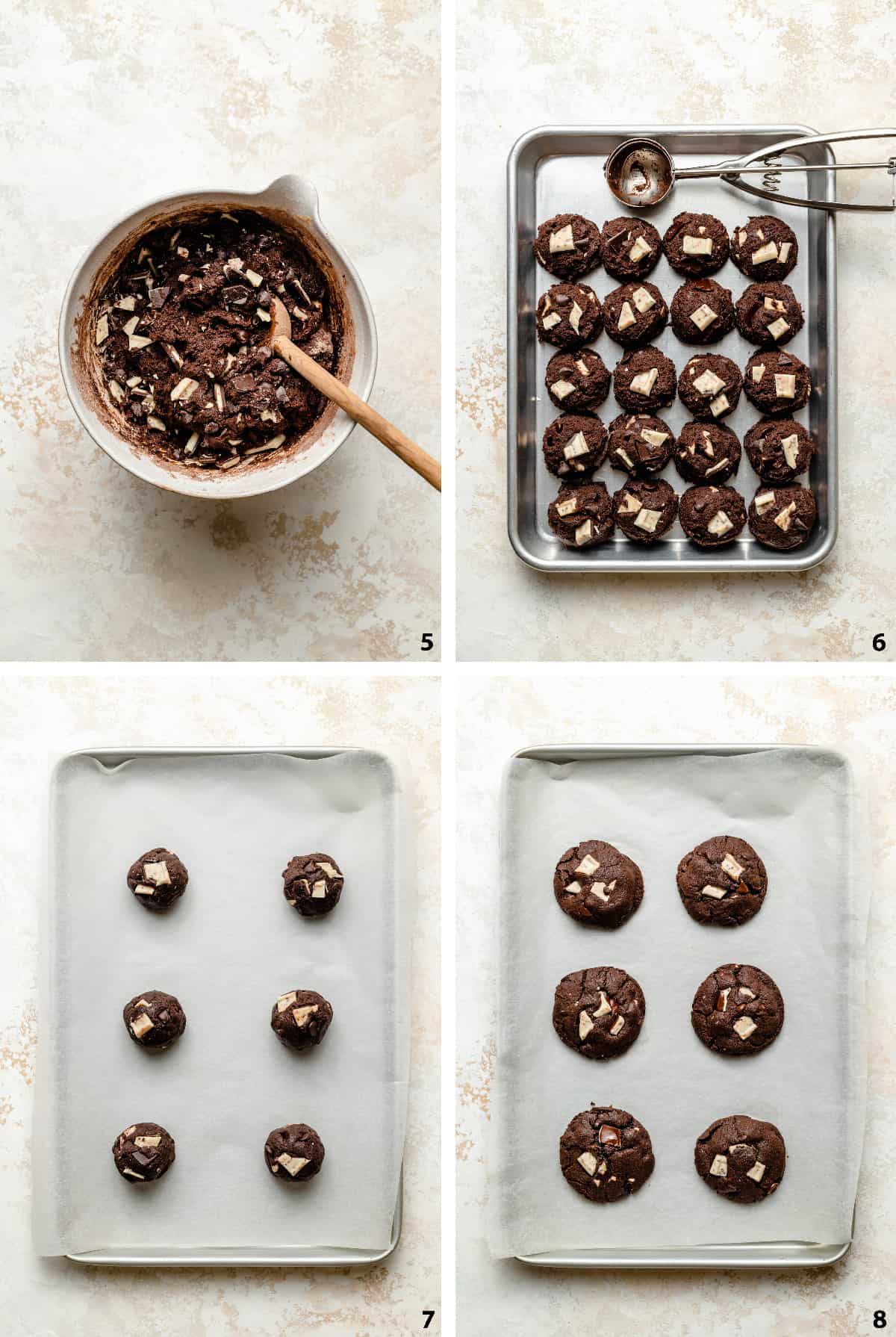 Add in the chopped peppermint bark and chocolate chips to the cookie dough and mix on low speed until distributed throughout the cookie dough.
Using a medium cookie scoop (2 tablespoons), scoop out the dough onto a tray. They're perfect for freezing at this point!
Roll the dough balls to round them off and place on a parchment lined baking sheet ready to bake.
Bake in the preheated oven for 8-10 minutes (mine are perfect after 8 minutes in a fan-assisted/convection oven) until lightly golden at the edges. They should still feel soft and underbaked in the centre – that's what you want!
Recipe tips
Here are some tips that will help you out.
Accuracy - I will always provide cup measurements for baking recipes, but categorically this is the most inaccurate measurement you can use in baking. Sure, it's helpful for ratios, but everyone will spoon, level, scoop and measure their flour differently. For consistent results every time I highly recommend investing in a set of digital scales which will be the most accurate way for baking. Baking is a science after all and accuracy is essential.
Sugar - Sugar matters. If you want a deeper flavour with more caramel notes, use dark brown sugar instead of light brown. If you want more of a spread, use more granulated but less brown sugar. The sugar works with the egg and the flour to provide a great structure to the cookie.
Make ahead - This recipe has been designed with ease in mind. You do not need to chill the cookie dough at all. You could leave it out on the side all day if you wanted to. I would definitely recommend covering with cling film to prevent them drying out though if doing that. These are best served still slightly warm, but are still beautiful a few days after baking too.
Freeze - These cookies freeze well. Either freeze the cookie dough balls before baking on a baking sheet then place them in a freezer bag that you can dip into whenever you want one. You can also freeze them post baking and store them for up to 3 months in the freezer. However, I would not recommend mixing them in the bag with any other flavour cookies as the peppermint flavour will permeate into the other cookies and make everything taste like peppermint.
FAQs
How to store them?

These cookies store well for 2-3 days in an airtight container at room temperature. I recommend though just baking what you need at the time and freezing the remaining cookie dough for when you want a fresh warm cookie. 
Why are my chocolate chip cookies turning out flat?

Often the main culprit is too much fat or the fat being melted but I find the biggest issue people have with spreading cookies is not enough flour and this will come from inaccurate measurement, usually in cups. I recommend using digital scales for getting the most consistent results. 
More cookie recipes...
I hope you love these amazing chocolate chip mint cookies as much as we do. If you make them, be sure to leave a comment, rate the recipe and tag #eatloveeats on Instagram! I love to see your creations!