This plum and almond cake is quick and easy to put together and packed full of plums and spices that make you dream of fall. The cake is moist, sweet and tangy from the plums; the perfect accompaniment to your favourite hot drink in the afternoon.
Plums are one of the most underrated fruits. I love that there are so many different varieties. My personal favourites are the firm, slightly sweet ones which have a tangy skin; they're especially great to bake with! Plums elevate this cake to another level and provide the perfect level of moisture without making the almond cake soggy. This cake has been thoroughly tested to ensure this is the case, leaving it with the perfect spiced almond crumb texture with plums dotted throughout the cake giving those pops of sweetness and tartness. YUM!
What comes to your mind when you think of autumn/fall? For me it's definitely cosy, warming spices, hot drinks, snuggly blankets and comforting baking. I think this plum and almond cake ticks many of those boxes - just get cosied up and enjoy a slice or two! It's unbelievably easy to put together as well. I've got all the tips and tricks below to make this approachable so that everyone can successfully bake a tasty cake. You can also easily make this cake gluten free by following the tips below.
This cake was heavily adapted from my Cherry Almond Polenta Cake which you absolutely need to try too. It's to die for and one of the most popular recipes on the site. After you've made this delicious cake, let us know what you think in the comments and don't forget to give it a rating! ❤️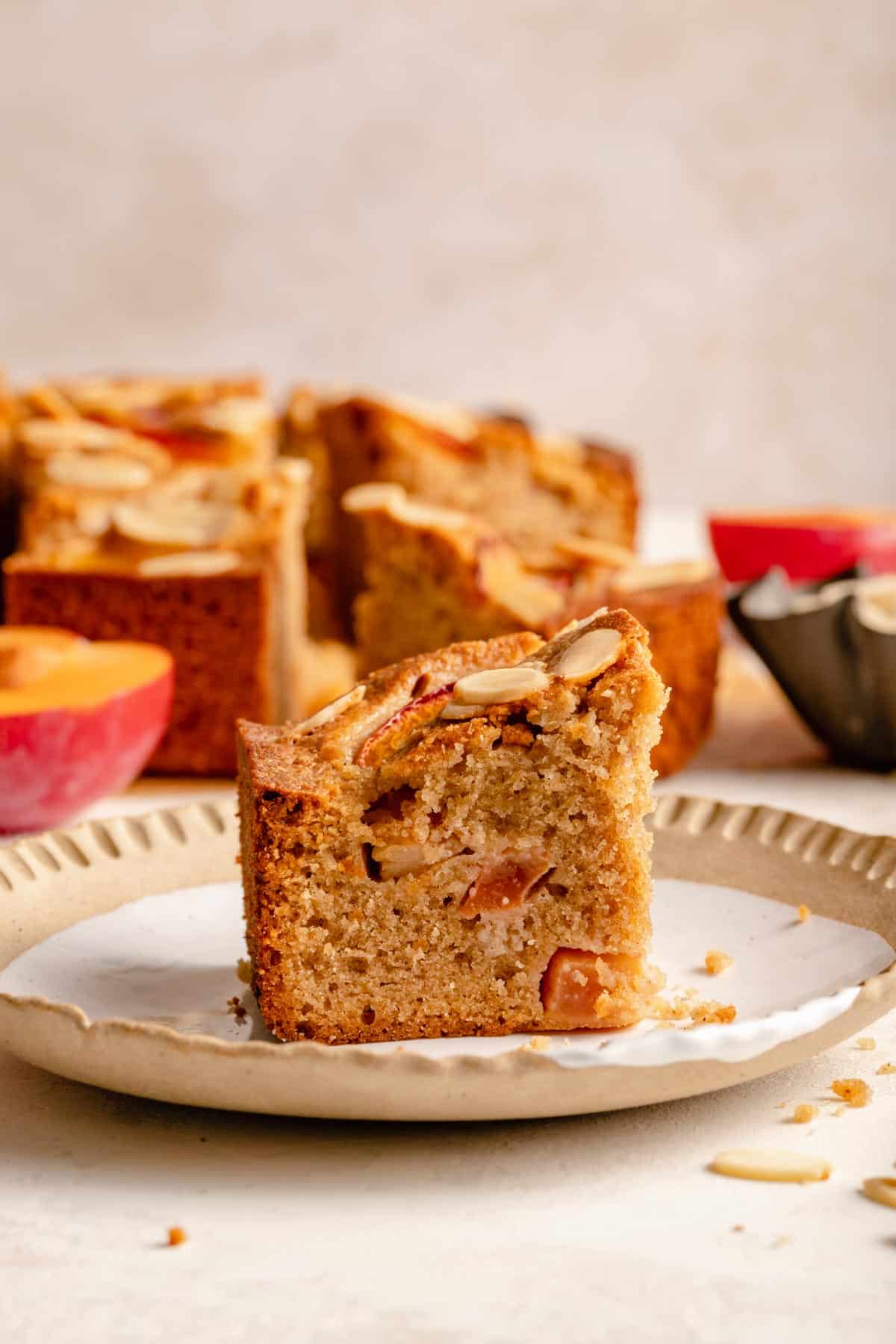 What ingredients do I need?
This almond cake can be made with simple ingredients that are readily available at most supermarkets. Here's what you'll need:
Almond flour - I use a fine blanched almond flour which gives the cake a lighter texture than using regular ground almonds which tend to be a bit coarser in texture, but both would work nicely.
All purpose flour - I use a standard all purpose flour, check out the gluten free customisations for an easy substitution if you have a gluten intolerance.
Sugar - it's important to have sugar in baking; for structure, flavour and texture of the crumb. In this plum almond cake I use caster sugar and light brown sugar, the latter giving the cake delicious caramel notes.
Baking powder - You'll need baking powder for your cake to rise and give the crumb a nice texture. Make sure it is gluten free friendly if you are making this gluten free!
Spices - You'll need ground cinnamon, ginger and allspice to make this cake. The absolute perfect combination of spices for your fall baking.
Fine sea salt - All baking needs seasoning to elevate the flavours. I use fine sea salt as it's easier to distribute throughout the batter.
Eggs - you need UK medium eggs or US large eggs.
Unsalted butter - butter makes everything better, don't you think? Use the best quality butter you can find, but make sure it's unsalted as if you don't you may over salt your cake. If you only have salted butter, omit the added fine sea salt.
Extracts - you'll use both vanilla and almond extract in this cake; they both add so much flavour.
Plums - I use firm, sweet plums which when baked in the cake release a lovely sweetness and tartness in every bite.
Flaked almonds - These make a great topping but are optional if you don't have them.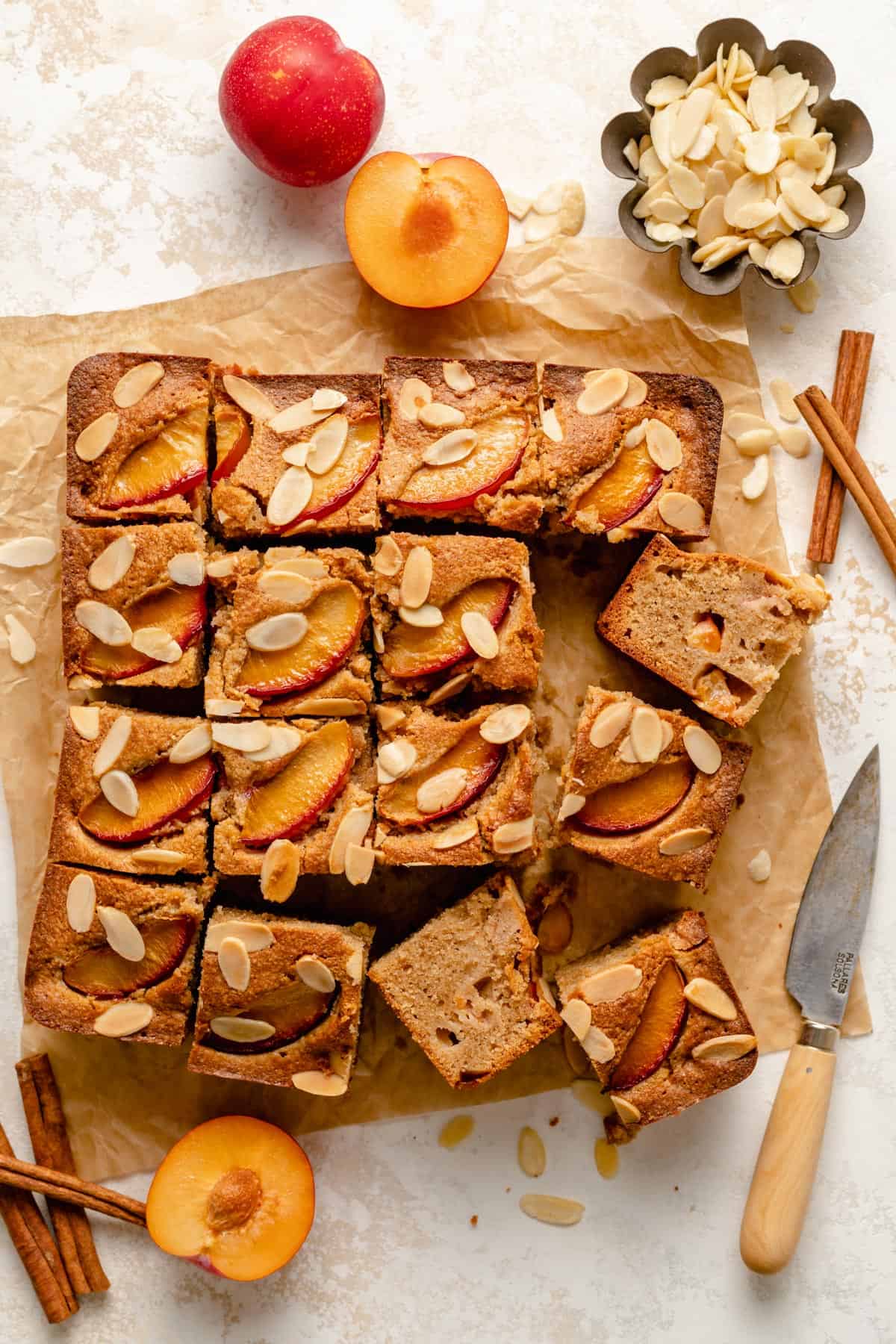 Optional customisations
Make it Gluten Free - If you are looking for a great gluten free plum almond cake option, here it is! You'll just need to directly substitute gluten free all purpose flour instead of the all purpose flour in the recipe card.
Make it into muffins - not up for a big cake to slice up? Why not just put the mix into muffin cases and bake for 45 minutes until a toothpick or cake tester comes out clean. This recipe makes 12 muffins which are perfect for sharing around. You can also cut the recipe in half and only make 6 muffins if you prefer.
Change up the fruit - if you fancy changing up the fruit, why not try using fresh cherries or a peach. I haven't tested these fruits with this specific recipe. If you give it a go, be sure to let us know how you get on in the comments!
What makes this the best plum and almond cake?
Soft and moist - the crumb of cakes that contain fruit often end up soggy and undesirable in my opinion. This plum almond cake has been tested many, many times to ensure that the cooking times, texture and flavour are just perfect. The crumb is soft but perfectly moist, giving you a delicious cake that'll keep you going back for more.
Autumn spices - we're using the most warming and comforting autumn spices. Cinnamon, ginger and allspice go perfectly with the almonds and plums in this cake.
Seasonal plums - at Eat Love Eat we love celebrating seasonal ingredients and pairing them with the perfect flavour combinations. I definitely encourage you to celebrate the wonderful plums that are currently in season. Their tangy sweetness makes this cake.
How to put this cake together
This cake is so simple to put together you'll be kicking back and smelling the sweet spices drifting from your oven in no time. Follow these simple photo steps to put this cake together: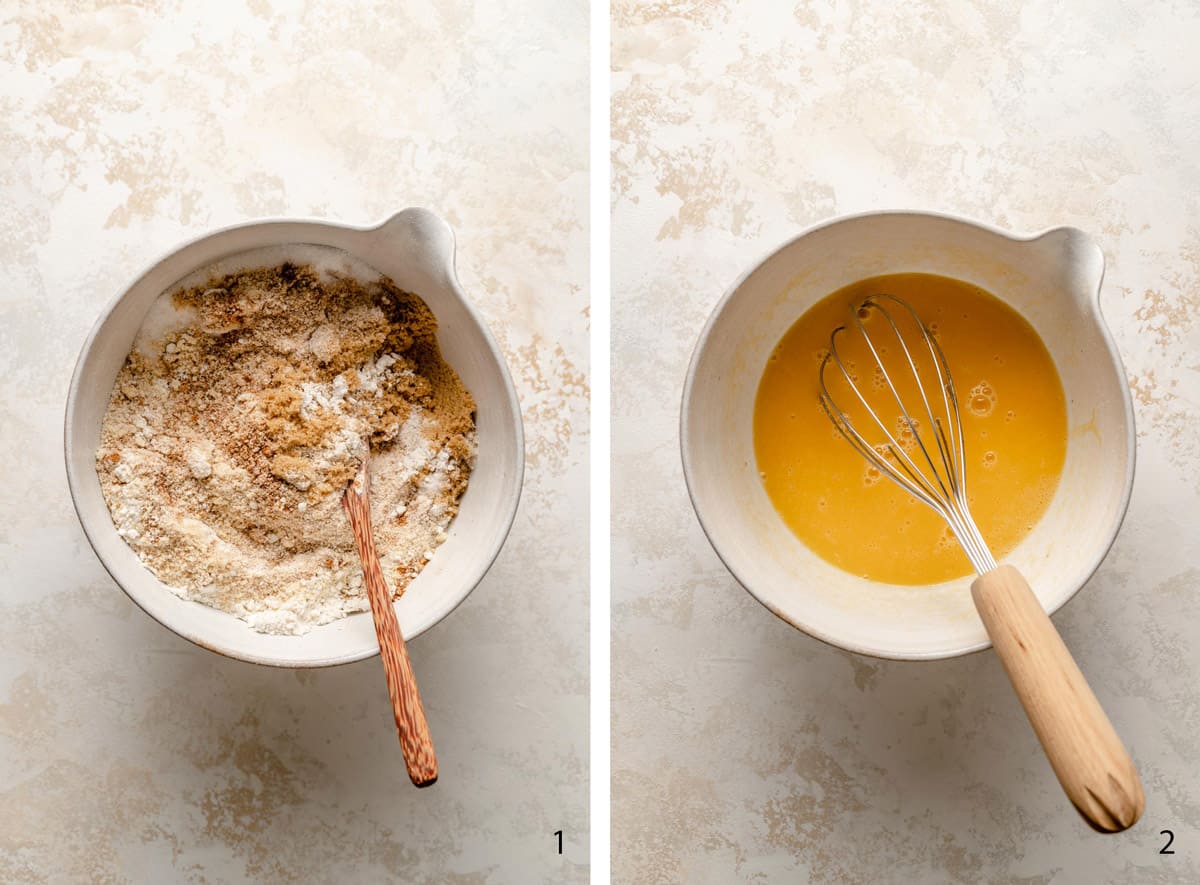 Mix the ground almonds, all purpose flour, caster sugar, light brown sugar, baking powder, cinnamon, ginger, allspice and salt in a large mixing bowl.
Whisk together the eggs with the cooled melted butter, vanilla extract and almond extract in a medium mixing bowl.
Tip #1 - make sure your melted butter is cool before mixing with the eggs otherwise it will start to cook them. Whisk in the extracts quickly to the egg and butter mixture as the extracts are usually ethanol based (depending on what brand you have) which can start to cook your eggs too.
Pour the wet ingredients onto the dry ingredients.
Stir the wet and dry ingredients until just combined.
Stir the diced plums throughout the almond cake batter.
Tip #2 - Make sure you get the diced plum stirred evenly throughout the batter so you get plum in every bite.
Pour the batter into a prepared 8 x 8 inch cake tin and spread evenly. Place the 16 slices of reserved plum on top and sprinkle with flaked almonds.
Bake in the preheated fan oven at 160C/320F or convection oven at 180C/350F for 60-70 minutes until the cake is golden brown and a toothpick inserted comes out clean.
Tip #3 - Insert your toothpick into the thickest part of the cake near a plum on the top, you'll be able to tell the cake is done when it's set just at the edge of the plums in the centre.
FAQs
How do I store plum and almond cake?

You can serve the plum and almond cake either warm or once it has fully cooled. Once it is completely cool you can store it in an airtight container for up to four days. It is best to store in the fridge after the first day or two if you plan to keep it for this long. 
Can I freeze it?
Yes, you can. Slice the cake up into portions, wrap well and store in an airtight container in the freezer. Defrost for 30-60 minutes before eating or warm through in the oven.
I don't have the right baking pan. What can I use instead?

If you don't have an 8 x 8 inch (20 x 20 cm) square baking pan, you can use a 9 inch (23cm) round tin instead. If you have a 9 x 9 inch (23 x 23cm) square baking pan, please note that this will be too big and your cake will be quite thin. It will still work, but you'll have to start checking for doneness earlier.
More cakes we know you'll love...
I hope you love this plum and almond cake as much as we do. If you make it, be sure to leave a comment, rate the recipe and tag me on Instagram! I love to see your creations!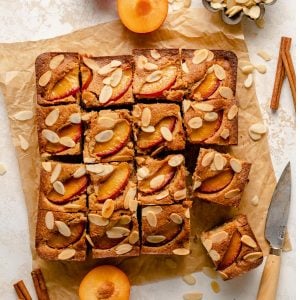 Plum and Almond Cake (Gluten Free)
This beautifully spiced plum and almond cake is the perfect companion for your afternoon hot drink. It's so easy to make and absolutely delicious!
Print Recipe
Pin Recipe
⭐️ Rate Recipe
Ingredients
Dry Ingredients
2 ½

cups

almond flour,

250 g

1

cup

all purpose flour or gluten free all purpose flour

,

120 g

¾

cup

caster sugar

,

150 g

½

cup

light brown sugar

,

100 g

½

teaspoon

baking powder

2

teaspoons

ground cinnamon

2

teaspoons

ground ginger

½

teaspoon

ground allspice

¼

teaspoon

fine sea salt
Mix-ins/Toppings
4

medium

plums

,

280 g, see notes for preparation

¼

cup

flaked almonds,

20g
Instructions
Preheat fan oven to 160C/320F or conventional oven to 180C/350F. Grease and line the base of a 8x8 square cake tin with parchment paper.

Place the ground almonds, plain flour, caster sugar, light brown sugar, baking powder, cinnamon, ginger, allspice and salt into a large mixing bowl. Whisk to combine.

2 ½ cups almond flour,

1 cup all purpose flour or gluten free all purpose flour,

¾ cup caster sugar,

½ cup light brown sugar,

½ teaspoon baking powder,

2 teaspoons ground cinnamon,

2 teaspoons ground ginger,

½ teaspoon ground allspice

In a separate bowl, whisk the eggs with the melted butter, vanilla extract and almond extract.

¼ teaspoon fine sea salt,

4 medium eggs,

⅞ cup unsalted butter

Add the wet ingredients to the dry ingredients.

Stir the wet and dry ingredients together until just combined.

Add the diced plums to the cake batter and stir throughout until evenly distributed.

2 teaspoons vanilla extract,

4 medium plums

Pour the mixture into the prepared tin and spread out. Scatter or arrange the plums over the top, followed by the flaked almonds.

½ teaspoon almond extract,

¼ cup flaked almonds

Bake for 60-70 minutes until a cake tester inserted into the centre of the cake comes out clean.

Leave to cool in tin for 30 minutes before removing. Can serve warm or cool completely on a wire rack.
Notes
Prepare the plums by dicing 140g (2 plums) into ½ inch (1 cm) cubes and slice the remaining 2 plums into 16 wedges for the top.

Make sure to check out the tips and tricks throughout the post above. 
Nutrition
Serving:
16
Squares
|
Calories:
296
kcal
|
Carbohydrates:
26.8
g
|
Protein:
4.8
g
|
Fat:
14.3
g
|
Saturated Fat:
6.7
g
|
Polyunsaturated Fat:
0.7
g
|
Monounsaturated Fat:
3.4
g
|
Cholesterol:
73.4
mg
|
Sodium:
58
mg
|
Potassium:
101.8
mg
|
Fiber:
1.2
g
|
Sugar:
17.7
g
|
Vitamin A:
108.5
IU
|
Vitamin C:
1.7
mg
|
Calcium:
35
mg
|
Iron:
0.8
mg
Did you make this recipe?
Leave a comment below with how you got on and don't forget to give the recipe a rating ⭐️⭐️⭐️⭐️⭐️. You can also tag @eatloveeats on Instagram - we love to see your creations!