This beautiful maple pecan pear cake is light and fluffy with a gorgeous texture from roasted and ground pecans and moist pear. The pure maple syrup gives a lovely aroma and intense flavour which perfectly matches with pecans and pears. An optional tahini maple glaze makes this cake extra special!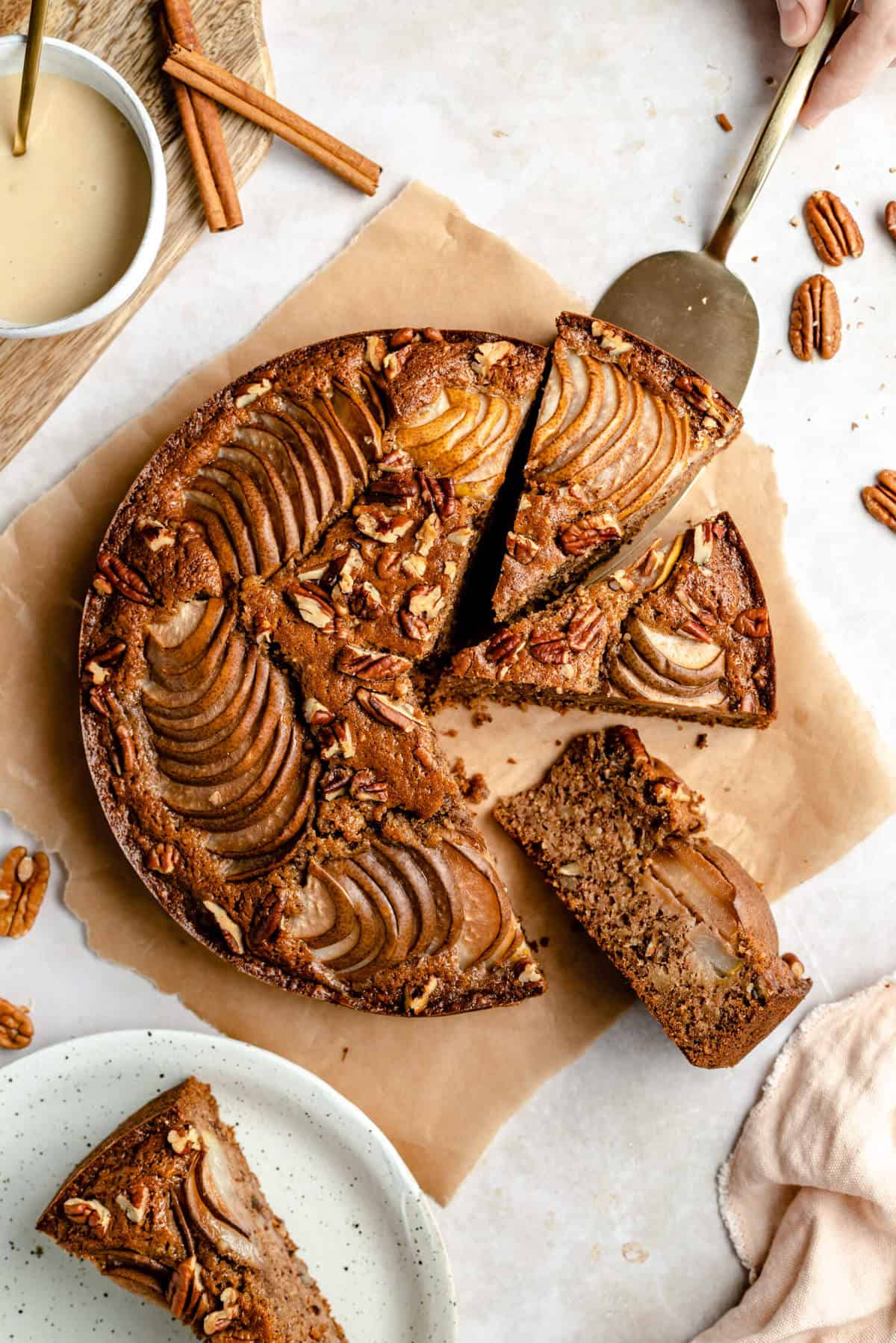 So this cake has been on my idea list for a very long time and I've only just managed to get it together, totes the story of my life, right? Anyone else feel that sometimes time gets away from them or is it just me? Ha! I LOVE maple and pecan, they are the perfect combination. This recipe was adapted from my maple pecan banana bread, another delightful recipe that you must try! There's something about the pears in this that just add a lovely texture as well as moisture to the cake because there's nothing worse than a dried out piece of cake! Am I right?
To make this cake even more delectable, you need to drizzle it with the tahini maple glaze. It's so simple to make and adds another delicious dimension to the cake. Can you tell I love cake? Well this one should be on your favourites list. So let's get to it!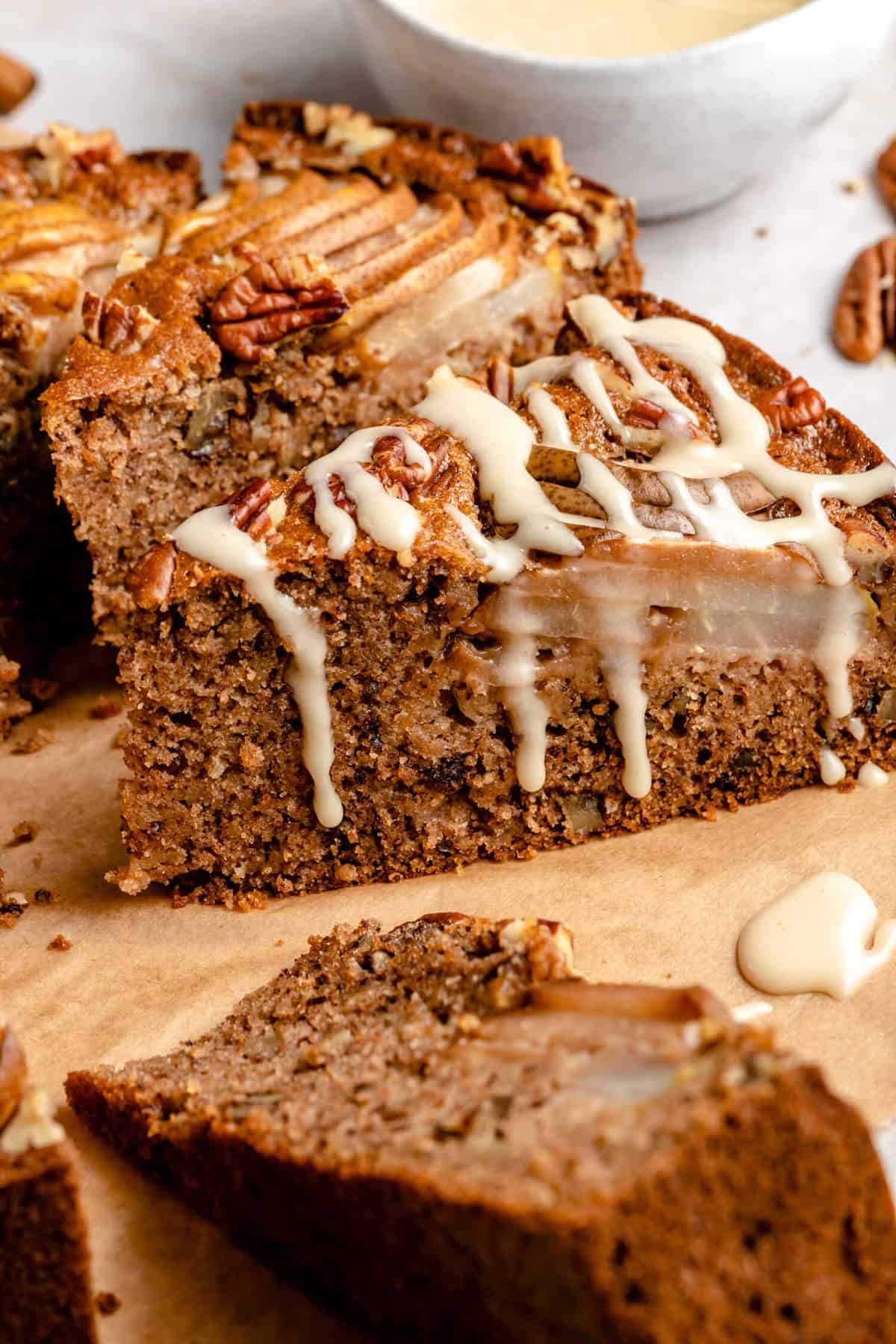 What ingredients do I need to make the Maple Pecan Pear Cake?
This recipe is fairly simple to put together; here are the ingredients you need:
Pecans - I use raw whole pecans for this recipe, which get roasted and then half are ground finely and half are roughly chopped, adding to the lovely nutty texture. We're also sprinkling some on top for decoration.
Unsalted butter - I always use unsalted butter as it's easier to control the level of salt in baking by adding in your own.
Brown Sugar - adds a beautiful depth of flavour and colour to the cake.
Eggs - use the best quality eggs you can get hold of. I use UK large eggs, which is the equivalent of US extra large egg, I don't believe it would make much of a difference if using US large though.
Pure maple syrup – for that irresistible flavour. I used grade A amber, but you could use a darker maple syrup for more intensity.
Vanilla Extract
Canned pears - these have the perfect texture and moisture content for this cake and there's no faffing around with cooking fresh pears! One can of pears should give you 1 cup of mashed pear. I usually coarsely mash it so there are some visible flecks of pear throughout the cake.
Plain flour (all-purpose flour) - important to use the correct amount of flour as it's a deciding factor in whether or not the cake will be light or too dense.
Bicarbonate of soda (baking soda)
Spices - ground cinnamon and nutmeg add a perfect warmth to this cake.
Fine sea salt - always season your baking with salt as it enhances the flavours!
Blush pear - I like to add some sliced fresh pears on top before baking to make the cake extra pretty. I like to use firm blush pears as they're super pretty, but any ripe but firm pears will do!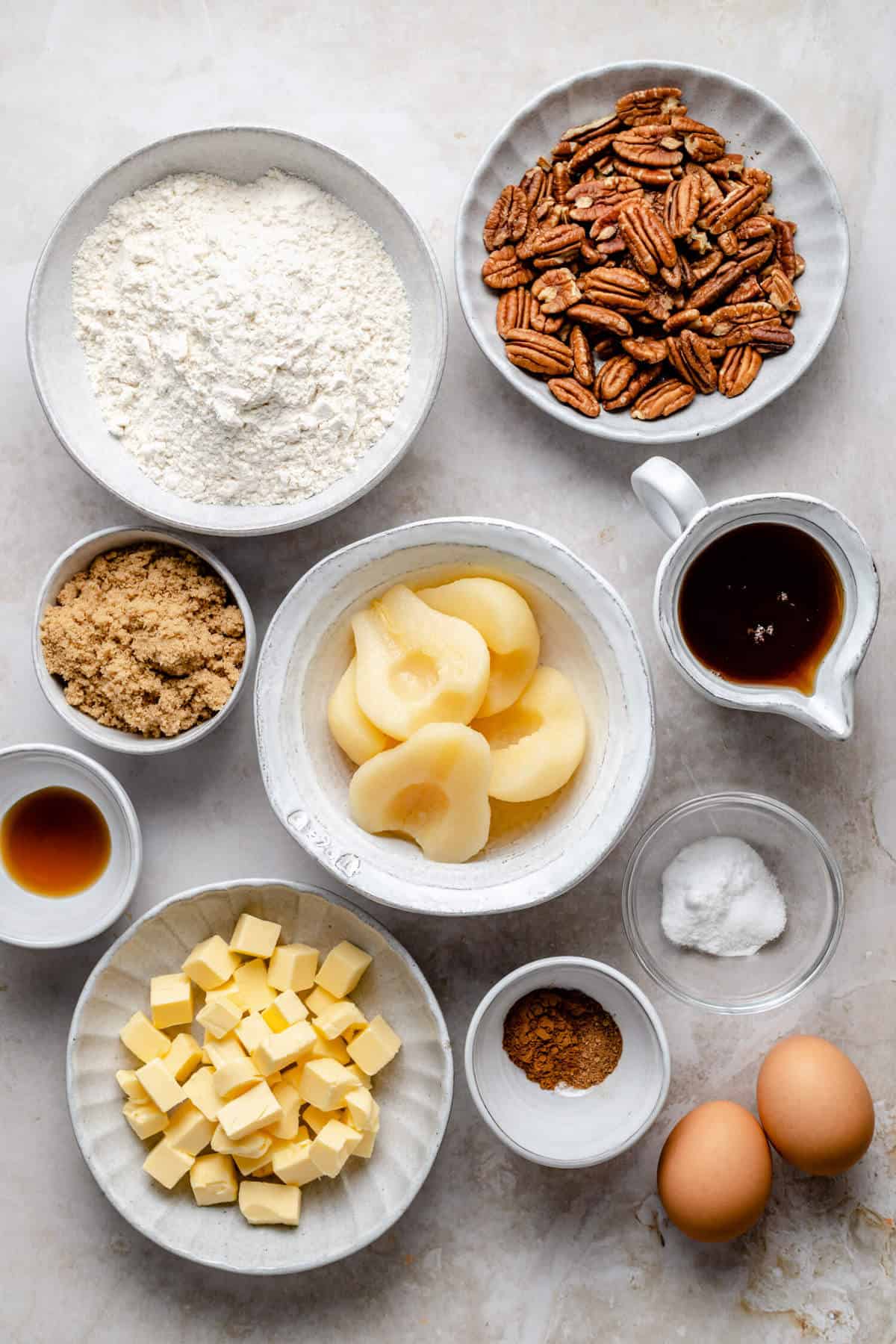 Ingredients for the glaze
Tahini - use the best quality one you can get your hands on, some I've found can give off a slightly bitter flavour if not. The tahini makes the drizzle extra creamy and adds a delicious nutty flavour which works perfectly with the maple syrup, pecans and pears!
Pure maple syrup - for it's gorgeous colour and delicious smoky sweet flavour.
Vanilla extract - makes this glaze extra delicious.
Icing sugar (powdered sugar) - essential for a glaze!
Milk - to thin the glaze just a little.
Pinch of salt - just enough to lift and let those gorgeous flavours sing.
How to make Maple Pecan Pear Cake
So you've got all your ingredients ready, the next bit is simple and straightforward; you'll have a beautiful cake in no time!
Make sure you get your oven preheated to 180C/350F. Grease and line the base of a 9 inch deep round cake tin with parchment paper and lightly grease the top of the paper to ensure easy removal after baking.
Spread the pecans out evenly on a baking sheet and toast in the oven for 5-8 minutes until fragrant. Set aside to cool.
In the bowl of a stand mixer fitted with the paddle attachment, (or if you have a hand mixer use that), beat together the butter and brown sugar until light and fluffy. Remember we want that aeration starting early to make the texture of the cake light and fluffy!
Next beat in the eggs, one at a time until fully incorporated, scraping down the sides of the bowl as necessary. Add the maple syrup and vanilla extract and continue beating until smooth. If it splits a little bit, don't worry! It will all come together when the dry ingredients get added.
Mix in the mashed pears until combined.
In a small bowl of a food processor, add ½ cup of pecans and pulse gently until finely ground. Be careful not to over process as pecans go into butter very quickly! Roughly chop the remaining pecans.
In a medium bowl, whisk together the finely ground pecans, flour, baking soda, cinnamon, nutmeg and salt.
Pour the dry ingredients into the wet ingredients and switch to a spatula to gently stir until just combined. Fold in the chopped pecans. Remember, over working at this stage, develops gluten which will lead to a heavier cake!
Pour the mixture into the prepared cake pan and top with the sliced pears, a few additional chopped pecans and sprinkle with demerara sugar if desired.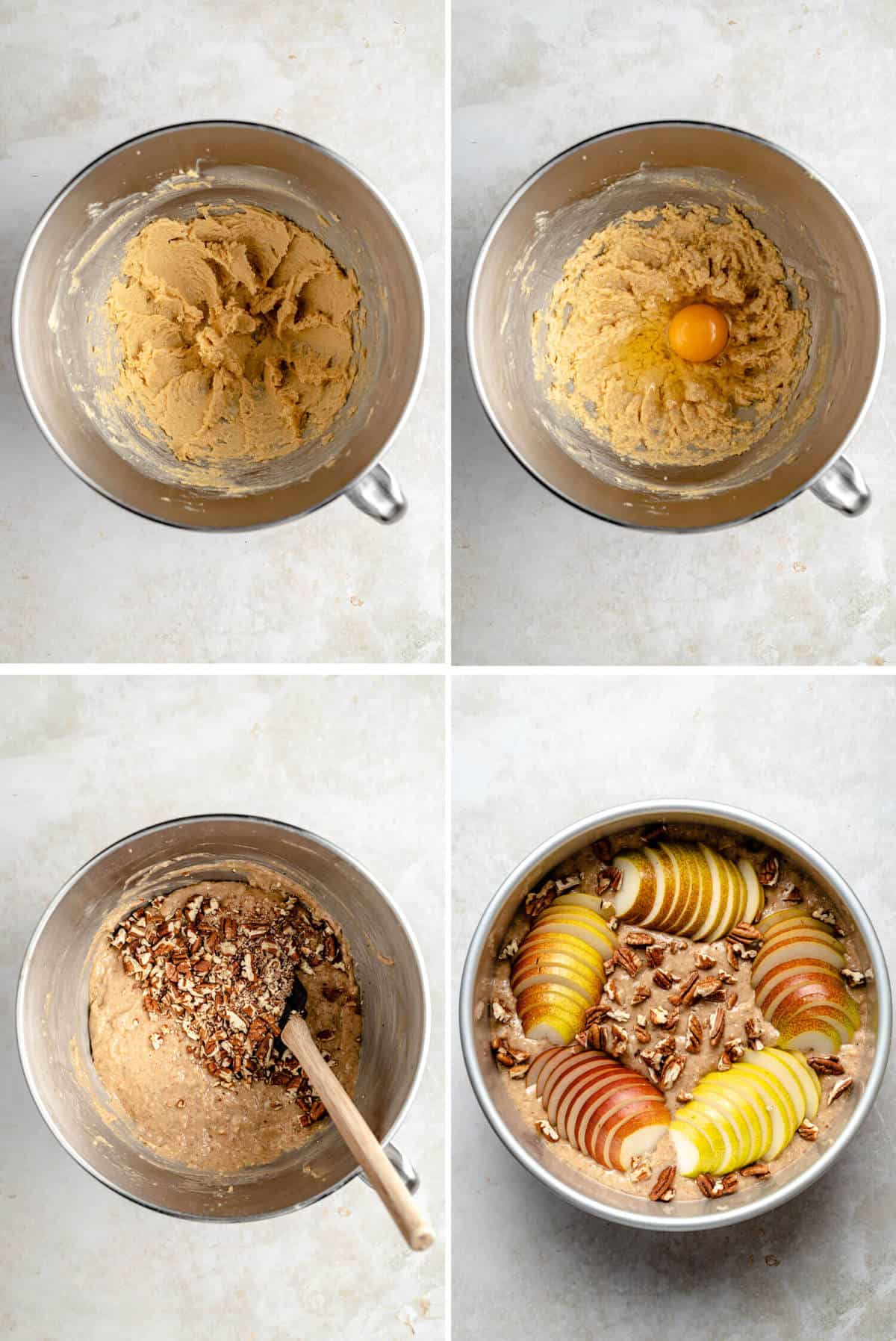 How do I bake it?
Baking times depend on how much pear is placed on the top, but it should take somewhere between 40-50 minutes. When testing the recipe with 1 sliced pear on top the cake took around 40 minutes to bake, but in the images I used 2 ½ pears and it took 50 minutes for that cake. You want your cake tester or toothpick inserted into the thickest part of the cake to come out clean. If it's not ready, return to the oven and check in 5 minute intervals.
Leave to cool in the pan for 10 minutes once baked, then remove and cool completely on a wire rack.
Once cooled, you can drizzle with the unctuous tahini maple glaze and serve by the slab with your favourite hot drink.
How do I make the glaze?
This is a no faff glaze, quickly measure out all the ingredients into a bowl and stir them together. The tahini makes the glaze quite thick, so you might need to add some extra milk a teaspoonful at a time to get it to the perfect consistency.
Drizzle the glaze over the cake; it will set at room temperature.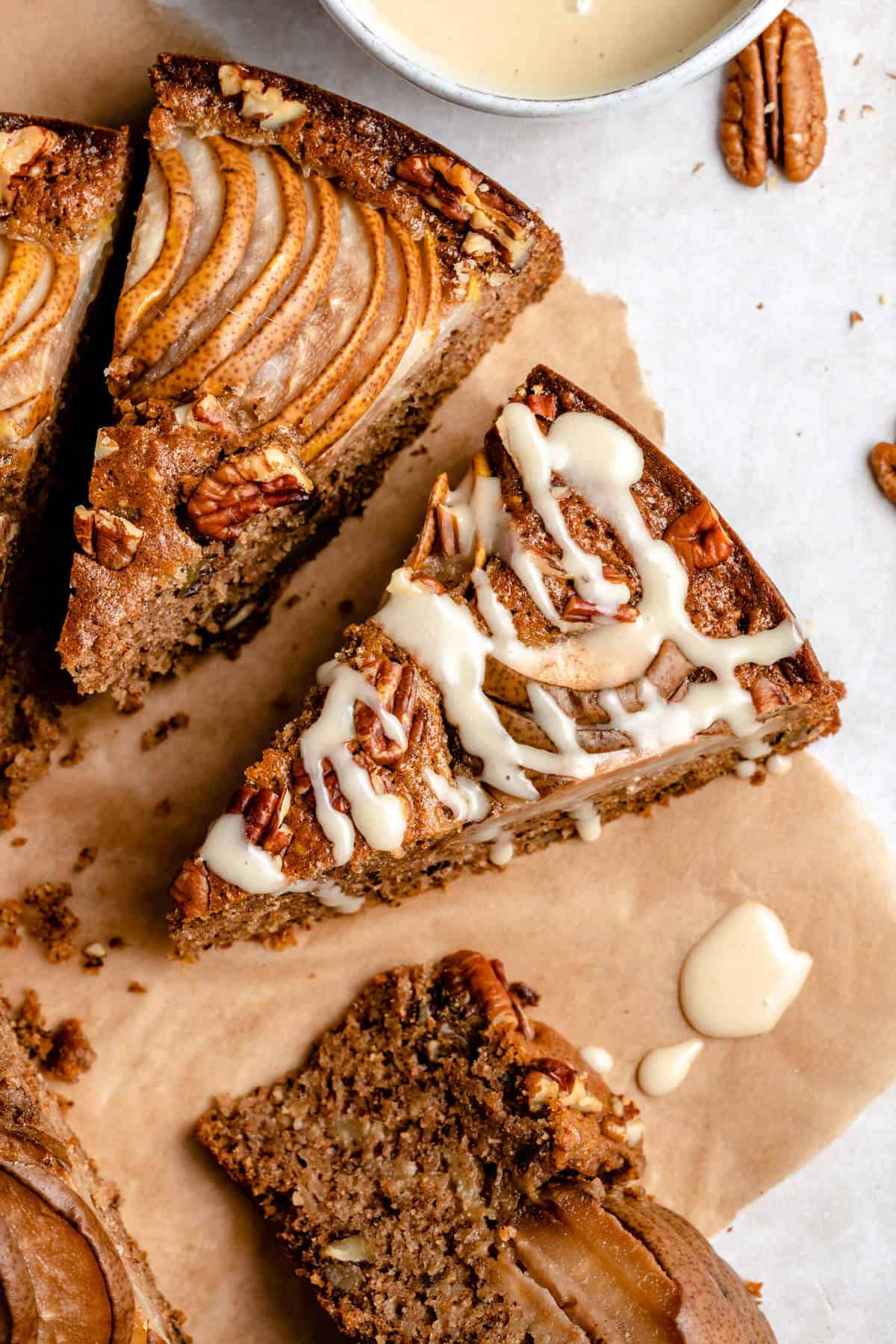 How to make a light and fluffy cake
Make sure you whip together the butter and sugar until light and fluffy. Aeration of the butter helps create a lighter crumb for the cake
Sift your flour, this separates the flour and leads to a lighter cake.
Don't over mix once the dry ingredients have been added. This is the most common mistake made. If over mixed, the gluten will develop and this makes a tighter dense structure to the crumb. Think of short crust pastry; very minimal working, leads to crispy, crumbly pastry.
I like to use raising agents instead of using self raising flour as this gives predictable, controllable results. Self raising flour doesn't age very well if you don't bake often! I would always recommend doing plain flour plus raising agents, and be sure to check that your baking powder or bicarbonate of soda aren't out of date!
How do you store it/keep it?
If you feel you must store or keep the cake for a bit longer, I'd recommend keeping it in the fridge or stored in an airtight container in a cool place.
Due to their being cooked fruit on the top of the cake this cake would maybe be best eaten within 2-3 days, much longer and the extra moisture from the pears will start to make the crumb go a bit soggy.
Eat fresh and even slightly warm and don't forget your hot drink too!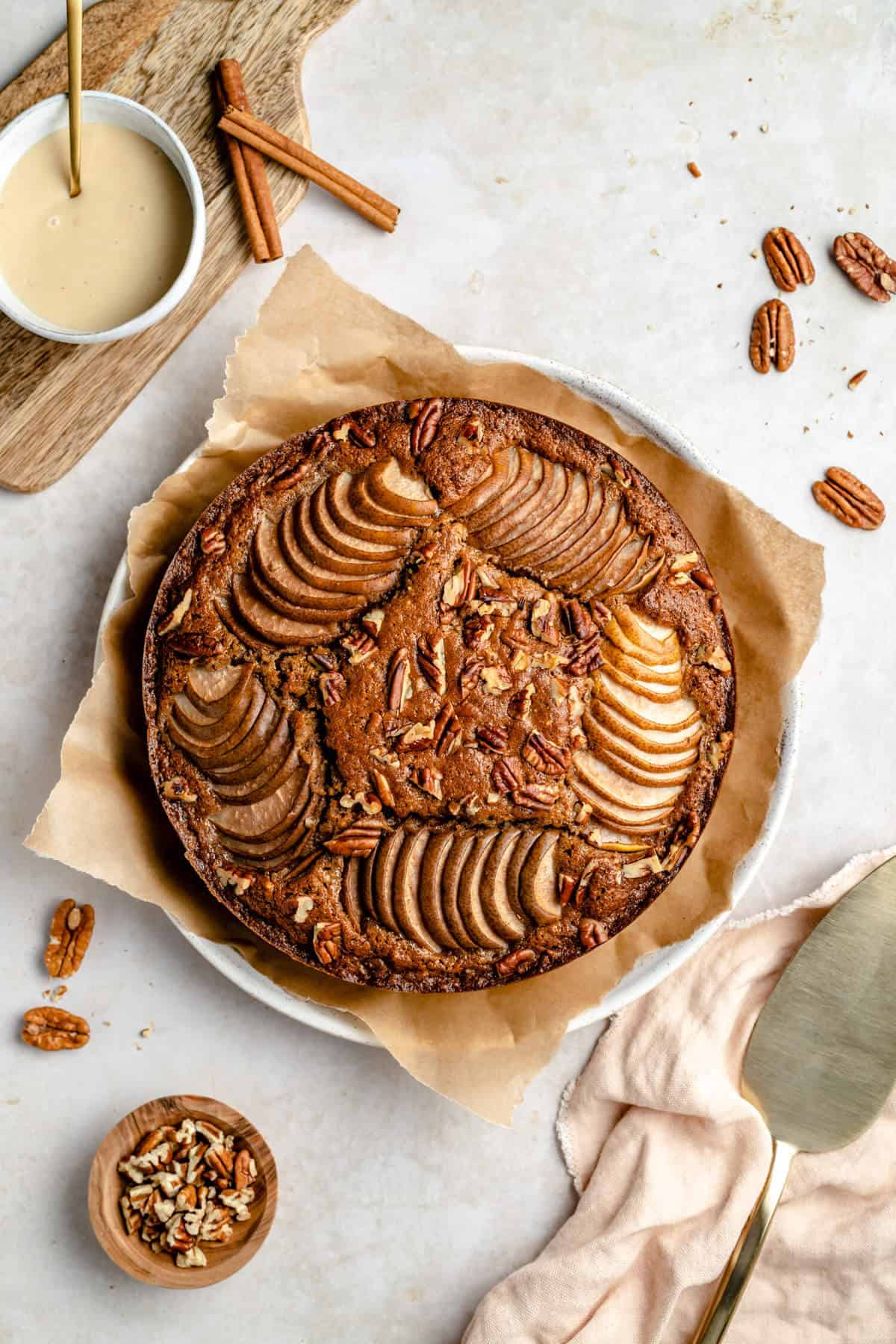 I hope you'll give this maple pecan pear cake a try! If you make it, be sure to leave a comment, rate the recipe and tag me on Instagram! I love to see your creations!
If you're looking for more fruity cake ideas, why not try: