This easy strawberry crumble is perfect for dessert and it can be put together in around 10 minutes, then it's hands off for the bake time! You really need this crumble method in your life because it creates a gorgeous sauce and a crispy crumble topping.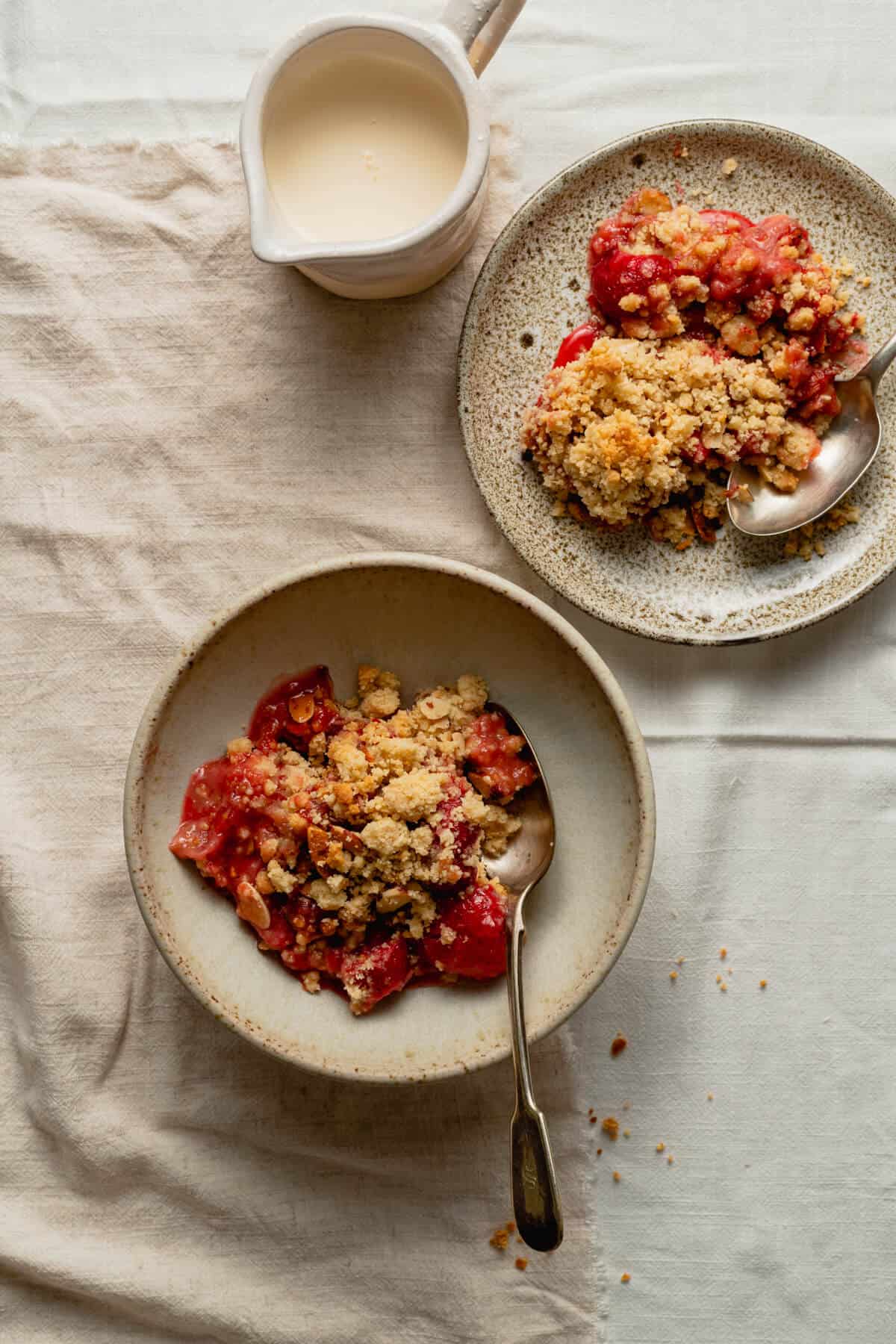 We love a good crumble and you really can't go wrong with an easy strawberry crumble with chunks of white chocolate throughout it and topped with a crispy almond crumble topping. We think this easy strawberry crumble recipe is quite special as it gives you a lovely strawberry and white chocolate sauce which is a match made in heaven! You know what else is perfect together? Rhubarb and pistachio in this rhubarb galette.
We've got all the tips you need if you want to make this vegan, dairy free or gluten free, just make sure to check out our substitutions section by following the links below. With strawberries being so delicate there's no need to stew anything ahead of time.
With this method you'll retain the structure of the plump and summery strawberries following this method and it's literally the best way to use up that glut of summer fruit. As we said, we love a good crumble or crisp. If you do too, you'll want to check out our Easy Pear and Chocolate Crumble or Blueberry Pecan Crisp which are both delicious too! Oh and don't forget our Strawberry Crumble Bars!
Don't forget to leave us some love in the comments after you've devoured this incredibly easy strawberry crumble dessert, let us know how you got on and leave us a rating too!
Jump to:
What makes this the best
FLAVOUR - this easy strawberry crumble is definitely the best and yes we may be biased but it's because it tastes the part. Use the ripest strawberries you have and you'll be in for a treat!
Adaptable - there are so many ways this recipe can be adapted and we share a bunch further on in the post which will also blow your mind!
Easy - We mean it when we say easy; bish bash bosh and it's all thrown together. It can totally be made in under 10 minutes and set aside for later or another day to make it quick and easy to bake when you're ready to eat.
Summery - We're not tennis fans, but the British tradition of strawberries and cream is perfection, especially at Wimbledon. Well, this strawberry crumble is reminiscent of that, the white chocolate and strawberries are perfect together and you can go all out by pouring extra cream on top!
Ingredients
Here's everything you'll need to make the best easy strawberry crumble. The ingredients are easily accessible and we have substitutions and customisations further on too.
Strawberries - we found the best ones for this are the ripest reddest juiciest strawberries you can get. It also works with less sweet strawberries as well as frozen ones with just a few adjustments - check out the tips below. Whichever you get and can afford is great; just make sure to follow the necessary adjustments.
Sugar - to slightly sweeten and enhance the flavour of the strawberries, plus sweeten the crumble topping. We use cane sugar or golden granulated sugar, you can use standard white granulated sugar or coconut sugar if you prefer.
Cornflour (cornstarch) - this is important to thicken the juice that is produced by the strawberries as they bake. Cornflour is the same as cornstarch, you can substitute this for tapioca starch if you prefer.
White chocolate - this is optional but adds a wonderful chocolatey pop of flavour to the crumble. We recommend using a high cocoa butter white chocolate, but any white chocolate will do.
Crumble base - simply put, the base of the crumble is made up of all purpose flour and almond flour. Check out the tips below to customise this for dietary purposes.
Butter - use slightly softened butter as it helps make a chunkier crumble for better texture once baked. We like to use salted butter but if you use unsalted, you should add a pinch of salt to the crumble mixture.
Substitutions
Here are some substitutions if you need to make any changes to this easy strawberry crumble recipe for dietary reasons:
Vegan - to make this strawberry crumble vegan, use dairy free butter and dairy free white chocolate if you choose to use the chocolate.
Dairy free - If you are intolerant to dairy you can choose not to use white chocolate and substitute the butter for dairy free butter, the same as for vegan.
Gluten free - This is completely adaptable to be gluten free, you just need to change out the all purpose flour with gluten free all purpose flour or use a gluten free oat flour instead.
Frozen - if you are out of the peak of the season for strawberries you can substitute the fresh strawberries for frozen. You will need to increase the cornstarch to 2 tablespoons instead of using 4 teaspoons to account for the additional juices released by the frozen strawberries.
Customisations
Here are some easy customisations if you are desperate to make this easy strawberry crumble recipe but don't quite have everything or want to make things smaller.
Individual strawberry crumbles - this recipe can be divided down and made into individual portions if you wish. Use a 1 cup/250ml volume baking dish and it will only take 30 minutes to bake. You can even make this for one person, just divide the ingredients by 6 to make a single portion!
Peach and strawberry crumble- instead of using the white chocolate why not try using a 50/50 mix of peaches and strawberries, it's that simple.
Apple and strawberry crumble - apples are firmer to bake down from raw in a crumble so you'll probably need to cut the peeled apple a little bit smaller to allow them to cook in the same time as the strawberries. As the juices flow they will aid in cooking them too.
Blueberry strawberry crumble - Same thing goes for the blueberries as the peaches, just use a 50/50 mix of fruit and sprinkle over the crumble topping before baking.
How to make strawberry crumble
Follow these simple steps to make this easy strawberry crumble: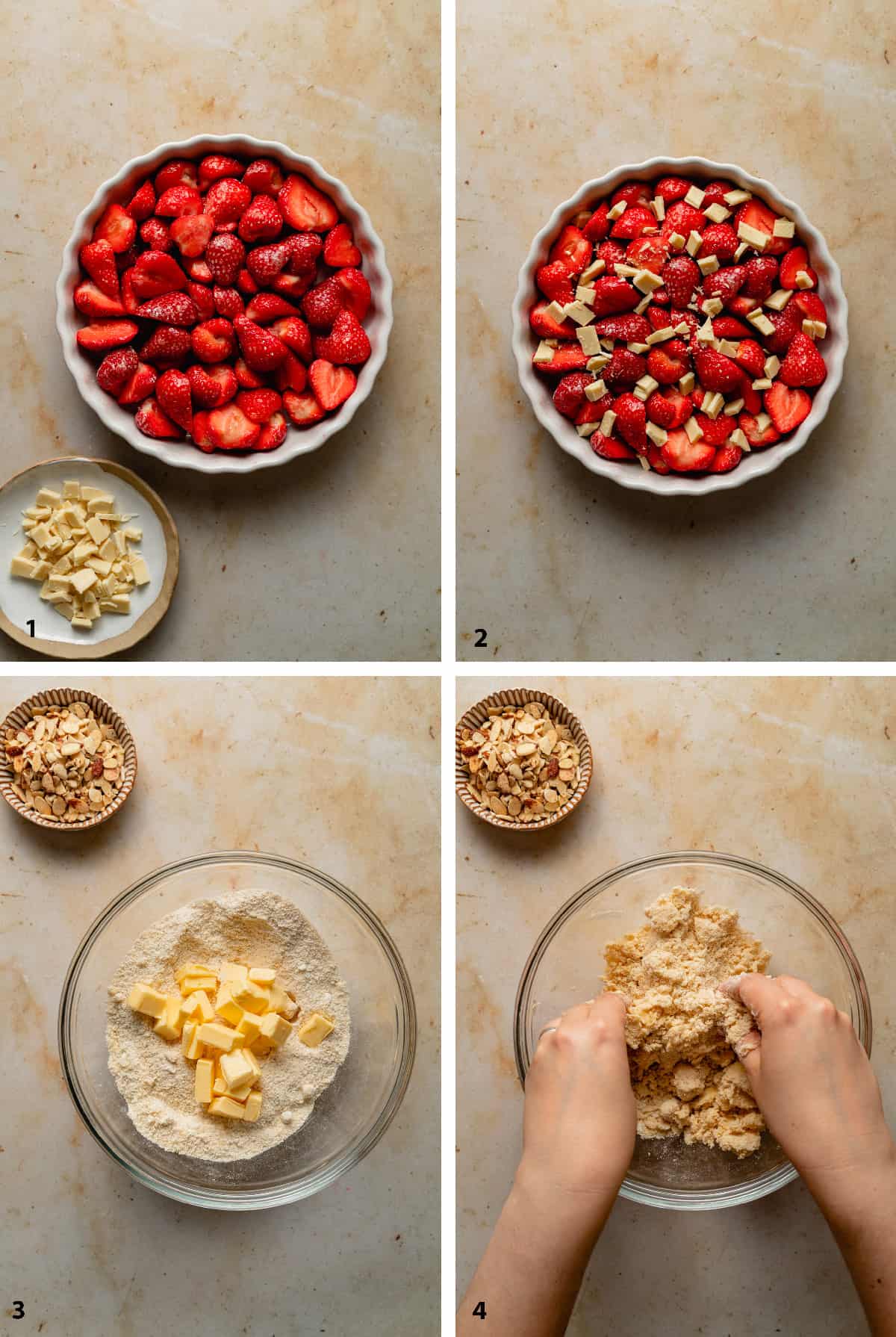 Toss the halved strawberries with the sugar and cornflour in a bowl and then pour into an oven proof baking dish. We used a flan dish which measured 9 inches across and 1 litre (approx 1 quart) in volume.
Sprinkle the fruit with chunks of white chocolate.
To make the strawberry crumble topping, place the flour, almond flour and sugar into a bowl and mix together. Add the diced butter to the dry crumble ingredients.
Rub using thumb and forefingers to create the crumble.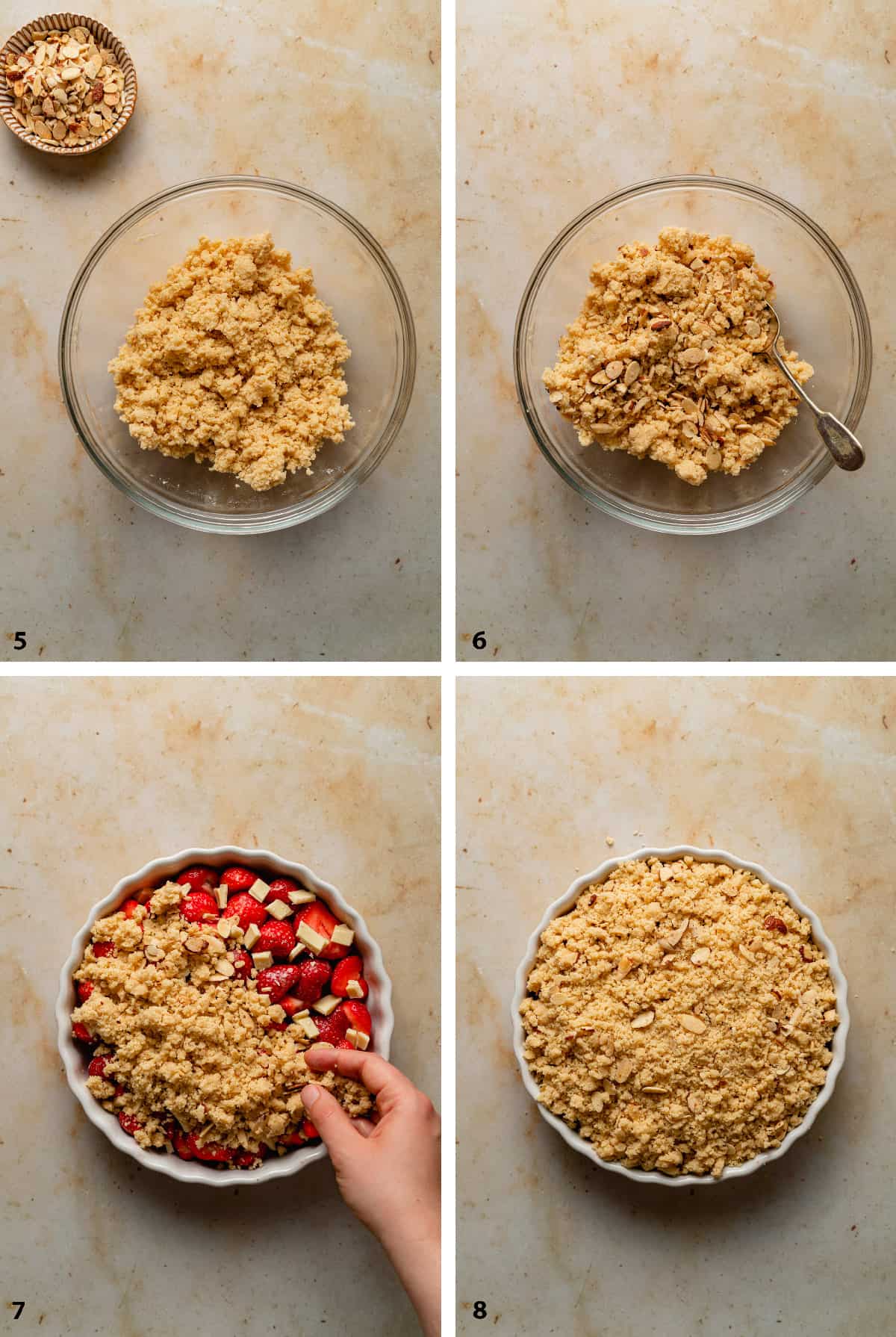 The crumble should resemble a crumbly wet sand and have some chunks to it. If it has dry bits, it hasn't been rubbed together enough.
Stir the flaked almonds throughout the crumble topping.
Sprinkle the crumble over the prepared strawberries.
It looks like a lot - trust us, use it all! It will cover the whole dish. Bake in the oven preheated to 180C/350F for 45 minutes.
How to serve it
The crisp crumble topping of this easy strawberry crumble is perfect simply served with either:
Ice cream - We would recommend anything from vanilla to chocolate and if you want to make it vegan use the dairy free alternative.
Cream - here in the UK we have lots of types of cream available, from single pouring cream, to whipping cream, to double cream, to extra thick or even, our favourite, clotted cream. Any cream you have available will be perfect!
Expert Tips
To make this easy strawberry crumble AND the best crumble topping follow these expert tips!
Use all the topping - don't be fooled in thinking there is too much crumble topping for this recipe, use it all, if you don't, the crumble topping will fall around all the strawberries and just become soggy as the sauce is created on baking.
Dark topping - if your crumble topping seems to be getting caught in the oven or is darker than it should be, just place a piece of foil over the top to allow it to finish baking and the foil will prevent it from burning.
Use a digital scale - for the best topping and accuracy in measurements, we highly recommend using a scale to measure everything correctly.
Make ahead - you can prepare this crumble ahead of time and store it in the fridge until you wish to bake it. However we do recommend bringing the dish up to room temperature before baking to avoid a heat shock to dish. The last thing you want is your strawberry crumble leaking all over the oven.
Recipe FAQs
How to make crumble crumbly?

Butter, essentially. You need the perfect ratio of butter to dry ingredients; it aids the crumble to brown and get crisp. We recommend using slightly softened butter and rubbing in the dry ingredients thoroughly as this makes it extra clumpy. Leave your butter out of the fridge for 20-30 minutes at room temperature to allow for this or for slightly less time if in a hot climate. Cold butter will make far finer crumbs.

Ensure the butter is combined into the dry ingredients properly otherwise you will end up with sandy dust, not crumble. It needs to be the perfect balance of wet and dry so ensure you follow the ratios in the recipe card accurately. It should be like slightly sticky clumps of crumble. If you use cold butter and your crumble feels a little dry, you can add a splash of milk or cream to bring it together.
How do I make my crumble topping crisp?
The trick is to follow the tip above with making the crumble correctly with butter AND then cooking it at a slightly lower temperature for longer (180C/350F) so the fruit will break down a bit and produce nice juices and sauce with the cornflour and the crumble will be golden and crisp. If the oven is too hot the crumble will darken quickly and the fruit filling will not break down and become juicy. 
What if my strawberries aren't that sweet?
This is fine, but without adjusting the sugar levels you will end up with a bland filling. We would recommend doubling the sugar in the filling and adding a splash of lemon juice to lift the flavour. 
How do you know when crumble is done?
The surface of the crumble should be evenly golden brown and the fruit filling should have broken down a bit and will be bubbling up around the edges of the dish. If you put it in a small but deep dish, the times will vary, so make sure to keep an eye on it.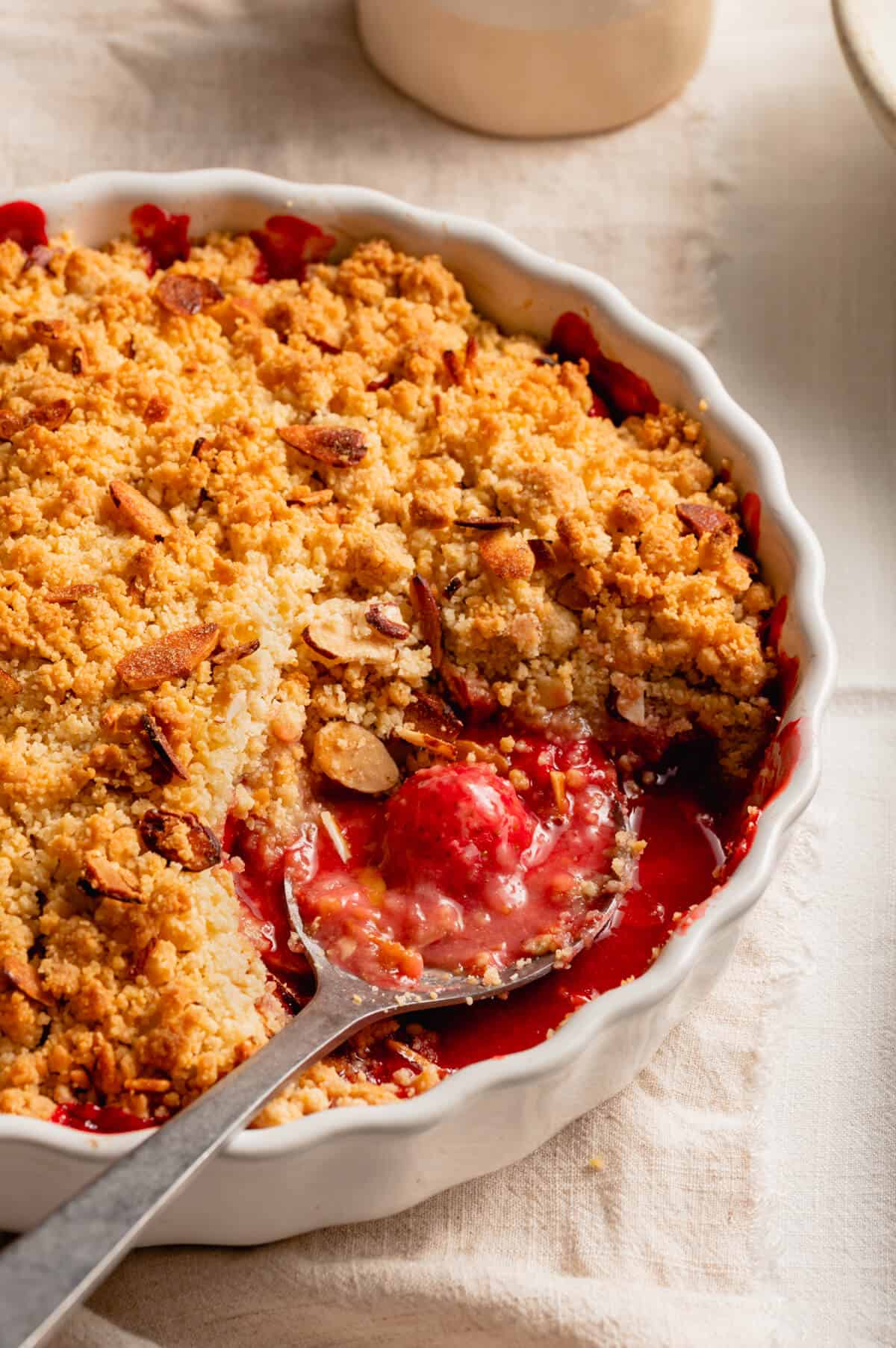 More fruit recipes
If you love this easy strawberry crumble. You may be interested in our other dessert recipes, or try some of these options that include fruit:
Love this recipe? Leave us a 5-star ⭐️⭐️⭐️⭐️⭐️ rating in the recipe below and don't forget to leave a review in the comments section underneath the recipe. We love hearing from you!
Why not follow along with us on our social media channels @Instagram @Facebook and @Pinterest and tag us with #eatloveeats when you've tried one of our recipes!
📖 Recipe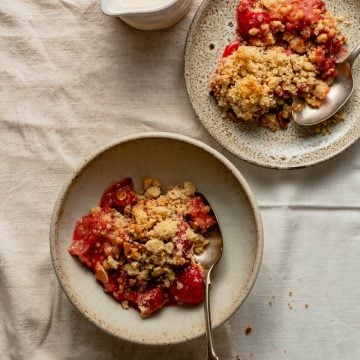 Easy Strawberry Crumble
Seriously tasty easy strawberry crumble full of plump juicy strawberries topped with a golden almond buttery crumble.
Print Recipe
Pin Recipe
⭐️ Rate Recipe
Instructions
Preheat the oven to 180C (350F). Whilst the oven is heating, stir together the all purpose flour, almond flour, sugar. Rub in slightly softened butter until fully combined (should leave clumpy bits), then stir through flaked almonds.

100 g plain flour,

100 g almond flour,

80 g sugar,

100 g butter,

40 g flaked almonds

In another bowl, place the hulled and halved strawberries and add the sugar, cornflour and vanilla extract and stir together until all the strawberries are fully coated.

600 g strawberries hulled and halved,

4 teaspoons sugar,

4 teaspoons cornflour,

1 tablespoon vanilla extract

Place the strawberry filling mix into an oven proof dish then sprinkle with white chocolate chunks.

Pour the crumble mixture over the top of the filling. It may look like a lot, but it will cover it completely and also allow for a crumbly topping.

Bake for 40-45 minutes in the preheated oven until golden and brown and the strawberry filling is bubbling up around the edges.

Leave to stand for 5-10 minutes before serving with cream or ice cream.
Notes
Make sure there is enough crumble mix as if it falls too much down around the fruit filling, it will go soggy.
If the crumble is getting a bit too brown you can place over the top a piece of foil to prevent the top from burning.
If you make a smaller version, it will take less time - around 30 minutes. Divide the recipe by 4 and use a smaller dish (we've used a dish which measures 4 ½" across and 250ml/1 cup in volume) and it takes less time to cook. It took 30 minutes to cook for us.
Cup measurements are provided but for greater accuracy, we highly recommend using a scale when baking, if you have one. We use this digital scale

.

Storage instructions: We recommend eating this on the day that it is made; however if you do have any leftovers, leave to cool and cover and store in the fridge for 1-2 days. Reheat in an oven preheated to 180C/350F until piping hot, about 15 minutes. We do not recommend freezing the baked crumble, but you could freeze the unbaked crumble topping in a freezer-safe container for up to 3 months. 
Nutrition
Calories:
427
kcal
|
Carbohydrates:
46
g
|
Protein:
5.5
g
|
Fat:
19.7
g
|
Saturated Fat:
10.1
g
|
Polyunsaturated Fat:
0.8
g
|
Monounsaturated Fat:
4.7
g
|
Cholesterol:
37.6
mg
|
Sodium:
11.1
mg
|
Potassium:
207.2
mg
|
Fiber:
3.2
g
|
Sugar:
26.8
g
|
Vitamin A:
115.9
IU
|
Vitamin C:
58.8
mg
|
Calcium:
39.6
mg
|
Iron:
1.3
mg
Did you make this recipe?
Leave a comment below with how you got on and don't forget to give the recipe a rating ⭐️⭐️⭐️⭐️⭐️. You can also tag @eatloveeats on Instagram - we love to see your creations!