This post contains affiliate links from which we could earn a small commission. Please read our Privacy Policy for more information.
This strawberry crumble is perfect for dessert and it's so quick and easy to put together! You really need this crumble method in your life because it creates a gorgeous sauce and a crispy crumble. Serve it with cream or ice cream. And the best bit? It smells so summery with these fresh and vibrant strawberries!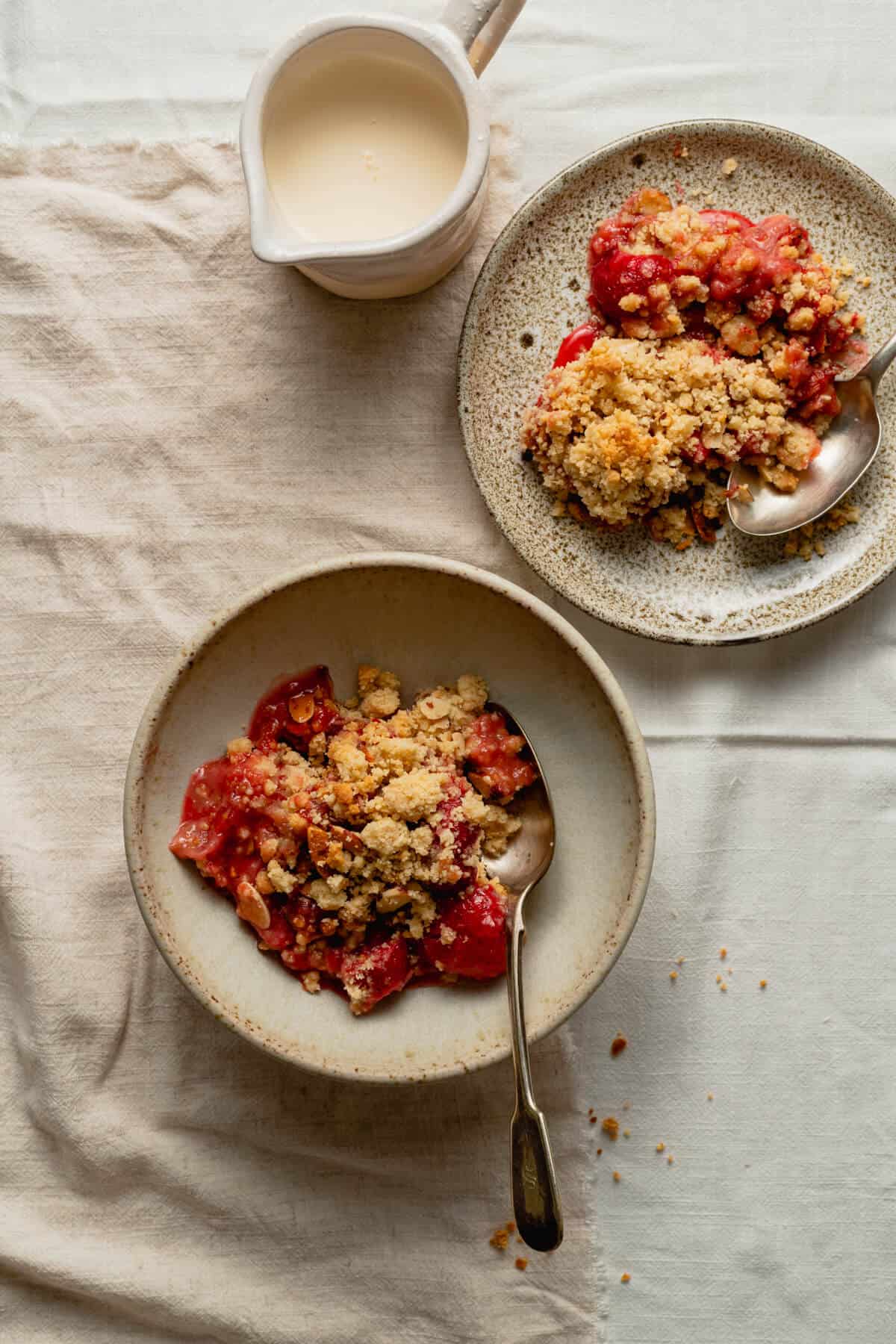 Let's be honest, it's been hard this last year with all this pandemic stuff for so many reasons. I've not been on the site consistently creating content for a long time; let's just say that burnout is real. HA! I've struggled like many of us have and have only just started to feel like myself again. It's all a work in progress, right?! I'm grateful for the summer weather which is helping to lift the spirits. It's been so pleasant and both my husband and I are summer babies - we love the summer; the food, the sun, sea, sand... everything about it! We just enjoyed a week away in gorgeous St Ives in Cornwall, too. The incredible turquoise seas, white sandy beaches and refreshing sea breeze blew away some major cobwebs! Sometimes you just need to set some time aside to reconnect and rebalance... and eat lots of ice cream! ?
So, let's get to this incredible strawberry crumble recipe!
Don't you just love strawberries at this time of year? Especially when you get the most juicy red gems, they just give off such a lovely scent, right? I love crumbles and crisps - you need to try out my Blueberry Pecan Crisp and Plum and Blackberry Crisp too! This summer though, I'm giving you the lowdown on how to utilise a glut of fresh and ripe strawberries! My husband and I tested this recipe a few different ways and we're confident it's absolutely spot on. Also, I must mention the addition of white chocolate chunks. They add perfect little pops of lovely creamy chocolate throughout the strawberry juices. It just works so well! So let's get into the details!
What ingredients do I need?
Here's everything you'll need to make the best strawberry crumble. Note: all specific recipe quantities can be found in the recipe card below.
Strawberries - we found the best ones for this are the ripest reddest juiciest strawberries you can get. It also works with less sweet strawberries as well as frozen ones with just a few adjustments - check out the tips below. Whichever you get and can afford is great; just make sure to follow the necessary adjustments.
Sugar - to slightly sweeten and enhance the flavour of the strawbs, plus sweeten the crumble.
Cornflour - this is important to thicken the juice that is produced by the strawberries as they bake.
Vanilla extract
White chocolate - this is optional but adds a wonderful chocolatey pop of flavour to the crumble.
All purpose flour
Almond flour
Butter - I use slightly softened butter as it helps make a chunkier crumble for better texture once baked. I like to use salted butter but if you use unsalted, you should add a pinch of salt to the crumble mixture.
Flaked almonds - perfect to add a nutty crunch to the crumble topping.
How to make your strawberry crumble
Toss the halved strawberries with the sugar and cornflour in a bowl and then pour into an oven proof baking dish. I used a flan dish which measured 9 inches across and 1 litre (approx 1 quart) in volume.
Sprinkle the fruit with chunks of white chocolate.
Place the flour, almond flour and sugar into a bowl and mix together.
Add the diced butter to the dry crumble ingredients.
Rub using thumb and forefingers to create the crumble.
The crumble should resemble a crumbly wet sand and have some chunks to it. If it has dry bits, it hasn't been rubbed together enough.
Stir the flaked almonds throughout the crumble mix.
Sprinkle the crumble over the prepared strawberries.
It looks like a lot - trust us, use it all! It will cover the whole dish.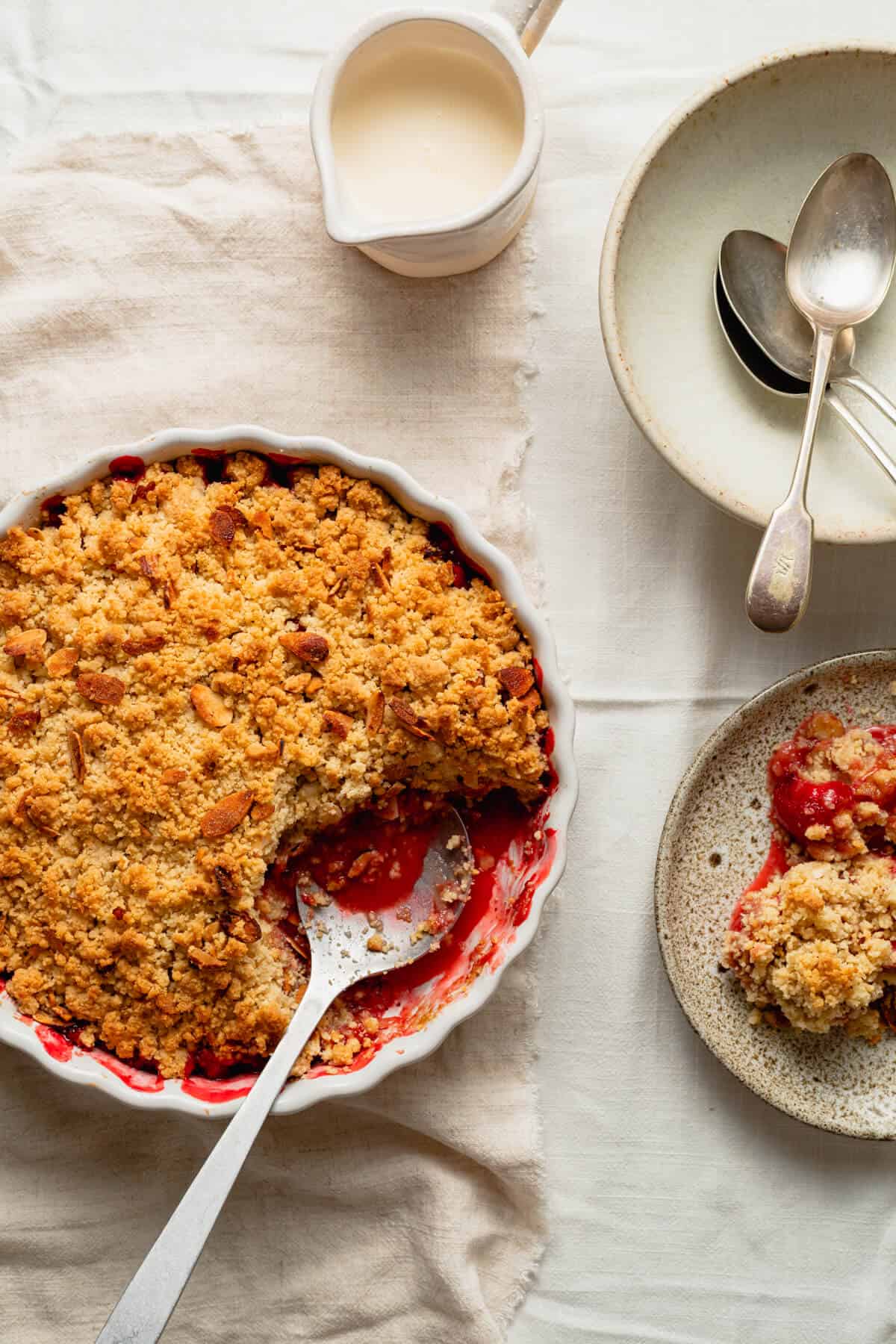 Frequently asked questions
How to make crumble crumbly?
Butter, essentially. You need the perfect ratio of butter to dry ingredients; it aids the crumble to brown and get crisp. We recommend using slightly softened butter and rubbing in the dry ingredients thoroughly as this makes it extra clumpy. Leave your butter out of the fridge for 20-30 minutes at room temperature to allow for this or for slightly less time if in a hot climate. Cold butter will make far finer crumbs.

Ensure the butter is combined into the dry ingredients properly otherwise you will end up with sandy dust, not crumble. It needs to be the perfect balance of wet and dry so ensure you follow the ratios in the recipe card accurately. It should be like slightly sticky clumps of crumble. If you use cold butter and your crumble feels a little dry, you can add a splash of milk or cream to bring it together.
How do I make my crumble topping crisp?
The trick is to follow the tip above with making the crumble correctly with butter AND then cooking it at a slightly lower temperature for longer (180C/350F) so the fruit will break down a bit and produce nice juices and sauce with the cornflour and the crumble will be golden and crisp. If the oven is too hot the crumble will darken quickly and the fruit filling will not break down and become juicy. 
Can I use frozen strawberries?
Yes, you absolutely can! Sometimes this is the best option as some supplies or varieties of strawberries just don't deliver on flavour. Now for us, you get out what you put in. Put in the best you can obtain and afford and you'll get out the rewards. Frozen strawberries are often frozen at peak sweetness so are great. BUT, you do need to adjust for one thing; they release more moisture which can make the crumble soggy over time so we would recommend just adding in a bit more cornflour. I'd recommend using 2 tablespoons instead of the 4 teaspoons listed in the recipe.
What if my strawberries aren't that sweet?
This is fine, but without adjusting the sugar levels you will end up with a bland filling. We would recommend doubling the sugar in the filling and adding a splash of lemon juice to lift the flavour. 
How do you know when crumble is done?
The surface of the crumble should be evenly golden brown and the fruit filling should have broken down a bit and will be bubbling up around the edges of the dish. If you put it in a small but deep dish, the times will vary, so make sure to keep an eye on it.
Can I make this recipe smaller?
Yes, absolutely. We've tested this recipe in family size and for couples or a single portion. Divide the recipe by 4 and use a smaller dish (we've used a dish which measures 4 ½" across and 250ml/1 cup in volume) and it takes less time to cook. It took 30 minutes it took for us.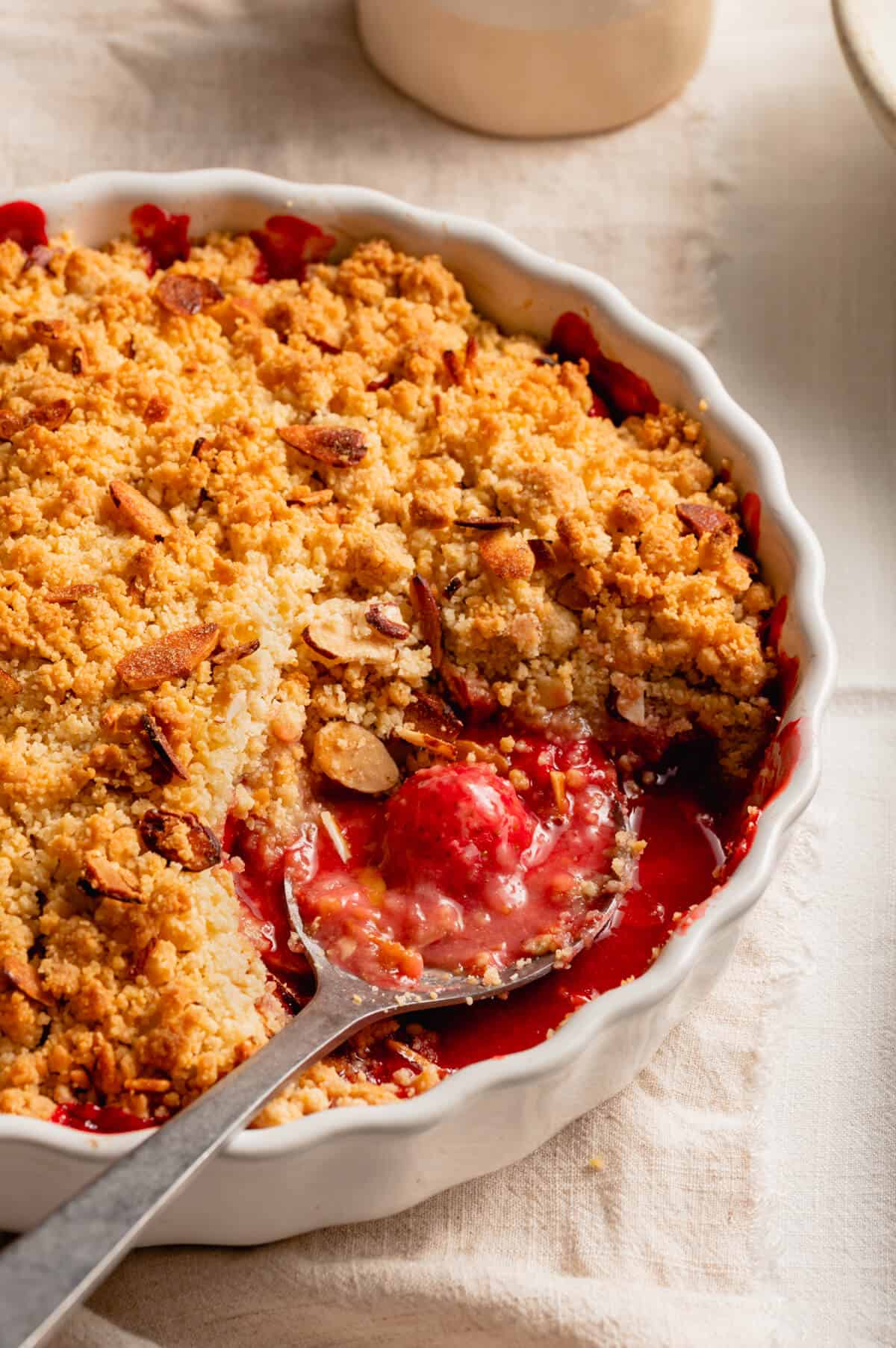 Want more fruit desserts?