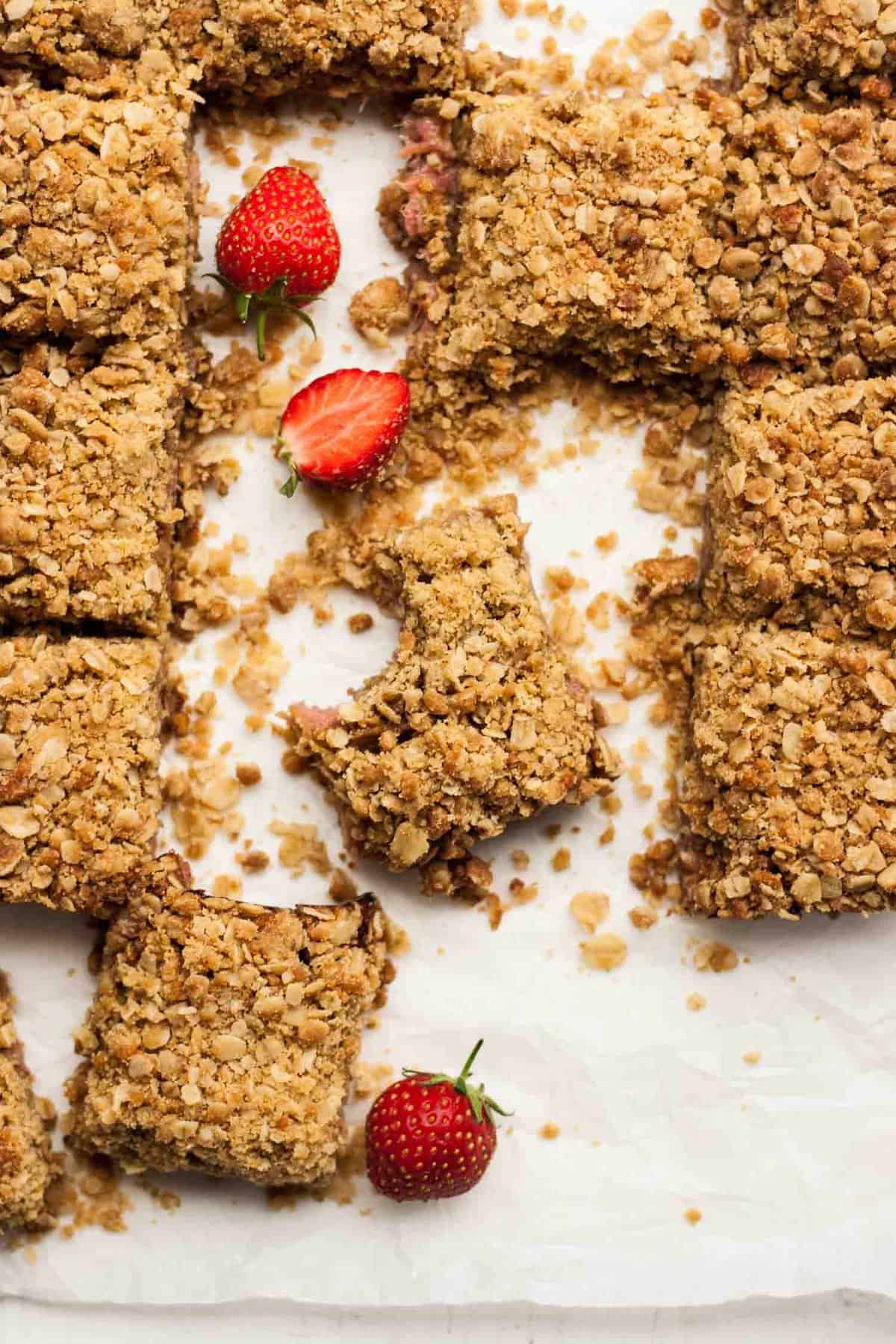 Well, this is awkward. Here I am, preparing to write about Strawberry Rhubarb Brown Butter Oatmeal Bars, in the midst of a juice cleanse. Yes, I'm doing it again. Why would somebody who loves food so much put themselves through such a thing, you ask? Simply, my body wants me to. I've done it enough times now, that I know when my body needs a little reboot. When the balance needs to be redressed.
In our house, this happens when the little snacks start to sneak in too frequently (see exhibit A - Strawberry Rhubarb Brown Butter Oatmeal Bars) and the veggie intake diminishes. That's when we call in the juice troops, because, despite what many people may say and despite how my body screams out at me for food throughout, it works. For my husband and I at least - I couldn't and wouldn't be so arrogant as to say it would work for you. I have no idea. That's your choice to make. We just feel better after flooding our bodies with lots of readily bio-available nutrients and tend to make healthier choices afterwards. That's all. I'm still going to eat oatmeal bars and cookies and things.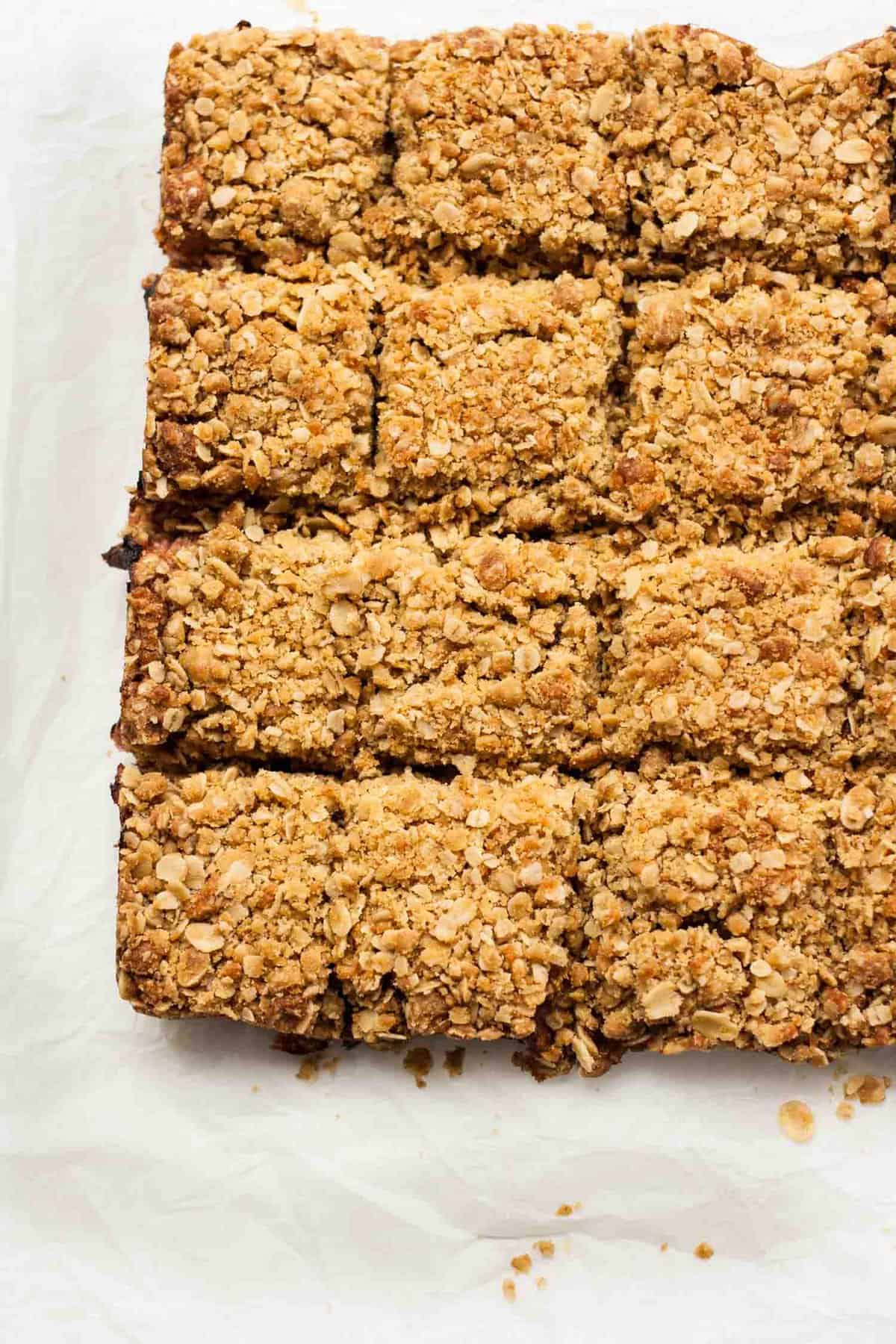 And so this is my reality right now. Editing photos of said oatmeal bars perhaps isn't the wisest choice when you've chosen to drink nothing but green liquid all day. I could eat my screen right now. But I don't take it too seriously. I just ate a few leftover roasted veggies from my fridge and it's ok. And I feel so much better for it. Again, just listening to my body.
Anyway, enough about that! Shall we talk about these bars then?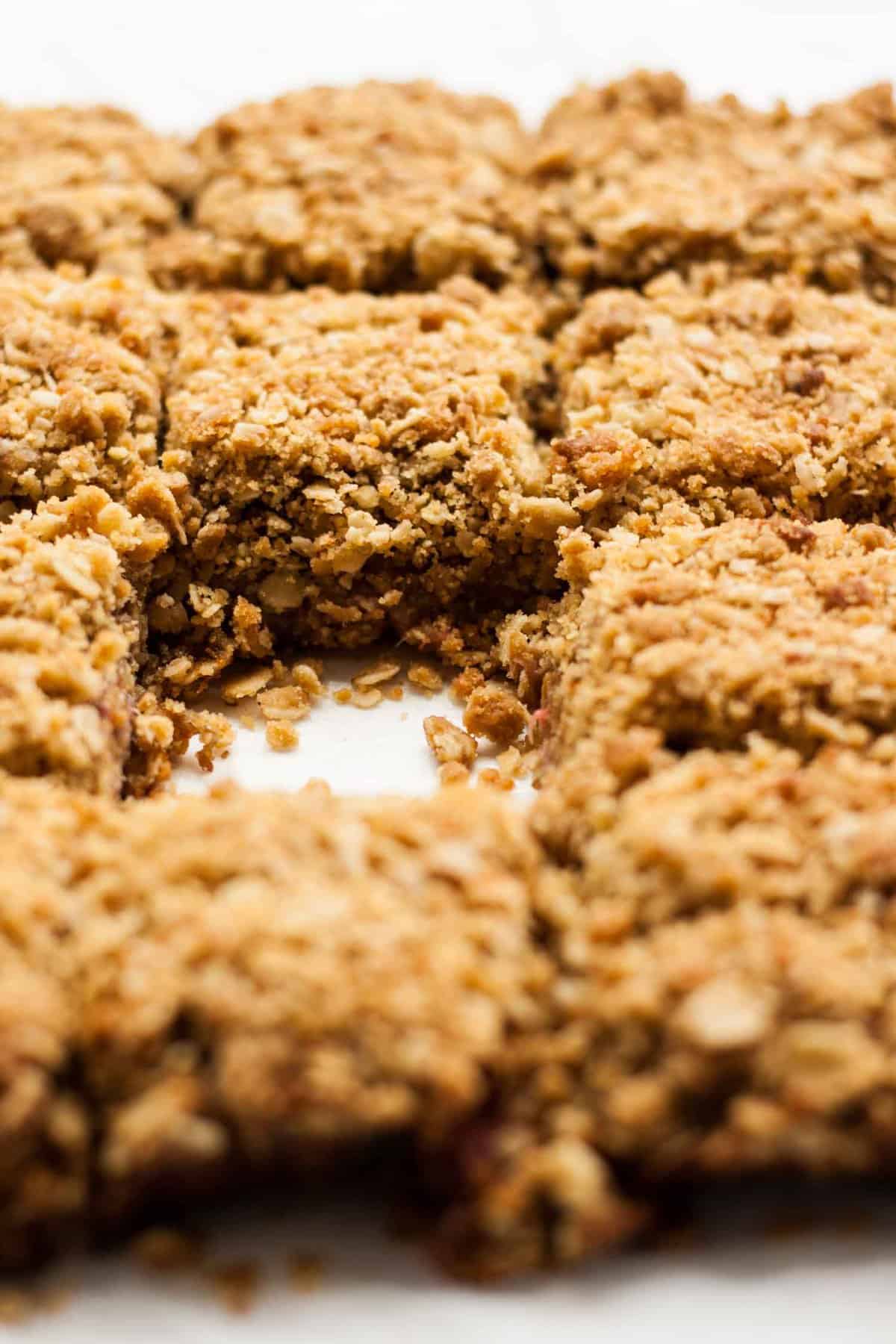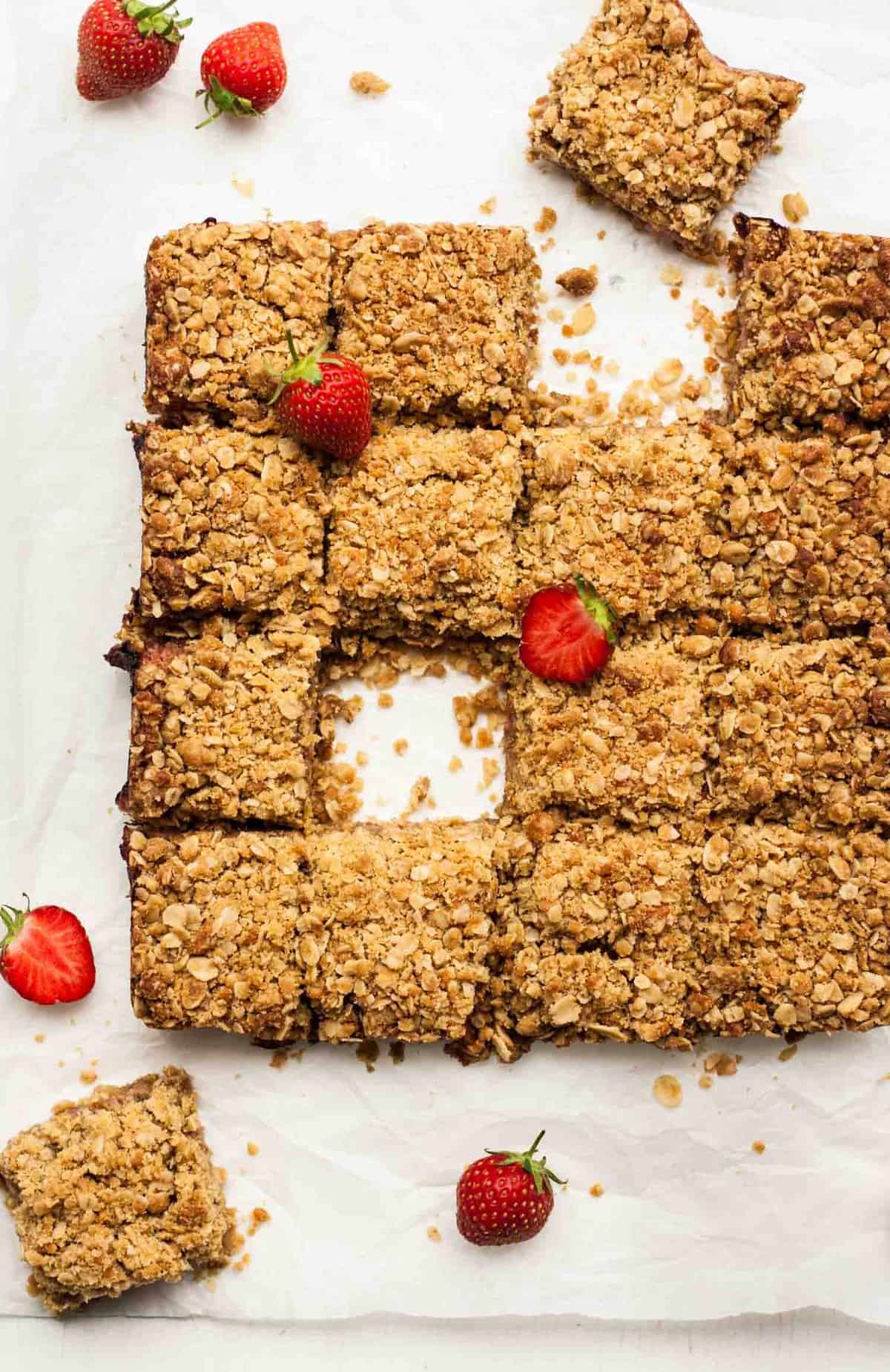 As I hinted at when I posted the recipe for these white chocolate and macadamia oatmeal cookies, these oatmeal bars were the result of a kitchen mishap. Originally, the cookies were meant to be white chocolate and macadamia brown butter oatmeal cookies - but, as it turns out, if you brown butter, you completely change it's properties. I guess that's obvious if you really think about it, but I was pretty surprised at the time! Three batches later, I accepted defeat. Instead of a cohesive cookie dough, I was left with a big bowlful of cookie crumbs. But, defeated though I had been, I couldn't throw those crumbs away! I thought that if I layered them with a fruit compote, there would be enough moisture to form some delicious bars. I wasn't wrong this time!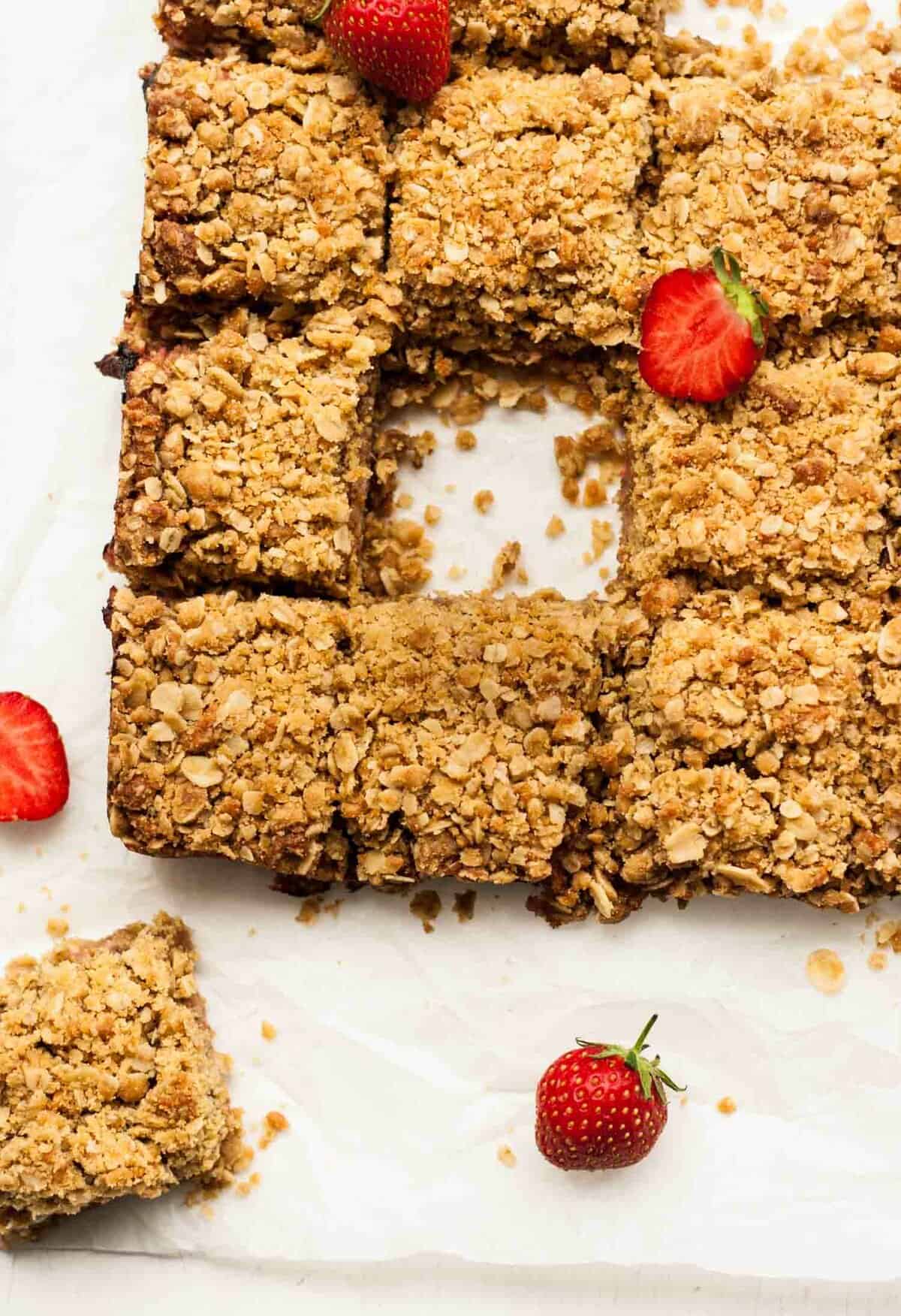 As for what fruit, well, is there anything better at this time of year than rhubarb and strawberries? It feels like that combination is everywhere at the moment, but for good reason indeed! The scent as you cook them together is absolutely heavenly. Best fruits ever? Only until cherries and melon and all the other amazing summer fruits arrive...
So that's it, to make these bars you just need to brown some butter, make a quick oatmeal crumble, cook down some fruit and throw it all in the oven and you'll soon be rewarded with a delicious, gooey treat. There's no need to add any sugar to the fruit as it stews, no matter how sour it may taste by itself. Just trust me on that one. Also, these bars are crumbly but they do hold together enough to eat without too much of a performance. And they're pretty addictive too. I could eat one right now!
Go on, you know you want to make these Strawberry Rhubarb Brown Butter Oatmeal Bars! Have one for me, will you? And if you do make them, snap a photo and tag it with the hashtag #eatloveeats on instagram so that I can see!