This flavourful pumpkin gingerbread loaf is light and fluffy and is infused with gingerbread spices which give it the most amazing aroma. This recipe is easy to make and keeps well so you can snack on it for days. The brown butter caramel glaze absolutely steps it up another level!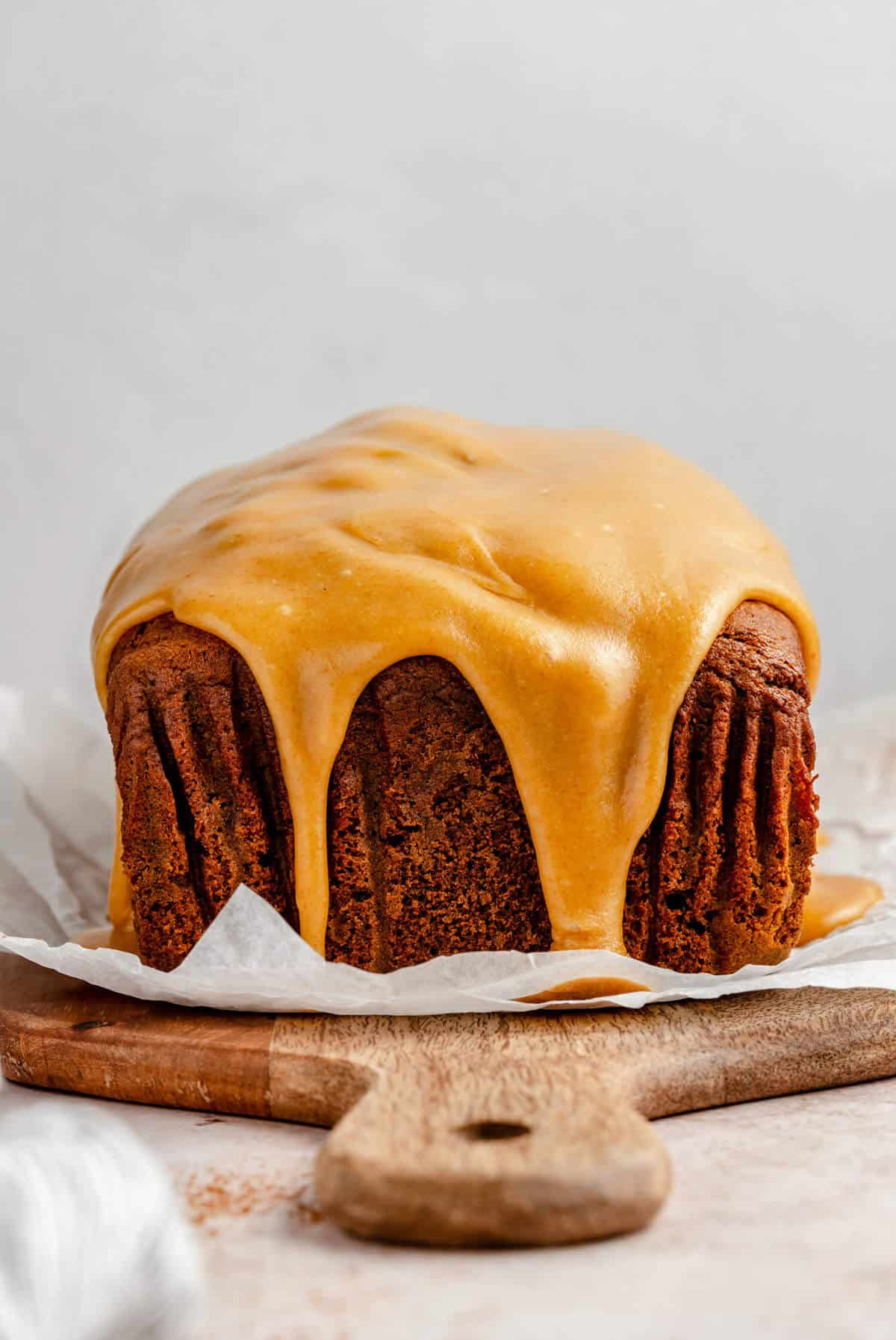 There is nothing better than sitting and cosying up with some baked goods at this time of year, am I right? This pumpkin gingerbread loaf is something you just need to get in on. It's light, fluffy, beautifully spiced and oh so moreish. The recipe is adapted from my amazing Maple Pecan Banana Bread, which if you haven't tried yet, what's holding you up?!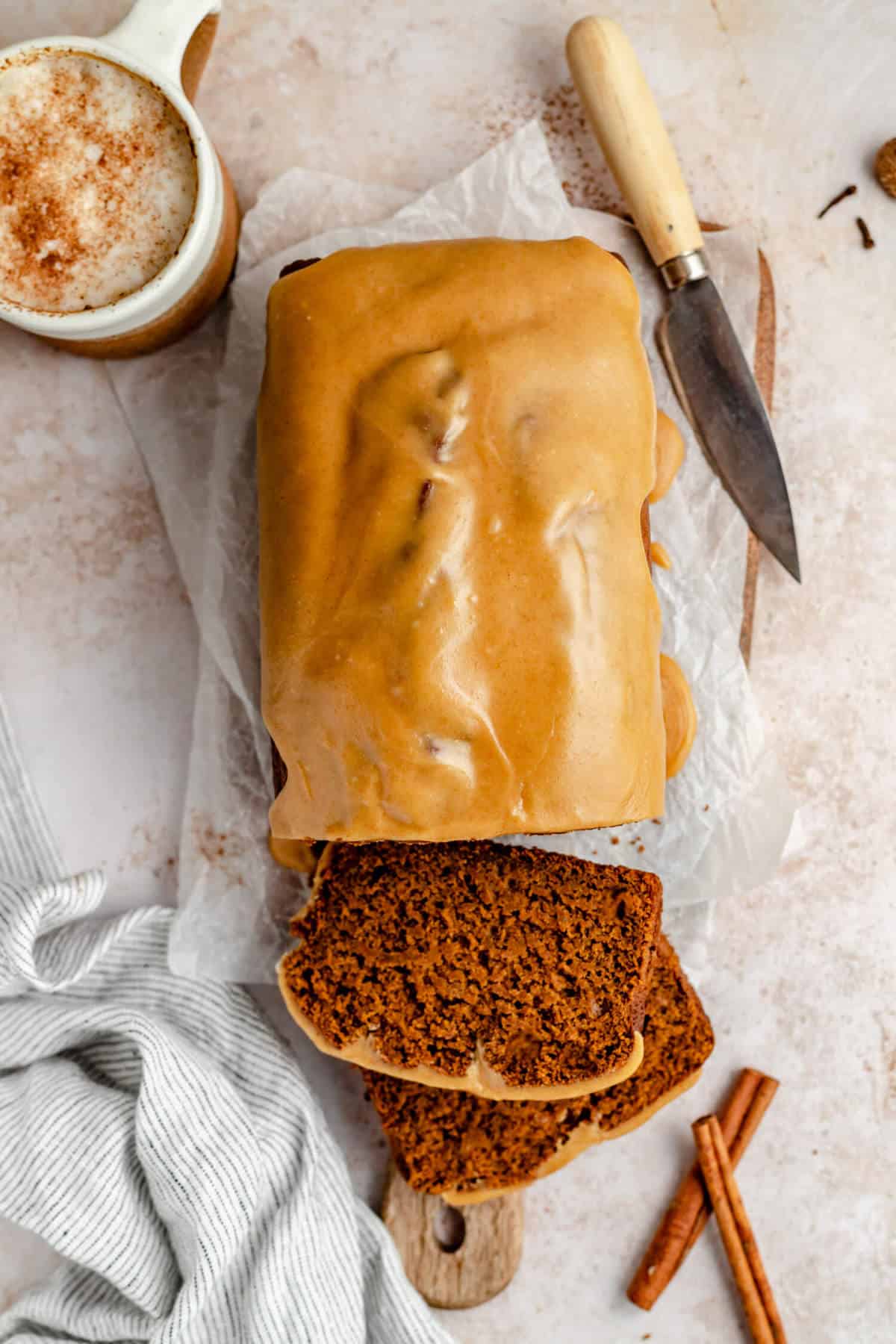 As we adjust to our new temporary lockdown lives here in the UK, this bread is sure to put a smile on your face. I wanted to make sure the spicing was spot on in this loaf. I didn't want it to burn like some gingerbread can, but I wanted enough spice to gently warm us through. I didn't want it to be stodgy and heavy either; it had to be light and with a slight bounce. And finally, I couldn't just leave this loaf naked, it had to have the best glaze! You totally won't regret slathering it in this. Brown. Butter. Caramel. Say what?! Honestly this glaze is divine and works perfectly with the flavours of the bread. I can assure you the bread tastes amazing as is, but why wouldn't you want to add a toasty salted caramel glaze?!
Let's get baking! Keep reading for some tips or just skip straight to the recipe.
What ingredients do I need?
Canned pumpkin puree - use the best quality puree you can get your hands on. I like Libby's as it has the most consistent quality. Some brands can be a bit wet, if so, you can dab it with kitchen paper to soak up a bit of the extra moisture.
Plain flour (All-purpose flour) - it's important to use the accurate amount of flour otherwise the bread can turn out too dense if the batter is thick.
Unsalted butter - I always use softened butter at room temperature for this recipe, it helps when whipping with the sugar and gives the bread a lightness. Although not tested for this recipe, you could substitute for a vegan version.
Brown Sugar - I use light brown sugar as I don't want to make the bread too dark, especially as the bread is sweetened with maple and molasses too. The brown sugar helps with the texture of the bread.
Eggs - use the best quality eggs you can get hold of. I use UK large eggs, which is the equivalent of US extra large egg, I don't believe it would make much of a difference if using US large though.
Pure maple syrup - for that irresistible flavour. I used grade A amber, but you could use a darker maple syrup for more intensity.
Molasses - to add the classic colour and flavour that is commonly associated with gingerbread. It gives a lovely tan colour to the bread.
Vanilla Extract
Bicarbonate of Soda (baking soda) - helps the loaf to rise perfectly and give a lovely light and bouncy texture.
Gingerbread spice - a classic mixture of ginger, cinnamon, nutmeg and cloves.
Fine sea salt - always add a bit of salt to enhance the flavour.
As mentioned previously, the brown butter caramel glaze is a must and you'll need the following ingredients:
Salted butter - salted butter gives the glaze a nice rounded salted caramel flavour, if you don't have it you can use unsalted butter and add a pinch of salt instead.
Dark brown sugar - adds depth of flavour as well as colour, helping to make a really intense caramel.
Milk - to help make the caramel and thin the glaze out a little.
Vanilla Extract
Cinnamon
Icing sugar (powdered sugar) - essential for a glaze!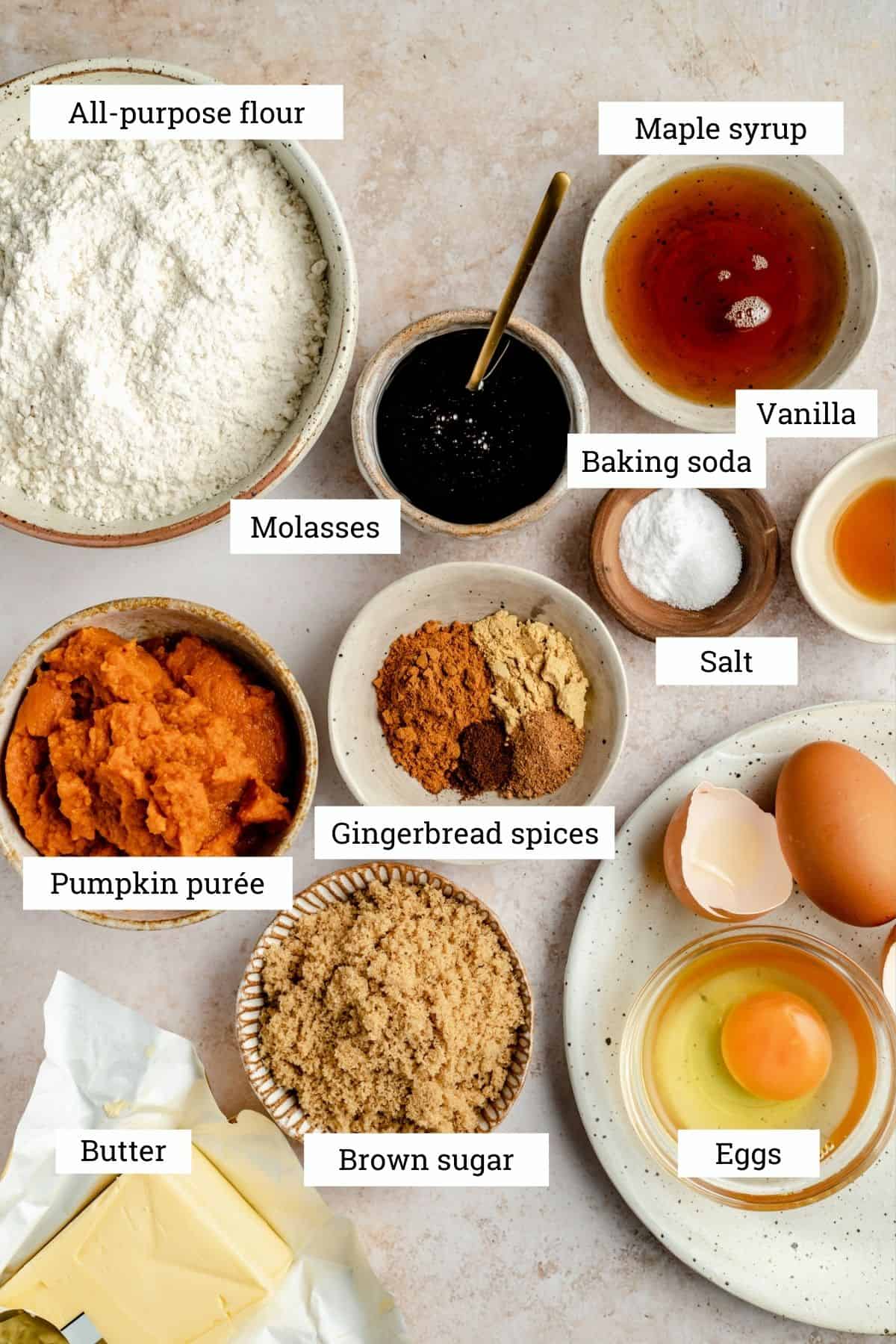 How to make Pumpkin Gingerbread Loaf
This pumpkin gingerbread loaf is really easy to make. It takes a bit of time to bake, but it is so worth the wait!
Firstly preheat the oven to 180C/350F. Once that's set, prepare a 8 ½ x 4 ½ inch loaf pan by lightly greasing it and lining with parchment paper. If you use a different sized loaf pan, you'll need to adjust the baking time.
In a stand mixer fitted with the paddle attachment, beat the softened butter and brown sugar until light and fluffy.
Next crack in an egg one at a time and beat together after each one until fully combined, scraping down the sides of the bowl as necessary. Add the maple syrup, molasses and vanilla extract and continue beating until combined. If the mixture is a little split, don't worry about it, once the dry ingredients are added it will sort itself out.
Add the pumpkin puree and mix until fully combined.
In a medium bowl, whisk together the flour, baking soda, spices and salt.
Pour the dry ingredients into the wet ingredients and gently stir together until just combined. You don't want to overwork the gluten which will make the bread dense.
Pour the batter into the prepared loaf pan and bake for 50-65 minutes, depending on your oven. Start checking for doneness after 50 minutes - you want a cake tester or toothpick inserted into the thickest part of the loaf to come out clean. If it's not ready, return to the oven and continue to check in 5 minute intervals. Ours comes out perfect after 55 minutes. Leave to cool in the pan for 10 minutes, then remove and cool completely on a wire rack.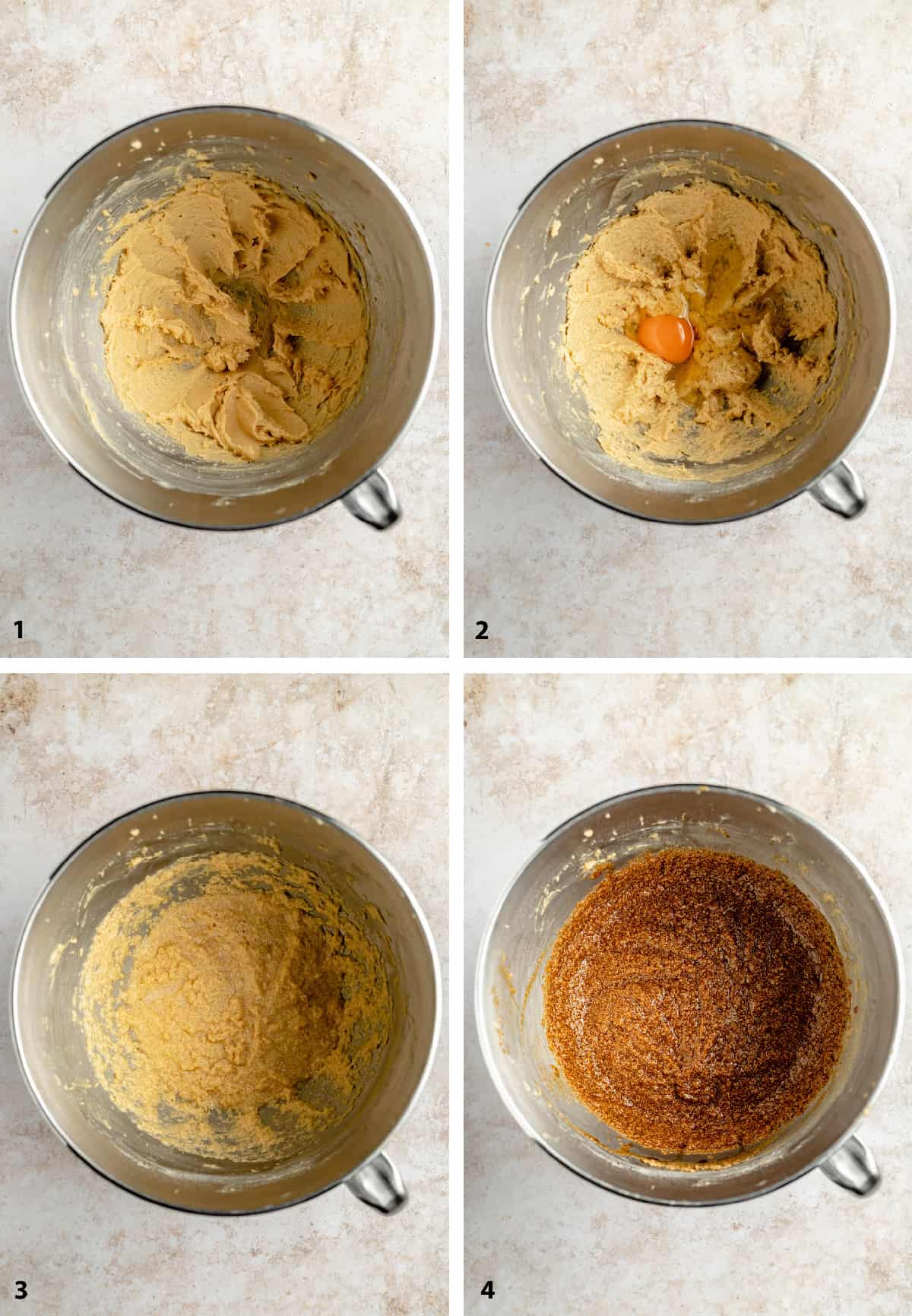 How do I make the glaze?
Heat the butter in a saucepan or small frying pan over medium heat and whisk continuously until the butter begins to foam and darken and smells nutty. Be very careful not to burn it! It changes very quickly - so it is worth only focusing on this one thing whilst doing it.
Once browned immediately add in the dark brown sugar and milk whilst keeping the pan on the heat. It should immediately come to a bubble and thicken whilst you are whisking it.
Stir in the vanilla extract, cinnamon and icing sugar until smooth and well combined. It may be a little thick so feel free to add extra milk ½ teaspoon at a time until the desired consistency is reached. I like it to be a thick pourable caramel, not too stiff as it sets fairly quickly once it cools.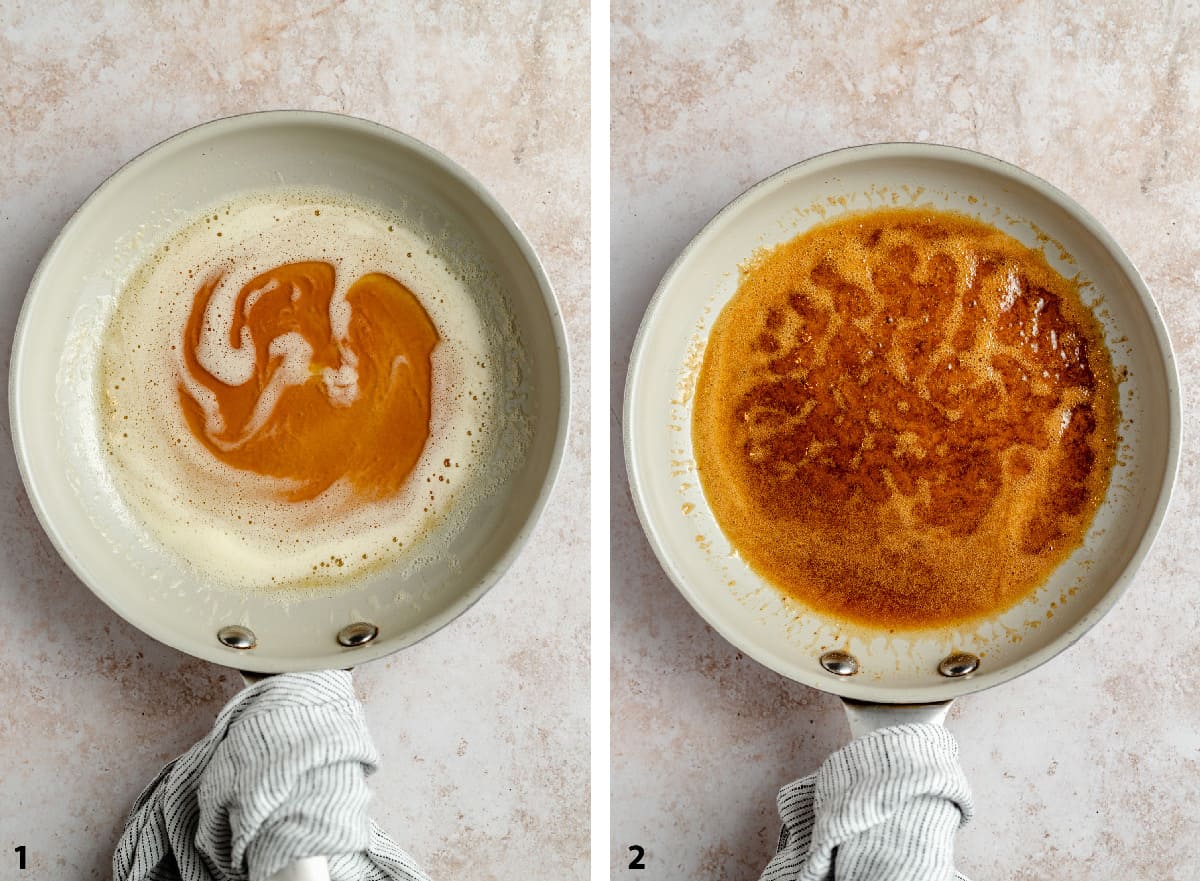 How to ensure the gingerbread is light and not dense?
The most important tip for this, is to not over work the gluten when adding the dry ingredients. Gently stir in the dry ingredients with a spatula until just combined. No more. If you do, you'll end up with a chewy dense bread. We want light, moist and airy. The other tip is to ensure a light creamy texture of the butter and sugar being whipped together (before adding the eggs).
How to serve?
Ensure you let the cake cool properly before slicing as the texture will be more compact and dense if you slice too early! Trust me, it's worth the wait! I recommend using a serrated bread knife and sawing the loaf rather than cutting it straight down with a chef's knife. Totally recommend having this with your favourite hot drink, cosied up as its the perfect seasonal snacking bread. Annnnnnd, don't forget the glaze! Pour the glaze over as soon as you've made it. The glaze will set after a little while, or just dig in whilst it's still soft!
How do you store/keep it?
Once cooled and the glaze has set, wrap in cling film and keep for 3-5 days at room temperature. The bread will gradually get more moist the longer it sits. If you live in a warmer climate, I would recommend storing the loaf wrapped up in the fridge.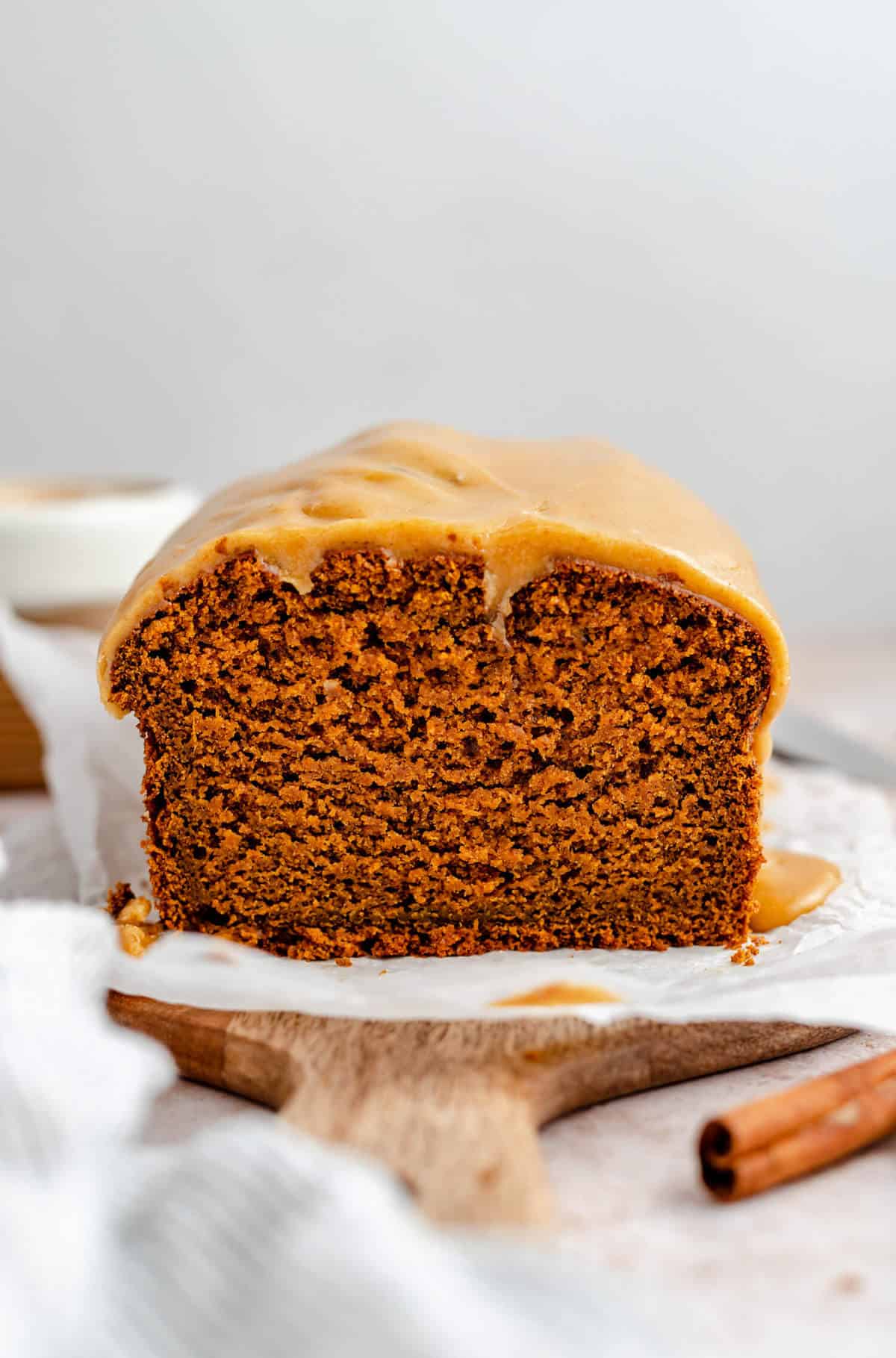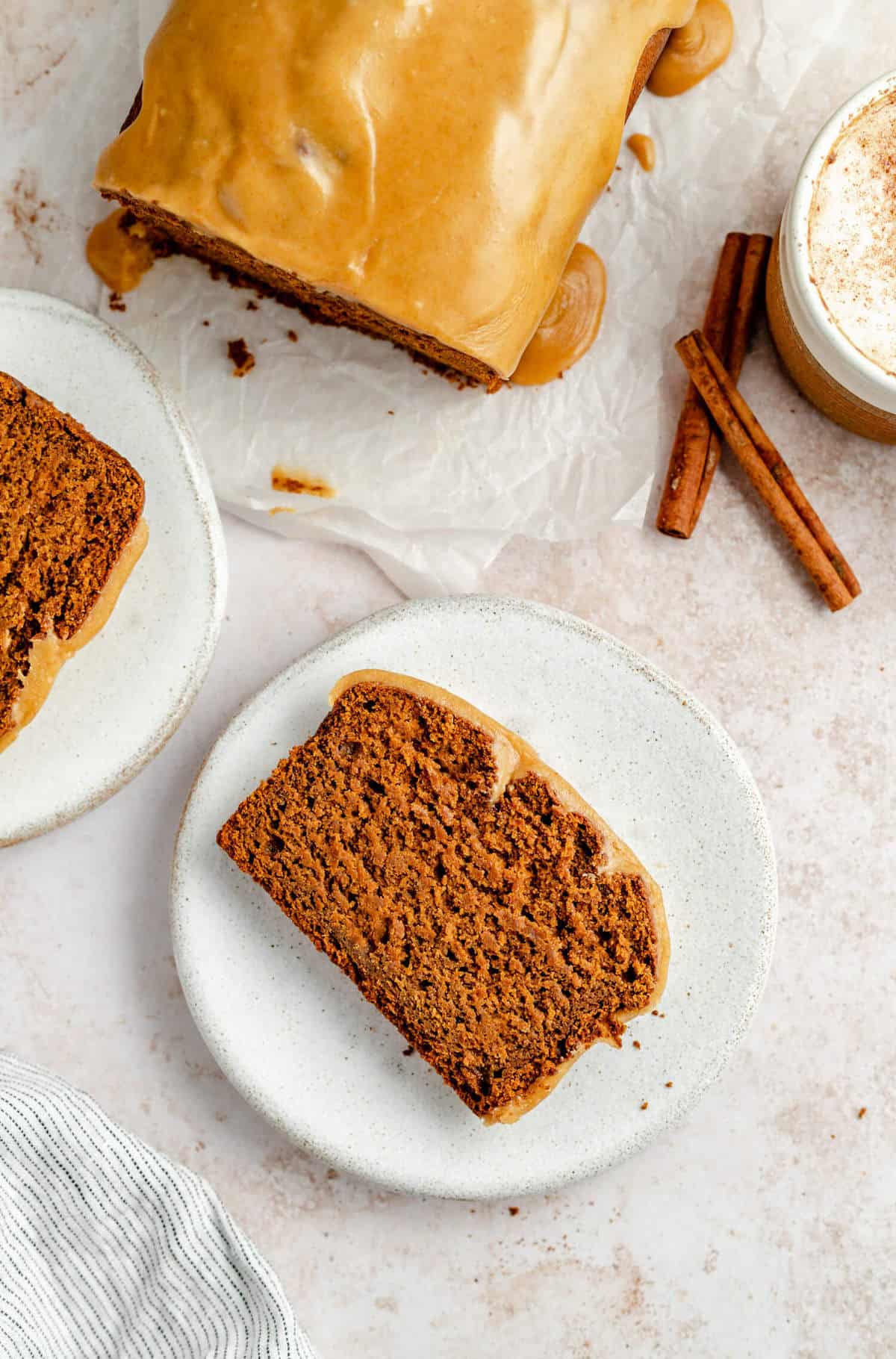 I hope you'll give this pumpkin gingerbread loaf a try! If you make it, be sure to leave a comment, rate the recipe and tag me on Instagram! I love to see your creations!
If you're looking for more cosy baking ideas, why not try: