These churros rice krispie bars are the perfect sweet bite to cosy up with this fall. Packed with dulce de leche and warming cinnamon spice, they are so delicious you and your family will be fighting over each square!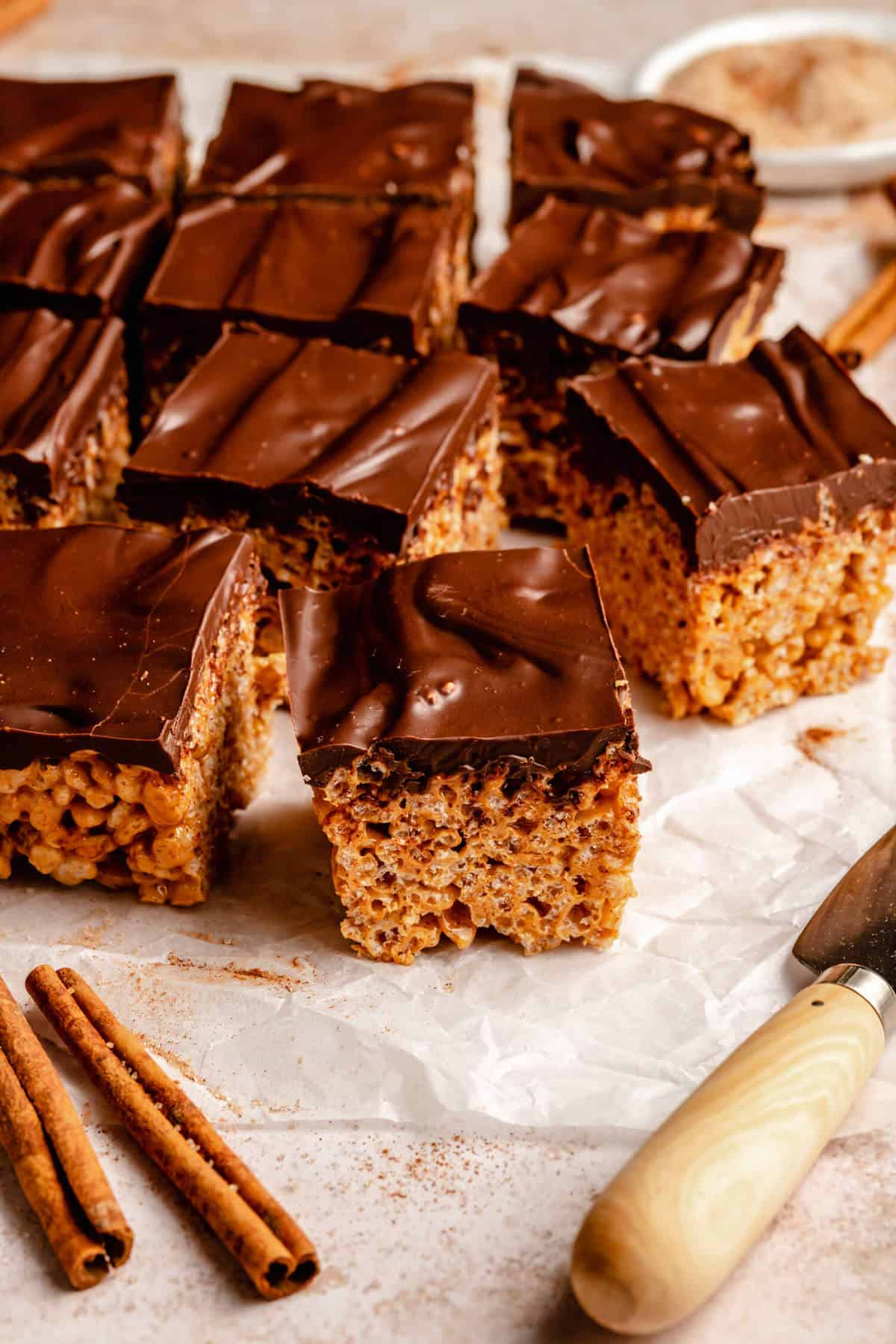 Churros Rice Krispie Bars, baby! You need these in your life, okay? I'll preface this by saying that this is not a replacement for traditional churros, because those babies have a special place in my heart anyway. These churros rice krispie bars are heavily inspired by traditional churros and the internal fight that goes on inside me when deciding what to dip my crispy cinnamon sugar coated churros into; dulce de leche or chocolate sauce? So I thought why not both?! It may seem like a bit of a leap from churros to rice krispie bars but honestly, trust me, it works!
So, the rice krispie bars are made with dulce de leche which creates a velvety caramely goodness to fold the crunchy rice krispies into. To make things even better, we're covering them with a nice thick layer of chocolate! I mean what's not to love?!
If churros and rice krispie squares got together and had a child these bars would be it! They are the most delectable treat and are an upgrade for the adults, although these would definitely be loved by kids too! Whilst these are an indulgent sweet snack… it certainly doesn't stop you from going back for another chunk! So, let me tell you how you can create these for yourselves!
Ingredients for Churros Rice Krispie Bars
These are the ingredients you'll need to make these beautiful Churros Rice Krispie Bars:
Rice Krispies - the main ingredient of these bars is rice krispies, I've tried these with both branded and store brand krispies and they both work; use whichever is easiest for you.
Mini Marshmallows - I use mini marshmallows for ease of melting, the quicker you make these bars the faster you can eat them! Now there are recipes out there without marshmallows but for cost and ease these are what I use, they bind the rice krispies together nicely. You can also use vegan marshmallows if you want to, although I have not tested this recipe with them.
Unsalted Butter - this is in both components of the recipe, the caramel cinnamon sauce and the chocolate topping, you can substitute for vegan varieties if you desire.
Dulce de leche - This is one of my favourite ingredients and is integral to the recipe for its stickiness and flavour. If you want to use a dairy free version feel free.
Ground Cinnamon - this for me is the most important ingredient that transforms these bars into being churros inspired, do not substitute or leave out, you can reduce the quantity if you desire, but the whole purpose is to get that churros scent and flavour.
Vanilla Extract - vanilla works so well with cinnamon and caramel, use the best quality one you can get or use homemade which I find to be the most cost effective.
Fine sea salt - I always recommend using a pinch of salt in baking to bring out the flavours.
Dark chocolate - I use a mixture of 50% and 70% chocolate for this recipe, if you want a richer finish then use more of the 70%, if you want to use milk chocolate you can but you may find it a bit sweet. As always, if you want to use a dairy free chocolate then feel free.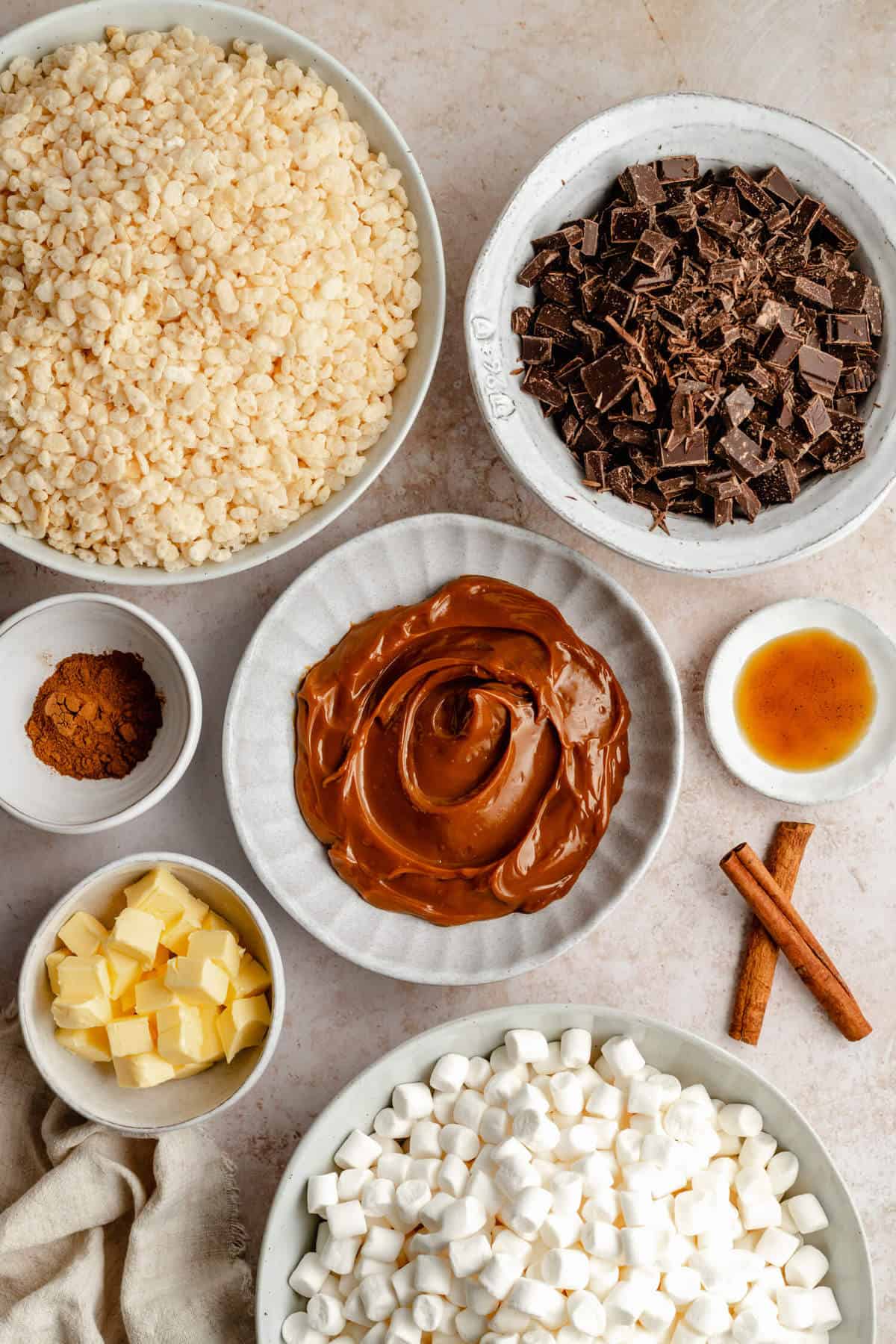 How to make Churros Rice Krispie Bars
This is such a simple recipe to make! Here is how you make it:
Get yourself started by lining an 8 x 8 baking pan with parchment paper and very lightly spray with oil spray for ease of getting it out of the pan and peeling the paper away.
Start by placing your butter (4 tablespoons, 60g), dulce de leche (⅔ cup, 200g) and mini marshmallows (5 cups, 200g) into a saucepan (large enough to contain the rice krispies and the sauce) over a low heat, stirring constantly until melted and fully combined. This process takes 10-15 minutes. Once combined and looking gorgeous and velvety, add the cinnamon (2 teaspoons), vanilla extract (½ teaspoon) and a pinch of fine sea salt, stir to combine.
Remove the pan from the heat and fold in the rice krispies until everything is well coated and glossy with the caramel sauce.
Pour this mixture into the prepared pan and very gently use the back of a spoon to coax the mixture into the corners. It is very sticky and you don't want to crush all the rice krispies. I would also recommend smoothing the top with a small spatula to give an even layer for the chocolate mixture to pour onto. I quite like the uneven surface which can give you thicker pools of chocolate but to avoid family arguments over who has more I'd smooth it over more to be flatter - avoid heavily compacting the mixture into the pan though. Set this aside.
Place the chocolate (300g) and butter (1 tablespoon, 15g) into a heatproof bowl and set above a pan of gently simmering water until melted, stir to combine afterwards - I add butter to the chocolate to give it a fudgy consistency once set. This also makes the bars easier to slice.
Pour the chocolate mixture over the top of the rice krispie layer and spread out with a spatula. Leave to set in the fridge for an hour or so before slicing.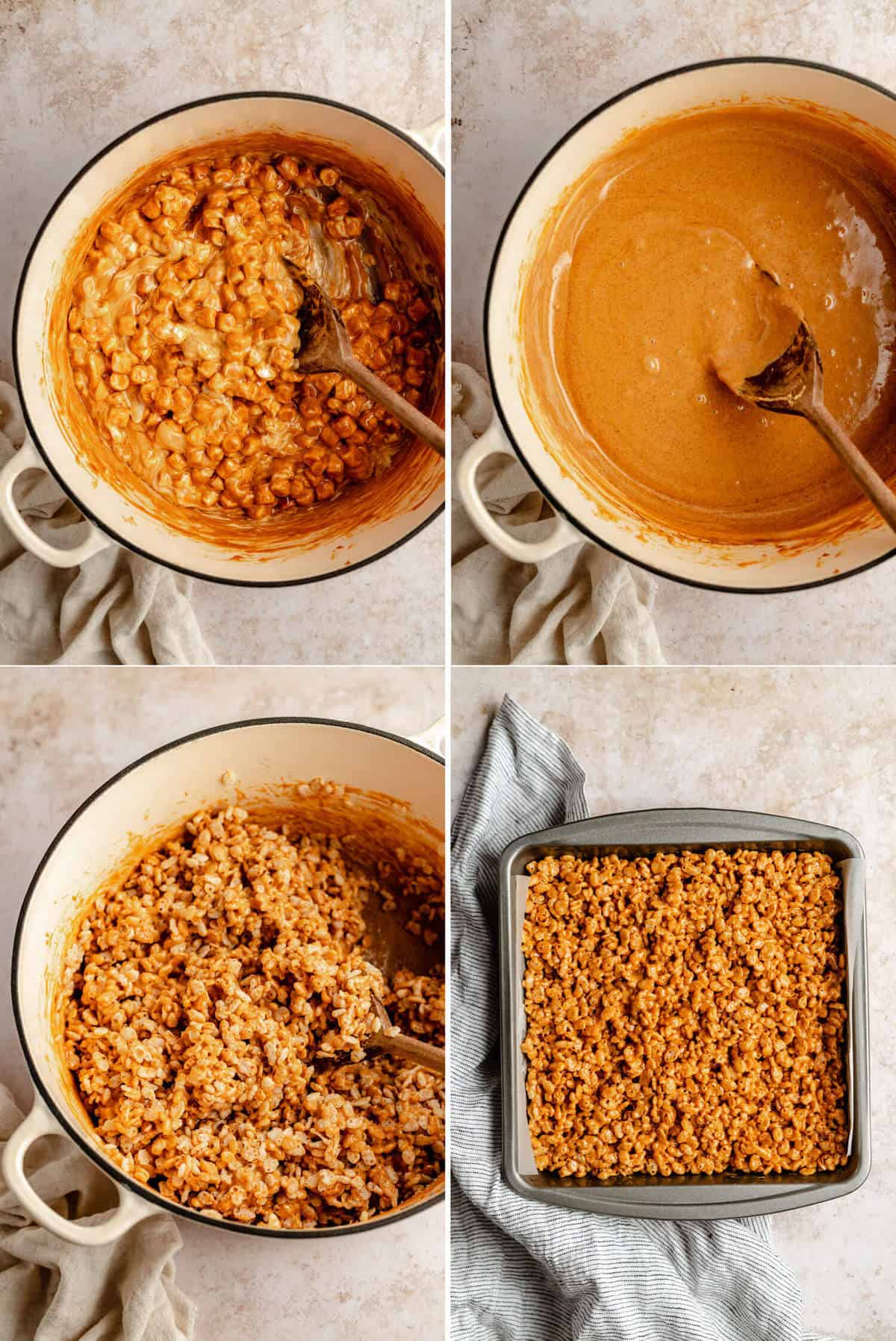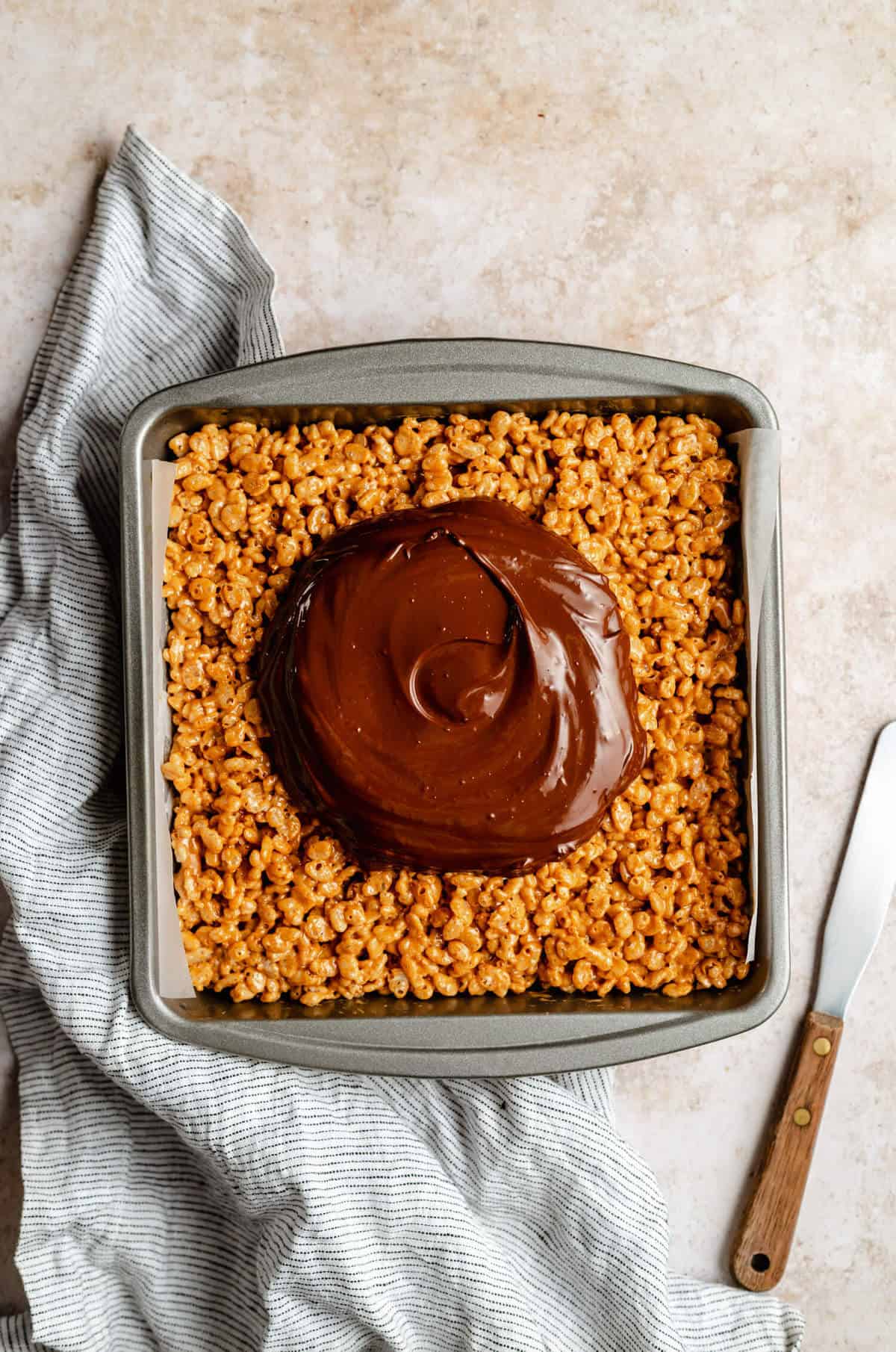 How many does this serve?
Once the chocolate layer has completely set, you can remove it from the pan and peel the paper off. I would recommend cutting this into 16 squares and serving it with your favourite hot drink. I would say it serves 16 but I am not ashamed to admit my husband and I devoured a batch of these in *cough* a couple of days *cough*. Sometimes days just call for unapologetic indulgence!
How to store the bars?
I would recommend storing in an airtight container in a cool place or in the fridge. These churros rice krispie bars will last up to a week or longer if you can make them last that long if stored correctly. I would say that the longer that they are left the rice krispies will eventually soften a little. They're best eaten within 3-4 days.
If you are a couple or single, these will store great in a freezer up to 3 months. Make sure you cut it into 16 squares pre freezing and store in an airtight container or freezer bag.
I hope you'll give these churros rice krispie bars a try! If you make them, be sure to leave a comment, rate the recipe and tag me on Instagram! I love to see your creations!
If you're looking for more fall baking ideas, why not try: