This chocolate pear crumble is the BEST and most indulgent self saucing dessert you can throw together in under 15 minutes, it's so easy! Pear crumble is a brilliant, traditional way to make use of this seasonal fruit but we take it to the next level.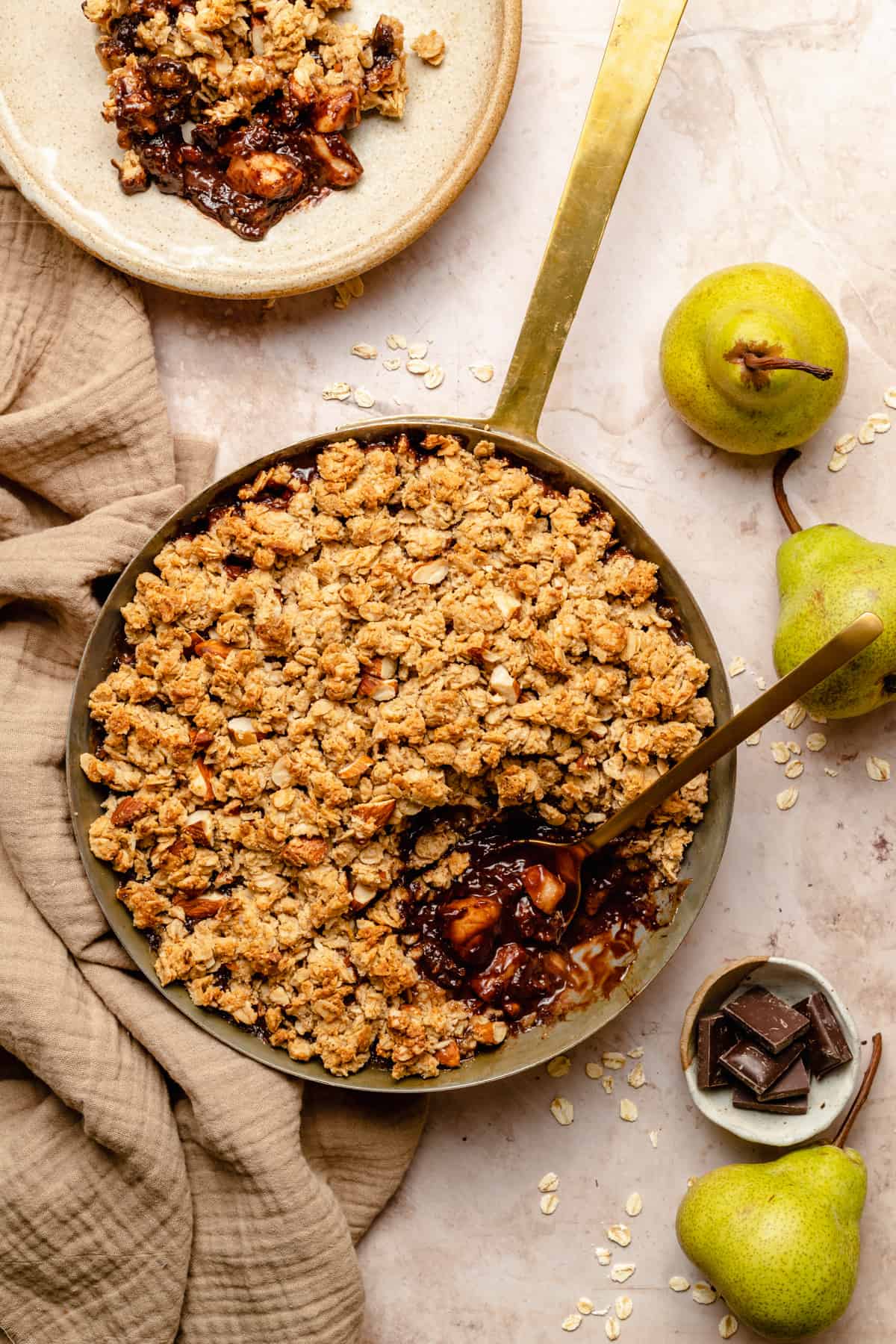 Imagine this, a pear crumble with a chocolate sauce and a crispy, chewy oaty topping, with chocolatey goodness oozing out as you crash your spoon through it. This recipe will change your life and it's so quick and easy to make too, taking only 15 minutes to prepare! Crumble is all about the sweet juicy fruit filling; with this crumble you'll get all that mixed with unctuous chocolate too. Win-win!
The first things that pop into our minds when thinking of crumble is sweet fruit, spices and then a floury buttery crumble and soft broken down pears. Check out this maple pecan pear cake which hits all those notes too.
But this pear crumble is on another level completely - trust us. The oat and almond topping is almost flapjack-like and we can't begin to describe the joy this gives us. There's no more boring stewed pear crumble for you and your family as we've got you the best dessert you can eat this autumn. (Besides, ahem, the BEST easy chewy pumpkin chocolate chip cookies.
We know you'll love this crumble recipe, so make sure to leave us a rating and comment below with how much you love it! Follow the links here to get to exactly where you need to.
Jump to:
⭐ Why you'll love this recipe
We doubt you need any more reasons to dive into this extra special pear crumble recipe, but here they are:
Easy - this recipe really doesn't take very long to prepare. It's simple and can take you under 15 minutes if you are a whizz in the kitchen.
Self saucing - the way we make this indulgent chocolate pear crumble means that it creates this pear scented creamy chocolate sauce that is just incredible!
Special - if you're in the market for an extra special dessert with minimal effort, this is the one! It's simple and is definitely WOW when you dig into it.
Chewy crumble - the oaty crumble is made extra chewy and crumbly with a tahini and almond flour blend. You can't go wrong with this!
Cozy - super cozy, this pear crumble dessert will hit all the right spots during the cold fall/winter seasons.
📋 Ingredients
You only need simple ingredients for this chocolate pear crumble. Let's get to it and show you what you need: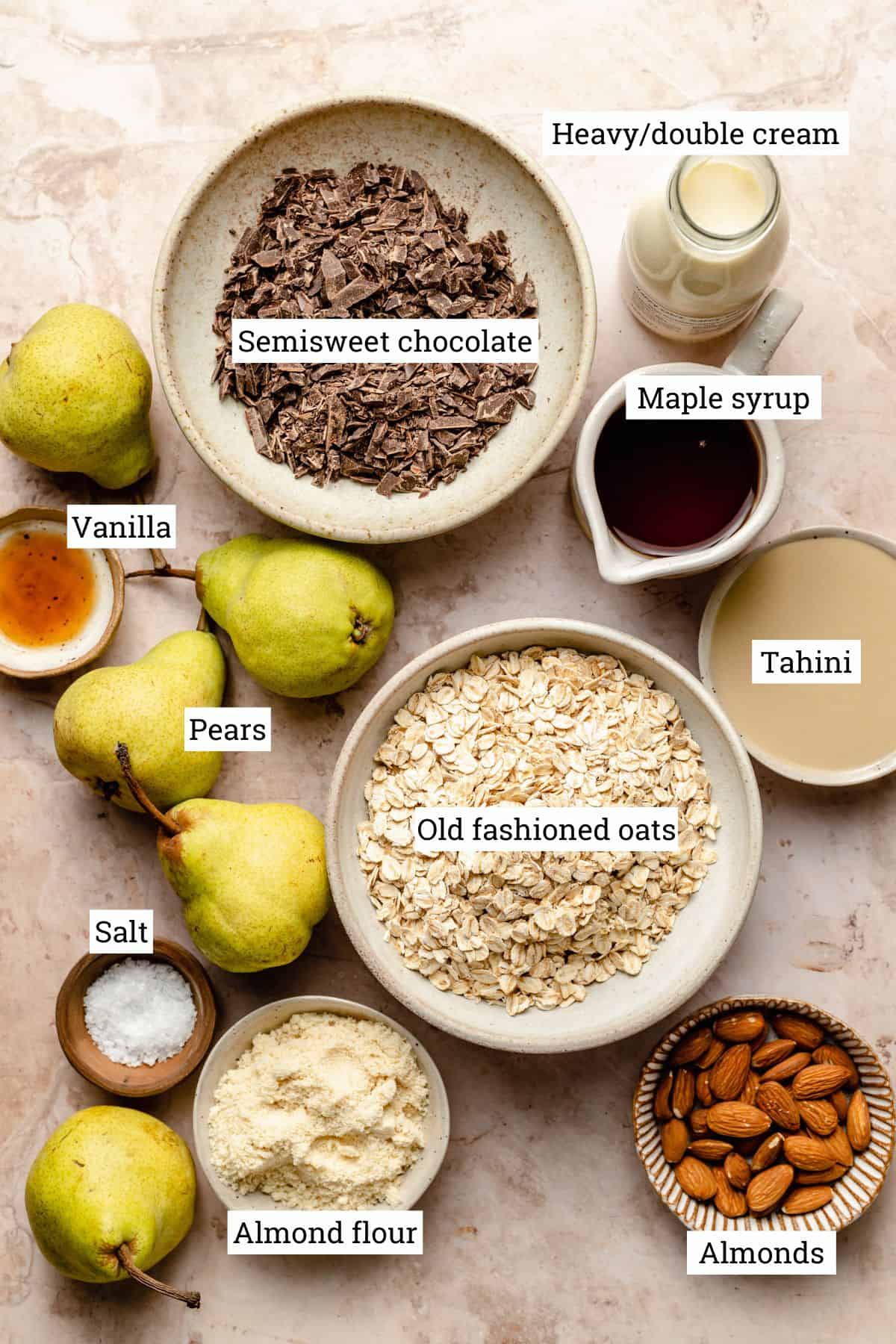 Pears - we used Packham pears, but you could also use Rocha, Williams, Bartlett or Forelle pears - we would recommend any pear that is firm. We feel the Conference pear might cook down a bit too much for this recipe.
Chocolate - we recommend semi sweet chocolate with about 50-55% cocoa solids. Anything less than that and you'll be in the realm of making it too sweet. You could use a higher percentage cocoa bar if you prefer a less sweet dessert, but it would be very rich.
Tahini - we use this lovely creamy sesame seed nut butter to bind the oaty crumble topping - if you don't have tahini, we've got some recommendations down below.
Rolled oats - we recommend using jumbo old fashioned rolled oats as they give a lovely texture to the topping.
Almond flour/ground almonds - Traditional crumble toppings are made with all purpose flour and are a lot finer in texture. We use almond flour to add a nice nutty flavour, chewy texture and it makes this dessert gluten free too.
📖 Customizations
We know you love to mix things up with customizations and substitutions, so here are some of our recommendations for this pear crumble recipe:
Don't have tahini? - Don't worry, if you don't like tahini or have a sesame allergy, you can directly substitute for another nut butter you like, just make sure its a natural runny one though. We have tried almond butter and it works just fine.
Use granola - you can use a fruit free granola to sprinkle on top of this instead if you want to make it even faster. Just be sure to cover the pear crumble with tin foil whilst it bakes so it doesn't burn.
Change up the nuts - go crazy, throw in pecans, walnuts or hazelnuts, just roughly chop them up and use what you have.
Make it vegan - All you need to do to make this crumble vegan is use dairy free chocolate and oat cream. We have made this pear crumble with oat cream. It works just fine, it's just a bit thinner than using double/heavy cream. Still does the same job though!
🔪 How to make pear crumble
This chocolate pear crumble is so quick and easy to whip together, it's unreal. Especially if you're only making a single sharing portion (smaller quantity of ingredients to prepare!) Follow this guide and you'll be enjoying dessert in no time.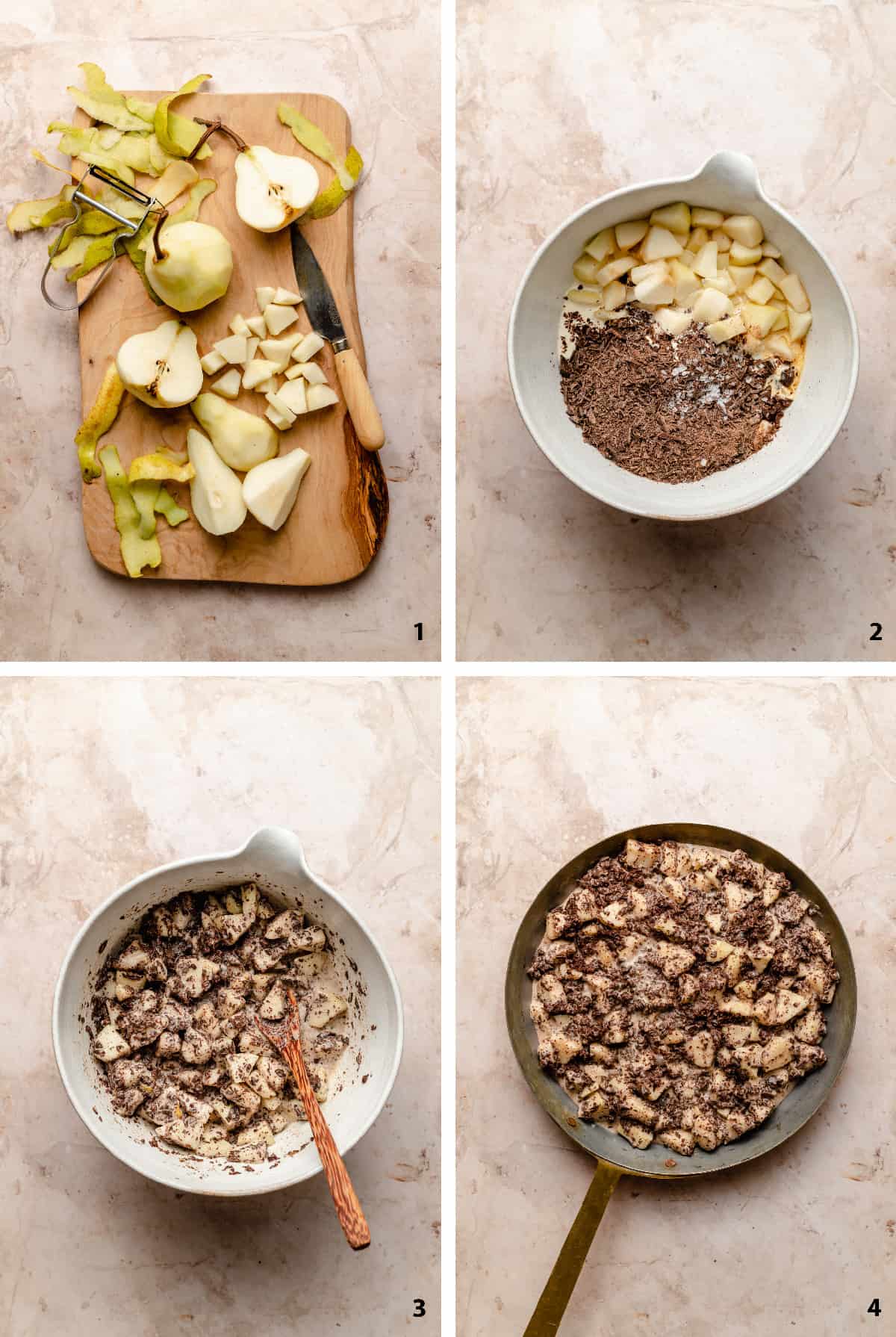 Whilst the oven is preheating, peel and chop the pears into ½ inch pieces. Finely chop or grate (shave - see tips) the chocolate.
Place the chopped pear and chocolate into a large bowl along with the heavy cream, maple syrup, vanilla extract and a pinch of salt.
Stir the filling together, you'll see the cream starting to turn into a light chocolate sauce.
Divide the pear crumble filling between smaller dishes or one larger pan or oven proof dish (1 litre/4 cups in volume).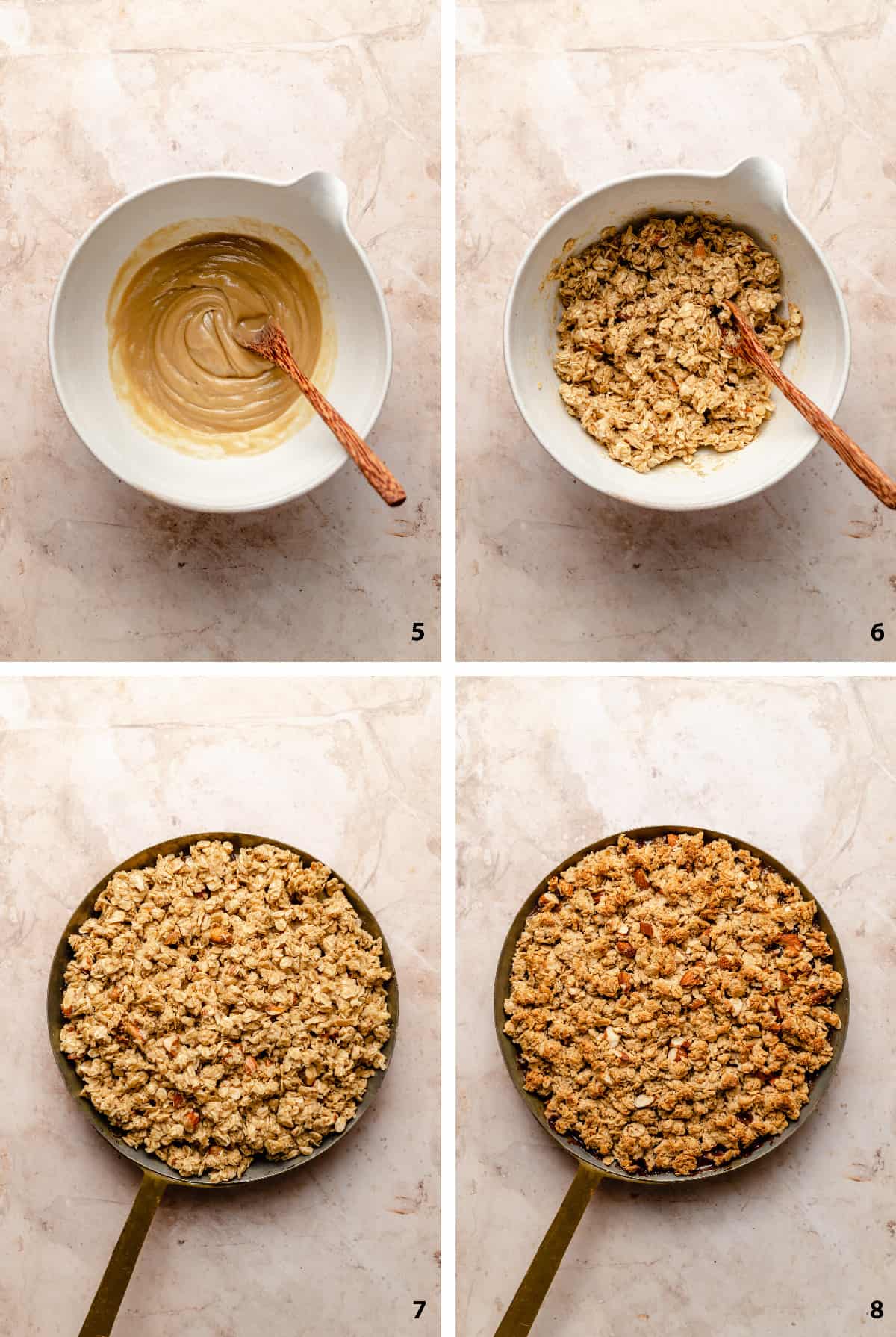 In another bowl, mix together the tahini and maple syrup until well combined.
Add the rolled oats, almond flour, chopped almonds and salt. Mix together with a spoon until it's combined and sticking together but easily breaks apart when crumbled with your fingers.
Place all of the crumble topping over the pear and chocolate filling.
Bake in a preheated oven at 180oC/350oF until golden brown and the sauce is bubbling at the edges. (if it's browning too quickly, place a bit of foil over it to prevent it from burning).
👩🏻‍🍳 Expert tips
Want to know what makes this the best chocolate pear crumble? These tips and tricks will ensure you create the perfect indulgent dessert.
Chocolate - get a chocolate bar, chocolate chips do NOT work, neither do larger chunks of chocolate as some other recipes recommend. We strongly recommend either very finely chopping (effectively shaving the bar) with a knife, or using a box grater to ensure it is fine enough.
Make smaller portions - if you only want enough for one smaller dish just divide the recipe by 4. The full recipe will serve 6-8 people and the smaller dishes will serve 2 people easily or one person who just wants to indulge.
Crumble texture - the crumble topping should be naturally sticking together with the tahini or nut butter you use. If it's sticking together in one big clump and looking quite wet, it's not quite right, so add just a touch more almond flour/ground almonds. It should stick together but still break up when you rub it together with your fingers. You'll get a nice chewy, crisp topping to your crumble from this.
🍐 What to serve with pear crumble
Ice cream - serve this chocolate pear crumble with some lovely vanilla ice cream. As much as we love the idea of having chocolate ice cream with it, we personally think that would be a bit too rich. In general, ice cream works! Hot and cold together is the best.
Cream - Traditionally, British crumbles are served with cream or custard. Well, as much as we love custard, we don't think it would be a good accompaniment with this pear crumble, but cream definitely is. Simple pouring cream or even squirty cream is good!
💭 Recipe FAQs
Can I use tinned pears?
We have not tested the recipe with tinned pears, but would expect that they would be too wet to use. If you do want to try it out, we would suggest drying them off in paper towels to ensure they aren't soaking wet with the juices from the can. They also may cook down further and go a bit mushy in the final crumble. If you have tried this out, do let me know how it goes in the comments.
Can I use unripe pears in a crumble?

We would recommend using pears that are slightly ripe for this recipe. Unripe pears will work absolutely fine, they just might be a little more firm at the end of baking. This isn't a bad thing and we'd definitely recommend using an unripe pear instead of an overripe pear, which might affect the consistency of the chocolate sauce.
Can I freeze it?

We wouldn't recommend freezing this crumble as we're not sure how the cream and pears would act once defrosted. The pears will likely leach more liquid and would make the self-saucing dessert too thin. The best option is to cut the recipe in 4 and make a single portion.
Can I make it ahead of time?
Yes! We would prepare everything for the pear crumble up until the baking step and leave it covered in the fridge until you want to bake it. We would recommend bringing it out of the fridge about 30 minutes before baking so you aren't putting a cold dish into the oven as it may crack, depending on the dish you use.
Can I reheat leftovers? 
Absolutely! In the testing of this pear crumble recipe we obviously had leftovers. We kept them in the fridge for a couple of days and it was just fine.

To reheat, we would recommend placing it in an ovenproof dish, covering the crumble with foil and placing it in a preheated oven at 180oC/350oF for about 20-30 minutes until hot throughout. We have not tested reheating in a microwave, but would say it would likely make the crumble go soggy. Using the oven has worked well though.

🧁 Related desserts
Love this chocolate pear crumble recipe? Then you may want more of our dessert recipes. Here are some suggestions to get you started:
Love this recipe? Leave us a 5-star ⭐️⭐️⭐️⭐️⭐️ rating in the recipe below and don't forget to leave a review in the comments section underneath the recipe. We love hearing from you!
Why not follow along with us on our social media channels @Instagram @Facebook and @Pinterest and tag us with #eatloveeats when you've tried one of our recipes!
📖 Recipe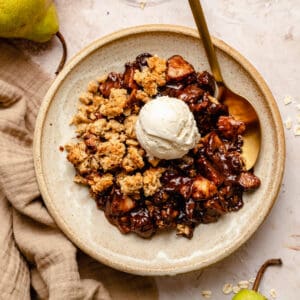 Ingredients
For the pear crumble filling
For the tahini crumble topping
Instructions
Preheat the oven to 180°C/350°F. Place a 1 litre (4 cup) oven proof dish or 4 oven proof ramekins (250ml/1 cup) onto a baking sheet.
For the Pear Crumble Filling
In a medium bowl, stir together the chopped pears, chopped dark chocolate, maple syrup, cream, vanilla extract and salt. Pour this mixture into the dish or divide evenly between the ramekins.

4 medium firm pears,

5.3 oz semi sweet chocolate, finely chopped or grated,

¼ cup maple syrup,

6 tablespoons double/heavy cream,

2 teaspoons vanilla extract,

pinch sea salt
For the Tahini Crumble Topping
In another medium bowl, stir together the tahini and maple syrup. Add the rolled oats, almond flour, chopped almonds and salt to the bowl and use a fork or your hands to form a crumble. This mixture will be sticky but not overly wet.

½ cup tahini,

¼ cup maple syrup,

1 ½ cups rolled oats,

¼ cup almond flour,

¼ cup almonds, chopped,

pinch sea salt

Sprinkle the crumble mixture evenly onto the prepared pears in the dish/ramekins. Place in the oven for 30 minutes. Be sure to check on the crumble in the last 15 minutes of cooking time - if it's browning too quickly, loosely place some foil over the top. Leave to cool for 5 minutes before serving with a scoop of vanilla ice cream. Enjoy!
Notes
We used Packham pears, you could also use Williams, Bartlett or Rocha, all work well.  

Use 50% cocoa solids chocolate and ensure it is very finely chopped or grated. 

Oatly oat cream works but it's not as luxurious as heavy cream. The sauce may come out a little thinner. 

This recipe serves 8 but if you want a smaller portion, just divide the ingredients by 4, you'll be able to fill a 250ml/1 cup ramekin and that is enough to share for two people. 
Highly recommend reading through the tips in the post above. 
This recipe was inspired by and heavily adapted from Modern Baking by Donna Hay.
Nutrition
Calories:
448
kcal
|
Carbohydrates:
51.7
g
|
Protein:
7.8
g
|
Fat:
22.2
g
|
Saturated Fat:
8.2
g
|
Polyunsaturated Fat:
4.4
g
|
Monounsaturated Fat:
7.6
g
|
Cholesterol:
13.8
mg
|
Sodium:
42.6
mg
|
Potassium:
548.2
mg
|
Fiber:
7.1
g
|
Sugar:
28.1
g
|
Vitamin A:
48.1
IU
|
Vitamin C:
4.6
mg
|
Calcium:
87.9
mg
|
Iron:
2.8
mg
Did you make this recipe?
Leave a comment below with how you got on and don't forget to give the recipe a rating ⭐️⭐️⭐️⭐️⭐️. You can also tag @eatloveeats on Instagram - we love to see your creations!