This post contains affiliate links from which we could earn a small commission. Please read our Privacy Policy for more information.
This creamy sausage and kale gnocchi soup is easy to throw together and will make a satisfying warming meal this soup season. It's delicious and creamy, uses simple pantry ingredients and is ready in about 30 minutes with no cream in sight!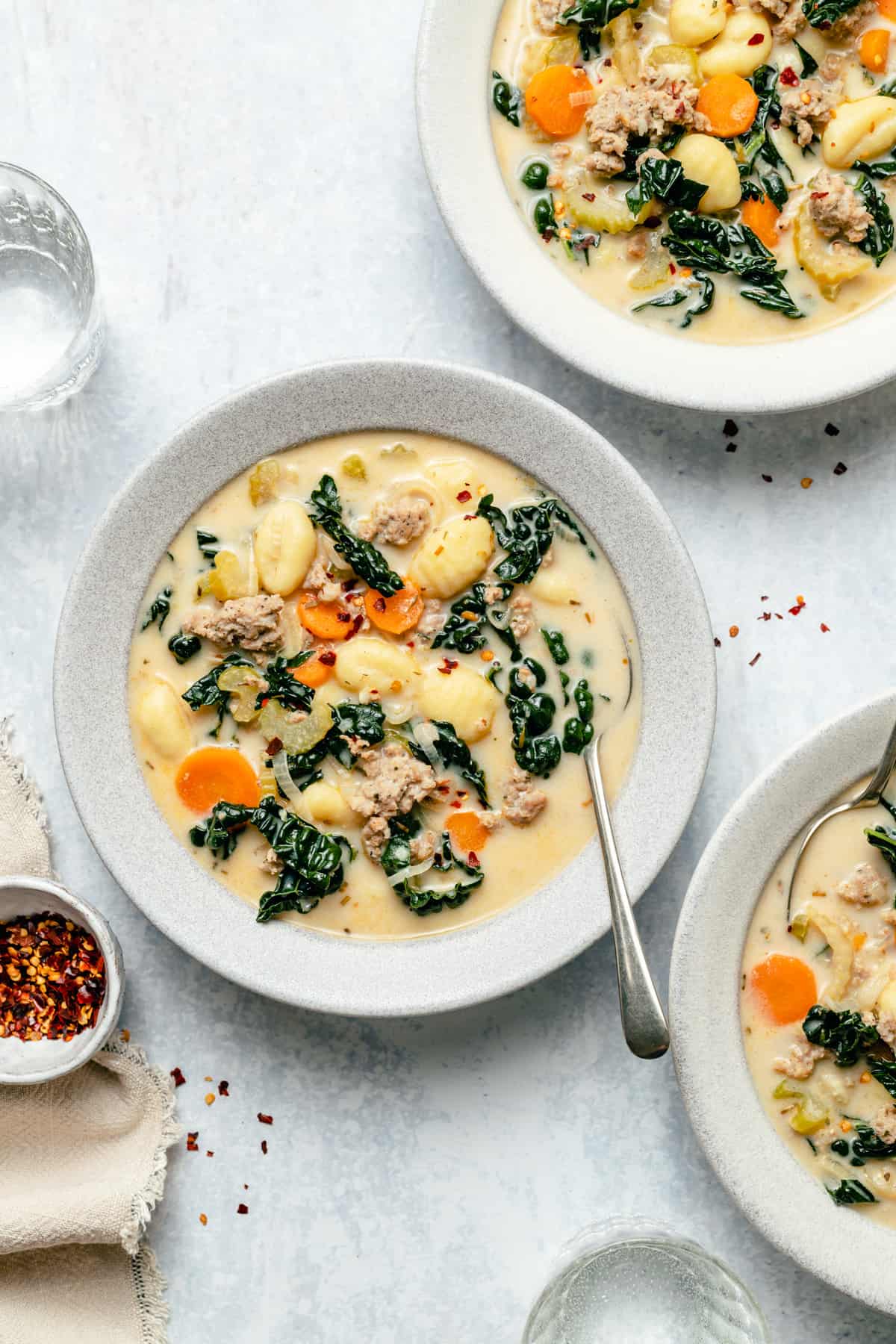 I love gnocchi, they're the perfect carb-filled pillows of joy to be enjoyed in so many different ways! Fried, boiled, thrown in soup, baked - you name it. This sausage gnocchi soup is a wonderfully flavourful soup to whip up in the cooler months. It's almost a cross between a stew and a soup. You can think of the gnocchi as dumplings, mmm. Perfect dumplings. I love a smooth creamy soup like this roasted butternut squash and red pepper soup as much as the next person. BUT this sausage gnocchi soup is where it is at! Packed with browned sausage meat, veggies and gnocchi and made so, so creamy with a quick cashew cream.
You need this sausage gnocchi soup in your life to fulfil your soup season dreams. It's just that tasty! I know you'll love it, so leave us a comment below with a rating letting us know how you got on!
Jump to:
What is gnocchi?
Gnocchi are called various things in different regions of the world, but I personally associate them with Italian food. They're made of potatoes, flour and eggs, to create a dough that is then rolled out and cut into smaller pieces before being shaped against a fork or gnocchi paddle. These lovely dumplings can be especially light and delicate if homemade. Often they are served simply with melted butter, sage or other herbs and a variety of sauces. I particularly like a tomato, basil and pancetta sauce with mine! The best part about gnocchi is that they are so quick to cook and you know they are ready when they float to the surface.
You can quite easily get different gnocchi varieties nowadays that you can pan fry - these are a bit firmer but are fantastic to throw together a quick meal. In this recipe we will be simmering ours in the soup not long before serving.
Ingredients
This sausage gnocchi soup has very simple pantry ingredients which are readily available. This is what you'll need: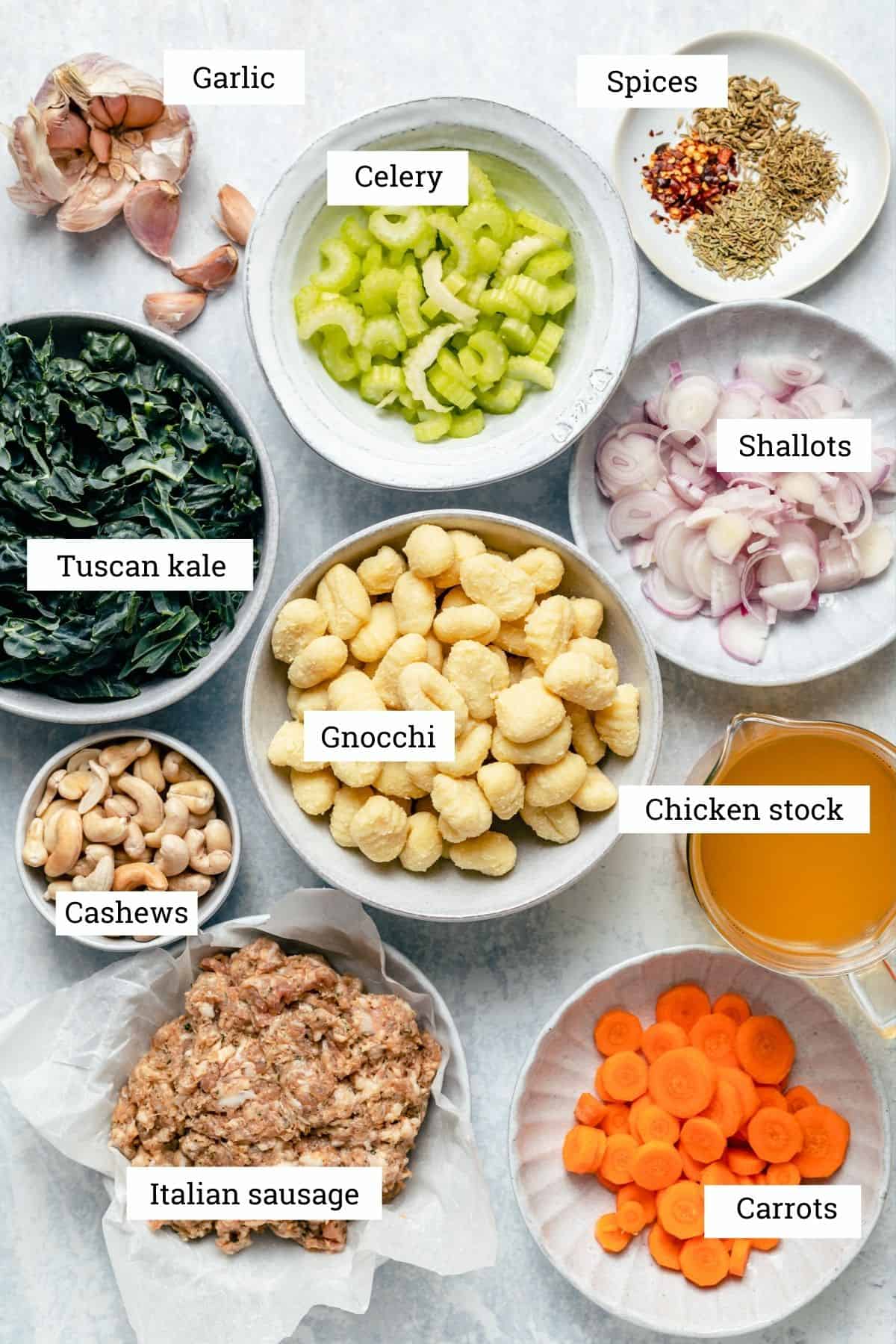 Sausage - you'll need some fresh sausage meat or fresh Italian sausages (you'll remove the skins). Either works well, removing skins takes more effort and a little more time though.
Spices - I love using spices, you'll need crushed red pepper flakes and fennel seeds to add a lovely flavour to the sausage meat whilst it's browning. 
Aromatics - all good soups need aromats. Here we're using banana shallots (echalion) but any shallots will do. I recommend shallots as they are a little sweeter. You'll also need some garlic for lots more flavour. 
Vegetables - For the base of the soup you'll use celery and carrots to continue to build flavour. Later on in the process of making the soup you'll also use kale; we love using cavolo nero (Tuscan/lacinato kale) but curly kale is just as good. 
Herbs - You'll need a few herbs to carry on with that Italian flavour theme: dried thyme and rosemary will be just fine, but if you want to use fresh herbs that's also good, you'll just need to use a bit more than directed below. 
Creaminess - You'll get all your creaminess without cream! You'll just need cashews and water. That's it. 
Gnocchi - for this recipe I've used pre-made gnocchi as who doesn't love an easy win? Just don't mix them up with the ones made for frying!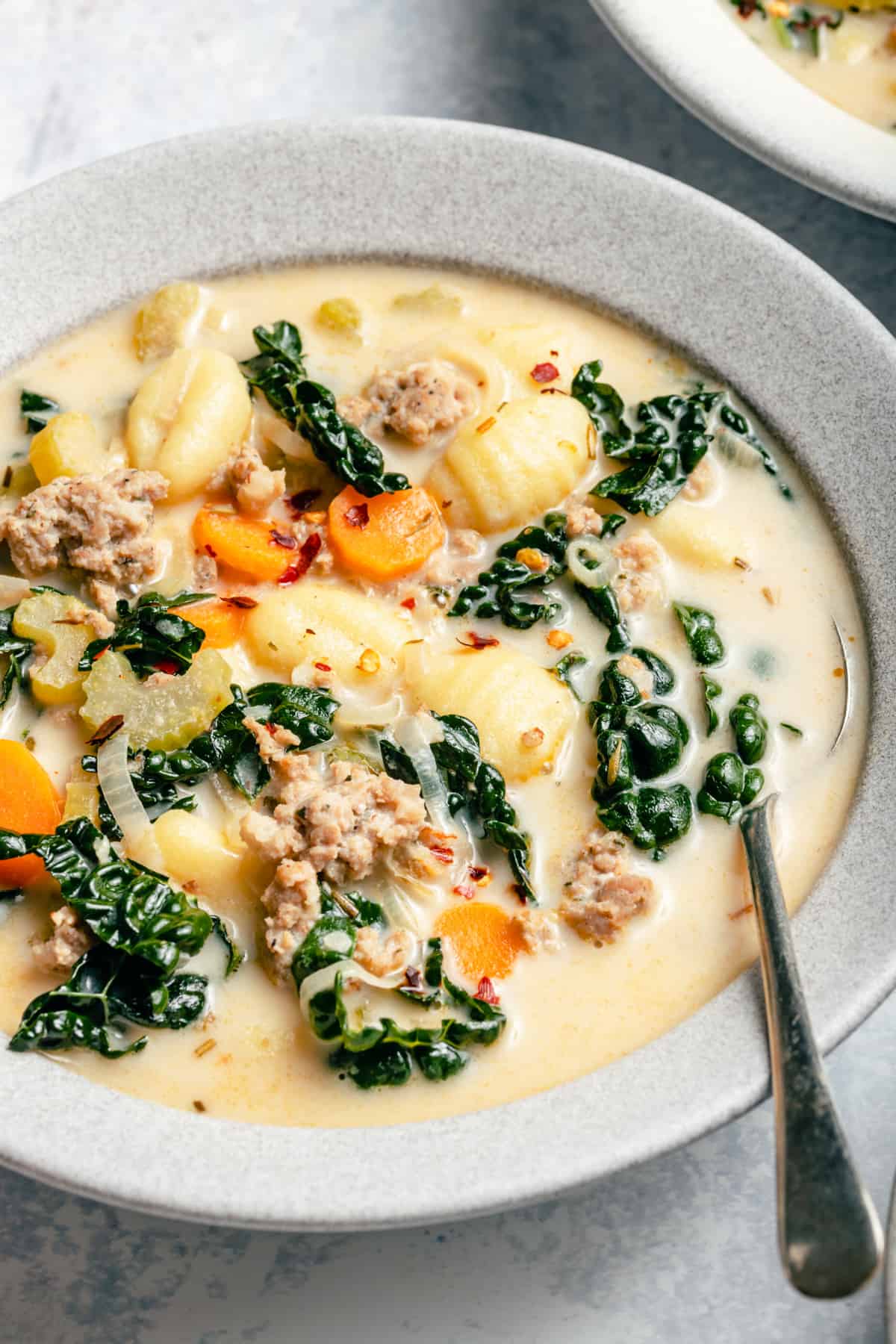 Ingredient substitutions/customisations
I know how you all love substituting ingredients so here's some recommendations to mix things up:
Change up the protein - I would recommend trying this with either chicken or turkey mince to mix it up. If you wanted to go full-on veggie, you could try a soya protein mince if that floats your boat.
Change up the creaminess - You can switch the cashew cream for standard dairy cream if that's what you have. You can even miss it out completely, maybe just add a touch more broth, but it's not necessary. You could also add some tomato paste to make it a tomatoey soup instead.
Add pulses - If you want to switch some of the veggies out with some canned beans like borlotti or cannellini beans this should also work. I would say that the soup is very filling with the gnocchi though so it may be a bit much.
Spices - Chilli and fennel are quintessential components in Italian sausage for me. If you can get Italian sausage meat (or sausages) they work so well! The fennel gives a lovely anise flavour in this soup. If you don't have any fennel seeds you could substitute for crushed anise seeds or caraway seeds or just leave them out.
How to make it
This sausage gnocchi soup is very easy to make, you'll have all you need in these step by step guides.
Flavour building steps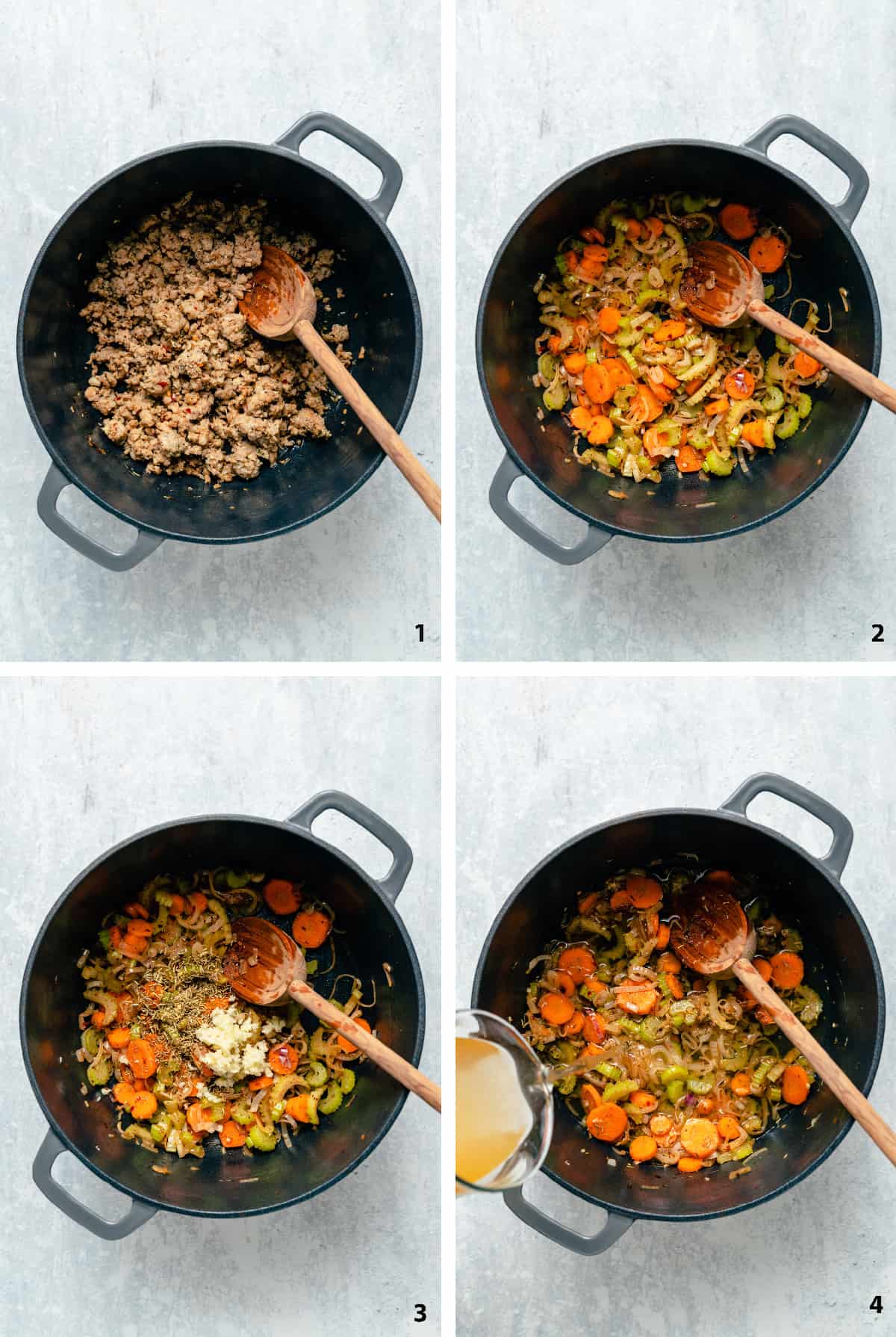 Over a medium-high heat, sauté and brown off the sausage meat in a large pan or dutch oven with the chilli flakes and fennel seeds; this should take about 5 minutes. Remove the sausage from the pan and set aside.
Using the sausage fat, fry off the shallots, celery and carrots until softened, about 5-8 minutes. Add a little more oil if needed.
Stir in the minced garlic, thyme and rosemary and cook for another minute.
Pour in the stock, season with the salt and pepper and bring to a boil. Simmer for 10 minutes.
Finishing the soup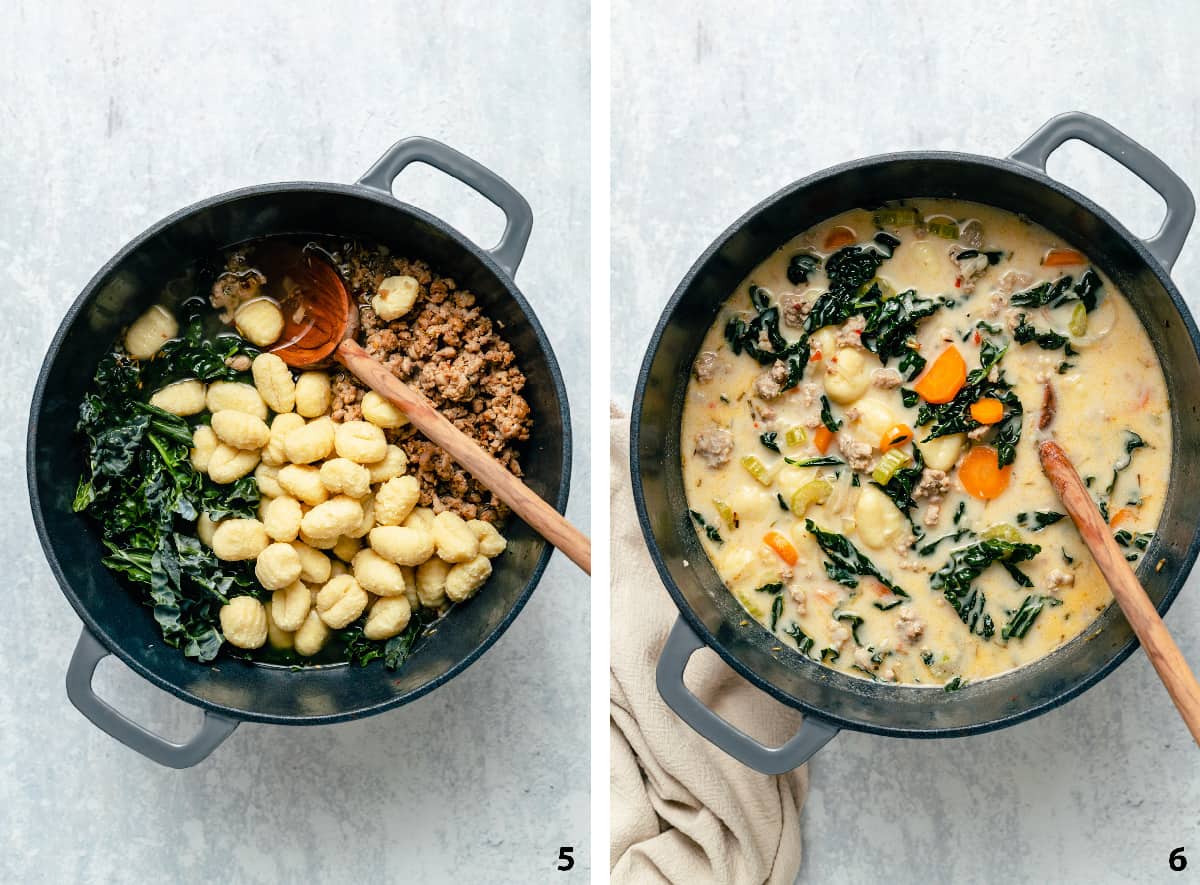 Add back in the browned sausage, kale and gnocchi and stir throughout. Cook for 2-3 minutes until the gnocchi are done.
Pour in the cashew cream and stir until combined. Check for seasoning and adjust if necessary. Serve the creamy sausage gnocchi soup with some crusty bread.
Recipe Tips
For a successful quick, easy and satisfying sausage gnocchi soup make sure to follow these top tips and tricks for the best flavour and also to give you all the information you need to make it in no time.
Cashew cream - the first thing you need to do is put the cashews in a bowl of boiling water and leave to soak until later, when you will add ½ cup (120ml) of water to the soaked nuts and blend them with a stick blender until smooth. Doing this at the beginning before anything else will ensure they are soft enough to blend when needed later in the recipe. Don't have a blender? Either omit the cream altogether or buy regular cream (or oat cream to keep it dairy free).
Spices - to release more flavour from the fennel seeds, bash them in a pestle in mortar to release their aromatic oils, or rub them between your fingers to break them up a little. This makes a huge difference and allows their flavour to permeate the soup.
Caramelisation - the best thing you can do to develop flavour in this soup is to caramelise. This is done in two stages - the sausage meat and the veggies used in the base of the soup. Caramelised ingredients really do add a level of umami-ness to the soup, which is what we are looking for!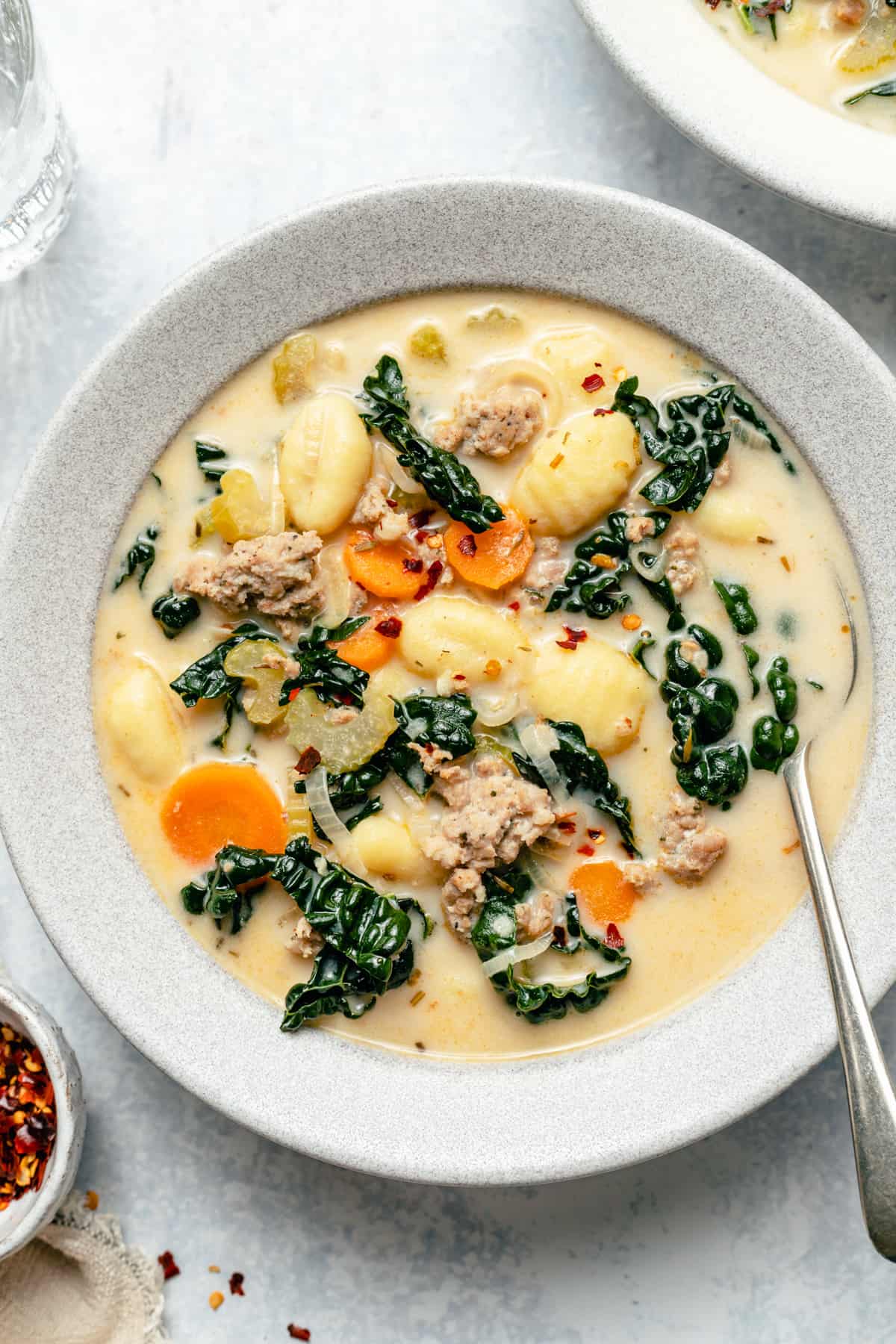 FAQs
Can I make this ahead of time?

Yes, this soup is good for making ahead of time and can be reheated when needed. I would recommend leaving out the gnocchi and putting them in at the point of reheating if you can, as they will absorb the liquid in the soup and go a little soggy.
Can I freeze it?
If you have any leftovers, this soup can easily be portioned up into air tight containers and frozen for up to 3 months.
How to reheat it
If you have frozen the soup, defrost in the fridge overnight, then place in a pan over a medium heat and heat through for 5-10 minutes until hot all the way through.
Looking for more soup and stew inspiration?
I hope you love this Italian sausage and kale gnocchi soup as much as we do. If you make it, be sure to leave a comment, rate the recipe and tag #eatloveeats on Instagram! I love to see your creations!