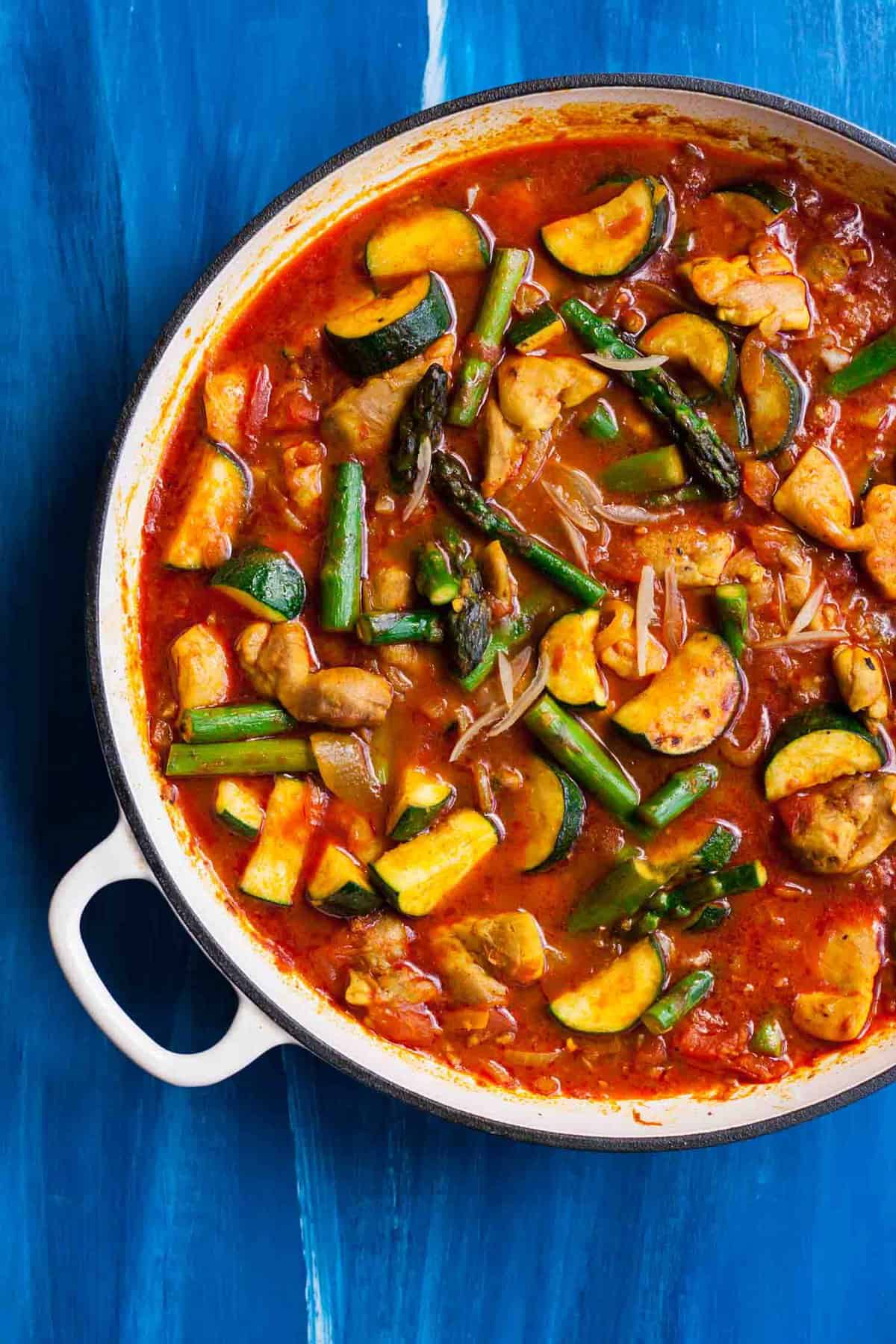 I don't know about you, but even though it's technically spring, I'm still craving warm and comforting food. Not carb-laden wintry stodge, but something lighter that will keep the still-cool evenings cosy. This Spring Vegetable Chicken Tagine ticks all of the boxes and yet brings with it the promise of the brighter days to come. And boy, they can't come quickly enough!
I do genuinely like to eat as seasonally as I can, but it gets to a point, normally in March, when I can take it no longer. The days are getting longer and milder, yet the greengrocer's offering is as bleak as ever. So I caved and bought imported asparagus and courgettes and thought - why do I even do this to myself? Yes, it's a wonderful thing to eat in-season produce but it's also a fact that the climate in which I live allows for us to grow relatively little during the winter months. There's only so much swede and kale a girl can take and it's safe to say I've reached that limit. Suffice it to say, I'm letting myself off the hook. Why do I care so much exactly? Besides the fact that fruits and vegetables taste so much better when they're in season, I'm actually believing that buying them out of season is somehow wrong and bad. Nope, today I'm choosing to be thankful for the immense blessing, thanks to our ability to import and export food, of relatively cheap and abundant produce, all year round. I mean, how cool is that, really?! Oh and, when I get my hands on those first spears of English asparagus, I'm going to eat them with glee! And so should you, in this Spring Vegetable Chicken Tagine!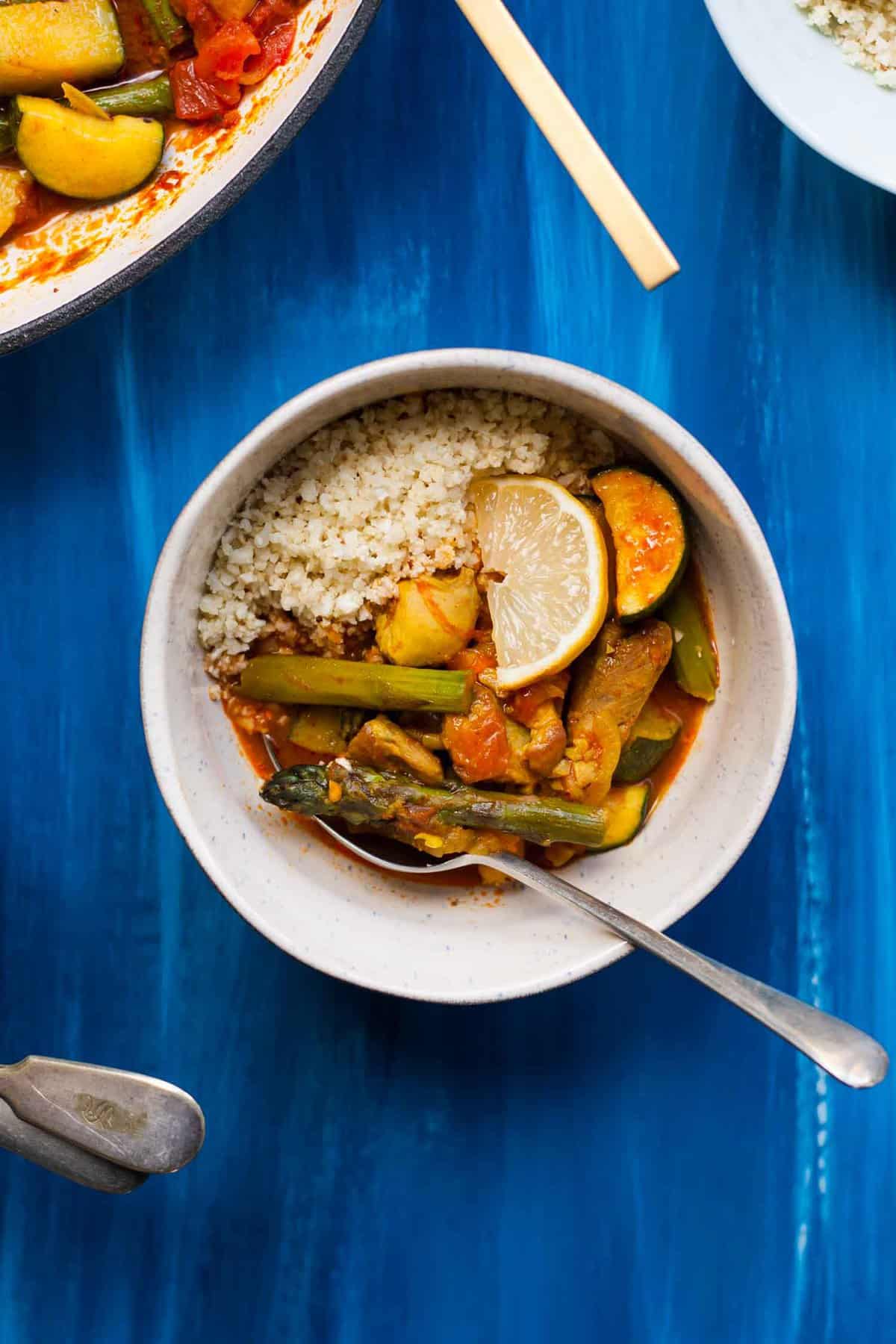 I've been meaning to make a tagine for absolutely ages. It's probably been 5 years since I last made one. To be clear - this is not intended to be an authentic tagine recipe. For starters, it isn't cooked in a traditional tagine. I don't have one of those, nor do I intend on buying one! Secondly, this is a dish that can be on the table in about 45 minutes or so. I'm eschewing tradition in favour of a modern approach - fast and fresh meals. Needless to say, I've probably got all the spices wrong anyway. I made this dish in the spirit of a tagine, but suited to my taste. It tastes good and that's what's important to me. I hope that it will taste good to you too!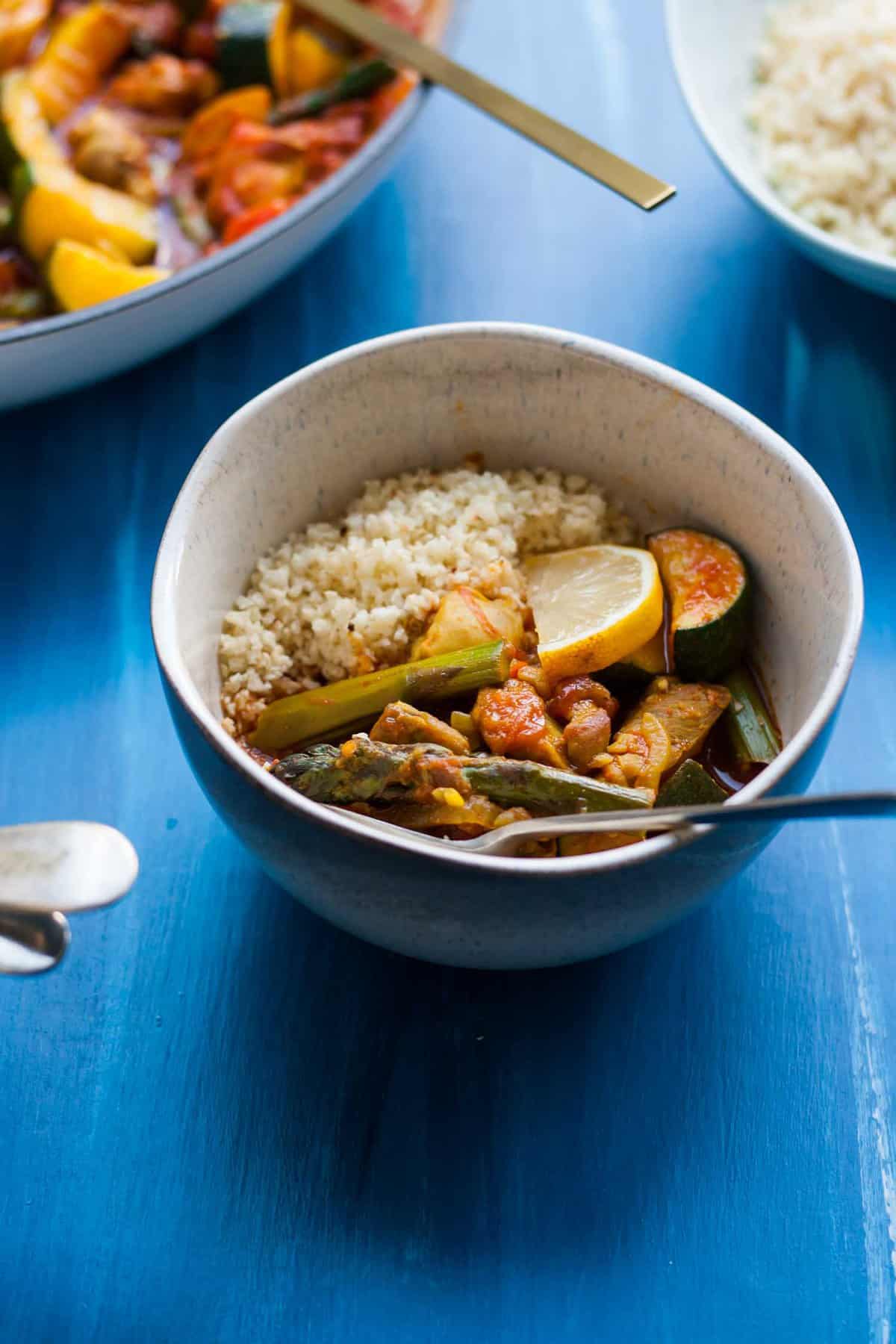 I serve my Spring Vegetable Chicken Tagine with cauliflower cous cous. Now, don't be fooled. I'm always trying to sneak more veggies into my food, I admit, but my true intentions are far less virtuous. You see, if you serve this with cauli cous cous, that means you get to eat bread on the side too! It's like you're fooling your brain into thinking double carbs! Because carbs on carbs (on carbs) is kind of how we roll around here and well, too much of that and we really will be rolling! I like to cook my cauliflower cous cous in the oven which serves double duty - a) one less pan to think about on the hob and b) the heat of the oven dries the cauliflower out a bit resulting in fluffy cous cous, not too dissimilar from the real thing. Oh and it gets a bit of that roasty toasty cauliflower flavour going on, which is always good. That said, if you want to serve this with real cous cous (+ bread) then go for it! You definitely need something to soak up the delicious juices.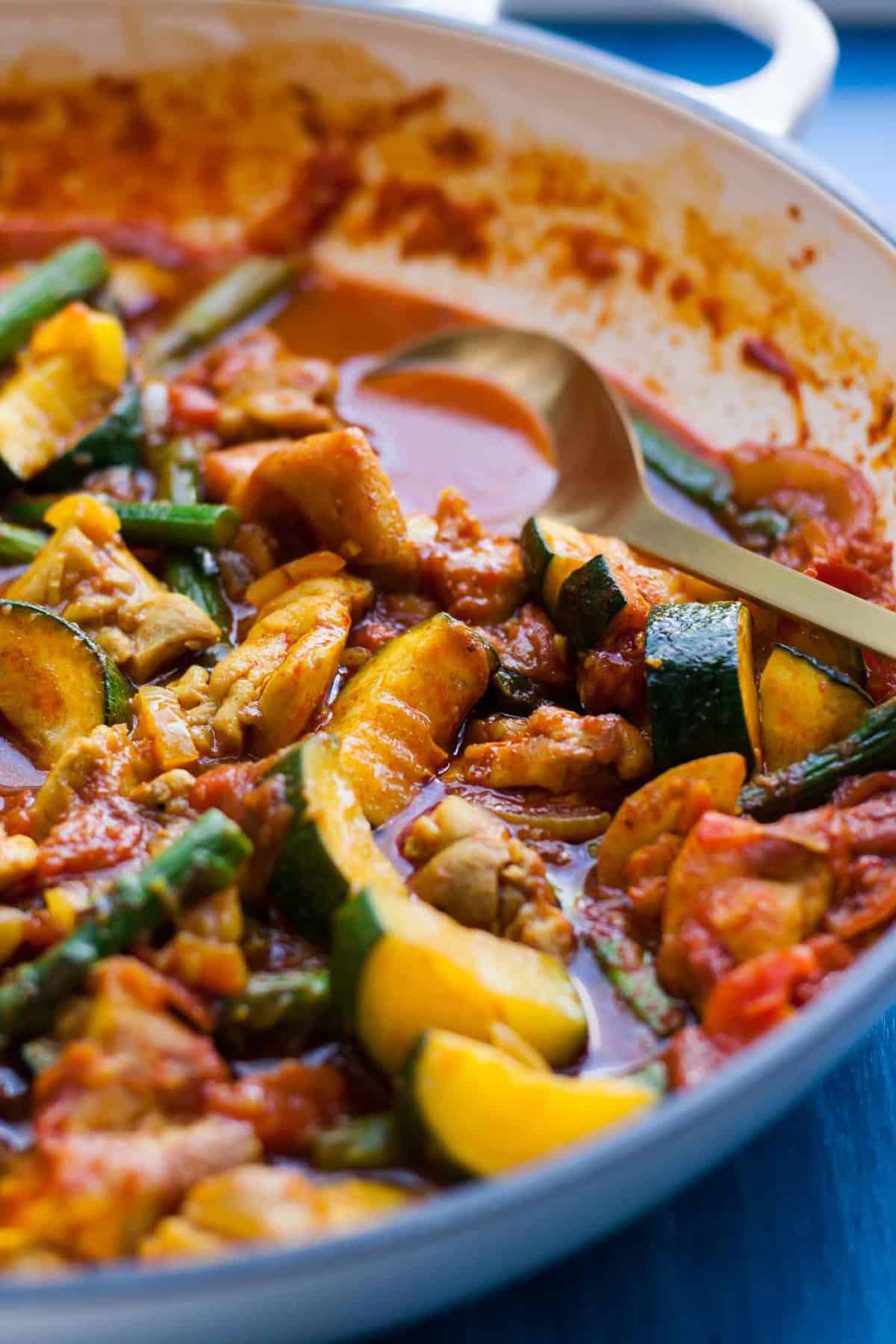 So! Let me tell you a little bit more about this Spring Vegetable Chicken Tagine! I like to cook this using two pans but if you don't fancy the extra washing up, you could definitely make it in one. It might just take a little longer, since I like to have two pans on the go at the same time and get dinner served up quicker! To a base of onions, garlic, spices and tomatoes we're adding seared chicken thighs, quickly sautéed spring veggies and simmering it all up in chicken stock. It doesn't take long to make something super flavoursome! I added some preserved lemons at the end too, for some extra zing! If you wanted to, you could add a can of chickpeas to make it go further too. I hope you love this recipe!
Spring Vegetable Chicken Tagine
A spiced tagine full of spring vegetables and chicken serve with cauliflower rice making a great dinner option.
Print Recipe
Pin Recipe
⭐️ Rate Recipe
Instructions
Score a cross into the skin of the tomatoes and place in a bowl. Pour over enough boiling water to cover the tomatoes and leave to sit for 30 seconds. Pour the boiling water away and plunge the tomatoes into cold water. The skin should now be easy to peel away. Peel and then dice the flesh.

Heat a tablespoon or so of oil in a large frying pan or shallow casserole dish. Peel the onion and chop into half moons. Add a pinch of salt and fry over a medium low heat until softened and slightly golden, about 10 minutes.

As the onion fries, prepare the other ingredients. Chop the chicken thighs into bite-sized pieces, season with salt and pepper and fry in a separate frying pan until golden (but not cooked through), about 5 minutes.

500 g boneless chicken thighs

Chop the asparagus into 2-inch lengths. Chop the courgette in half lengthways and cut into thick slices. Remove the chicken from the pan. Add the veggies to the pan the chicken was cooked in, season with salt and pepper and fry briefly until golden, 2-3 minutes.

250 g asparagus,

2 courgettes

Once the onion is softened, add the minced garlic to the pan. Cook, stirring constantly, for 1 minute. Add the spices and continue to stir for a minute. Add the diced tomatoes, chicken stock and cinnamon stick and simmer for 5 minutes.

4 medium tomatoes,

3 cloves garlic,

1 teaspoon ground turmeric,

1 teaspoon smoked paprika,

1 ½ teaspoons ground cumin,

1 teaspoon ground coriander,

500 ml chicken stock,

1 cinnamon stick

Add the chicken, vegetables and preserved lemon to the sauce and continue to simmer for about 10 minutes, until the chicken is cooked through and the vegetables are tender. Taste and season according to your preference - you may not need to if you stock was salted. Serve with cauliflower cous cous.
Cauliflower cous cous
Heat oven to 200C (400F). Break the cauliflower down into florets. Put the florets into your food processor and pulse until it resembles cous cous. (You may need to do this in batches depending on the size of your food processor). Place the cous cous in a large mixing bowl. Season with salt and drizzle with a tablespoon of oil. Mix well with a fork and then spread out on a baking sheet. Bake for 10-15 minutes, turning halfway, until lightly golden.
Notes
If you don't have a food processor you could make the cauliflower cous cous by grating the cauliflower on a box grater - takes longer but it works!
Nutrition
Calories:
398
kcal
|
Carbohydrates:
22.2
g
|
Protein:
27.8
g
|
Fat:
23.1
g
|
Saturated Fat:
6.2
g
|
Polyunsaturated Fat:
4.8
g
|
Monounsaturated Fat:
9.6
g
|
Cholesterol:
126.3
mg
|
Sodium:
300.7
mg
|
Potassium:
991.4
mg
|
Fiber:
4.6
g
|
Sugar:
9
g
|
Vitamin A:
102.5
IU
|
Vitamin C:
57.9
mg
|
Calcium:
77.8
mg
|
Iron:
4.2
mg
Did you make this recipe?
Leave a comment below with how you got on and don't forget to give the recipe a rating ⭐️⭐️⭐️⭐️⭐️. You can also tag @eatloveeats on Instagram - we love to see your creations!