Our zucchini galette is a rustic and savory tart showcasing the humble zucchini and celebrating summer produce. It's simple to make and packed with flavor, perfect for a summer lunch or to pack up for a picnic.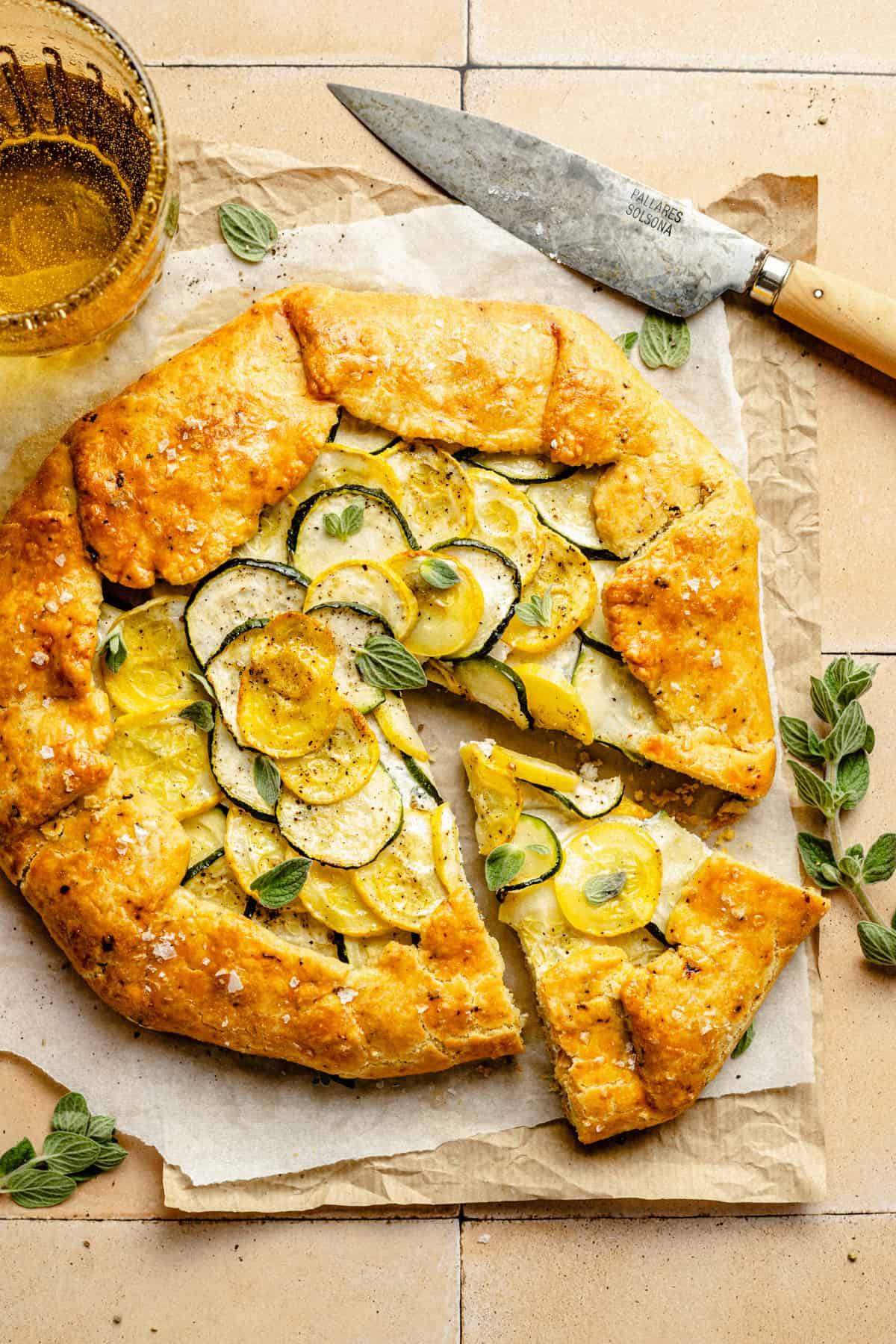 We love seasonal ingredients and this zucchini galette certainly celebrates the abundance of fresh, vibrant produce that will be overflowing at your local farmer's market. Zucchini is such a versatile vegetable that we love to add into numerous recipes we make. Like our chicken corn chowder that incorporates shredded zucchini into its creamy base. Oh and don't don't forget our super delicious chocolate chip zucchini bread for a dessert or afternoon snack too.
A delightfully satisfying and beautiful way to showcase this humble but colorful zucchini is a galette. We've taken this rustic and crisp open tart to the next level by layering it with seasoned ricotta, adding a wonderful creaminess between the crisp outer pastry. Why not create the best zucchini galette you'll ever make to celebrate the best of summer's bounty?
We know you'll love this recipe so much so be sure to leave us a comment and rate the recipe too. It means so much and takes seconds. Follow the links below to get exactly where you need.
Jump to:
⭐ Why you'll love this recipe
Here are some reasons why you need this zucchini galette recipe in your life:
Versatility - galettes are so versatile, you can make them savory or sweet, check out our cherry galette that makes for the perfect dessert too!
Crisp - the pastry in this savory galette is super crisp and golden with some extra crunch from cornmeal which pairs amazingly with ricotta.
Portable - eat it hot or cold, it transports well as long as you keep it flat. Perfect for heading out for a picnic.
Satisfying - with pastry, protein from the ricotta and plenty of veggies, a slice of this zucchini galette is definitely satisfying. Also it's pretty!
Healthy - coming in at under 300 calories a slice, that's not to be knocked for a slice of this summery delight.
📋 Ingredients
You only need simple ingredients for this savory zucchini galette recipe, this is what you'll need: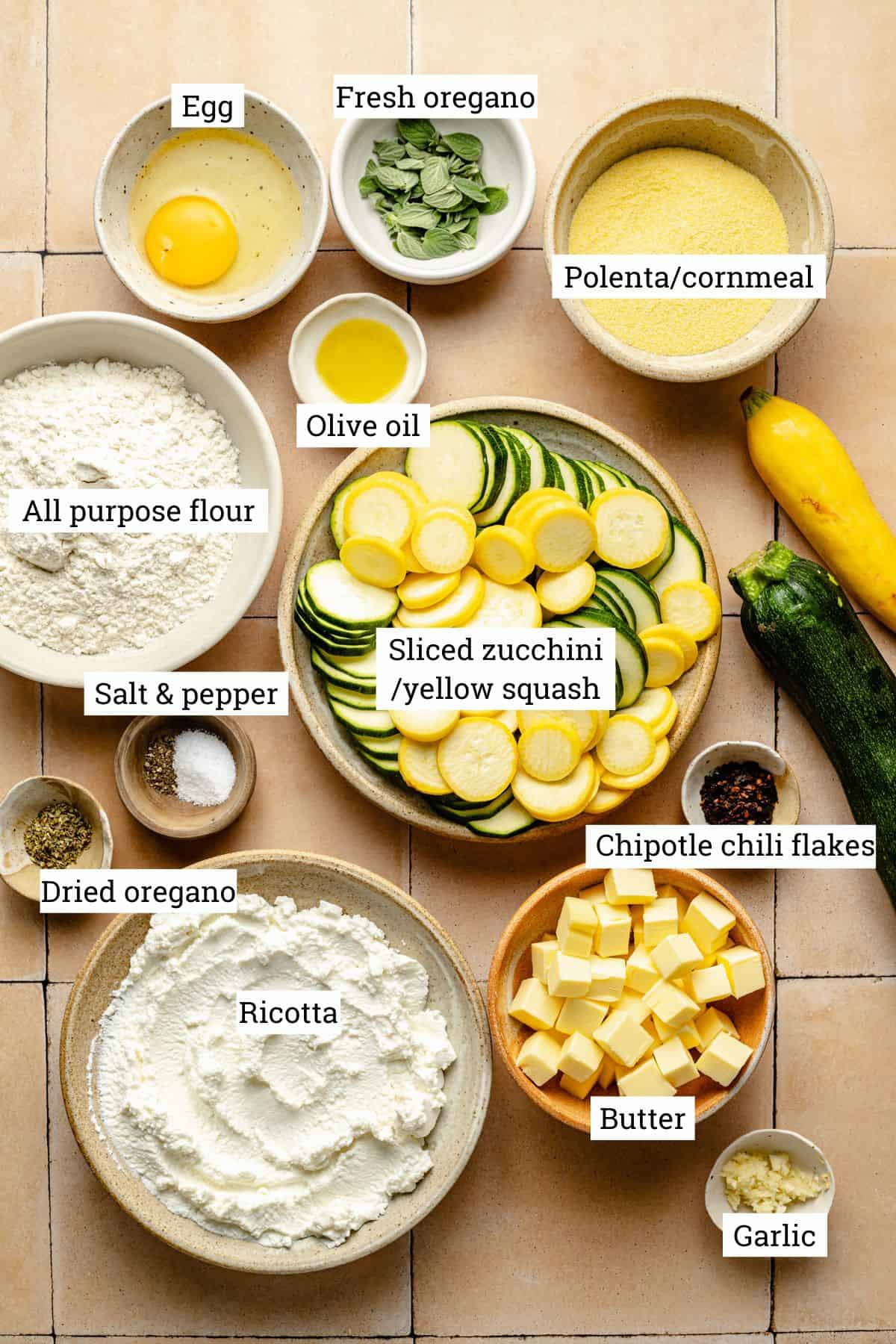 Zucchini - we use two small zucchini, or one medium one will be fine, using different colors will create a beautiful galette, but it's fine to just use green.
Cornmeal/polenta - the addition of cornmeal/polenta adds a lovely texture to the pastry.
Ricotta - adds a beautiful rich base to this galette when seasoned with garlic and oregano.
Chipotle chilli flakes - adding a little touch of heat and smokiness into the crust.
See the recipe card for full information on ingredients and quantities.
📖 Customizations
We know you love to mix things up with customizations and substitutions so here are some of our recommendations for our zucchini galette recipe:
Dairy free - this galette can be made dairy free by using dairy free versions of butter and ricotta.
Gluten free - If you require this galette to be gluten free you can switch out the flour with gluten free all purpose flour. We haven't tested this but it should work.
Flavors - mix up the flavors - you can add more garlic and lemon zest to the ricotta instead of oregano. Adjust the spiciness in the crust to your taste.
Cheese - instead of ricotta you could use a spreadable flavored cheese like Boursin or herby cream cheese spread for speed if you prefer.
🔪 How to make a zucchini galette
Follow these simple step by step guides to success for this savory galette recipe: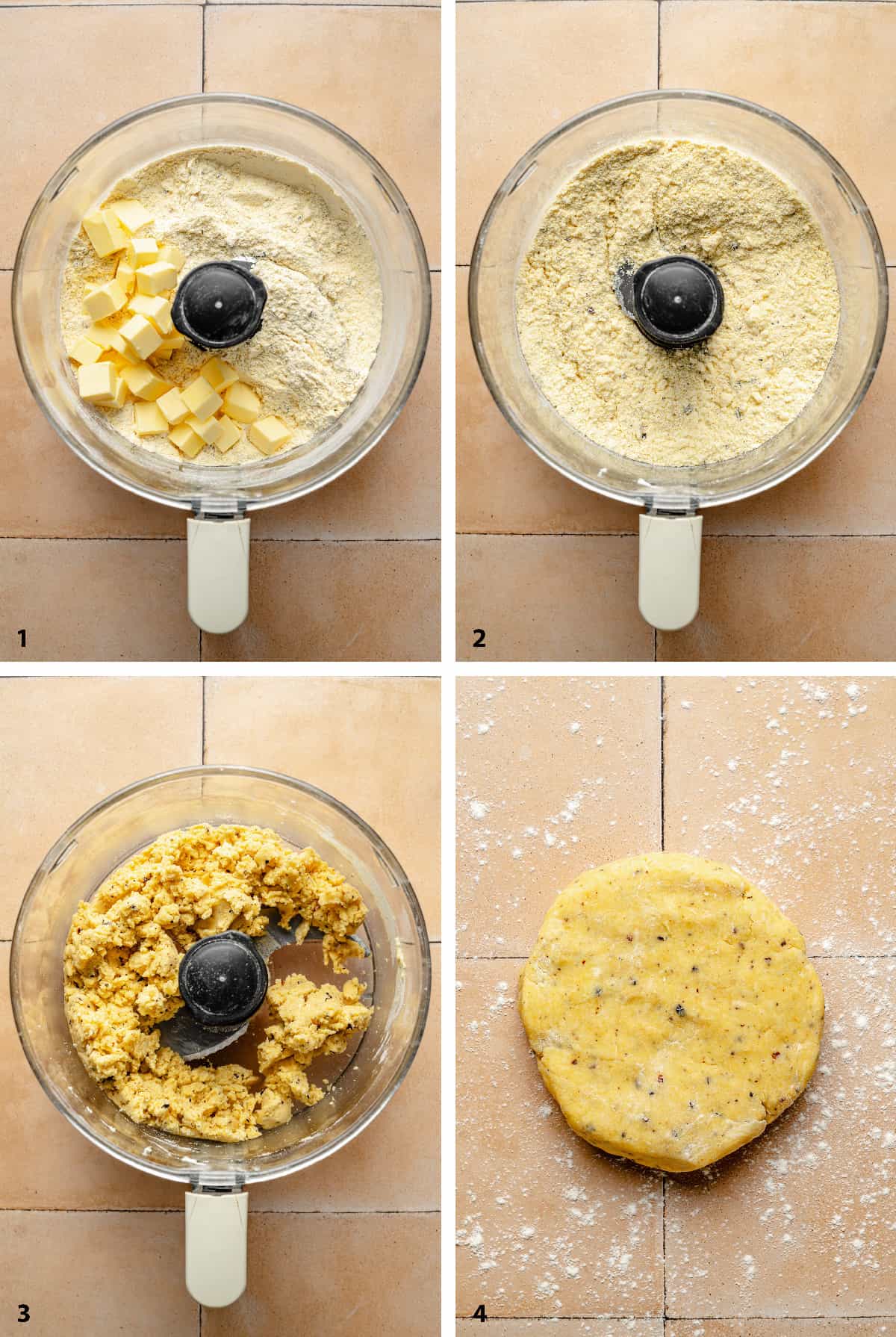 Add the dry ingredients for the pastry into the food processor bowl, pulse briefly to mix. Add the cold cubed butter on top.
Pulse the cold butter into the flour mixture until you create small pea sized crumbs.
Add the ice cold water a little at a time pulsing after each addition. Once the dough is clumped together don't pulse anymore.
Tip the dough out onto a lightly floured surface and form into a thick disk. Wrap in clingfilm and chill in the fridge.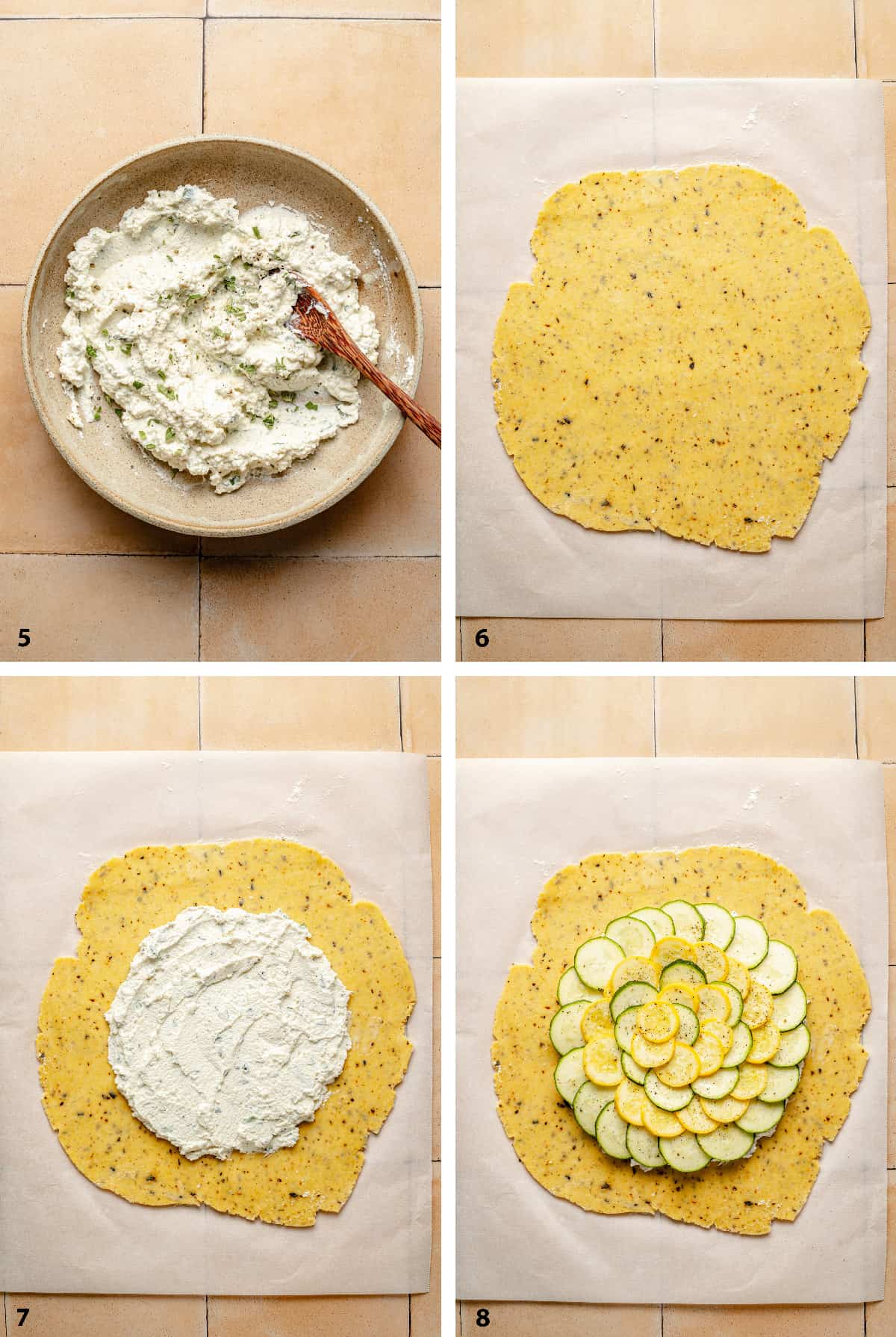 Mix the ricotta with the oregano, garlic, oil, salt and pepper until fully combined.
Roll the chilled galette pastry into an 11 inch round about ⅛" thick on parchment paper.
Spread the ricotta mixture in the center of the dough leaving a few inches around the edges.
Place the drained, salted and prepared zucchini on the ricotta mixture in the center.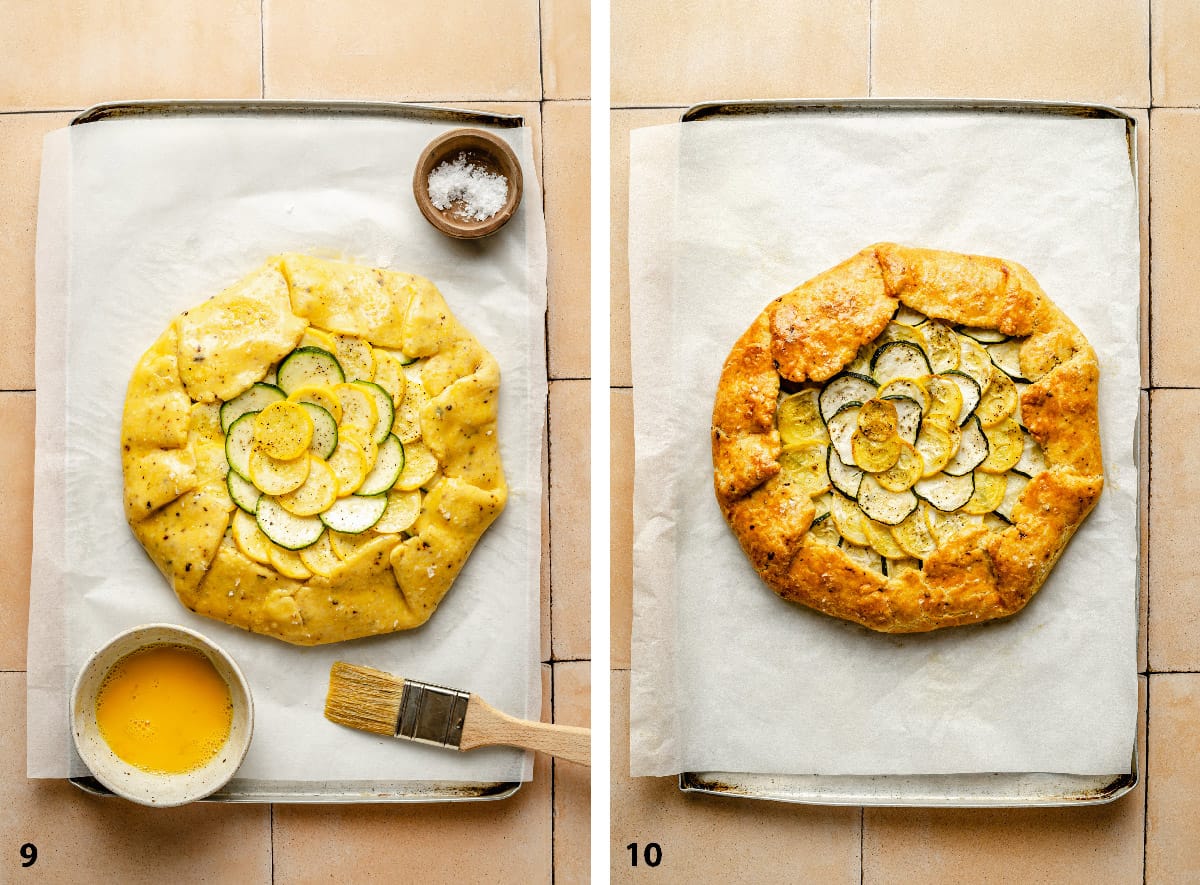 Fold the edges of the pastry in towards the center, brush them with beaten egg and sprinkle with flaky salt.
Bake in a preheated oven at 180°C/350°F (fan) or hotter for conventional (190°C/375°F) for 45 minutes until golden brown.
👩‍🍳 Expert tips
Make sure to read and follow these expert tips to ensure complete success with this zucchini galette recipe:
Cold - pastry is best made in the cold, we help this by ensuring the butter is fridge cold and that the water being added is ice cold. This helps create a nice short pastry perfect for the galette.
Chill - if your pastry dough has got a bit soft whilst working it, you can chill it in the fridge until you are ready to bake the galette.
Prepare the zucchini - be sure to follow the step for pre-salting and draining the zucchini slices on kitchen paper. This will prevent any excess moisture leaking into your galette.
Eating - allow the zucchini galette to sit for 5-10 minutes to cool slightly before eating. Transfer to a cooling rack to cool completely if saving for a picnic.
🥒 How to make a non-soggy galette
The most common question about making a galette is how to ensure the pastry and therefore the whole galette is not soggy. Follow these steps for making our zucchini galette:
Place the sliced zucchini on kitchen paper.
Sprinkle generously with kosher salt on both sides.
Place some more kitchen paper on top and allow to drain for 10-15 minutes.
There are other means to prevent extra moisture, this pre-salting is definitely the best way for zucchini.
🍽 How to serve
Cold - once chilled you can serve slices as part of a bigger summer lunch spread along with salads and cold cuts. It cuts and transports very well as long as you keep it flat.
Hot - you can eat the zucchini galette warm or hot after it has been baked. You can also reheat it in the oven. The crust may go soggy if reheated in the microwave.
Salad - if you're after some salads that will go with our zucchini galette, be sure to check out our selection of salads that are absolutely delicious!
🥡 How to store
You can store our zucchini galette in a couple of ways:
Fridge - for short term storage the galette is best stored in the fridge for up to 3 days due to the presence of ricotta. It can be eaten cold or reheated in the oven until hot again.
Freezer - if you want long term storage you can wrap the zucchini galette in clingfilm or foil and store in a freezer bag in the freezer for up to 3 months. Defrost in the fridge overnight before reheating in the oven and eating.
💭 Recipe FAQs
How do you make a galette not soggy?

It depends on the galette, if it's fruit, often cornstarch is used, or almond flour can be used like in our cherry galette. However in this zucchini galette we prepare the zucchini by pre-salting and draining on kitchen paper until extra moisture is released. This will make sure your pastry base is crispy and enjoyable.
Is a galette best served hot or cold?

You can enjoy galette served cold, warm or hot, it depends on what you enjoy and how it is being served. It's delicious however it is served!
🥗 Related recipes
Love this zucchini galette recipe? Then you may want more of our summer recipes. Here are some suggestions to get you started:
Love this recipe? Leave us a 5-star ⭐️⭐️⭐️⭐️⭐️ rating in the recipe below and don't forget to leave a review in the comments section underneath the recipe. We love hearing from you!
Why not follow along with us on our social media channels @Instagram @Facebook and @Pinterest and tag us with #eatloveeats when you've tried one of our recipes!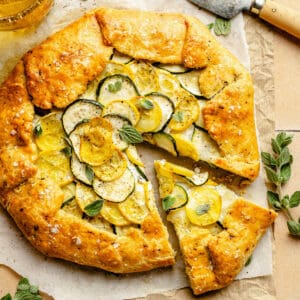 Savory Zucchini Galette
This savory flavored zucchini galette is packed with seasonal zucchini on a bed of ricotta. It's great to make for a late summer lunch, or to pack up for a picnic.
Print Recipe
Pin Recipe
⭐️ Rate Recipe
Instructions
To make the pastry
Place the flour, polenta, salt, chipotle chilli flakes and oregano into your food processor and pulse briefly to mix. Add the butter to the processor and pulse until the butter resembles small peas in the flour.

1 ¼ cup all purpose flour,

½ cup polenta/cornmeal,

½ teaspoon kosher salt,

1 teaspoon chipotle chilli flakes,

½ teaspoon dried oregano,

½ cup cold unsalted butter

Pour in 4 tablespoons of ice cold water and continue to pulse until a ball of dough forms, adding a little more water if necessary. Tip the dough out onto a floured surface and pat gently to form a disc. Wrap in cling film and refrigerate for 30 minutes.

4 tablespoons ice cold water
To make the filling
In a small bowl, mix together the ricotta, fresh oregano, garlic and oil until well combined. Season with salt and pepper.

1 cup ricotta,

1 tablespoon fresh oregano leaves,

1 clove garlic,

1 teaspoon extra virgin olive oil,

¾ teaspoon kosher salt,

¼ teaspoon freshly ground black pepper
Preparing the zucchini
Once you have sliced your zucchini to ⅛ inch thick you'll need to season both sides with kosher salt and place between some kitchen paper for 10 minutes to express any excess moisture. They will then be ready to use.
To assemble and bake
Preheat the oven to 180°C/350°F (fan) or hotter for conventional (190°C/375°F). Once the dough has chilled, remove from the fridge and roll out on a floured surface so that it's about ⅛" thick and 11 inches in diameter. Transfer the rolled out dough to a baking tray lined with parchment paper.

Spread the ricotta mixture over the crust, leaving a border a couple of inches wide around the edges. Lay the zucchini slices on top and brush with a little oil and sprinkle with salt and pepper. Fold the edges of the dough over the filling. Brush the edges of the dough with the beaten egg and place in the fridge for 15-20 minutes to rest before baking.

Sprinkle the egg coated edges with flaky salt and bake for 45 minutes or until golden brown. Allow to cool a little before slicing.

flaky salt for sprinkling
Notes
The galette will store in the fridge for 3 days until the pastry will start to get more stale. You can freeze it if you would like to keep it for longer.
If you are sensitive to spice, reduce the chipotle chilli flakes to

½

teaspoon.
Crust recipe slightly adapted from Half Baked Harvest.
Nutrition
Serving:
8
Slices
|
Calories:
284
kcal
|
Carbohydrates:
26
g
|
Protein:
8
g
|
Fat:
17
g
|
Saturated Fat:
10
g
|
Polyunsaturated Fat:
1
g
|
Monounsaturated Fat:
5
g
|
Cholesterol:
67
mg
|
Sodium:
411
mg
|
Potassium:
172
mg
|
Fiber:
1
g
|
Sugar:
1
g
|
Vitamin A:
691
IU
|
Vitamin C:
5
mg
|
Calcium:
93
mg
|
Iron:
2
mg
Did you make this recipe?
Leave a comment below with how you got on and don't forget to give the recipe a rating ⭐️⭐️⭐️⭐️⭐️. You can also tag @eatloveeats on Instagram - we love to see your creations!