This Slow Cooker Chicken Corn Chowder recipe is perfect for those days when you need a hug in a bowl for dinner. So comforting and perfect for meal prep too.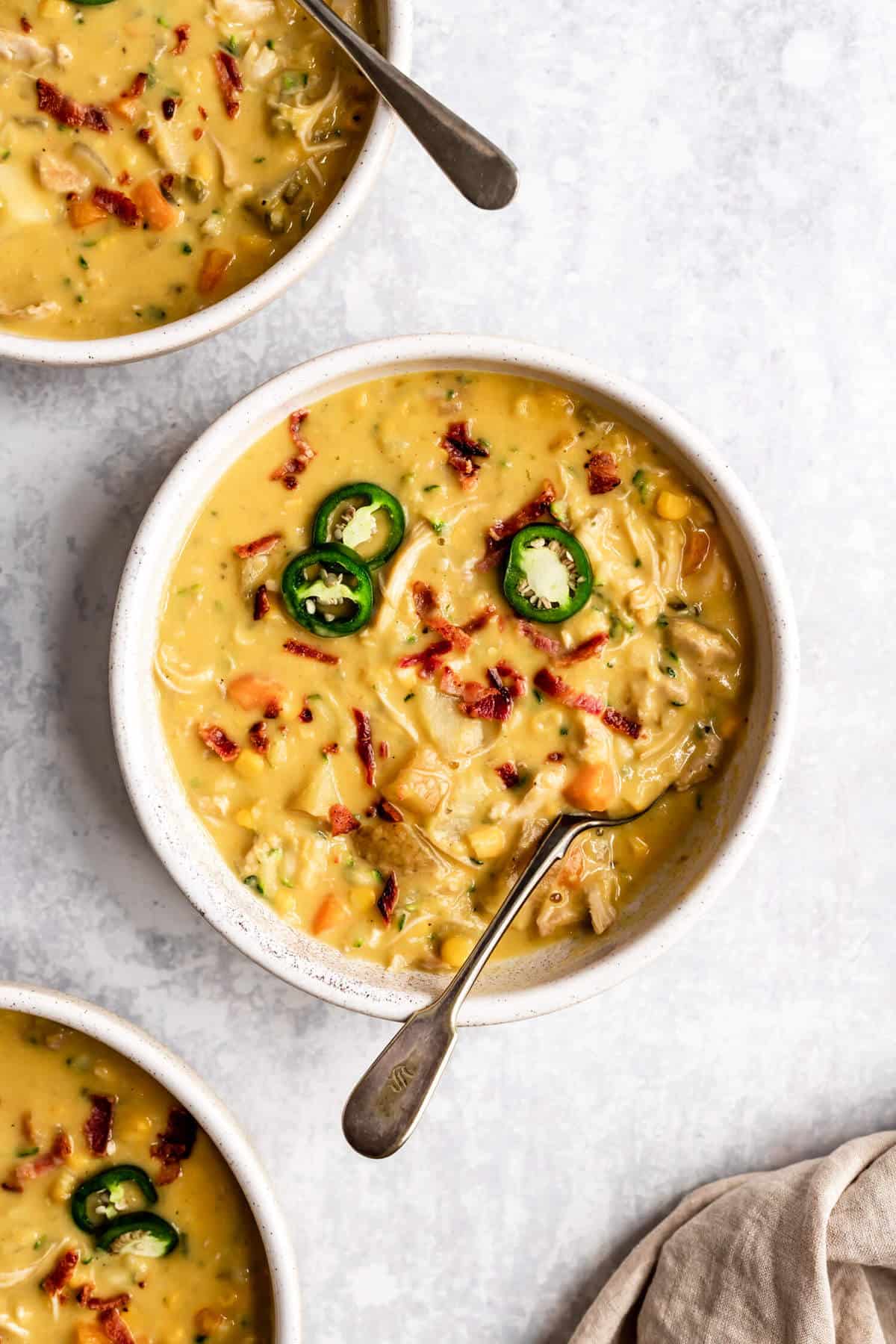 Are you ready for the best bowlful of cosy corn chowder? More specifically, chicken corn chowder made in the slow cooker! If you're looking for a low-fuss dinner that's full of flavour, this is for you!
This slow cooker chicken corn chowder recipe came about when I was looking to use up some ingredients I had lurking in the fridge. You know the times, when you've bought just a few too many veggies as you were being a bit over ambitious with your meal prep plans that week? Just me? On this occasion, I had a bunch of corn on the cob, some sad potatoes and a couple of courgettes to use up. I happened to have been dreaming of corn chowder for a while but I was also feeling quite tired and wanted to get dinner on the table with minimal effort. So everything went into the slow cooker! I added chicken thighs too, to make it more of a meal. A few hours later, we were snuggled up with bowls of the most insanely delicious chicken corn chowder. I love it when recipes turn out first time!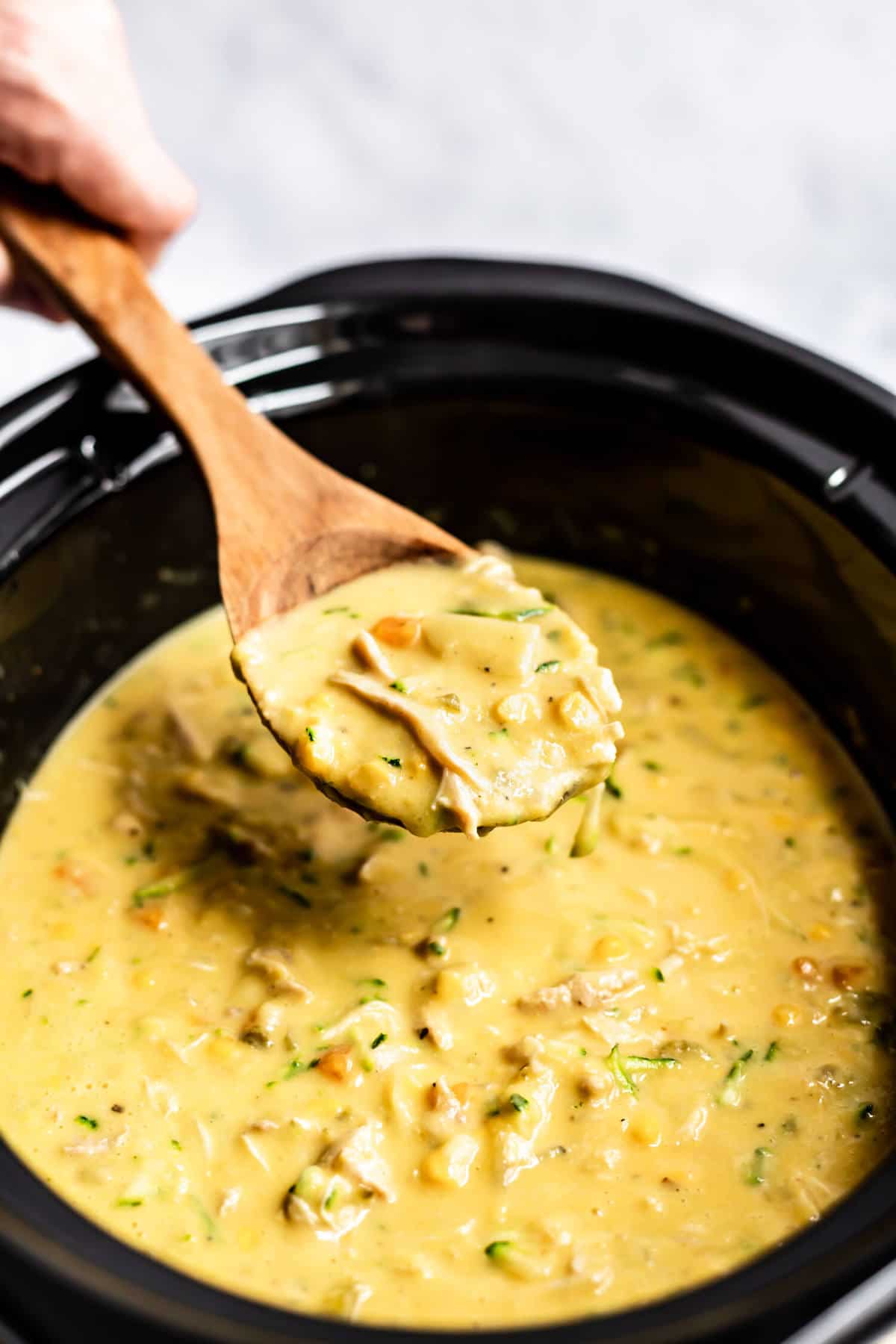 What ingredients will I need?
You don't need anything fancy to make this slow cooker chicken corn chowder. In fact, most of the ingredients are pantry staples – win!
onion, carrot and celery – the base of all good soups, this humble trifecta adds so much flavour to this chowder!
garlic – for even more flavour!
jalapeno – this is optional, but I love the grassy green note it adds, along with a touch of heat (although I must say, most of the jalapenos I come across here in the UK lately are disappointingly un-spicy)
potatoes – the perfect comfort food, these also help to thicken the soup.
corn on the cob – can't have a corn chowder without corn! Whilst it's in season, use fresh corn, but feel free to use frozen corn to make this anytime of year. Make sure to defrost the corn before adding to the mix though, otherwise it'll take too long to heat up the slow cooker.
chicken stock – the liquid for the soup, this provides lots of depth to the chowder. You could sub vegetable stock if you like. The stock I use is salted so I taste and season at the end. If you're using stock that doesn't have salt added, I'd start by using 1 teaspoon of fine sea salt and then taste at the end to see if you need any more.
boneless chicken thighs – you can use chicken breast instead if you must, but chicken thighs are so tender and flavoursome!
courgette/zucchini – I like to grate this and add it at the end for extra colour and texture! Extra veggies are always a bonus! Squeeze it out in kitchen paper before adding to prevent adding too much liquid to the soup. You can leave it out if you like, but it also helps to thicken the chowder at the end.
double/heavy cream – just a splash of this goes in at the end to add extra richness but you could definitely leave this out if you prefer! Or try using something like oat cream if you need it to be dairy free!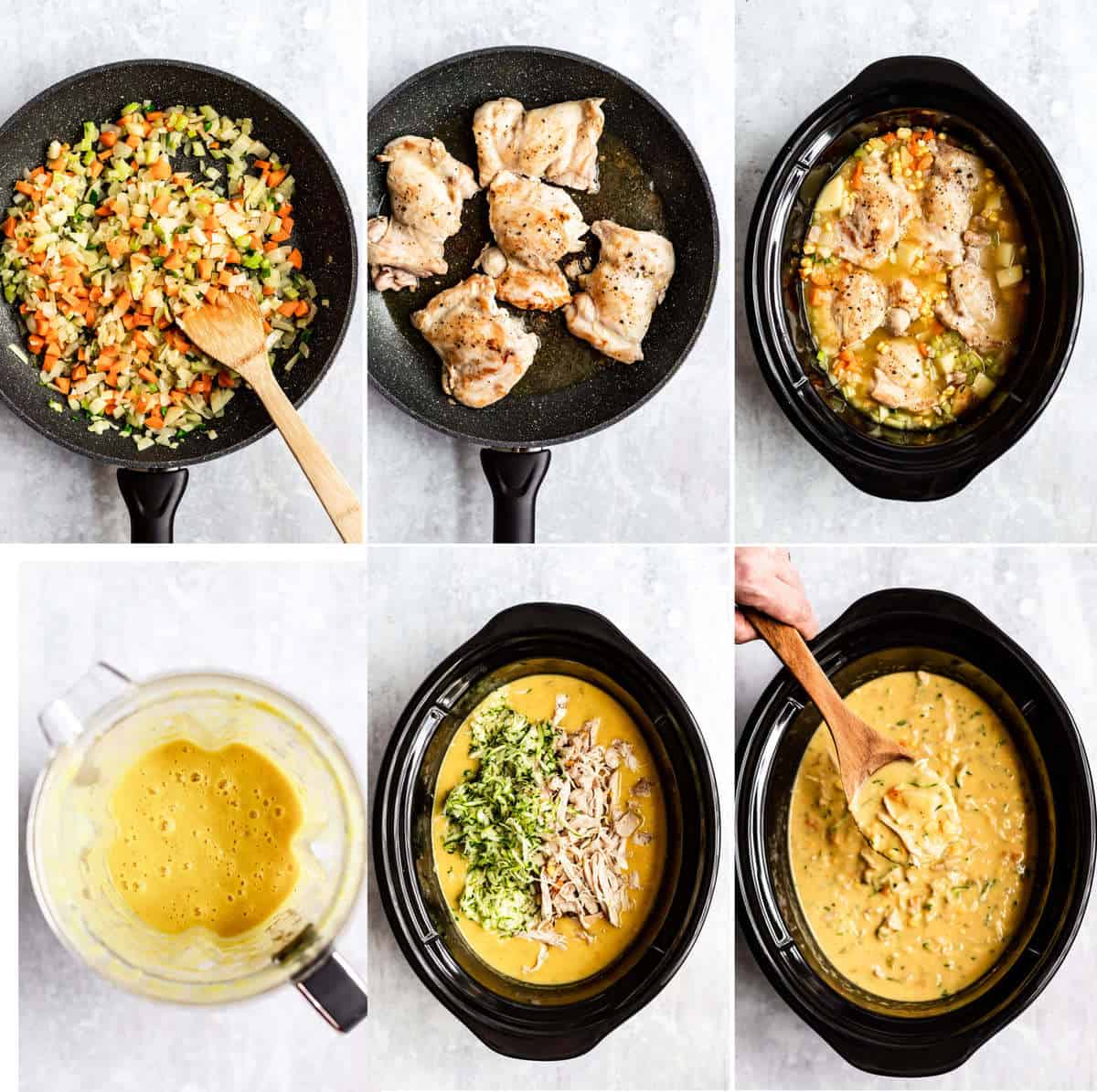 How to make slow cooker chicken corn chowder
It's really easy to make chicken corn chowder in the slow cooker. I've added in a couple of steps that require you to do a little bit of work outside of the slow cooker, but I promise it's worth it in terms of flavour and texture.
Start by sauteing the finely chopped onion, carrot, celery, garlic and jalapeno in a large frying pan until softened. Adding a pinch of salt of this stage helps to soften the veggies and start to build a good layer of flavour. You can skip this step if you really like, but the chowder tastes better if you don't.
Transfer the cooked vegetables to the bowl of a large (5.6L or 6 quart) slow cooker. This is the slow cooker (affiliate link) I use and love! At this point, we also add in diced potatoes, corn kernels and chicken stock. Give everything a stir.
In the same pan that you cooked the veggies, add a tablespoon of olive oil and sear the chicken thighs until browned. Again, you can skip this step if you don't have time. Place the chicken thighs into the slow cooker, making sure they're submerged in the stock.
Place the lid on the slow cooker and cook on high for 3-4 hours or low for 6-7 hours. Once the cook time is up, remove the chicken thighs from the bowl of the slow cooker and shred the meat using two forks.
Remove 4 cups of the chowder and place in a blender. Carefully blend until smooth and pour back into the slow cooker. Stir to combine. If you don't have or want to use a freestanding blender, try using a stick blender to roughly blend the soup at the end.
Return the shredded chicken thighs to the chowder along with the grated and squeezed courgette/zucchini and the double/heavy cream. Stir well and continue to heat on high for 10 minutes.
Season to taste and serve! I like to serve a little crispy bacon on top.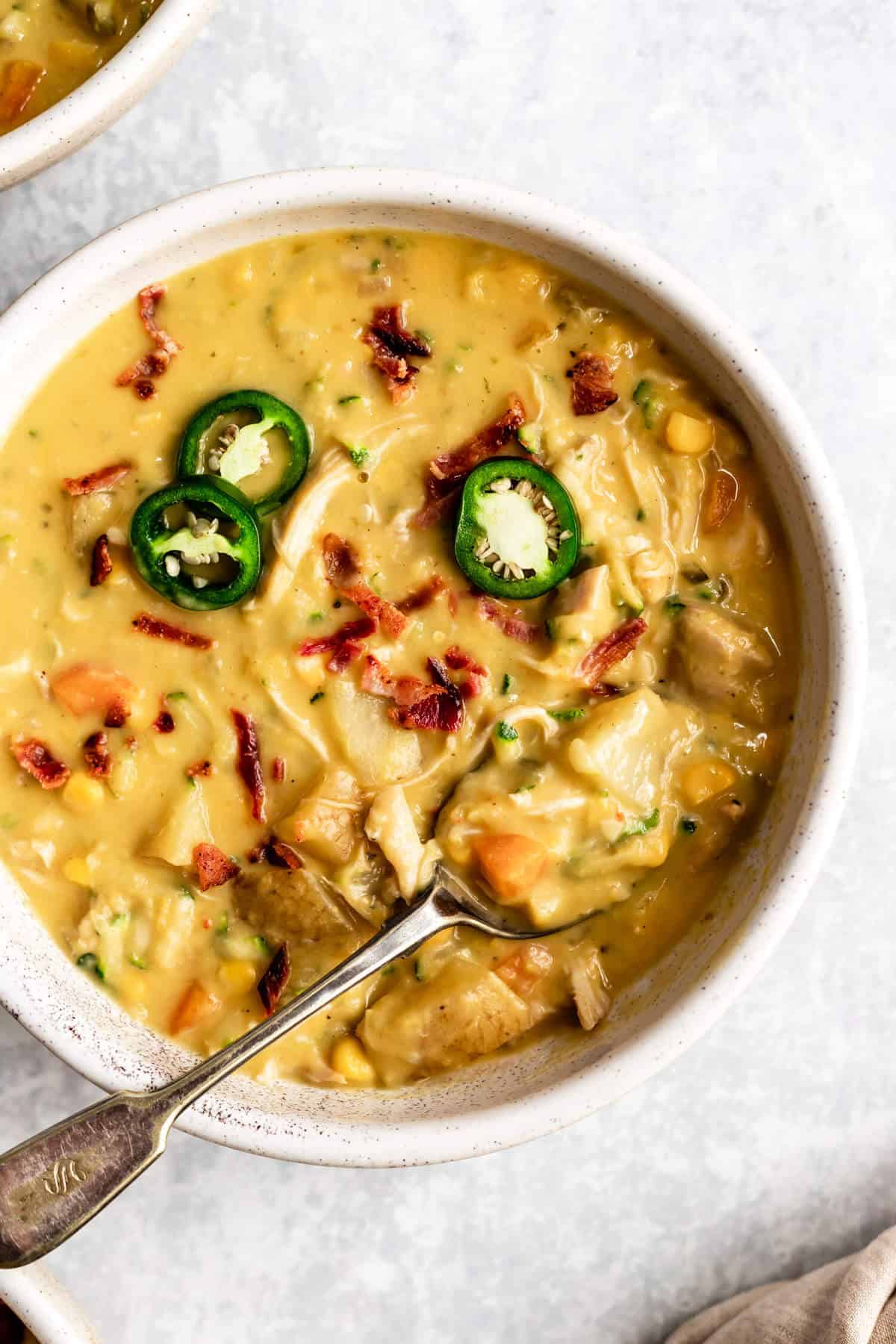 Can I freeze chicken corn chowder?
Yes, absolutely! Portion it out into freezer safe containers or freezer bags and freeze for up to 3 months. Alternatively, keep in a sealed container in the fridge for 3 days. Perfect for planning ahead for busier times, or even just for your weekly meal prep.
I hope you love this slow cooker chicken corn chowder as much as I do! Looking for more cosy soups? Why not try my sweet potato tahini soup?