This post contains affiliate links from which we could earn a small commission. Please read our Privacy Policy for more information.
This slow cooker chicken corn chowder is a delicious and approachable soup to put together. It's beautifully creamy and is full of flavour - you need this easy meal prep recipe to make your life simple!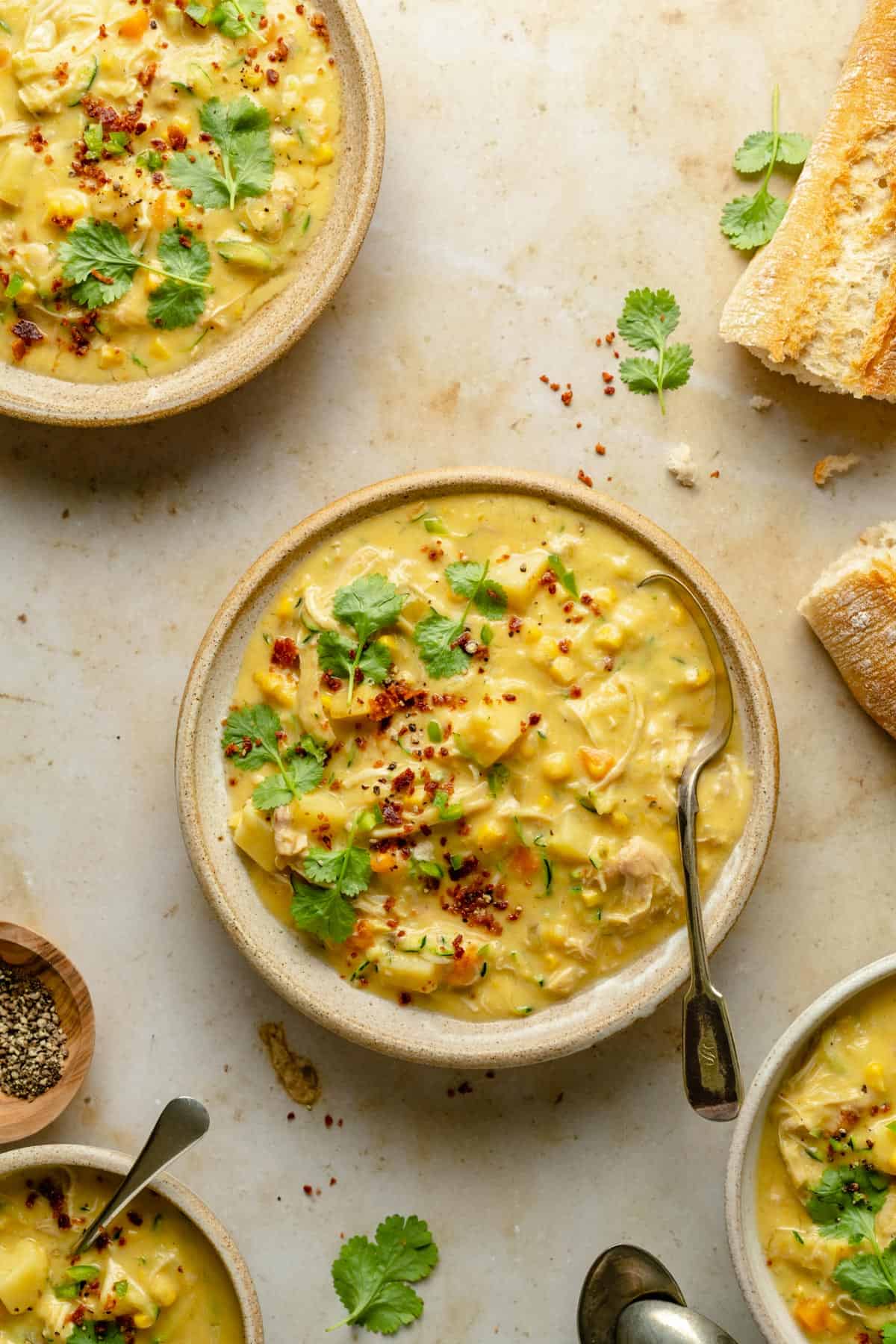 One thing we make sure of here at Eat Love Eat is to provide you with simple ways to get delicious and nutritious, yet satisfying meals on the table. We're hooking you up here with this chicken corn chowder recipe that has all the flavour you want with minimal effort. My smoky roasted butternut squash red pepper soup or Roasted Butternut Squash and Chickpea Curry with Lentils will definitely send you to flavour town as well 😍
So, are you ready for the best bowlful of cosy chicken corn chowder? I've got you sorted with all the tips and tricks you need throughout this post to help you create the flavour you are looking for. I love throwing meals together from some ingredients I've had lurking in the fridge, it's the perfect time to use up all those fresh sweetcorn cobs 🌽🌽 and zucchini/courgettes!
As much as I love summer, I like to slowly transition into fall with the types of meals I eat. I love fall but sometimes, summer is so hard to let go of! I mean, soups and chowders can be created and enjoyed any time of the year depending on the ingredients. We love using fresh corn on the cob in this recipe, as it just adds a lovely crisp texture and sweetness to the chowder. It's usually readily available around summer and into early fall. Chowder is most traditionally thickened with a roux (a thickening paste) made with butter and flour. In this recipe we get the thickness from the potato and when the soup is partially blended and mixed back in, a lovely creaminess too. Whilst we are still enjoying the latter end of summer, you can gently transition into fall with a slow cooker chicken corn chowder like this. And bonus: there's no need to hover over a hot stove for hours. Let's get to it then!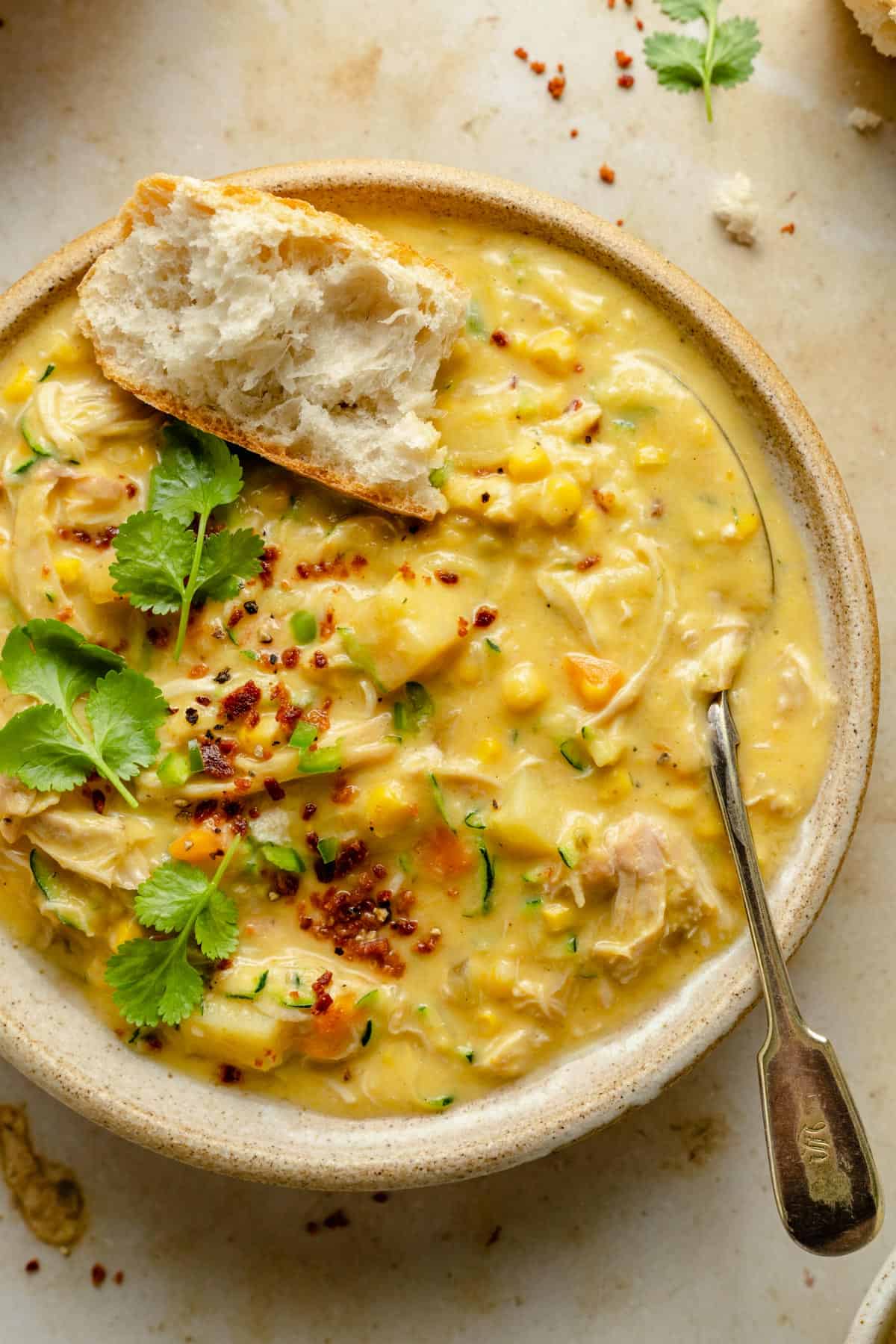 What ingredients do I need?
You only need simple ingredients for this corn chowder as we want to make this as approachable as possible. Here's what you need:
Base of the soup - all soups start with base ingredients to build flavour; for this you'll use the wonderful trifecta of onion, carrot and celery.
Aromatics - Corn chowder absolutely lends to building layers of flavour, you'll definitely need garlic and jalapeño. The jalapeño is optional - but I love the grassy green notes it adds along with a bit of heat.
Potatoes - the perfect comfort food, I use Maris Piper potatoes which are readily available in the UK but you can use any all rounder potato. Yukon gold potatoes are nice too. These add to the creaminess and will thicken the chowder.
Corn on the cob - every corn chowder needs corn! I love using the seasonal fresh corn on the cob. You can always use frozen corn out of season, which is just as good.
Courgette/zucchini - extra veggies are an absolute bonus, you'll add a touch of green and freshness to the chowder whilst also helping thicken the soup by adding grated zucchini towards the end of cooking.
Chicken stock/broth - an important part of any soup will be good broth, it adds a lot of depth of flavour which is what we are all about here! I use pre seasoned stock/broth but you can use non salted broth and adjust the seasoning separately.
Chicken thighs - we extract even more flavour from these with a little prep and pre frying. I use boneless skinless chicken thighs.
Cream - I use a splash of double/heavy cream, it adds extra richness and creaminess. You can use a dairy free alternative if you prefer.
What makes this the best slow cooker chicken corn chowder?
Pre-sautéing ingredients - Often with using a slow cooker, the temptation is to throw everything in raw but this often leaves you with a raw flavour, especially from the onion, regardless of how long the dish cooks for. But just a few minutes of prep delivers all the flavour we promise you. THIS is what makes this worth it. You can even do all the pre-sautéing, leave it to cool and put it into an air-tight container to make the recipe at a later date. I wouldn't miss this step as this is where all the flavour develops.
Fresh seasonal produce - I love using fresh produce when it is in season. This recipe definitely celebrates corn and zucchini/courgette. They add sweetness and texture and most importantly veggies as we like to ensure we are consuming enough vegetables and fruit.
Creaminess - The step of blending within the recipe is essentially the cream building step. The corn and potato create a velvety smooth creaminess that just can't be beaten. It also thickens the chowder, which would usually be achieved with a thickener like a flour roux. This blending step skips the whole roux process and provides a wonderful creamy soup. You can even skip the addition of cream if you want, which just adds another level of richness.
How to put it all together?
Let's get to the nitty gritty, this corn chowder is so simple to throw together you'll be hands free cooking in no time. Follow these step by step instructions to put your creamy chicken corn chowder in the slow cooker.
Flavour building steps
Start by sautéing your onion, carrot, celery, jalapeño and garlic in a skillet over a medium high heat for 5-7 minutes until slightly softened.
Tip #1 Seasoning the veggies with ¼ teaspoon salt will aid caramelisation and build flavour.
In the same skillet, season both sides of your chicken thighs with ½ teaspoon salt and some freshly ground pepper, sauté them until golden on both sides. We aren't aiming to cook the chicken through here, just to build flavour. Golden = flavour!
Tip #2 The browning of the chicken is caused by the Maillard reaction (a chemical reaction between amino acids and reducing sugars that gives browned food its distinctive flavour) - all you need to know is that it creates the 5th flavour umami, which is savoury and yummy!
Place all the ingredients in the slow cooker or crockpot! Put it on low for 6-7 hours or 3-4 on high.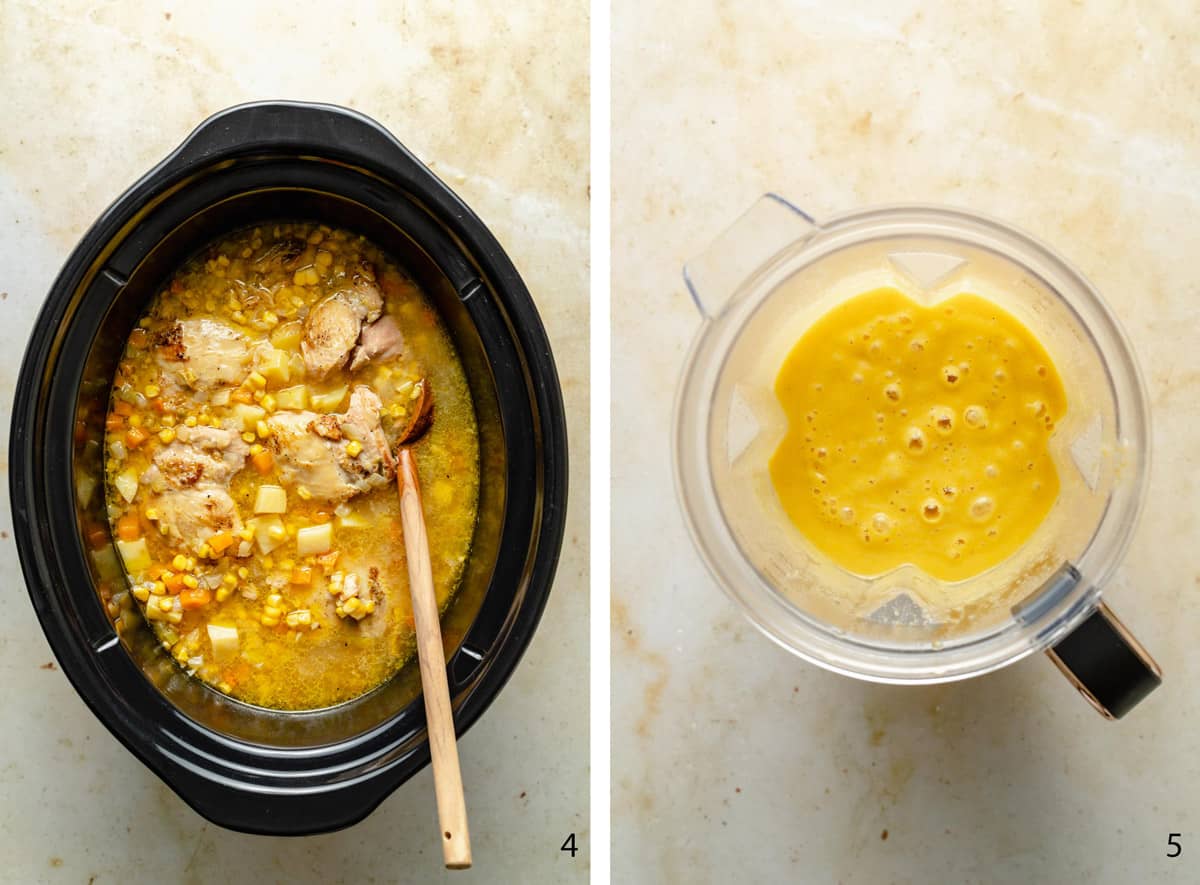 Making it creamy
Once it's all cooked, absorb the yummy smells coming from your crockpot. Take the chicken out, shred it on a plate and leave to the side.
Blend 4 cups of the veggie chowder liquid mix left in the pan. Make sure to get an even mix of liquid and veg. Blend until smooth and creamy.
Tip #3 You can do this with a stick blender if you don't have a jug blender.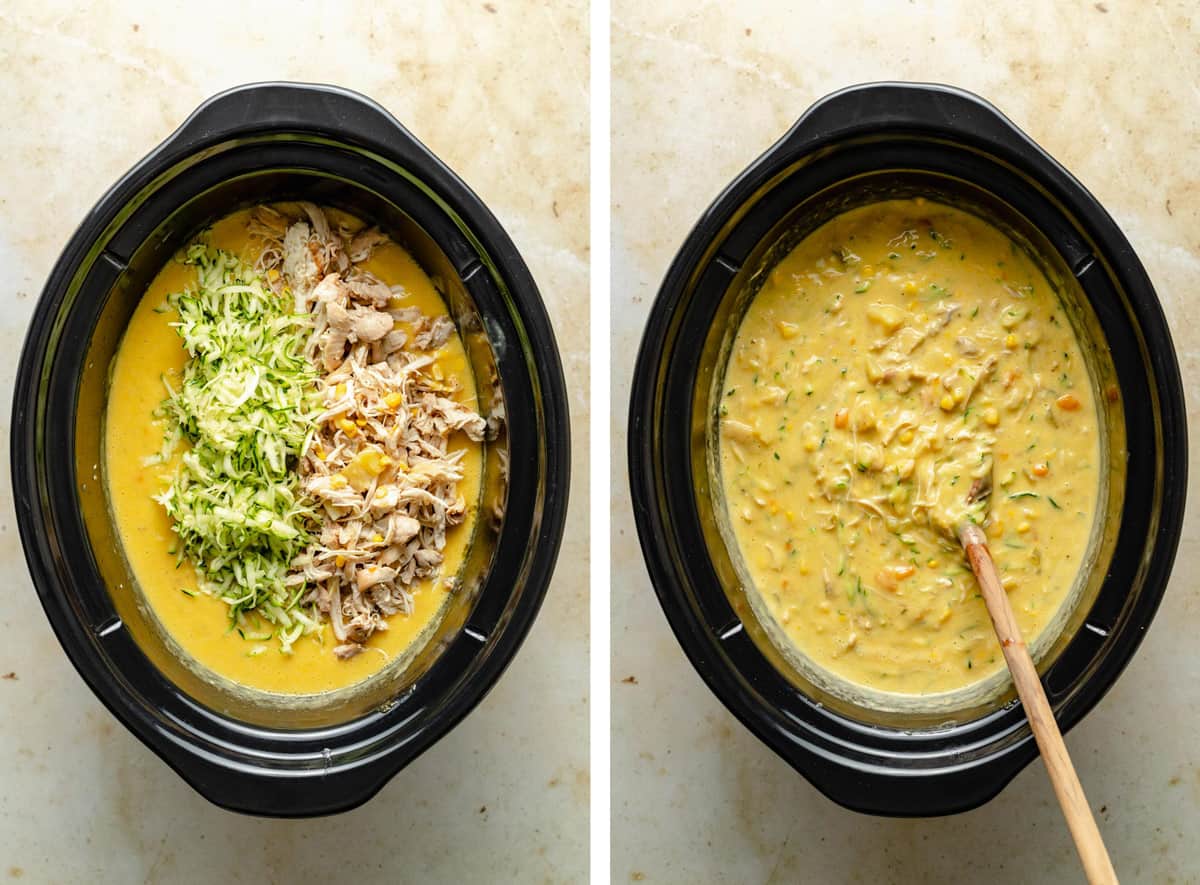 Finishing the soup
Add the blended soup back into the slow cooker and mix together. Add all your shredded chicken and squeezed out grated zucchini.
Stir together with the cream if you want to add it in. Return the pot to the slow cooker on high heat for 10 minutes. Check the seasoning of the chowder and adjust if necessary.
Tip #4 Definitely check for seasoning here as courgette is notoriously bland and the cream can also dampen the flavours. You may need to adjust a little here.
FAQs
How do I store my chicken corn chowder?
In the fridge - keep the chowder in an airtight container for up to 4 days. A great option to provide a warming easy go-to meal.

In the freezer - you can freeze the chowder for up to 3 months in portion sized containers. Before reheating you will need to defrost the soup overnight in the fridge before following the below instructions. 

How to reheat - reheat the amount you want to use in a saucepan over a medium heat until the soup is hot throughout, about 10 minutes. Or you can use a microwave on high for 2 minutes, stirring halfway through the heating.
Want some other tasty soup options?
I hope you love this slow cooker chicken corn chowder as much as we do. If you make it, be sure to leave a comment, rate the recipe and tag me on Instagram! I love to see your creations!
This post was first posted on September 20, 2019 and updated with new tips, tricks and photos August 30, 2021.