This post contains affiliate links from which we could earn a small commission. Please read our Privacy Policy for more information.
This roasted butternut squash curry is infused with Indian spices and packed full of filling chickpeas and red lentils making a very satisfying meal. Bonus that it is very easy to make and completely vegan too!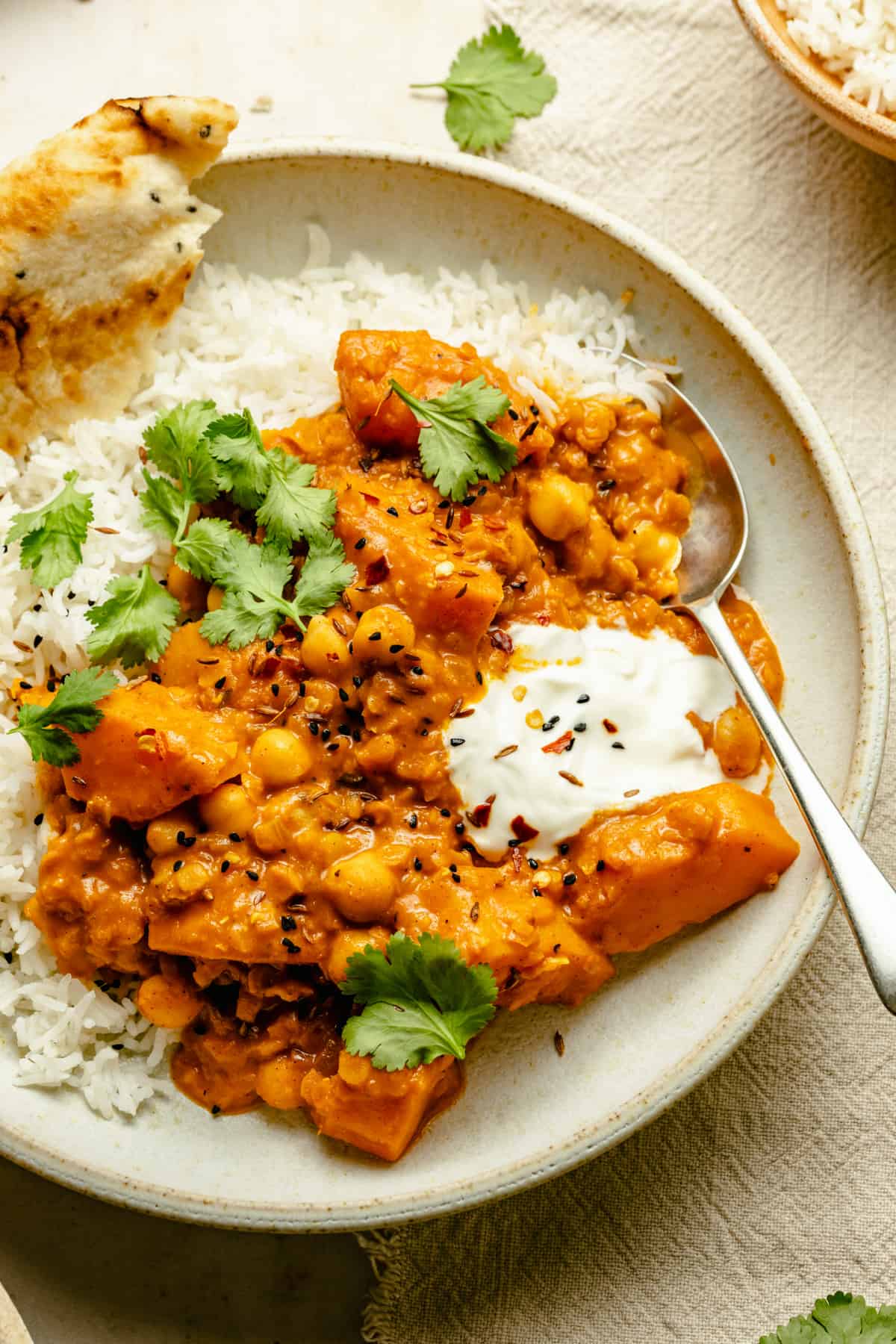 It's officially fall and to me that definitely means it's cosy food season right now! I love a good curry, but sometimes I find they can be too greasy, too hot or too sweet and unbalanced. So, I've got a right treat for you with this perfectly spiced warming butternut squash curry that I swear we ate every night this last week, it's that good!
Making a homemade curry can sometimes feel daunting, using spices and achieving that balance I was talking about; I've often felt I have no idea where to start! Well, I'm not trying to reinvent the wheel here. I'm just going to give you a foolproof guide on making the most balanced and trusted recipe that we have in our repertoire. At Eat Love Eat we always provide you with recipes that are trustworthy, delicious and foolproof!
Butternut squash has grown to be one of my favourite vegetables, so why not make a lovely warming curry with squash at the centre? It's cheap, readily available and so delicious! I just love this time of year for its wonderful abundant produce!
So, let's get to it! I know you'll love this curry as much as we do. Let us know how you get on in the comments and don't forget to leave a rating!
Ingredients you'll need (with tips)
The majority of the ingredients for this butternut squash curry are easy to come by. If you struggle to find any of them they are often readily available online (check out the links below).
Butternut squash - you'll need a nice firm butternut squash, it provides sweetness to the curry but is balanced nicely by being roasted with spices. The depth of flavour in this dish is enhanced by the roasting process.
Aromatics - Most flavoursome curries will have a base of aromatics, in this one you will need onions, garlic and ginger to build that flavour right from the start.
Spices - You'll need the following spices to create an incredible curry: ground cumin, coriander, cinnamon, kashmiri chili powder, turmeric powder, fenugreek leaves, black pepper and kosher salt. The kashmiri chili powder has a vibrant red colour and mild heat and imparts a lovely flavour. See substitutions section below for some notes.
Pulses - You'll need red lentils as these provide added texture and thickness to the curry sauce and also some creaminess as they break down a little on cooking. You'll also need chickpeas which make this an extra satisfying vegan curry!
Tomato paste - This is the base of the curry paste and adds even more richness. In the UK this is known as tomato puree.
Fat - I use olive oil but you can substitute with vegetable oil, coconut oil or avocado oil if you prefer. Although please note that coconut oil will impart more of a coconut flavour.
Coconut milk - this creates a lovely creamy sauce with the right texture to keep you going back for more.
To serve/garnish - this butternut squash curry is perfect with basmati rice, naan, a dollop of yoghurt and a sprinkling of cilantro/coriander.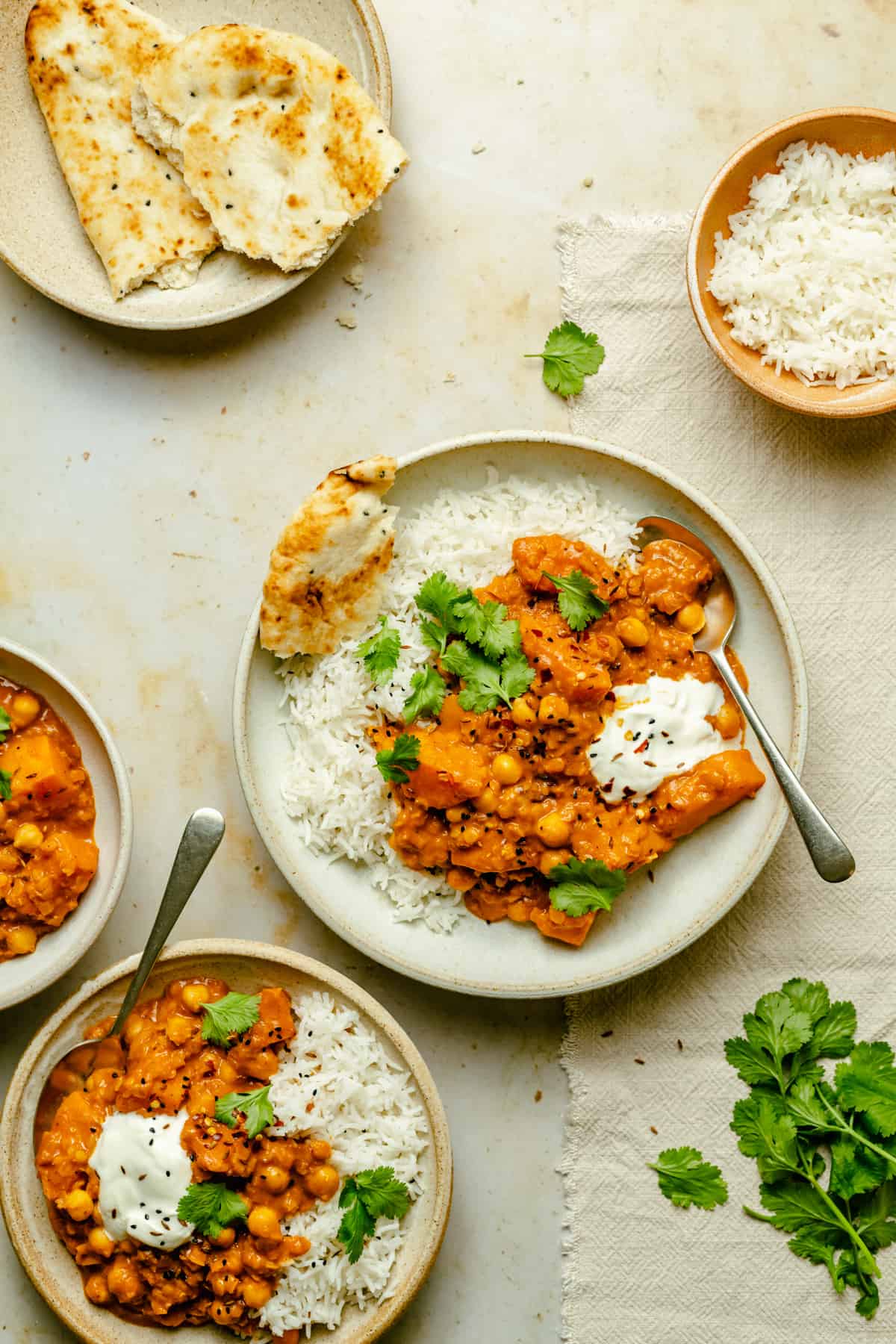 Substitutions and customisations
Spices - If you can't get hold of kashmiri chili powder in your location you can use paprika mixed with some cayenne pepper. This substitution just won't have the same flavour as kashmiri chili powder though, so please try and get hold of some if you can. Fenugreek leaves impart an almost smoky, earthy flavour with a nice bitterness too. If you can't get hold of leaves - substitute with ground fenugreek using half the amount (¼ teaspoon).
Change up the vegetables - why not switch up the vegetables to whatever you have on hand - carrots, parsnips, sweet potatoes or swede would work just as well.
Want more protein? - You can substitute the butternut squash for crispy tofu (find tips on how to make crispy tofu in my Crispy Tofu Black Rice Bowl recipe) or add some shredded chicken instead.
How to make butternut squash curry
Let's hook you up with the most flavoursome moreish curry. There are some key steps to flavour development for this, don't skip them! If you are on a tighter time scale there are some alternatives in the FAQ's.
Flavour building steps:
Toss the cubed squash with olive oil, cumin, chilli powder, cinnamon, salt and black pepper.
Bake on a baking sheet for 30-35 minutes turning half way through until tender to the fork and browning. This step adds depth of flavour to the final curry via the Maillard reaction.
This paste is a flavour bomb for the curry. Mix together in a small bowl the spices; cumin, coriander, kashmiri chili, turmeric, black pepper, fenugreek leaves, cinnamon and salt. Stir in the tomato puree to make your paste.
Sauté the onion until golden at the edges (about 10 minutes) then add the garlic and ginger and sauté for another minute, until fragrant.
Tip #1 - make sure the onion base gets some golden brown colour (without letting it burn) as it really deepens the flavour of the curry.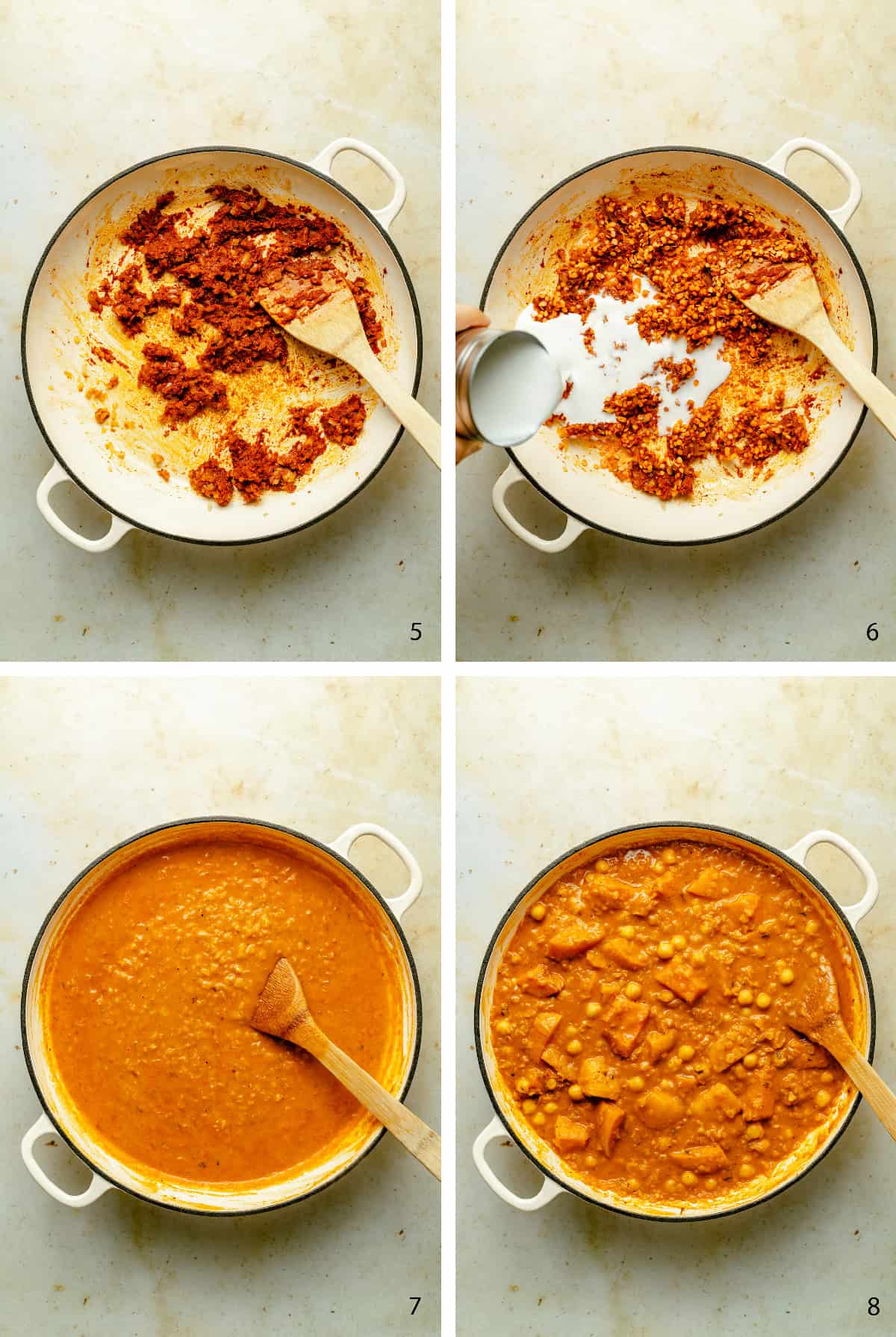 Add the curry paste to the onion mix in the pan and cook out for a couple of minutes, stirring regularly.
Add the red lentils, coconut milk and water and bring to the boil.
Turn down the heat and simmer uncovered to allow the sauce to thicken and deepen in flavour.
Stir in the roasted butternut squash and chickpeas.
Tip #2 - it's important to cook out the paste to bring out the flavour of the spices (this is called tempering) - your kitchen will soon be filled with the aroma of this amazing curry.
Tip #3 - fry off some cumin seeds, dried chili flakes, garlic slices and nigella (kalonji) seeds in some oil or ghee and drizzle over the top of the curry for an extra pop of flavour!
FAQs
What can I do with the leftovers?

The leftovers of this butternut squash curry can be made into a soup. You will just need to blend until smooth, adding more water or broth to get to the desired soup consistency. 
Can I make this in a slow cooker or crockpot?
Yes! You'll just need to make some adjustments to the recipe. Instead of roasting the butternut squash off with the spices first, you'll need to skip this roasting step. Sauté the aromatics off and stir in the curry paste as per the recipe, then add the raw butternut squash to the pan and sauté for a few minutes with the paste. Transfer to the crockpot and add the rest of the ingredients. Cook on low for 4-6 hours or high for 2-3 hours. 

It will still taste good, but not as good as with the roasted butternut squash, which adds so much depth of flavour.
Can I freeze this?

Yes, absolutely. Freeze in portions in an airtight container and it will keep in the freezer for 3 months. To reheat - defrost thoroughly in the fridge overnight and reheat either in the microwave for 3-4 minutes on high or 10 minutes in a saucepan on the stove over a medium heat until hot throughout. 
Want more autumnal meals?
Or maybe something else vegan?
I hope you love this roasted butternut squash and chickpea curry with lentils as much as we do. If you make it, be sure to leave a comment, rate the recipe and tag me on Instagram! I love to see your creations!