These chocolate pancakes are enriched with tahini and stuffed with chocolate chips, but don't be fooled, they're super fluffy! They're so quick and easy to throw together - you'll have the perfect weekend breakfast in no time.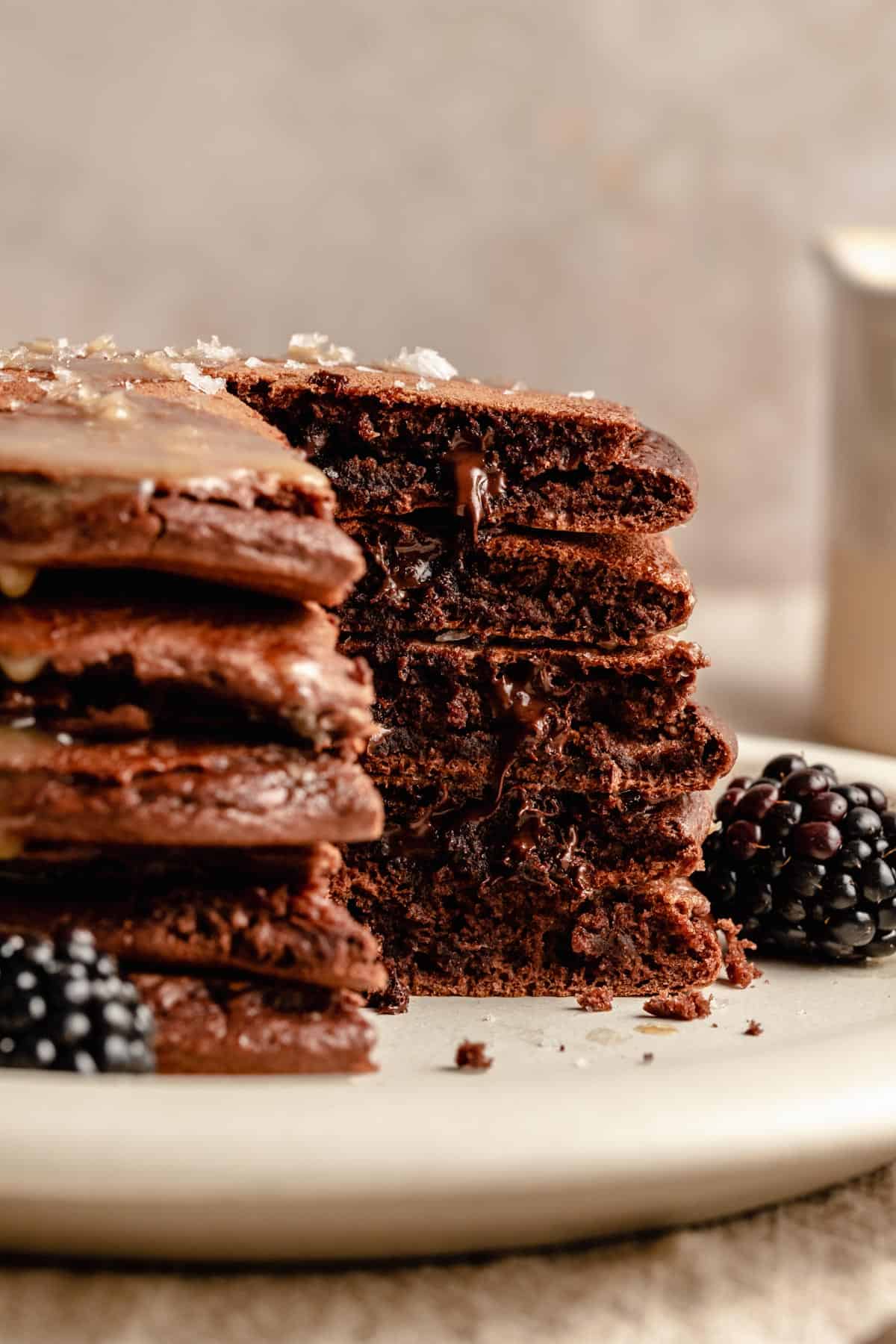 I love a good pancake for breakfast on the weekend. They're just the best to enjoy for a leisurely chilled morning, right? This is especially special if the sunrise is streaming through the windows with your favourite hot drink too. These chocolate pancakes will level up your breakfast or brunch at the weekend and are simply made with cocoa powder, a store-cupboard staple, making these totally simple to whip together too!
Picture this - chocolate batter with chocolate chips, matched perfectly with creamy nutty tahini and finally topped with a salted tahini maple syrup sauce. Total indulgence that will be perfect for a special occasion or just because, you know, it's the weekend and.... it's pancakes!
I would be honoured to be crowned the chocolate pancake queen (maybe in my own little world, ha!) But I seriously mean it. This recipe is solid! I've tested it to ensure the batter is the perfect consistency. I've tested the temperature of the griddle to make sure it cooks perfectly leaving you with molten chocolate chips and a thick fluffy pancake. The times below in the recipe will absolutely create for you the ULTIMATE. Fluffy. Double. Chocolate. Pancakes. Check out the rest of this post for all the tips and tricks you could possibly need, and there is no pancake mix in sight!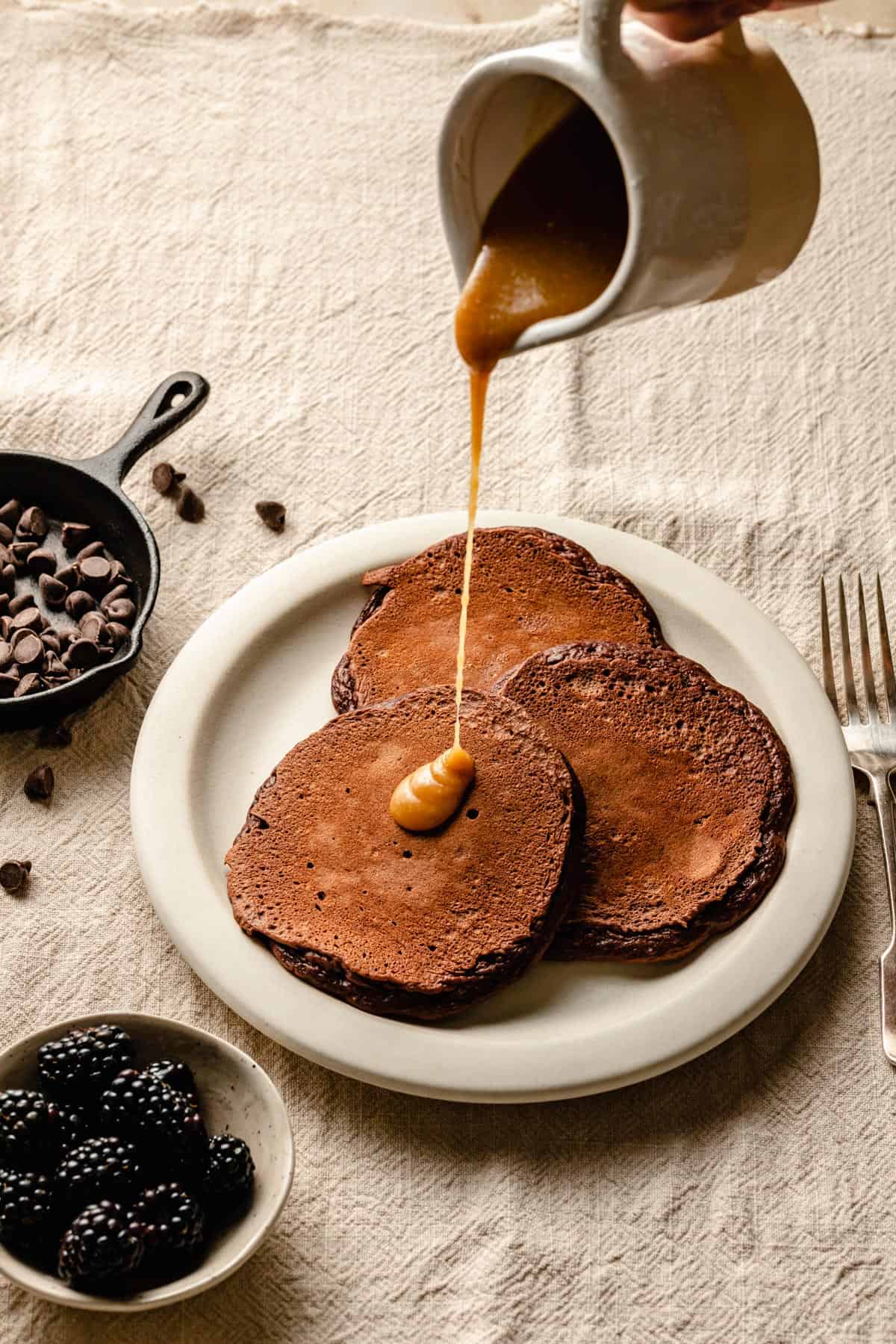 If you love chocolate for breakfast as much as I do... You absolutely need to make this Double Chocolate Peanut Butter Baked Oatmeal. Or fancy something lighter? Check out this Coconut Tahini Pistachio Granola. Both are a great way to start the day.
Literally no one needs to have an excuse to have pancakes in their life, so why not make them chocolate! Like right now! You won't regret it! I promise. Leave us a comment below with how much better your weekend started with these! Don't forget to rate the recipe too.
What ingredients do I need?
For these extremely chocolatey pancakes you only need simple ingredients that are readily available in the supermarket. Here's what you need to make the batter plus extra tips on why these are the best!
Fat - you'll need a splash of olive oil as it helps make the pancake softer and richer. You can use melted butter in place of olive oil if you want.
Creaminess - the tahini is also part of the fat content but adds a nice nutty flavour and creaminess to these chocolate pancakes. It makes them extra special!
Sweetness - you'll need some sweetness to help balance the bitterness of the cocoa. I mean who else has tried a 100% cocoa chocolate bar? Yikes! I use soft brown sugar as it adds a nice caramel note too.
Egg - nature's perfect leavening agent will add lightness and fluffiness to the pancake, it also helps hold everything together.
Milk - I used dairy milk but this will work just fine with a dairy free alternative.
Store cupboard - You'll need some all purpose flour, cocoa powder, baking powder, salt and don't forget your vanilla extract.
Mix-ins - These chocolate pancakes are made extra indulgent with some additional chocolate chips.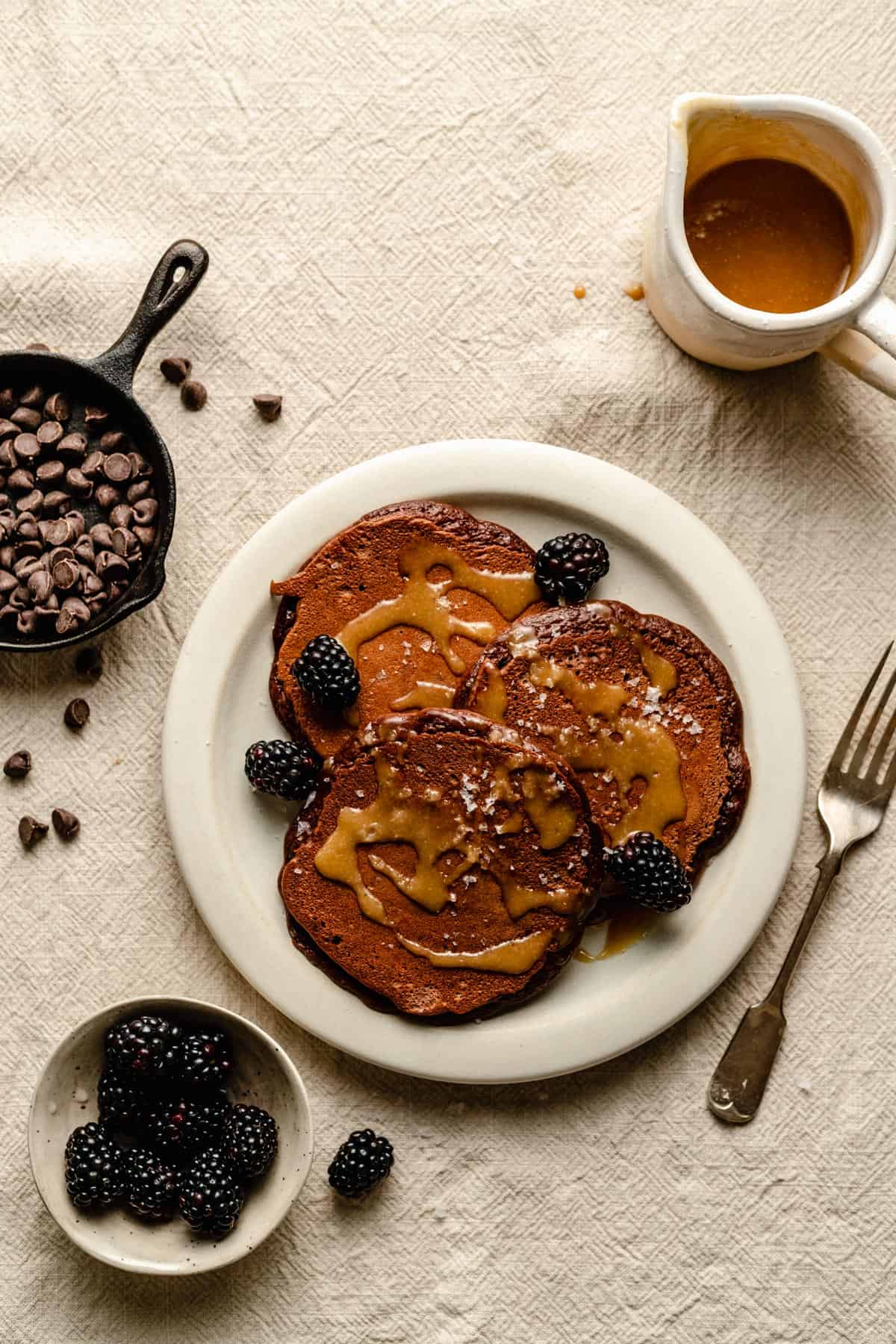 Want to customise these?
Change up the mix-ins - does your family like different things? You don't all have to have the same thing, mix it up! Why not use white or milk chocolate chips instead? Or here's a crazy idea, you could chop up some peanut butter cups or our dark chocolate cashew butter cups and throw those in instead! Or throw in some chopped nuts, sesame seeds or fresh raspberries! Get creative - what else could you add to make these the ultimate double chocolate chip pancakes?!
Change the nut butter - Don't fancy tahini? Try making these with runny peanut or almond butter instead. Depending on how runny your nut butters are you may need a tiny splash more milk in the batter to get the correct consistency.
I haven't tested making these vegan by substituting with a flax egg and dairy free milk alternative, so I cannot recommend it at the moment. So if you do give it a try, leave us a comment below to let us know how you get on!
How do I put these together?
These are perfect for a lazy morning breakfast any day of the week. Follow these simple steps to create your fluffy pancakes.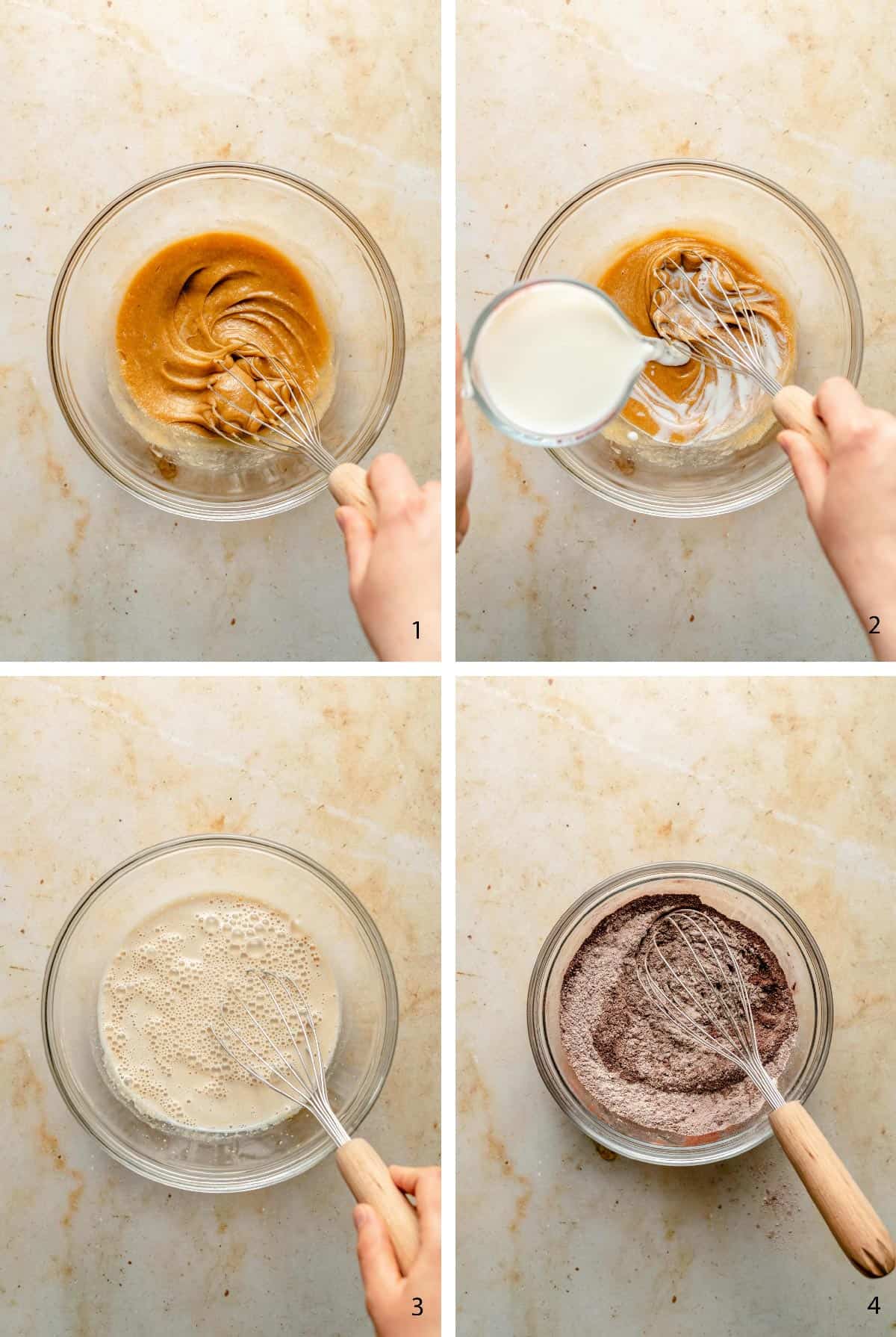 Whisk together the oil, tahini, soft brown sugar, egg and vanilla extract to create a wonderfully creamy caramel coloured mixture.
Gradually pour in the milk whilst whisking constantly.
Whisk until completely uniform as this will help you make a smooth batter in the next step.
Whisk the flour, cocoa powder, baking powder and salt together in a bowl.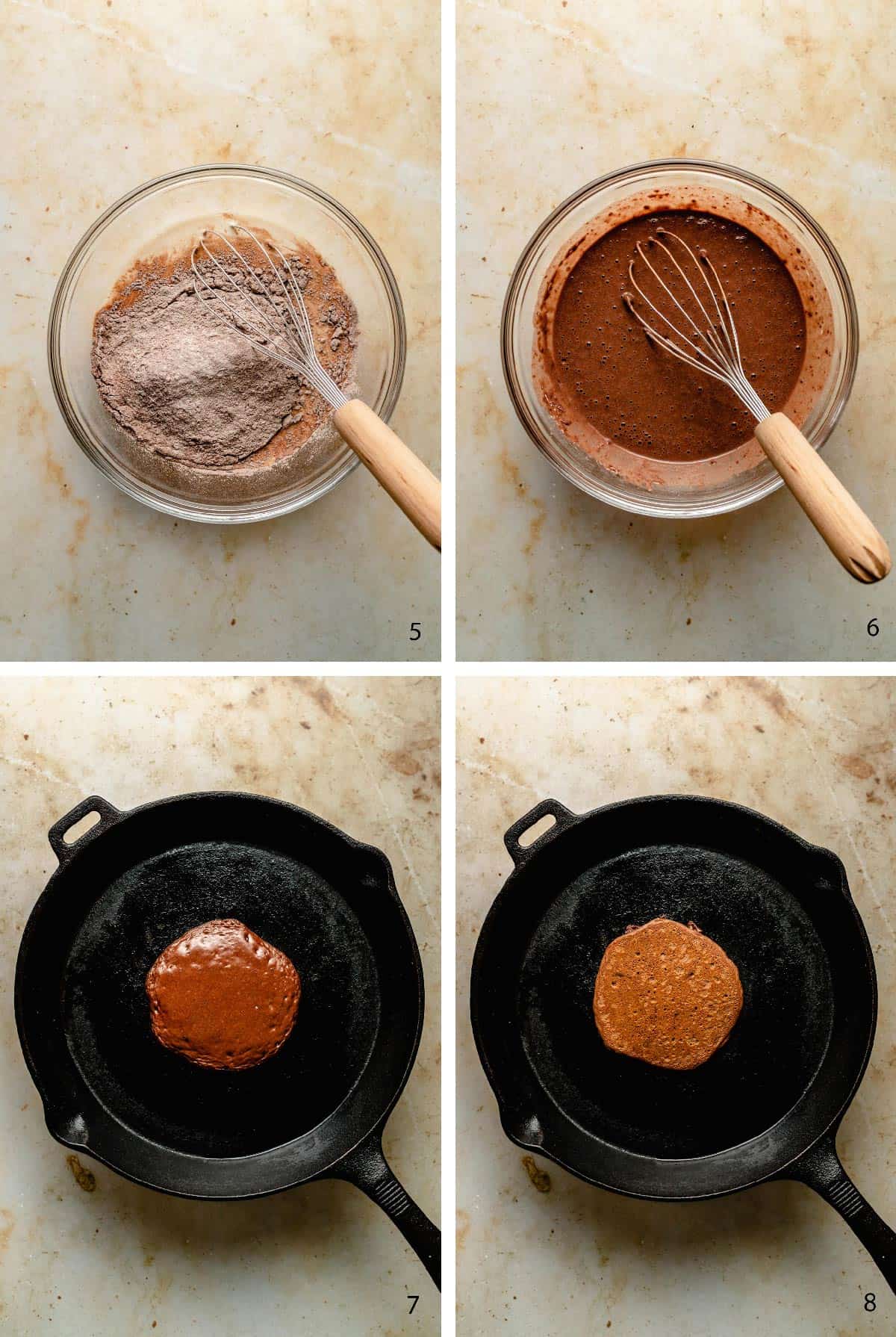 Add the dry ingredients to the wet ingredients.
Whisk together until uniform to produce a silky batter. Add the chocolate chips in and stir gently to mix them throughout.
Pour ¼ cup of batter onto a preheated pan or hot plate and cook for 2 ½ minutes on the first side until the edges set.
Flip and cook on the other side for 10 seconds, remove from the pan and keep warm in a low oven. Repeat with the rest of the batter to make the rest of the pancakes.
Tip #1 - Leaving the pancake batter to rest for 5 minutes allows the flour to hydrate and the batter to thicken slightly; the flour becomes more elastic in the mix and will aid the raising agent to provide a fluffier pancake.
Tip #2 - Stirring the chocolate chips through the batter encases them so they melt in the middle of the pancake, making these chocolate pancakes totally moreish!
Tip #3 - cook the pancake on one side until golden brown on the underside and the batter sets at the edge, you'll also start seeing some bubbles over the top.
FAQs
How to get the perfect temperature on the griddle to cook my pancakes?

I personally prefer to use a cast iron griddle pan/hot plate (no ridges) or skillet. They retain and maintain their heat more evenly.

To heat up your pan to the perfect temp:

1. Place your pan on the stove and turn the stove on medium heat for 5 minutes and let your hot plate or skillet come to an even temperature across it.

2. Turn the stove temperature down to low-medium (for me this is setting 3 on the stove out of 9). Leave at this new temp for 2-3 minutes to cool slightly and acclimatise and then spray your skillet with oil and wipe it off with a kitchen towel so there is a thin layer of oil ready for you to cook your chocolate pancakes on.

You then have the perfect temperature to cook chocolate pancakes at.

The reason for this lowering of the temperature is to cook the pancake evenly throughout and activate the baking powder. You'll see them puff up nicely when you flip them. This also prevents the cocoa powder from burning.
How to make the fluffiest pancakes?

Using the correct level of raising agents will allow you to create the fluffiest pancake. The baking powder used in this recipe activates when heat is applied in the cooking process. The gluten that develops in the batter from the flour will trap the carbon dioxide released from the baking powder and provide the fluffiness we are wanting in our pancakes. 
Should you rest pancake batter?

Yes, the pancake batter in this recipe is rested for 5 minutes to ensure the flour is hydrated. This helps build the gluten, releases the starches and protein to give the pancake structure. Doing this resting step provides a structure for the carbon dioxide released from the baking powder to get trapped in, giving the pancake more lift.
How to keep chocolate chips from burning in pancakes?

We've tested this pancake a couple of ways. 

Mixed in the batter - I've found the most effective way for these chocolate pancakes to stir them throughout the batter which encases them and allows them to go all melted and gooey inside the pancake. 

Dropping them into the cooking batter - Once you have poured the batter onto the hot plate you can drop a sprinkling of pancakes on top of the wet side. We've found that in this recipe they leave holes around the chocolate chips rather than forming a uniform pancake. 

Either way works, but adding the chocolate chips into the batter looks best, but do what you prefer!
Can I store the pancakes after cooking?

Yes! Just allow them to cool on a wire rack and when they are cool: 

At room temperature - Put them in a reusable sealable bag or container, they will be good for up to 3 days. 

In the freezer - Freeze them on a baking sheet in a single layer, place in a freezer bag and keep them in the freezer for up to 3 months. 

To reheat - either warm in the toaster or in a 150C oven for 3-5 minutes until warmed through. 
Want more breakfast options?
I hope you love these chocolate pancakes with tahini as much as we do. If you make them, be sure to leave a comment, rate the recipe and tag me on Instagram! I love to see your creations!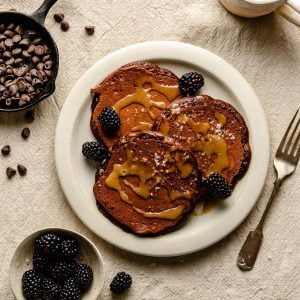 Chocolate Pancakes with Tahini Maple Syrup
These chocolate pancakes are enriched with tahini and are unbelievably fluffy and light. The perfect special weekend breakfast drizzled with a salted tahini maple syrup sauce.
Print Recipe
Pin Recipe
⭐️ Rate Recipe
Ingredients
Instructions
Mix the wet ingredients
In a large bowl, whisk together the olive oil, tahini, sugar, egg and vanilla until smooth.

1 tablespoon olive oil,

¼ cup tahini,

3 tablespoons soft brown sugar,

1 egg,

1 teaspoon vanilla extract

Gradually add the milk, whisking until all the wet ingredient are mixed together.
Mix the batter
In a medium bowl, whisk the flour, cocoa powder, baking powder and salt.

1 cup all purpose flour,

3 tablespoons cocoa powder,

2 teaspoons baking powder,

½ teaspoon salt

Add the dry ingredients to the wet and whisk until well combined but don't over mix. Leave to rest 5 mins. Stir in the chocolate chips.
Cooking the pancakes
Preheat your hot plate or frying pan over a medium heat whilst the batter rests. Turn it down to medium low a few minutes before the batter is ready.

Use a ¼ cup measure to scoop the mixture onto the preheated hot plate or pan.

Cook on medium low heat for 2 ½ mins until set at the edges and golden on the underside. You might see some bubbles on top of the pancake too. Flip and cook for another ten seconds.

Keep the pancakes warm in a low oven whilst using the rest of the batter to make all 10 pancakes.
Salted Tahini Maple Syrup
Add the tahini, maple syrup and salt to a small bowl. Whisk together until smooth and drizzle over the warm chocolate pancakes. Yum!

2 tablespoons tahini,

¼ cup maple syrup,

pinch of sea salt
Notes
Nutrition is for one pancake without the additional tahini maple syrup drizzle. 
The tahini maple syrup recipe yields about ⅓ cup - double if you like lots of syrup!
Nutrition
Serving:
1
pancake
|
Calories:
167
kcal
|
Carbohydrates:
21.4
g
|
Protein:
4.6
g
|
Fat:
8.1
g
|
Saturated Fat:
2.6
g
|
Polyunsaturated Fat:
1.7
g
|
Monounsaturated Fat:
2.6
g
|
Cholesterol:
20.6
mg
|
Sodium:
145
mg
|
Potassium:
310.3
mg
|
Fiber:
2.1
g
|
Sugar:
8.3
g
|
Vitamin A:
15.1
IU
|
Calcium:
150.8
mg
|
Iron:
1.6
mg
Did you make this recipe?
Leave a comment below with how you got on and don't forget to give the recipe a rating ⭐️⭐️⭐️⭐️⭐️. You can also tag @eatloveeats on Instagram - we love to see your creations!