This apple baked oatmeal is the perfect make-ahead breakfast for chillier mornings. It's packed full of sweet apples, cosy spices, crystallised ginger and a drizzle of dark chocolate for something extra delicious to wake up to.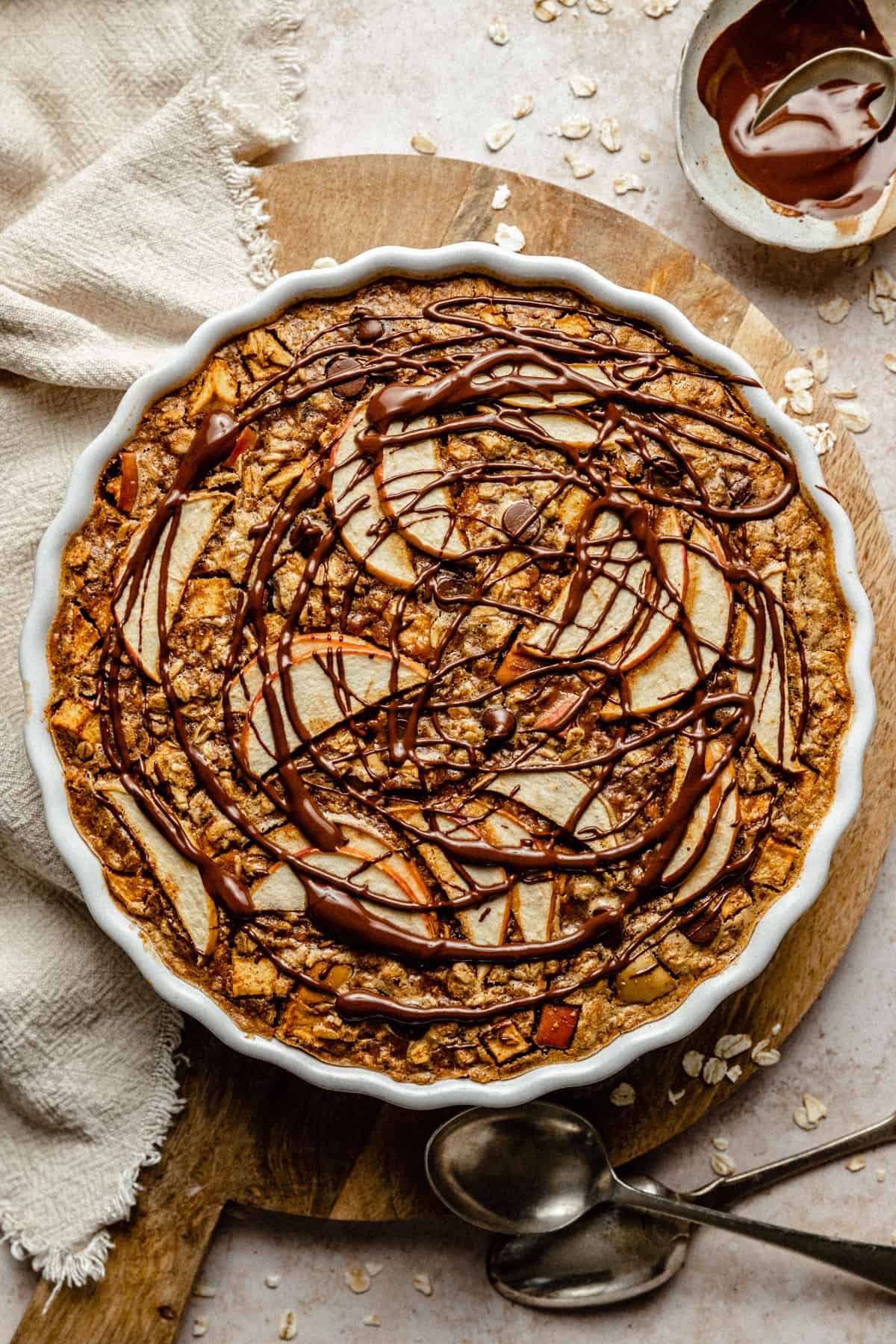 We love a good baked oatmeal in our house, simple to make and extra satisfying. This apple baked oatmeal is full of all those cinnamon, gingerbread feels. Oh and don't forget chocolate chips to make everything better. This apple cinnamon baked oatmeal will give you all the fall aromas you need in your kitchen. Love this? Try our Apple Cinnamon Overnight Oats.
If you haven't noticed, we love to make our baked oatmeal super special, like this Peach Baked Oatmeal with Pistachios or Double Chocolate Peanut Butter Baked Oatmeal. This kind of baked oats is super quick and easy to whip up and we love that. There's nothing better than make ahead recipes to reheat on the day you want. Fall snacks are great too, try our Almond Plum Cake or Pear Cake.
We know you'll love this baked oats breakfast so why not leave us a comment or rating in the recipe below, we love hearing from you. Just follow these links to get to exactly where you need.
Jump to:
Where did baked oatmeal come from?
Baked oats or baked oatmeal has a lot of its origins from the Amish, it was simple and provided a lot of energy as they worked. It's been made into a variety of flavours and recipes over the years and we've got plenty on Eat Love Eat to share with you. Tahini Cherry Baked Oatmeal is another of our regular favourites. It'll soon be yours.
Traditionally, the baked oatmeal would contain lots of butter, sugar and oats and there are many variations that can be made to enjoy regardless of the season or time of the year. This version is packed with protein and fibre, making it a satisfying start to the day.
Why you'll love this recipe
Whether you're a veteran or newbie with baked oats, this apple baked oatmeal with chocolate and ginger really hits the spot for these reasons:
Flavour - Think cinnamon gingerbread goodness with sweet apples and dots of chocolate throughout. You really can't go wrong with that eh?
Easy - baked oatmeal is one of the easiest breakfasts that you can make. Simply stir all the ingredients together and bake them. It's that easy!
Make ahead - we always make ours ahead of time, it keeps well in the fridge and we then reheat at breakfast time. Simple.
Seasonal - Apples, cinnamon, gingerbread spices, crystallised ginger - what can be more appropriately seasonal than this right now?
Healthy - full of protein and fibre this baked oatmeal is a great way to start the day, letting you power through everything you need to get done.
Ingredients
You'll only need simple and readily available ingredients to make this apple baked oatmeal: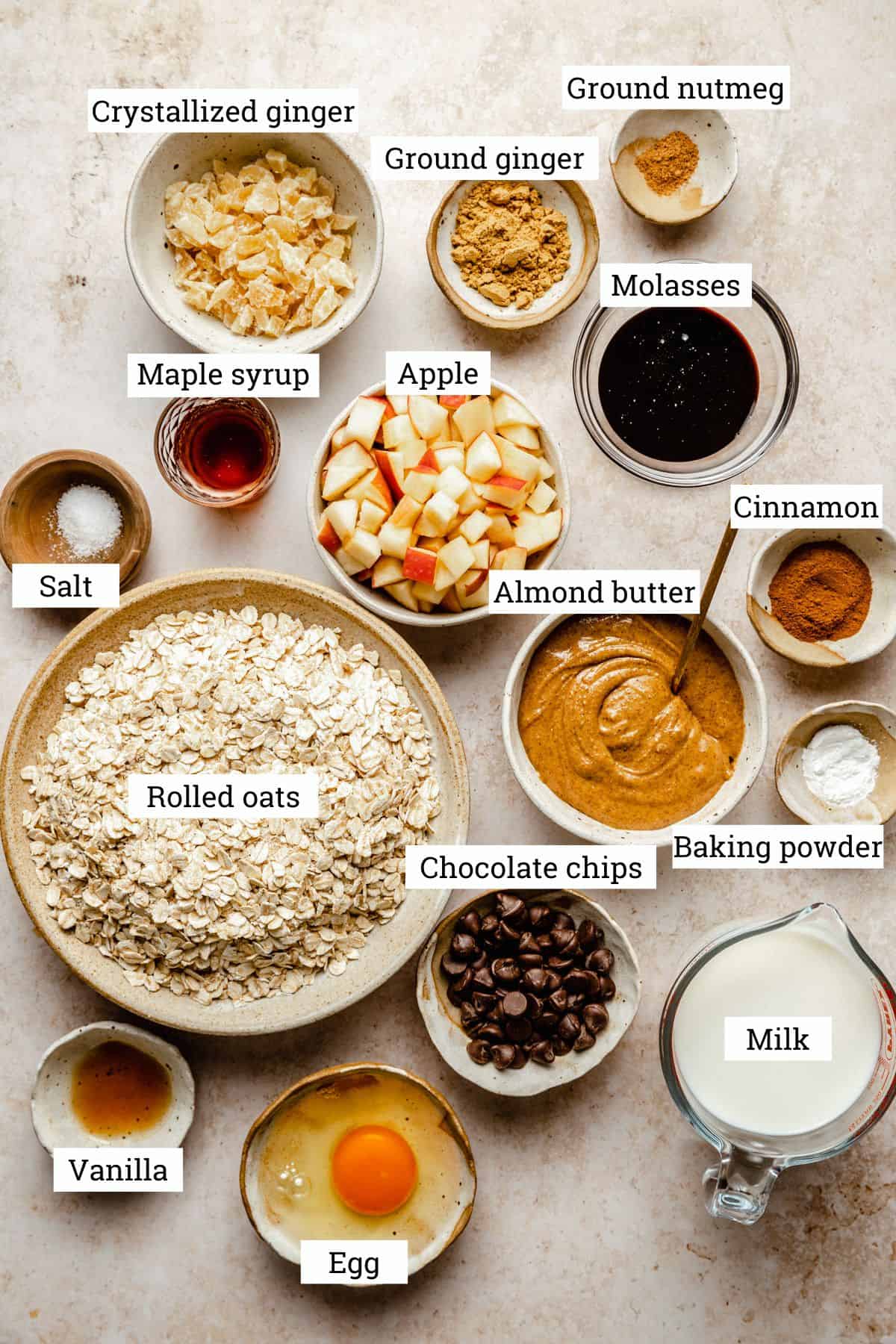 Rolled oats - we recommend using old fashioned or jumbo oats instead of instant or quick oats as they provide the best texture.
Apples - apples are in perfectly in season right now, we recommend going for a sweet and tangy blushing apple variety such as Pink Lady, Honeycrisp or Braeburn. Try to avoid the more mushy varieties.
Molasses - adding sweetness but also the caramel gingerbread flavour notes, molasses is a great addition, plus it adds a lovely rich colour too. Don't use blackstrap molasses if you can help it as it tends to be more bitter.
Ginger - we use two types of ginger along with beautiful cinnamon and nutmeg to create a spiced apple baked oatmeal. You'll need ground ginger and crystallised ginger for some chewy hits of freshness.
Customisations
If you wish to customise and adapt this cinnamon apple baked oatmeal with ginger and chocolate, here are some suggestions:
Cinnamon - go heavy on the cinnamon; apple and cinnamon go together perfectly, especially in this baked oatmeal.
Fruit - switch out the crystallised ginger and throw some dried cranberries or cherries into the mix instead.
Pear - you can also switch out the apple for diced pear, another seasonal option for this baked oatmeal which goes beautifully with chocolate.
Spices - keep it simple by using just cinnamon or mix up the levels of the spices for the gingerbread feels.
Dairy free - make this dairy free with dairy free milk alternatives and dairy free chocolate.
Vegan - if you need to make this vegan you can switch out the egg with a flax egg (1 tablespoon of flax + 3 tablespoons water left to absorb for 10 minutes). We haven't tested this yet but are fairly sure it will work.
How to make apple baked oatmeal
Follow these simple steps to create this delicious apple cinnamon baked oatmeal: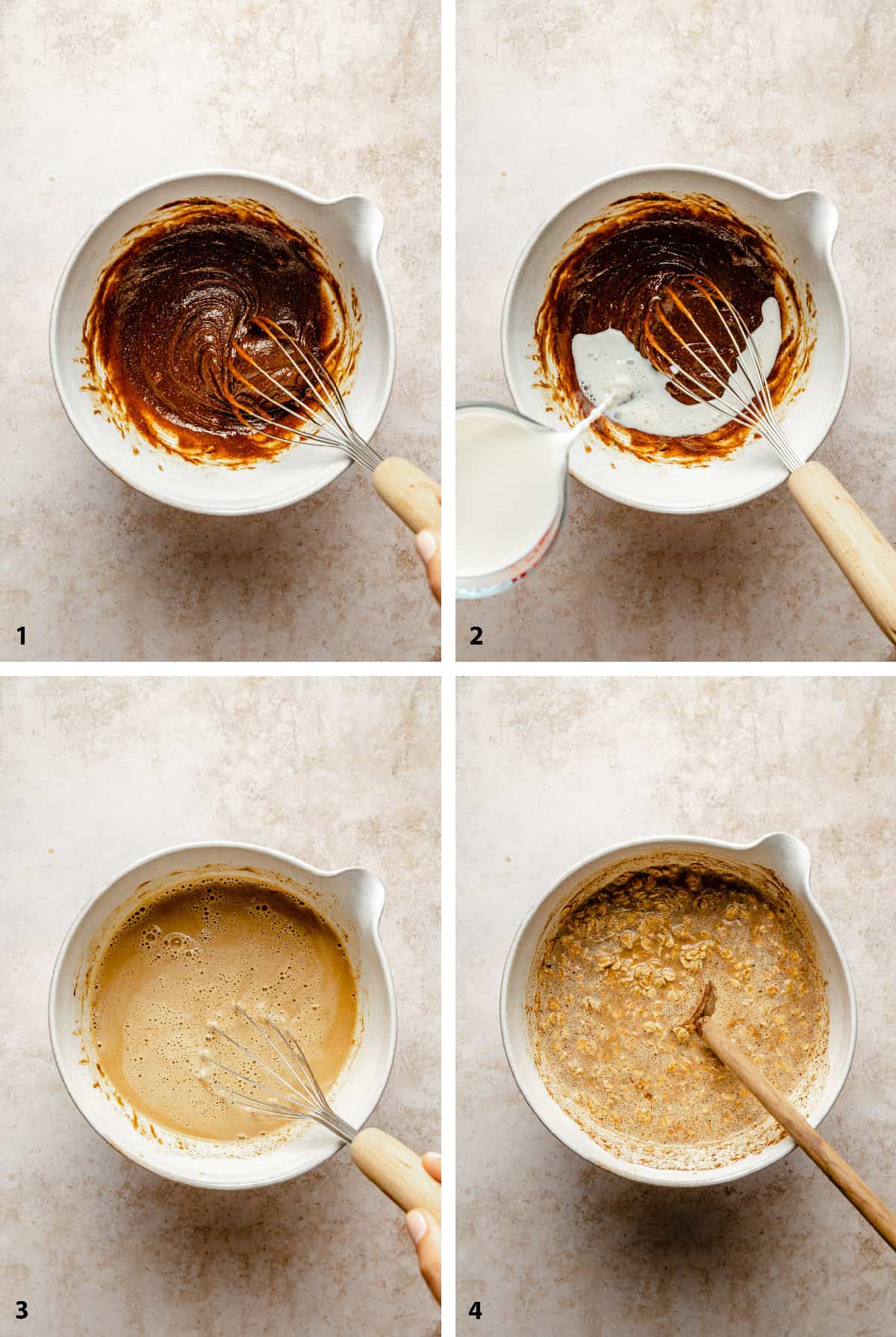 Whisk together the almond butter, eggs, vanilla extract, maple syrup and molasses until smooth.
Add in the milk of your choice.
Whisk until it is a smooth uniform mixture. Meanwhile mix together the oats, spices, salt and baking powder in a separate bowl.
Add the oats, spices, salt and baking powder mixture to the wet and stir together until uniform.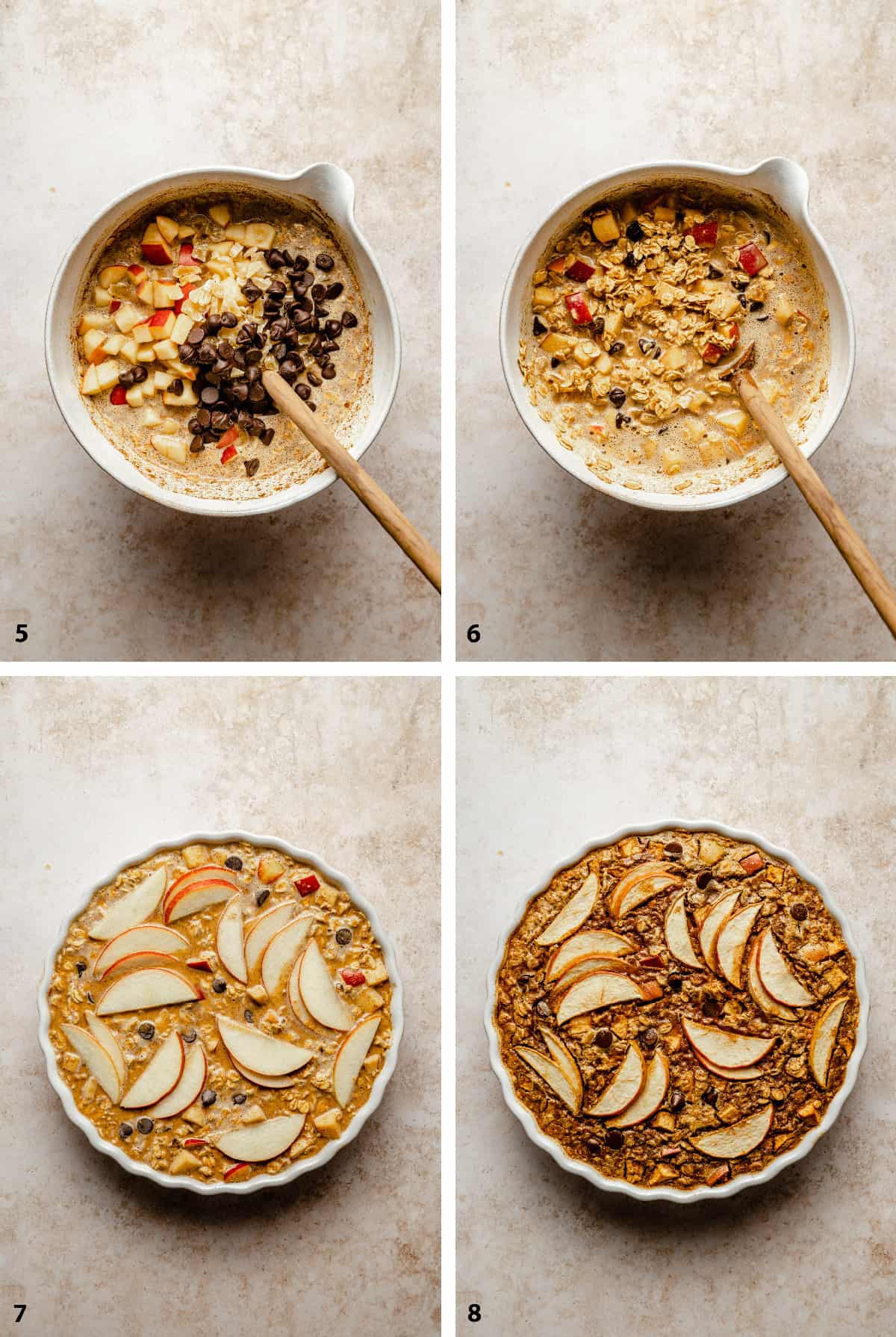 Add the chopped apple, ginger and chocolate chips.
Stir together until all the mix-ins are evenly distributed.
Pour the apple baked oatmeal mixture into a lightly greased baking dish and top with slices of apple.
Bake in a preheated oven at 180oC/350oF for 35-40 minutes until golden and set throughout. Drizzle with some melted chocolate if you wish and serve warm. Or leave to cool and store in the fridge.
Expert tips
Follow these expert tips to ensure you have success every time you make this recipe:
Egg - make sure to whisk the almond butter, molasses, maple syrup and vanilla with the egg first BEFORE adding the milk. It's a lot easier to mix together with the milk this way round.
Baking dish - we suggest an 8 x 8 inch baking dish, but as long as the volume of the baking dish is about 1 litre, approximately 1 quart, it'll work.
Make ahead - as this baked oatmeal is baking for at least 35 minutes you're best to make this recipe ahead of time so you only have to reheat in the morning.
Storing - this apple baked oatmeal is suitable to store in the fridge or for longer in the freezer.
How to store it
Once your apple baked oatmeal comes out of the oven, the only logical thing to do is drizzle it with melted chocolate chips, cut it into squares and dig in immediately! However, here are our recommendations for storing it:
Fridge - allow the baked oats to cool completely, wrap in clingfilm and store the whole dish in the fridge for up to 5 days. Alternatively, you can cut into portions and wrap them individually in clingfilm or foil and store in the fridge for when you want them.
Freezer - allow it to cool completely. Cut it into portions and wrap individually with clingfilm or foil. These parcels can be stored in another container or freezer bag in the freezer for up to 3 months. Defrost before reheating.
How to reheat
As this apple baked oatmeal is best made ahead of time, it is inevitable you'll be reheating it at some point. Here is how to best do this:
Microwave - if previously frozen, defrost first. Once defrosted you can place your portion in a bowl and heat on full power for 1.5-2 minutes until piping hot in the middle.
Oven - in a preheated oven you can reheat your baked oatmeal portions for 8-10 minutes on a baking sheet uncovered until they are piping hot in the centre.
Ways to serve
Here are some suggestions to serve this delicious cinnamon apple baked oatmeal with chocolate and ginger:
Cold - the baked oatmeal is simple and hassle free to eat this way, it's a bit like a cross between cake and an oaty flapjack.
Hot with milk - we love ours hot with good splash of milk, it's a nice contrast with the hot and cold and the milk gets lovely and chocolatey.
Yoghurt - serve alongside a dollop of thick Greek yoghurt, the creaminess works well with all the flavours but does so with any baked oatmeal too.
Toppings - if you decide against drizzling chocolate on top, you can drizzle nut butter and chopped nuts or apples on top instead.
FAQs
Can you make baked oatmeal ahead of time?

Yes, it will be best to make it and bake it ahead of time and allow it to cool completely then reheat what you'd like. Baked oatmeal stores well in the fridge.
Is baked oatmeal healthy?

Healthy is relative and personal to each and every person. Baked oatmeal offers a well rounded balance of macro and micronutrients that provide what the body needs to function optimally. We don't just eat single nutrients, we eat foods and combined together they make a healthy nutritious meal.
Related recipes
If you love this apple cinnamon baked oatmeal with chocolate and ginger you'll love more of our breakfast recipes. Here are some recommendations to get you started:
Love this recipe? Leave us a 5-star ⭐️⭐️⭐️⭐️⭐️ rating in the recipe below and don't forget to leave a review in the comments section underneath the recipe. We love hearing from you!
Why not follow along with us on our social media channels @Instagram @Facebook and @Pinterest and tag us with #eatloveeats when you've tried one of our recipes!
Apple Baked Oatmeal with Chocolate and Ginger
This autumn spiced apple baked oatmeal with chocolate and ginger is the perfect way to start the day - the pops of ginger work perfectly with the apple and chocolate!
Print Recipe
Pin Recipe
⭐️ Rate Recipe
Instructions
Preheat oven to 180°C/350°F. Grease an 8 x 8 inch baking dish with butter or oil.

In a medium bowl, stir together the oats, ground ginger, ground cinnamon, ground nutmeg, salt and baking powder.

2 cups old fashioned rolled oats,

2 teaspoons ground ginger,

1 teaspoon ground cinnamon,

⅛ teaspoon ground nutmeg,

¼ teaspoon fine sea salt,

½ teaspoon baking powder

In a large bowl, whisk together the almond butter, egg, vanilla, maple syrup and molasses until smooth. Next, whisk in the milk until well combined. 

½ cup almond butter,

1 egg,

1 teaspoon vanilla extract,

2 tablespoons pure maple syrup,

2 tablespoons molasses,

1 ¾ cups milk of choice

Add the dry ingredients to the wet ingredients and stir to combine, making sure everything is well mixed. 

Stir in the apple, ginger and chocolate chips. Arrange the apple slices on top. Pour into the prepared dish and bake for 35-40 minutes or until set and the top is golden brown. 

1 cup finely diced apple,

¼ cup crystallised ginger,

¼ cup dark chocolate chips
To finish
Place the chocolate chips and coconut oil into a small heatproof bowl and place over a pan of simmering water. Stir until melted. Alternatively, heat in the microwave, stirring every 30 seconds until melted.

2 tablespoons dark chocolate chips,

½ teaspoon coconut oil

Once baked, drizzle the oatmeal with the melted chocolate, cut into 6-9 pieces and enjoy warm!
Notes
Use a baking dish that has a volume of at least 1 quart/1 litre. 
Make sure to whisk the egg and other wet ingredients together first before adding in the milk. It's easier to combine everything this way.
Make sure to use gluten free certified oats to ensure this is gluten free.
Inspiration for this recipe came from Monique's recipe. 
Nutrition
Calories:
392
kcal
|
Carbohydrates:
51.1
g
|
Protein:
11.7
g
|
Fat:
15.4
g
|
Saturated Fat:
3.2
g
|
Polyunsaturated Fat:
3.1
g
|
Monounsaturated Fat:
8
g
|
Cholesterol:
32.9
mg
|
Sodium:
145.6
mg
|
Potassium:
905.7
mg
|
Fiber:
6.3
g
|
Sugar:
25.2
g
|
Vitamin A:
15.7
IU
|
Vitamin C:
1
mg
|
Calcium:
261.4
mg
|
Iron:
2.9
mg
Did you make this recipe?
Leave a comment below with how you got on and don't forget to give the recipe a rating ⭐️⭐️⭐️⭐️⭐️. You can also tag @eatloveeats on Instagram - we love to see your creations!