This Apple Baked Oatmeal is the perfect make-ahead breakfast for chillier mornings. It's packed full of sweet apples, cosy spices, crystallized ginger and a drizzle of dark chocolate for something extra delicious to wake up to.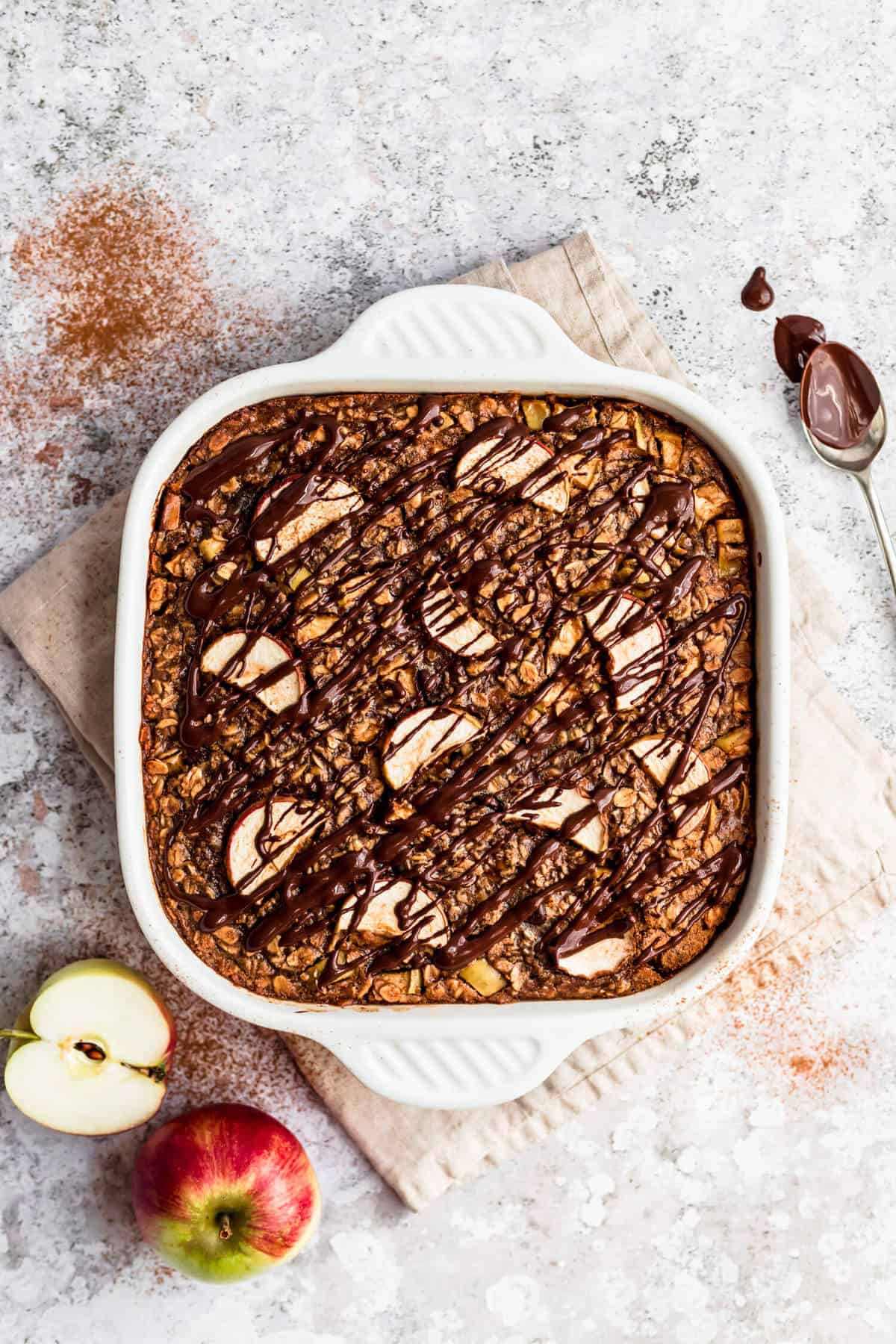 I have the best breakfast for you today. I'm sure I've probably said that before but this is really it. I'm obsessed, to say the least! If you've never tried baked oatmeal before then you're in for a treat because this is not just baked oatmeal, it's APPLE baked oatmeal loaded with warming spices, ginger pieces and chocolate! I mean, come on. You're going to be obsessed too. I've had this flavour combination on my mind since last year and I knew I had to make it into a baked oatmeal once fall rolled around again.
I'm a summer lover through and through. I mean, I love all seasons really but I feel so alive in the summer. This year though, I was extra excited for autumn to come around. As in, I'd already broken out the pumpkin about halfway through August. I know! It got really chilly here, okay? It's allowed. Anyway. It's September now so we're good. And I've had this apple baked oatmeal recipe on repeat as I just can't get enough of it. It tastes like gingerbread with pops of sweet apple and dark chocolate for that little something extra. It's 100% worth getting out of bed for on these cooler mornings.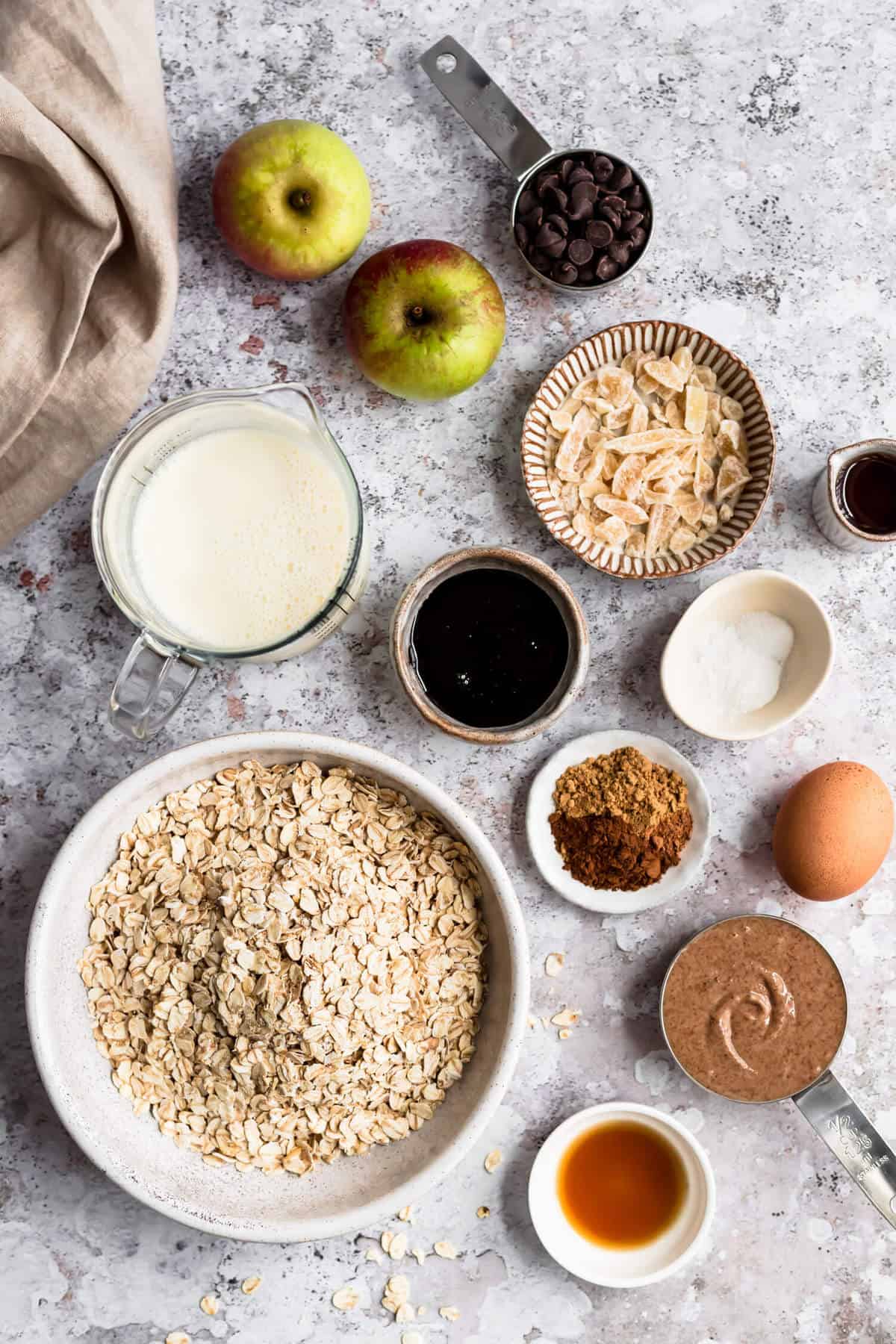 What ingredients will I need?
Let's take a look at the ingredients you'll need to make this apple baked oatmeal:
rolled oats - you'll need to make sure you use the old-fashioned or jumbo oats here to ensure you get the best texture.
spices - we're using ground ginger, cinnamon and nutmeg here for those cosy gingerbread vibes! Plus a little salt to bring out all of those flavours.
baking powder
almond butter - for richness and to add lots of flavour too.
egg
vanilla extract
maple syrup - for sweetness, you could use sugar instead if preferred but I love the flavour of maple syrup.
molasses - to add a little more sweetness and amp up the gingerbread flavour! Feel free to leave this out or replace with maple syrup if you don't have any.
milk - use any kind you like. I used oat milk but cow's milk, almond milk or any other kind of dairy free milk work great too.
apples - we're adding little chunks of apple throughout the oatmeal as well as slices on top because they look pretty!
crystallized ginger - I love the little pops of fiery flavour this adds to the oatmeal, so good!
chocolate chips - we're sprinkling a few chocolate chips into the batter as well as drizzling some melted chocolate chips on top. The combination of apples, ginger and dark chocolate is incredible, you're going to love it!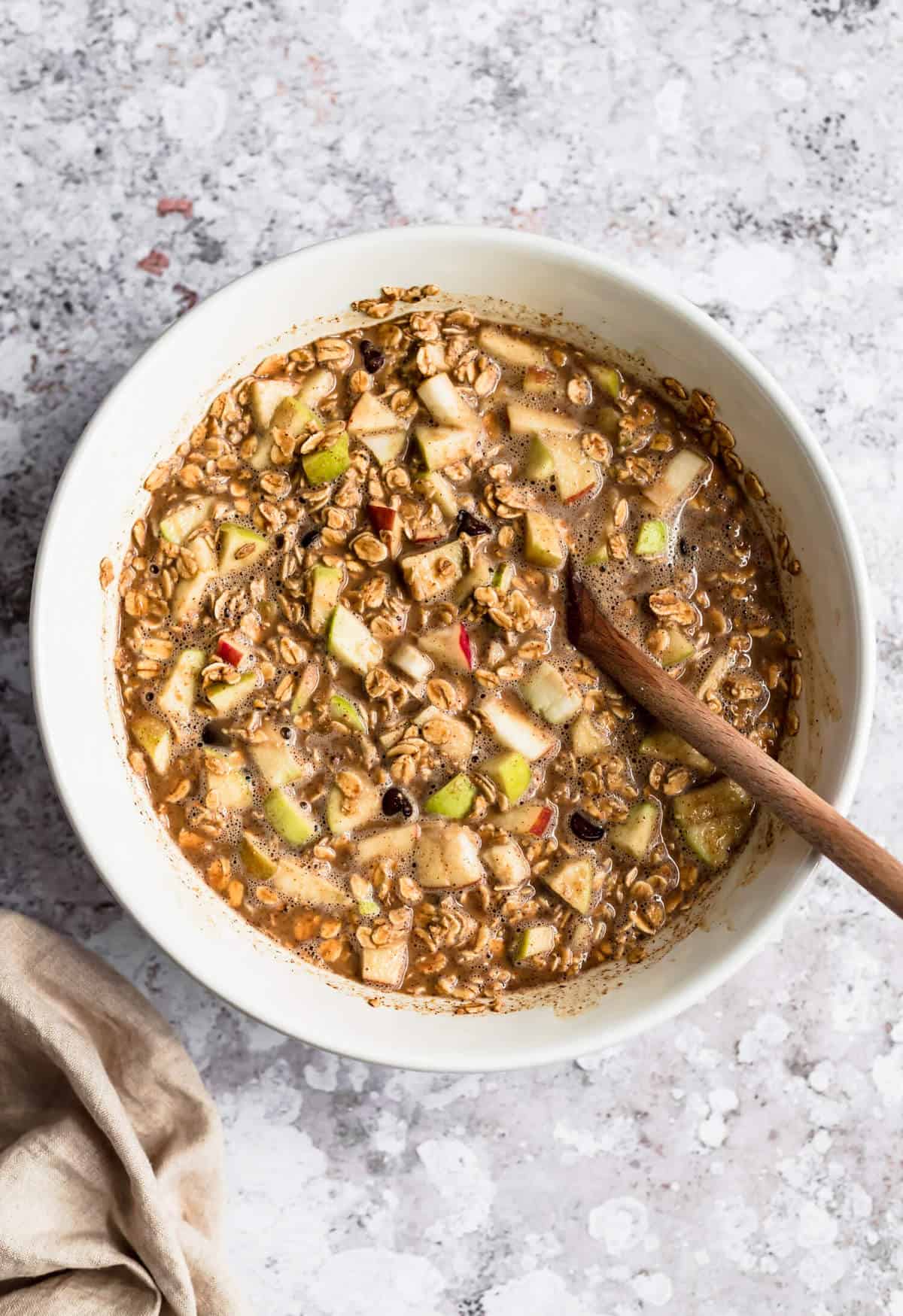 How to make apple baked oatmeal
It really couldn't be easier to make baked oatmeal and for your minimal effort you'll reap maximum reward!
You'll need an 8x8 inch baking dish for this recipe. If you don't have one, you could use a 9x9 inch dish instead but be mindful that you'll have to reduce the cooking time and it won't turn out as thick. I recommend greasing the dish with butter or oil.
In one bowl, stir together your dry ingredients: oats, spices, salt and baking powder. In another bowl, use a whisk to combine almond butter, egg, vanilla, maple syrup and molasses. Get this nice and smooth before whisking in the milk. Stir the oats into the wet mix, followed by the apples, ginger and chocolate chips.
Now you're ready to bake! Pour the mixture into the prepared baking dish, arrange a few apples slices on top and bake until set and golden. This will take around 35-40 minutes.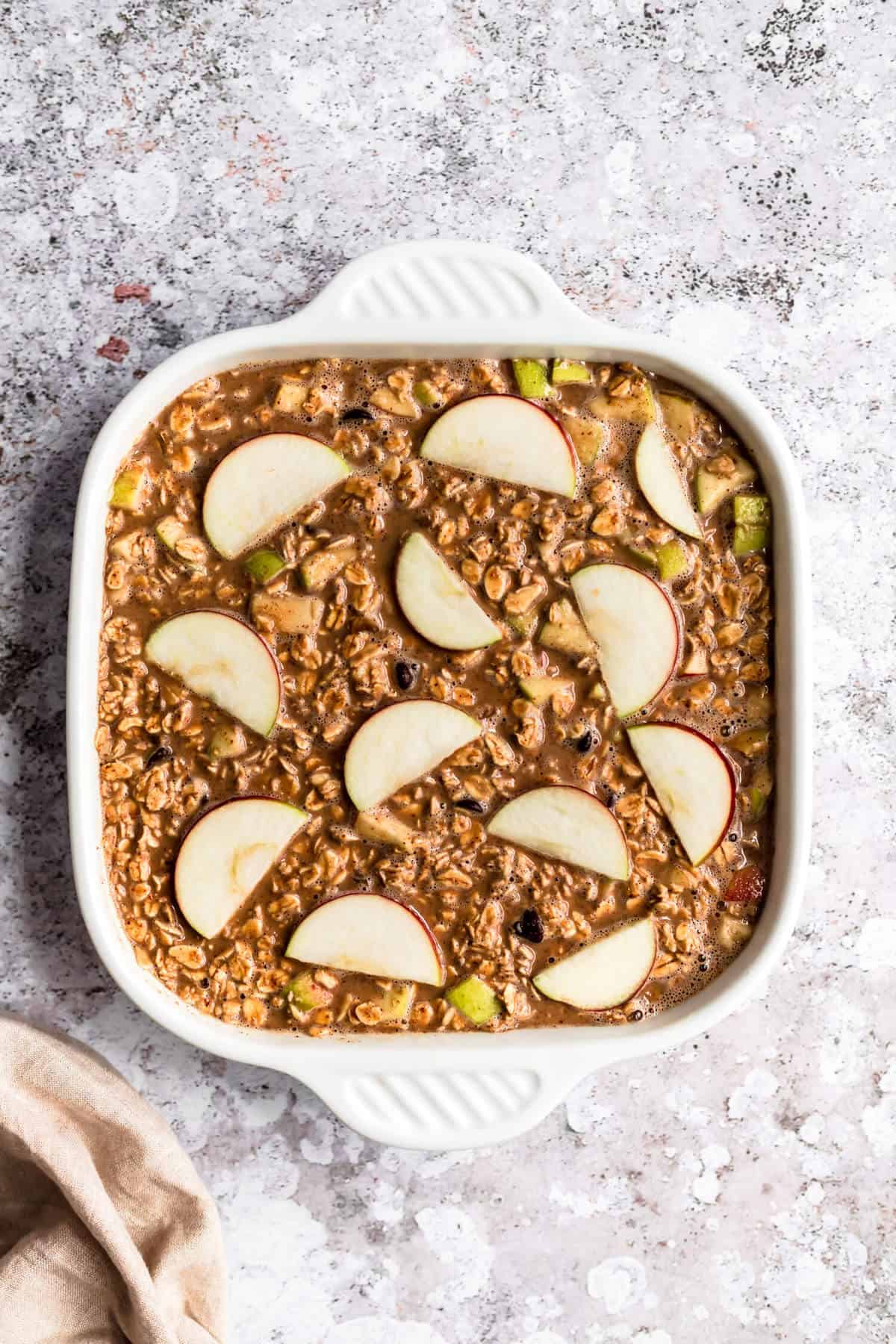 How to serve and store apple baked oatmeal
Once your baked oatmeal comes out of the oven, the only logical thing to do is drizzle it with melted chocolate chips, cut it into squares and dig in immediately! This is a breakfast best served warm but luckily for us, it's great kept in the fridge for 3-5 days - perfect for weekly meal prep. Once cool, either wrap slices in foil or cling film, place slices into individual containers or just cover the entire baking dish with foil. It's truly the best thing ever to get up in the morning and know that breakfast is already prepared.
You can eat this straight from the fridge if you like but it reheats amazingly well. Just pop slices back into a preheated oven for about 10 minutes for a quick and easy, warming breakfast. I like to eat my slice in a bowl doused with milk (bonus: you get choco milk!). My husband likes to eat his as is. Do as your heart desires! Another bonus: as someone who is perpetually plagued by the issue of being hungry again by 10am after eating breakfast, this is genuinely a really filling breakfast option, that'll keep you going until lunchtime. Yay!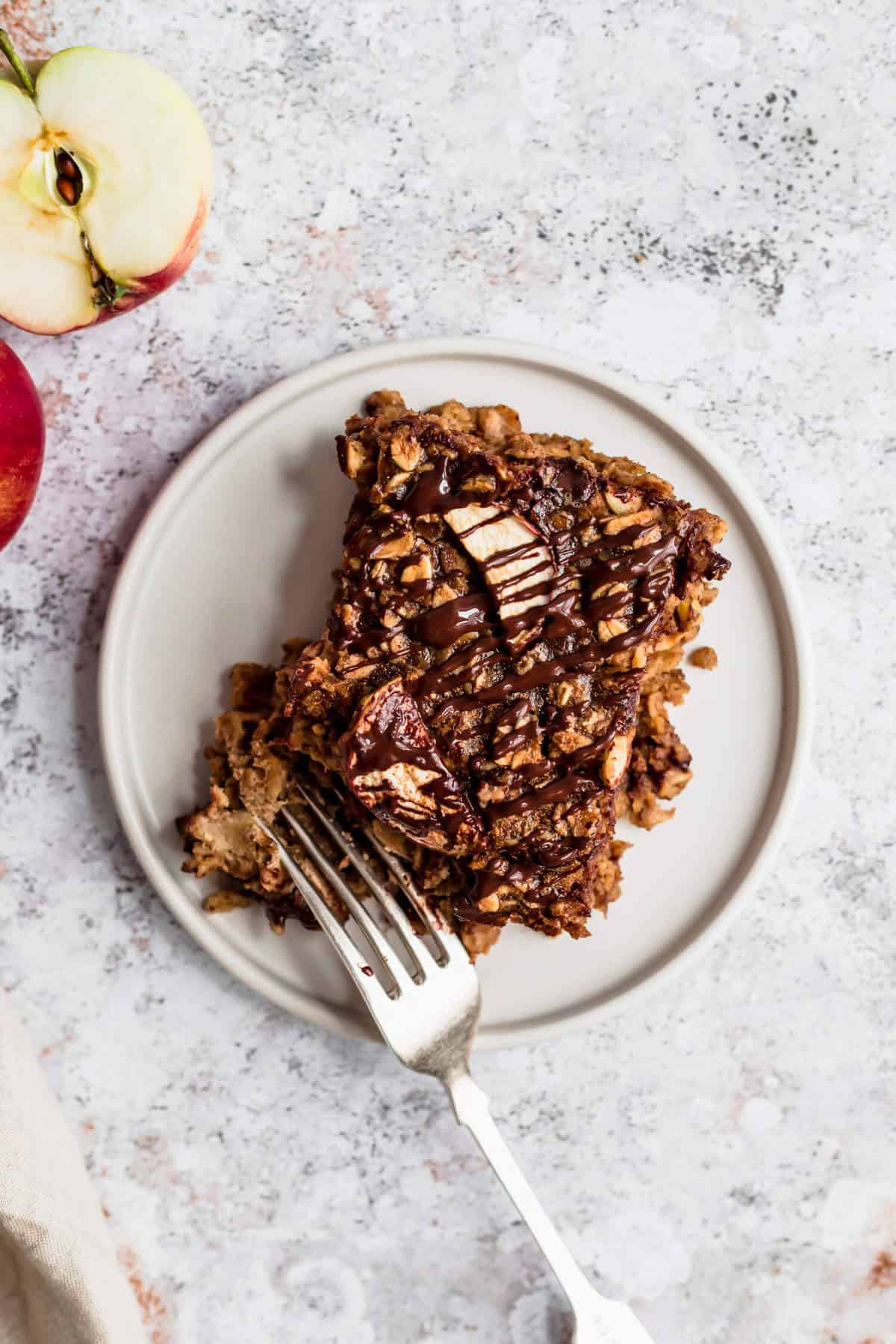 Tips and swaps
Please make sure you use old-fashioned or jumbo rolled oats for this recipe - if you use quick oats, you won't get the right consistency. If you like, you can replace a handful of the oats with some nuts. Pecans or walnuts would be divine in this recipe!
The almond butter adds richness without adding butter or oil. It also adds lots of flavour and protein, which is why the baked oatmeal is so filling! Pecan butter would also be delicious, as would cashew butter. I wouldn't advise using peanut butter as the flavour would be overpowering here. I found this article on Epicurious really helpful when developing this recipe. If you'd like to use butter or oil instead of nut butter, I'd take a look there for more tips!
I haven't tested the recipe this way, but I'm sure you could use a flax or chia egg to replace the egg if needed. Combine 1 tablespoon of ground flaxseed or chia seeds with 3 tablespoons of water and leave to sit for 10 minutes before using in place of the egg.
If you don't have or want to use maple syrup and molasses, you can use sugar instead. I would recommend using dark brown sugar as it has a higher content of molasses so that you still get that caramelised flavour that it lends.
I chopped my apple into small dice, leaving the skin on. You can peel the apple if you prefer. You could also try using pears instead!
If you don't like crystallized ginger, leave it out or sub in some dried fruit like raisins instead. I highly recommend the ginger though!
If you don't like the idea of eating chocolate at breakfast, leave it out. Or do the drizzle but leave the chips out. But please, don't. It's so so good, I promise! Alternatively you could serve this as a brunch dish!
Adding just a little coconut oil (or rapeseed or olive oil) to the chocolate chips as you melt them for the topping helps the chocolate become more drizzle-able.
I hope that you give this apple baked oatmeal a try and love it as much as I do! If you're looking for more breakfast ideas why not try:
Apple Baked Oatmeal with Dark Chocolate and Ginger
This autumn spiced apple baked oatmeal with dark chocolate and ginger is the perfect way to start the day - the pops of ginger work perfectly with the apple and chocolate!
Print Recipe
Pin Recipe
⭐️ Rate Recipe
Instructions
Preheat oven to 180°C/350°F. Grease an 8x8 inch baking dish with butter or oil.

In a medium bowl, stir together the oats, ground ginger, ground cinnamon, ground nutmeg, salt and baking powder.

2 cups old fashioned rolled oats,

2 teaspoons ground ginger,

1 teaspoon ground cinnamon,

⅛ teaspoon ground nutmeg,

¼ teaspoon fine sea salt,

½ teaspoon baking powder

In a large bowl, whisk together the almond butter, egg, vanilla, maple syrup and molasses until smooth. Next, whisk in the milk until well combined. 

½ cup almond butter,

1 large egg,

1 teaspoon vanilla extract,

2 tablespoons pure maple syrup,

2 tablespoons molasses,

1 ¾ cups milk of choice

Add the dry ingredients to the wet ingredients and stir to combine, making sure everything is well mixed. 

Stir in the apple, ginger and chocolate chips. Arrange the apple slices on top. Pour into the prepared dish and bake for 35-40 minutes or until set and the top is golden brown. 

1 cup finely diced apple,

¼ cup crystallized ginger,

¼ cup dark chocolate chips
To finish
Place the chocolate chips and coconut oil into a small heatproof bowl and place over a pan of simmering water. Stir until melted.

2 tablespoons dark chocolate chips,

½ teaspoon coconut oil

Once baked, drizzle the oatmeal with the melted chocolate, cut into 6-9 pieces and enjoy warm!
Notes
If you don't have an 8x8 inch baking dish, use a 9x9 inch dish instead (or as close as possible to those dimensions). The baked oatmeal will be ready sooner in a larger dish, so check it about 10 minutes or so before the end of the cooking time. As long as it's golden and set, you're good to go. 
Make sure you use old-fashioned rolled oats and not quick oats for this recipe.
Feel free to substitute pecan or cashew butter for the almond butter.
Use any kind of milk you like, dairy or dairy free.
I used 2 small apples to get 1 cup finely diced apple and ½ sliced apple. 
Try using pears instead of apples, if liked. 
I found this article really helpful when developing this recipe. I also drew inspiration from Monique's recipe. 
Nutrition
Calories:
311
kcal
|
Carbohydrates:
39.4
g
|
Protein:
11.3
g
|
Fat:
12.9
g
|
Saturated Fat:
1.8
g
|
Polyunsaturated Fat:
3
g
|
Monounsaturated Fat:
7.1
g
|
Cholesterol:
32.4
mg
|
Sodium:
144.8
mg
|
Potassium:
863.2
mg
|
Fiber:
5.7
g
|
Sugar:
16.2
g
|
Vitamin A:
15.5
IU
|
Vitamin C:
1
mg
|
Calcium:
241.3
mg
|
Iron:
2.4
mg
Did you make this recipe?
Leave a comment below with how you got on and don't forget to give the recipe a rating ⭐️⭐️⭐️⭐️⭐️. You can also tag @eatloveeats on Instagram - we love to see your creations!