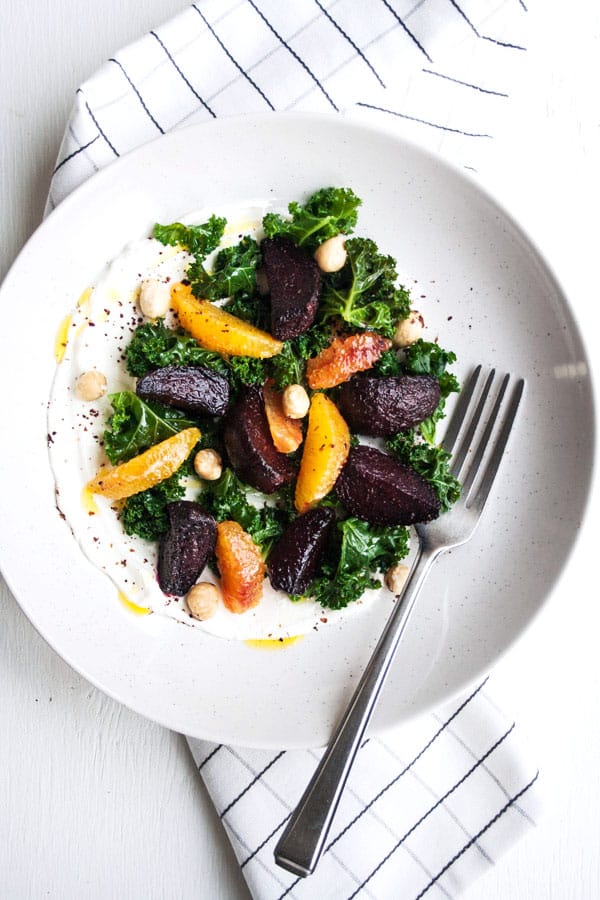 Well, happy new year! Yes, yes, I'm a bit late to the game and we're already two weeks in. But still! I've just embarked on my new year cleanse... again, you could say I'm a bit late to that game too. But hey. It's on. I'm in full reboot mode. Except, right now all I wanna do is eat a big plate of beetroot and blood orange salad with labneh... or, just about anything really.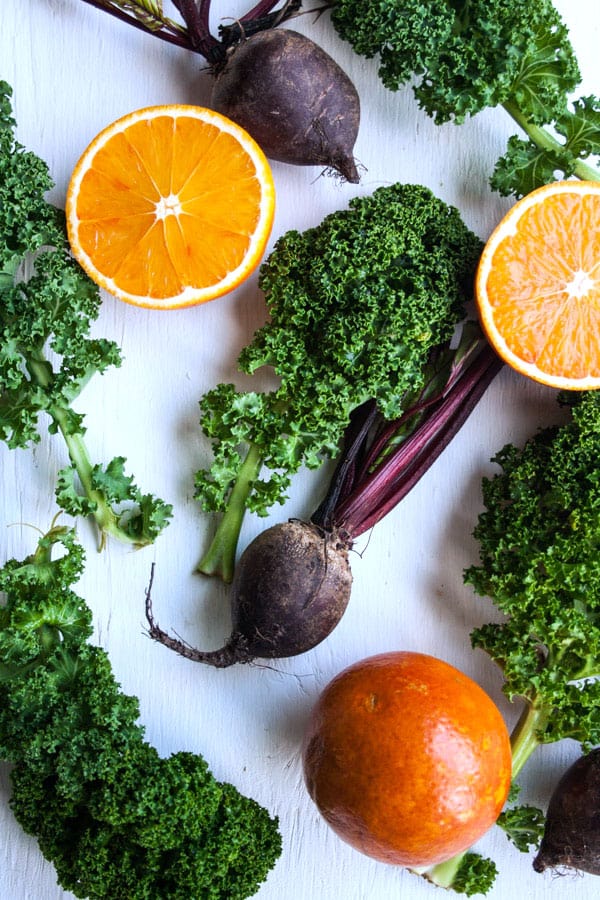 Yes, so, I'm currently on Day 2 of a 5-day juice cleanse. In fact, that picture up there looks like it could be the making of some pretty tasty juice! But no, I won't do that to you. Read on for REAL FOOD. I'm just kidding. This is probably the sixth time I have partaken in a 'juice cleanse'. It works for me. Don't get me wrong, it's pretty painful at times - food is pretty much my everything and so living off nothing but juice for 5 days straight can be a chore. Despite having a sweet tooth, I favour salty-savoury things and all that sweet juice really gets too much after a while, especially in the evenings. But that said, it really does work for me. It shifts a few pounds as a matter of course and most importantly, restores a healthy relationship with food. After having done this a few times (with my husband, I don't think I could do it if he was still eating normally!) I have learnt what does and doesn't work for me and so the process is relatively painless now, except for a few empty hunger pangs. The first time we ever did this, it wasn't pretty! All I could think about was pizza, like, the whole time. That isn't conducive to a happy cleansing experience, let me assure you. This time around, my attitude is that if I want to eat something, I can. More often than not, I choose not to, because I don't want to, not because I'm telling myself I can't. That really makes all the difference.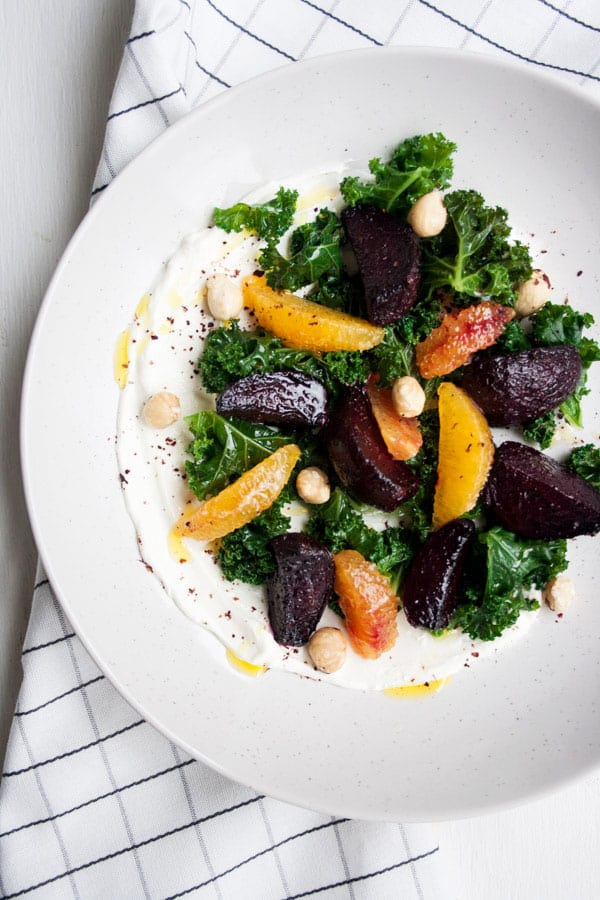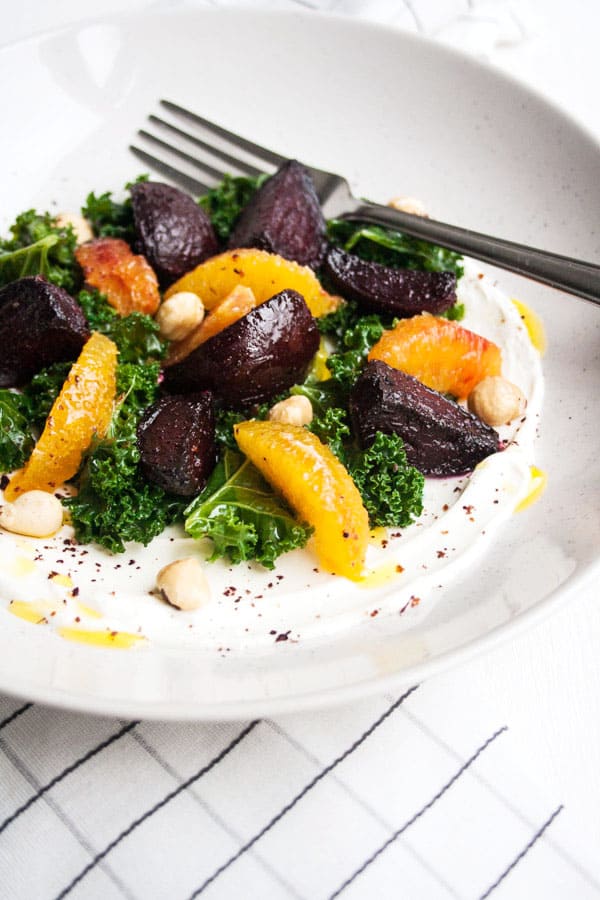 So onto the food. Oh yes, it's blood orange season again! I just couldn't wait to get my hands on some. Clearly, in the midst of a cleanse I wasn't going to make blood orange possets and so I decided to make a really simple salad. A few delicious ingredients, simply prepared, with their flavours allowed to speak for themselves. I was a little sad that my blood oranges weren't particularly...bloody...but the flavour more than made up for that!
I've wanted to try making labneh for a while now and it really couldn't be easier. All that is needed is a little planning ahead to allow it to strain. And the result is delicious - a creamy, slightly sour soft cheese that you will want to put on everything! Definitely worth the (minimal) effort.
This elegant salad is perfect as a light lunch, starter or a side dish - it goes wonderfully with a pan-fried garlic and sumac coated chicken breast. The flavours of the earthy kale and beetroot, creamy labneh and tangy blood oranges balance to create a very satisfying supper indeed.
Beetroot and Blood Orange Salad with Labneh
A light spring salad with roasted beetroot and blood oranges served on top of a creamy bed of labneh.
Print Recipe
Pin Recipe
⭐️ Rate Recipe
Ingredients
For the labneh
250

g

full-fat Greek style yoghurt

pinch of salt
For the salad
250

g

small bunch of baby beetroot

,

(½lb)

pinch of cumin

,

optional

1

tablespoon

rapeseed or olive oil

bunch of kale

,

(I used curly kale)

1-2

blood oranges

,

segmented

¼

cup

hazelnuts

sumac,

to sprinkle, optional
Instructions
Begin by making the labneh. Mix together the yoghurt and the salt. Line a sieve with muslin and set over a bowl. Place the yoghurt mixture in the sieve, and leave to strain in the fridge overnight. The next day you'll be left with a thickened, soft cheese-like mixture.

250 g full-fat Greek style yoghurt,

pinch of salt
For the salad
Scrub, trim and quarter the beetroot. If they are large, you may have to cut them into smaller pieces. Sprinkle with a pinch of salt, pepper and cumin (if liked). Drizzle with a tablespoon of oil. Cover tightly with foil and roast at 180ºC/350ºF for 40-45 minutes. They may take longer depending on their size or age, so check them. They're ready when a sharp knife slips through them with ease. Remove from the oven and allow to cool.

250 g small bunch of baby beetroot,

pinch of cumin,

1 tablespoon rapeseed or olive oil

Wash the kale and cut out the large ribs. Tear into bite-sized pieces and steam for about 5 minutes or until tender.

Roast the hazelnuts in a 150ºC/300ºF oven for around 5 minutes. Place in a clean tea towel and rub to remove the skins. You could do this in a frying pan but keep an eye on them as they burn easily!

To assemble: Take a large dollop of the labneh and spread it out on your bowl or plate. Arrange the kale, beetroot, blood oranges and hazelnuts on top. Sprinkle with the sumac, if using, and drizzle with a little olive or rapeseed oil to finish.
Notes
You could serve this as one large salad to share as a side dish or as individual plates for a starter. The quantities listed are really rough guidelines. I'd say that there is enough labneh for 2-3 people, but then it's up to you how much kale, etc, you would like.
I left the skins on my beetroots because they were small, however, if you use older beets, you may prefer to peel them.
Prep time does not include overnight straining for the labneh.
Nutrition
Calories:
380
kcal
|
Carbohydrates:
32.2
g
|
Protein:
17.1
g
|
Fat:
22.8
g
|
Saturated Fat:
4.8
g
|
Polyunsaturated Fat:
2.7
g
|
Monounsaturated Fat:
14.5
g
|
Cholesterol:
16.3
mg
|
Sodium:
1606
mg
|
Potassium:
923.4
mg
|
Fiber:
6.9
g
|
Sugar:
24.3
g
|
Vitamin A:
127.7
IU
|
Vitamin C:
63
mg
|
Calcium:
224.4
mg
|
Iron:
2.8
mg
Did you make this recipe?
Leave a comment below with how you got on and don't forget to give the recipe a rating ⭐️⭐️⭐️⭐️⭐️. You can also tag @eatloveeats on Instagram - we love to see your creations!