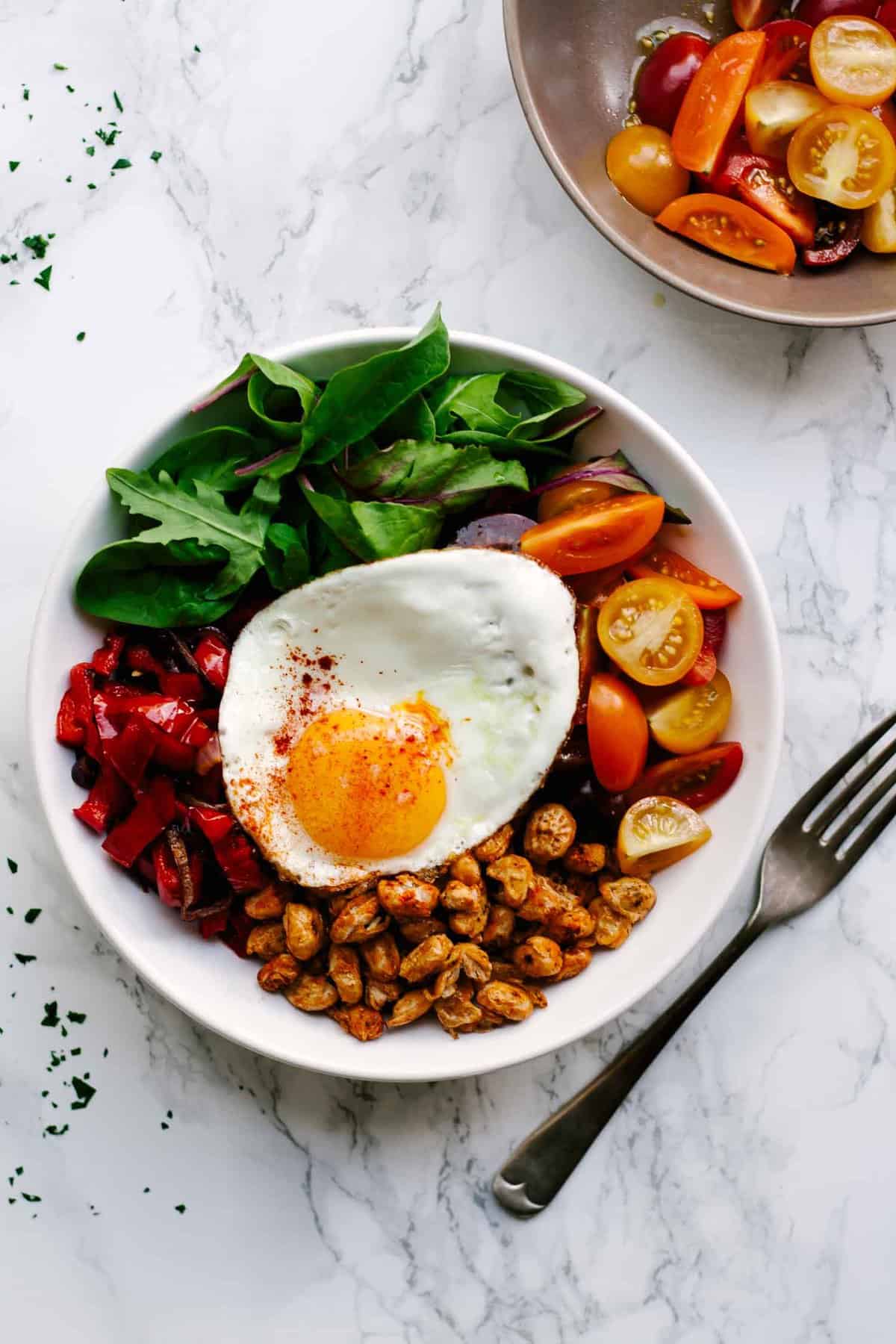 New favourite meal alert! Oh my, these Smoky Cannellini Bean Nourish Bowls are just too flipping good! See, I have this tendency to eat a lot of carbs. I dunno, I just like bread. I actually don't eat a whole lot of pasta - bread is my weakness. And don't get me wrong, I'm not suggesting that there is anything wrong with eating bread (it is, in fact, LIFE). But sometimes, I'm like, okay, I probably need to eat some other food groups now. Do you get me? I love love love fruits and veggies - SO much - but often I just reach for bread for ease. Okay, now it kinda sounds like all I ever eat is bread - err, not so. Just sometimes I eat more than would perhaps be recommended.
Anyway - MY POINT.  Anytime I make a complete meal which is hearty and filling and satisfying without bread, I consider that to be a major win. In this deafening world of conflicting (and let's face it, frequently scaremongering) nutritional advice, it can be hard to know how to feed yourself properly. I know I feel that regularly. I have to keep telling myself to calm down, that I'm doing my best and it's good enough. And then when I actually do calm down enough to slow my thoughts to the pace of a normal, non-crazy person, I find my brain actually begins to function. Funny that... And the result of that is that I can create knock-it-out-of-the-park, stinking awesome meals like the one you see right here. You see I told you it was good - it was inspired.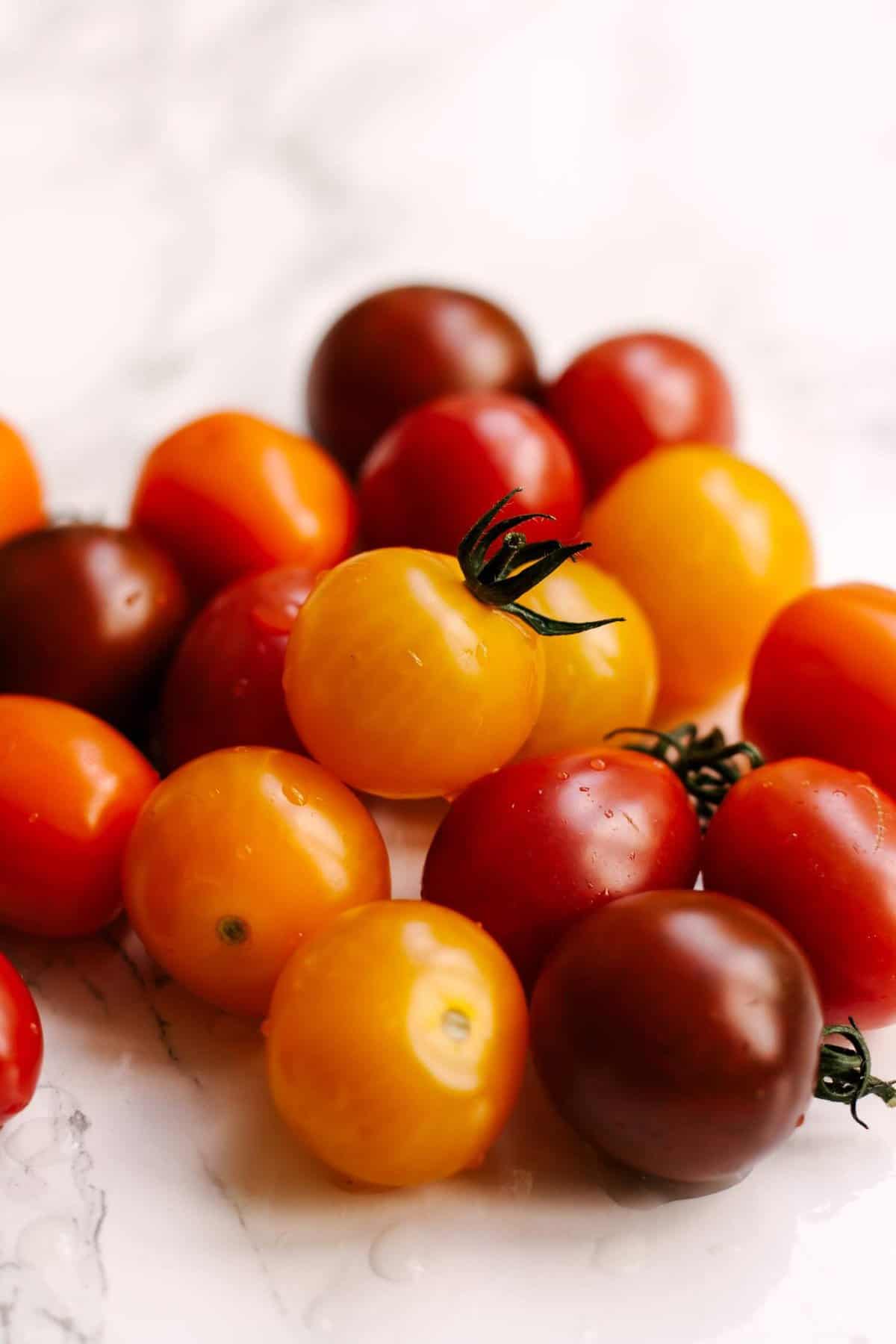 This is one of the simplest meals ever - it's so easy! And it's an amazing way to use up some of the bounty of gorgeous summer produce that's available right now. To make it there are just a few simple processes to follow and they all come together nice and easy and relaxed, no stress. And then you get to dig in to a bowlful of pure heaven. That's my kind of food - and I'm willing to bet it's yours too.
So, let me break these Smoky Cannellini Bean Nourish Bowls down for you. We have: sweet roasted ramiro peppers and red onions, smoky frying pan popped cannellini beans (oh my goodness incredible), fresh juicy cherry tomatoes, salad greens and a good old crispy fried runny egg. And a really simple, zingy dressing to bring it all together. Ugh. You didn't know this until now but let me tell you - you need this.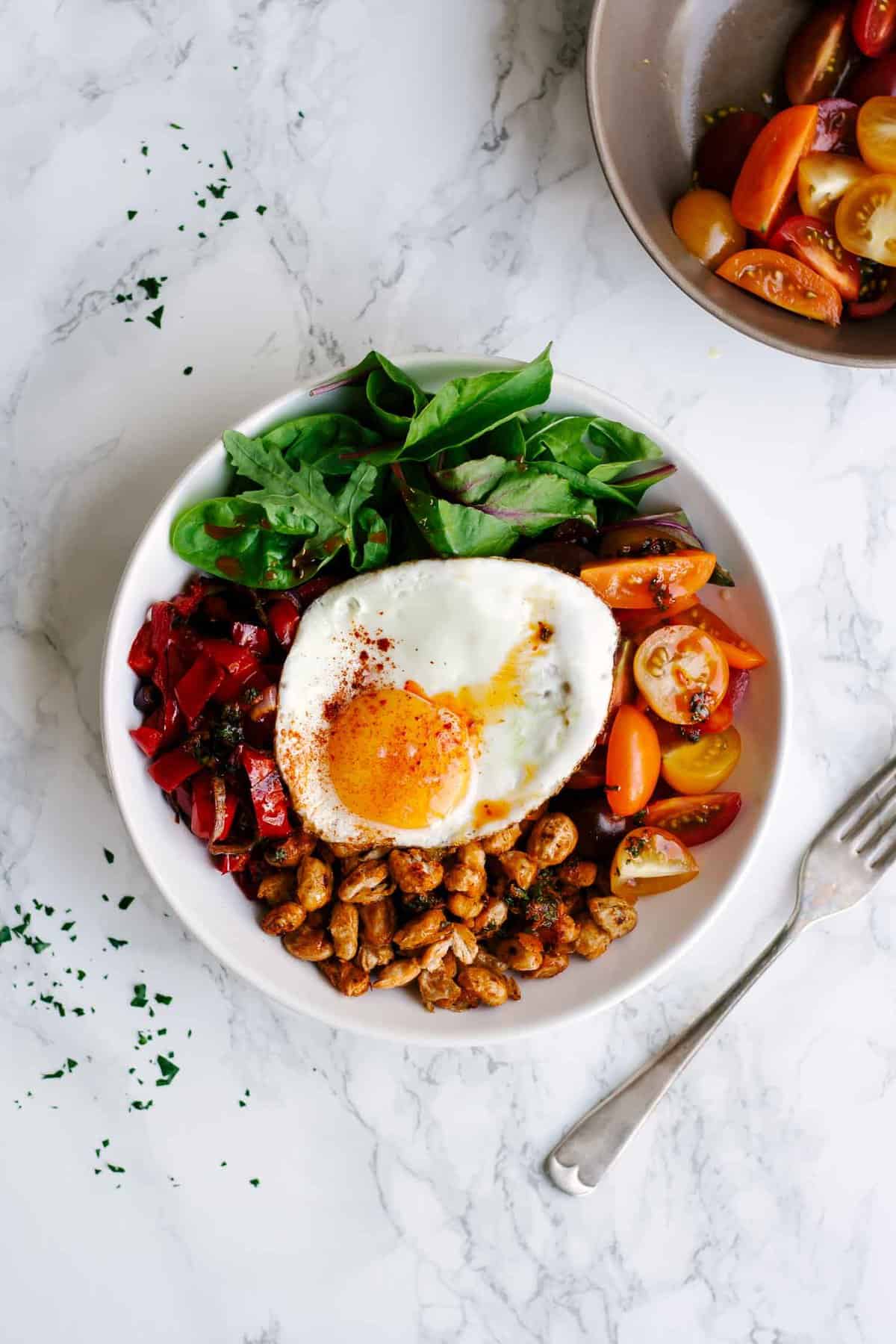 Also, can we talk about the wonder which is the ramiro pepper?! Also sometimes called the romano pepper? Either way, I'm talking about the longer, thinner-skinned peppers, as opposed to the bell pepper. It's been something of a revelation in my kitchen. I've always cooked with bell peppers, probably because they tend to be cheaper, but not that much cheaper, tbh. There is a big difference in flavour! Plus, they're way sweeter. To prove how much I love them lately, let's just say they will be featuring in another recipe soon! And trust me, you don't wanna miss that one. So. Much. Flavour.
Anyhoo. I'll shut up and give you the recipe. Enjoy friends!
And, er, this bowl goes down a treat with a thick slice of good buttered bread on the side - just sayin'.
Ingredients
2-3

ramiro peppers

1

red onion

1

can

cannellini beans,

rinsed and drained

¼

teaspoon

smoked paprika

300

g

(10 oz) cherry tomatoes

,

halved

2

handfuls

salad greens

2

eggs
For the dressing
1

tablespoon

parsley

,

finely chopped

1

clove

garlic

,

crushed or finely grated

½

teaspoon

smoked paprika

1

tablespoon

lemon juice

3

tablespoons

rapeseed or olive oil
Instructions
Preheat oven to 200C/400F. Slice the peppers and the red onion. Place on a baking sheet and toss with a drizzle of oil and a pinch of salt. Place in the oven and cook for 20 minutes, tossing halfway through the cooking time, until soft and golden.

2-3 ramiro peppers,

1 red onion

Heat 1 tablespoon rapeseed or olive oil in a frying pan set over medium-high heat. Add the drained cannellini beans and season well with salt and pepper. Cook for about 10 minutes, shaking the pan frequently, until the beans have turned crispy and golden. Season with ¼ teaspoon smoked paprika at the end of the cooking time.

1 can cannellini beans,

¼ teaspoon smoked paprika

Arrange the salad greens and cherry tomatoes in two bowls. Serve up the peppers and onions and the crispy beans.

2 handfuls salad greens,

300 g (10 oz) cherry tomatoes

Fry the eggs to your liking - I like crispy bottomed eggs with a runny yolk. Top the bowls with the eggs and drizzle over the dressing. Serve.
For the dressing
Add all of the dressing ingredients to a jar or a small bowl. Add a good pinch of salt to season to taste. Shake or whisk to combine.

1 tablespoon parsley,

1 clove garlic,

½ teaspoon smoked paprika,

1 tablespoon lemon juice,

3 tablespoons rapeseed or olive oil
Nutrition
Calories:
509
kcal
|
Carbohydrates:
51.2
g
|
Protein:
20
g
|
Fat:
27.1
g
|
Saturated Fat:
4.8
g
|
Polyunsaturated Fat:
3.7
g
|
Monounsaturated Fat:
16.9
g
|
Cholesterol:
186
mg
|
Sodium:
543.9
mg
|
Potassium:
1500.7
mg
|
Fiber:
12.8
g
|
Sugar:
13.5
g
|
Vitamin A:
492.1
IU
|
Vitamin C:
187.6
mg
|
Calcium:
186
mg
|
Iron:
6.5
mg
Did you make this recipe?
Leave a comment below with how you got on and don't forget to give the recipe a rating ⭐️⭐️⭐️⭐️⭐️. You can also tag @eatloveeats on Instagram - we love to see your creations!