Roasted butternut squash and red pepper soup is all we're thinking about this fall. It's easy to make and full of flavor from the roasted butternut squash, peppers and spices. This soup is ideal for cooler days and perfect for making ahead.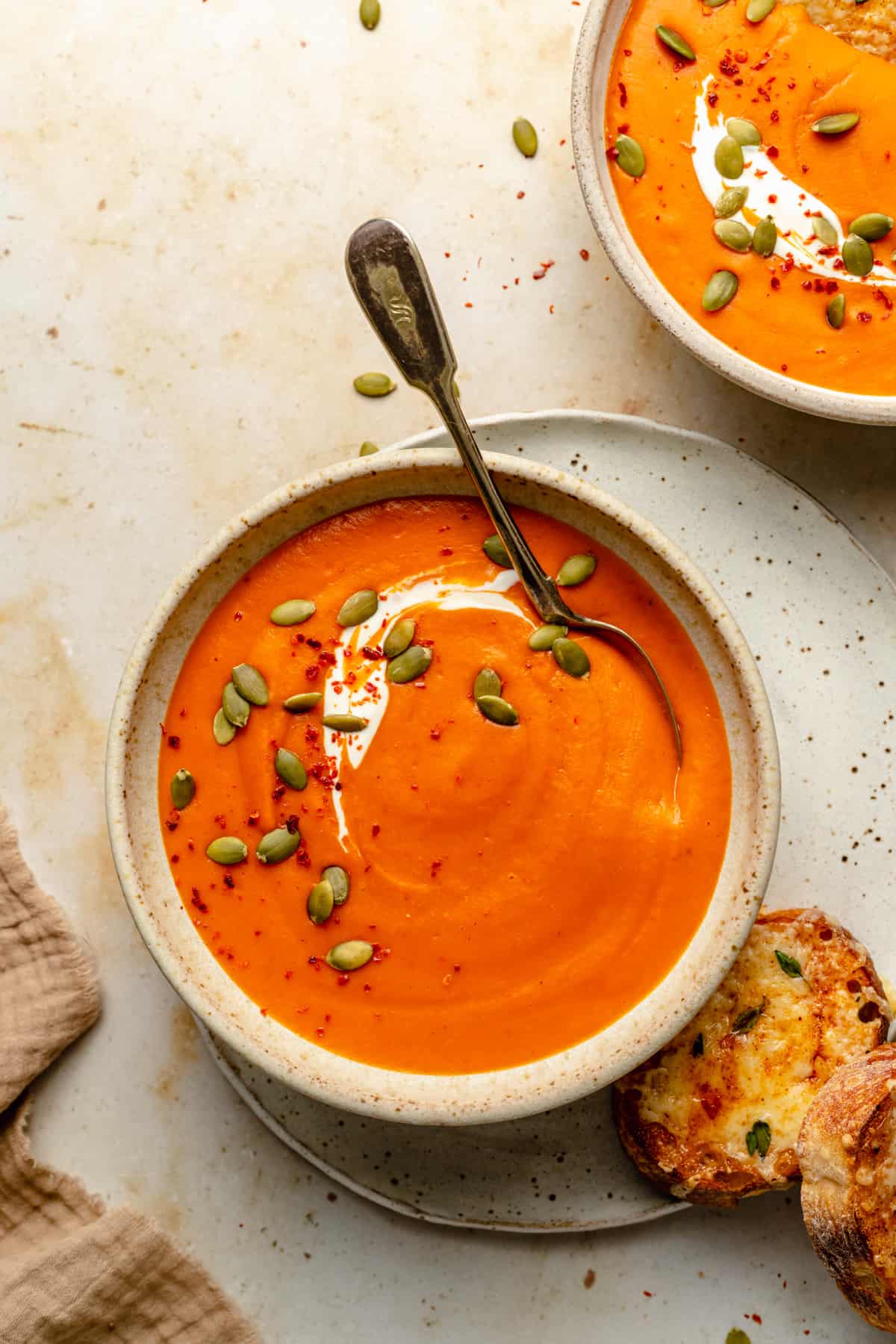 What's better than a cozy bowl of delicious soup in fall? This butternut squash and red pepper soup really hits the spot as the temperature drops outside. We love soups at this time of year, just like this coconut curry chicken soup. We're also totally crushing on meal prep. It makes so much sense, as the days get shorter and shorter, we just want something to warm up with after a long day. This is so easy to whip together and for making larger batches that last all week.
There are so many different variations of soup with butternut squash, but this versatile vegetable is perfectly matched with red peppers. The color and depth of flavor that you get from roasting this combination of veggies together is lovely. It's easily adjusted depending on how thick or thin you like your soup on blending. Another of our favorites is our sweet potato and carrot soup. So cozy!
So let's get to it! We know you'll love this butternut squash and red pepper soup recipe, so leave a comment and a rating below as we love hearing from you. Be sure to follow the links to get to where you need to.
Jump to:
⭐ Why you'll love this recipe
Here are some reasons why you need this butternut squash and red pepper soup recipe in your life:
Warming - what better way to warm yourself up on a cold fall or winter's day than by enjoying a hot bowl of soup? The spice level is adjustable if you don't want that extra warmth.
Satisfying - thickened with veggies and red lentils, this butternut squash soup has plenty of fibre and protein that will completely satisfy you.
Easy - with a few simple ingredients this soup is mostly hands off, making it great to make for a light midweek dinner or lunch.
Healthy - this soup is packed with veggies and all the nutrition that comes with them. Balanced and delicious, this soup is definitely a healthier option.
Meal prep - you can easily make this for the week ahead in your meal prep and it's suitable to scale up as well, making more for your freezer.
📋 Ingredients
For this butternut squash and red pepper soup you don't need many ingredients to make a beautiful warming lunch or supper. Here's what you'll need: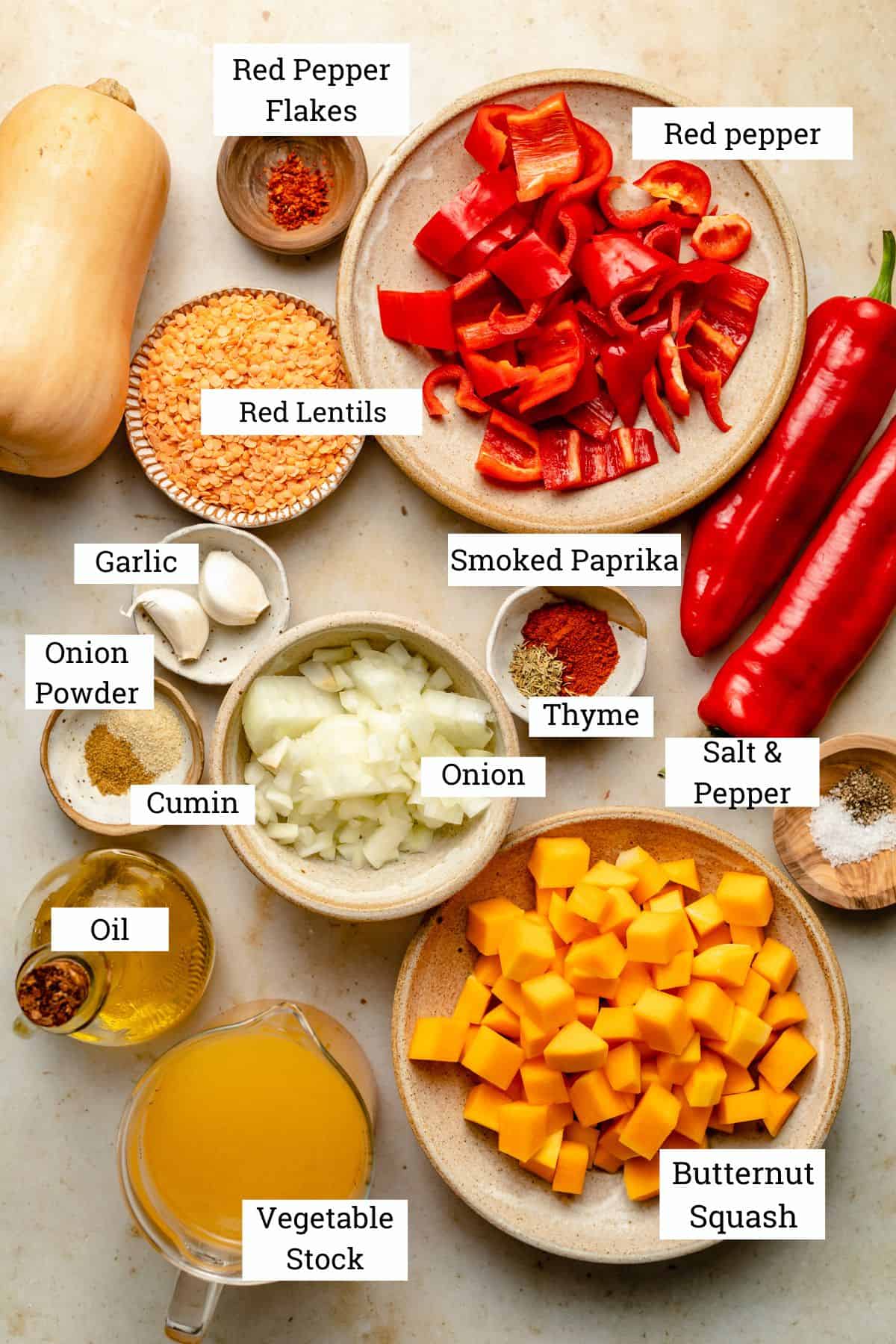 Butternut squash - we use butternut squash in this recipe, but feel free to use an alternative squash; you may just need to adjust the amount of stock depending on the resulting thickness of the soup.
Pointed red peppers - also known as romano peppers, these are sweet and flavorful. They have a deeper red color and flavor than bell peppers, but bell peppers work just as well if you can't find the pointed ones.
Spices - you'll be using a little ground smoked paprika for smokiness, plus ground cumin, onion powder and dried thyme for extra warmth and depth. You'll also be using chilli flakes, often called red pepper flakes in the States. We used aleppo chilli flakes (also sometimes known as pul biber).
Red lentils - these little lentils cook quickly without needing to soak them beforehand. They help to thicken the soup, whilst also adding some protein and making it more filling.
See the recipe card for full information on ingredients and quantities.
📖 Customizations
Use these suggestions for customizing this butternut squash and red pepper soup for your personal preferences:
Squash - one of our ultimate vegetable soup recipes, you can also make this into a pumpkin soup with your favorite pumpkin, make the most of the season with the best squash recipes.
Sensitive to onions? - some people are sensitive to onions and if that's you, you can try using shallots or leeks as they are sweeter, or even use celery. The soup will have a different flavor from this substitution though.
Want more protein? - this soup already has about 20% of your protein for the day, but you can also add in chickpeas for even more protein, you'll just need to add more liquid on blending to get the right consistency. 
Make it vegan - this is easily made vegan with a vegan vegetable stock. The only changes would be to the garnishes - just use dairy-free alternatives to yogurt or cream, such as coconut milk. Or try our vegetable orzo soup.
🔪 How do I make butternut squash and red pepper soup?
This soup is super easy to put together but make sure you follow these step by step processes to ensure you get the most flavor out of your time in the kitchen!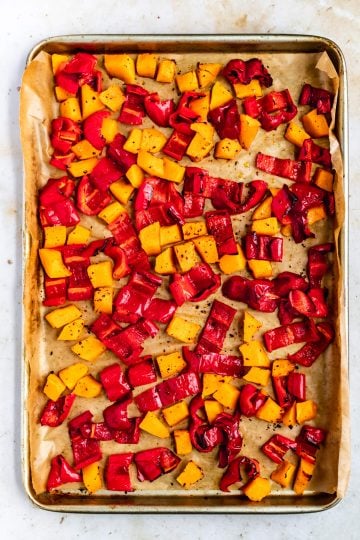 Step 1. Add the butternut squash and chopped red peppers to a parchment lined baking sheet. Sprinkle with chilli flakes, salt and pepper and olive oil and toss together.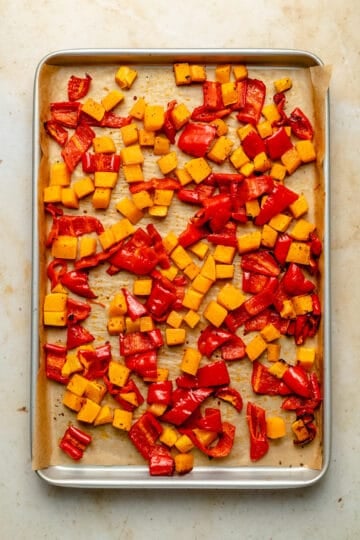 Step 2. Roast the vegetables in a preheated oven at 180oC/350oF for 25-30 minutes until tender and charred/caramelized at the edges.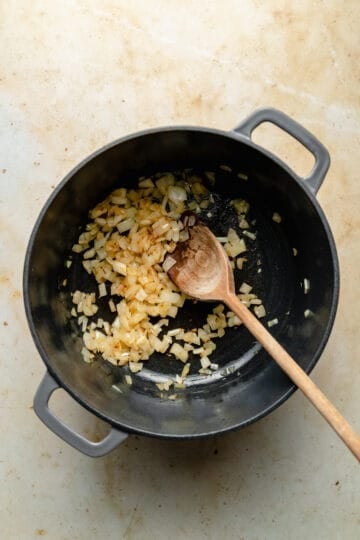 Step 3. Heat a dutch oven or large pan over a medium high heat. Once hot, add 1 tablespoon olive oil and the diced onion. Sauté for 5 minutes until softened and golden at the edges.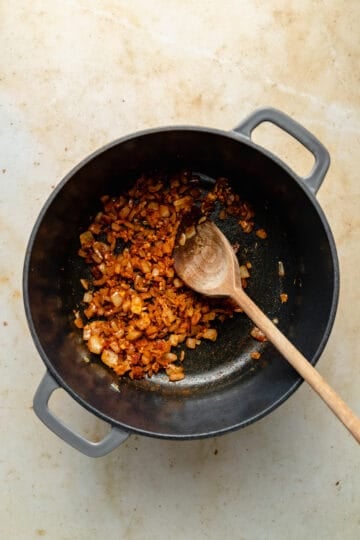 Step 4. Add the minced garlic and spices and stir over a medium heat for another minute until fragrant. Tip #1 Don't burn the garlic, as it will turn bitter.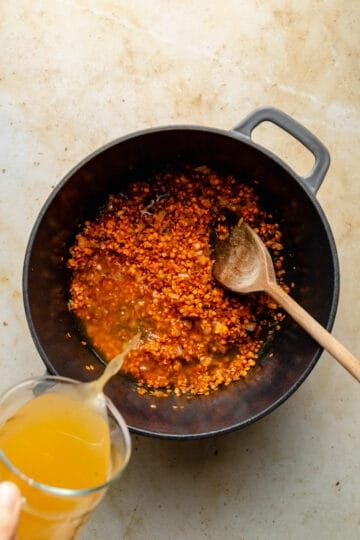 Step 5. Add the red lentils and stir into the onion and spice mix. Pour in the stock and bring to the boil. Tip #2 Good quality stock = good quality soup.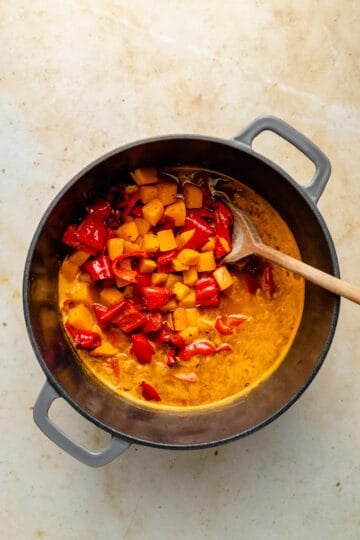 Step 6. Reduce the heat, add the roasted vegetables and stir into the soup mix.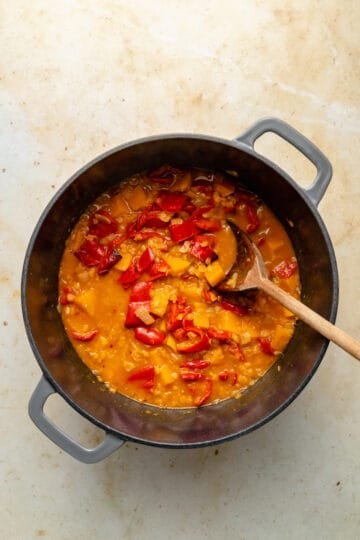 Step 7. Simmer for 15 minutes uncovered until the red lentils are soft and cooked through.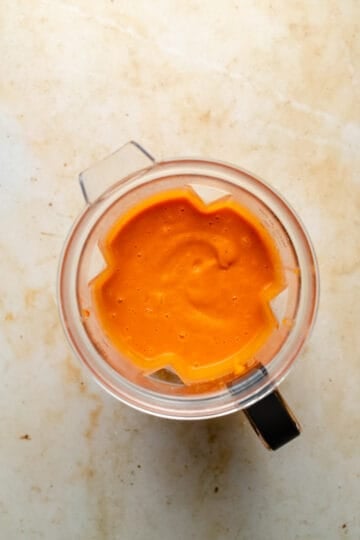 Step 8. Blend the soup in a jug blender or with a stick blender. Just be careful not to overload the jug as you don't want to burn yourself.
👩‍🍳 Expert tips
Roasted veggies - we find roasting brings out the flavor so much more than just boiling some veggies. It's all down to the maillard reaction which is where caramelization happens - and when caramelization happens - you get FLAVOR! It's just so predictable and reliable. Want better soup? Roast the veggies!
No need to peel red peppers - You don't need to faff around peeling the red peppers, who has time for that? If you have a powerful enough stick or jug blender, just whizz them up and you'll have a deeper color and flavor from them.
Thickness - adjust the thickness of the soup from super thick to thin and glossy depending on your preference by adjusting the amount of liquid added on blending.
Blending - often it's suggested that soup be blended with a stick blender for ease but we don't recommend it. As convenient as it is, it just does NOT deliver on the smooth creamy texture that you can get from a jug blender. For those who love soup, it's definitely worth getting a jug blender.
🍲 How to make this for meal prep
There are a couple of options for making this butternut squash and red pepper soup ahead of time:
Roast your veggies ahead of time and let cool. Place them in an airtight container for up to 3 days in the fridge and grab them when you are ready to put the rest of the soup together.
Make the whole soup start to finish and let it cool completely. Store in airtight containers and eat throughout the week, or freeze for later.
Either way, check out the storage tips in the FAQ's below.
💭 Recipe FAQs
Can I double this recipe?
Yes, absolutely! This butternut squash and red pepper soup makes about 1 litre of soup; about 3 portions or 4 small bowls. Feel free to double or even triple the recipe to create enough for your needs. We like freezing this soup for a later date, too. 
Can I freeze leftovers?

Yes! This soup freezes well. Just blend the soup and let it cool completely then freeze in portion sizes in individual airtight containers or ziploc bags. It will last well for up to 3 months in the freezer at -18oC.
How do I store this soup?

We recommend storing in an airtight container in the fridge for up to 5 days or freezing the soup if you would like to keep it longer than this.
How to reheat this soup?

If frozen, we recommend defrosting in the fridge overnight until completely frost free. To reheat in the microwave, place in a microwave safe container and heat for 1-2 minutes on high, stirring occasionally. Or reheat over a medium heat in a saucepan on the stove until piping hot.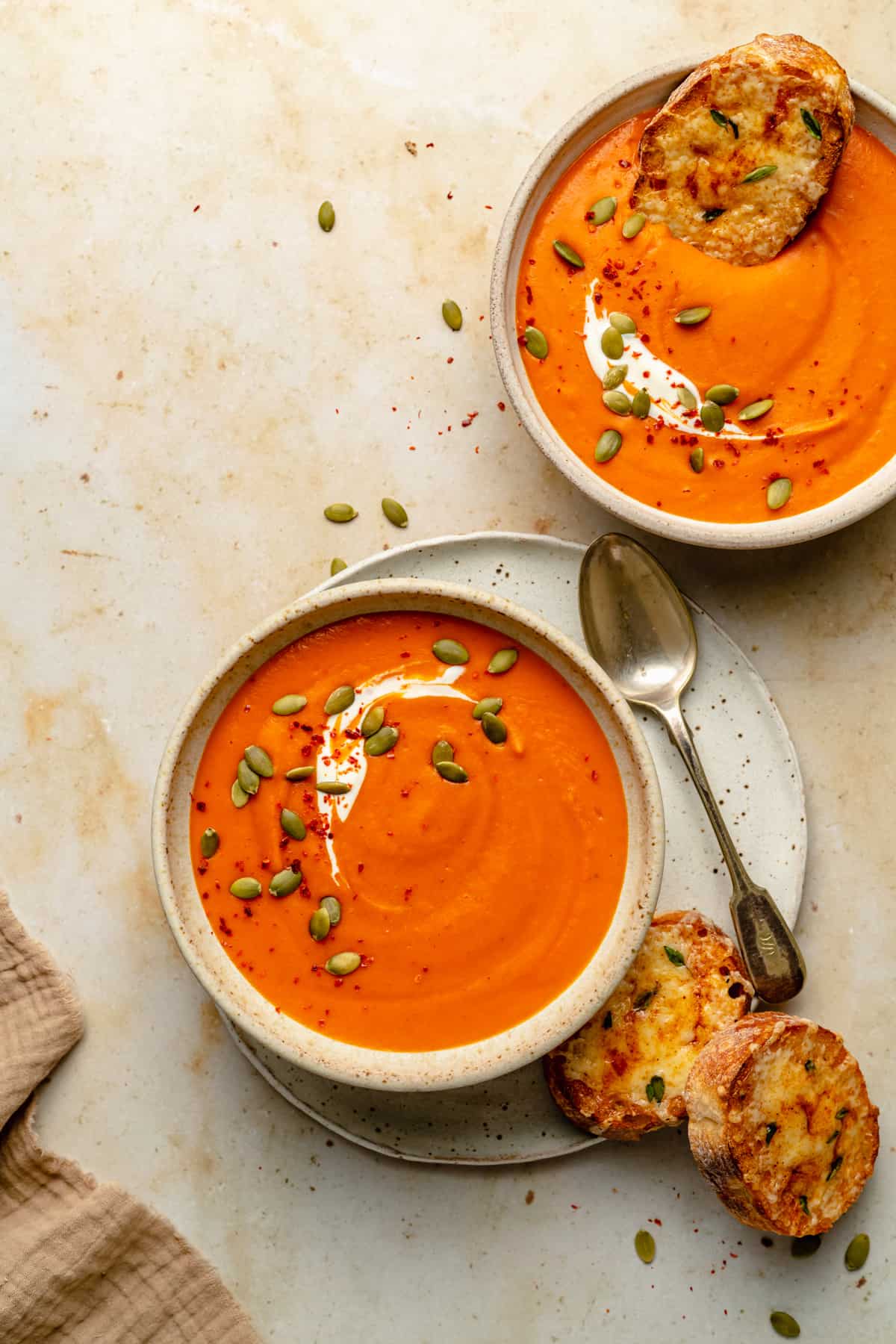 🥗 Related recipes
Love this butternut squash and red pepper soup recipe? Then you may want more of our soup recipes. Here are some suggestions to get you started:
Love this recipe? Leave us a 5-star ⭐️⭐️⭐️⭐️⭐️ rating in the recipe below and don't forget to leave a review in the comments section underneath the recipe. We love hearing from you!
Why not follow along with us on our social media channels @Instagram @Facebook and @Pinterest and tag us with #eatloveeats when you've tried one of our recipes!
📖 Recipe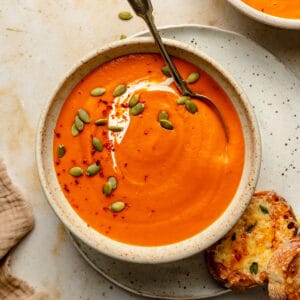 Roasted Butternut Squash and Red Pepper Soup
This butternut squash and red pepper soup is perfect for making on chilly days. It's quick and easy to make and packed full of flavor as the vegetables are roasted before adding the stock.
Print Recipe
Pin Recipe
⭐️ Rate Recipe
Ingredients
Roasted butternut squash and red pepper
To garnish the soup
Greek yogurt

Fresh thyme leaves

Cheesy toasts

,

see recipe notes
Instructions
Preheat oven to 200°C/400°F. Line a baking sheet with parchment paper.

Add the diced butternut squash and the chopped red peppers to the baking sheet. Drizzle with the olive oil and sprinkle with the chilli flakes, salt and pepper. Toss with your hands to coat. Roast in the preheated oven for 25-30 minutes until everything is tender and a little charred at the edges.

2 cups peeled and diced butternut squash,

3 pointed red peppers,

1 tablespoon olive oil,

¼ teaspoon chilli flakes,

½ teaspoon kosher salt,

¼ teaspoon freshly ground black pepper

Whilst the vegetables are roasting, place a large saucepan over medium high heat. Once hot, add in the olive oil and onion and sauté for 5 minutes or until softened and golden at the edges.

1 yellow onion,

1 tablespoon olive oil

Add the garlic and spices and continue to cook, stirring, for 30 seconds.

2 garlic cloves,

1 teaspoon smoked paprika,

½ teaspoon ground cumin,

½ teaspoon onion powder,

¼ teaspoon dried thyme

Add the red lentils to the pot and give them a good stir to coat in the onions and spices. Next, pour in the stock and salt and bring to the boil.

½ cup red lentils,

3 cups chicken or vegetable stock,

¼ teaspoon sea salt

Reduce the heat to a simmer and add the roasted vegetables. Continue to simmer for 15 minutes until the lentils are soft.

Carefully transfer everything into a blender and blend until smooth. Take care to cover the top of the blender with a tea towel to avoid any splashes and start blending slowly, gradually increasing the speed until smooth. This is the place to add more stock if you want a thinner soup.

Taste and adding more salt or pepper if desired. Serve topped with a little yogurt and pumpkin seeds, if liked. See notes section below for suggested instructions on how to make some tasty little cheesy toasts for dipping.

Greek yogurt,

Pumpkin seeds,

Fresh thyme leaves,

Cheesy toasts
Notes
Use your favourite variety of squash - red kuri, acorn and kabocha all work well. Some varieties of squash cook a little quicker, so start checking at 20 minutes. 
If you can't get hold of red pointed peppers, use red bell peppers instead.
If you don't have an upright blender, you can use a hand-held stick blender.
This recipe makes about 1.2 litres or 5 cups of soup, which equates to about 3 full servings or 4 smaller ones. 
Delicious served with some smoky cheesy toasts - lightly toast some slices of baguette and top with grated cheddar cheese, a sprinkle of smoked paprika and a few thyme leaves. Place under the grill/broiler for a minute or two until melted and golden. 
To make vegan, use vegetable stock and coconut milk for garnish.
Depending on the salt levels in your chosen stock, taste and adjust salt levels in the soup accordingly.
Nutrition
Calories:
297
kcal
|
Carbohydrates:
44
g
|
Protein:
11
g
|
Fat:
10
g
|
Saturated Fat:
1
g
|
Polyunsaturated Fat:
1
g
|
Monounsaturated Fat:
7
g
|
Sodium:
1546
mg
|
Potassium:
959
mg
|
Fiber:
15
g
|
Sugar:
11
g
|
Vitamin A:
14552
IU
|
Vitamin C:
177
mg
|
Calcium:
91
mg
|
Iron:
4
mg
Did you make this recipe?
Leave a comment below with how you got on and don't forget to give the recipe a rating ⭐️⭐️⭐️⭐️⭐️. You can also tag @eatloveeats on Instagram - we love to see your creations!