This beetroot hummus is super smooth and utterly delicious as it's made with roasted beetroot and garlic. It makes for the best dip for a gathering or a party and the colour is insane!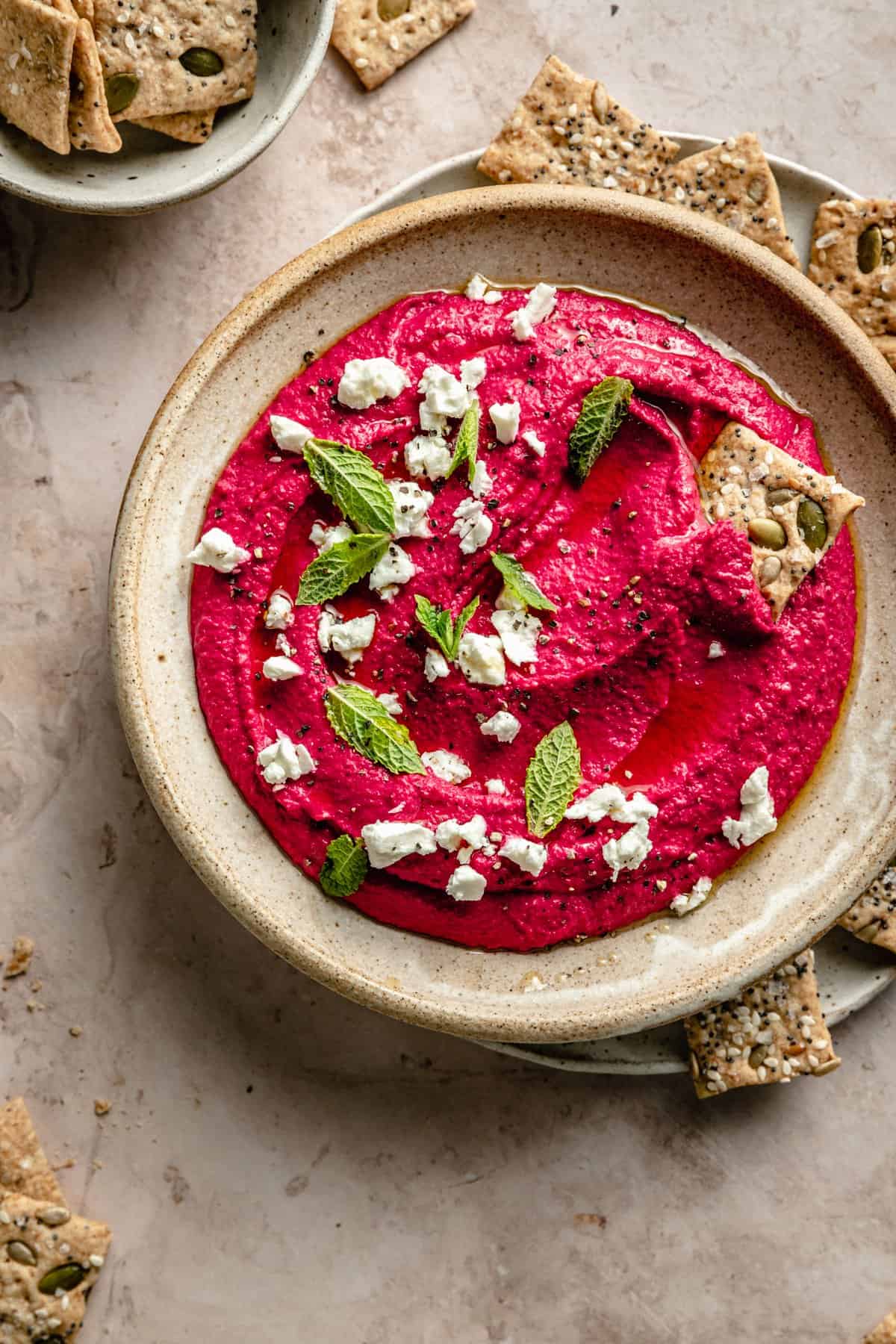 We're all advised that eating colourfully is best, well, this beetroot hummus certainly hits that criteria. Vibrant in both colour and flavour, this hummus makes a perfect dip for a snack or a party appetizer. Why not try our ricotta crostini.
We've perfectly matched the lovely subtle earthy flavours of roasted beetroot with roasted garlic in this super smooth hummus. Add in all the traditional hummus ingredients and you've got a crowd pleaser. Especially if you serve with these sourdough crackers!
If you love these kind of flavours you definitely need to check out our easy vegan beetroot falafel or beetroot feta walnut salad with dukkah. We know you'll love this beetroot hummus so don't forget to leave a comment and rate the recipe! We love hearing from you. Follow the links below to get to where you need to.
Jump to:
Why you'll love this recipe
Here are some reasons why you need this beetroot hummus recipe in your life:
Super smooth - there's a trick to a super smooth hummus and we share how to achieve the ultimate silkiness below. It's all about the preparation!
Healthy - chickpeas and beets are full of great nutrition, with plenty of fibre and protein making a wholesome snack.
Make ahead - quick to make, this beet hummus is a great option to whip up ahead of time saving you time.
Party food - this hummus is a great addition to your appetizer selection for any gathering or party. It's nice and vibrant too - perfect for a special occasion!
Easy - with only a little bit of prep, this beetroot hummus is super easy to make and customisable too.
Ingredients
You only need simple ingredients for this beetroot hummus recipe, this is what you'll need:
Beetroot - we use raw beetroot for this hummus as we roast it to enhance flavour and tenderness. If you want, you can use precooked beets from the store, you just may not get the same colour.
Chickpeas - any can of chickpeas will do, though the jarred variety are even better. We recommend buying chickpeas stored in water, not brine. The removal of the skins is optional, but does produce a far smoother end product.
Tahini - this sesame butter is part of the traditional flavour profile in any quality hummus. Varieties definitely differ in quality, so pick the best tahini you can as it will make a difference.
Aquafaba - this ingredient is easy to come by as it is just the liquid that is in the can of chickpeas. Drain and save in a bowl for when you are making this hummus, it helps with getting the perfect consistency instead of using plain water.
Customisations
We know you love to mix things up with customisations and substitutions so here are some of our recommendations for this beetroot hummus recipe:
Fresh herbs - throw in a couple of tablespoons of fresh herbs such as thyme, mint or basil for some additional freshness.
Tahini - tahini adds great flavour and texture to the hummus, but if you don't have any or are allergic to sesame, you can omit it. Otherwise, you could easily use something like cashew butter which is creamy and not overpowering in flavour.
Toppings - mix it up with a variety of toppings. Try toasted pepitas, red pepper flakes, chilli oil, sesame seeds or chopped nuts such as pistachios.
Garlic - in this recipe we use roasted garlic. It's mellow and super tasty, however you can use raw garlic instead if you prefer. If you do, one clove should be enough.
How do you roast beetroot for hummus?
Follow this simple guide to roast your beets and garlic to make the best beetroot hummus: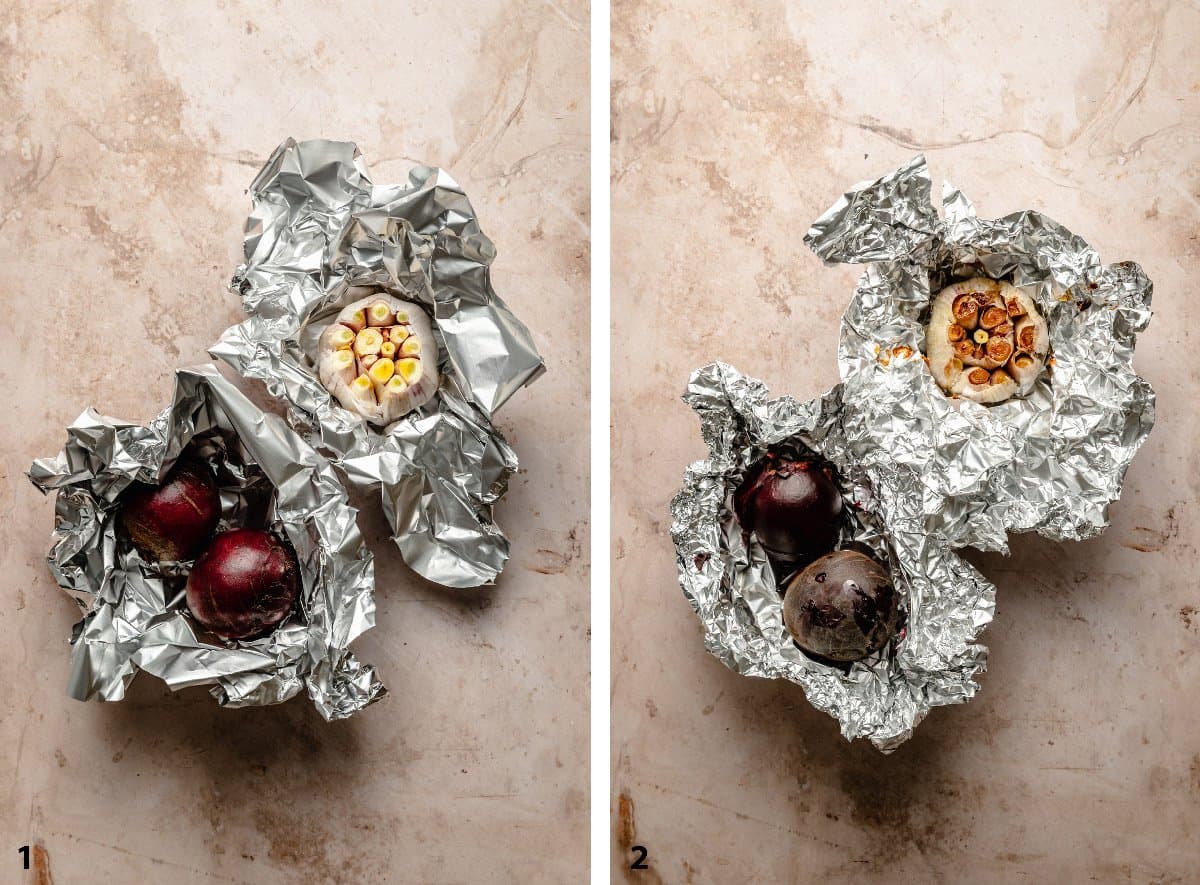 Cut the stems off the beetroot and scrub thoroughly under water to remove any dirt. Cut the top off the garlic head and and drizzle in a little oil. Place the wet beets in foil along with the garlic in a second piece of foil.
Wrap them both loosely and place the beets and garlic on a baking sheet and roast in the oven preheated to 180C/350F for 45-50 minutes until fork tender. Remove the skin from the beets whilst warm by rubbing them off.
How to make beetroot hummus
Follow these simple step by step guides to success for this recipe: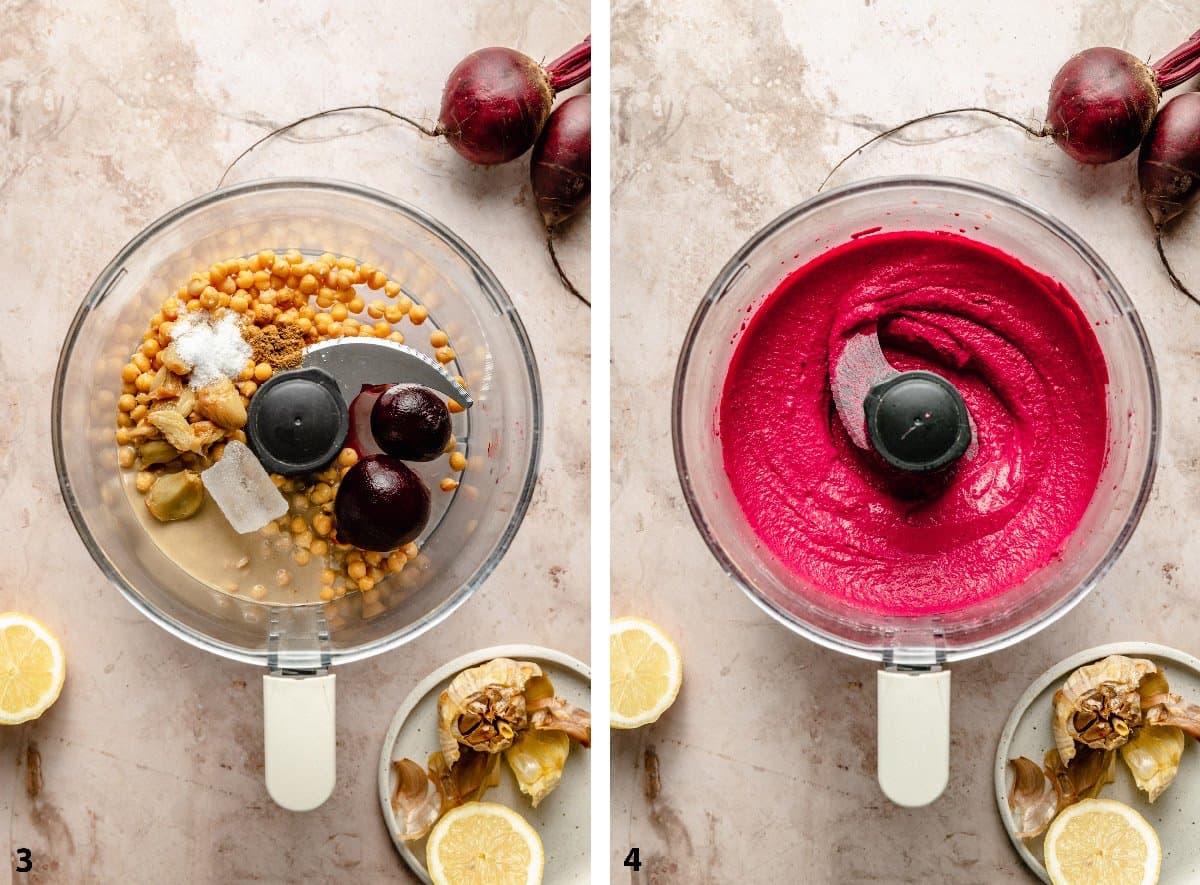 Place the peeled chickpeas, beetroot, tahini, roasted garlic, lemon juice, cumin, salt, aquafaba and the ice cube into a food processor.
Blend for 2-3 minutes until smooth, scraping down the sides as necessary.
Expert tips
Make sure to read and follow these expert tips to ensure complete success with this beetroot hummus recipe:
Peeled chickpeas - taking the time to peel chickpeas really does make ALL the difference in texture. The skin is quite fibrous and that will translate across into affecting the smoothness of the hummus. To peel, gently rub them in a tea towel until the skins fall off.
Peeling beetroot - once roasted, the skins will easily slip off the beets. We recommend wearing a pair of disposable gloves to do this, to avoid getting bright pink stained hands!
Ice cube - the addition of the ice cube whilst blending helps create a light and super silky texture to the beet hummus.
Tahini - another ingredient for texture and flavour, we highly recommend getting the best quality tahini you can, as some can be quite bitter.
Aquafaba - if you accidentally drain off your chickpeas without collecting the liquid, you can just substitute it for water instead.
Recipe FAQs
Can I freeze hummus?

We wouldn't recommend freezing beet hummus as it will affect the final texture when you defrost it to eat.
How long can you keep homemade beetroot hummus?

Our beetroot hummus will last in the fridge in an air tight container for up to 1 week. It is best eaten fresh but can easily be made ahead of time for lunches or a party at the weekend.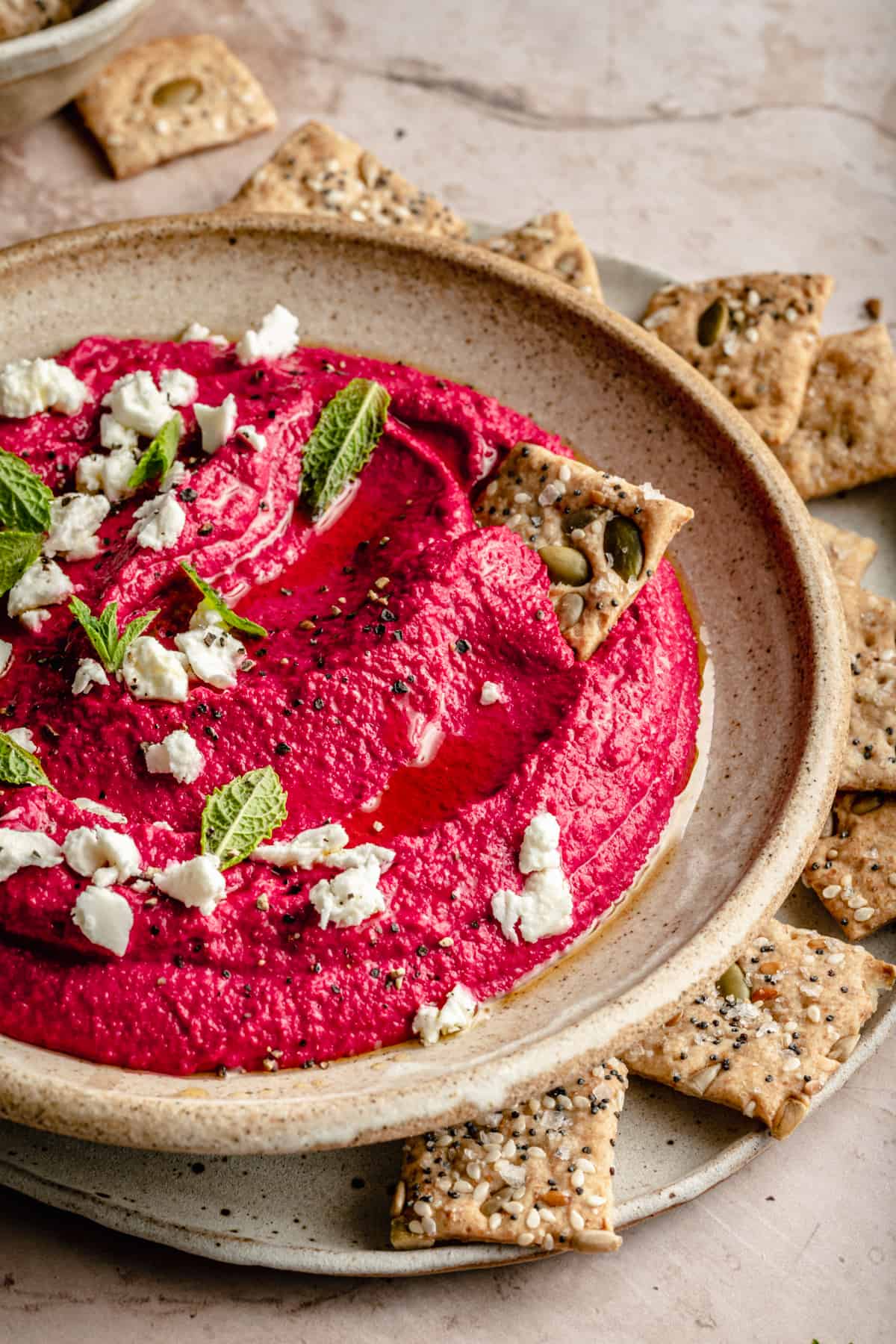 Related recipes
Love this beetroot hummus recipe? Then you may want to try more of our appetizer recipes. Here are some suggestions to get you started:
Love this recipe? Leave us a 5-star ⭐️⭐️⭐️⭐️⭐️ rating in the recipe below and don't forget to leave a review in the comments section underneath the recipe. We love hearing from you!
Why not follow along with us on our social media channels @Instagram @Facebook and @Pinterest and tag us with #eatloveeats when you've tried one of our recipes!
📖 Recipe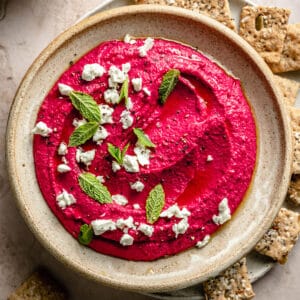 Ingredients
1

can

chickpeas,

400g/14oz, drained and rinsed, but liquid reserved (peeled)

2

small beetroot

,

100g once roasted

1

head

garlic

,

roasted

¼

cup

tahini

3

tablespoons

freshly squeezed lemon juice

¼

teaspoon

ground cumin

¾

teaspoon

kosher salt

2-3

tablespoons

aquafaba

,

(liquid from draining chickpeas)

1

ice cube
Instructions
Roasting Beetroot & Garlic
Preheat oven to 180C/350F. Rinse and scrub the beetroot clean in water and shake off excess water. No need to dry completely. Place in foil and loosely wrap. Cut the top off a whole head of garlic, drizzle with a little oil and wrap loosely in foil.

2 small beetroot,

1 head garlic

Place both foil packs on a baking sheet and bake for 45-50 minutes until a cake tester pierces the beetroot without resistance. Remove from the oven and rub the skins off with your fingers once cooled enough to touch. Squeeze out the garlic cloves from their skins.
Making Beetroot Hummus
Place the peeled (optional) chickpeas and 6-8 cloves of roasted garlic with all the other hummus ingredients into a food processor bowl and blend for 2-3 minutes until completely smooth.

1 can chickpeas,

2 small beetroot,

1 head garlic,

¼ cup tahini,

3 tablespoons freshly squeezed lemon juice,

¼ teaspoon ground cumin,

¾ teaspoon kosher salt,

2-3 tablespoons aquafaba,

1 ice cube

Serve topped with extra virgin olive oil, crumbled feta and mint if you wish.

¼ cup crumbled feta,

1 teaspoon chopped mint,

1 tablespoon extra virgin olive oil
Notes
It's optional to peel the chickpeas. It does produce a super smooth hummus though. To peel the chickpeas, place the drained chickpeas on a dry tea towel and fold the towel over the top. Rub gently and the skins will rub off. 
Toppings are optional - feel free to mix them up. 
You can get precooked beetroot from the store, we just found it didn't impart the colour that we got from roasting the beets ourselves.
If you don't want to use roasted garlic, use 1-2 fresh garlic cloves. Store any leftover roasted garlic cloves under oil in the fridge and use in dressings, etc.
This beetroot hummus recipe yields about 2 cups of hummus, nutrition is per ¼ cup. 
Nutrition
Serving:
1
portion
|
Calories:
98
kcal
|
Carbohydrates:
11.2
g
|
Protein:
3.9
g
|
Fat:
4.8
g
|
Saturated Fat:
0.6
g
|
Polyunsaturated Fat:
2.1
g
|
Monounsaturated Fat:
1.7
g
|
Sodium:
298.1
mg
|
Potassium:
121.3
mg
|
Fiber:
2.7
g
|
Sugar:
2.4
g
|
Vitamin A:
0.8
IU
|
Vitamin C:
3
mg
|
Calcium:
31.3
mg
|
Iron:
0.8
mg
Did you make this recipe?
Leave a comment below with how you got on and don't forget to give the recipe a rating ⭐️⭐️⭐️⭐️⭐️. You can also tag @eatloveeats on Instagram - we love to see your creations!