These sourdough crackers are the perfect healthy snack to serve along with your favourite dips. A great way to use your sourdough discard and you only need 5 ingredients!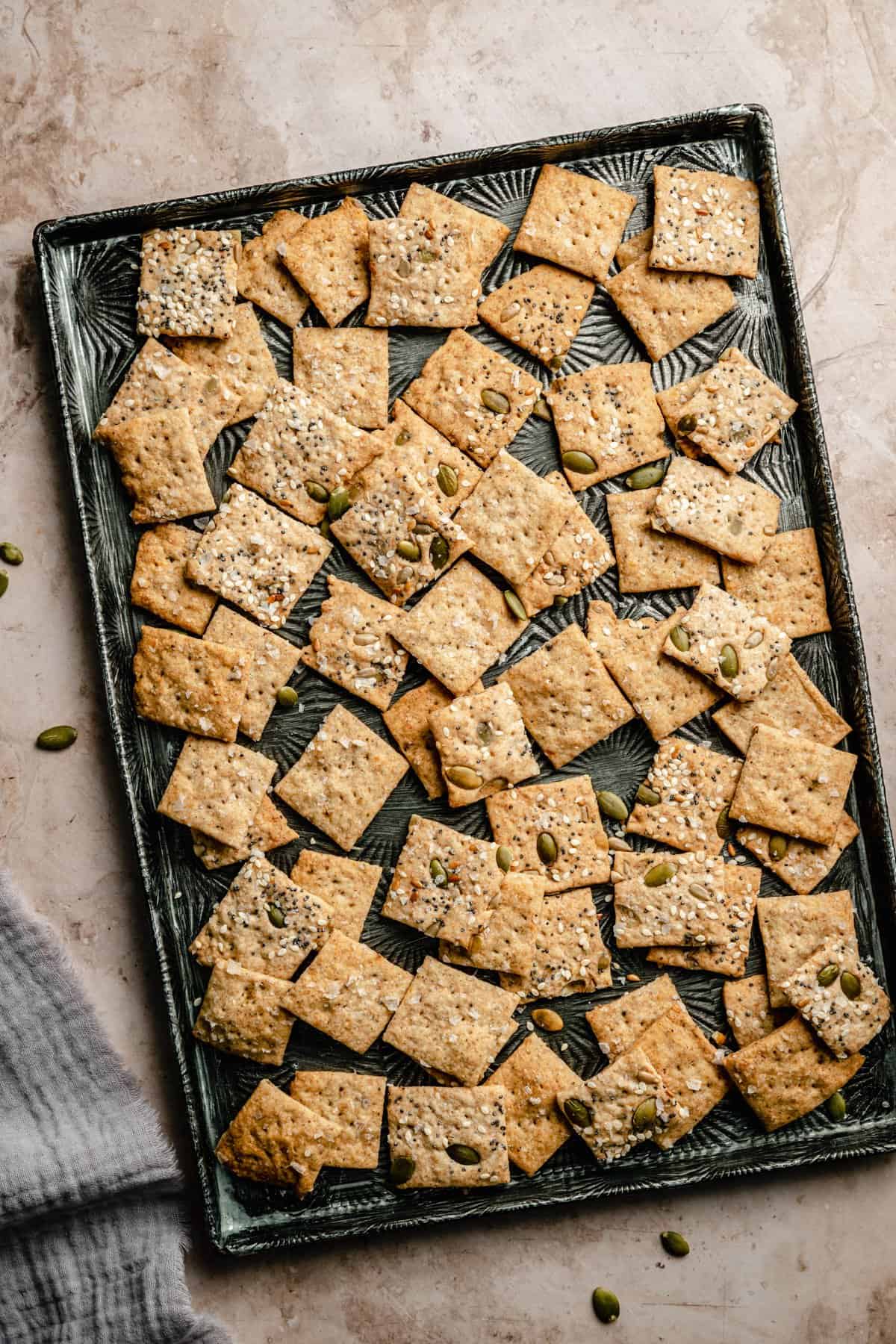 We love finding ways to use our sourdough discard and these crackers are definitely worth making! Packed full of flavour, these are totally moreish when you're after a quick snack or to dip in some Beetroot Hummus. This recipe helps us all reduce food waste and create a tasty grab and go snack too.
These sourdough crackers are so tasty, like next level tasty if you could even rate crackers like that. We've got plenty of ways to mix them up by adjusting the flavour profile with different mix-ins. Surprisingly quick to make, you'll be whipping up batches of these to please your guests any gathering in no time. You'll definitely want to try a plain version with this Cherry Salsa.
We know you'll love these sourdough discard crackers as a great addition to any dip or charcuterie board. Leave us a comment and rate the recipe, as we love hearing from you. Don't forget to use the links below to get to the section you need to.
Jump to:
Why you'll love this recipe
Here are some reasons why you need this sourdough crackers recipe in your life:
Reduce waste - we can all play our part in reducing food waste and this recipe helps us to use our sourdough starter discard to make crackers. Win win!
Flavour - just like when you create a sourdough loaf, sourdough crackers are full of flavour. It's all do to with the complexities built into your starter by the lactobacillus bacteria and wild yeast.
Easy - what's easier than putting all the ingredients together in a bowl and mixing them up? We love how easy this sourdough crackers recipe is. You will too.
Crunchy - simply baked, these lovely sourdough crackers are crisp and crunchy. These store well and pair well with cheese or your favourite party dips.
Customisable - these are infinitely customisable, so you can mix things up by changing the flavour profile of them. We love a sourdough cheese cracker!
Ingredients
You only need simple ingredients for this sourdough crackers recipe, this is what you'll need: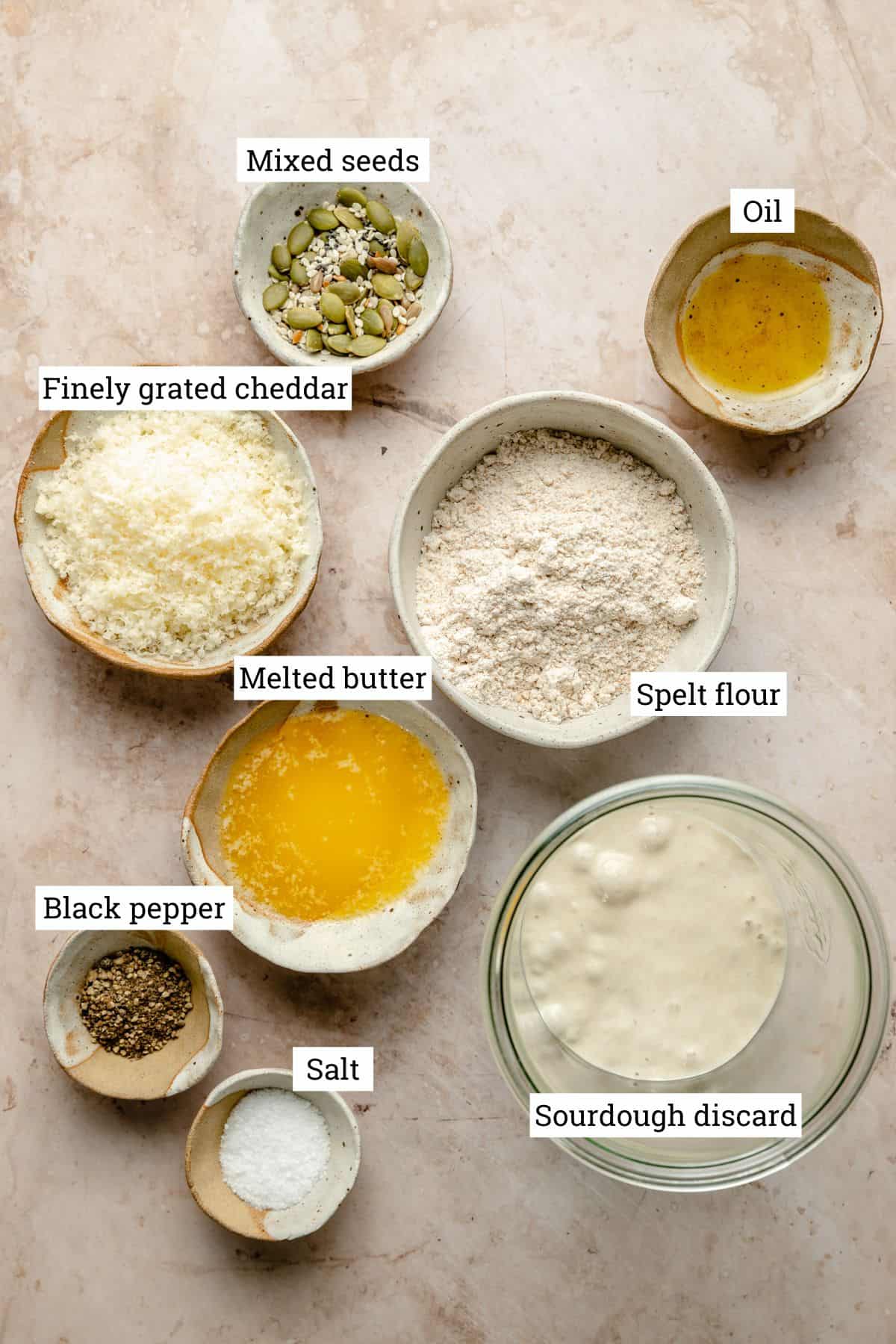 Sourdough discard - we recommend using a strong, healthy sourdough starter discard. It's best used fresh after discarding, or can be used after storing in the fridge for a few days. The longer it's stored, the more acidic the crackers will become.
Spelt flour - we love using spelt flour, it adds to the flavour of the sourdough crackers, giving well rounded nutty and slightly sweet tones.
Butter - we use butter in these crackers as it makes them awesome, but you can easily use olive oil or a dairy free "butter" instead.
Mix-ins - the mix-ins you use can vary from cheese to caraway seeds or chilli flakes to a variety of herbs. The flavour world is your oyster!
Customisations
We know you love to mix things up with customisations and substitutions so here are some of our recommendations for this sourdough crackers recipe:
Cheesy - we made these crackers cheesy, you can use parmesan or cheddar like we did. Just use a fine grater to avoid big chunks of cheese in the dough.
Herby - make these with rosemary and sea salt or oregano and black pepper, we recommend using dried herbs to ensure the flavours come through.
Seedy - we've made seedy crackers many times, we recommend a blend of sesame seeds, sunflower seeds, pumpkin seeds, poppy seeds and flax seeds. Mix and match!
Spicy - Throw in some spicy smoked paprika or red pepper flakes to get your taste buds tingling!
How to make sourdough crackers
Follow these simple step by step guides to success for this sourdough crackers recipe: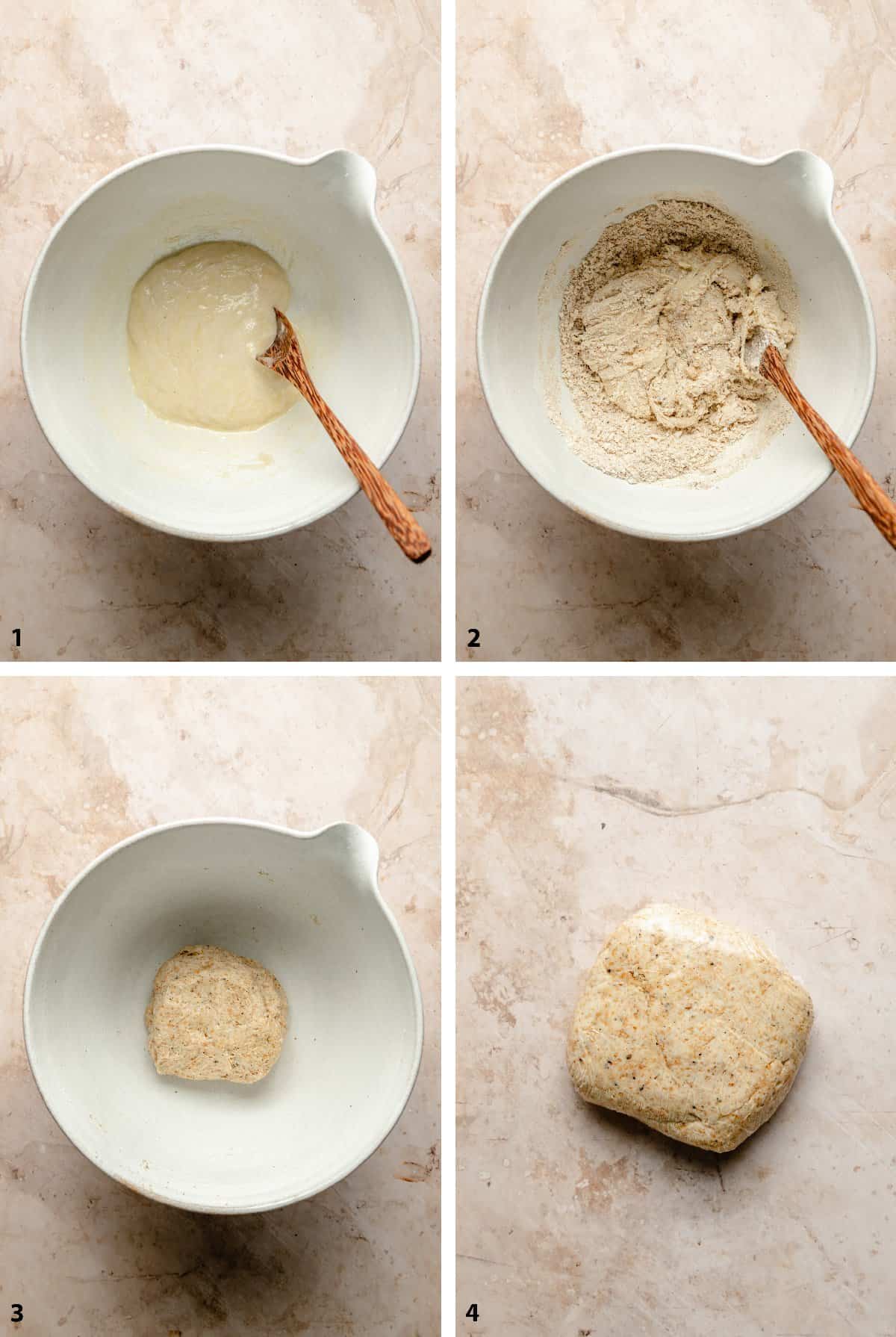 Add the sourdough starter discard into a medium bowl along with the cooled melted butter and mix together until uniform.
Add in the flour and any mix-in's you are using and stir into the discard mixture.
Mix together until a uniform dough ball is formed. You can knead it too to ensure it is all mixed together properly.
Form into a rough square shape and flatten slightly. Wrap in clingfilm and rest in the fridge for 30 minutes whilst the oven heats up.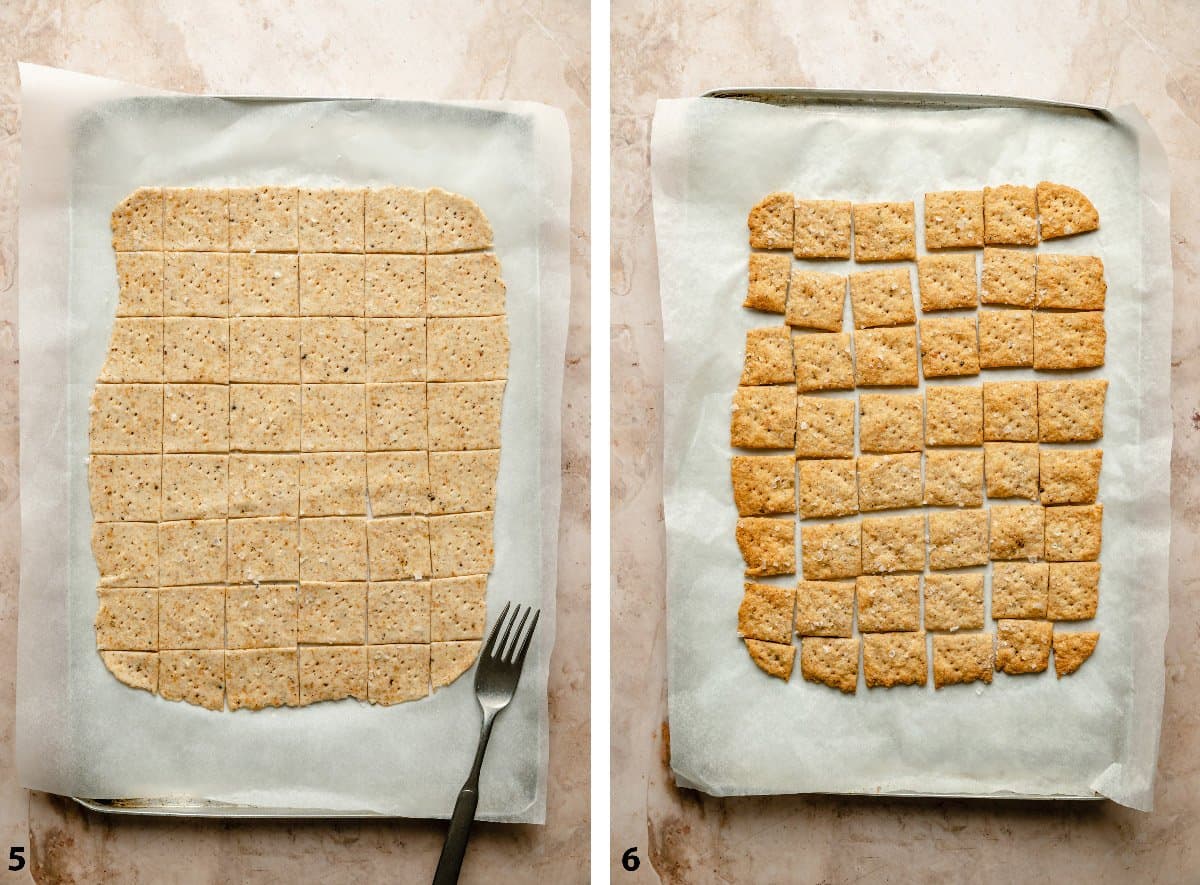 Roll out the dough on parchment paper to 1/16th inch thickness (1 p coin) and cut into 1.5 inch squares or any shape you like. Prick each cracker with a fork.
Bake in the oven preheated to 180C/350F for 20-24 minutes. Half way through the baking, separate the crackers from each other and continue baking to get an even golden brown colour. Leave to cool on the baking sheet.
Expert tips
Make sure to read and follow these expert tips to ensure complete success with this sourdough crackers recipe:
Chilling time - the chill time allows the butter to set up and makes the dough easier to roll out. If you use olive oil the dough will be softer and won't need chilling. It will however be a little more oily in taste.
Rolling - we recommend rolling the dough out as thin as you can get as it gives you the best crispy crackers once baked. If they're thicker they won't dry out enough and will still have a chew to them.
Pizza cutter - the easiest way to cut the dough into crackers is to use a pizza cutter. If you want different shapes, use a ravioli cutter or cookie cutters!
Seeds - If you want seeds in your crackers, use some in the dough when mixing then sprinkle some more on top once it's rolled out. Use a rolling pin to roll them in to the dough to prevent them falling off.
Even baking - We recommend breaking the cut crackers up half way through the baking time and separating them to ensure they get baked evenly.
Recipe FAQs
Are sourdough crackers healthy?

Yes, with the added nutrition from the sourdough discard and spelt flour these are a great healthy little snack. Each portion only comes in at around 50 calories too. A perfect addition to any diet.
What goes with sourdough crackers?

Dips! Cheese, sour cream dips, paté, and pretty much any dip you like. We especially recommend our beetroot hummus! You can also serve them with charcuterie or crumble them over the top of a pasta bake for a crunchy topping.
Can you put sourdough discard in the fridge?

Yes, store it in a container that can still breathe (loose lid) and it can stay in there for a long time. It is best to use discard within a week otherwise it can become very acidic as it is not being fed.
Is sourdough discard the same as sourdough starter?

Yes, they are identical. The only reason it is called discard is because it is the portion that is removed when feeding the starter. Otherwise you would end up with a huge sourdough starter if you just kept on feeding it without discarding or using any in recipes.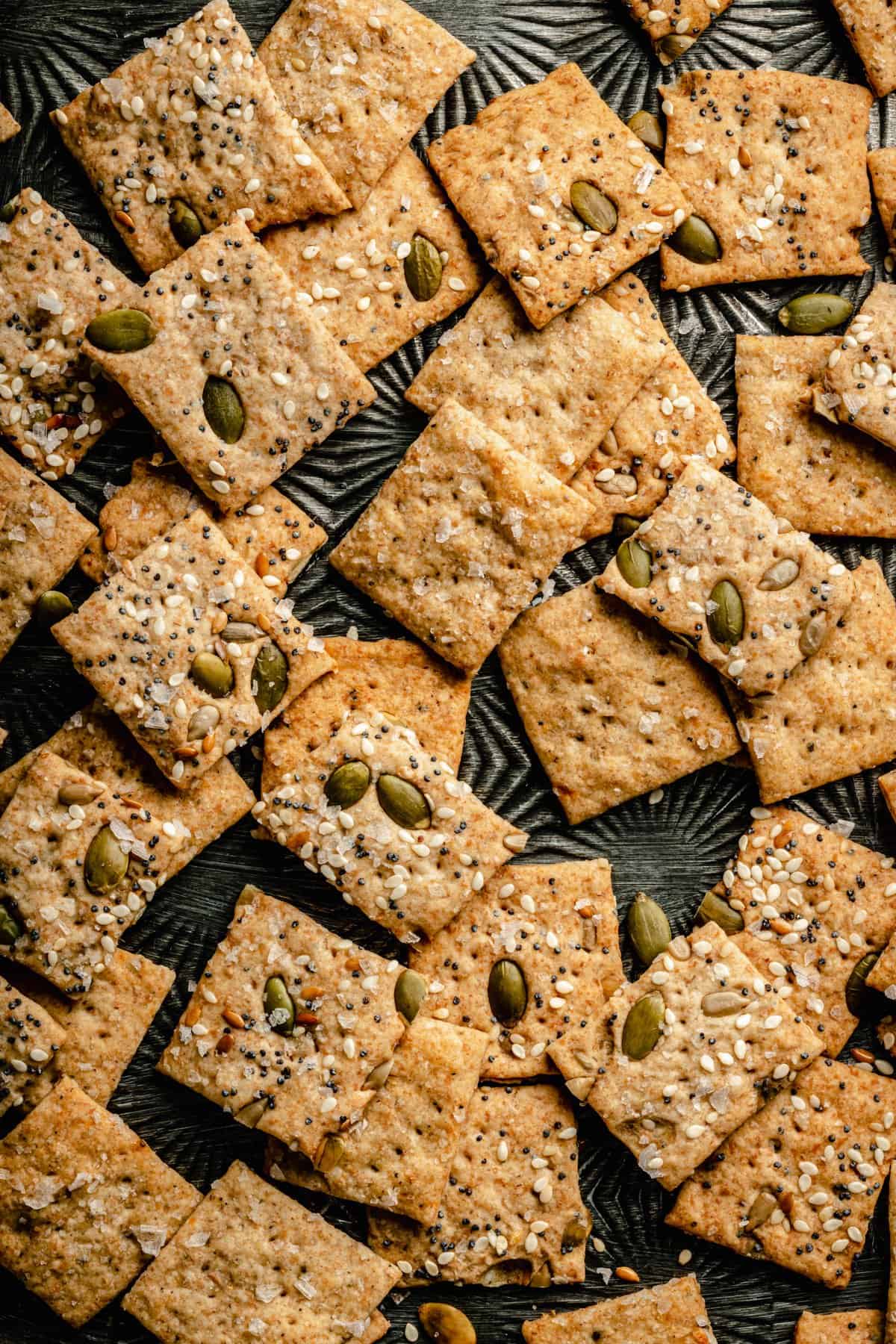 Related recipes
Love this sourdough crackers recipe? Then you may want more of our appetizer recipes here are some suggestions to get you started:
Love this recipe? Leave us a 5-star ⭐️⭐️⭐️⭐️⭐️ rating in the recipe below and don't forget to leave a review in the comments section underneath the recipe. We love hearing from you!
Why not follow along with us on our social media channels @Instagram @Facebook and @Pinterest and tag us with #eatloveeats when you've tried one of our recipes!
📖 Recipe
The Best Sourdough Crackers
These sourdough crackers are the perfect way to utilise your sourdough discard. They are packed full of flavour, making the perfect snack or addition to your favourite dip.
Print Recipe
Pin Recipe
⭐️ Rate Recipe
Ingredients
Base cracker mix
100

g

sourdough discard

,

100% hydration active discard

50

g

spelt flour

25

g

unsalted butter

,

melted

¼

teaspoon

kosher salt,

plus salt for sprinkling

1

tablespoon

olive oil ,

to brush before baking
Mix & Match Mix-ins (optional variations)
15

g

mixed seeds

1

tablespoon

chives

1

tablespoon

herbes de provence

15

g

grated parmesan

1

teaspoon

garlic powder

1

teaspoon

chilli flakes
Instructions
In a medium bowl, mix the sourdough discard with the melted butter until uniform. Add in the spelt flour, salt and if using the black pepper and cheese, mix together until a smooth dough ball is formed.

100 g sourdough discard,

50 g spelt flour,

25 g unsalted butter,

¼ teaspoon kosher salt,

15 g finely grated cheddar,

½ teaspoon freshly ground black pepper,

15 g mixed seeds,

1 tablespoon chives,

1 tablespoon herbes de provence,

15 g grated parmesan,

1 teaspoon garlic powder,

1 teaspoon chilli flakes

Wrap the dough in clingfilm and chill the dough in the fridge for at least 30 minutes, you can leave for longer if needed to firm up.

Roll the dough out to be 1/16th inch thick (thickness of a 1p coin) on a parchment paper.

Brush the dough with a very thin layer of olive oil and sprinkle with salt if doing it plain, or seeds and roll them into the cracker dough. Use a pizza cutter or sharp knife to cut the dough sheet into 1.5 inch square crackers.

Using a fork, prick several holes into each cracker and bake in a 180C/350F oven for 22-25 minutes until golden around the edges. Break the crackers into individual pieces half way through baking to allow them all to get golden.
Notes
Nutrition includes the cheddar mix-ins and makes 12 portions.
To make vegan, use olive oil instead of melted butter, the dough is softer to work with and will brown a bit quicker in the oven. 
This recipe easily scales up if you have saved up some of your discard in the fridge. Just be aware that the older the discard the more sour the crackers become.
Half way through the baking time, break the crackers up and separate a little to allow them to brown evenly.
Recipe inspired by King Arthur Baking.
Nutrition
Serving:
4
crackers
|
Calories:
50
kcal
|
Carbohydrates:
6.2
g
|
Protein:
1.2
g
|
Fat:
2.4
g
|
Saturated Fat:
1.1
g
|
Polyunsaturated Fat:
0.2
g
|
Monounsaturated Fat:
0.9
g
|
Cholesterol:
4.5
mg
|
Sodium:
0.5
mg
|
Potassium:
13.6
mg
|
Fiber:
0.8
g
|
Vitamin A:
14.3
IU
|
Calcium:
2.7
mg
|
Iron:
0.3
mg
Did you make this recipe?
Leave a comment below with how you got on and don't forget to give the recipe a rating ⭐️⭐️⭐️⭐️⭐️. You can also tag @eatloveeats on Instagram - we love to see your creations!