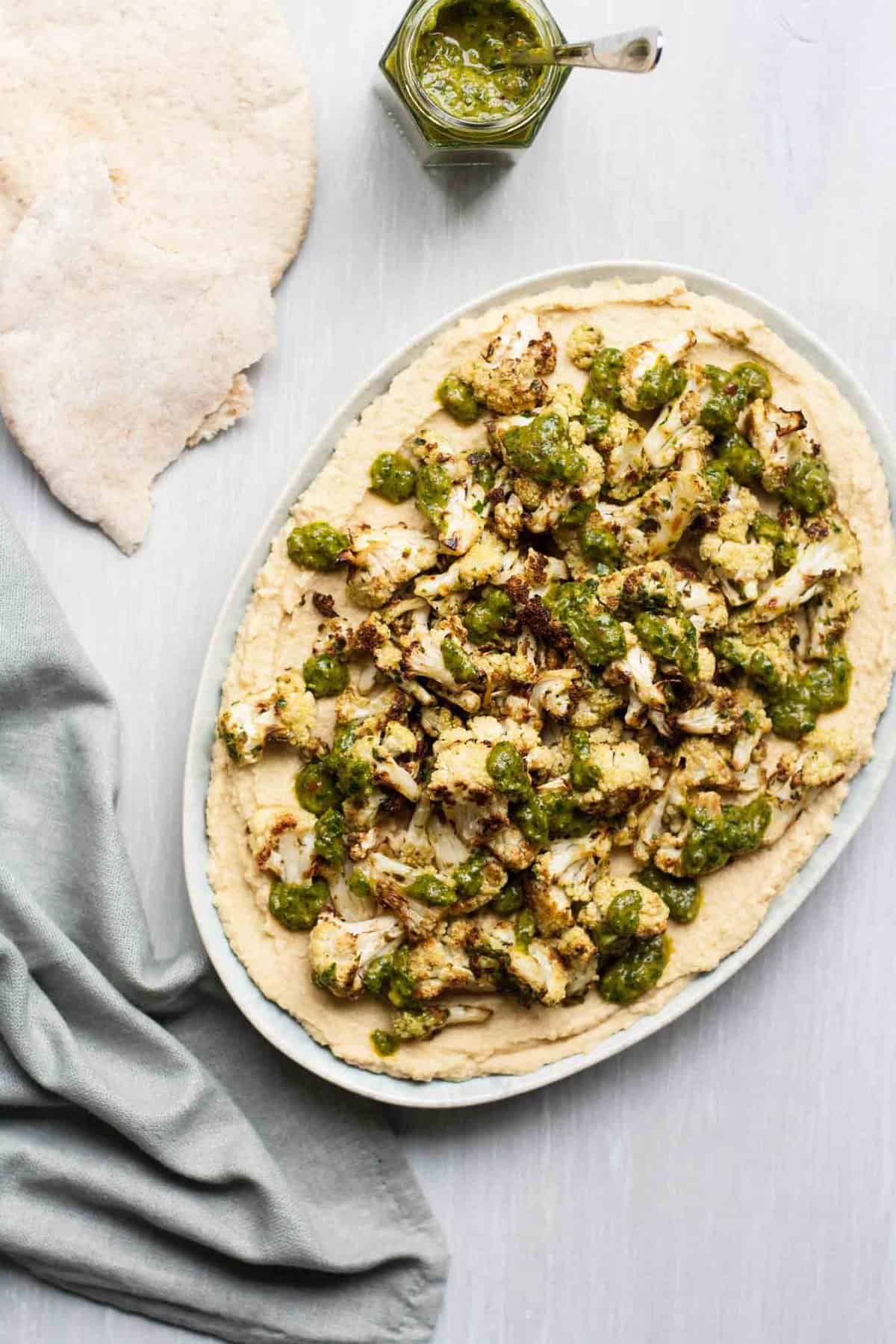 I have an awesome snack for you today. Today - June 1st. I can't believe it's June already! No really, I can't believe it, since it's currently completely cloudy and windy and cold. What's with that? Now, I don't mind this kind of weather in general, but when it comes to be June and it feels more like February, then I start to have issues. Especially when I see from social media that my US friends are currently basking in a heatwave. C'mon sunshine! (Although the forecast for my birthday on Sunday says sunshine all day so yay!)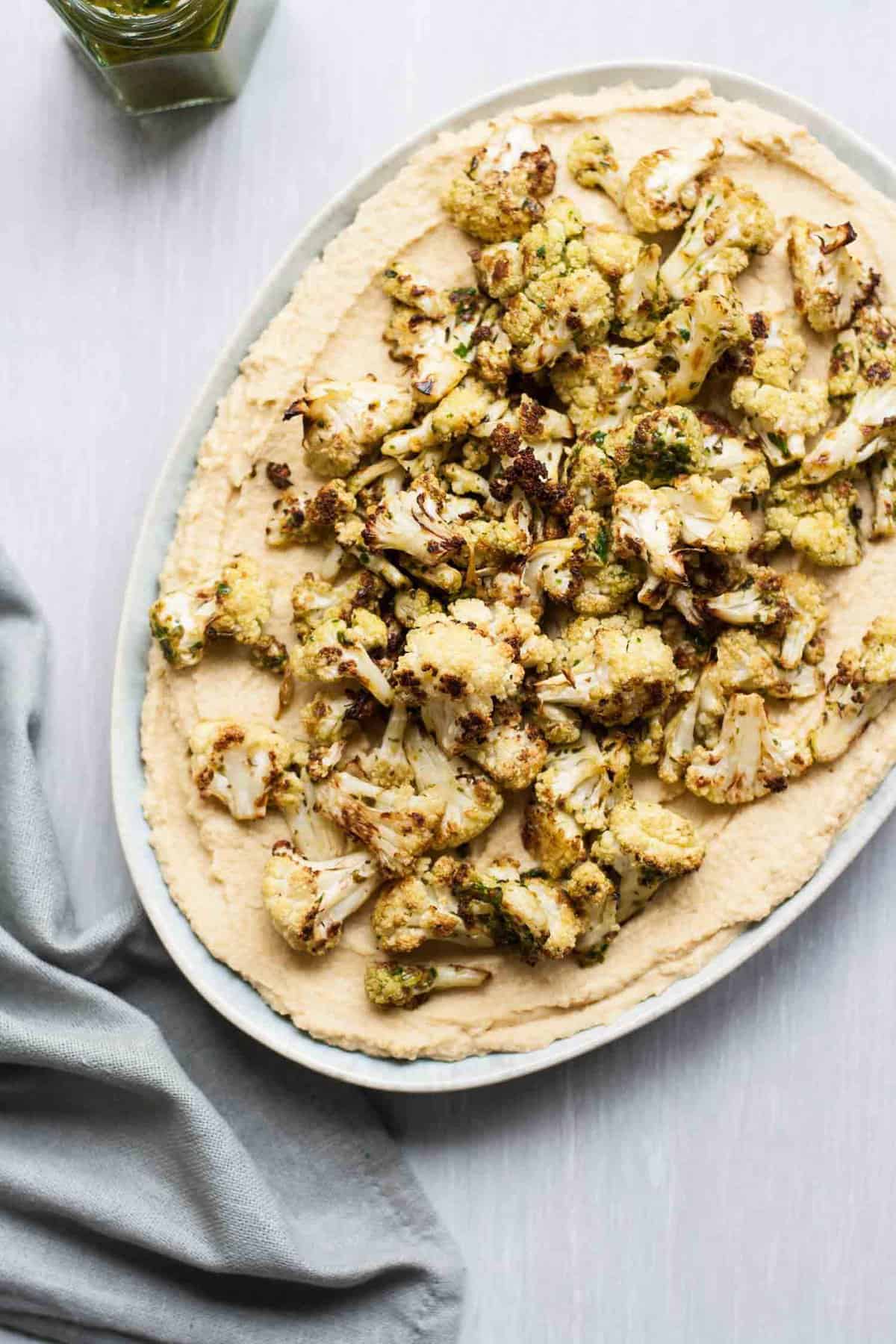 So. The snack. The awesome, totally addictive snack. Or dinner if you've forgotten to make plans. (Not like that ever happened in my house. Nope. Never.) Anyway. It's Loaded Chimichurri Cauliflower Hummus. Oh my. You have to make this! I'm absolutely a lover of plain hummus - I mean, who isn't? It's almost wrong how creamy and satisfyingly savoury that humble dip is. But! Sometimes you've just got to mix things up and get a little creative, no? I wanted hummus 2.0 and I made it alright!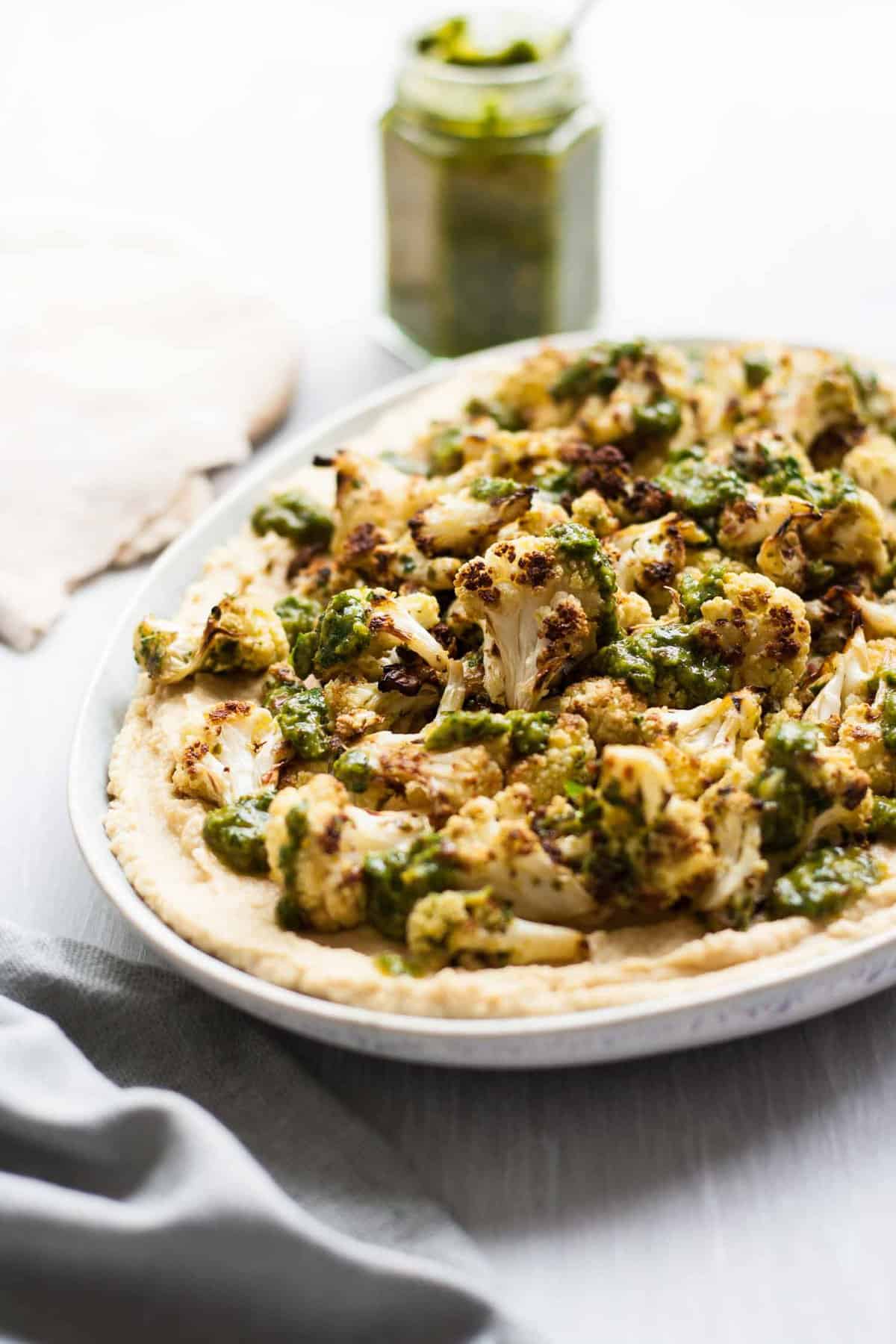 I think it's pretty much universally accepted that cauliflower = amazing. (Let me know if you disagree.) Especially when it's roasted. Case in point. So hummus and cauliflower together are bound to be awesome too. That's a given. But to elevate that winning combination to dizzying new heights, we need to add my new favourite condiment - chimichurri. Now, I'm generally a lover of foods which punch you in the face with flavour - the more riotous the better. So, fair warning, I guess chimichurri isn't for the faint-hearted. This Argentinian green sauce is packed with parsley, oregano, garlic, red onion, chilli and vinegar - all the good stuff! But as I've said before, why waste good meals on bland food?! I urge you to give this a try. Plus, I promise, the hummus and the cauliflower tone down the chimichurri. It all just blends together to make one incredible mouthful. And! You can use the leftover chimichurri on steak, chicken, prawns, veggies - you name it. I'm just setting you up for even more awesome food here. You're welcome.
So, have I convinced you to make this Loaded Chimichurri Cauliflower Hummus yet? I mean, think about it. Say the sun comes out and you decide to have a BBQ. You can serve this as an appetiser with some pitta bread for people to snack on whilst you get the main event ready and then the leftover chimichurri can be served as the most delicious condiment for your meats and veggies. Oh my goodness it would be so good slathered over a grilled corn on the cob! Or on a beef burger! See? The possibilities are endless. If you're like me and you love tangy/briny foods then you're gonna love this. Trust me. Enjoy!