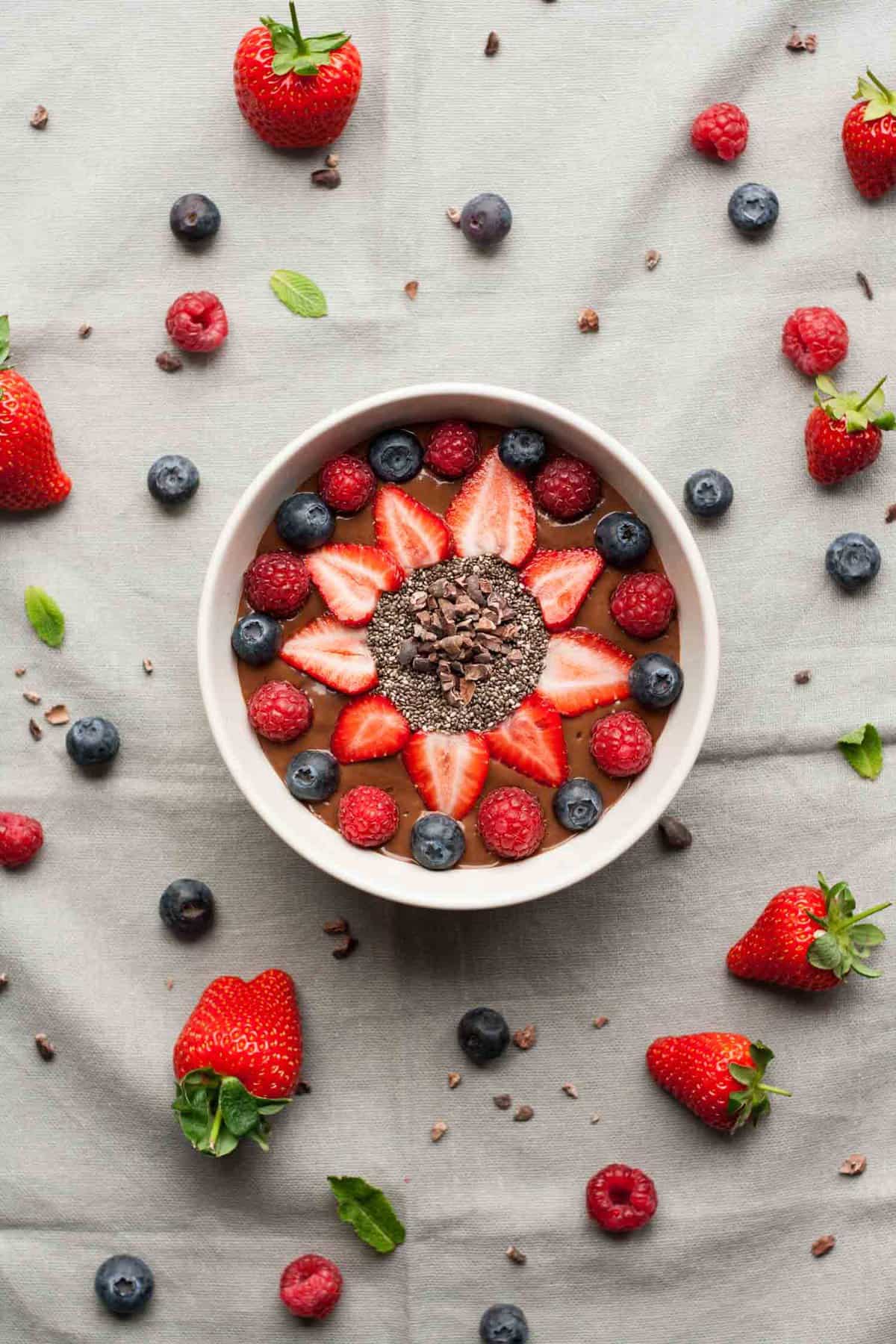 I've been meaning to try out a smoothie bowl for ages! Thing is, if I'm having a smoothie it's usually for breakfast before work at around 6am and so I literally just throw a few simple, pre-prepared ingredients into my blender, whizz it up, throw it into a bottle and leave the house. A quick, nutritious start to the day.
But then, I tried making some smoothies with avocado on a day off. Now, I've had plenty of avocado smoothies in my time. Avocados are one of my favourite smoothie ingredients as they taste so incredibly creamy! But normally, when I have an avocado smoothie, I make a juice and blend it with avocado so it's not exactly very thick - just more satiating than a regular juice. But combine ½ an avocado with some mango or banana and wow, you have yourself one super thick and incredibly smooth smoothie. That sounds like an obvious thing to say but depending on what you're blending, smoothies aren't always that smooth, even with a high powered blender. (I haven't got a Vitamix though and I'd imagine that's a game changer!) That magic combination of avocado and banana though = perfect, satisfying smoothies in no time. And of course I had to make a chocolatey version. I couldn't believe just how good it tasted - like, good-enough-for-dessert good. Something that good just had to be eaten with a spoon and topped with crunchy things. If you're going to have a smoothie bowl, you've got to have texture! It can't feel like I'm eating soup for breakfast.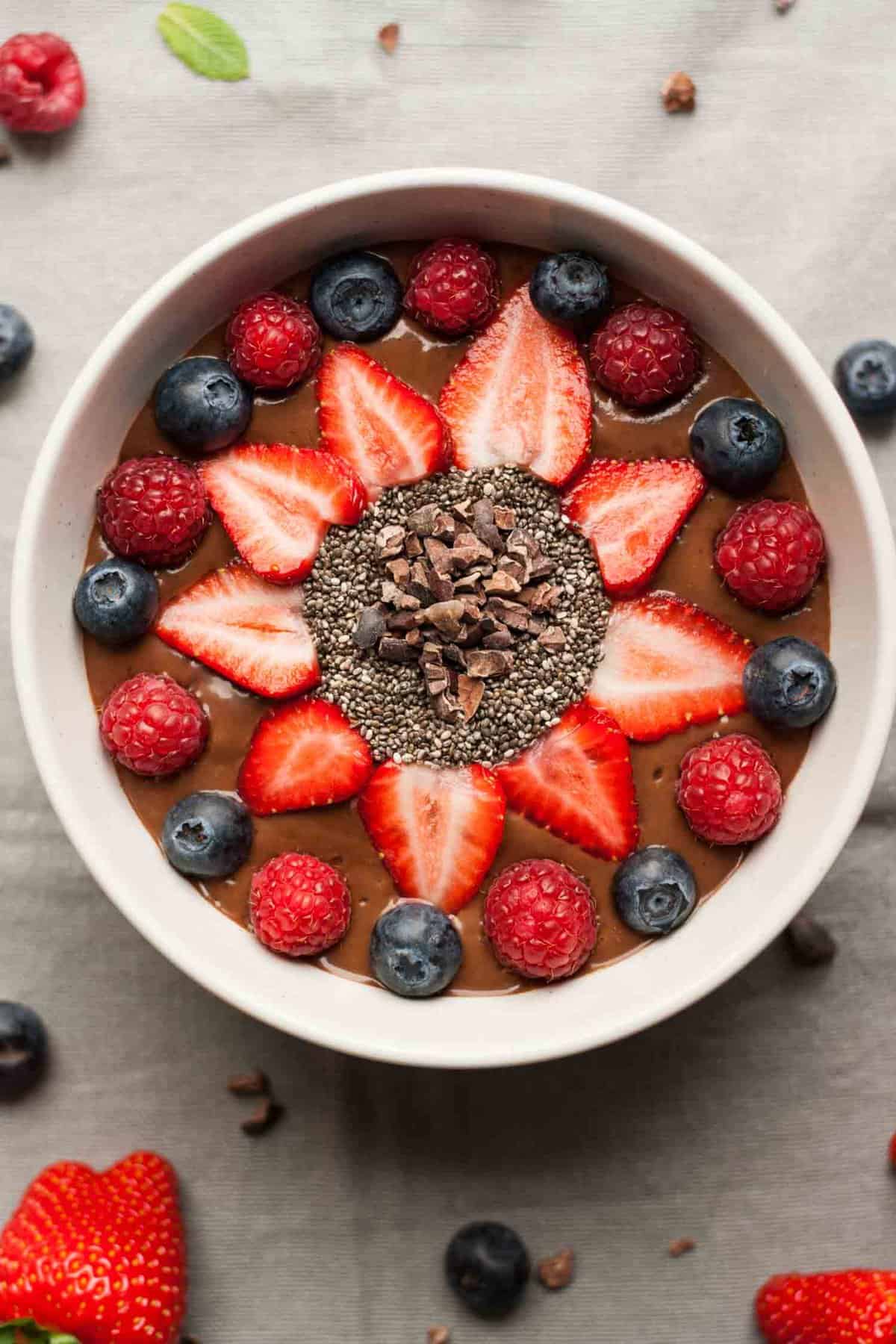 The bowl you see above is not what my breakfast looks like at 6 in the morning, rest assured. No, the reality is far more Jackson Pollock. But! It is possible to make and eat this at that time in the morning when you're running out of the door, if that's important to you. I hate rushing my breakfast, but one thing that's worse than rushing breakfast is skipping breakfast, so needs must. You don't want to meet the monster that is me in the morning sans breakfast. Yikes.
So here's a super simple, super nutritious and most importantly, delicious, breakfast. And bonus - it's completely plant based. You can make this with any milk you like. Almond is my favourite. To me, dairy milk is just weird and unnecessary in recipes like these, but do as you please! I even made my own coconut milk on a whim yesterday! We were doing our food shopping and we both looked at the fresh coconuts and immediately had the same idea. It was fun and it's delicious! I'm a dedicated coconut hater, but as with many foods lately, it's growing on me. But more so because I'm training myself to like it, not because I suddenly started craving it. I've started cooking with virgin coconut oil, simply because it's less susceptible to heat damage compared to other oils and I'm funny about stuff like that. I aim to eat as healthily as I can. I thought everything would end up tasting like coconuts but it doesn't! I actually really like cooking with it. It's oilier than other oils too, if that's even a thing, so I feel like I have to use way less. So yes, definitely starting to like coconut, woop!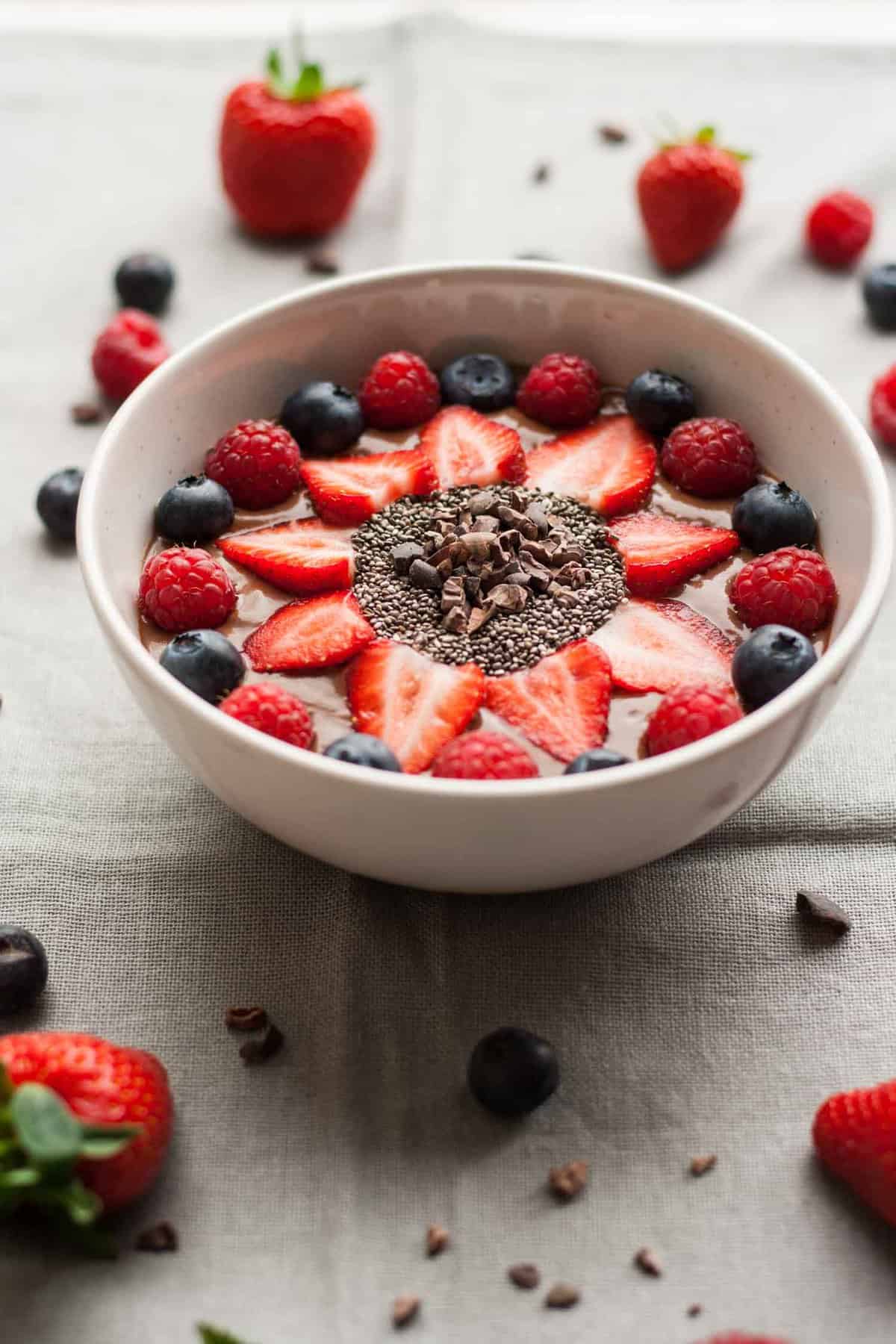 Well that was a tangent and a half. One flavour I can't get enough of though is mint. Oh boy. Mint and dark chocolate? Heaven! Favourite ice cream flavour growing up? Mint choc chip, always. So it was a no brainer to throw a sprig of mint in there too. I'm sure a good quality peppermint extract would taste amazing too, but I was aiming for subtlety here, not toothpaste. Do whatever you fancy, or just keep it plain and simple. Just make sure you try it!
Related recipes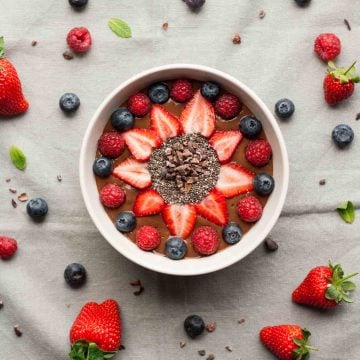 Mint Chocolate Smoothie Bowl
A different way to have your chocolate smoothie, made extra creamy with avocado and tastes like chocolate mint pudding.
Print Recipe
Pin Recipe
⭐️ Rate Recipe
Ingredients
1

banana

½

ripe avocado

1

tablespoon

cocoa powder*

125

ml

unsweetened almond milk

,

(½ cup) or milk of choice

leaves

a sprig or two of fresh mint

,

picked

maple syrup,

to taste

fresh berries

,

cacao nibs, chia seeds, granola, spelt flakes, etc, to serve
Instructions
Place all of the ingredients into your blender. For me, ½ teaspoon maple syrup is plenty, but add according to your preference. Blend thoroughly until really smooth and creamy, adding a little more milk to get things moving if necessary.

1 banana,

½ ripe avocado,

1 tablespoon cocoa powder*,

125 ml unsweetened almond milk,

leaves a sprig or two of fresh mint,

maple syrup

Pour into a bowl, sprinkle on the toppings of your choice and enjoy!
Notes
*Raw cacao powder would add more of a nutritional boost to this smoothie than cocoa powder, but personally, I'm far more likely to have cocoa powder in the house. If you have raw cacao then you'll need to add less unless you like things seriously chocolatey!
Nutrition label is for a smoothie bowl sweetened with ½ teaspoon maple syrup, excluding toppings.
Nutrition
Calories:
354
kcal
|
Carbohydrates:
40.8
g
|
Protein:
5.3
g
|
Fat:
20.3
g
|
Saturated Fat:
3
g
|
Polyunsaturated Fat:
2.5
g
|
Monounsaturated Fat:
12.5
g
|
Sodium:
109.6
mg
|
Potassium:
1232
mg
|
Fiber:
12.5
g
|
Sugar:
14.9
g
|
Vitamin A:
71.1
IU
|
Vitamin C:
20.4
mg
|
Calcium:
299.4
mg
|
Iron:
2.3
mg
Did you make this recipe?
Leave a comment below with how you got on and don't forget to give the recipe a rating ⭐️⭐️⭐️⭐️⭐️. You can also tag @eatloveeats on Instagram - we love to see your creations!