In readiness for your Cinco de Mayo celebrations (or just any day of the year, basically) how's about your favourite Mexican breakfast in bowl form? I can confidently make that claim because honestly, what else would your favourite breakfast be?! So, are you ready for this Huevos Rancheros Bowl? Let's go!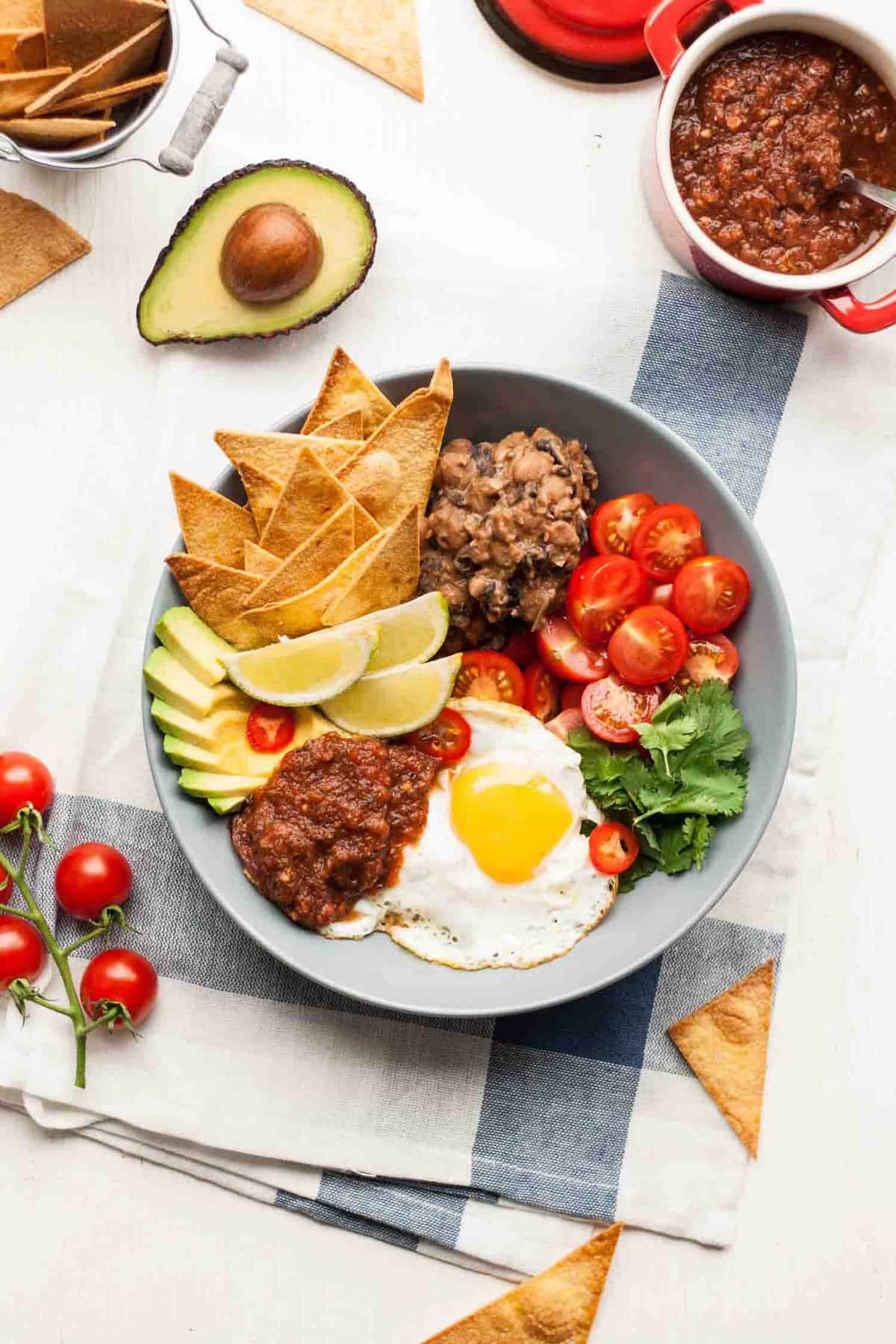 I've mentioned my love of huevos rancheros before. Whenever we have one of those special, weekend breakfasts, my automatic go- to is huevos rancheros! HUEVOS RANCHEROS. It just sounds so good. And my go-to rancheros recipe comes from the incredible Thomasina Miers - if you have never heard of her or have never laid hands on one of her books, then I implore you to go check her out! Her book Mexican Food Made Simple is like a bible in our house. I feel like I could never write a recipe for guacamole or fresh tomato salsa since hers are all I'll ever need. And same really for her knockout huevos rancheros, but this right here is not your average huevos rancheros recipe. This is huevos rancheros reloaded. This is a huevos rancheros BOWL. (And wow, how many times did I just say huevos rancheros in one paragraph? Yikes. And that's one more.)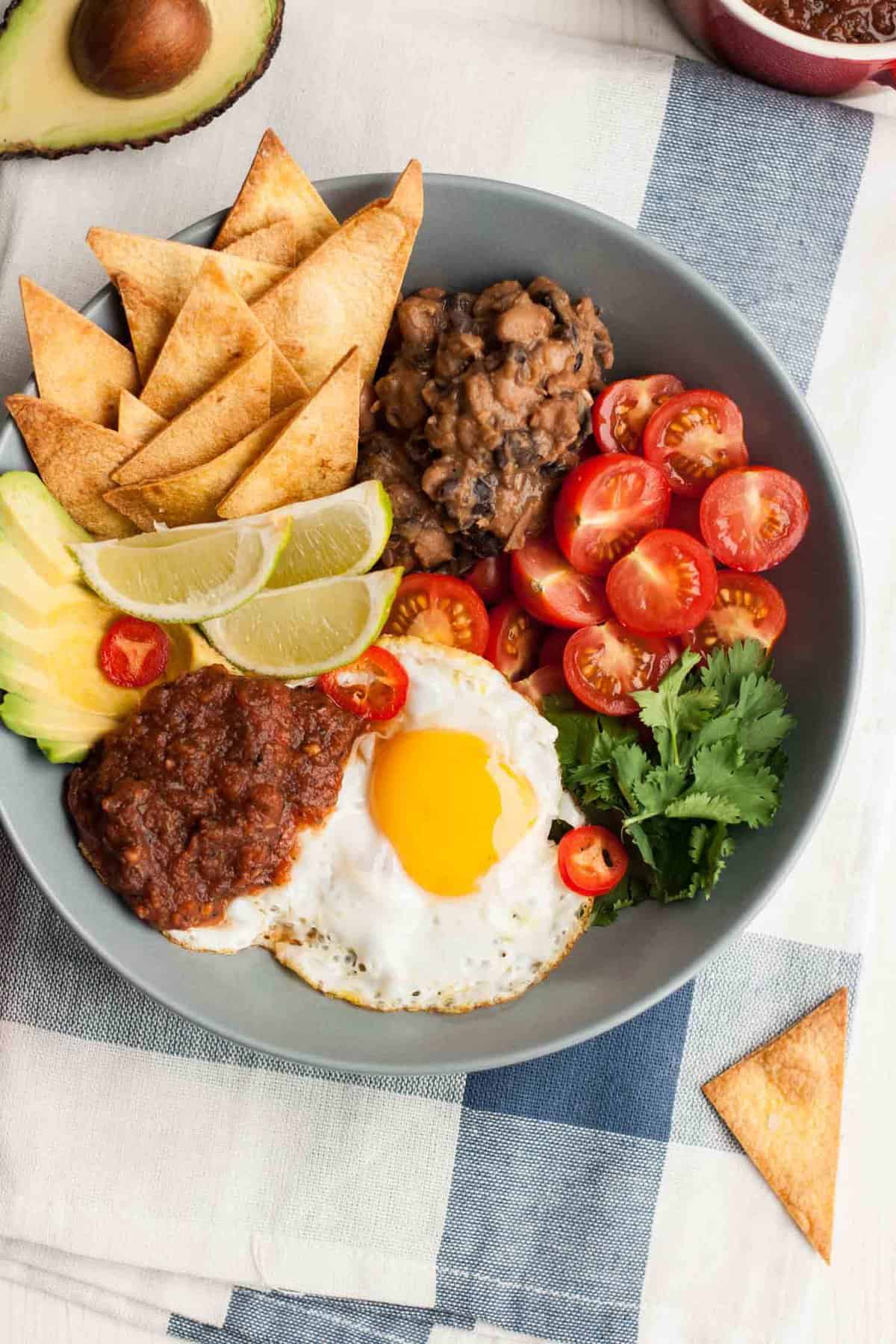 I think it's pretty ingrained these days that everything tastes better in a bowl. And I'm not sure that anybody can explain why, either. It just is. It's bowl magic. It just automatically makes food more cosy/scoopable/portable/just generally better (delete as appropriate) and my personal favourite - easy to eat. Anything that makes the process of getting food to mouth more efficient is a win in my book. I'm not sure when bowl food will be replaced by the next big thing, but one thing's for sure, it will always have a huge place in my heart.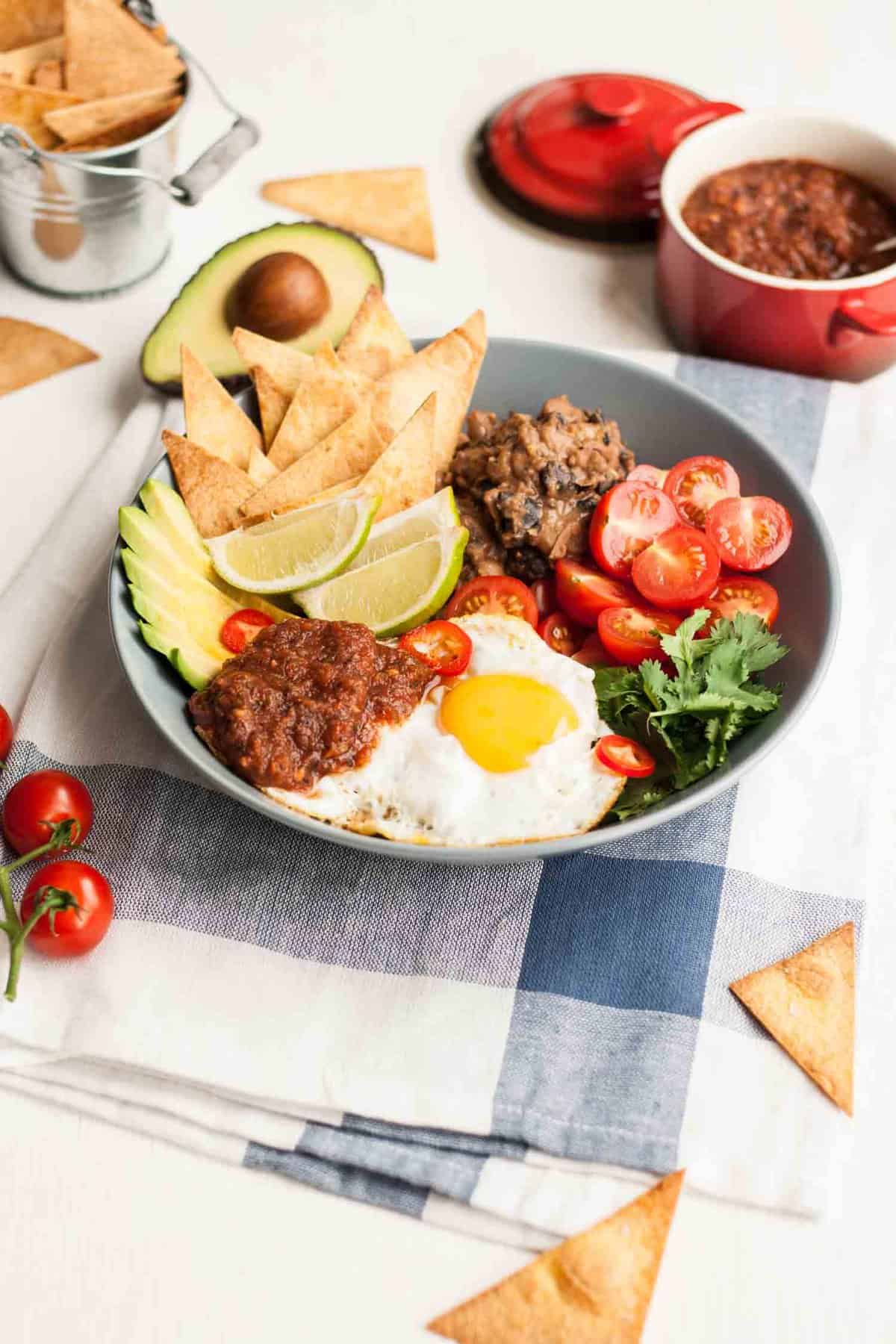 So what exactly can be found in a huevos rancheros bowl? Well, we have (in no particular order of preference, since they're all awesome and absolutely necessary):
Quick smashed spiced beans
Homemade charred tomato salsa
Cherry tomatoes for a pop of freshness
Homemade tortilla chips for scooping
Creamy avocado slices
Coriander, limes and chillies for extra zing
And of course, a perfectly runny fried egg!
I mean, what else could you possibly need? Well, a scattering of cheese couldn't hurt... This is such a colourful bowl! And it's so full of flavour. Have at it!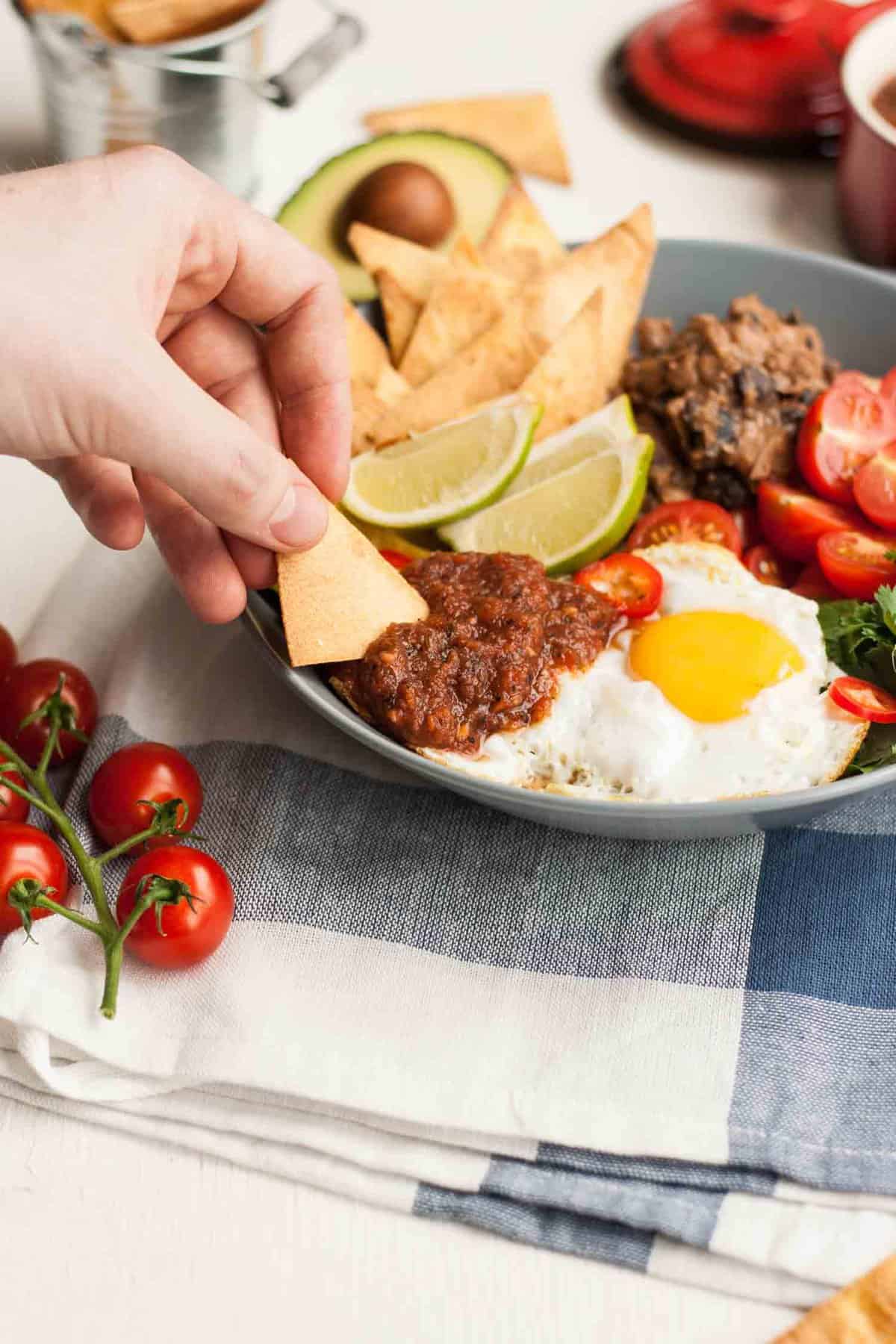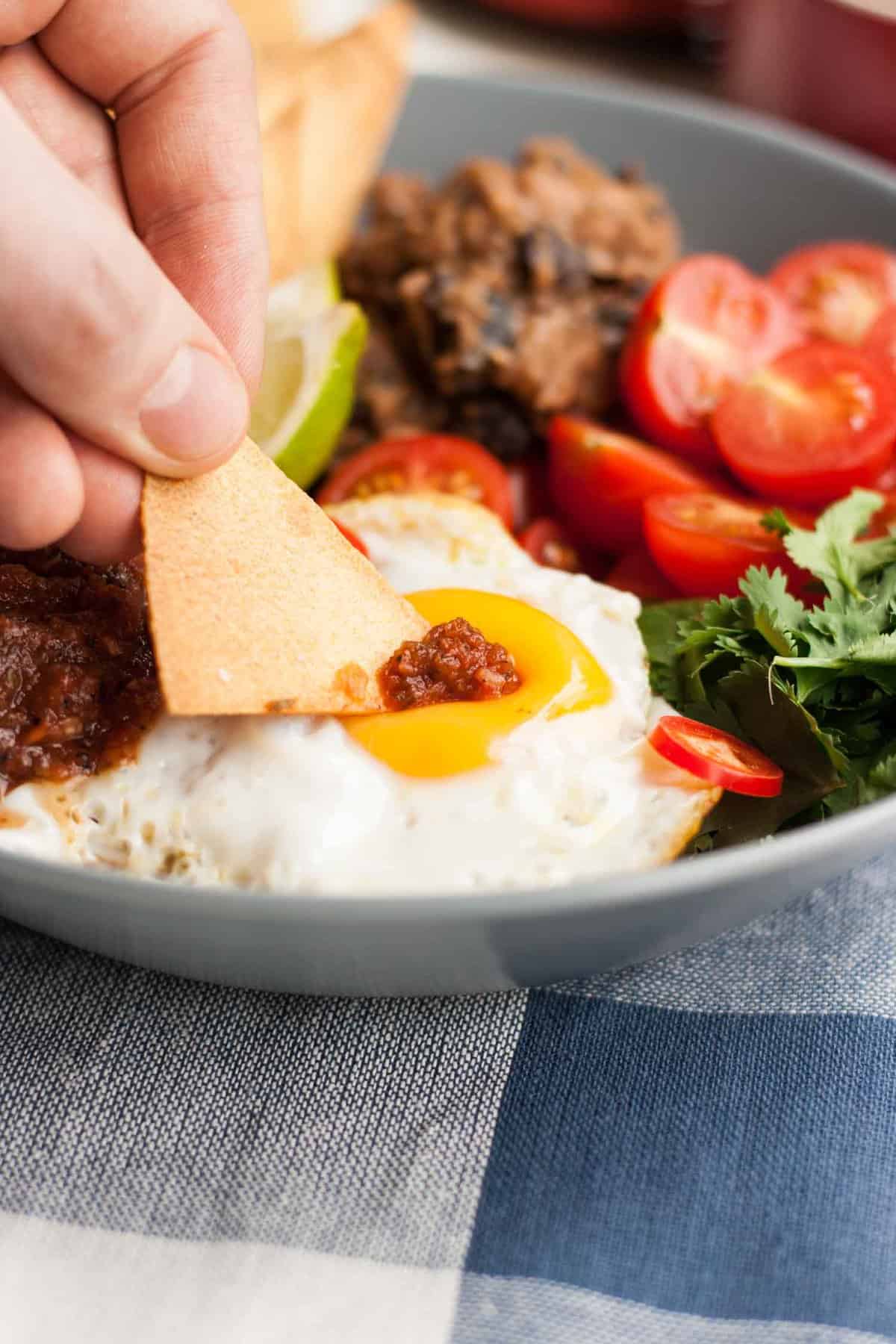 If you make this huevos rancheros bowl, snap a photo and tag it with the hashtag #eatloveeats on instagram so that I can see!
Disclaimer: This post contains affiliate links which simply means that if you click on them and make a purchase I make a small commission, allowing me to keep growing my blog and posting awesome, tasty recipes!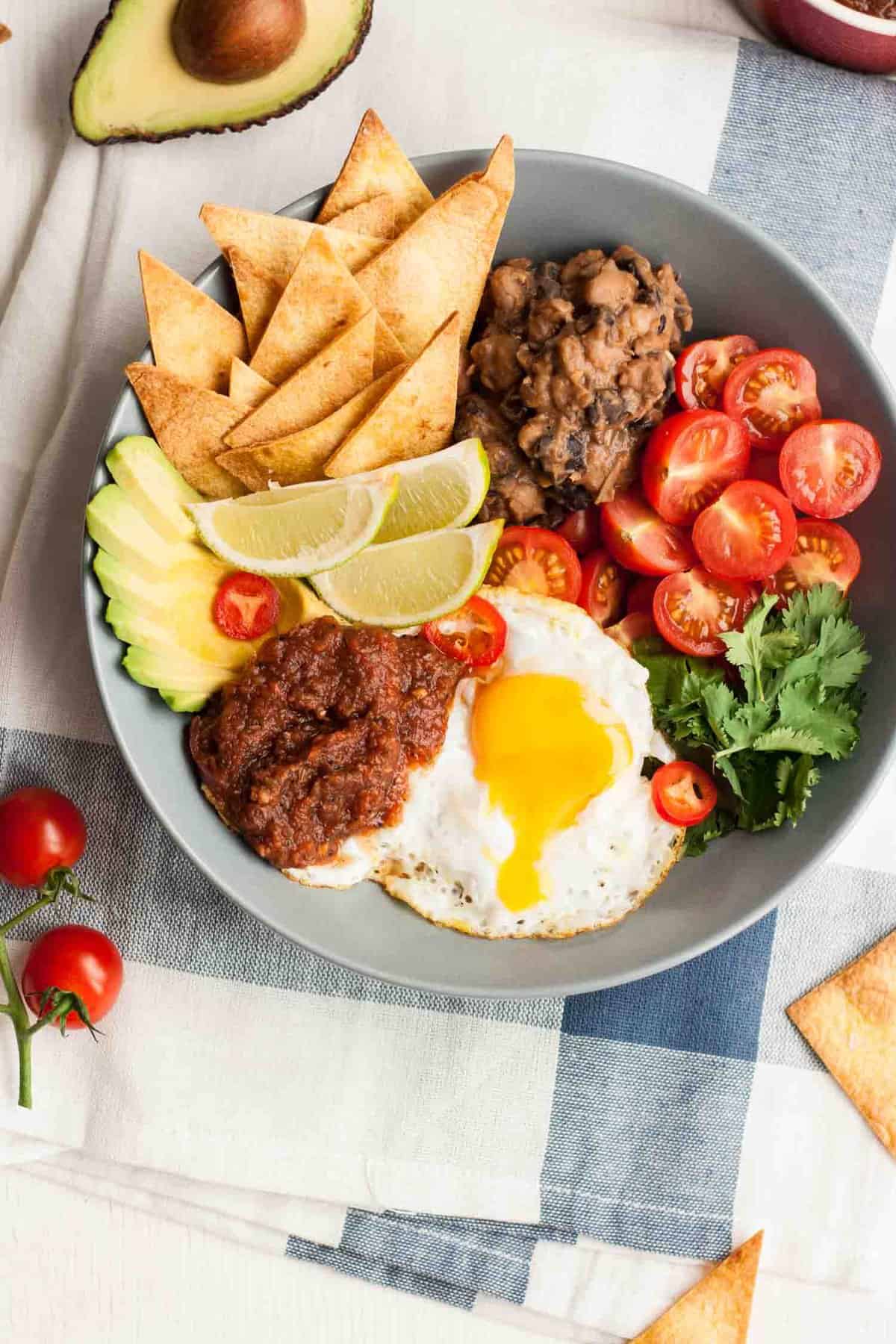 *Obligatory drippy egg shot*