These simple to make beetroot falafel buddha bowls are an ideal packed lunch or light dinner! They're totally vegan and baked, not fried!
Behold, my new favourite lunch. Beetroot falafel buddha bowls! If you've been reading for a while you'll know that it doesn't take long for me to get bored of well, anything, really. I'm talking strictly food-wise here - I'll happily listen to the same five bands on repeat FOREVER. I know, I can't believe how cool I am either.
So here's the latest creation to grace my lunchbox. Who knows how long it'll last, but currently it's in favour. Probably because I have a stash in the freezer so that on those rare (cough) occasions that I forget to pack a lunch for work, I'm saved. I'm all for an easy life.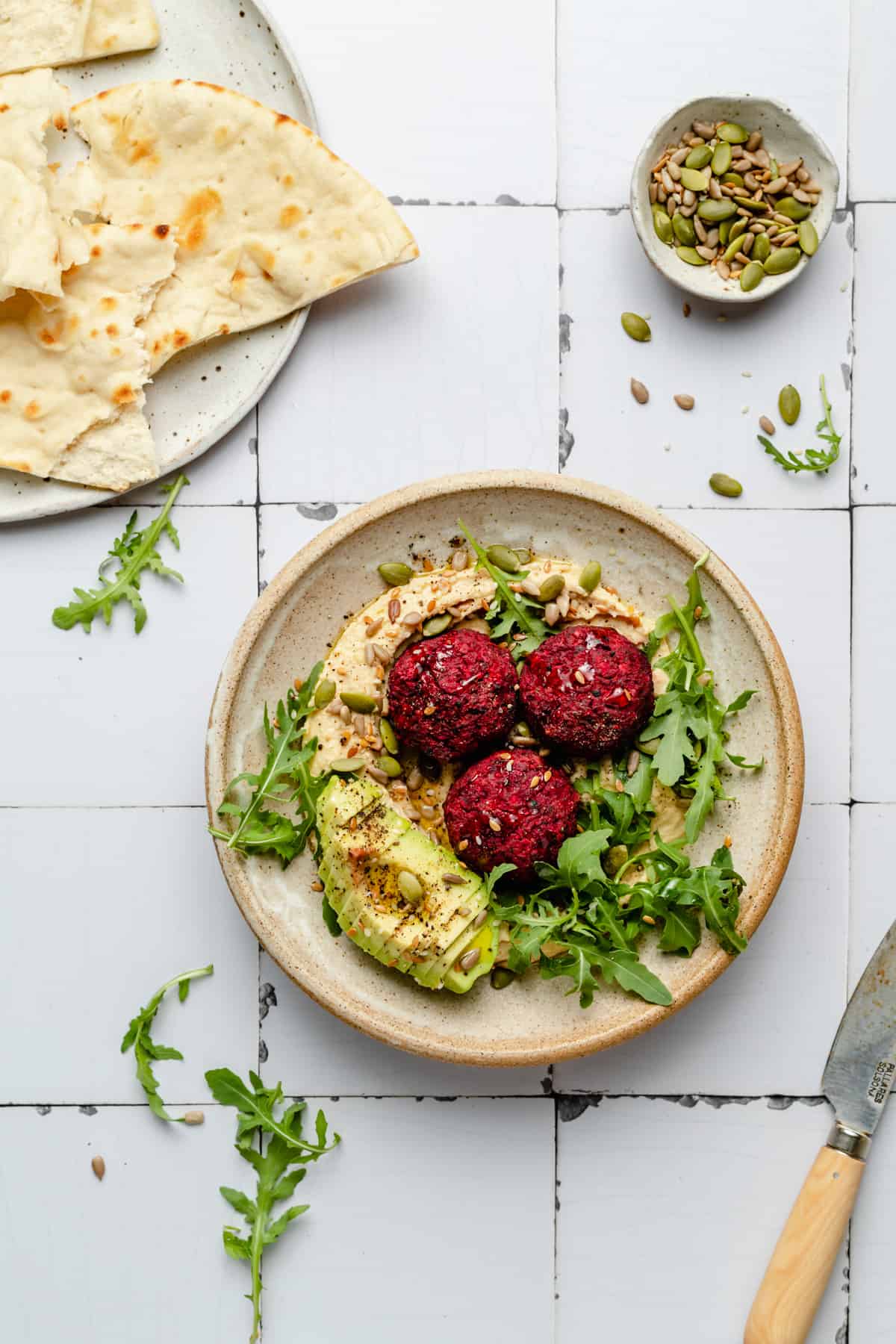 I have to admit, one of the main reasons I created this beetroot falafel recipe was for that incredible colour. We eat with our eyes first, right? I love beetroot but I don't eat it anywhere near as much as I would like to. To be honest, in it's raw form, it's an absolute pain in the neck to deal with and the jarred pickled stuff doesn't do it for me anymore (and it's probably nowhere near as good for me anyway!). But! I chose to don my rubber gloves (told you I was cool), peel a few beets and then let my food processor do the rest. Best decision ever. These aren't exactly authentic falafels, but when have you ever known my recipes to be authentic? I have the most fun in the kitchen when I play loose with the rules because that's what it's all about right?! FUN! And then eating the results, of course.
Speaking of fun, yesterday I spent my afternoon making 120 of these delicious mini vegan chocolate cupcakes for a friend's birthday party. Now that's my idea of fun. The entertainment for the party came in the form of a barn dance which, if you're not aware, is pretty much the most ridiculous form of dancing you can imagine. Now that's NOT exactly my idea of fun! Picture a group of adults skipping and spinning and jumping around and you're maybe halfway to imagining just how much of a fool I looked last night when I finally got the guts (read: got dragged) to get on the dance floor. So fun! I definitely need to remember to act like a little kid more often 🙂 I think we all do!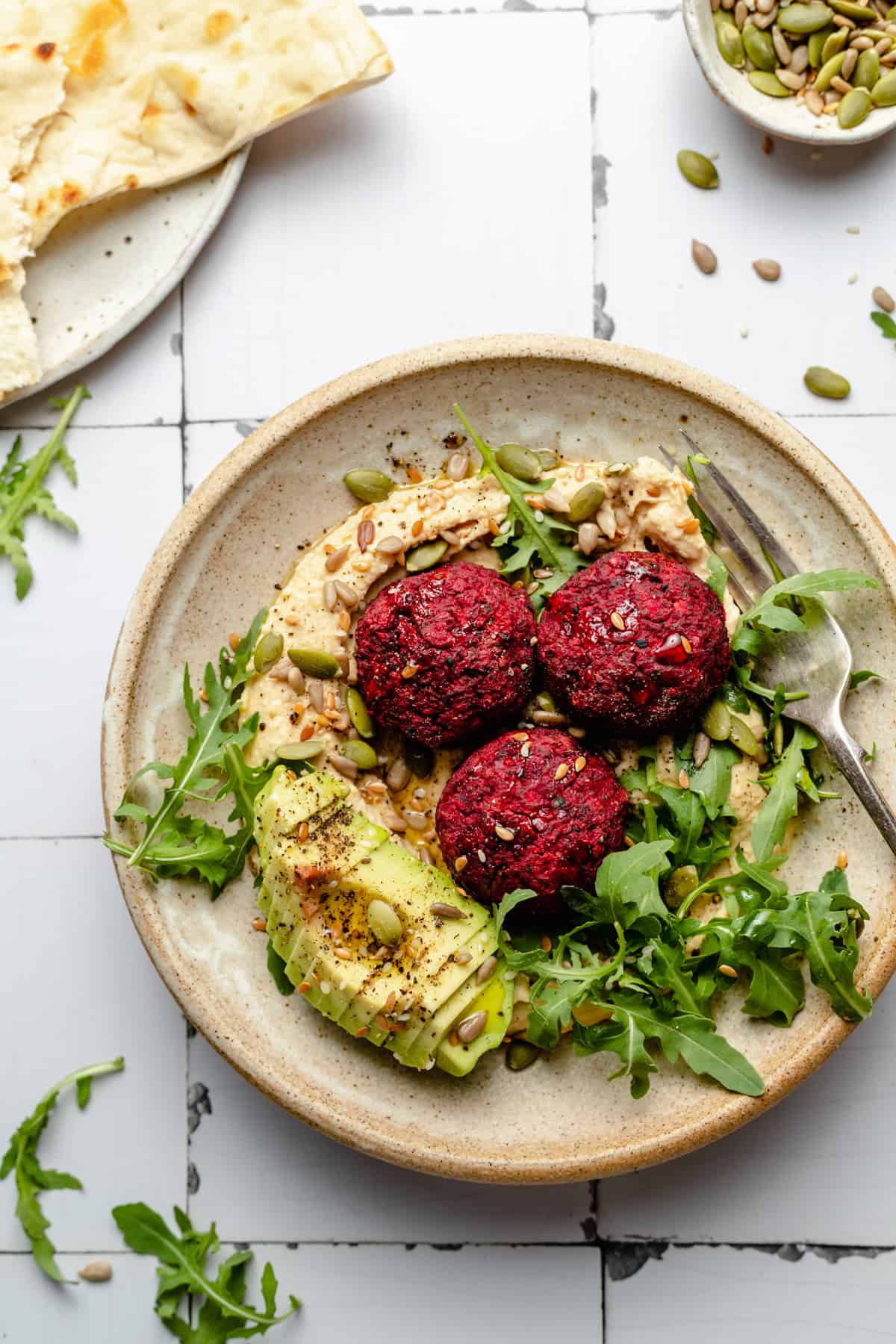 You can build these buddha bowls up with whatever you like. I love to let the flavour of the beetroot falafels shine by pairing them with the pure simplicity of some fluffed up quinoa, kale massaged with salt, rapeseed oil and lime juice, hummus and a few slices of buttery avocado. The beetroot falafels really do speak for themselves - they're slightly sweet from the beetroot and packed with flavour from the spices. It's all about that smoked paprika! I start to twitch if I don't have any smoked paprika in the house - we get through it like you wouldn't believe! If you haven't tried it, make sure you make these beetroot falafels right away and you'll fall in love! And no skipping the nigella seeds either - they add so much flavour. The perfect antidote for when you've eaten a few too many cupcakes!