These simple and easy to make vegan beetroot falafel are an ideal packed lunch or light dinner! The beetroot falafel are baked, not fried, which makes them healthier and hassle-free.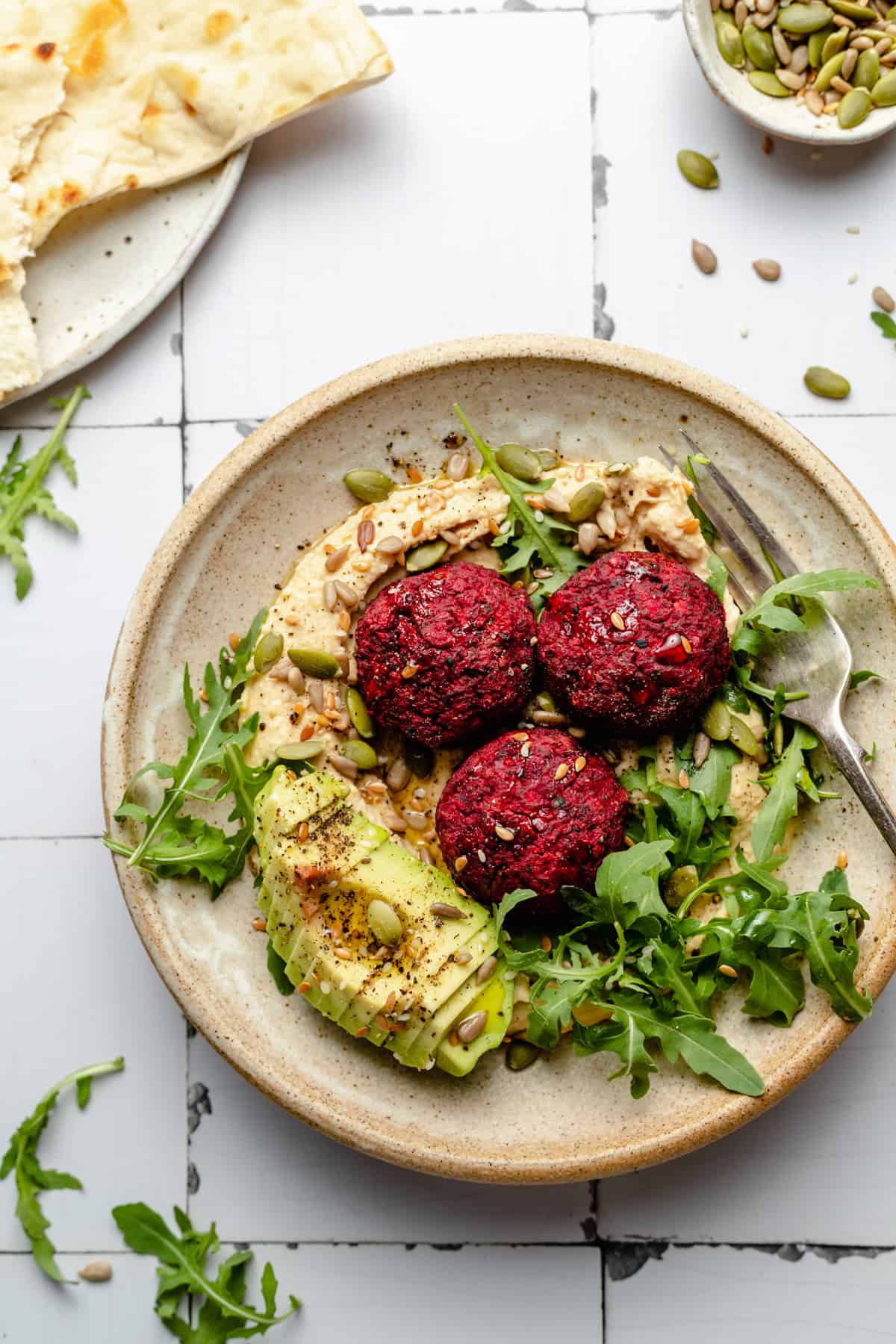 Lunches can be hard to figure out, especially if you're indecisive. These easy vegan beetroot falafel are a lifesaver, they're easy to whip up and super tasty. We've got plenty of suggestions for how to serve them to mix things up. If you're after more lunches, this Fall Grain Salad and Sweet Potato Kale Salad are just amazing. You must try them!
The colour of these beetroot falafel will blow your mind. We just love the Nigella-esque pink and green colour combination, IYKYK. Ha! Whilst beets are often controversial, with many people having a love-hate relationship with them, making these will convert you in no time. If you've ever wondered what to do with beetroot you definitely need to give these a go! Another way to use beetroot is with our Easy Roasted Beetroot Hummus which is to just die for, or Beetroot Feta Walnut Salad with Dukkah.
Let's get to it! We know you'll love these beetroot falafel and if you do, be sure to leave a comment and rating below! Follow the links underneath to get to all the expert tips and tricks you need.
Jump to:
What makes these the best?
There are many reasons these are the best beetroot falafel:
They're baked! Making them super light and easy to make. Plus no messing around with hot oil for deep frying!
High protein - in a portion of just three falafel you'll get 10.5g of protein and that's completely plant based too.
Low fat - fat is important to have in the diet; these are specifically low in saturated fat.
They're easy! The food processor and cookie scoop are life savers. Work smart, not hard! There's a suggestion in the tips below for how to make these without a food processor though.
They freeze well - handy for a great on hand lunch option, just quickly defrost and enjoy!
What are falafel?
Falafel are usually a fried ball or patty made up of chickpeas or fava (broad) beans. They're totally delicious and when fried, they come out very crisp and brown, perfect with hummus. Falafel are a common Middle Eastern street food that are often served in pita with salad and a tahini-based sauce.
Falafel are often filled with spices and herbs to add flavour and traditional recipes are made with chickpeas that are not cooked, just soaked and ground in a food processor or grinder. This is because cooked chickpeas will often make the falafel too wet and fall apart, so they'll need another binding agent in order to stay together.
These baked beetroot falafel are made with cooked chickpeas and beetroot so will naturally have a wetter mix which needs a binding agent (which we discuss later on) but use similar tasty spices and ingredients.
Ingredients
These beetroot falafel only need straightforward and ingredients easily accessible in most supermarkets. The spices are also available online in the links below. This is what you'll need: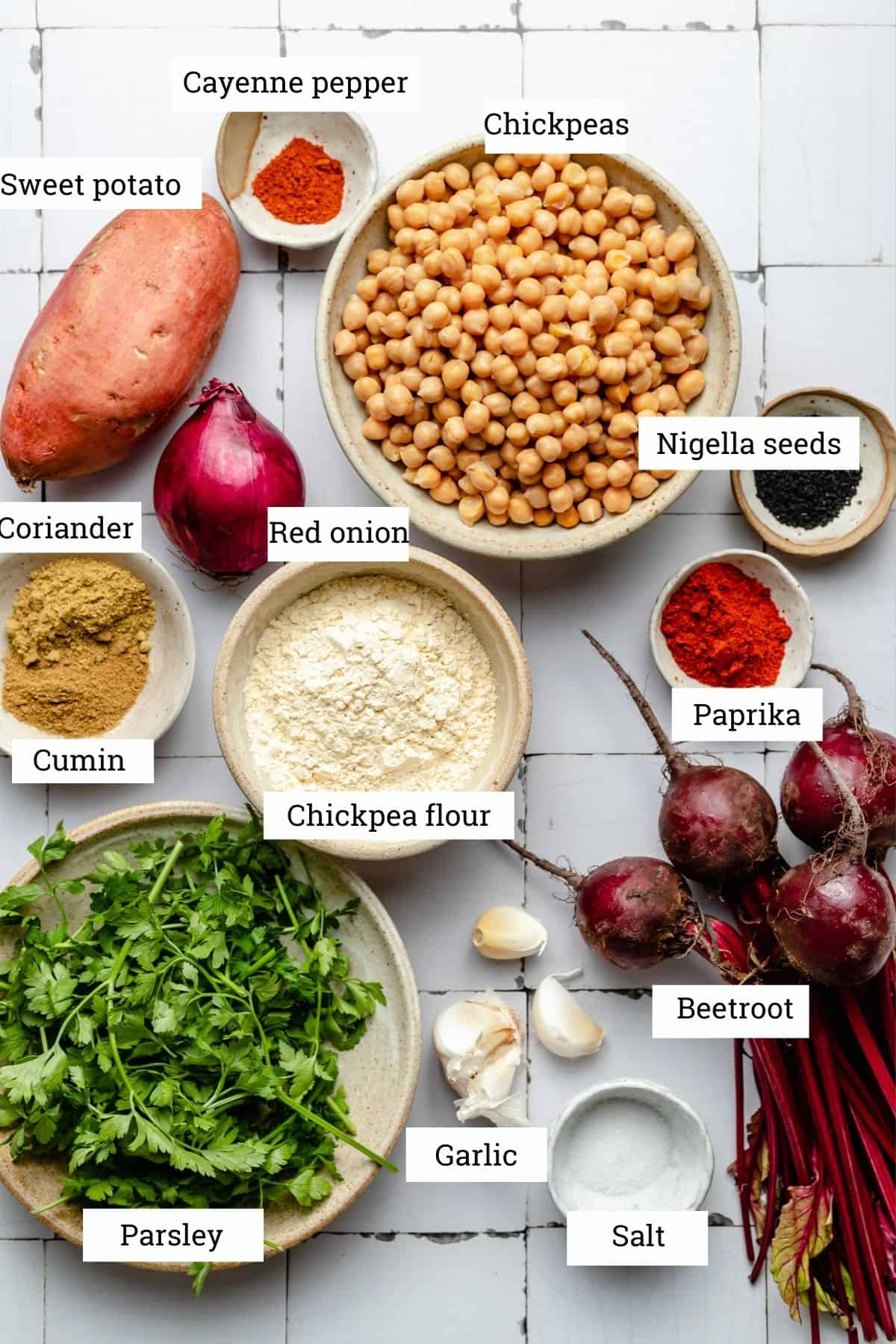 Vegetables - you'll need beetroot and a sweet potato, adding lots of great nutrition to this beetroot falafel recipe. We recommend the smaller beets as these are sweeter and less earthy (which is often what people struggle with).
Aromatics - you'll need some red onion, fresh raw garlic and fresh parsley to give these beetroot falafel a great base of flavour.
Chickpeas - in this recipe you'll use precooked canned chickpeas.
Spices - These beetroot falafel are full of flavour, you'll need these spices: ground cumin, ground coriander, smoked paprika, nigella seeds, cayenne pepper and fine sea salt.
Chickpea flour - This is often called gram or besan flour, it adds a nice flavour too. It helps bind the mix together because the additional vegetables mean the mixture is wetter than traditional falafel mix. You can also use all-purpose, spelt or another flour of your choice.
Customisations
We always do our best to make our recipes the most accessible to everyone, here are some recommended substitutions/customisations you can make for these beetroot falafel:
Change the pulse - Don't have chickpeas? A direct substitution of canned cannellini beans or butter beans will work. Either that or you could use some frozen broad beans, just defrost them in some warm water before using, or use canned fava beans if you can find them.
Change the spices - this is the spice blend we use, but you can mix it up all you like; though traditionally, cumin and coriander need to be in falafel. But you can flavour them however you like. Why not try garlic and onion powder with some sumac and coriander. The world is your oyster!
Change up the veg - try using carrot instead of the sweet potato, just make sure to use the same ratio in the mix. You could probably even use butternut squash or pumpkin!
How to make beetroot falafel
Follow these simple steps to guarantee you success in making these beetroot falafel: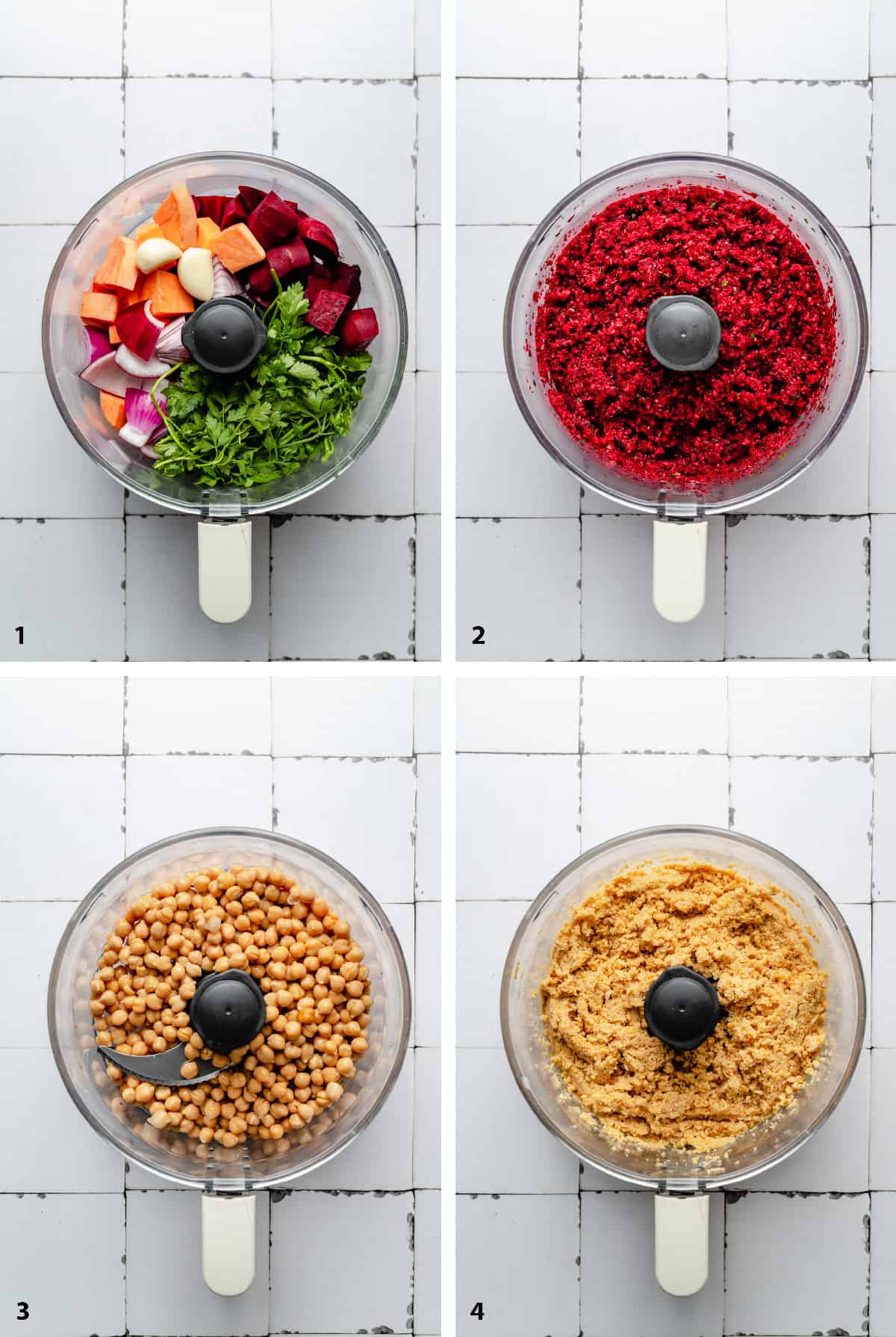 Roughly chop the peeled beetroot, sweet potato and red onion and place in your food processor along with the garlic and parsley.
Process until all the ingredients are finely chopped. You should have a nice uniform mixture with no excessively large bits. Remove into a large bowl.
In the same processor pour your drained and rinsed chickpeas (patted dry with a kitchen roll).
Process the chickpeas until very finely chopped, it'll be close to looking like a paste but not quite all the way to a uniform paste. Add your chickpeas to the bowl with the beetroot mix.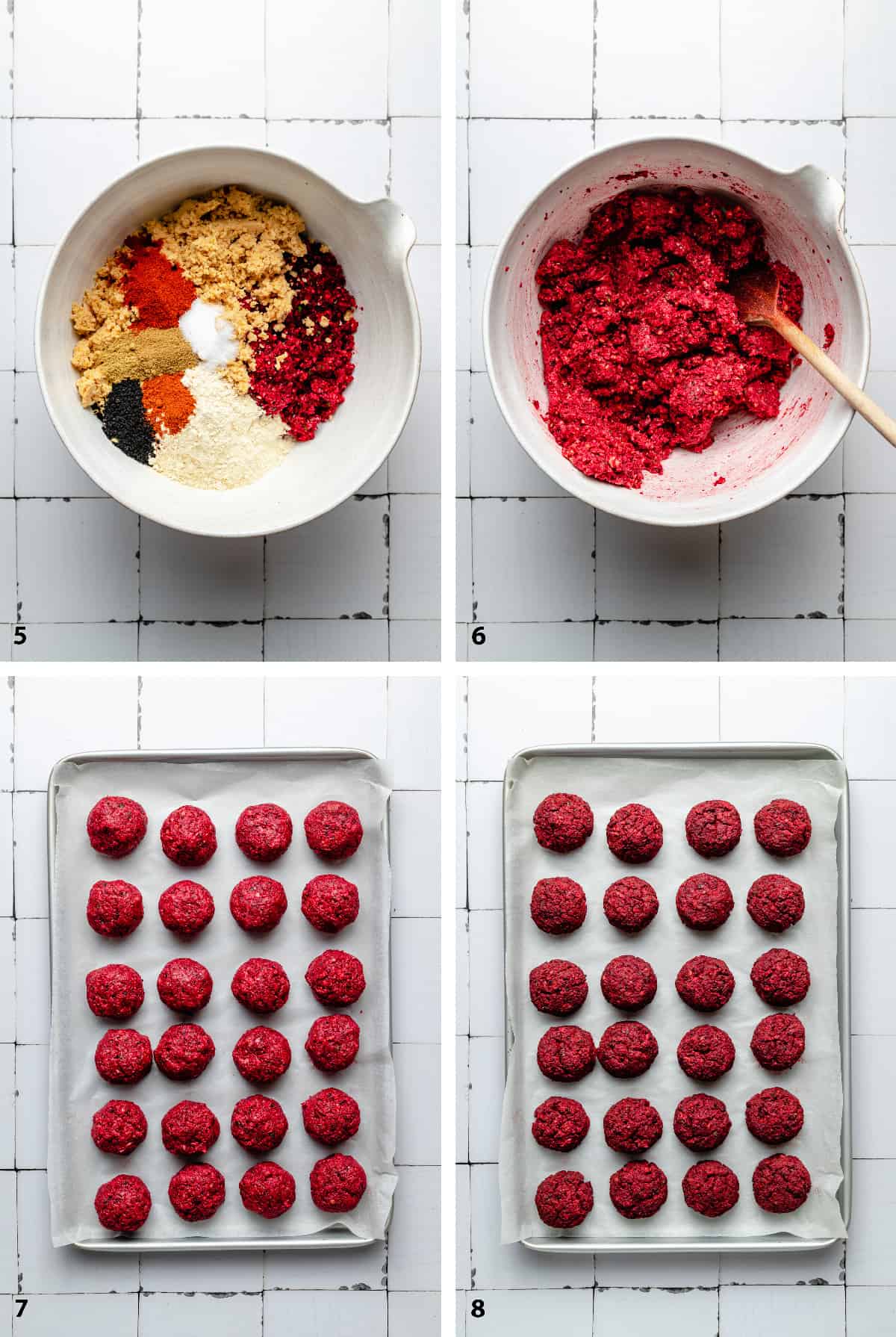 Add all the spices, chickpea flour and salt to the large bowl.
Either with a gloved hand or spoon, mix everything together until completely uniform, the mix should stick together easily when squeezing a handful together. If it is oozing out of your hand when you do this, you may need to add more chickpea flour to help bind it.
Roll out the beetroot falafel mix into golf ball sized balls. We find this easiest to do with a medium cookie scoop, or you can just do 2 flat tablespoons measured out.
Bake the beetroot falafel on a parchment lined baking sheet in a preheated oven at 180C/350F for 30 minutes, they should start to crack a little on the top when done.
Recipe tips
Follow these simple tips if you want an easy and successful time creating these beetroot falafel:
Use gloves! - beetroot is very good for one thing - staining everything, including your hands! We recommend wearing gloves when you are peeling them and mixing/rolling them. We use clean washing up gloves which are more eco friendly than disposable gloves and can easily be rinsed off. Don't worry if you get stained hands though, use some baking soda and a little lemon juice to scrub off the stains; this is best done before the stains have time to dry.
No food processor - We understand that not everyone has access to a food processor. The best way to overcome this is to use the fine grating side of a box grater and then roughly run through the pile of grated strands with a knife.
We will just let you know that this may take you longer than the prep time stated in the recipe card though. We would also use a potato masher to break up the chickpeas! You don't have to have a food processor for this recipe, but it sure does make it faster and easier to do. The alternative will just be a little more coarse in texture.
Cookie scoop - We recommend using a medium cookie scoop for these falafel. It just makes the whole process of rolling out faster and you will get uniform sized falafel. A falafel scoop would be traditionally used for these Middle Eastern street food snacks just before they deep fry them.
How to serve them
There are a myriad of ways to serve these delicious beetroot falafel. Here are some that we would highly recommend:
Hummus and flatbread - serve these falafel atop a pile of smooth hummus, drizzle with some lovely extra virgin olive oil, a sprinkle of smoked paprika, some toasted pine nuts and warm flatbread for a great light lunch or appetizer.
Pita pocket - toast and heat up a pita, open it up, spread with hummus or your favourite condiment, throw in a bit of salad, your beetroot falafel, some hot sauce, pickled onions and crumbled feta; the perfect kind of street food.
Mezze style - create a nice mezze platter with the beetroot falafel to serve as an appetizer for a gathering. Get your hummus, flatbreads, vegetable crudités, olives, pickled vegetables and charcuterie meats to whip together a nice spread.
Sauces - if you are serving the beetroot falafel as part of a salad the sauces from these recipes will go well with these beetroot falafel very nicely: Sesame Sweet Potato Falafels with Green Tahini Sauce and Superfood Chicken Quinoa Salad with Turmeric Tahini Sauce.
FAQs
Can I freeze these?

Yes, you absolutely can! We would recommend baking the beetroot falafel first and letting them cool fully. Place them in an air tight container or ziploc bag and freeze them for up to 3 months.

You could freeze them before cooking, but you'll need to do this on a parchment lined tray then once frozen remove them to a container/freezer bag.

In either case you'll need to defrost them before eating or baking them.
How to store the beetroot falafel?

We would recommend storing them in an airtight container in the fridge for up to 3 days. They will start to go stale after this time. If you want them for longer, we would suggest freezing them.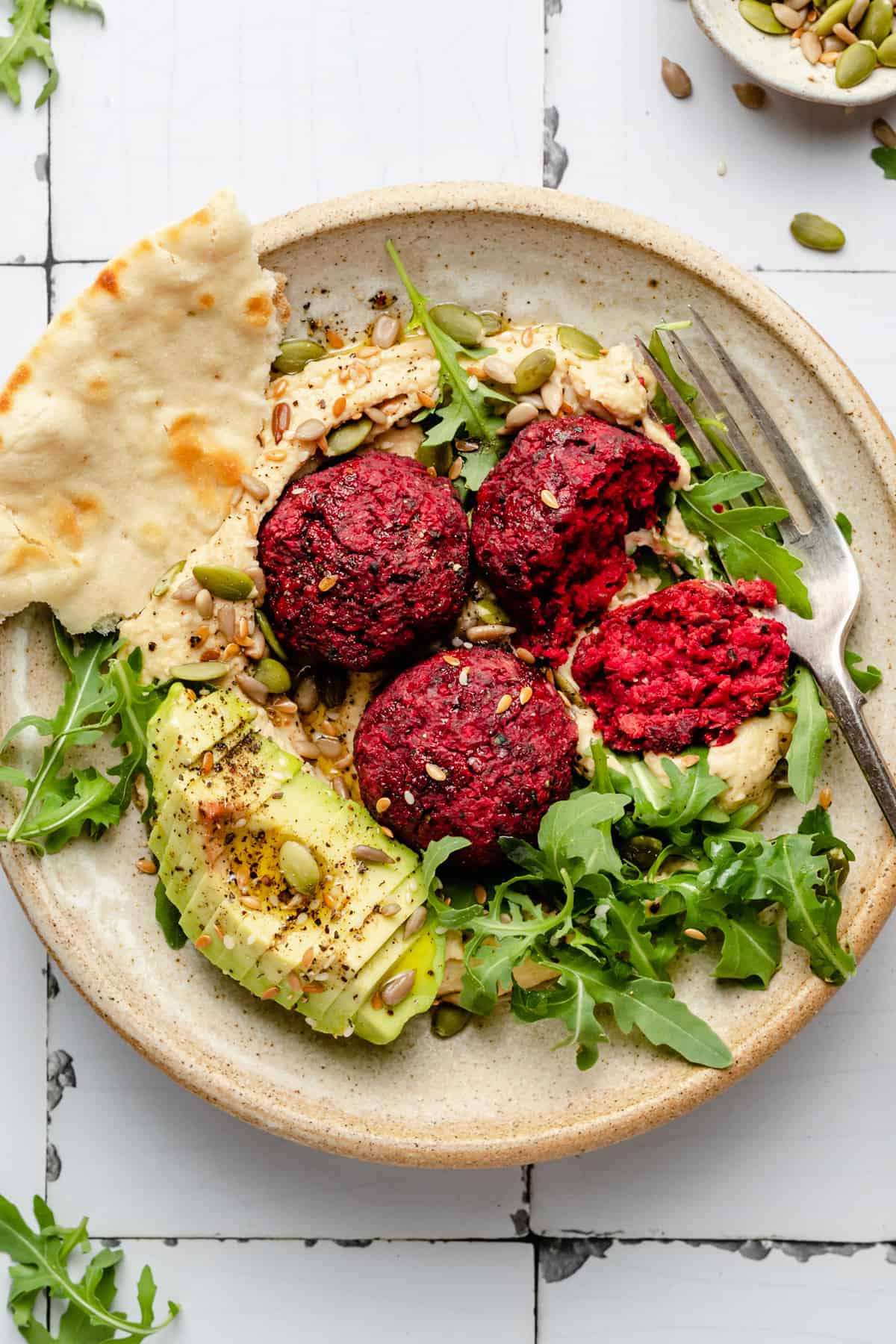 Want more vegan recipes?
If you loved these easy beetroot falafel you'll definitely want to check out more of our vegan recipes, here are some to get you started:
📖 Recipe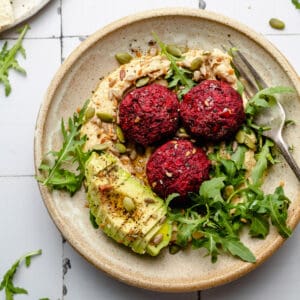 Ingredients
4

medium beetroots

,

raw, 350g peeled weight

1

small sweet potato

,

150g peeled weight

1

small red onion

,

125g

2

cloves

garlic

½

cup

fresh parsley

,

including stalks, 18g

2

cans

chickpeas,

drained and rinsed

1

tablespoon

ground cumin

1

tablespoon

ground coriander

1

tablespoon

smoked paprika

2

teaspoons

nigella seeds

½

teaspoon

cayenne pepper

1 ½

teaspoons

fine sea salt

¾

cup

chickpea flour

,

gram or besan flour, 90g
To serve (optional)
salad leaves

flatbread

hummus

avocado
Instructions
Heat the oven to 180°C (350°F). Peel and roughly chop the beetroot, sweet potato and red onion and place in a food processor with the garlic and parsley. Whiz until all ingredients are finely chopped. Tip into a large mixing bowl. 

4 medium beetroots,

1 small sweet potato,

1 small red onion,

2 cloves garlic,

½ cup fresh parsley

Place the chickpeas into the food processor and whizz until very finely chopped. Add to the bowl with the vegetables. 

Add the ground spices, salt and gram flour to the bowl and mix until well-combined. Add more gram flour if the mixture is still wet and sticky - you should be able to roll balls of the mixture without getting too messy!

1 tablespoon ground cumin,

1 tablespoon ground coriander,

1 tablespoon smoked paprika,

2 teaspoons nigella seeds,

½ teaspoon cayenne pepper,

1 ½ teaspoons fine sea salt,

¾ cup chickpea flour

Roll the mixture into golf ball sized pieces - you should get approximately 30 in total. Place the falafels onto a baking sheet lined with baking parchment or a non-stick liner. Bake for 30-35 minutes. When they're done, they should look slightly cracked on top. Leave to cool before serving.

Serve using the suggestions in the post above; we love ours with hummus, flatbread and salad!

salad leaves,

flatbread,

hummus,

avocado
Notes
Nutrition information is for one falafel. We'd reckon on about three falafels for a decent lunch.
Depending on your experience and the strength of your food processor, the prep time for these falafels could take longer than stated. 
The recipe does not necessarily require a food processor, read the recipe tips in the post to give you alternatives.
The cook time will be different depending on the size of the falafel balls.
Nutrition
Calories:
85
kcal
|
Carbohydrates:
12.9
g
|
Protein:
3.5
g
|
Fat:
2.5
g
|
Saturated Fat:
0.3
g
|
Polyunsaturated Fat:
0.7
g
|
Monounsaturated Fat:
1.1
g
|
Sodium:
216.6
mg
|
Potassium:
220
mg
|
Fiber:
3.3
g
|
Sugar:
1.6
g
|
Vitamin A:
50
IU
|
Vitamin C:
4
mg
|
Calcium:
27.7
mg
|
Iron:
1.3
mg
Did you make this recipe?
Leave a comment below with how you got on and don't forget to give the recipe a rating ⭐️⭐️⭐️⭐️⭐️. You can also tag @eatloveeats on Instagram - we love to see your creations!