This post contains affiliate links from which we could earn a small commission. Please read our Privacy Policy for more information.
These apple cinnamon overnight oats are the best way to start your day. They're full of goodness and very quick and easy to prep ahead of time. Plus, they taste just like apple pie!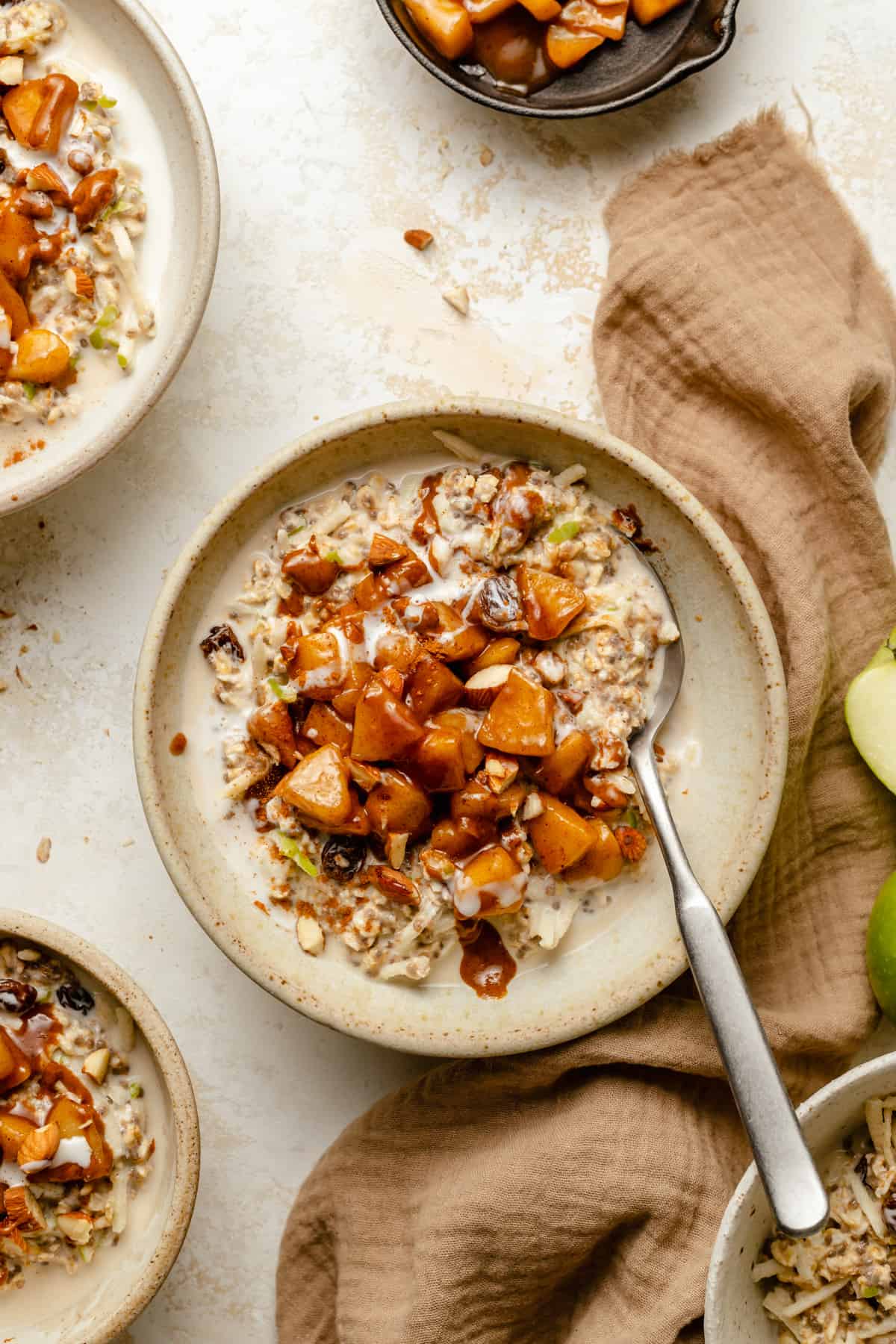 I love mixing up what I have for breakfast each day, don't you? My latest favourite creation is these apple cinnamon overnight oats which taste just like apple pie! Now what's not to love about that?!
These overnight oats are packed with goodness using grated apple, raisins and spices and finished off with a topping of sweet cinnamon glazed apples. They're so easy to make and perfect to make ahead of time as who has time to mess around with breakfast in the morning? Goodbye bowls of cereal or toast, hello to your new breakfast crush! If you're a big fan of overnight oats, you need to try these cherry bakewell quinoa breakfast parfaits, another great start to the day.
I know you'll love these apple cinnamon overnight oats as much as I do, be sure to leave a comment and rating to share the love too!
Jump to:
Why make these overnight oats?
Here are the main reasons you need these apple cinnamon overnight oats in your life right now:
Easy - They are so easy to make! Throw all the ingredients in a bowl, mix together and leave to soak. The topping is an absolute bonus way to seal the deal with apple pie flavours and can also be made ahead.
Healthy - Now, I am never going to demonise any food, as everything can be enjoyed in a balanced way. These overnight oats are full of protein and fibre from the oaty, fruity goodness and are a great slow release of energy to get you through the morning.
Apple pie - I mean, this tastes like apple pie, what's not to love there? It tastes amazing! Cosy, autumnal flavours for breakfast can never be a bad thing.
Kid friendly - Get the kids involved, they can make their own jar of oats and learn some responsibilities along the way too. Win-win!
Gluten free - these are easily made gluten free by simply ensuring the oats are certified gluten free.
Scaleable - this recipe is so easy to double, triple or quadruple for a batch breakfast prep.
Ingredients
You'll only need simple, easily accessible ingredients for this recipe. Here is what you'll need: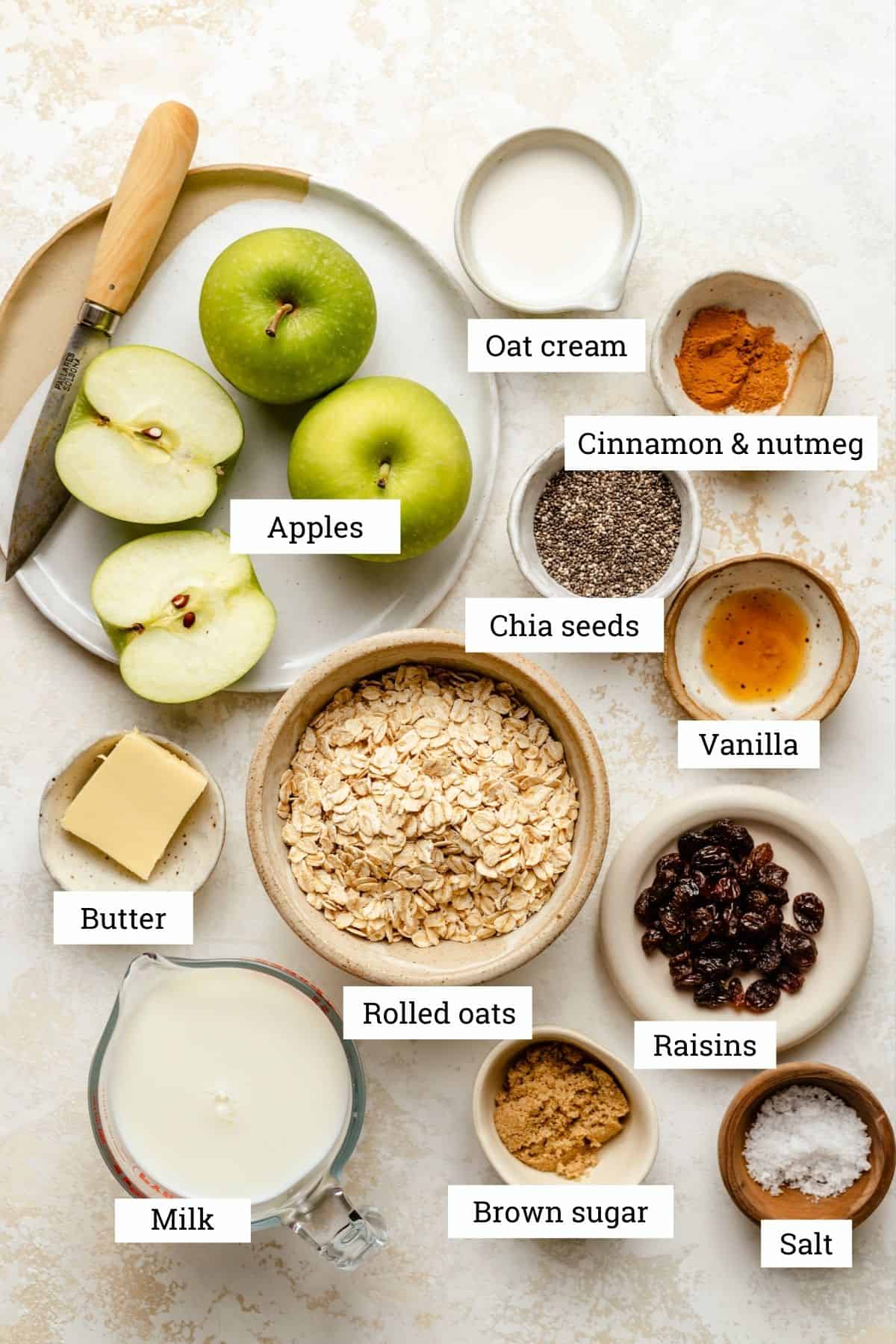 Creaminess - I love using dairy milk in these, but any dairy free alternative will also work very well. You'll also use oat cream which adds some extra creaminess and goodness from more oats.
Rolled oats - This recipe calls for jumbo old fashioned oats as they give the best texture for the overnight oats.
Fruit - you'll definitely need apples and some juicy raisins for this recipe. I use Granny Smith or you can use your favourite apple, Pink Lady or Honeycrisp work well.
Spices - the essential spices for apple pie are cinnamon and nutmeg, so don't miss these spices out for these overnight oats. You could use allspice too if you like.
Chia seeds - Overnight oats is like thickened flavoured cold porridge. It tastes better than it sounds! Chia seeds are used to thicken up your overnight oats.
Store cupboard - You'll need a splash of vanilla extract and a pinch of salt to enhance everything. You'll also need a little brown sugar for the topping.
Butter - this is needed to cook the apple in the apple cinnamon overnight oats topping, making them extra rich and delicious.
Optional (for making the topping) - If you want a little thicker more glazed apple cinnamon topping, you'll need a little cornstarch (cornflour) and water. Fresh lemon juice adds a pop of brightness to the topping.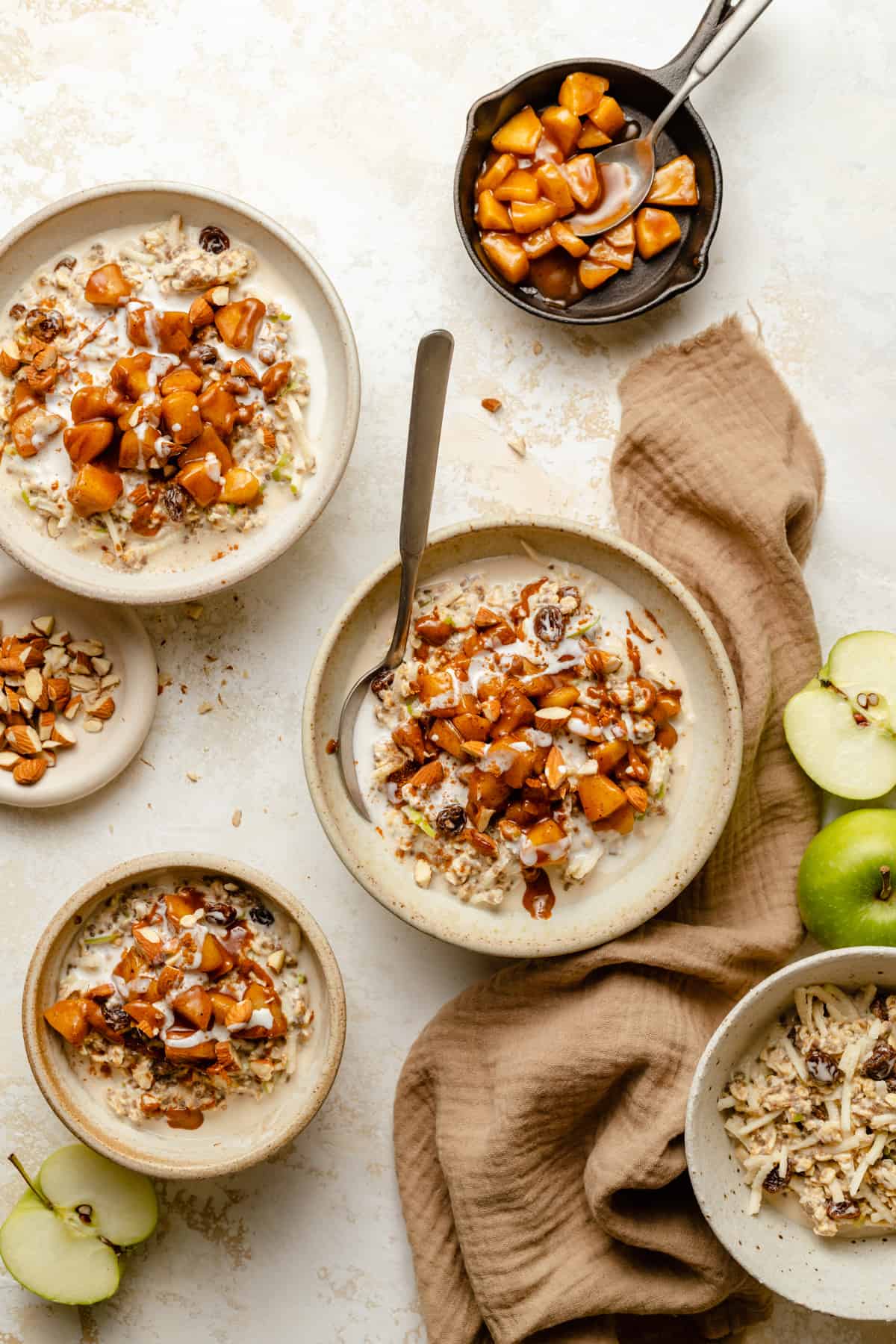 Customisations
We all love a varied breakfast so here are some substitutions and customisations I recommend:
Chia seeds - you don't have to use chia seeds if you don't have them, you can substitute directly for flax seeds (linseeds); they'll have the same effect.
Change up the fruit - Apple cinnamon is the perfect fall flavour combo, and I'd recommend sticking to fall fruits. You could do chopped up pears, or a mixture, or even try using plums; they will usually make more of a saucy compote for the topping though.
Switch out the raisins - You could switch out the raisins for cranberries or another dried fruit. You could also add in some chopped nuts to the mix, whatever you fancy. You could even throw in some chocolate chips!
Oat cream - If you don't have access to oat cream you can substitute directly for Greek yoghurt, regular cream, extra milk or if you want to make it extra indulgent, clotted cream.
Vegan - make this completely vegan friendly by using dairy free milk and butter.
How to make overnight oats?
There's apple cinnamon overnight oats… then there's these apple cinnamon overnight oats. The most flavorful packed jars or bowls of goodness you'll eat this fall, I promise. Here's how to make them: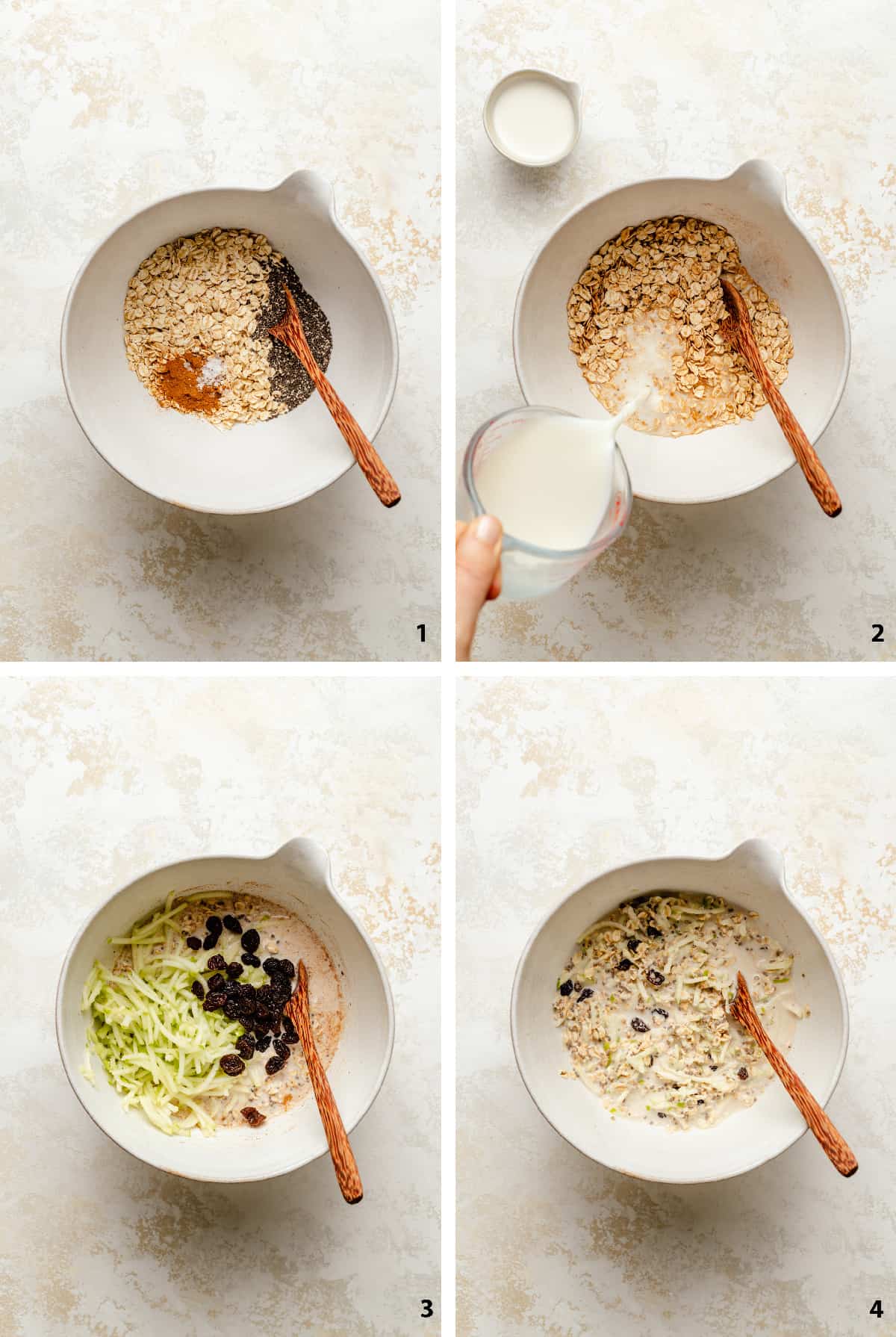 Get all your rolled oats, chia seeds, spices and salt in a mixing bowl and stir together.
Pour over the milk, oat cream and add in the vanilla extract. Stir.
Stir in the grated apple and raisins.
Cover the bowl and leave in the fridge for at least 4 hours; overnight is better.
For the apple cinnamon topping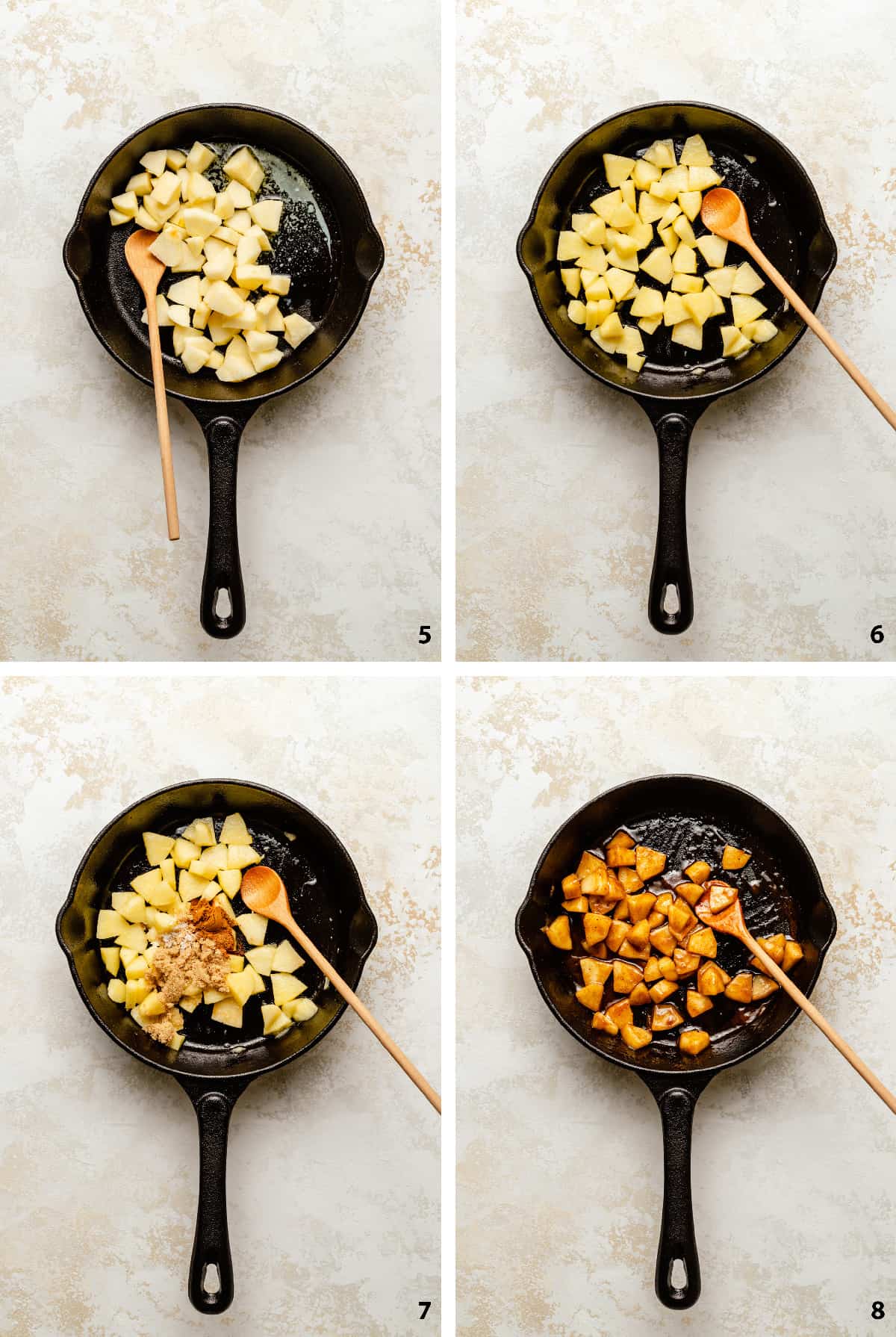 Melt the butter in a skillet over a medium heat and add the prepared apples.
Cook over a medium heat for about 5 minutes to soften slightly.
Add the brown sugar, cinnamon, nutmeg, vanilla extract and a pinch of salt and stir to coat the apples.
Continue to cook for another few minutes until the apples are caramelised and soft. Add the cornstarch water mix and cook a minute further until it thickens. Remove from the heat and leave to cool.
Recipe tips
Containers - this recipe makes enough for two portions of apple cinnamon overnight oats. You can easily make this up in tupperware or jars directly - just split the ingredient quantities in half and mix directly in the jar. I prefer using a bowl as I can make bigger batches and just serve directly from the bowl throughout the week, or divide into jars from there. It just depends how you want to store them in the fridge. You can add the apple pie mixture on top of the overnight oats or store separately.
Peelings - in the recipe I peel and dice the apples for the topping, but if you prefer you can leave this step out if you are time poor. You can always snack on the peelings or use them for composting.
Box grater - I recommend using a very sharp box grater as you'll get nice apple strands which run throughout the overnight oats. If you don't have one, it'll be fine, the apple may just get mushy, that's all.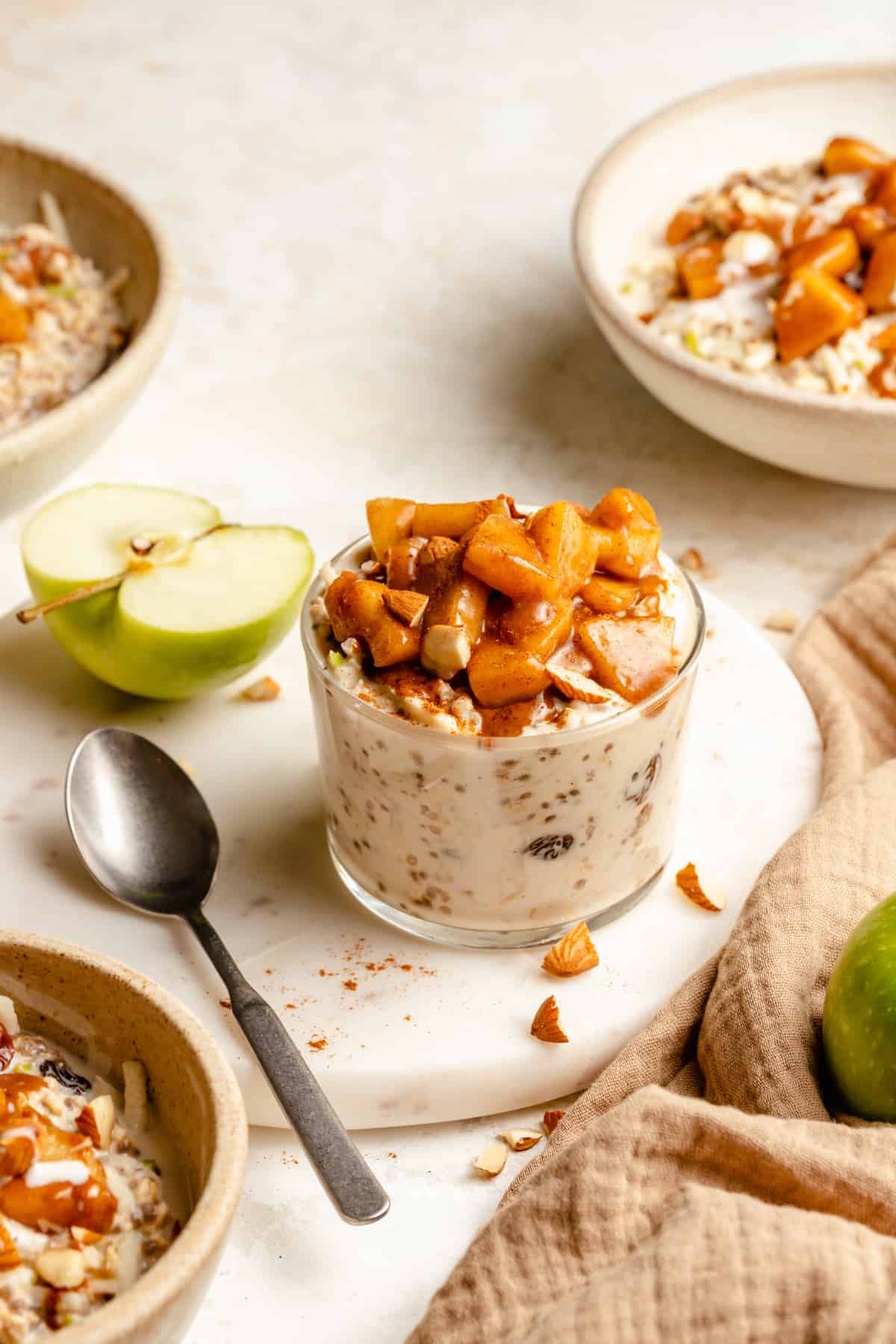 What to serve with these
Apple cinnamon topping - I recommend using the apple cinnamon mixture I use in the recipe, this tastes just like apple pie and is incredible! You can also do it with pears.
Nut butters - give the top of your breakfast a good drizzle of your favourite nut butter. I love using almond butter as it gives a lovely roasted nuttiness and extra creaminess.
Extra cream - If you want to loosen up the overnight oat mix, just stir in a little more milk. Top with a swirl of oat cream or yogurt and you'll be off to a great start.
FAQs
How do I store these overnight oats?

These overnight oats are great to prepare ahead of time. You'll need to soak them for at least 4 hours but they're best left overnight. I would recommend storing them in the fridge for up to 5 days in an airtight container, or a bowl with a cover. They will be fine for this time, but the apple may start to get a bit brown after a few days.
Can I heat these up?

Overnight oats are usually served up cold, but you can absolutely warm them up if that is what you prefer. Just warm gently in a pan on the stove until warm throughout or use the microwave to heat them up.
Can I use quick or instant oats?

Yes you can, they are just a finer cut oat, just directly substitute for the rolled oats and they'll work just fine. The texture will be a little more mushy, but still good!
Other breakfast options
I hope you love these apple cinnamon overnight oats! If you make them, be sure to leave a comment, rate the recipe and tag me #eatloveeats on Instagram! I love to see your creations!