This baked oatmeal is made with creamy tahini, juicy fresh cherries and chocolate chips throughout which make the perfect combo for breakfast; great to prepare ahead and reheat throughout the week! Finish it with another drizzle of tahini or maple syrup and dig in. I love to serve mine with warmed milk!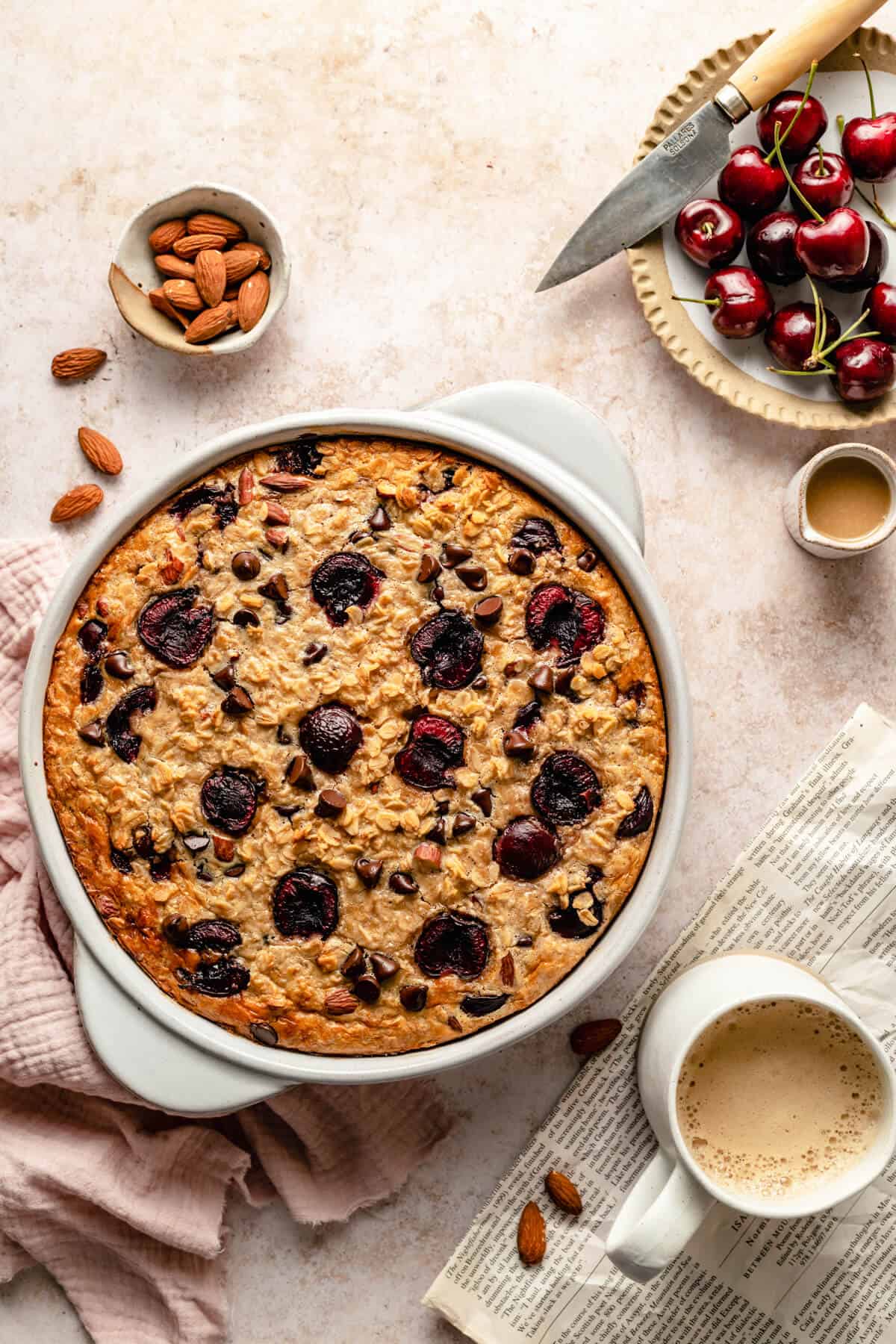 I'm not the only one who loves a good baked oatmeal, I know you love them too! Especially this Double Chocolate Peanut Butter Baked Oatmeal; you all have been loving it so much it is one of the most popular posts on the blog. So I thought I'd treat you with a special summer one. If you follow along here you'll know one of my favourite ingredients is cherries! And.. ahem, chocolate too! ? Just type cherries into the search bar and you'll find your next recipe to satisfy all your cherry cravings.
The tahini is so good in this recipe, it just adds a lovely creaminess and nutty flavour from the roasted sesame seeds. I think I have now discovered my new favourite tahini too. It's just so good, perfectly smooth and creamy! I highly recommend buying a high quality tahini such as Belazu in the UK or Soom if you're in the US. It really makes all the difference.
In this house we love baked oatmeal for breakfast; for me it's important to get what my body is craving as soon as I wake up, something that will satiate and fill me up! I could never miss breakfast, and you will not want to miss it either with some of this tahini cherry chocolate chip baked oatmeal. You'll definitely want to try our Peach Baked Oatmeal too if you love fruity breakfasts!
Well, I suggest you get to it and bake this right away and then leave us a rating - drop a comment below with how much you loved it. I'm that confident that this recipe is the best!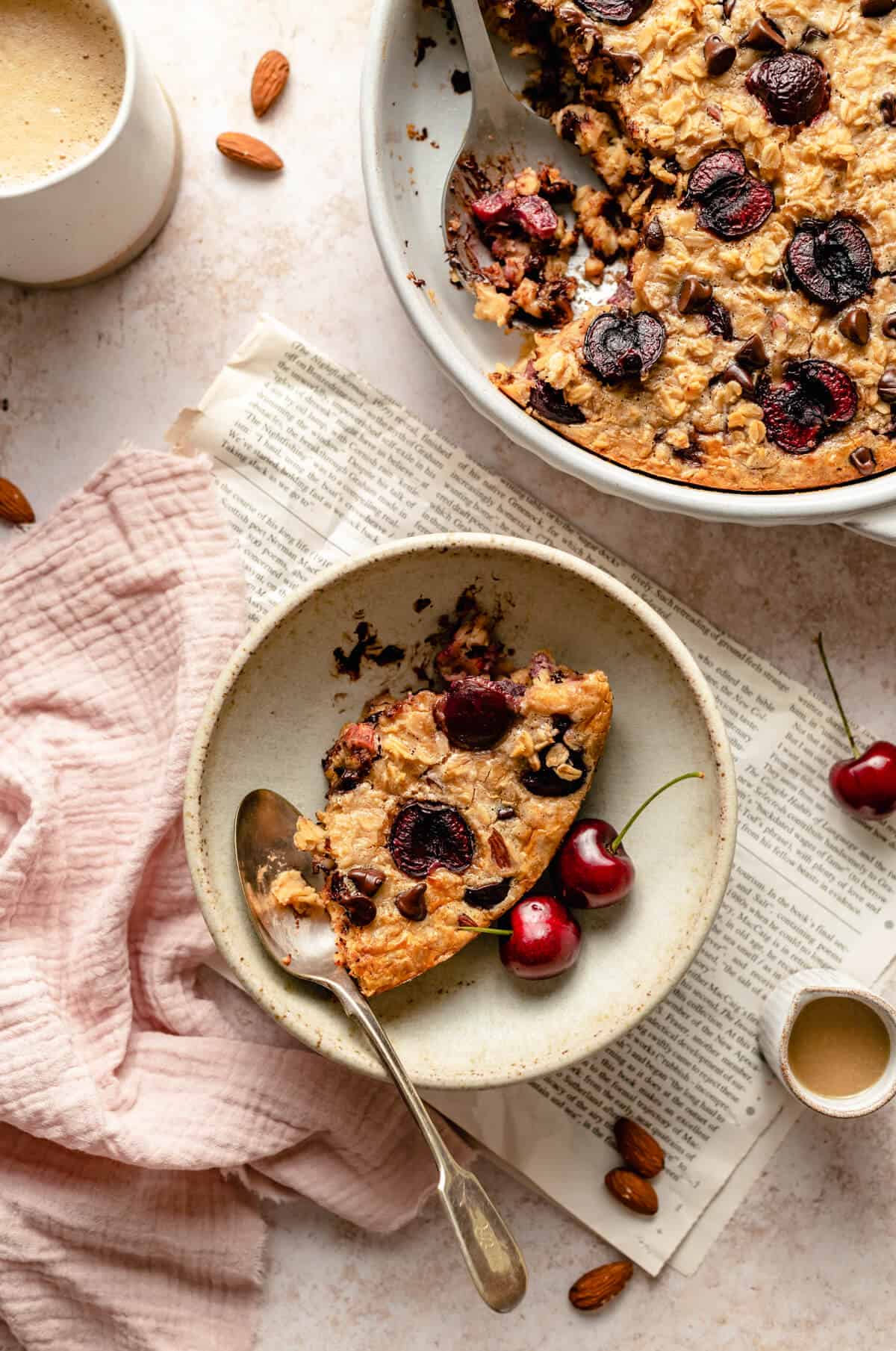 Ingredients you'll need for this baked oatmeal
This tahini cherry chocolate chip baked oatmeal is next level in the realm of breakfasts and totally gluten free (as long as you use certified gluten free oats). It's sweetened with maple syrup and semisweet chocolate chips, and utilises the most amazing fresh cherries of the season too! Here is everything you'll need to put this together in no time:
Rolled oats - baked oatmeal calls for the use of old fashioned jumbo oats, don't use steel cut or quick/instant oats
Baking essentials - You'll need fine sea salt and baking powder for this recipe
Tahini - an essential ingredient in this recipe is tahini for creaminess and a slight toasted nutty flavour
Medium eggs - you'll use 2 medium eggs. I recommend getting the best welfare eggs you can afford. Clarence Court eggs are wonderful. If you want to make this vegan, use flax eggs. I haven't tested flax eggs in this recipe though - check the FAQs for more information
Vanilla extract - can't bake something and not add vanilla extract
Maple syrup - we're using maple syrup to add a touch of sweetness
Milk - use any milk you like - if you want to keep this vegan, oat or almond milk work just fine
Mix ins - you'll need fresh cherries, semisweet chocolate chips and roughly chopped raw almonds
For the glaze (optional) - you'll only need a bit more maple syrup and tahini if you decide to add the tahini maple drizzle
Want to customise it?
Change up the fruit - If you haven't got access to fresh cherries you can use frozen! Or you can give raspberries, blackberries or blueberries a go.
Vegan/Dairy free? - Replace the eggs with flax eggs and milk with a dairy free option. I have not tested this but have had one of you lovely readers try this on my double chocolate peanut butter baked oatmeal and it worked great! Check out the FAQs for how to do this - do let us know if you try it in the comments!
Sweetness - Try switching out with your favourite honey or agave nectar, just remember they have different levels of sweetness so if you do change it up, just take that into consideration.
Have a nut/sesame allergy? For sesame allergy, don't use tahini; you can directly swap with an alternative nut butter that you are OK with. If you have a nut allergy omit the almonds and it will still turn out great. If you remove the tahini due to a sesame/nut allergy you will need to add some fat to replace the tahini or nut butter used - I recommend using 4 tablespoons (56g) of butter or dairy free butter.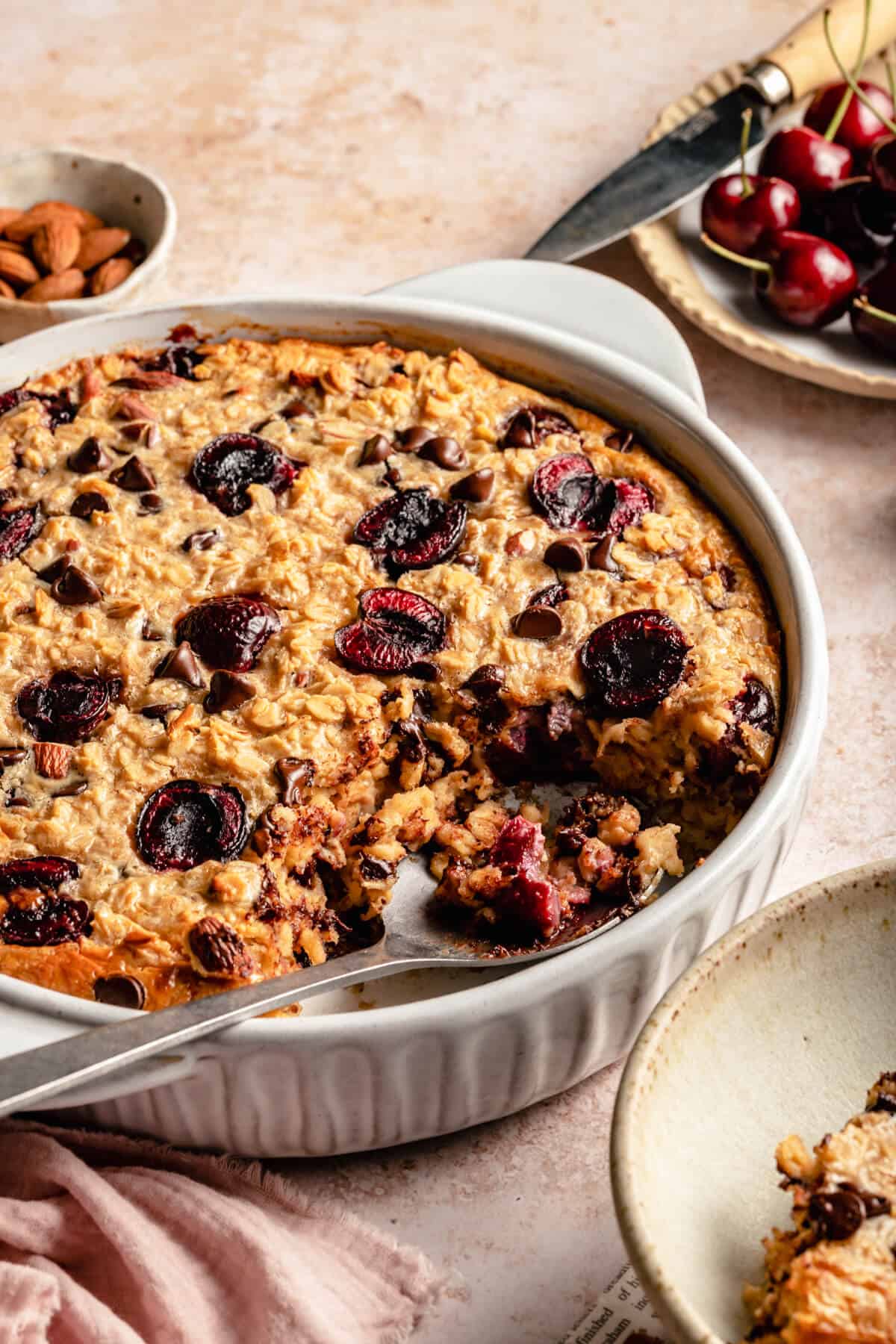 How to put it all together
Use these easy to follow step by step process photos to help you find your way through the recipe and get baking your tahini cherry chocolate chip baked oatmeal:
Mix the oats, baking powder and salt together in a medium bowl.
Mix together the tahini, maple syrup, vanilla and eggs with a whisk in a large bowl.
Whisk the milk into the tahini egg mix.
Stir the dry ingredients into the wet.
Add in the cherries, chopped almonds and chocolate chips.
Pour into a greased 9" x 9" or 8" x 10" or 9" round baking dish and top with extra chocolate chips and cherries if desired before baking.
Frequently Asked Questions
Can I make this vegan/dairy free?
Yes, absolutely. Just substitute the eggs for flax eggs (1 flax egg = 1 tablespoon ground/milled flaxseed added to 3 tablespoons of water - leave it to thicken for 15 minutes) and also use dairy free milk instead of cow's milk.
I haven't tested this specific baked oatmeal with the flax egg but have had a reader do it for another recipe of ours and it worked great.
Can you prepare baked oatmeal the night before?
Yes! In fact I recommend that you do, as it takes the pressure off in the morning. We always make it the day before and then cut ourselves a slice and reheat it in a 350F/180C oven for 10-15 minutes. If you have a microwave, reheat for 45-60 seconds on high until hot in the middle. You can either reheat it or have it cold the next day.
How long can you store baked oatmeal?
Fridge: I would recommend storing it in the fridge wrapped in foil for 3-5 days, but for us it is normally gone within four days as we make it into 8 portions.

Freezer: If you want to freeze it, you can store it for up to 3 months. Cut into individual portions, wrap in clingfilm and then foil and freeze at -18C/0F.
How to reheat baked oatmeal?
From chilled: Reheat, use a microwave on high for 45-60 seconds. Or a preheated oven at 180C/350F for 10-15 minutes.

From freezer: Defrost in the fridge and heat in a microwave for 45-60 seconds on high or 10-15 minutes in a oven preheated to 180C/350F. Make sure the inside is piping hot.
Can I make these into baked oatmeal cups?
Yes! Just split the mix between muffin cases in a muffin tin and bake in a preheated oven at 180C/350F for 25-30 minutes until a toothpick or knife comes out clean. When I tested them, the mixture made 14 baked oatmeal cups. A great grab and go breakfast!
I hope you love this tahini cherry chocolate chip baked oatmeal as much as we do. If you make it, be sure to leave a comment, rate the recipe and tag me on Instagram! I love to see your creations!
More breakfast recipes for you to try
Tahini Cherry Chocolate Chip Baked Oatmeal
This baked oatmeal is delicious and moreish, packed with cherries, chocolate chips and has a creamy nutty flavour from the tahini. Great to make ahead!
Print Recipe
Pin Recipe
⭐️ Rate Recipe
Ingredients
Tahini Maple Drizzle (optional)
Instructions
Preheat the oven to 180C/350F, with a shelf set in the middle. Grease an 9" x 9" or 8" x 10" dish with butter or oil.

In a medium bowl, stir together the oats, salt and baking powder. Set aside.

2 ½ cups rolled oats,

½ teaspoon baking powder,

¼ teaspoon fine sea salt

In a large bowl, whisk together the tahini, egg, vanilla and maple syrup until smooth.

½ cup tahini,

2 medium eggs,

2 teaspoons vanilla extract,

¼ cup maple syrup

Next, whisk in the milk until well combined.

Add the dry ingredients to the wet ingredients and stir to combine, making sure everything is well mixed.

Stir in most of the cherries (reserving a few for the top), chocolate chips and chopped almonds.

2 cups cherries,

½ cup semisweet chocolate chips,

¼ cup raw almonds

Pour into the prepared dish and spread out evenly. Arrange extra cherries (and chocolate chips if desired) on top and bake for 35-40 minutes or until set and the top is golden brown.

Once baked, cut into 8 pieces and enjoy warm or follow the instructions in the FAQs for storage if preparing ahead. Serve with a tahini maple drizzle if you would like - simply whisk together the tahini, maple syrup and sea salt until smooth.

1 tablespoon tahini,

2 tablespoons maple syrup,

pinch sea salt
Notes
Check out how to prepare ahead and store your baked oatmeal in the FAQs above
Make sure to read the tips throughout the post above the recipe
Nutrition
Calories:
499
kcal
|
Carbohydrates:
69.3
g
|
Protein:
15.8
g
|
Fat:
15.3
g
|
Saturated Fat:
4.9
g
|
Polyunsaturated Fat:
4.3
g
|
Monounsaturated Fat:
4.8
g
|
Cholesterol:
42
mg
|
Sodium:
117.9
mg
|
Potassium:
1163.7
mg
|
Fiber:
9.1
g
|
Sugar:
20.4
g
|
Vitamin A:
19.9
IU
|
Vitamin C:
2.4
mg
|
Calcium:
176.6
mg
|
Iron:
3.4
mg
Did you make this recipe?
Leave a comment below with how you got on and don't forget to give the recipe a rating ⭐️⭐️⭐️⭐️⭐️. You can also tag @eatloveeats on Instagram - we love to see your creations!