These Vegan Blueberry Muffins are made with bananas, rolled oats and spelt flour, making them a healthier option for on-the-go breakfasts!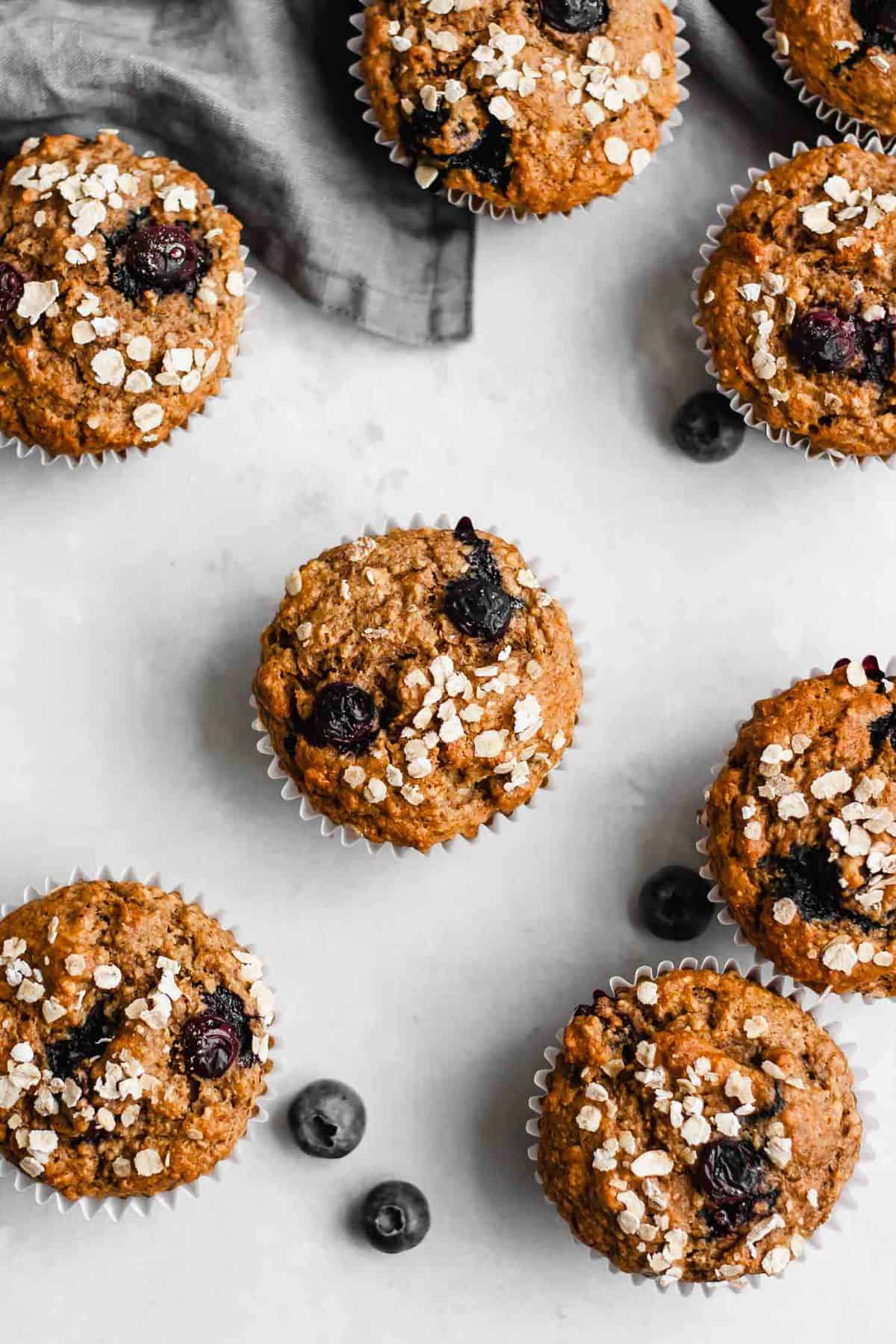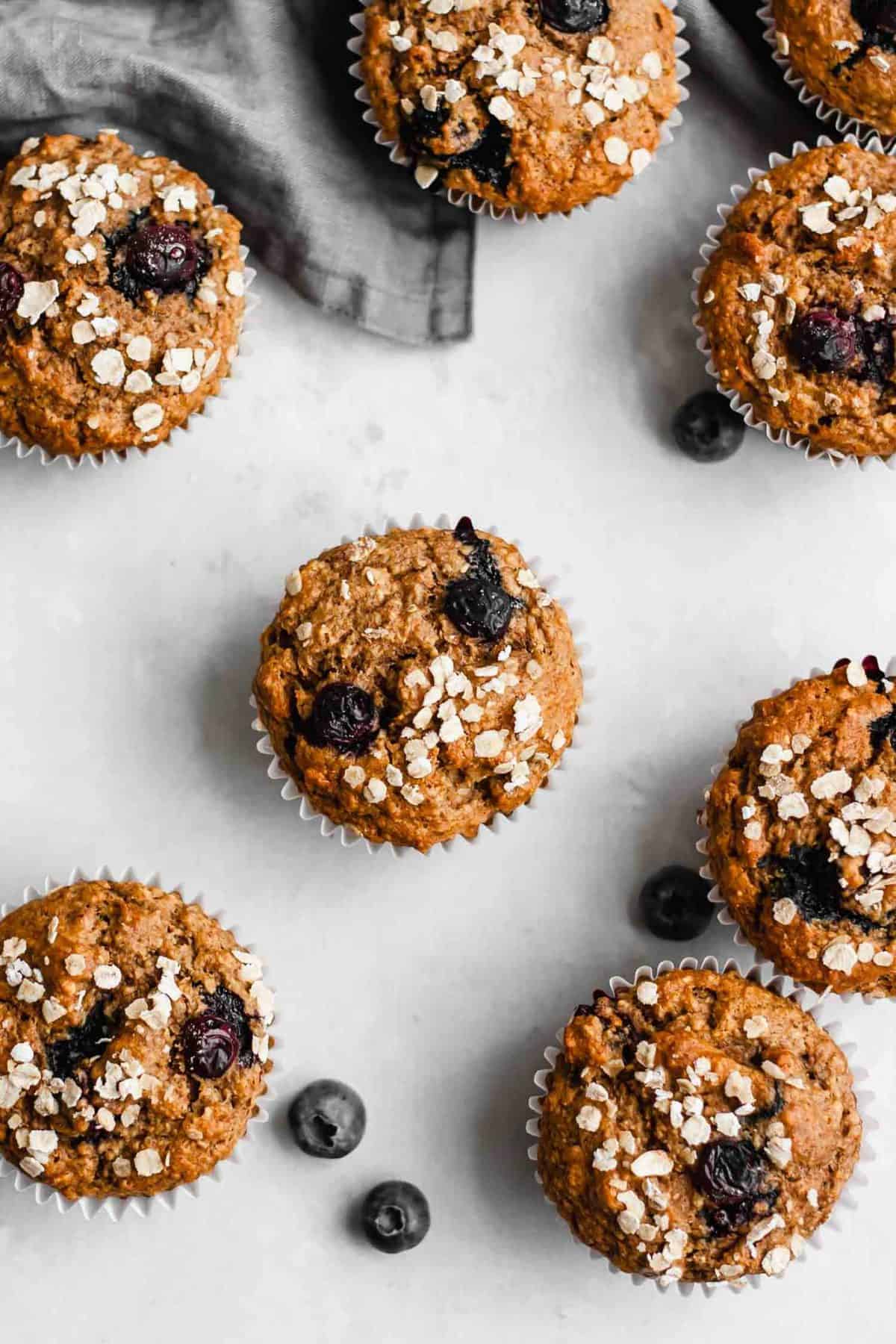 Oh hey! Gosh, sorry it's been a while. Life happened again. To be honest, it's been a rough few weeks, and despite the best of intentions to get a few recipes up, things didn't quite pan out as I'd hoped.
I'm not always sure who's reading here (and my apparent lack of self-confidence and self-belief make up a big piece of the problem) so I tell myself it's not worth talking about it, because am I essentially just talking to an empty room? But I'm feeling like maybe I need to push myself over that line a little and do something that makes me feel a little uncomfortable. And not worry about if anyone's actually listening. Though, of course, I hope someone is. Let's face it, we all crave connection, don't we?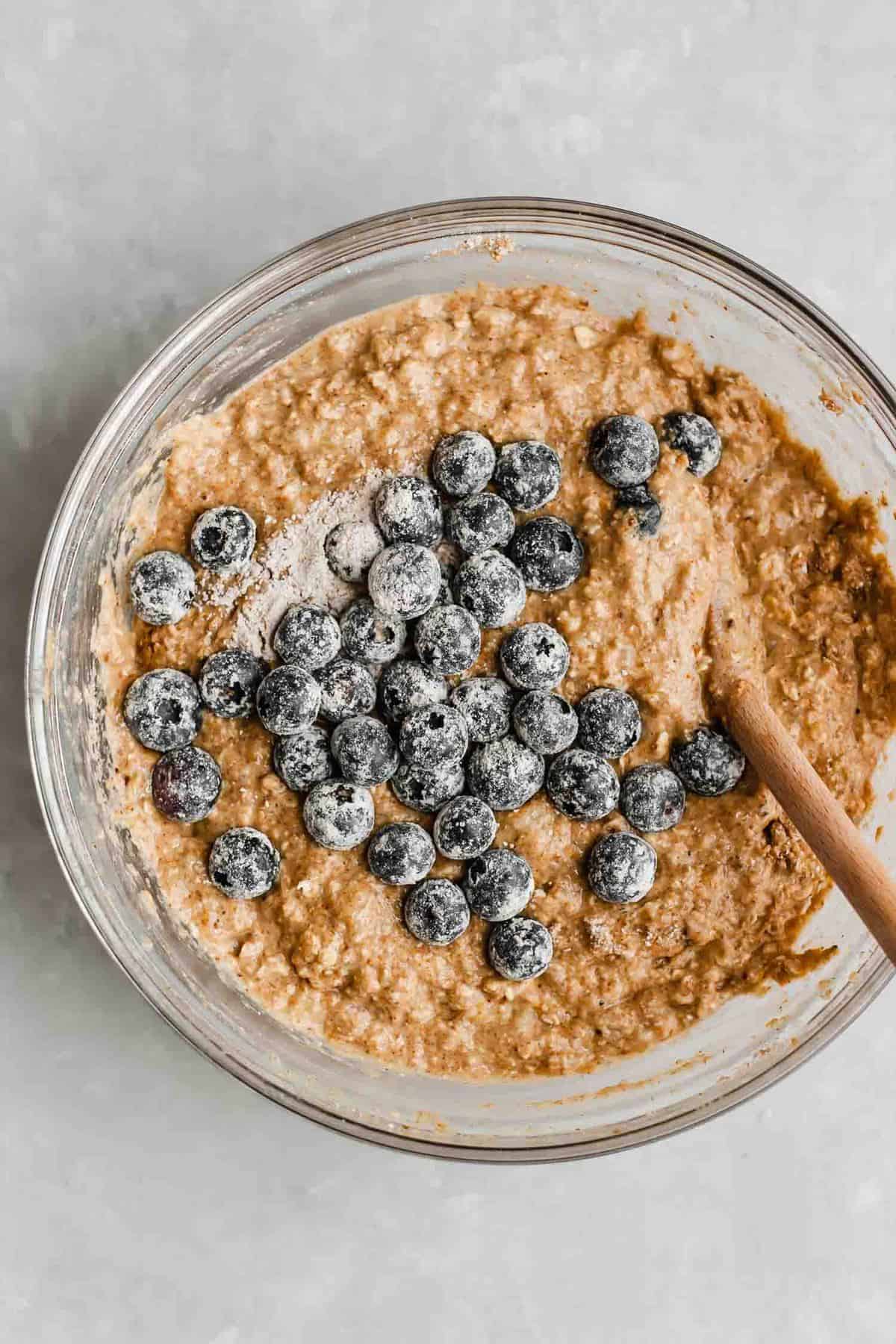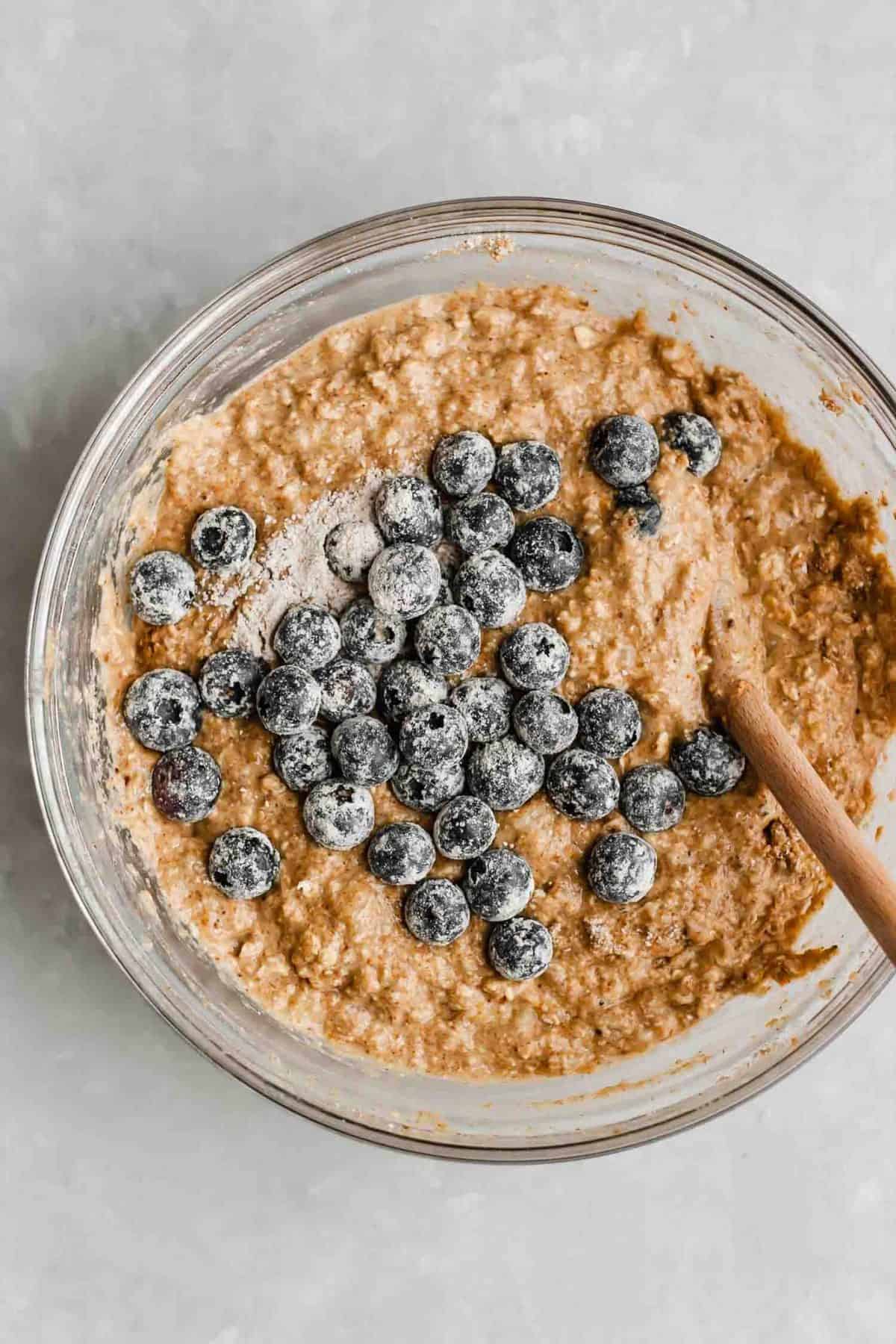 So yeah, I guess I've been giving myself a hard time lately, believing over and over again that the work I do is not good enough. That I'M not good enough. And whilst I'm down there in that pit, it can be really hard to see the light, to see the truth. The real truth. It can be really hard to believe in that truth and act accordingly. And so the cycle continues.
I haven't got it all figured out yet, but I've been working on getting a little bit more of a balance going on in my life. I've come to realise that I put way too much energy into work and 'futurising'. And I tend to neglect the here and now. So I'm trying to remedy that a little bit: I've started meal prepping so that I have more time to spend with my husband. I've ordered myself a few novels to read because all through my childhood and teens I devoured books but these days all I read are cookbooks and blogging articles on my phone. And I bought some brush pens so that I can learn to hand letter.
And on the to-do list: Start a gratitude journal and wind down every evening by writing in it. Buy an actual alarm clock and move my iPhone from my bedside table. And many more things I'm sure. But that'll do for now. Baby steps and all.
What do you do to achieve balance in your life? How do you avoid being a complete mess? Tell me your secrets! And if you don't have the secrets either, feel free to simply share how you're feeling too 🙂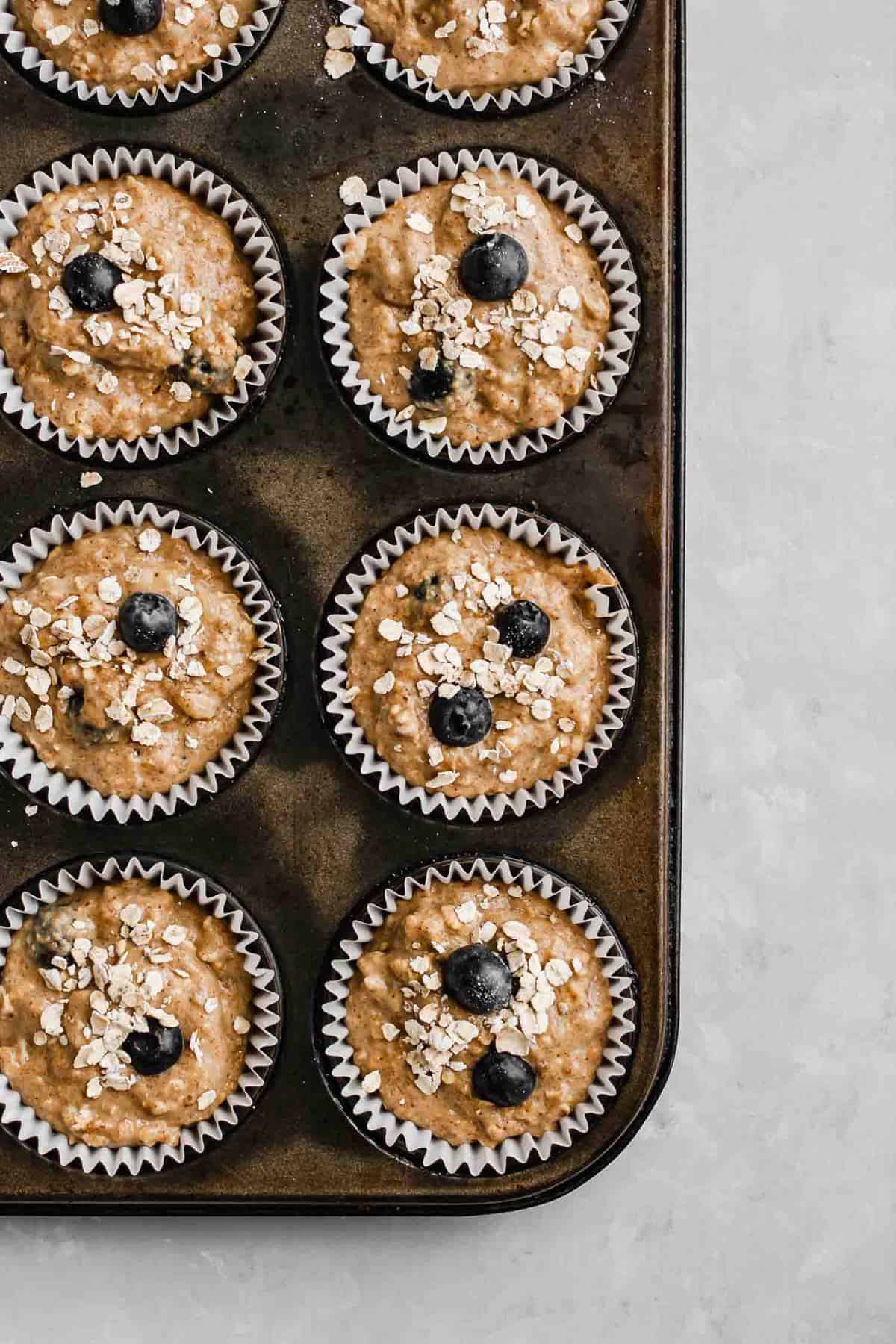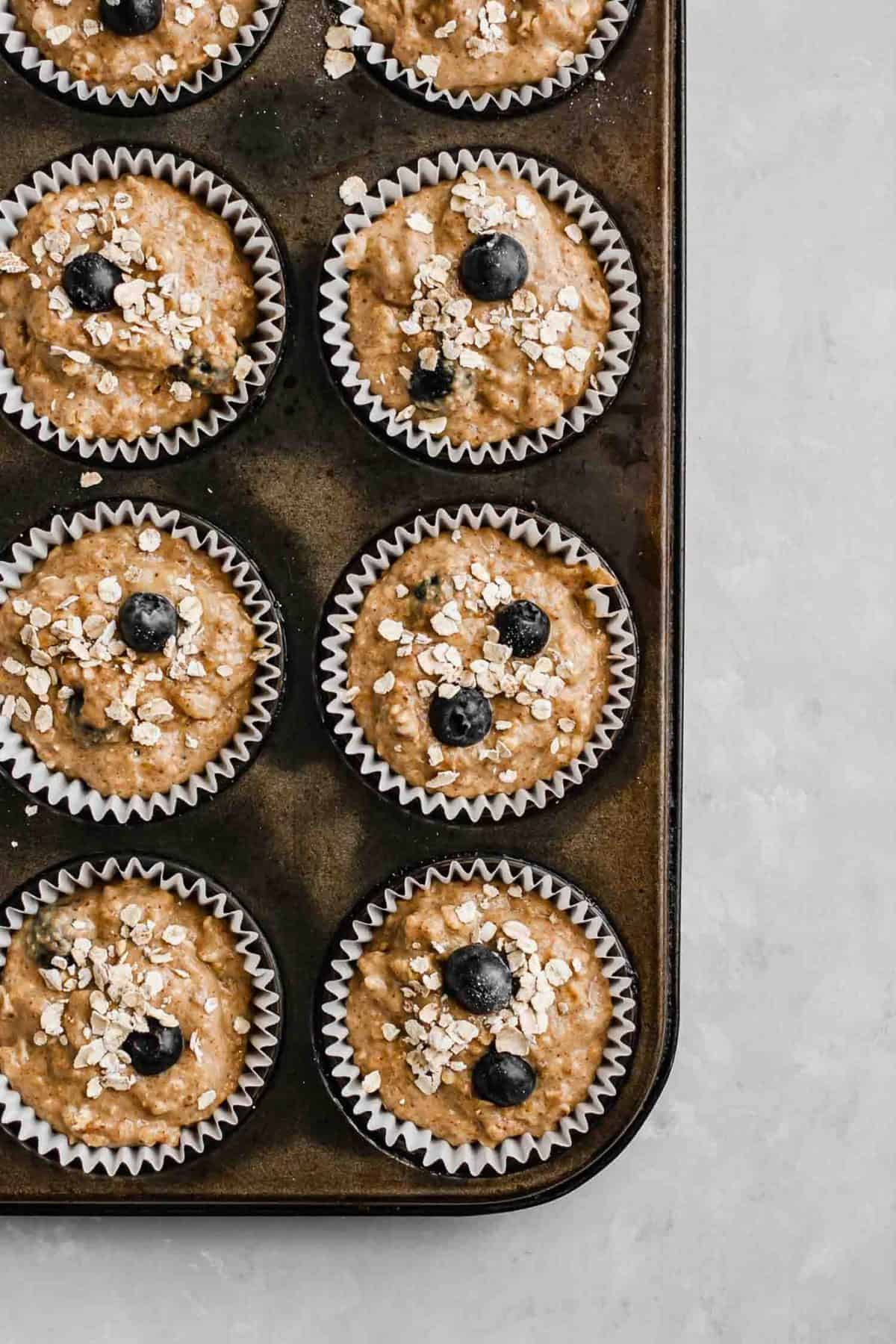 Anyway, let's talk about these Vegan Blueberry Muffins! Oh, I do love a good muffin. Especially a blueberry one. The simplest things are often the best, right? During my 28 day vegan challenge I had a major hankering for a blueberry muffin. It also happens that blueberry muffins are my husband's favourite so Vegan Blueberry Muffins just had to be made!
I wanted to make healthy-ish muffins so these are partially sweetened with bananas and made with a combination of rolled oats and spelt flour. So basically these are full of good stuff. I used a flax egg instead of regular eggs - I found that one flax egg was sufficient for this recipe - where I would normally have used two eggs as I found that using two flax eggs made the muffins a little gummy in texture. I also replaced some of the oil with almond butter for that irresistible nutty flavour.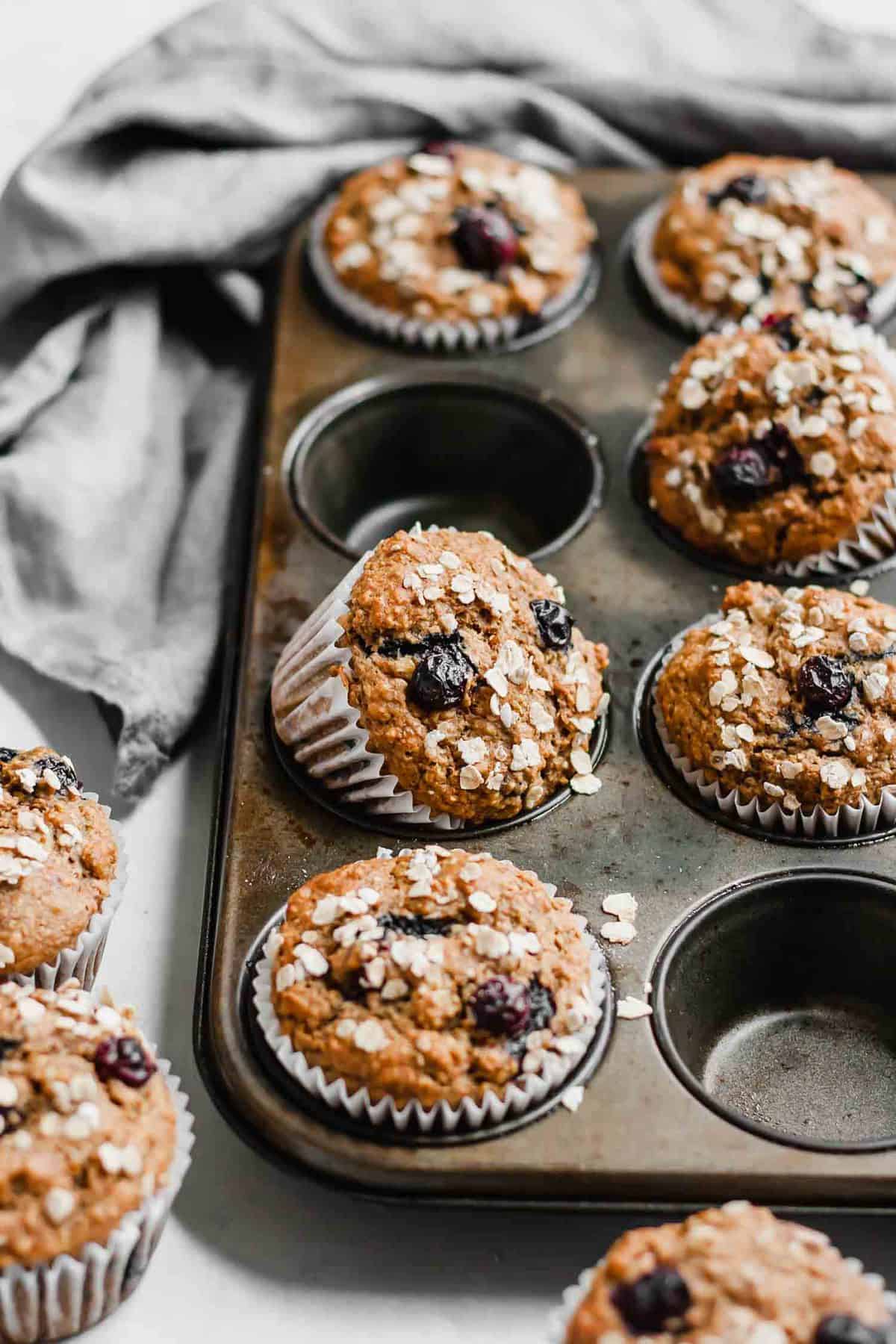 The result? Wonderfully moist and flavourful Vegan Blueberry Muffins that are perfect for breakfast or a mid-afternoon snack.
And if you're looking for more muffin recipes, check these out:
And as for me? Well, I'm a work in progress, putting one foot in front of the other. And celebrating each step for what it is. I'm super stoked with these Vegan Blueberry Muffins and I'm so chuffed with how my photographs turned out. I absolutely adore food photography and I'm not sure if I've ever actually mentioned that before - I tend to just churn out these photos without a word about them. But the truth is I love it and working with food and my camera fills me with joy - something else to find more space for in my life!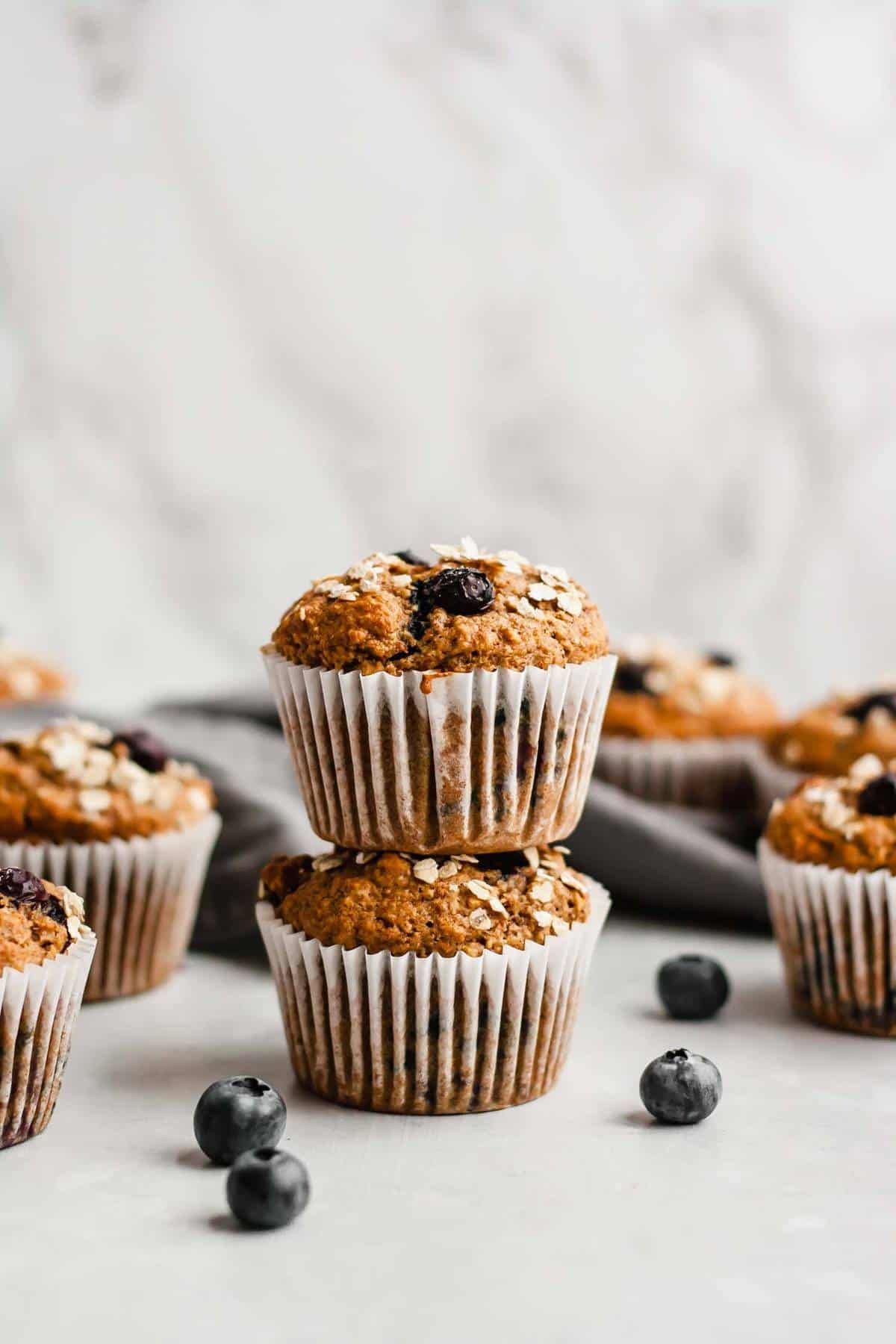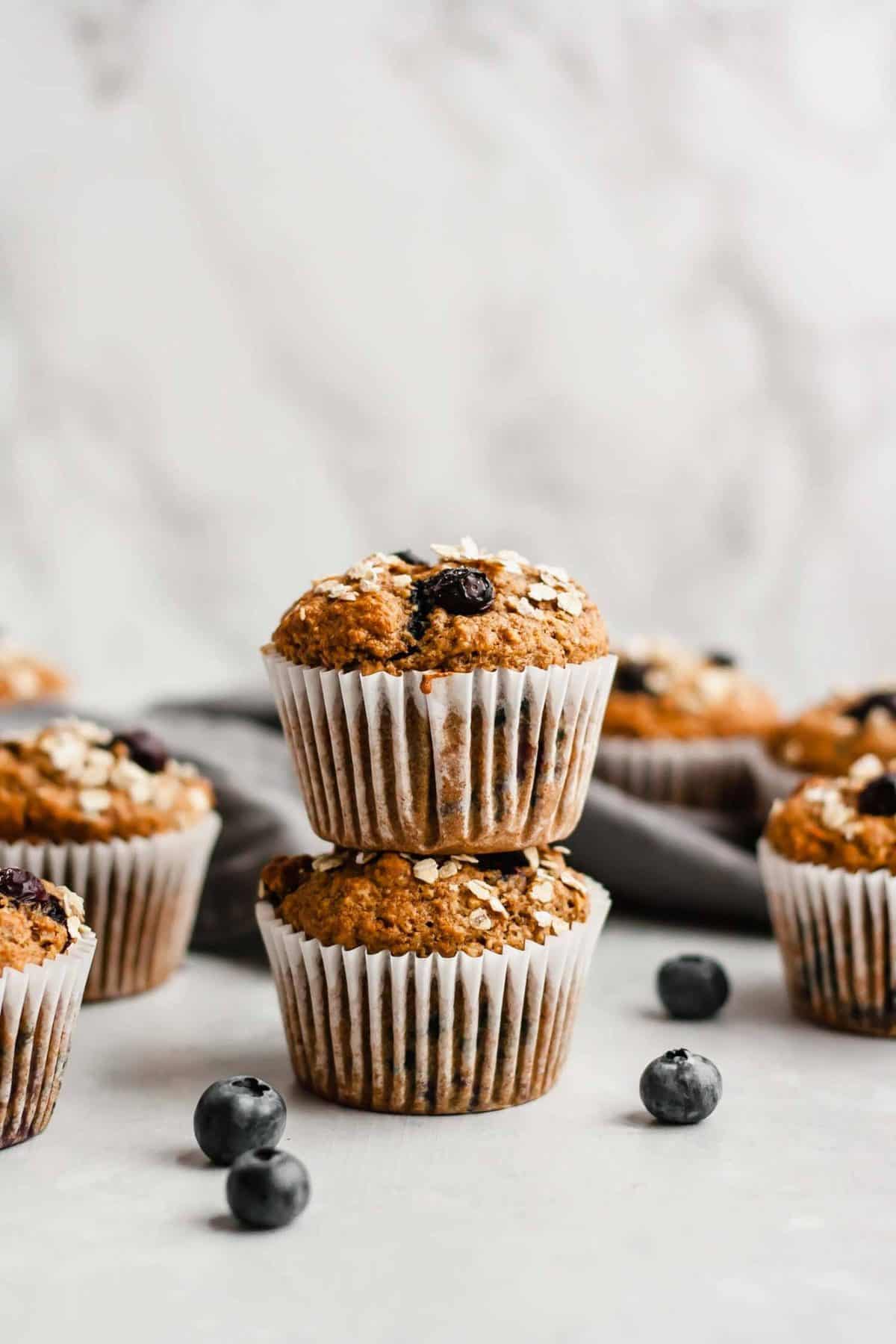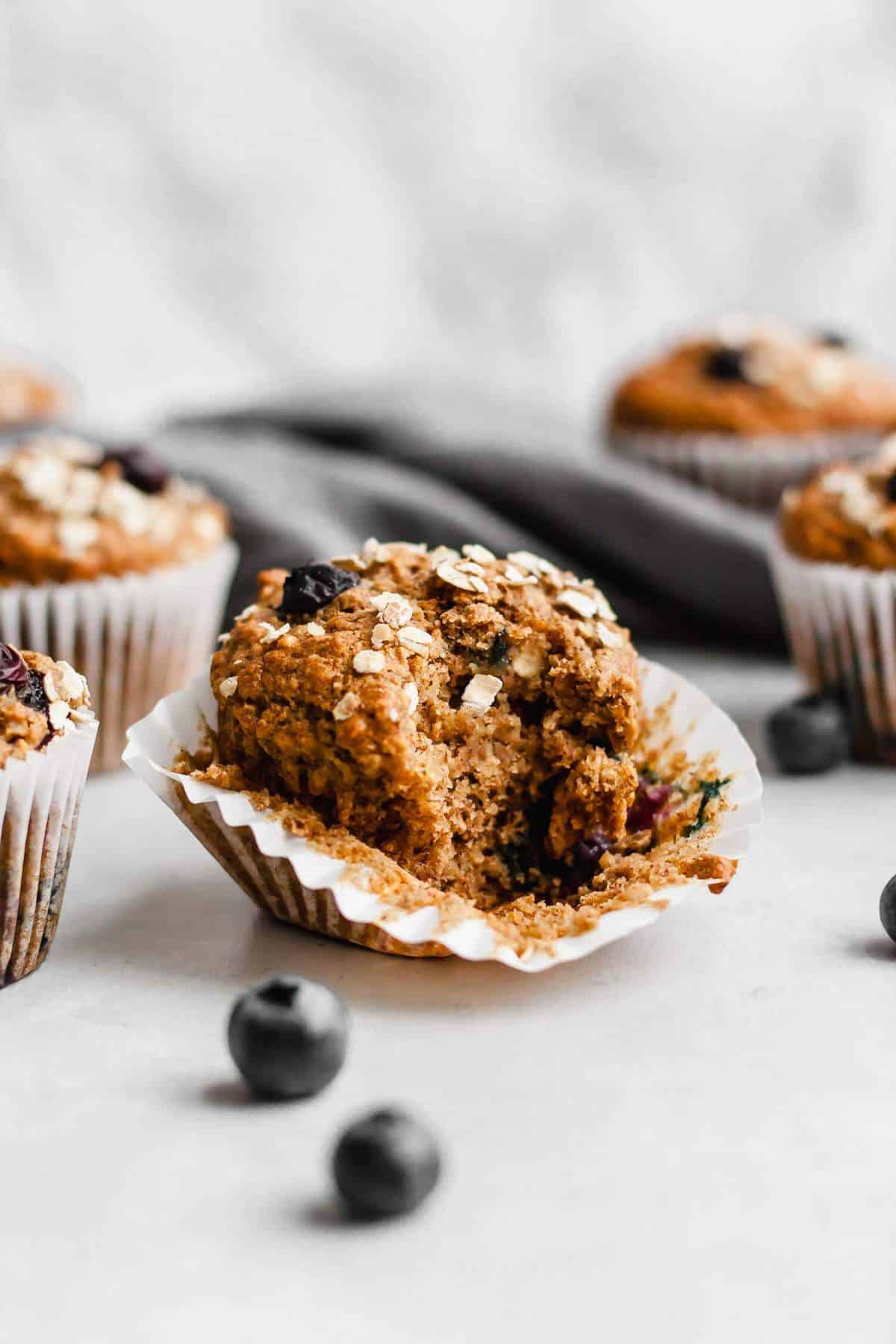 📖 Recipe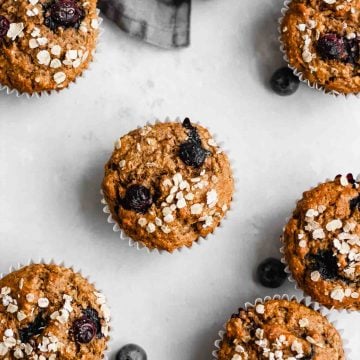 Ingredients
1

tablespoon

ground flaxseed

250

g

(2 cups) wholemeal spelt flour

75

g

(¾ cup) rolled oats

,

plus more to sprinkle at the end

100

g

(½ cup) soft light brown sugar

½

teaspoon

ground cinnamon

1

tablespoon

baking powder

1

teaspoon

bicarbonate of soda

,

(baking soda)

½

teaspoon

fine sea salt

2

bananas

,

medium sized, ~200g

200

ml

(¾ cup + 2 tablespoons) almond or oat milk

,

(or other plant milk of choice)

60

ml

(¼ cup) rapeseed oil

60

g

(¼ cup) almond butter

1

teaspoon

vanilla extract

125

g

(1 cup) blueberries

,

fresh or frozen
Instructions
Preheat oven to 180C/350F. Line a 12-cup muffin pan with muffin cases.

Start by making a flax egg: In a small bowl mix the ground flaxseed with 3 tablespoons water. Set aside for 10 minutes to absorb.

1 tablespoon ground flaxseed

In a large bowl, mix together the spelt flour, oats, sugar, cinnamon, baking powder, bicarb and salt.

250 g (2 cups) wholemeal spelt flour,

75 g (¾ cup) rolled oats,

100 g (½ cup) soft light brown sugar,

½ teaspoon ground cinnamon,

1 tablespoon baking powder,

1 teaspoon bicarbonate of soda,

½ teaspoon fine sea salt

In a medium bowl, mash the bananas using a fork. Add the flax egg, almond milk, oil, almond butter and vanilla and whisk to combine.

2 bananas,

200 ml (¾ cup + 2 tablespoons) almond or oat milk,

60 ml (¼ cup) rapeseed oil,

60 g (¼ cup) almond butter,

1 teaspoon vanilla extract

Add the wet ingredients to the dry and stir gently until just combined.

Toss the blueberries in a little flour and add them to the batter (try not to add too much excess flour). Stir to combine.

125 g (1 cup) blueberries

Divide the batter between the 12 muffin cases. Top with extra blueberries and a sprinkling of rolled oats if desired.

Bake for about 25 minutes until golden and a skewer inserted into the centre comes out clean. Leave to cool in the pan for 5 minutes before transferring to a cooling rack to cool completely.
Nutrition
Calories:
270
kcal
|
Carbohydrates:
40.9
g
|
Protein:
6.8
g
|
Fat:
8.9
g
|
Saturated Fat:
0.9
g
|
Polyunsaturated Fat:
2.3
g
|
Monounsaturated Fat:
5
g
|
Sodium:
213.2
mg
|
Potassium:
443.2
mg
|
Fiber:
5.8
g
|
Sugar:
12.3
g
|
Vitamin A:
13.6
IU
|
Vitamin C:
2.7
mg
|
Calcium:
114.2
mg
|
Iron:
1.7
mg
Did you make this recipe?
Leave a comment below with how you got on and don't forget to give the recipe a rating ⭐️⭐️⭐️⭐️⭐️. You can also tag @eatloveeats on Instagram - we love to see your creations!