This coconut tahini pistachio granola is incredible for breakfast or just for snacking on from the jar! It's super clumpy and packed full of delicious nutty flavour!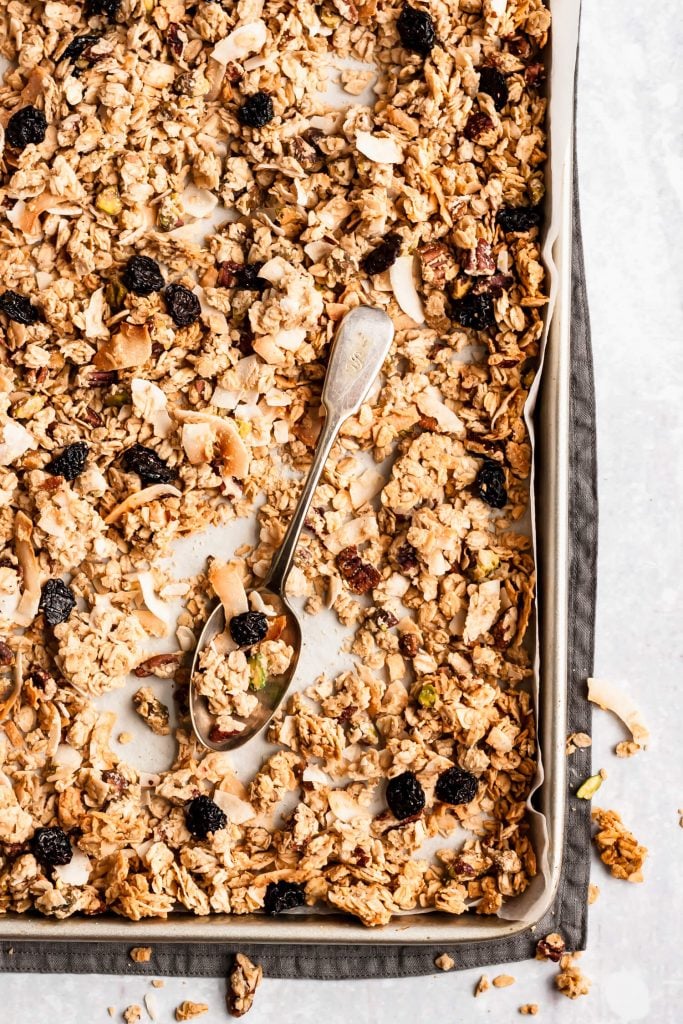 This is, hands down, the very best granola I have ever made or eaten. Yep, I just racked my brains and I can't think of a single granola I've ever enjoyed more than this. Close second is the orange-scented granola loaded with 70% dark chocolate chunks that I buy from the supermarket from time to time. So tasty. And this date and ginger granola is pretty delicious too! But. Now I have Coconut Tahini Pistachio Granola in my life and there's no going back. This stuff is chunky, full of tahini flavour and almost melts in your mouth. Have I convinced you yet? Let's talk about everything you need to make this super tasty granola!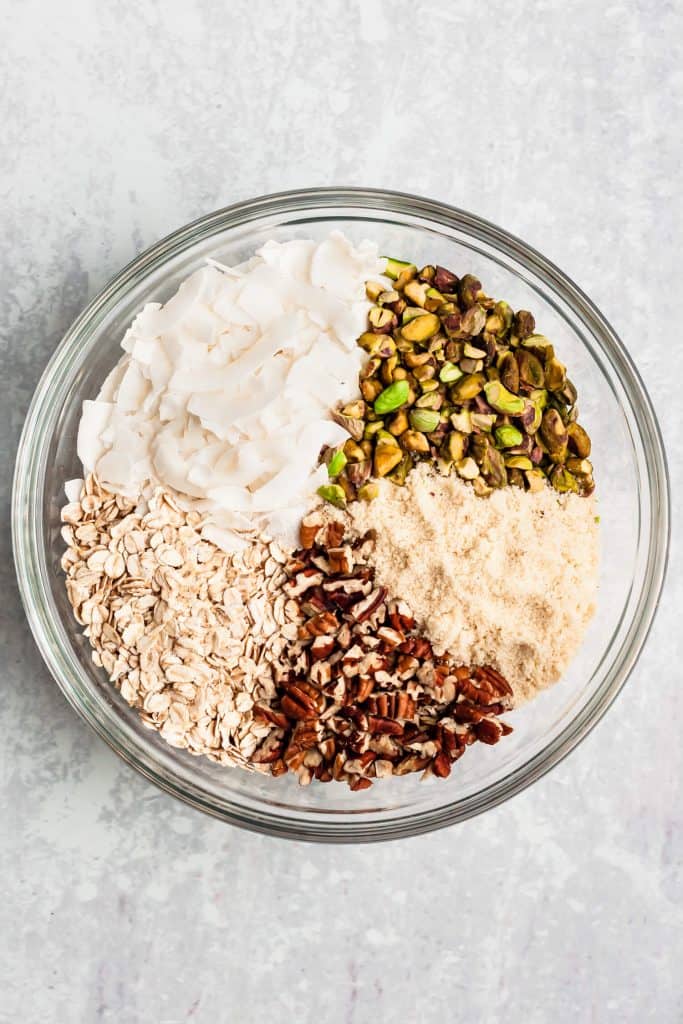 Ingredients in Coconut Tahini Pistachio Granola
This granola recipe uses ingredients you're likely to have on hand anyway and if not, they're not difficult to get hold of! If you haven't yet tried tahini - what are you waiting for? You can buy it in most supermarkets now and I promise it adds so much delicious flavour to this granola. And if you're wondering what to do with the remainder of the jar, you can use it in all manner of sweet and savoury dishes, like sweet potato tahini soup or superfood chicken quinoa salad to name just two.
The ingredients you'll need are as follows:
oats
coconut flakes
pistachios
pecans
ground almonds/almond flour
salt
coconut oil (or any mild oil will work!)
tahini
maple syrup or honey
vanilla extract
egg white
dried cherries (or your favourite dried fruit!)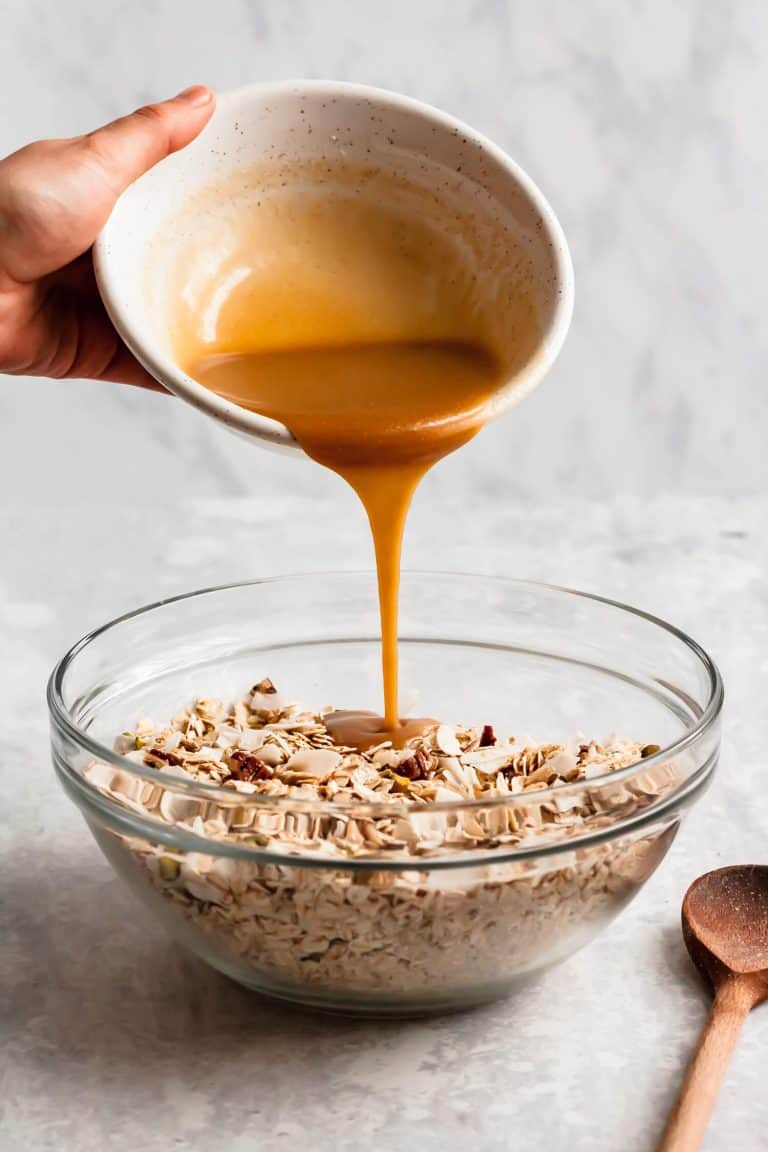 How to make coconut tahini pistachio granola
Making this granola couldn't be easier! There's an extra step that you might not be used to when making granola, but I promise it's easy and totally worth it!
Simply mix together your dry ingredients in a large bowl, then whisk together your wet ingredients. Pour the wet ingredients into the dry and mix until thoroughly coated. Next, whisk the egg white until foamy and stir into the granola mixture. The egg white helps to bind the granola together and is the key to getting those huge clumps!
Lay out on a baking sheet lined with parchment paper and bake! You're about 45 minutes away from chunky granola heaven. Mix in your dried fruit once the granola is cool and store in an airtight container.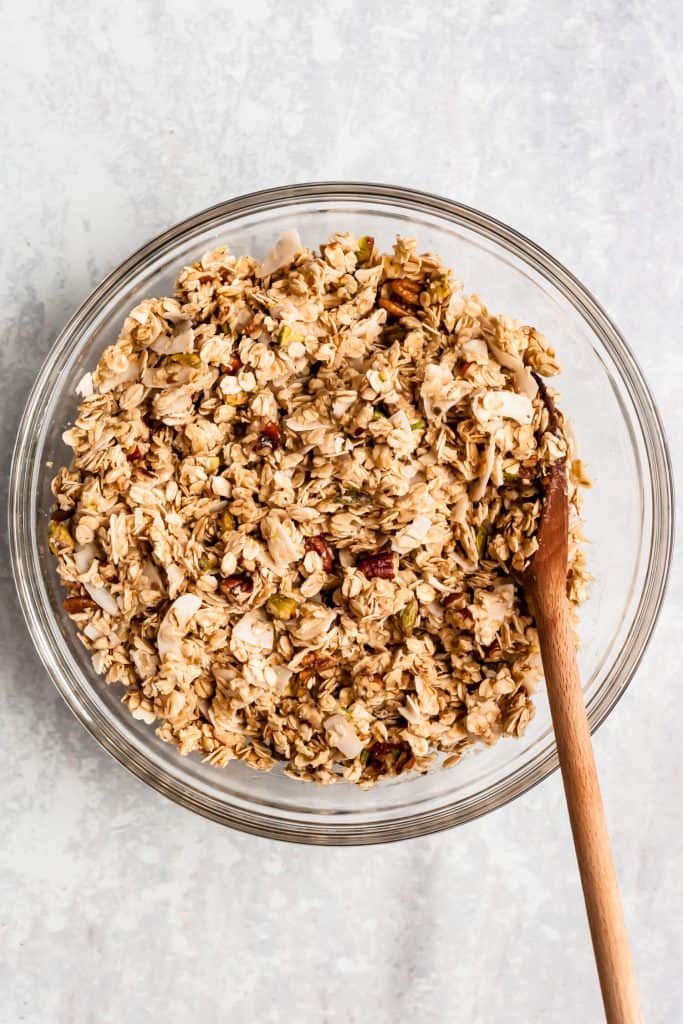 Tips and swaps for making granola
Making granola couldn't be simpler, but here are a few tips to ensure you get it super chunky and crunchy!
Use rolled oats and large coconut flakes to ensure a good texture.
I use pistachios and pecans because they're delicious but you can use any nuts you prefer or have on hand - almonds would be fantastic.
I use ground almonds/almond flour to help bind the granola together and help those all important clumps form. They create an almost melt-in-the-mouth texture which is amazing. You could use oat flour instead.
I use coconut oil to add a light coconut flavour along with the coconut flakes, but you could use any mild oil of your choosing.
Tahini adds so much flavour to this granola as well as helping to bind it all together, but you could sub another drippy nut butter if you prefer.
Feel free to use maple syrup or honey for this granola, both work well. Honey creates the biggest clumps, but this granola will be clumpy and lightly sweetened either way! I'm sure you could use any liquid sweetener of choice.
I haven't tested it, but I'm fairly confident you could substitute the egg white with ¼ cup/60ml of aquafaba (the liquid drained from a can of chickpeas), as long as you whisk it really hard until it froths up like an egg white. If you use maple syrup too, this would make the granola vegan, if needed.
Dried cherries are my all-time favourite dried fruit and go incredibly well with all of the flavours here but you could use any dried fruit you like, such as raisins, cranberries or chopped up dried apricots.
I like to flip my granola halfway through the baking time to ensure it browns evenly, but make sure to do this very carefully. I like to flip the granola in 'sheets' using a large turner, doing this in as few pieces as I can and patting the granola back down afterwards.
Bake the granola low and slow and turn the pan front to back when you flip it. Watch it carefully towards the end of the cooking time to ensure it doesn't get burnt.
Once cooled, gently break up the clumps (some of them will be huge!), stir in the dried fruit and store in an airtight container for a couple of weeks.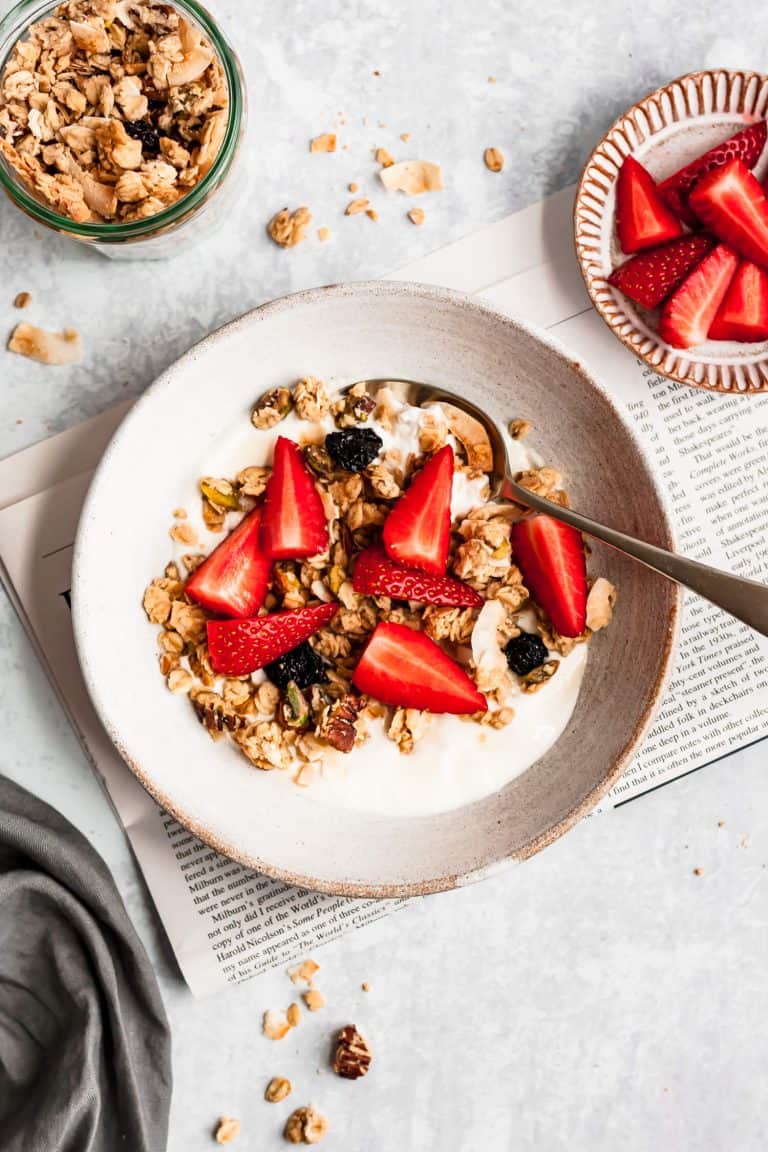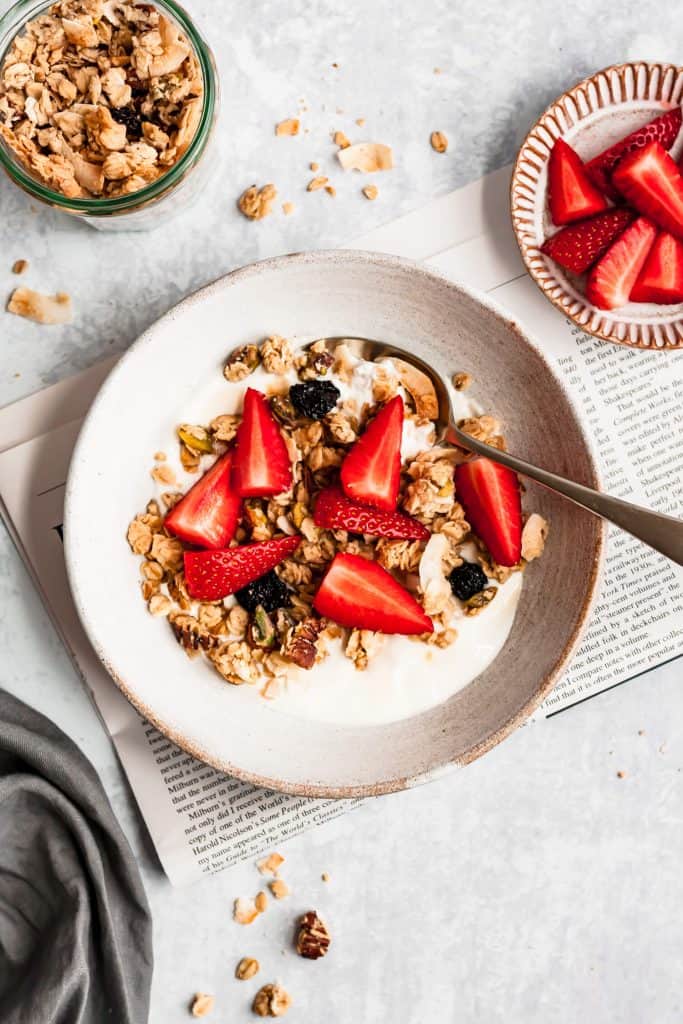 My favourite way to eat this granola is in a bowl with a good dollop of Greek yoghurt and some fresh berries. I also like to snatch it in handfuls from the jar when I'm in need of a snack! I think it'd also be delicious sprinkled over ice cream or on top of some warm fruit compote (I'm thinking cherries would be insanely good). Enjoy!
Need more breakfast ideas?