This peanut butter granola has the biggest and crunchiest clusters and you can even match it with freeze dried strawberries or chocolate chips for extra luxury. It's simple to throw together and takes only 10 minutes to prepare - the rest is hands off time!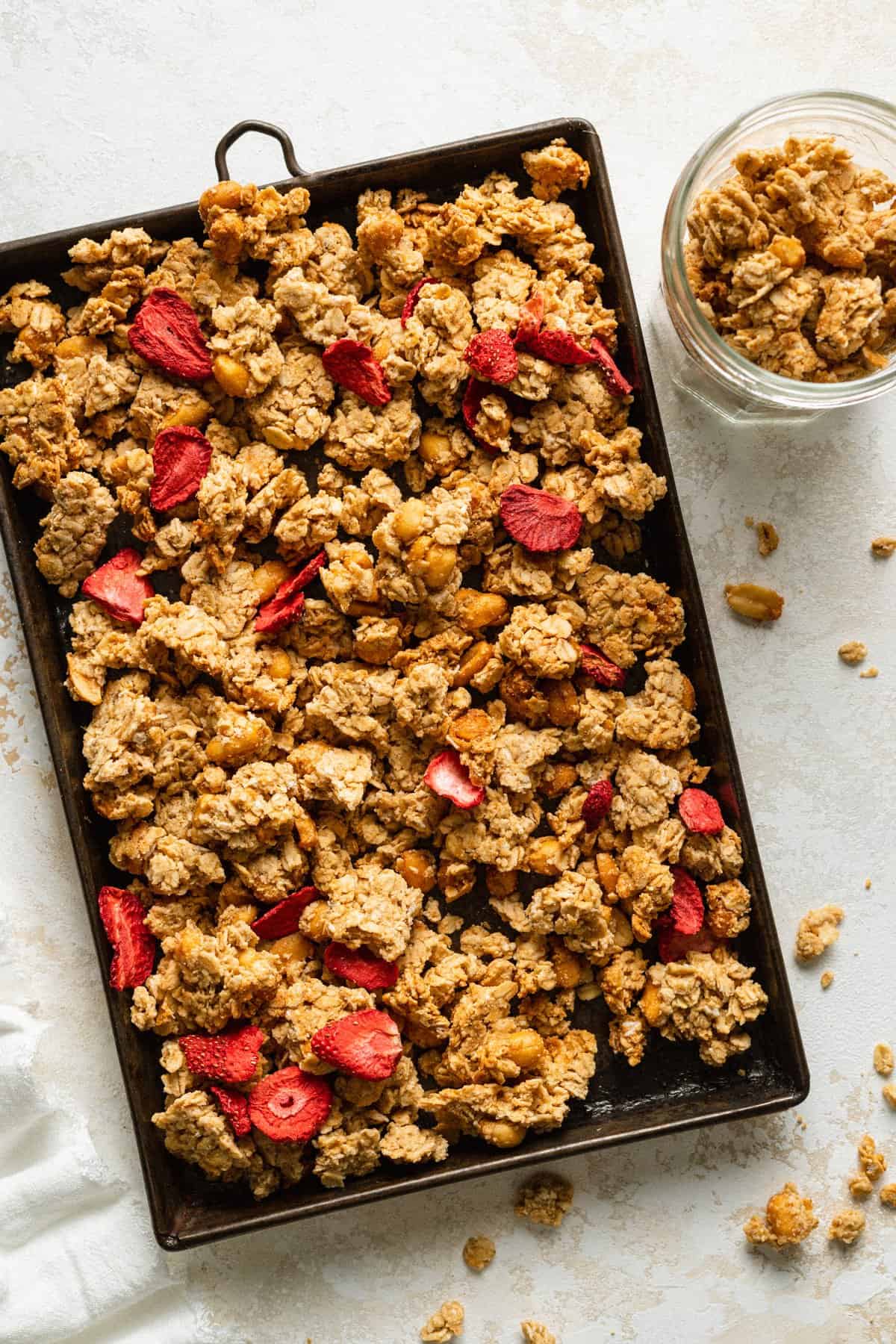 This peanut butter granola certainly hits the spot for breakfast. Full of protein and fibre, it's a great way to start the day. This granola recipe will provide you with the biggest and chunkiest clusters that'll you'll just love. Perfect for making ahead of time so you can store this for when the granola cravings hit!
Our granola is made with natural peanut butter and speckled with honey roasted peanuts which take it to another level! If you're anything like us and love peanut butter, you'll definitely want to check out our chocolate peanut butter baked oatmeal or if you fancy something different, try our maple brown sugar oatmeal.
We know you'll love this peanut butter granola recipe so don't forget to leave us a comment and rating, we love hearing from you! Use the links below to get to the information you need.
Jump to:
⭐ Why you'll love this granola
This peanut butter granola has been thoroughly tested and we believe it's the best. Here's why you need to make it!
Huge clusters - often homemade granola seems to just fall apart, well, we can't have that can we? So we've hooked you up with some super chunky clusters, you can thank us in the comments below!
Easy - you can whip the mix together for this granola in no time. The trick is slow drying for the best crunch!
Gluten free - as long as you use certified gluten free oats this recipe is absolutely suitable for those who have allergies.
PB&J - this recipe really does taste like PB&J and we're not sorry for that. It's pretty special.
Long storage - if you follow the tips and steps below you will ensure you have a dry granola which can last for a few weeks. But we can guarantee it won't last that long!
📋 Ingredients
You'll need only simple, accessible ingredients to make this homemade peanut butter granola. Here's what you'll need: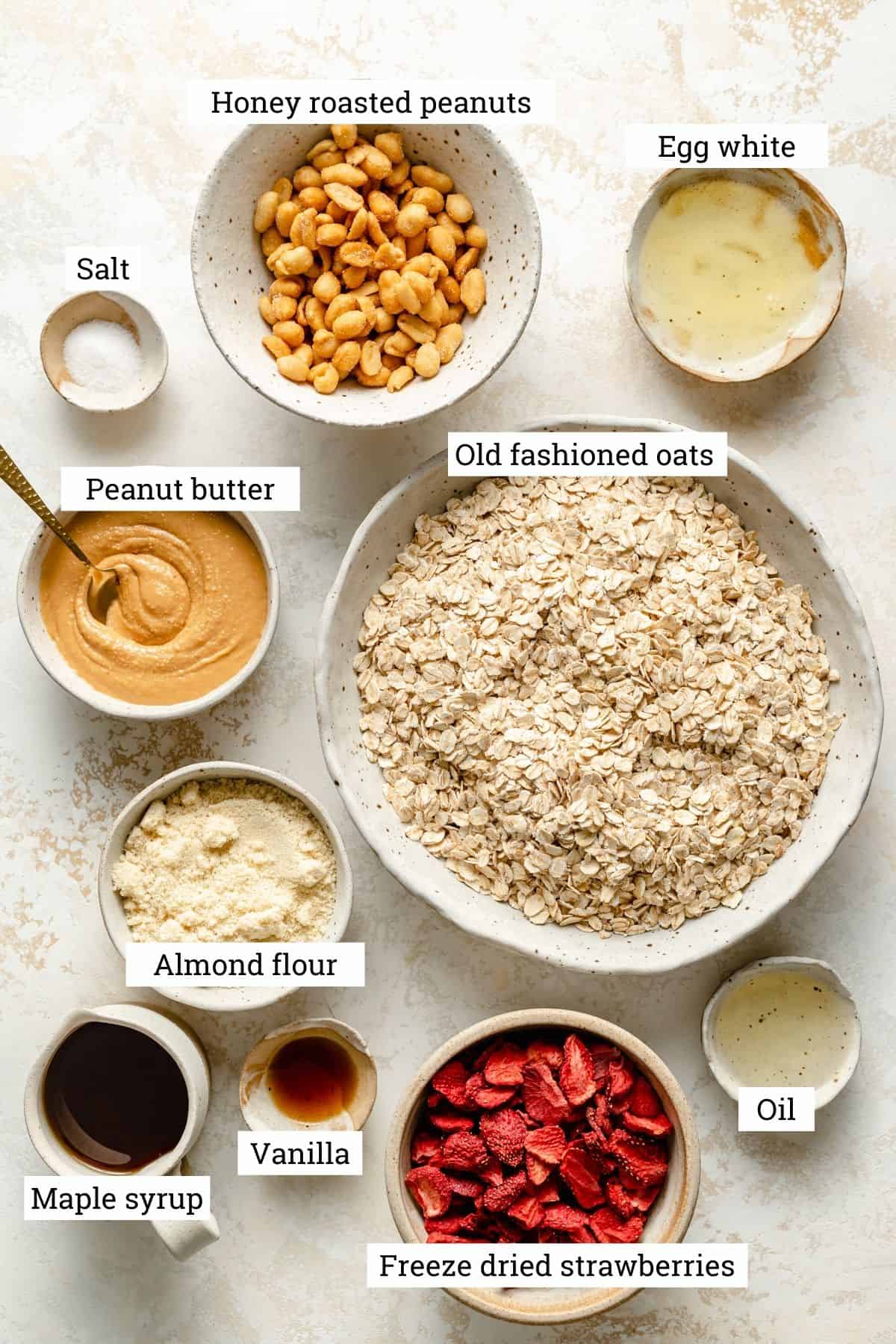 Old fashioned oats - we like using jumbo old fashioned oats in this granola recipe as we find they make the best clusters. You can substitute for quick or rolled oats which are smaller if you like, they will still work, but we find the big ones chewier and best for the job.
Honey roasted peanuts - we love using honey roasted peanuts in this recipe as they just elevate it to another level. However, you can switch out for plain roasted and salted, or even just raw peanuts. It still works, but we think the honey roasted nuts really work the best.
Almond flour - almond flour is used to help create the incredible clusters that we want so badly. It helps with binding all the ingredients together. You could also use oat flour.
Peanut butter - we recommend using natural smooth peanut butter as it's looser which helps when you are stirring the granola ingredients all together. The mixture gets fairly stiff because we want those clusters, but you may get away with something like a soft spread peanut butter.
Mix ins - we like to use freeze dried strawberries or dried strawberries for mix ins, but you can add in any dried fruit you like or even peanut butter/chocolate chips.
🥄 Customizations/substitutions
We know you like mixing it up with customizations and substitutions so here are some suggestions to get you started for this peanut butter granola:
Nut butter - this granola specifically uses peanut butter, but you could easily switch out with another nut butter. You could try our cashew butter instead or any other nut butter you prefer, just be sure to use drippy natural nut butter.
Nuts - feel free to switch out the honey roasted peanuts for whatever nut you prefer. This is a peanut butter granola, but will work with almonds and cashews too.
Mix ins - we used freeze dried strawberries as they are packed full of flavour, but you can use any dried fruit, it doesn't have to be freeze dried. You can also add in chocolate chips or peanut butter chips if you wish.
Vegan - the egg whites are the absolute key to awesome chunky clusters for this peanut butter granola. We don't believe there is a better way for homemade granola. But you could substitute egg white for aquafaba for a vegan option to whip up into a froth for the recipe. We haven't tested it, so if you do try it, let us know how it goes in the comments! We would suggest using 2 tablespoons aquafaba in place of the egg white.
📖 How to make peanut butter granola
Follow these simple steps for how to make this delicious peanut butter granola: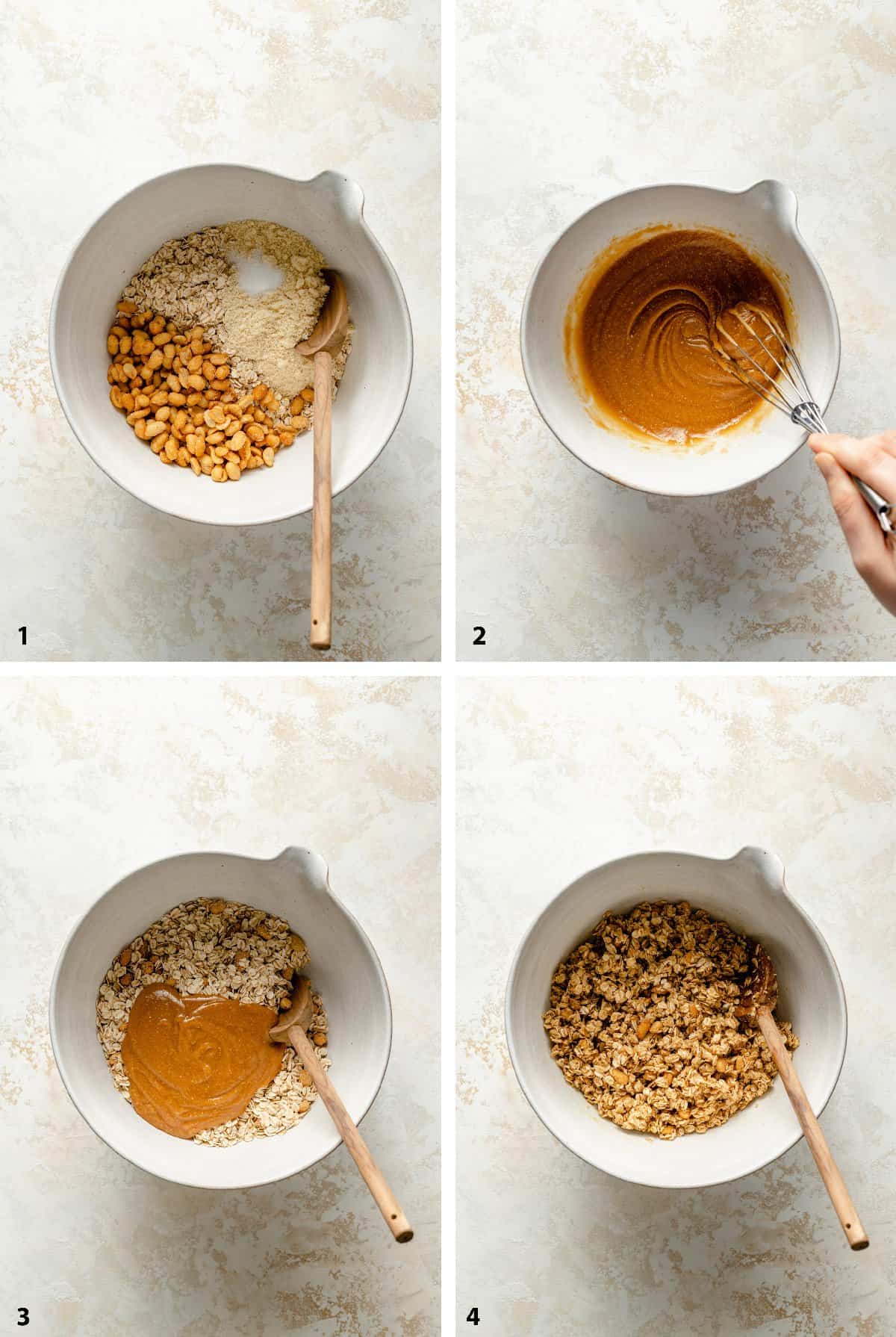 Add the old fashioned oats, honey roasted peanuts, almond flour and salt in a large mixing bowl and stir together.
In a smaller mixing bowl combine and whisk together the olive oil, peanut butter, maple syrup and vanilla extract into a smooth mixture.
Pour the peanut butter mixture into the oat mix.
Stir the wet and dry together until incorporated, it may seem like there isn't enough, but we promise you, there is. Keep mixing until all the oats are coated and it looks a uniform colour.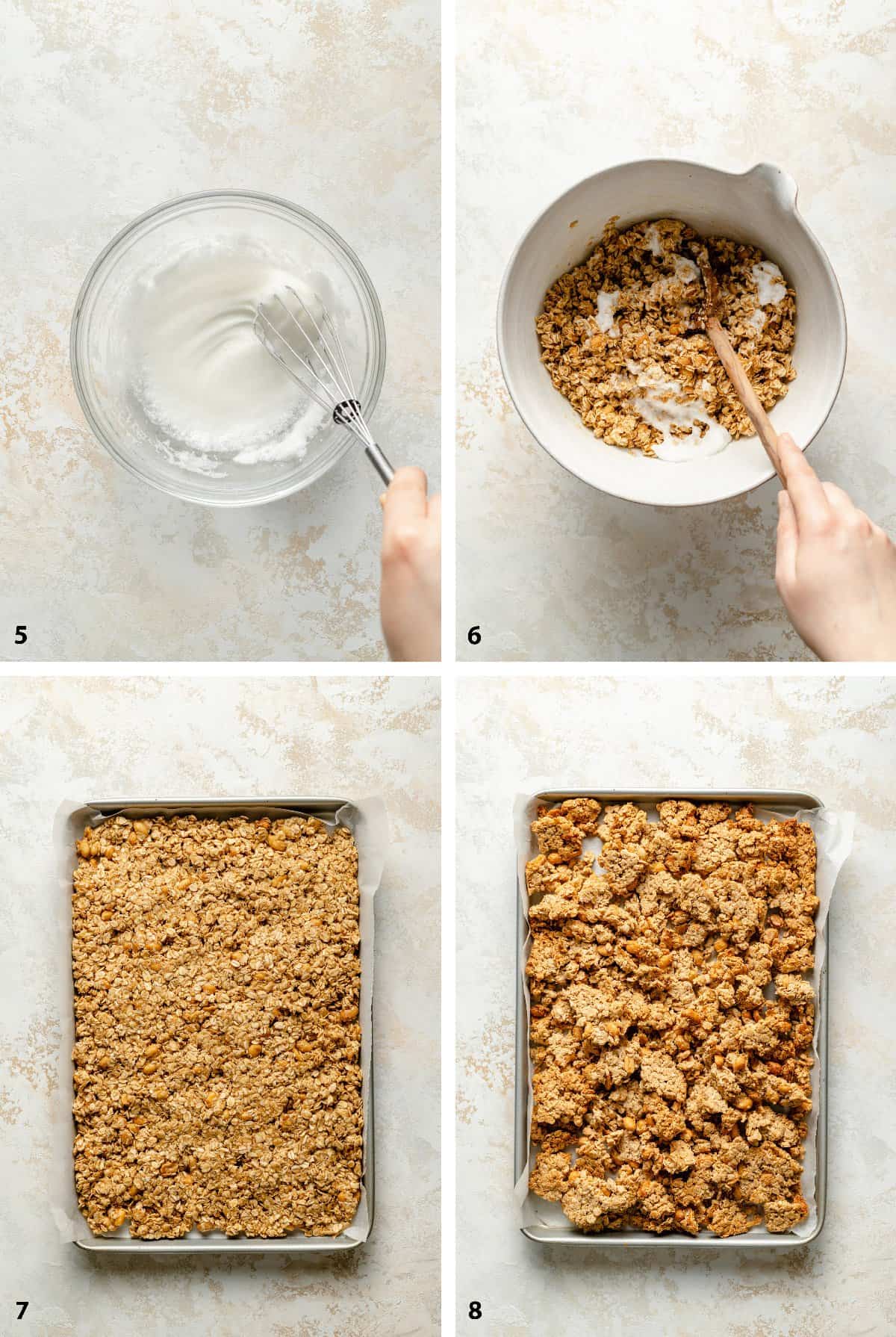 Whisk the egg whites in a bowl until very frothy.
Stir the whites through the granola mix until you can no longer see the whites.
Prepare a baking sheet with parchment paper, pour out the granola mix and press out to fill the baking sheet.
Bake in a preheated oven at 150oC/300oF for 20 minutes, remove from the oven and flip with a spatula, it will break up a little, don't worry, return to the oven and bake for 20-25 minutes until crisp, dry and golden brown. The clusters can be broken up as much as you wish. Leave to cool and stir through the mix-ins.
👩🏻‍🍳 Expert Tips
Follow these expert tips to ensure success every time making this granola recipe:
Egg whites - the proteins within the egg whites make a lovely sticky binding mixture with the almond flour. Be sure to whip them up well until frothy, otherwise they'll be watery and not easily spread throughout the granola mix.
Wet ingredients - you'll see when making this granola that the peanut butter mixture is quite thick. This works with the almond flour and egg whites to bind all the oats and peanuts together which give you those desirable clusters.
Bake - bake until the granola is golden and crisp. It will harden up even more on cooling.
Store - you can store this peanut butter granola in an air tight container for a few weeks or in the freezer for longer.
🥣 Serving suggestions
Looking for ways to serve your peanut butter granola? Here are a few to get you started:
Yogurt - we love our granola served on top of some pillowy thick greek yogurt, making a protein packed breakfast.
Milk - if you want more of a cereal style breakfast, enjoy with milk, you can literally make peanut butter and jelly flavoured milk, which is delicious!
Snacks - package up a little pouch of peanut butter granola for a healthy filling snack throughout the day.
💭 FAQs
How to know when your granola is done baking?

We like to test by look and feel. If the granola is golden brown and not burned you are on the right track, it should feel crispy and dry and not soft to touch still, especially the clusters. If it is soft and squidgy then you need to bake it for longer to dry it out.
How long does homemade granola last?

At room temperature, the granola will last for 2 weeks in an air tight container. If you wish to store for longer you can store it in the freezer for up to 3 months.
Why is my homemade granola not crunchy?

Simply put, you need to bake at a low temperature to allow the granola to dry out. If you don't bake it for long enough it will not be crunchy. Bake at 150C/300F for 45 minutes, flipping halfway through and you should be fine.
What should I use to make granola stick together?

Egg whites. We've found this to be the most effective way at binding all the ingredients together and ensuring they clump together for large clusters.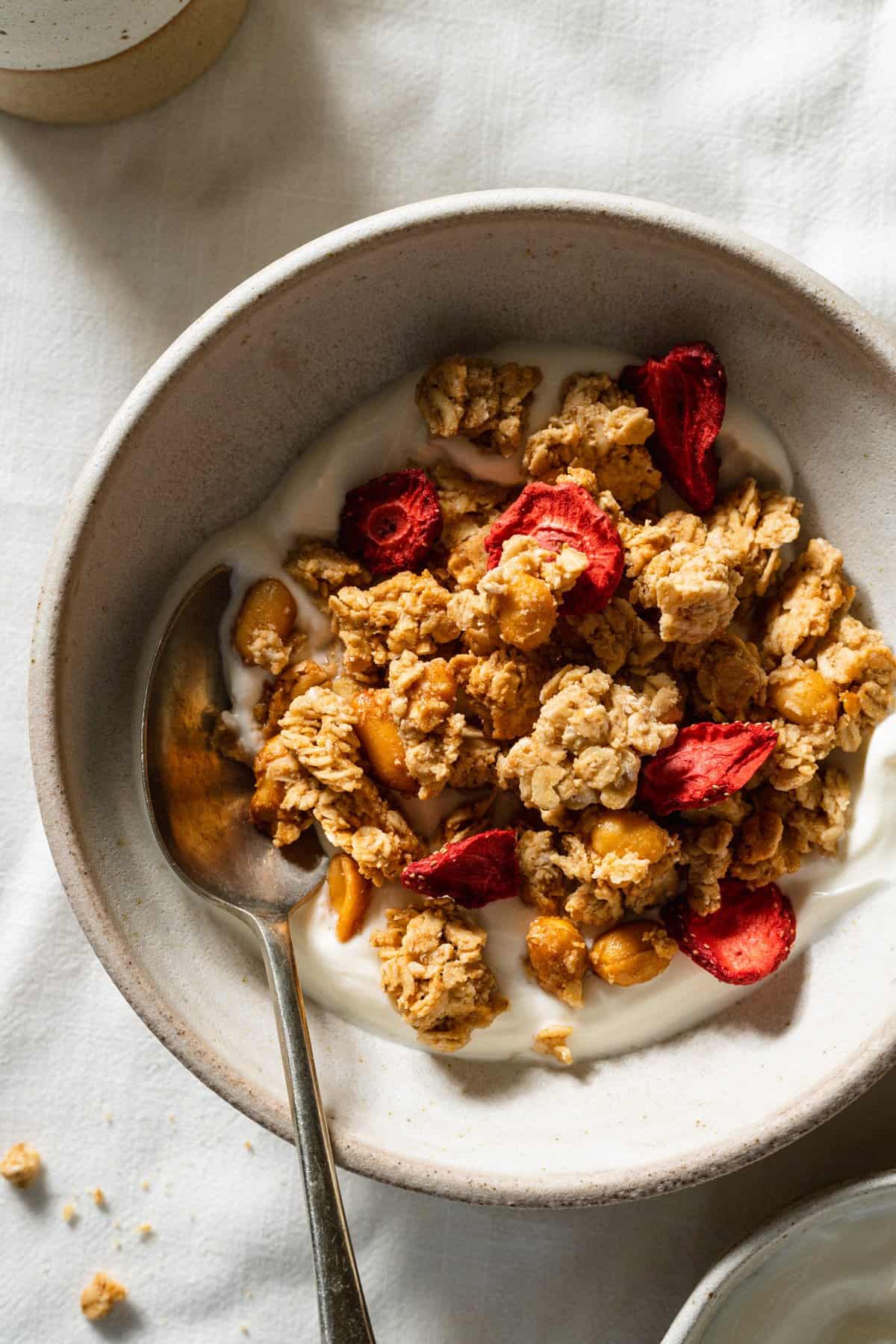 🥗 More breakfast recipes
If you loved our peanut butter granola recipe you'll definitely want to check out our other healthy breakfast recipes. Here are some suggestions to get you started:
Love this recipe? Leave us a 5-star ⭐️⭐️⭐️⭐️⭐️ rating in the recipe below and don't forget to leave a review in the comments section underneath the recipe. We love hearing from you!
Why not follow along with us on our social media channels @Instagram @Facebook and @Pinterest and tag us with #eatloveeats when you've tried one of our recipes!
📖 Recipe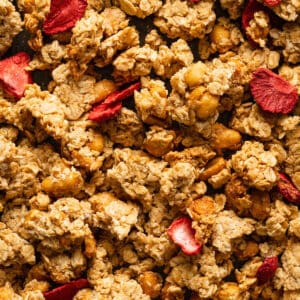 Peanut Butter Granola Clusters
The ultimate peanut butter granola with the chunkiest clusters. Perfectly matched with strawberries for a PBJ style breakfast. Simple and great to make ahead of time!
Print Recipe
Pin Recipe
⭐️ Rate Recipe
Instructions
Preheat oven to 150°C/300°F. Line a baking sheet with parchment paper.

Combine oats, peanuts, ground almonds and salt in a large mixing bowl.

3 ½ cups old fashioned oats,

1 cup honey roasted peanuts,

½ cup almond flour,

½ teaspoon fine sea salt

In a small bowl, gently whisk together the olive oil, peanut butter, maple syrup and vanilla.

2 tablespoons olive oil,

½ cup smooth peanut butter,

½ cup pure maple syrup,

1 teaspoon vanilla extract

Add the wet ingredients to the dry and mix thoroughly until everything is well coated.

Whisk the egg white in a small bowl until very frothy. Add to the other ingredients and stir until incorporated.

Spread out the mixture onto the prepared pan and bake for 20 minutes. Remove from the pan and carefully flip, trying not to disturb the clumps too much. Bake for another 20-25 minutes until crisp and golden.

Break into clumps and leave to cool on the baking sheet, then toss together with the freeze dried strawberries or other mix ins if using.

1 ¼ cup dried or freeze-dried strawberries
Notes
Store in an air tight container for up to 2 weeks at room temperature or place in an air tight container and freeze for up to 3 months. 
The egg whites are the key to the clusters. If you want to make this egg free: we have not tested with aquafaba but if you do let us know how it goes in the comments. We would suggest using 2 tablespoons aquafaba in place of the egg white.
The peanut butter mix may not seem enough but we assure you it is. Keep stirring the granola mix until all the oats are evenly coated. 
Nutrition
Serving:
45
g
|
Calories:
167
kcal
|
Carbohydrates:
17.3
g
|
Protein:
4.8
g
|
Fat:
6.8
g
|
Saturated Fat:
1.1
g
|
Polyunsaturated Fat:
1
g
|
Monounsaturated Fat:
3.9
g
|
Sodium:
74.8
mg
|
Potassium:
221.5
mg
|
Fiber:
2.4
g
|
Sugar:
6.9
g
|
Vitamin A:
0.9
IU
|
Vitamin C:
13.7
mg
|
Calcium:
20.7
mg
|
Iron:
0.7
mg
Did you make this recipe?
Leave a comment below with how you got on and don't forget to give the recipe a rating ⭐️⭐️⭐️⭐️⭐️. You can also tag @eatloveeats on Instagram - we love to see your creations!