This creamy chicken lasagna is layered with broccoli sauce and cheese, it's really simple to throw together and is packed full of flavour. Think dreamy layers of creamy chicken sauce, lasagna and broccoli sauce making the perfect meal that can easily be prepared ahead of time.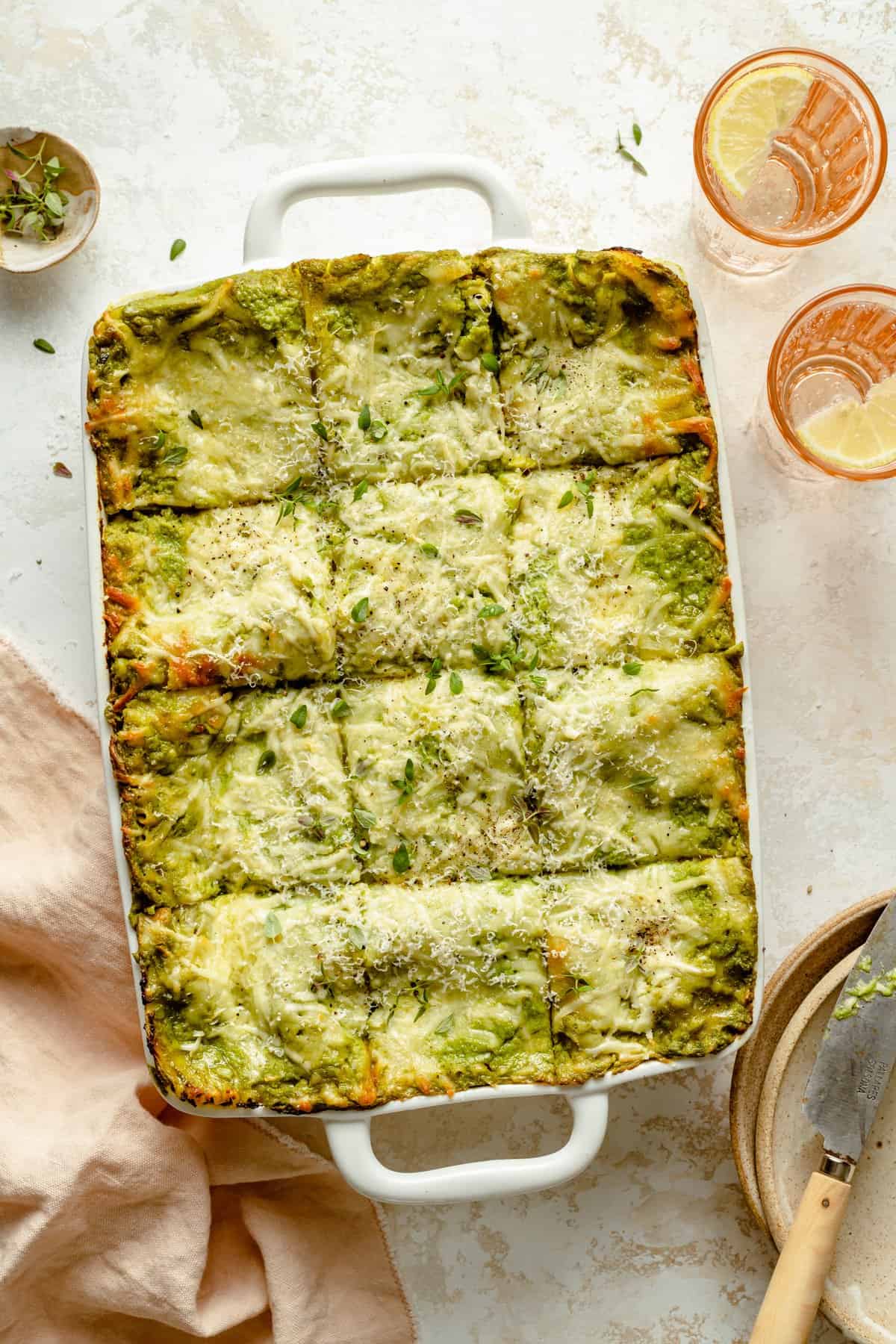 I'm all for a traditional beef lasagna right? BUT this broccoli chicken lasagna will be your new favourite and I promise it will convert you! You really can't go wrong with thick layers of tender creamy chicken sauce, lasagne sheets and creamy broccoli sauce all tied together with cheese making the ultimate cosy lasagna. It's also a surprisingly simple but quite therapeutic process to create all the layers, satisfyingly spreading out all the components into a foodie feat of construction. If you like this you'll also want to check out these chicken sausage recipes.
Lasagna is one of those recipes that is great for feeding a crowd and satisfying everyone and is a great recipe for your meal prep repertoire. Don't forget that the leftovers are perfect for reheating at lunchtime or another dinner time, especially as it stores well. Be sure to check out the tips and tricks below. If you are also in the market for another creamy comforting pasta recipe make sure you try my Chicken Pasta Bake with Feta, or maybe something lighter like these Crispy Chicken Tacos?
Let's get to it! Be sure to use the links below to navigate to where you want on the page. I've hooked you up with everything you need. Don't forget to leave a review and comment too!
Jump to: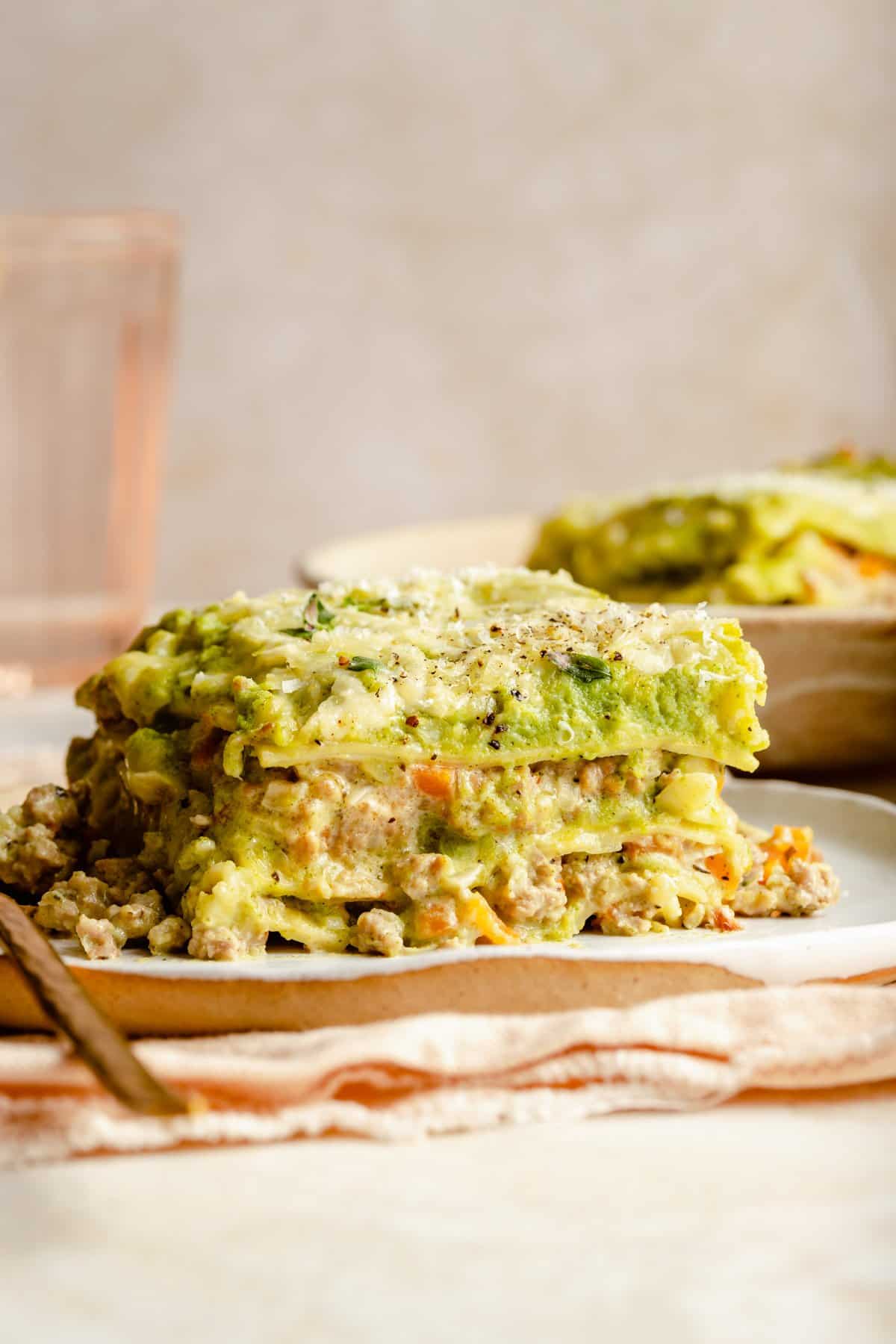 Why you'll love this recipe
We all need a reason to make us consider creating a recipe, here are some of my favourite reasons for throwing together this creamy broccoli chicken lasagna:
Savoury - this lasagna is perfectly seasoned, we love savoury and this lasagna really fits that criteria with the herbs and cheesiness that just makes you feel good from head to toe!
Creamy - although traditionally lasagna is made with beef and has a tomatoey red sauce you can't go wrong with this creamy white mascarpone cheese sauce with ground chicken. It really is a winner!
Cosy - there isn't much better than a cosy and comforting meal to tuck into and this broccoli chicken lasagna is just like a huge hug at dinner time.
Scalable - this recipe makes a large batch, giving you 12 portions which is great for stocking up the freezer, but if you only want to make a half batch you can totally do that.
Meal prep - because this recipe creates a large batch, it's perfect for making ahead of time and storing in the freezer or even the fridge for multiple meals or lunches throughout the week. Check out the tips below on how to reheat.
Veggies - the sheer volume of broccoli in this chicken lasagna is a great way to ensure you get your veggies in.
Ingredients
You only need simple ingredients to make this delicious creamy broccoli chicken lasagna, this is all you'll need: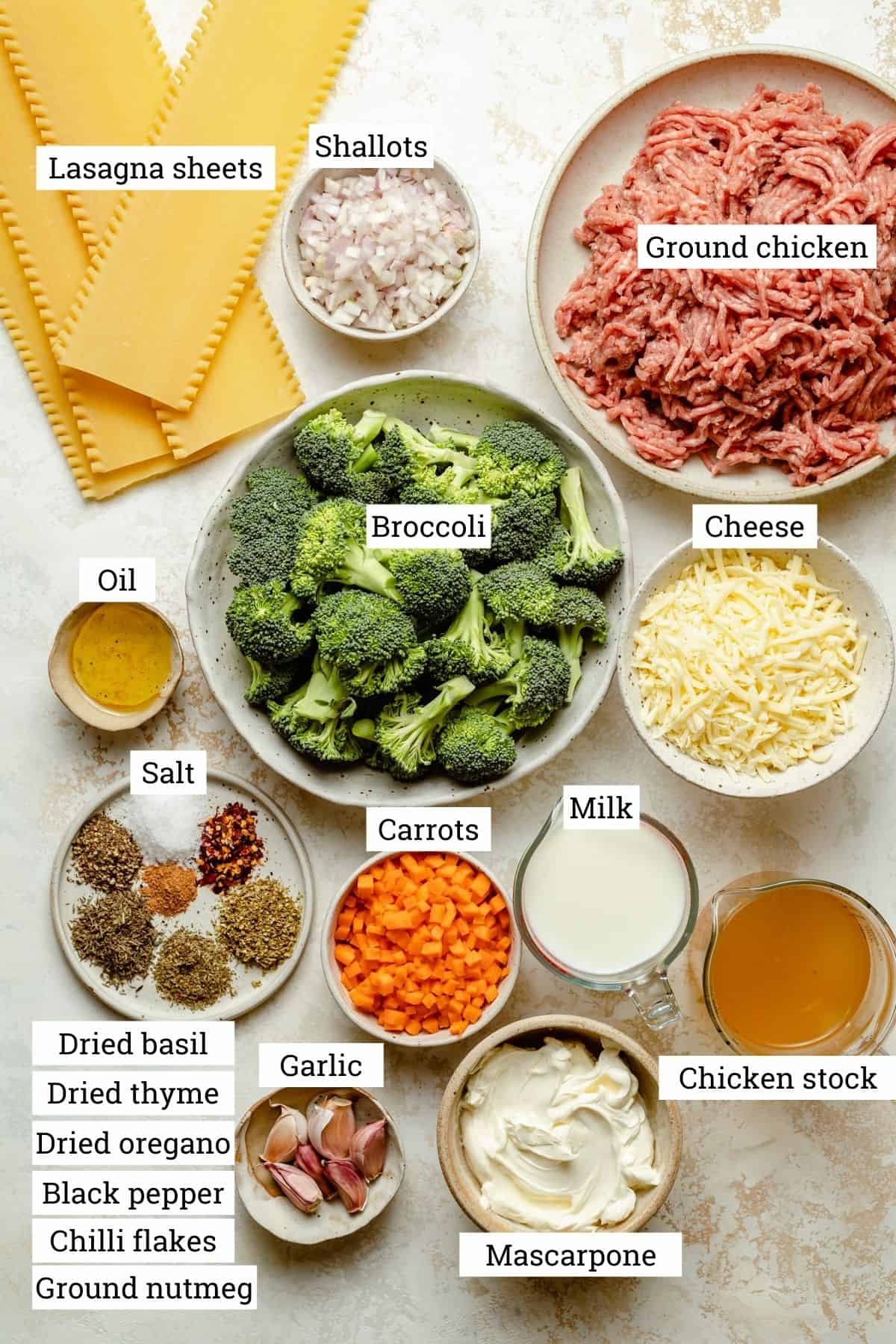 Sauce vegetables - the meaty base starts with shallots and carrots, which help to build the flavour base for the creamy sauce, while also providing texture.
Herbs - you'll need garlic, dried thyme, oregano, basil, red pepper flakes and ground nutmeg. As always you'll need salt and pepper to ensure you season everything appropriately.
Ground chicken - I've made this lasagna with chicken as it goes well in the creamy sauce, but you can also use ground turkey. I like to use ground chicken or turkey thigh, but you can use lean breast if you prefer.
Stock - I used a chicken stock pot, a form of concentrated chicken stock, which is in both the chicken lasagna sauce and the broccoli sauce. You can use bouillon powder instead which will make it easier for use in the broccoli sauce if you can't get hold of the stock pots.
Mascarpone - this soft mild cheese is the source of the creaminess. It's the perfect medium for carrying the flavour from the ground chicken and herbs.
Broccoli - most other broccoli chicken lasagna recipes have chunks of broccoli, but in this recipe we're using it to make a sauce, it's really simple to make and very tasty!
Milk - the broccoli sauce is also made creamy with milk instead of using a water based stock. I add the stock pot directly to it with the milk, use bouillon powder instead if necessary.
Lasagna noodles - I use wavy lasagna riccia, which holds onto the creamy sauce beautifully. You can use regular lasagna sheets, or even fresh ones if you prefer.
How to make it
Follow these simple steps to make your new favourite creamy broccoli chicken lasagna:
Making the white chicken sauce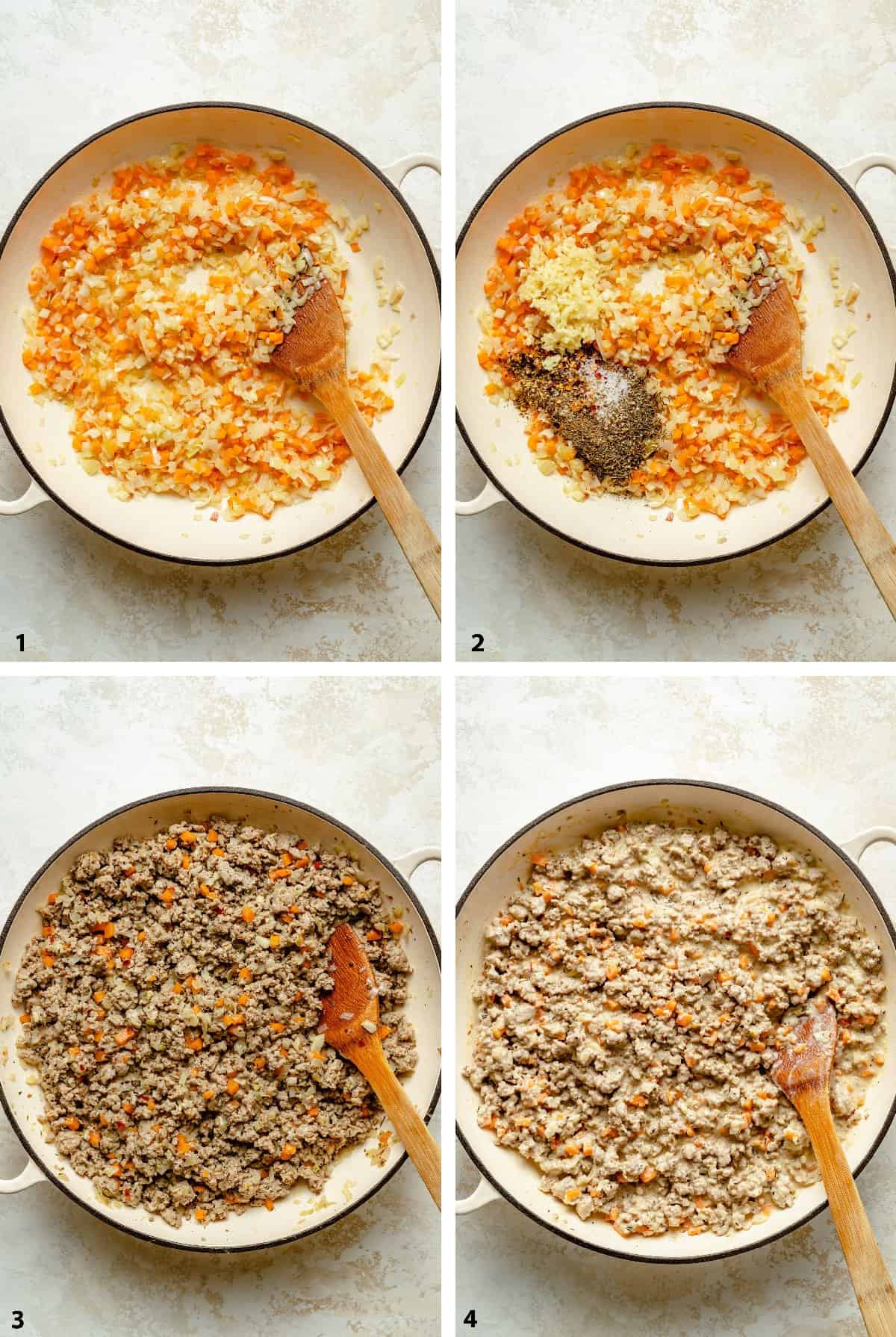 Start by heating a large skillet over a medium high heat. Add the oil, shallot and carrot, season with a pinch of salt and pepper and sauté until the onion is translucent and the carrot is tender, about 5-8 minutes.
Add the minced garlic and all the dried herbs and nutmeg, stir together and cook for 30-60 seconds.
Add the ground chicken and break it up with a wooden spoon, cook it until it is no longer pink, around 5-8 minutes. Once no longer pink, drain any liquid formed and discard.
Add the chicken stock and mascarpone, stir until the mascarpone melts and simmer until it is a thick creamy sauce, about 5-8 minutes.
Making the broccoli sauce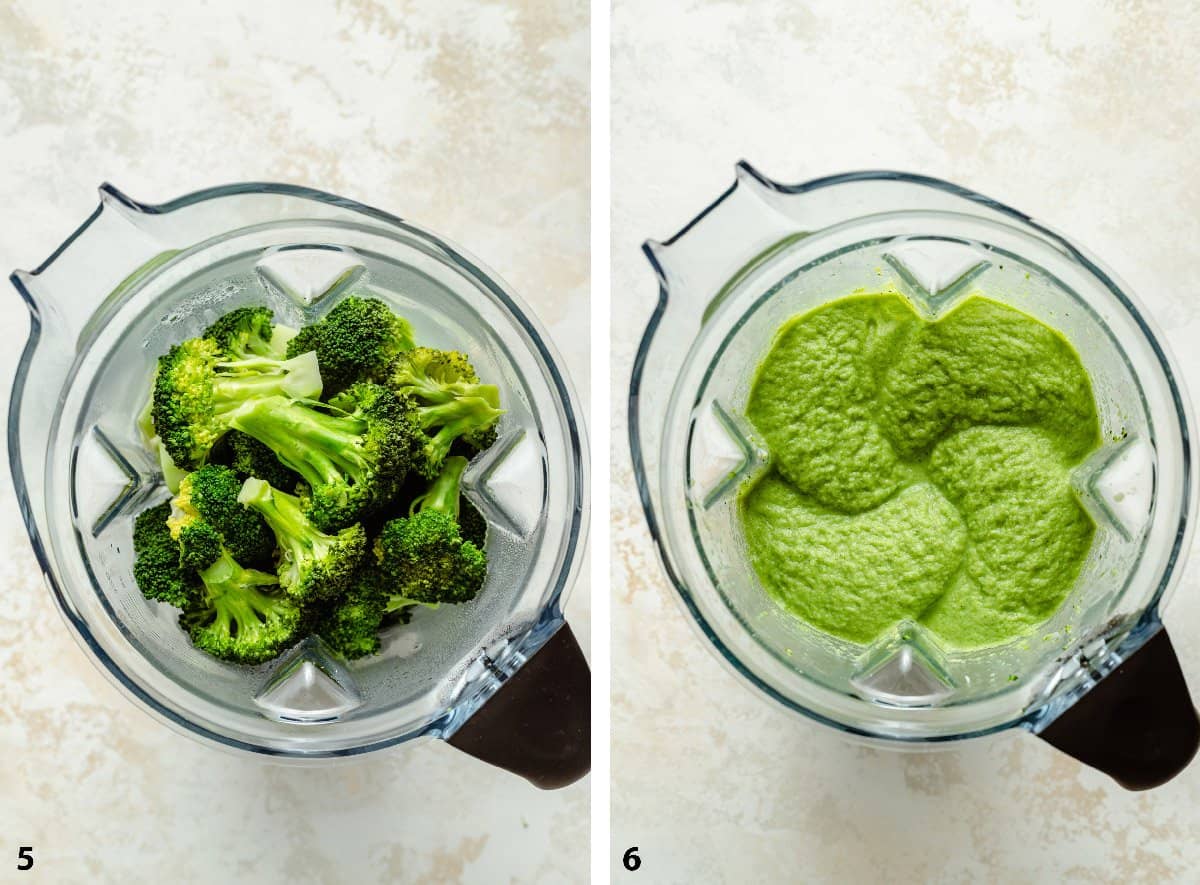 Steam the broccoli for 10 minutes until tender, or if boiling the broccoli, cook for 5 minutes and drain, leave to steam dry for 5 minutes. Put the cooked broccoli in a blender jug along with the stock pot, milk, salt and pepper.
Blend until smooth, you want some texture still but not a silky smooth purée.
How to layer the chicken lasagna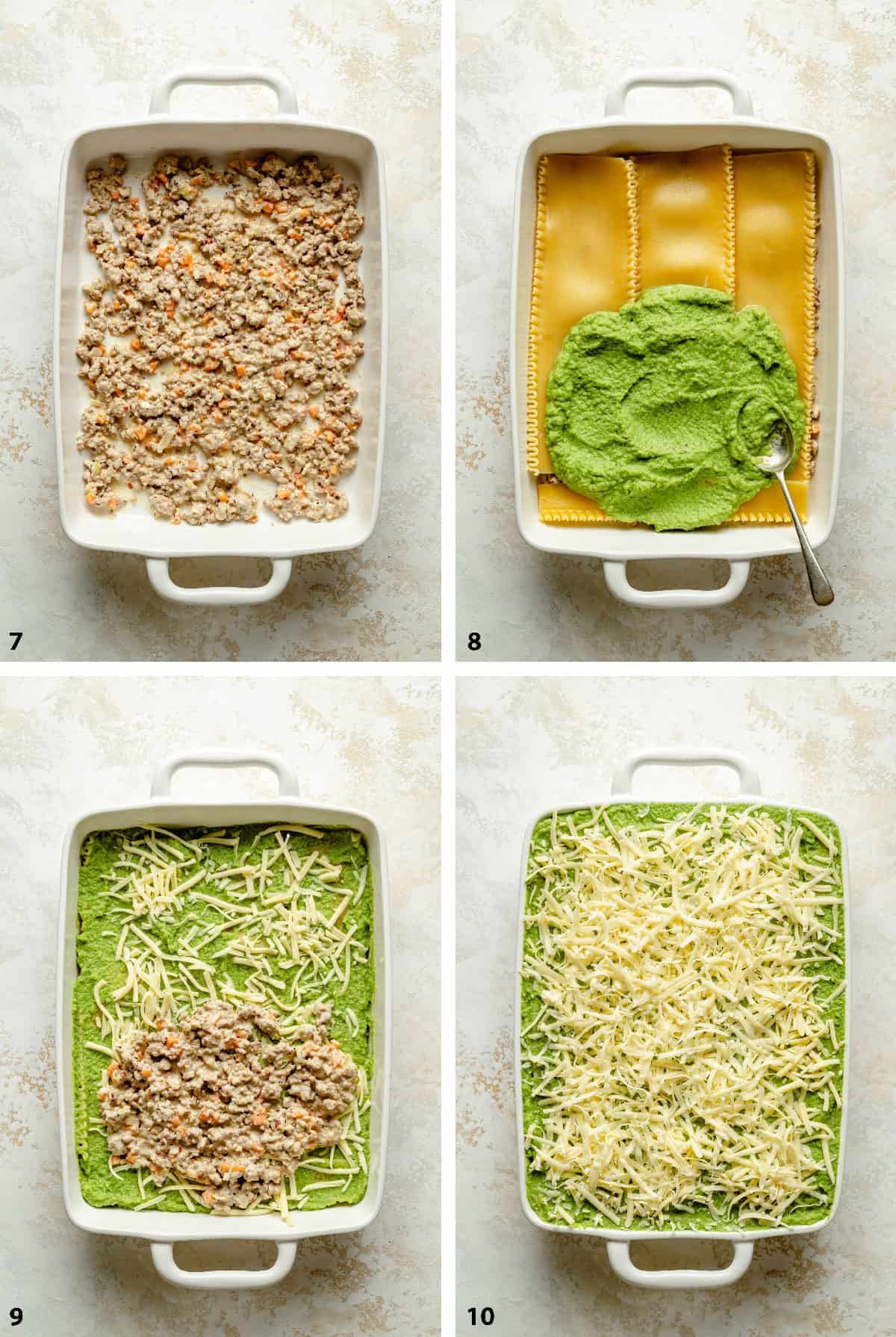 In a 9 x 13 dish start by spreading 2 cups of the creamy chicken mixture across the bottom of the dish.
On top of the meat layer, place the precooked lasagna noodles (or dried) and spread 1 ½ cups of broccoli sauce across the lasagna sheets.
Sprinkle 1 cup of shredded cheese over the broccoli sauce and spread 2 cups of the chicken mix over the cheese layer.
Repeat steps 7, 8 & 9 until you have 3 layers of lasagna, finishing with 1 ½ cups broccoli sauce and 1 cup or as much cheese as you like. Cover with foil loosely and bake in an oven preheated to 180C/350F for 30 minutes, then remove the foil and bake for a further 15 minutes. Let the lasagna rest for 10 minutes before serving.
TL;DR : 2 cups meat, lasagna, 1 ½ cups broccoli sauce, 1 cup cheese, repeat.
Customisations
Chicken - You can use ground chicken or turkey for this lasagna, just check the seasoning as some brands like to add seasoning. If this is the case just adjust the seasoning in the recipe accordingly. You can also sub for ground beef or even soya mince if you wish.
Spinach - You can customise this chicken lasagna with spinach, be sure to wilt the spinach and squeeze out excess moisture before layering it between the broccoli sauce and cheese layers.
Mushrooms - sauté 8 oz of mushrooms in butter and layer in between the broccoli sauce and cheese to create a broccoli chicken mushroom lasagna.
Green chili - If you want a bit more of a spice in the lasagna you can add diced green chillies in whilst creating the base meat layer.
What to serve with it?
Garlic bread - Lasagna is perfect served with a slice or two of crispy garlic bread, it's just a must!
Fries - as my husband would say carbs on carbs is the way forward. You really can't go wrong with garlic bread AND fries if you really want to load up on the sides.
Veggies/salad - each portion of this broccoli chicken lasagna contains one of your portions of veggies for the day. You can absolutely combine this meal with a side of veggies or salad to make it a lighter dinner or lunch.
Storage & reheating
This broccoli chicken lasagna is a great recipe for meal prep - here is how you store and reheat it:
Storage
Fridge - once cooled the lasagna can be portioned up into air tight containers and stored in the fridge for up to 3 days.
Freezer - if making this recipe ahead of time you can assemble the lasagna in a 9x13 foil tray, cover it and place it in the freezer uncooked, it will keep like this for up to a month. However, I would recommend cooking the lasagna first and then portioning out into air tight containers and freezing for up to 3 months.
Reheating
If frozen, defrost completely in the refrigerator for 24 hours prior to reheating.
Microwave - from the fridge or defrosted from the freezer you can microwave in a microwave safe container for 6-7 minutes on high power until piping hot all the way through. You can also add a splash of water into the container to rehydrate if it is dry after being in storage.
Oven - Preheat the oven to 180C/350F and cook for 30 minutes until piping hot throughout or at least 75C/165F internal temperature.
FAQs
Why is my lasagna sloppy?

Two reasons. Firstly, when layering with precooked lasagna noodles, if you don't drain the excess cooking water off the sheets before layering, your lasagna could end up soggy. The most common reason though will be not reducing your meat sauce enough, leaving it too loose before layering. If you want to avoid this, ensure your meat sauce is reduced enough by evaporating the excess liquid off.
Should I cover lasagna with foil while baking?

I would recommend starting by cooking the lasagna covered, this helps keep the moisture in and reduces the chance of browning or burning the cheese on top before the lasagna is fully cooked through.
Do you put lasagne sheets in raw?

Depending on the lasagna sheets you are using, you can use them dried or raw straight away, just check the packaging instructions. If you want to precook, like we have in this recipe, parboil for 6-7 minutes until partially cooked before layering.
More tasty pasta meals
I hope you love this creamy broccoli chicken lasagna as much as we do! If you make it, be sure to leave a comment, rate the recipe and tag me on Instagram! I love seeing your creations!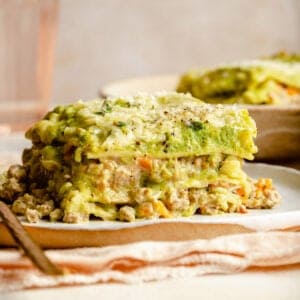 Ingredients
For the creamy chicken filling
Instructions
Heat a large pan over a medium-high heat and add the oil. Sauté the onion and finely diced carrot until the onion is translucent and the carrot is tender, about 5-8 minutes, season with a pinch of salt and pepper.

2 tablespoon olive oil,

4 large shallots,

2 medium carrots

Add the minced garlic and stir in the herbs and nutmeg, cook for 30-60 seconds.

6 cloves garlic,

1 teaspoon dried thyme,

1 teaspoon dried oregano,

½ teaspoon chilli flakes,

½ teaspoon dried basil,

¼ teaspoon ground nutmeg

Add in the ground turkey and season with the salt and pepper. Break it up with a wooden spoon and cook it until it is no longer pink, about 7-10 minutes. Once cooked, push the meat mixture to the side and tilt the pan allowing the juices to drain off. Scoop off and discard this liquid.

1 teaspoon kosher salt,

½ teaspoon black pepper,

2.2 pounds ground chicken thigh

Once you've drained the liquid you can then add the chicken stock and mascarpone and stir it together until the cheese melts. Turn down the heat and simmer it until it creates a thick and creamy sauce, about 5-8 minutes. Set aside.

1 cup chicken stock,

9 ounces mascarpone

While your sauce is simmering boil or steam the broccoli until tender, about 10 minutes for steaming or 5 minutes for boiling. Drain and let steam dry for a couple of minutes.

Place the broccoli in the blender and add the milk and chicken stock pot or bouillon powder. Season with the salt and pepper. Blend until smooth.

1 ¾ cup milk,

1 chicken stock pot,

½ teaspoon kosher salt,

½ teaspoon freshly ground black pepper

Layer in the dish from the bottom up as follows:

Spread 2 cups of the chicken mix on the bottom of the dish followed by 3 lasagna noodles, 1 ½ cups broccoli sauce, 1 cup grated cheese and repeat this until you have layered 3 layers finishing with broccoli sauce and cheese on top. (refer to process steps in post)

10 lasagna noodles,

1 ½ cups grated mozzarella,

1 ½ cups grated cheddar

Cover in foil and bake for 30 minutes at 180C/350F then remove foil and bake for additional 15 minutes until cheese melted and lightly golden. Allow to rest for 10 minutes before cutting into 12 portions and serving.
Notes
The recipe can be halved and baked in an 8 x 10 baking dish to avoid spillage. 
You can switch out the ground chicken for ground turkey or any ground meat if you prefer. 
You can freeze this recipe pre baked or post baking, just be sure to defrost fully before reheating. 
If you can't find stock pots, use bouillon powder
Nutrition
Serving:
1
slice
|
Calories:
478
kcal
|
Carbohydrates:
30.2
g
|
Protein:
30.1
g
|
Fat:
26.1
g
|
Saturated Fat:
13
g
|
Polyunsaturated Fat:
2.5
g
|
Monounsaturated Fat:
6.3
g
|
Cholesterol:
109.9
mg
|
Sodium:
645.5
mg
|
Potassium:
624.8
mg
|
Fiber:
4.8
g
|
Sugar:
7.3
g
|
Vitamin A:
199.7
IU
|
Vitamin C:
59
mg
|
Calcium:
311
mg
|
Iron:
2
mg
Did you make this recipe?
Leave a comment below with how you got on and don't forget to give the recipe a rating ⭐️⭐️⭐️⭐️⭐️. You can also tag @eatloveeats on Instagram - we love to see your creations!