This post contains affiliate links from which we could earn a small commission. Please read our Privacy Policy for more information.
This is the BEST lemon garlic shrimp pasta you'll eat, I promise. It is quick and easy to make and full of flavour! Finish it with a lemon pangrattato (crispy breadcrumbs) which just takes it to the next level. Perfect for a quick lunch or dinner midweek.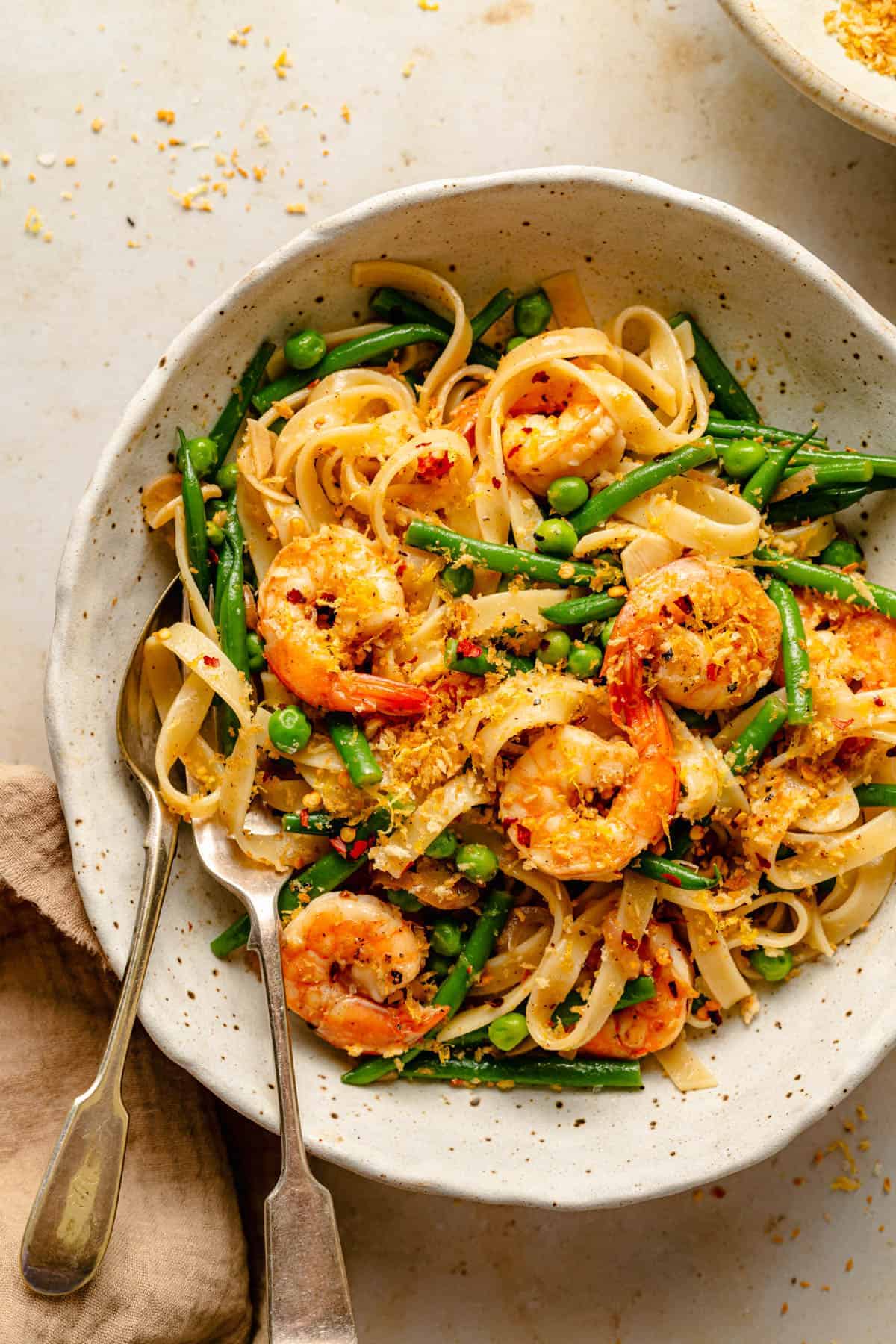 I absolutely love quick and easy meals like this lemon garlic shrimp pasta. I mean who doesn't? The sauce is made in the same pan the rest of the ingredients are cooked in; the only thing you need to do separately is boil some pasta until it is perfectly cooked and throw everything together!
My husband has often found pasta boring which understandably for him has been down to being served some boring, bland sauce. This lemon garlic pasta dish was actually created by him, but adapted for availability/accessibility of ingredients (he made fresh wild garlic pasta which is fantastic in season). We refined the dish together for the blog ensuring it had as much flavour as the original dish.
With a little care and attention you can create some lip smacking pasta dishes that are full of flavour like this Roasted Cauliflower 'Nduja Bucatini Pasta or this Chicken Pasta Bake with Feta and Peas which are both to die for!
You'll want to get your bib on for this one; a creamy buttery and glossy sauce coats the golden strands of pasta with plenty of garlic and lemon to really elevate you into pasta heaven.
When you've made this (go do it ? ) make sure to leave us a comment on your thoughts and give the recipe a rating down below!
What ingredients do I need?
This is so simple to prepare and you really don't need very many ingredients either! Perfect for a weeknight meal which is great when you just want to kick back. This is what you'll need: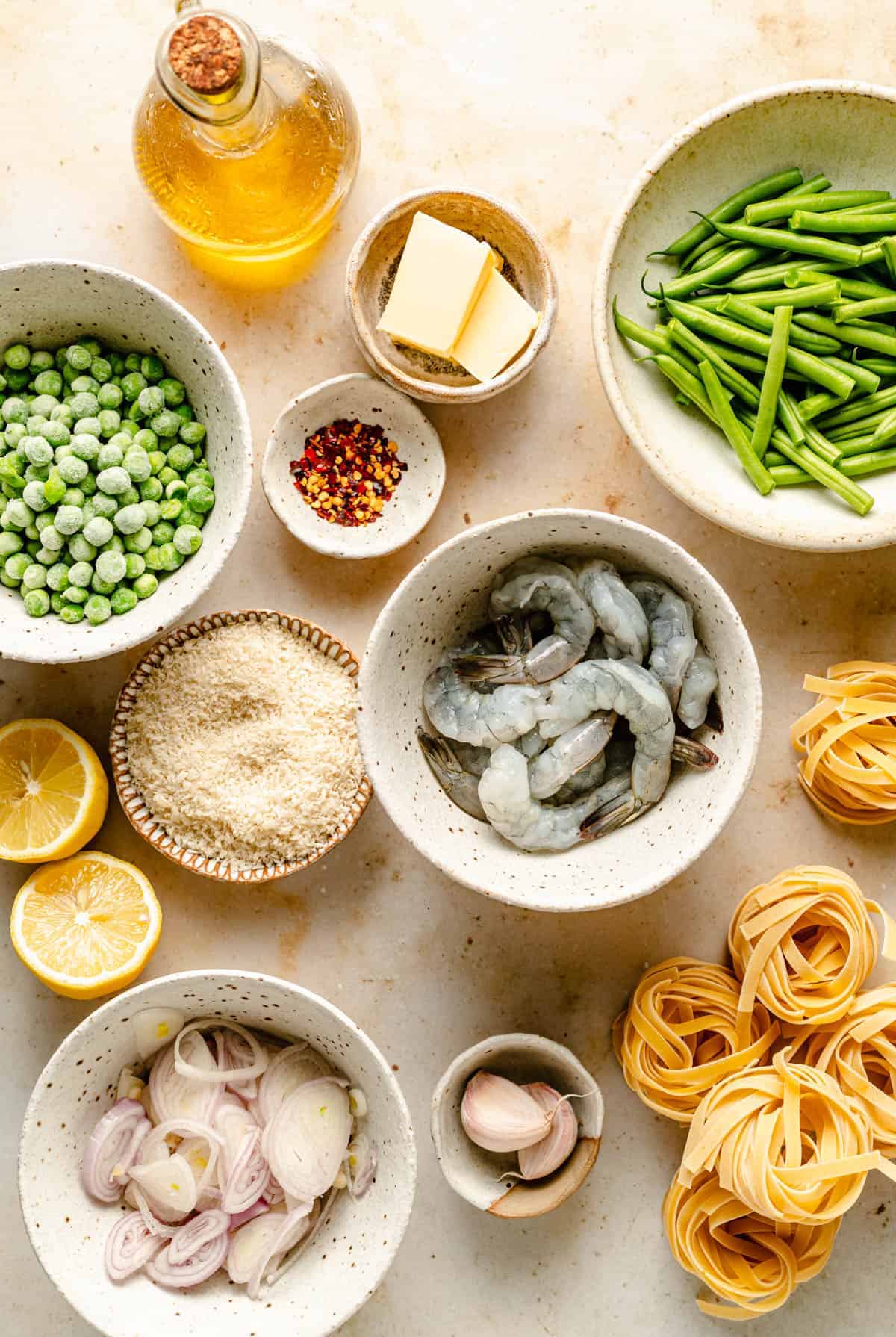 Pasta - You'll need dried tagliatelle pasta for this recipe; if you can't find tagliatelle, pappardelle or linguine will work fine.
Veggies - we used fine green beans and frozen peas, but you can substitute for what's seasonal at the time; asparagus goes amazingly well when it's in season.
Aromatics - we want this to taste amazing, right? Make sure you have a large shallot, some garlic cloves, chilli flakes and of course the all important lemon! We will be using both the zest and juice.
Protein - Shrimp/prawns go so well in this, but if you want to change up the protein, chicken will substitute just fine.
Fats - We use two fats in this dish, olive oil to cook the main ingredients and lovely creamy butter to create that silky lemon garlic butter sauce.
Pasta water - make sure you keep back some of the starchy water from cooking the pasta as we use that to create a loose creamy glossy sauce over the pasta.
Pangrattato - You'll need a little olive oil, panko breadcrumbs, lemon zest, salt and pepper to create the golden crowning crumbs that adorn the top of this insanely tasty dish.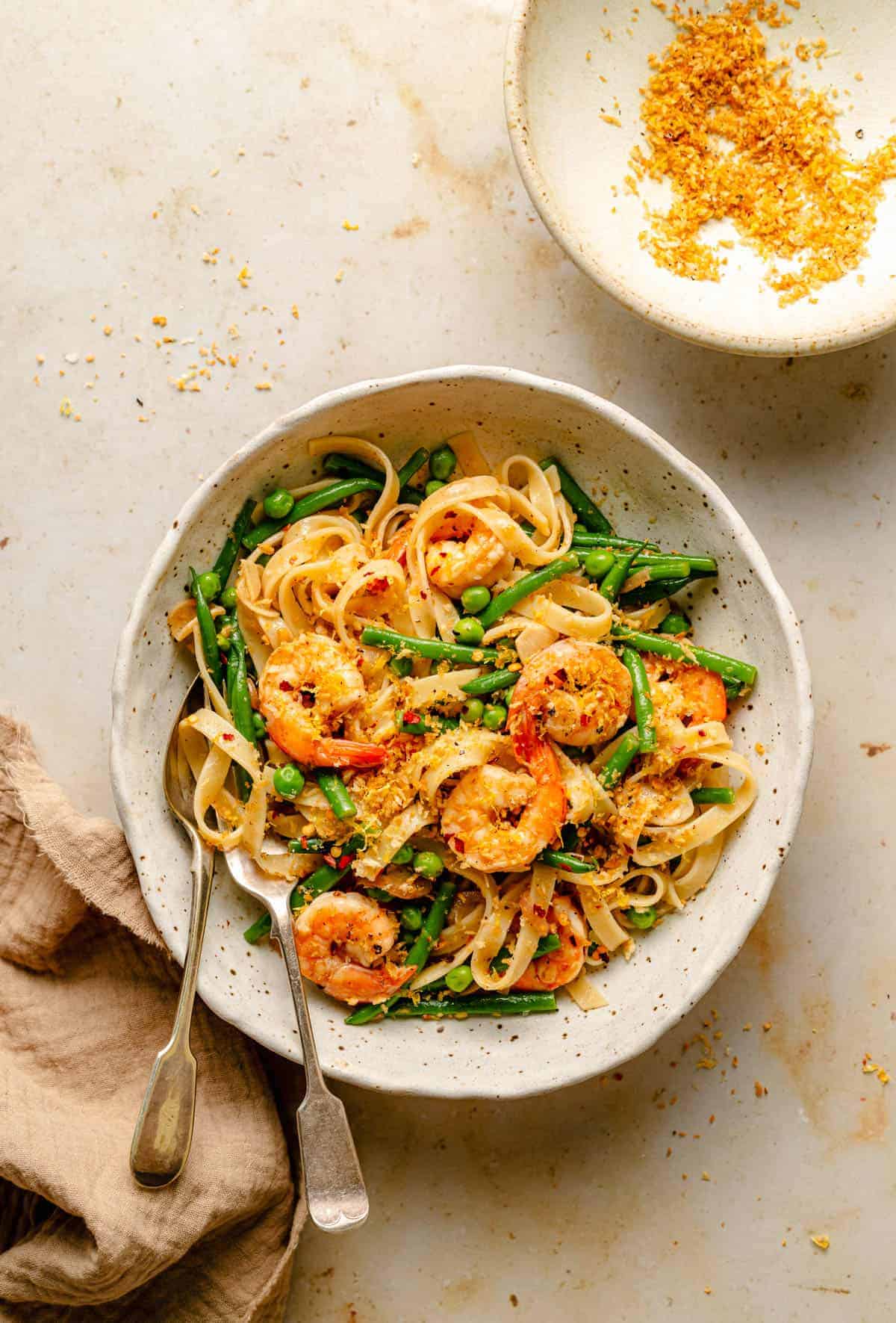 Want to customise your pasta?
I'm obviously biased but I think this creamy buttery lemon garlic pasta dish is perfect! But, if you feel like changing it up a bit, here are some recommendations I have for you:
Change up the veg! - The veggies used above were seasonal at the time, but we have used different ones too! I recommend using asparagus, shelled broad beans, edamame (soya) beans, tenderstem broccoli, spinach or kale. Basically any green veg you fancy! I recommend sticking to the quantities listed as it makes a nicely balanced dish.
Change up the protein - Shrimp is brilliant in this dish, but you could also use other lean proteins such as chicken breast, squid or even other shellfish such as clams. If you are vegan, try out some tofu or chickpeas.
Fancy making it vegan? - Changing this dish to make it vegan will ultimately change the flavour, mouthfeel and overall taste, but if you want to you need to make sure you use egg free pasta (most dried pasta here will be suitable, just check the ingredients). You will also need to substitute out the butter for either more olive oil or a vegan alternative. You may sub out a vegan suitable protein for the shrimp in direct quantities. If you try it with a vegan substitute protein let me know in the comments how it goes!
How do I put my pasta together?
This lemon garlic shrimp pasta is so simple to put together! I'd recommend having a pan of salted boiling water on the stove ready to go and to prepare all the ingredients before starting to cook. Starting with the pangrattato, follow along with these simple step by step photos:
Heat the olive oil in a skillet over a medium heat, then toss in the panko breadcrumbs until fully coated. Continue to cook for 3-5 minutes until they turn golden brown, stirring often otherwise they will burn.
Take the pan off the heat and add the lemon zest, salt and pepper.
Stir the aromatics throughout the crumbs and pour into a bowl and set aside.
To make the sauce:
Heat a medium skillet over a medium heat, add the olive oil and shallots and saute for 2-4 minutes until softened. Next, add the garlic slices and saute for another minute.
Add the shrimp to the pan and saute until they are pink and cooked through (at this stage make sure to add your chilli flakes), about 2-4 minutes.
Not shown - place your pasta in the salted boiling water to cook, (mine took 9 minutes). 5 minutes into the cooking time, add the halved beans into the pasta water and cook for a further 4 minutes.
The sauce continued:
Add the frozen peas to the skillet and stir around.
Add the butter, stir until melted. Then add the lemon juice and zest along with a sprinkling of salt and pepper.
Stir together and that is the basis of the sauce.
To put the final dish together, drain the pasta and beans (make sure to reserve some pasta water). Toss the pasta and beans throughout the sauce and add some of the pasta water to make it glossy and saucy. Serve immediately topped with the pangrattato.
What can I top pasta with?
A few things I love to use on top of this lemon garlic shrimp pasta: Parmesan cheese, parmigiano reggiano is the best to get and make sure to grate it yourself! You can also use pecorino for a deliciously creamy and salty addition. I would highly recommend using the pangrattato crispy breadcrumbs (follow instructions in the recipe card) to top any lovely pasta dish. You can also add different herbs and spices into them depending on the dish being prepared.
How do I cook pasta perfectly?
Dried pasta -  Firstly make sure you have a pan of boiling salted water on the go (use 1 litre/1 quart of water per 100g pasta) and plenty of salt (think of it as being as salty as sea water). This salt is important as it seasons the pasta whilst cooking and also the sauce when you use the water to loosen the sauce in finishing the dish! Always make sure to reserve some of the cooking water.

Length of cooking time depends on the brand and shape used; this can take anything between 8 to 14 minutes. I suggest following the packet instructions BUT recommend starting with the shortest listed time and then tasting it; if it's ready it will have a slight bite still but not be completely chalky. If it needs to be cooked longer, do it in increments of 1 minute and keep tasting to test it. The finished pasta will still be absorbing water and cooking in the final prep of the dish. If it's very limp and mushy you have over cooked it.

Fresh egg pasta - Follow the boiling water step above for dried pasta. If you make your own pasta or buy it fresh, it will literally take a maximum of 2-3 minutes, once placed in the boiling water. It will be glossy and still have a little bite. 
How do I make a glossy pasta sauce?
In this recipe the trick to this glossy, lemon garlic pasta sauce is butter and the addition of the reserved pasta cooking water. Start with about a tablespoon and increase as you see fit. You don't want it watery, you want to loosen the sauce and just gloss over the pasta, if you leave the pasta sitting for a while it will just absorb the sauce and start to overcook the pasta which is why you want to serve it immediately.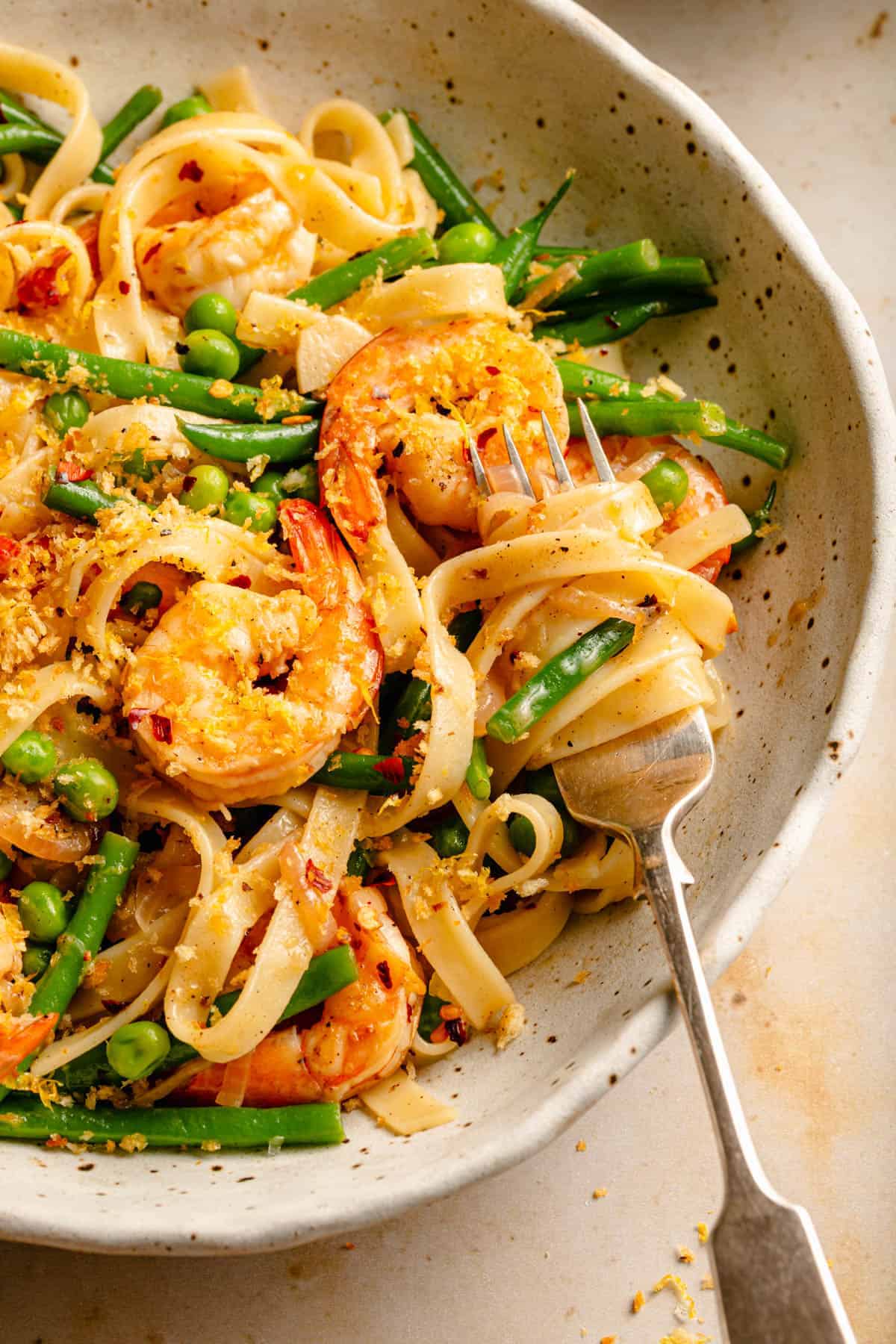 Fancy some more pasta?
Check out these other pasta dishes you'll absolutely love!
I hope you love this lemon garlic shrimp pasta as much as we do. If you make it, be sure to leave a comment, rate the recipe and tag me on Instagram! I love to see your creations!