This Creamy Chicken Pasta Bake is easy to prepare and is packed with spinach, peas and tender chicken. Made with a next-level feta cheese sauce that will leave everyone wanting seconds, this is perfect to tuck into for a satisfying midweek dinner!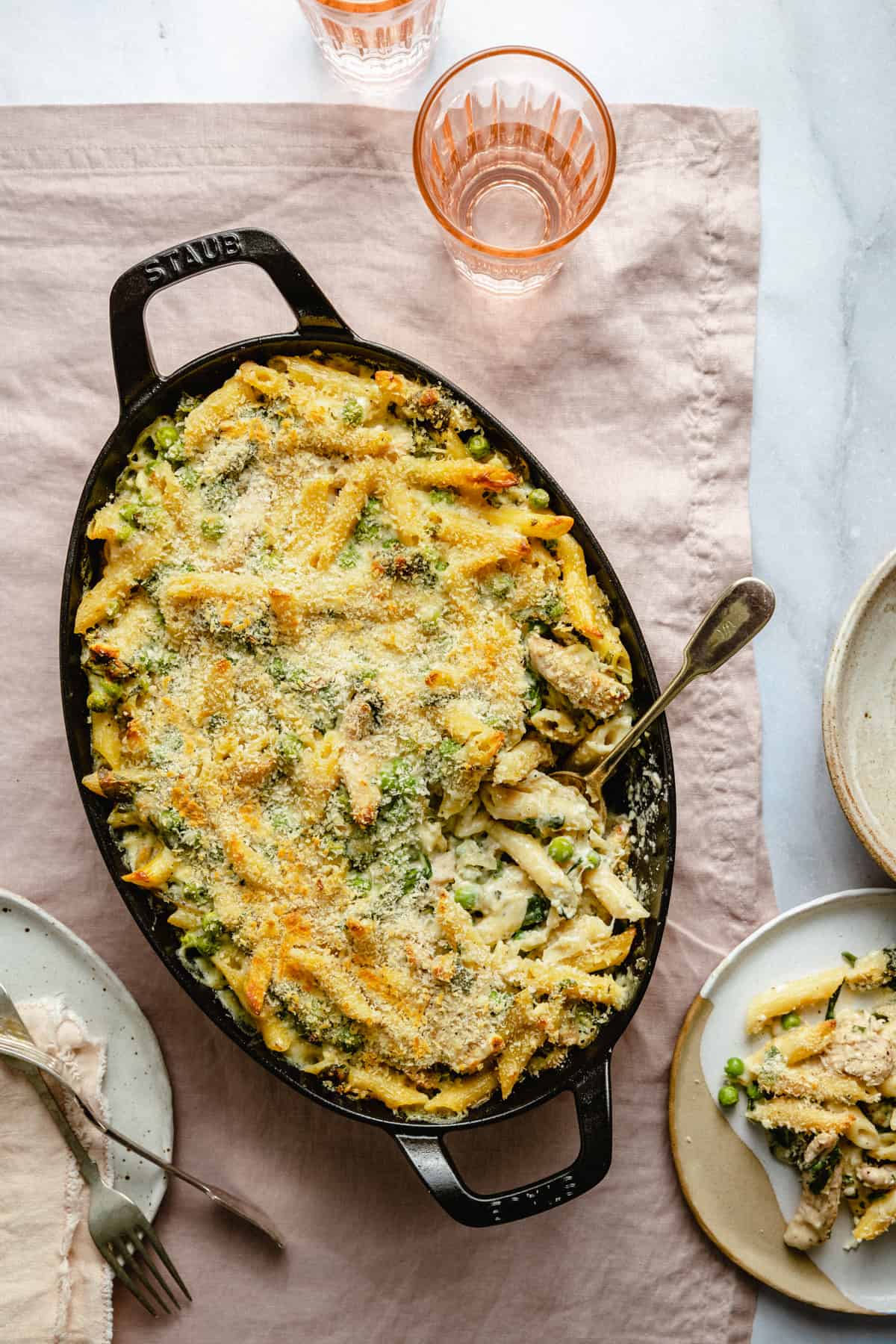 We all love an easy and comforting meal regardless of the time of the year or day of the week. This creamy chicken pasta bake combines the best of comforting carb-loaded goodness with the fresh and tasty spinach and feta throughout its epic creamy sauce. It's perfect for a midweek meal and a great way to make portions for lunches for the week ahead to make life easier, because we all need that don't we?
Pasta is like a sponge and we can take advantage of that by giving it lots of flavour to absorb. This creamy chicken pasta bake is definitely not lacking flavour with its herby chicken and feta loaded cheese sauce, we've got you hooked up with proper flavour here. Talking about proper flavour definitely check out our Gochujang Noodles with Salmon!
If you love real flavour as much as we do, you'll want to check out our 'Nduja Pasta, Tomato Spinach Pasta or Lemon Garlic Shrimp Pasta that are packed with goodness too! Don't forget to leave us a comment below and rate the recipe in the recipe card. Click the links below to get to where you need real quick.
Jump to:
Why you'll love this recipe
We've got all the reasons you need this easy creamy chicken pasta bake recipe in your life!
Creamy - no one wants a dry and chewy pasta bake, we want creaminess and with our cheesy sauce you can't miss that! Check out our creamy lemon zucchini pasta too!
Easy - despite having a roux based cheese sauce this recipe is actually very simple and that's what we know you like.
Healthy - this recipe is high in protein and high fibre and comes in at under 600 calories per portion. Satisfying goodness!
Veggies - we love veggies and this recipe contains lots of spinach and peas to add plenty of nutrients to each portion.
Ingredients
You'll only need simple ingredients for this creamy chicken pasta bake recipe, this is what you'll need: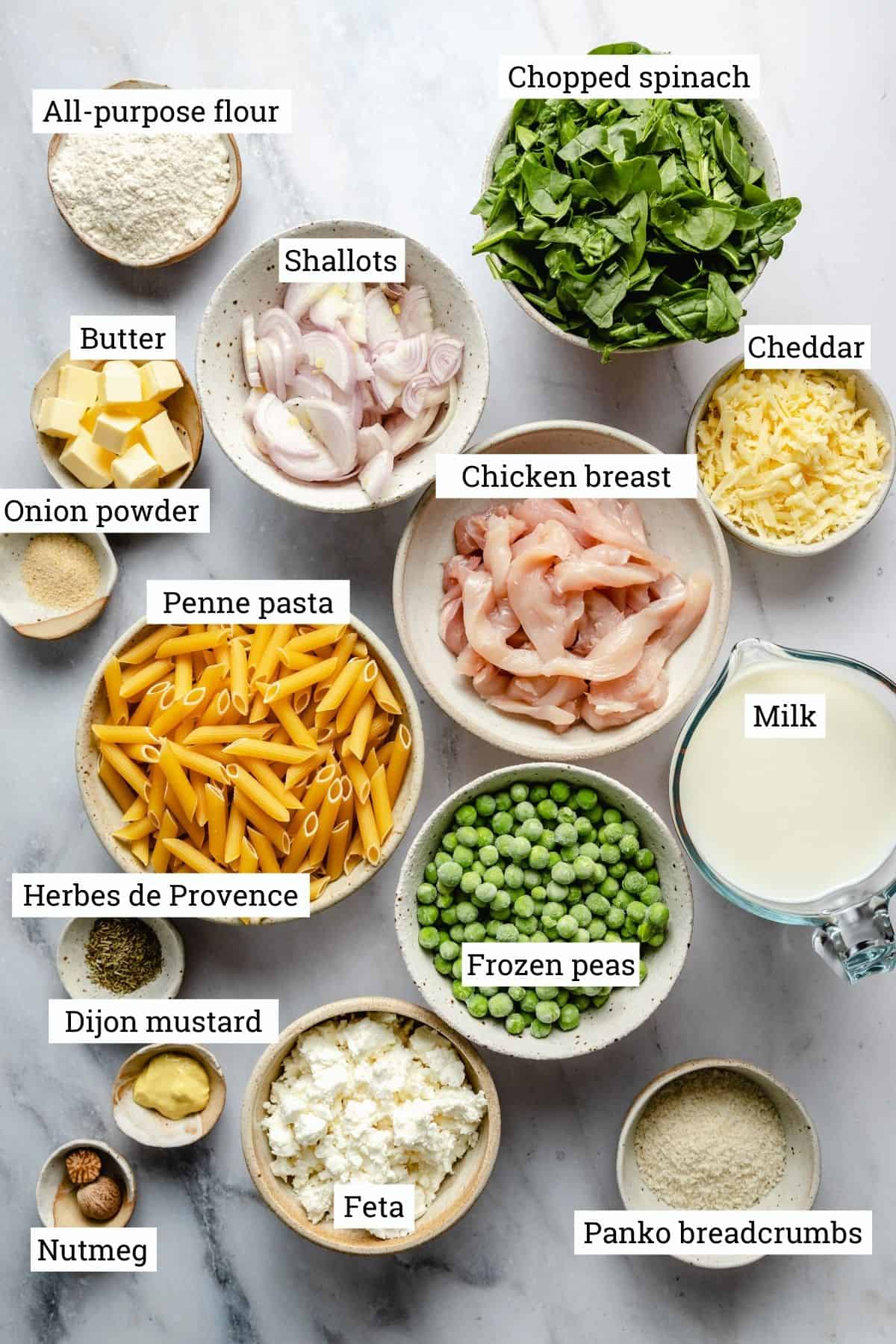 Pasta - we love to use a short pasta such as penne in this pasta bake, it's perfect for holding the sauce. Feel free to use your favourite pasta shape, just keep to short pasta.
Creamy sauce - you'll be creating a lovely creamy cheese-filled sauce starting with a roux made from flour, butter and seasoned with onion powder, which gives the cheese sauce a moreish savoury flavour and the milk creates a luxurious creamy sauce.
Cheese - we go all out with the cheese, getting the depth of flavour from the cheddar in the base of the creamy sauce as it melts and then we stir through the main feature, crumbly, tangy, salty feta cheese.
Breadcrumbs - to give a little crunch to the top of this creamy chicken pasta bake we use a mix of panko breadcrumbs tossed in melted butter seasoned with garlic powder to give a lovely golden crisp topping.
Customisations/variations
If you wish to mix it up and customise this creamy chicken pasta bake here are some suggestions:
Bacon - bacon and chicken are the perfect combination, so why not add some into the mix? Crisp up 2-3 slices of smoked streaky bacon, cut into chunks and sprinkle throughout the mixture.
Dairy free - if you have an intolerance to lactose, all you need to do is switch out the butter, milk and cheese for dairy free alternatives.
Mushroom - this pasta bake will work very well with sautéed mushrooms alongside the shallots and chicken, add a cup of sliced mushrooms to the mix to change it up.
Broccoli - we love broccoli, just cut it into small florets, parboil and drain well before stirring throughout the cheesy pasta sauce.
Mozzarella - want to go cheese crazy? Break up a ball of fresh mozzarella and stir throughout the sauce to get some super cheese pulls.
How to make creamy chicken pasta bake
Follow this simple step by step guide to create your next favourite chicken pasta bake:
Making the creamy cheese sauce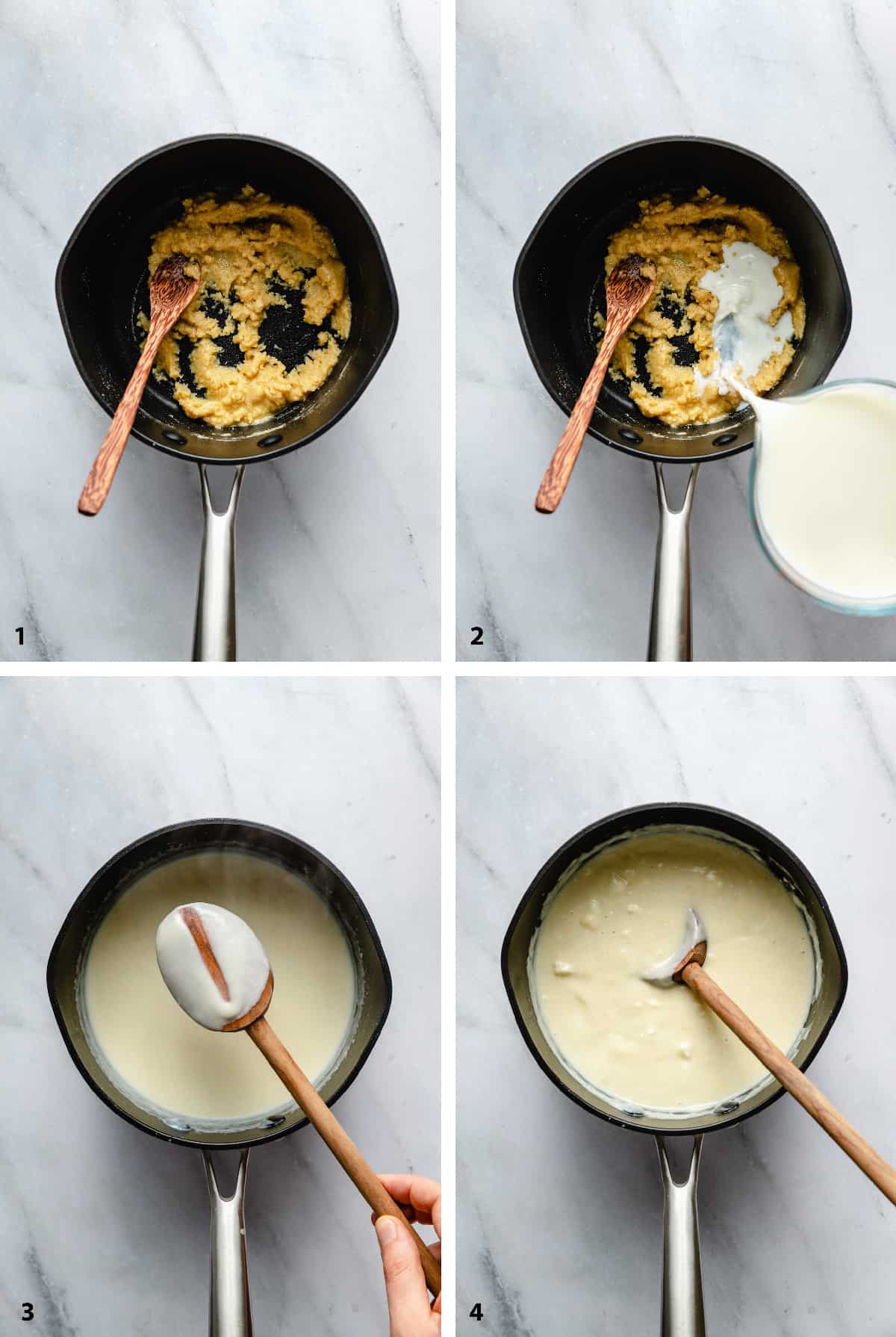 To create the roux: melt the butter in a saucepan over a medium heat, stir in the flour and onion powder and cook gently for 2 minutes to cook out the raw flour flavour.
Whilst the roux is still hot, take the pan off the heat and add the milk a little at time, after each addition the roux will thicken significantly. Once absorbed and thick, add more milk in small amounts and keep stirring until there are no lumps and the milk has thinned the roux mixture completely.
Place the pan back on the heat and stir continuously until the thin milky mixture thickens, about 5-10 minutes (it will coat the back of a spoon). Once thickened, stir in the dijon mustard.
Stir the grated cheddar into the creamy sauce and once it has melted, stir in the crumbled feta. The feta won't melt - the lumps of feta are perfect.
Creating the chicken pasta bake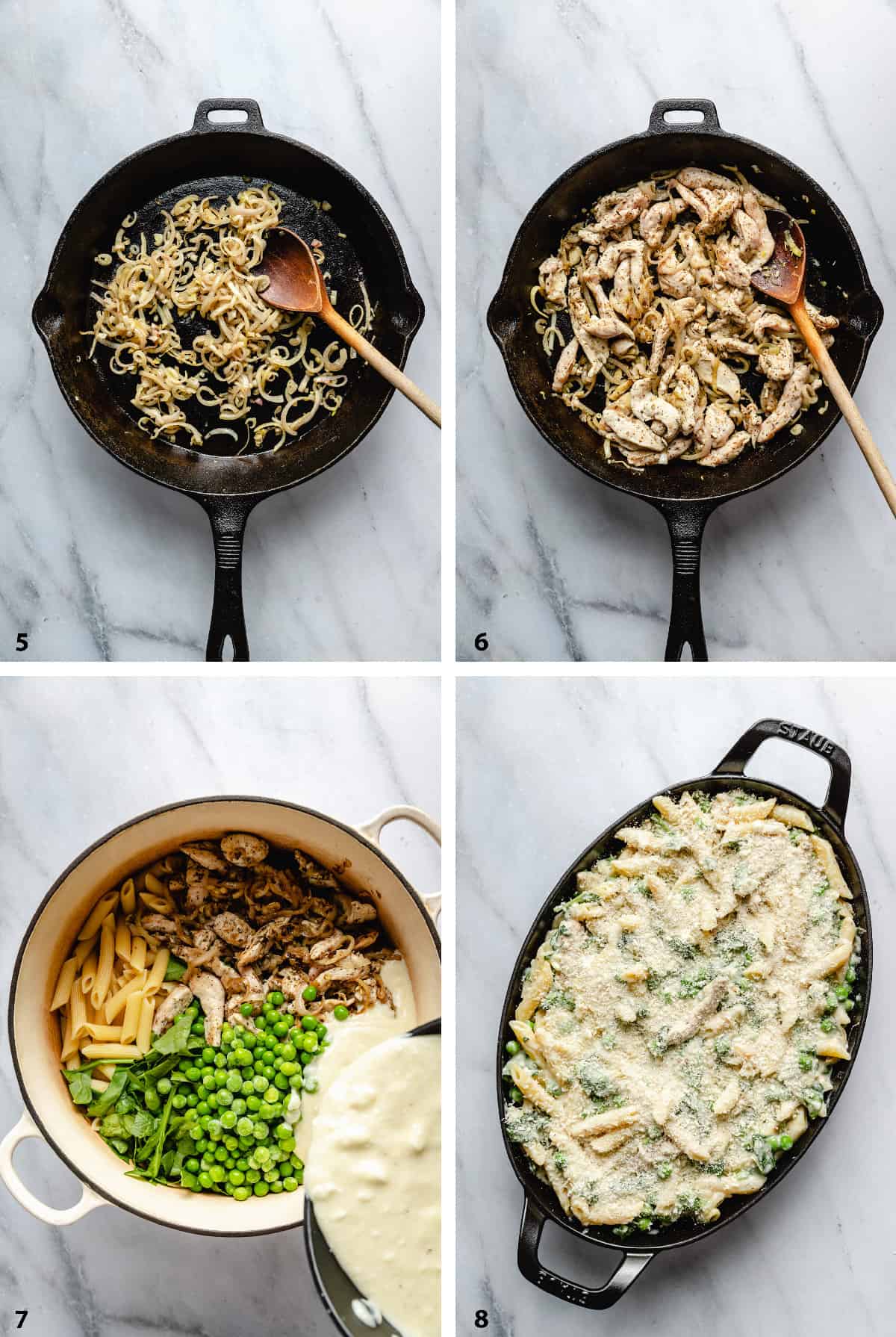 Sauté the sliced shallots in some oil in a skillet over a medium heat until softened, around 3-4 minutes.
Add the chicken pieces, herbes de Provence, salt and pepper and cook until the chicken has just turned white, don't worry about it being slightly uncooked in the centre.
Cook the penne until al dente, drain and place back in the pan it was cooked in with the chicken mixture, spinach and frozen peas. Pour over the cheesy sauce and stir together until completely coated in sauce.
Pour into a baking dish and sprinkle over the breadcrumb mixture and bake in a preheated oven at 180C/350F for 25 minutes until bubbly and golden on top.
Expert tips
Follow these expert tips to guarantee success every time for this creamy chicken pasta bake:
Roux - make sure you take the roux off the heat during the addition of the milk and whilst you are gradually adding the milk, whisk until it is smooth before adding any more milk. This way you will have a smooth silky sauce with no lumps. Creating a roux based sauce gets easier the more you practice.
Al dente - make sure to cook the pasta until al dente, usually this is a minute or two less than the time recommended on the packaging. It will have a slight bite but won't be chalky. The pasta will continue to cook after preparation in the sauce in the oven.
Tender chicken - chicken breast has an awful habit of being overcooked and dry. Only sear the outside of the strips as they will finish cooking in the oven to give you a tender chicken bite. Or use our succulent Crispy Roast Chicken leftovers.
Crispy topping - if you want a super tasty crispy topping, toss the panko breadcrumbs in a little melted butter and garlic powder then sprinkle over the top of the creamy chicken pasta bake. Plain breadcrumbs work just as well, but this is a nice touch.
Prep ahead - you can make all of this ahead of time and then bake when you are ready to eat.
Leftovers - if you are lucky enough to leftover chicken pasta bake you'll be in for a treat as the flavours deepen and it is actually very good cold or easily reheated.
Storage
If you bake this chicken pasta bake ahead of time or find you have leftovers you can store as follows:
Fridge - allow the pasta bake to cool down and then serve portions into air tight containers, these will keep in the refrigerator for up to 5 days. You can reheat in the oven or with the microwave. Be sure it is piping hot throughout.
Freezer - We have not tried freezing this pasta bake but understand you can freeze it as long as you wrap it tightly and store it in an air tight container or freezer bag for up to 3 months. Defrost before reheating as indicated in the FAQs.
Recipe FAQs
Do you boil pasta before making pasta bake?

Yes, we recommend boiling your pasta until al dente, so it has a little bite as it will continue to cook in the sauce in the oven. Without part cooking the pasta before baking you risk dry chewy pasta in the final dish.
How do you keep pasta bake from drying out?

Simply boil your pasta before adding it to the sauce. Make sure it is al dente and not completely soft. It should have a bite. If you put uncooked pasta into the sauce it will absorb all the sauce and be dry. Boil in heavily salted water for 1-2 minutes less than the package instructions state.
What goes well with a pasta bake?

You can serve it with a lovely salad of green leaves with sliced onions and tomatoes, or garlic bread and potato wedges if you are wanting a great carb filled feast! The pasta bake would also be delicious with any steamed vegetable.
Can I reheat pasta bake?

Yes, we recommend reheating as follows:

Microwave - you can reheat in the microwave for 1-2 minutes until piping hot in the middle. The topping may get a bit softer though.

Oven - preheat the oven to 180C/350F, add a splash of water to the dish you will be reheating in with the pasta bake and cover with foil. Bake for 30 minutes (from fridge cold) until piping hot in the middle.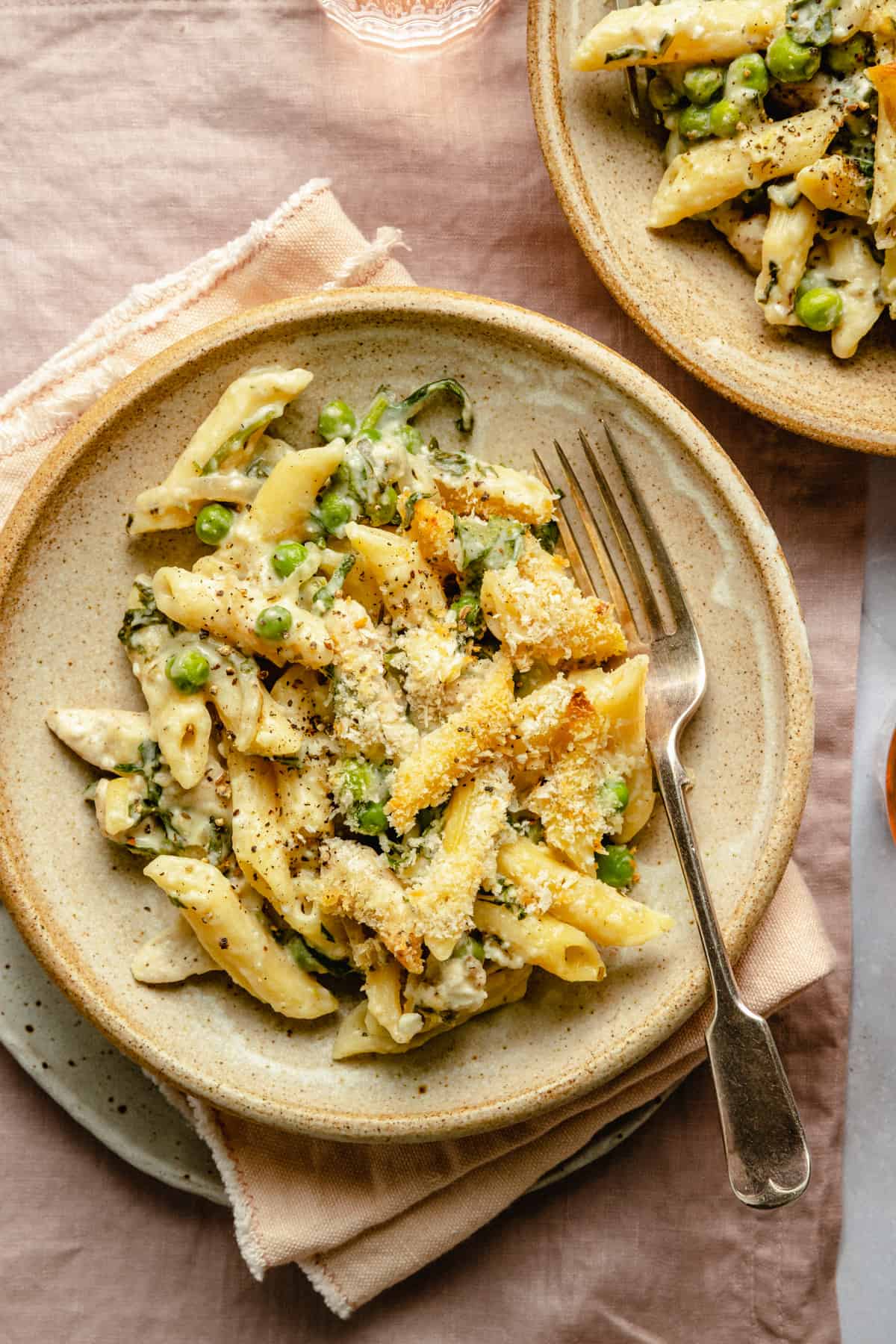 Related recipes
If you love this dish you'll be sure to love these dinner recipes or you can try these awesome pasta recipes too:
Love this recipe? Leave us a 5-star ⭐️⭐️⭐️⭐️⭐️ rating in the recipe below and don't forget to leave a review in the comments section underneath the recipe. We love hearing from you!
Why not follow along with us on our social media channels @Instagram @Facebook and @Pinterest and tag us with #eatloveeats when you've tried one of our recipes!
📖 Recipe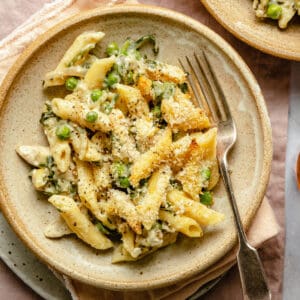 Ingredients
For the chicken pasta bake
3

cups

penne pasta

,

300g, or pasta of choice

1

cup

sliced shallots

,

2 large

¾

pound

chicken breast

,

cut into small strips

1

teaspoon

herbes de Provence

½

teaspoon

kosher salt

½

teaspoon

ground black pepper

2 ½

cups

baby spinach

,

100 g, roughly chopped

2

cups

frozen peas

,

250 g

⅛

teaspoon

freshly grated nutmeg
Instructions
Making the sauce
Melt the butter in a saucepan over a medium heat and stir in the flour and onion powder to make a roux. Cook for 2 minutes to get rid of any raw flour taste. Take the pan off the heat and gradually add the milk whilst whisking to make a smooth mixture. Return to the heat and cook to thicken, about 5-10 minutes.

3 tablespoons butter,

3 tablespoons all purpose flour,

1 teaspoon onion powder,

2 ½ cups milk,

1 teaspoon dijon mustard

Stir in the dijon mustard then the feta and grated cheddar. Stir to combine but bear in mind that the feta won't melt - that's ok! Season with salt and pepper. Set aside

7 ounces feta cheese,

½ cup extra sharp cheddar cheese,

¼ teaspoon kosher salt,

¼ teaspoon ground black pepper
Making the chicken mixture
Preheat oven to 180C/350F. Place a frying pan over medium heat and add a tablespoon of olive oil. Add the shallots along with a pinch of salt and cook for 2-3 minutes until soft. Add the chicken strips, the herbes de Provence and salt and pepper and cook for a few minutes until the chicken is white but not fully cooked through. Set aside.

1 cup sliced shallots,

¾ pound chicken breast,

1 teaspoon herbes de Provence,

½ teaspoon kosher salt,

½ teaspoon ground black pepper

Cook the pasta until al dente in salted water (a couple of minutes less than the package instructions suggests). Drain the pasta and return to the pan it cooked in (or a large bowl). Add the cooked chicken and shallots, sauce, spinach and frozen peas (no need to defrost). Stir well to combine. Season with the fresh nutmeg. Pour into a baking dish.

2 ½ cups baby spinach,

2 cups frozen peas,

⅛ teaspoon freshly grated nutmeg,

3 cups penne pasta
Making the breadcrumbs
Stir the melted butter into the panko breadcrumbs and garlic powder. Sprinkle the breadcrumbs over the top of the pasta mixture and bake for about 20-25 minutes until golden and bubbling. 

¼ cup panko breadcrumbs,

1 tablespoon melted butter,

¼ teaspoon garlic powder
Notes
Serve with a green salad, garlic bread or potato wedges for some carb loaded joy!
Only searing the chicken and finishing the cooking of it in the oven leads to a tender chicken bite.
Remove the roux from the heat before gradually whisking in the milk and then return to heat once uniform and cook until thickened. 
Any milk works for the sauce.
To reheat leftovers - add a splash of water to the baking dish, cover with foil and reheat at 180C for about 30 minutes (from fridge-cold) until piping hot. It also heats up pretty well in the microwave (great for work lunches!)
Nutrition
Calories:
597
kcal
|
Carbohydrates:
61.5
g
|
Protein:
33.7
g
|
Fat:
23.7
g
|
Saturated Fat:
13
g
|
Polyunsaturated Fat:
1.6
g
|
Monounsaturated Fat:
7
g
|
Cholesterol:
105.5
mg
|
Sodium:
539
mg
|
Potassium:
705.7
mg
|
Fiber:
4.8
g
|
Sugar:
11.7
g
|
Vitamin A:
281.5
IU
|
Vitamin C:
13.8
mg
|
Calcium:
402.5
mg
|
Iron:
3.9
mg
Did you make this recipe?
Leave a comment below with how you got on and don't forget to give the recipe a rating ⭐️⭐️⭐️⭐️⭐️. You can also tag @eatloveeats on Instagram - we love to see your creations!