Who's in the mood for a big bowl of something cosy and comforting? My hand is up for sure! It's been wet and cold and foggy here lately and whilst I don't mind winter on the whole, I'd be lying if I said I wasn't ready for spring! That said, I can't quite believe (as somebody informed me yesterday) that we're already one tenth of the way through the year! That's just madness. So, as winter is here to stay for a little while longer, we might as well snuggle up and enjoy it with some warming bowl food, right?! Specifically, this One Pot Pasta with Chermoula!
The idea for this recipe came about because I had an urge to make a chunky soup with some pasta. I didn't want to make a standard minestrone - don't get me wrong, I love minestrone! - I just fancied making something a little bit different. Whilst wandering around the supermarket, my eyes fell upon the preserved lemons and I knew what I had to do! I've been meaning to pick up some preserved lemons for ages (in fact, I've been meaning to make some, but that clearly hasn't happened!) and so this seemed like the perfect opportunity to do just that. And I've wanted to try my hand at making chermoula for a while too so that was that!
For those who don't know, chermoula is a North African sauce and it is divine. It tastes bright and zingy and just generally awesome. There are many variations, but I was keen to try making it with preserved lemons. Disclaimer: I don't claim this recipe to be authentic. For a start, I'm not sure how you would define authentic given that every family probably has their own way of making it. Secondly, I did some brief research into the component parts of the sauce and then proceeded to chuck various things into my food processor. The end result was delicious and I'm sticking with it. That's what real cooking is about, no?!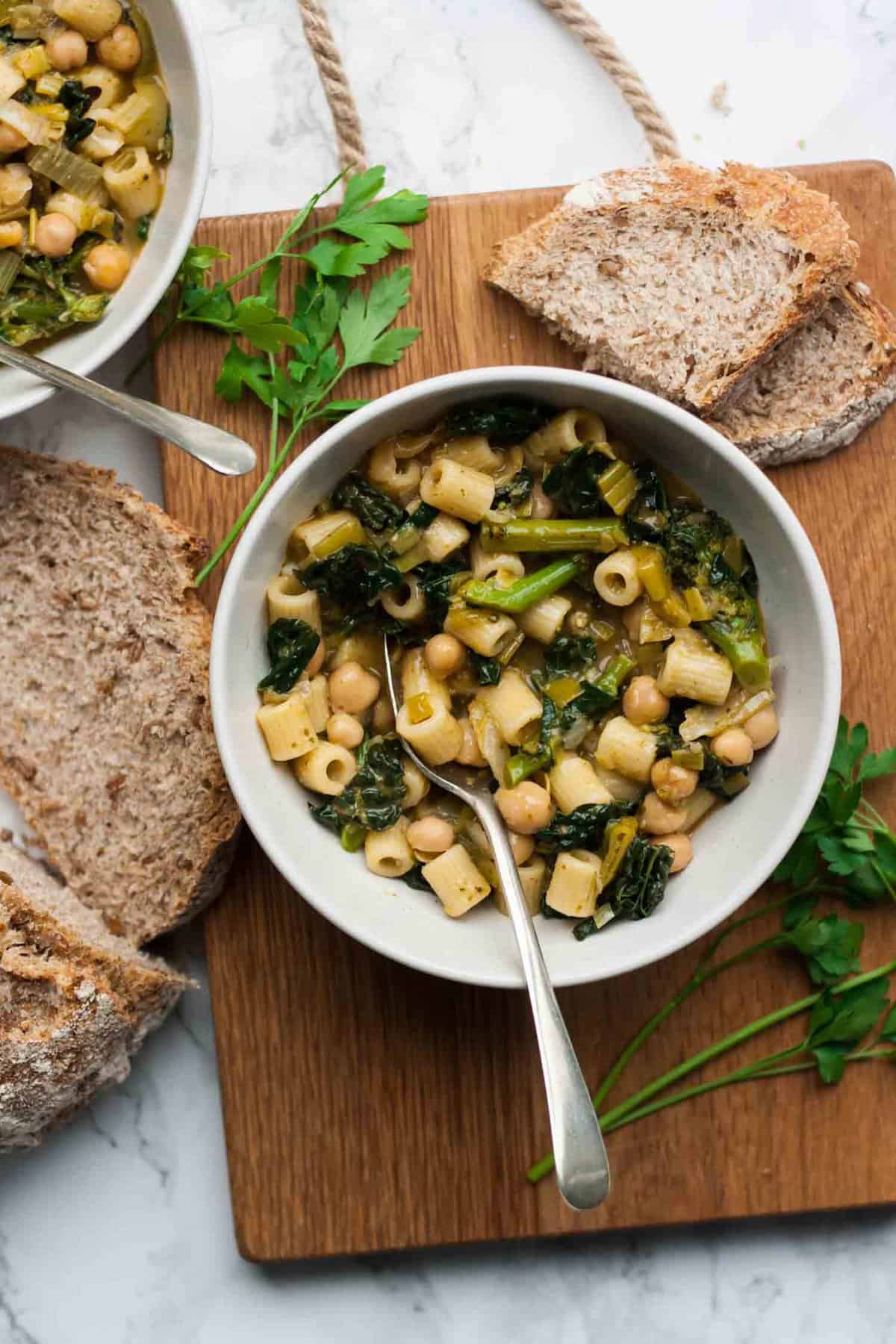 As I was saying, this one pot pasta started life as a chunky soup. That was my intention. And I thought I added enough stock to make it so but it turned out that the pasta absorbed more than I anticipated. And I had no desire to remedy the situation. Trust me, it's better this way. It is still a little 'soupy' as you can see from the photos, but in no way enough to be able to call it a soup. It also absorbs more liquid as it cools. You could add more or less stock if you wanted to: your kitchen, your rules.
You could also switch up the vegetables, use any other kind of beans instead of chickpeas, whatever you like - this recipe is infinitely customisable. And yeah, I know, chermoula and pasta probably don't belong in the same dish if we're following tradition. But that's just it, we're not following tradition. We're just cooking up some delicious, heart-warming grub to get us through these bleak, wintery months. Just make sure you whip up this chermoula and throw it in the pot!
So, as it stands, this One Pot Pasta with Chermoula is entirely vegan and consists of cute pasta shapes, chickpeas, leeks, purple sprouting broccoli, cavolo nero and a whole heap of party-in-your-mouth homemade chermoula. What are you waiting for? Go and make it! (And yes, I did serve bread with my pasta because like I said before, it's the dead of winter and carbs are life.)