This nduja pasta with roasted cauliflower is the flavor-packed meal you're craving mid week. Spicy and full of goodness, this quick and easy meal will keep you feeling completely satisfied.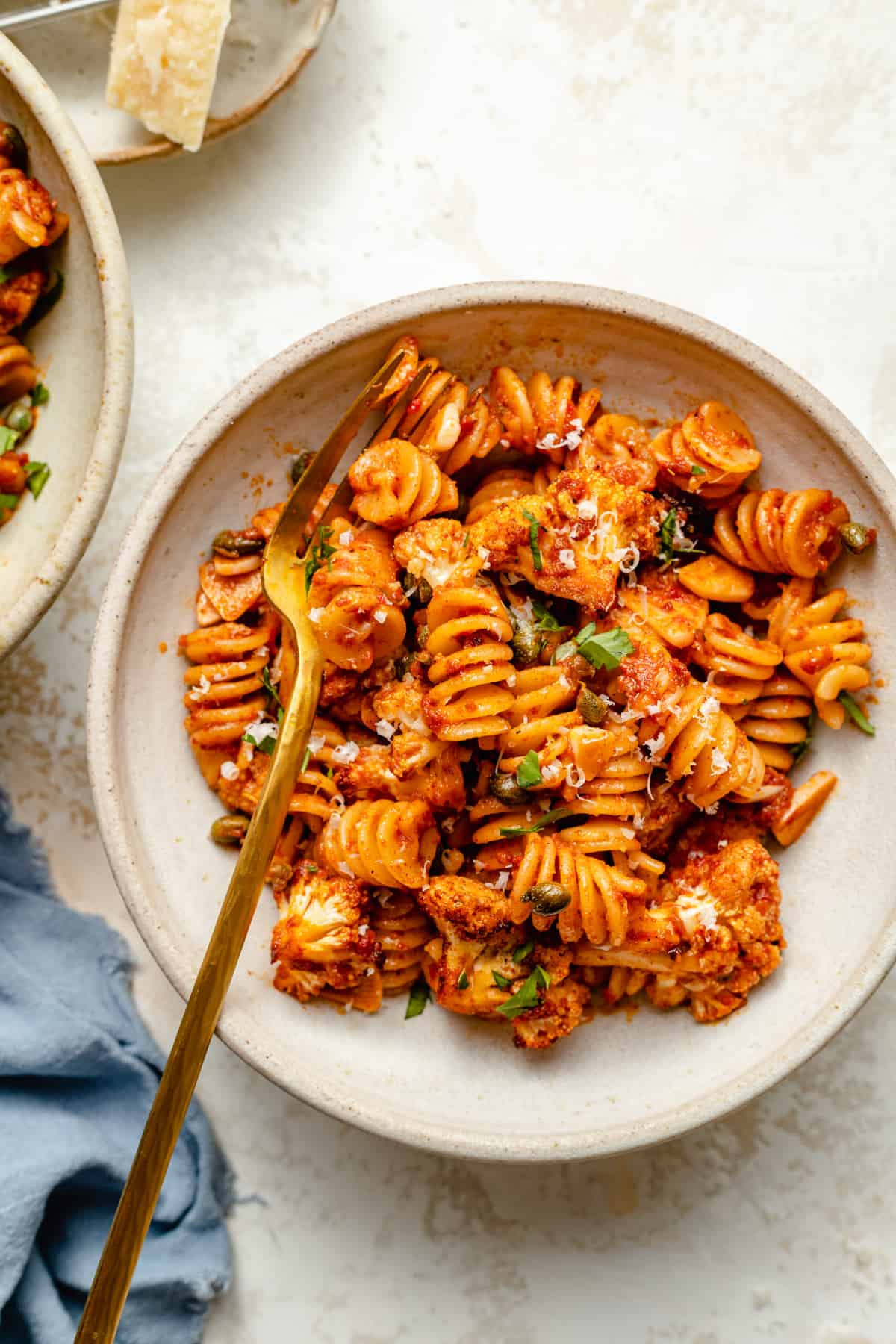 If you aren't familiar with the wonderful creation that is nduja, you need to be and you need this nduja pasta in your life right now! Pasta is one of those carbalicious delights that is quite often demonized, but we can promise you there is no need for that! There's nothing wrong with pasta and enjoying a big plateful of carbs with a side of more carbs (garlic bread, ha!).
This nduja pasta is spicy and has a lovely smokiness from the roasted cauliflower, dotted with flecks of tangy capers and garlic. What's not to love, right? If you're a fan of spicy, definitely check out our gochujang noodles too.
In our house, pasta has started to be a bit more of a frequent occurrence, not just because of its ease, but because we love making super flavorful sauces to go with it. It really does make a huge difference! Check out our lemon garlic shrimp pasta, tomato spinach pasta and our creamy chicken pasta bake that you'll love too!
This nduja pasta recipe is very easy to make. The most time consuming part about it is roasting some cauliflower in the oven and that can be done whilst preparing the sauce and pasta. We know you'll love this recipe, so share the love and leave a comment and rating below letting us know what you think.
Jump to:
🌶What is Nduja?
Nduja, pronounced en-doo-yah, is a spicy spreadable salami from Calabria, in southern Italy. It's made with Calabrian peperoncini chilli pepper paste (which is pretty spicy!) that is mixed with a blend of pork meat and fat. This ground mixture is then fermented and cured, making it safe to eat.
Nduja is often spread on bread and served with cheese and can be made into lovely pasta dishes like this one! Varieties can vary depending on where it is from, some are a lot spicier than others.
⭐ Why you'll love this recipe
This nduja pasta is awesome and you need to make it for these reasons:
Easy - the recipe is very easy to follow, it's made up of two parts. A quick nduja pasta sauce and the roasted cauliflower. These are then tossed with pasta and voilá! It's that simple. Just be sure to follow the recipe/tips to ensure you get the most flavor out of it.
Delicious - nduja has a high fat content and we create a sauce by combining it with butter which gets speckled with capers, garlic and parmesan. It's full of flavor - you'll be licking your lips it's that good!
Romantic - whether you're single or in a relationship, there's just something romantic about a bowl of spicy pasta. You can easily enjoy this for a Valentine's/Galentine's meal.
Customizable - this pasta is easily customizable, allowing you to switch things up based on availability of ingredients.
🥘 Ingredients
You only need simple ingredients for this nduja pasta. Most are very easy to get hold of and although it has become a lot easier to get hold of nduja nowadays, you will likely need to go to a high end shop or buy online for this.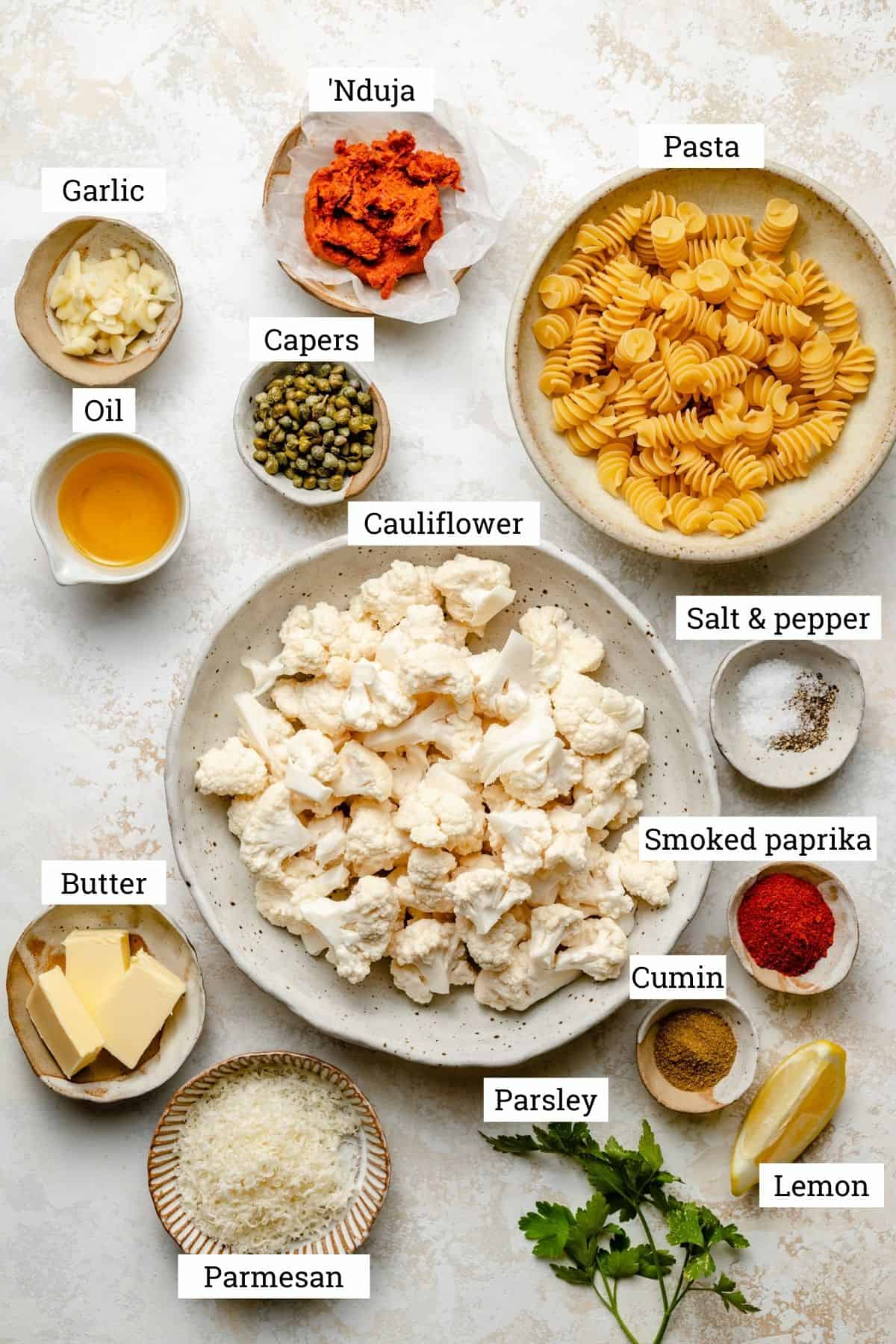 Cauliflower - this nduja pasta recipe uses a small head of cauliflower as the dish is designed for two people, but it is easily scaleable to make more. Cauliflower makes a great base to build flavor on and works perfectly with the nduja.
Spices - you'll need some ground smoked paprika and cumin for roasting the cauliflower; these spices add another level of depth to the dish.
Pasta - in the photos we have used spirallotti, but you can use whichever pasta you prefer. We have enjoyed this dish with bucatini also.
Nduja - finally, the most important and essential ingredient, nduja. You can easily buy nduja online. We like to get ours from a British producer. Whatever you get, just make sure it's nduja, the spicier the better in our opinion!
📋 How to make nduja pasta
Follow these simple steps to make this tasty and easy nduja pasta recipe: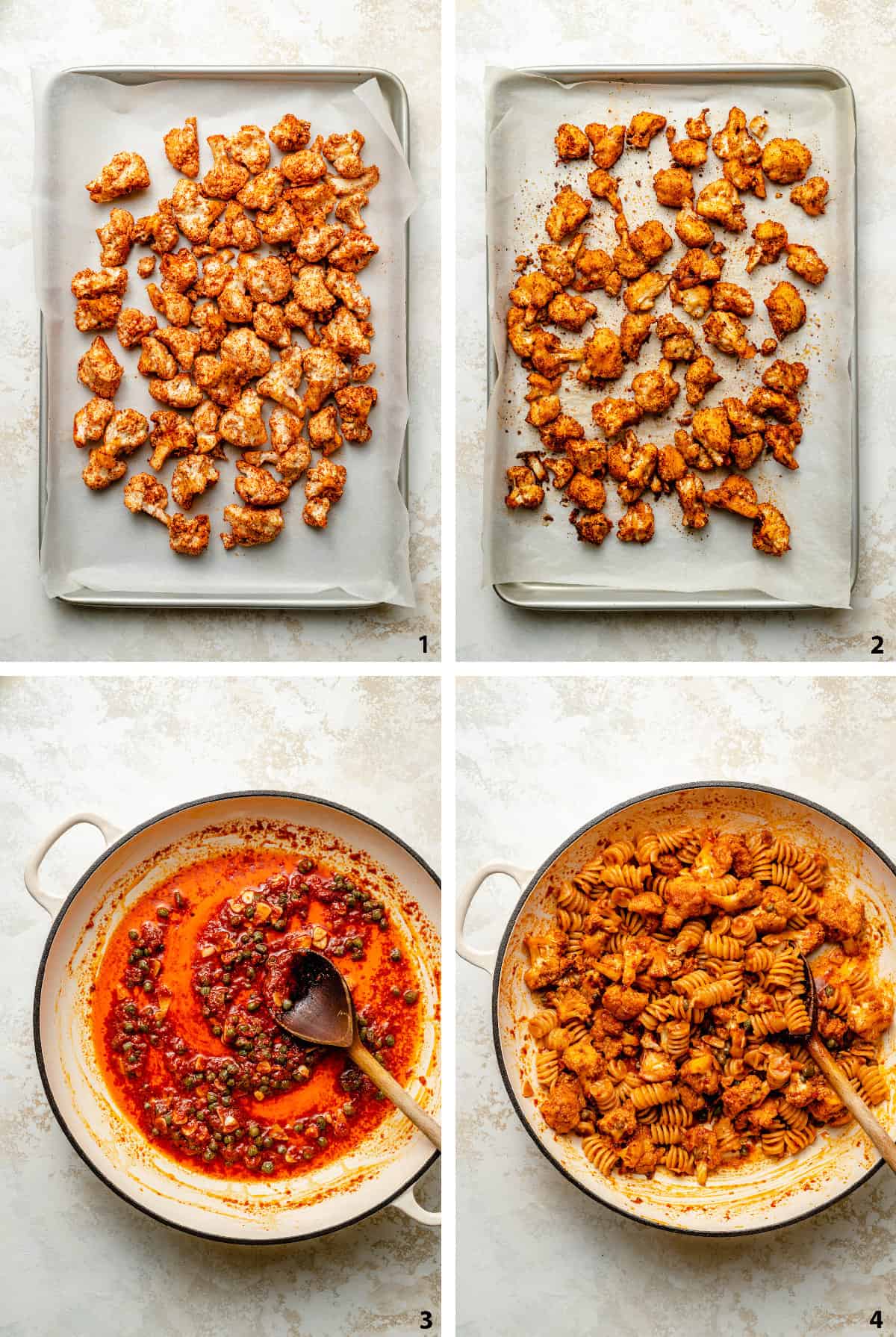 Toss small caulifower florets with the oil, smoked paprika, cumin, salt and pepper.
Roast the cauliflower on a parchment lined baking sheet at 200oC/400oF for 25-30 minutes until tender and lightly charred on the edges.
In a large skillet, warm the butter over a low heat. Add the sliced garlic and mini capers and cook gently for 1-2 minutes without browning the garlic. Add the nduja and grated parmesan and melt it into the sauce. At this stage you can add a couple of tablespoons of water to thin the sauce.
Add the cooked and drained pasta and roasted cauliflower into the sauce and toss together to coat everything evenly. Use ¼ -½ cup of reserved pasta cooking water to loosen the sauce and ensure a glossy pasta dish. Serve the nduja pasta immediately with any additional grated parmesan and finely chopped parsley if desired.
👩🏻‍🍳 Expert tips
Follow these expert tips to ensure the most flavorful nduja pasta you can get your hands on!
Seasoning - pasta absorbs a lot of flavor and it needs to be seasoned properly. This is done in layers: the sauce is seasoned, the pasta water is seasoned (flavoring the pasta itself) and the roasted cauliflower is seasoned too. It all comes together to make a very tasty pasta dish. There's nothing worse than a bland and boring pasta dish!
Make ahead - for this nduja pasta recipe you can actually make part of it ahead of time. You can roast the cauliflower and store it in the fridge in an air tight container for a day or two ready for you to stir into your pasta dish if you want to make it even quicker.
Pasta doneness - be sure to cook your pasta 'al dente', meaning 'to the tooth' as it needs to have some bite to it. It will continue cooking in the finishing of the sauce and when tossing it all together.
🔪 Customizations
Some suggestions to get you inspired when customizing this nduja pasta recipe:
Sauce mix-ins - you can change these up if you wish. We would always keep the garlic in but you could use roughly chopped green olives or the large caper berries instead of the mini capers.
Cheese - if you don't have parmesan you can use pecorino, or even just some finely grated cheddar, just be aware of how each cheese varies in saltiness and flavor.
Pasta - nduja is eaten most often with short pasta like spirelli, penne or fusilli. Traditionally, it is eaten with Fileja pasta in Calabria, a durum wheat pasta wrapped around a thin rod making a rolled tube when removed. Use what you enjoy or have available. We've also used gemelli pasta like in this lemon zucchini pasta.
💭 Recipe FAQs
How to season pasta water
We recommend using about 1 ½ to 2 tablespoons of kosher salt to every 16 cups of water (approximately 4 litres/quarts). This may seem like a lot, but remember you are not eating the water. The pasta is only in there for a short period of time and this seasons the pasta whilst it cooks.
How to store nduja pasta

Once prepared, this pasta will store well in an air tight container in the fridge for up to 3 days. It can be eaten cold for lunch or reheated.
How to reheat it

We recommend reheating in a microwave safe container until piping hot. You can heat it up in a saucepan if you like, though the cauliflower/pasta might break up in doing so.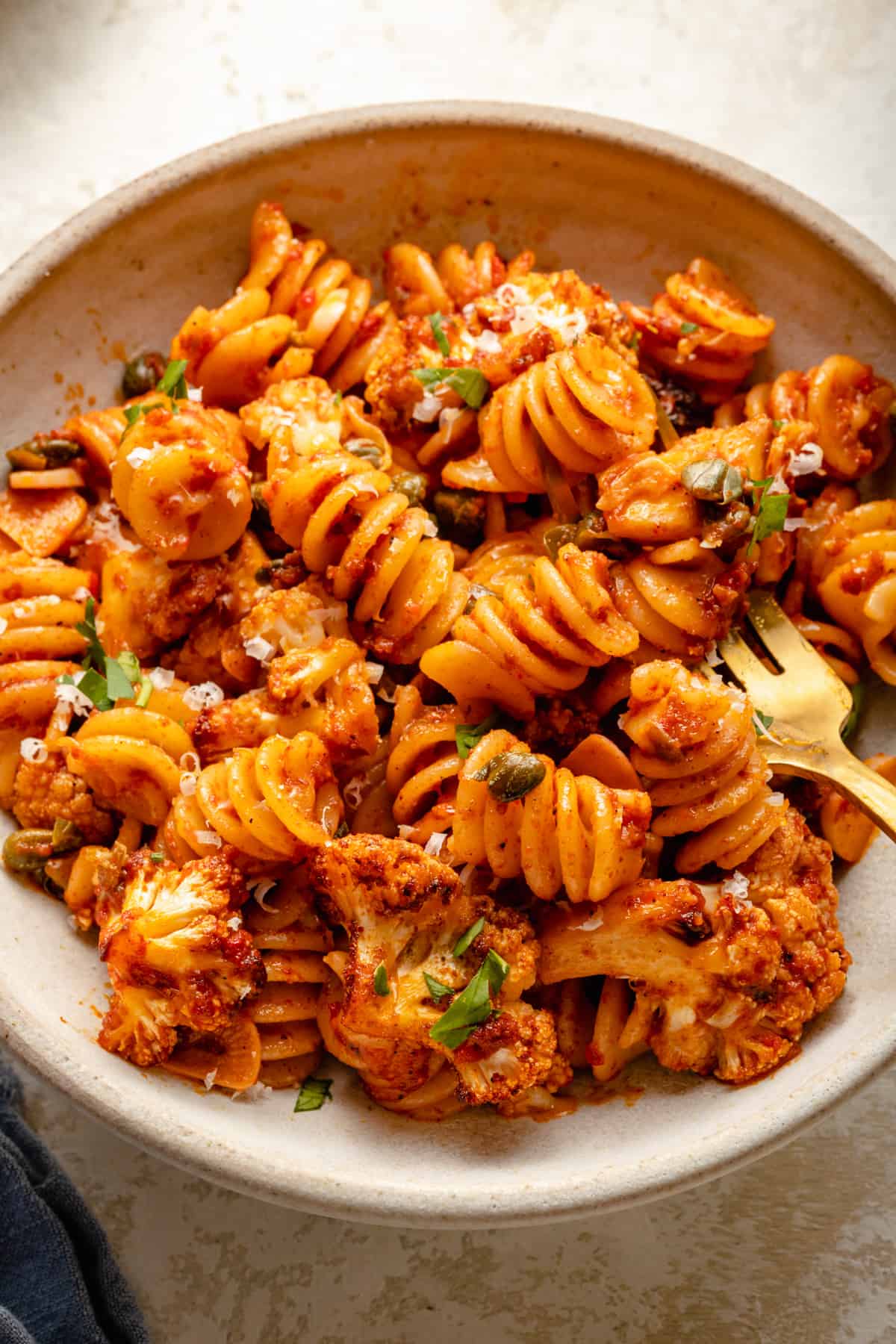 🍝 More tasty recipes
Love this easy to make nduja pasta recipe? Then you may want more of our simple dinner recipes. Here are some suggestions to get you started:
Love this recipe? Leave us a 5-star ⭐️⭐️⭐️⭐️⭐️ rating in the recipe below and don't forget to leave a review in the comments section underneath the recipe. We love hearing from you!
Why not follow along with us on our social media channels @Instagram @Facebook and @Pinterest and tag us with #eatloveeats when you've tried one of our recipes!
📖 Recipe
Nduja Pasta with Roasted Cauliflower
This bowl of Calabrian nduja pasta with caulifower is super flavorful and really easy to throw together. All you could want in a mid week meal.
Print Recipe
Pin Recipe
⭐️ Rate Recipe
Ingredients
3-4

cups

cauliflower cut into small florets

,

1 small head, 400g florets

2

teaspoons

smoked paprika

1

teaspoon

ground cumin

½

teaspoon

kosher salt

¼

teaspoon

freshly ground black pepper

2

tablespoons

rapeseed or olive oil

6

ounces

spiralotti pasta (or your favorite)

2

tablespoons

lightly salted butter

2

tablespoons

mini capers

3-4

cloves

garlic

,

finely sliced

3-4

tablespoons

nduja

½

cup

parmesan

,

finely grated, plus more to serve

a squeeze of lemon juice

finely chopped parsley to garnish
Instructions
Preheat the oven to 200°C/400°F. Chop the cauliflower into small florets. Toss with the smoked paprika, cumin, salt and pepper and the oil until evenly coated. Spread out on a baking sheet in a single layer. Bake for 25-30 minutes or until tender and lightly charred at the edges.

3-4 cups cauliflower cut into small florets,

2 teaspoons smoked paprika,

1 teaspoon ground cumin,

½ teaspoon kosher salt,

2 tablespoons rapeseed or olive oil,

¼ teaspoon freshly ground black pepper

Cook the pasta according to the package instructions. Reserve some of the pasta cooking water before draining.

6 ounces spiralotti pasta (or your favorite)

In a large pan, warm the butter over a low heat. Add the garlic and capers and cook gently without letting the garlic brown. Stir in 3-4 tablespoons of 'nduja (depending on how much heat you can tolerate) along with the parmesan and a squeeze of lemon juice.

2 tablespoons lightly salted butter,

2 tablespoons mini capers,

3-4 cloves garlic,

3-4 tablespoons nduja,

a squeeze of lemon juice

Tip the drained pasta and the roasted cauliflower into the sauce and toss to distribute everything evenly. Add some of the reserved pasta cooking water to thin out the sauce if needed. Season to taste and serve topped with a little more grated parmesan cheese and some fresh chopped parsley.

½ cup parmesan,

finely chopped parsley to garnish
Notes
Be sure to season your pasta water properly to get the best flavors. Cook it to al dente, with some bite. 
You can use a milder nduja if you can find one, (nduja dolce) or use slightly less of the spicy stuff to temper the heat.
Store leftover pasta in the fridge for up to 3 days in an air tight container, reheat in the microwave or eat cold.
Nutrition
Calories:
782
kcal
|
Carbohydrates:
72.1
g
|
Protein:
20.7
g
|
Fat:
46.7
g
|
Saturated Fat:
18
g
|
Polyunsaturated Fat:
2.8
g
|
Monounsaturated Fat:
15
g
|
Cholesterol:
41.3
mg
|
Sodium:
1743.3
mg
|
Potassium:
685.1
mg
|
Fiber:
6.4
g
|
Sugar:
5.8
g
|
Vitamin A:
188.9
IU
|
Vitamin C:
65.9
mg
|
Calcium:
232.4
mg
|
Iron:
4.7
mg
Did you make this recipe?
Leave a comment below with how you got on and don't forget to give the recipe a rating ⭐️⭐️⭐️⭐️⭐️. You can also tag @eatloveeats on Instagram - we love to see your creations!