Let me tell you, this Cajun Salmon Slider Salad with Habanero Lime Dressing is an absolute flavour bomb of a bowlful. And quite a mouthful too! Sometimes there's just no other option but to say it like it is - and there is no cute, clever, shorthand way of describing this salad. It is what it is and trust me, you don't need it to change. Plus, I just like saying 'slider salad'.
If you're like me and you have very little time for bland and boring food (I mean, why waste a good meal?) then you need this salad. Like, yesterday. These little sliders pack a real flavour punch and when coupled with the creamy, spicy dressing - well, there are no words. My husband took one bite of this and could barely speak. Amazing, he called it, when he could finally utter a word. And hey, I agree with him!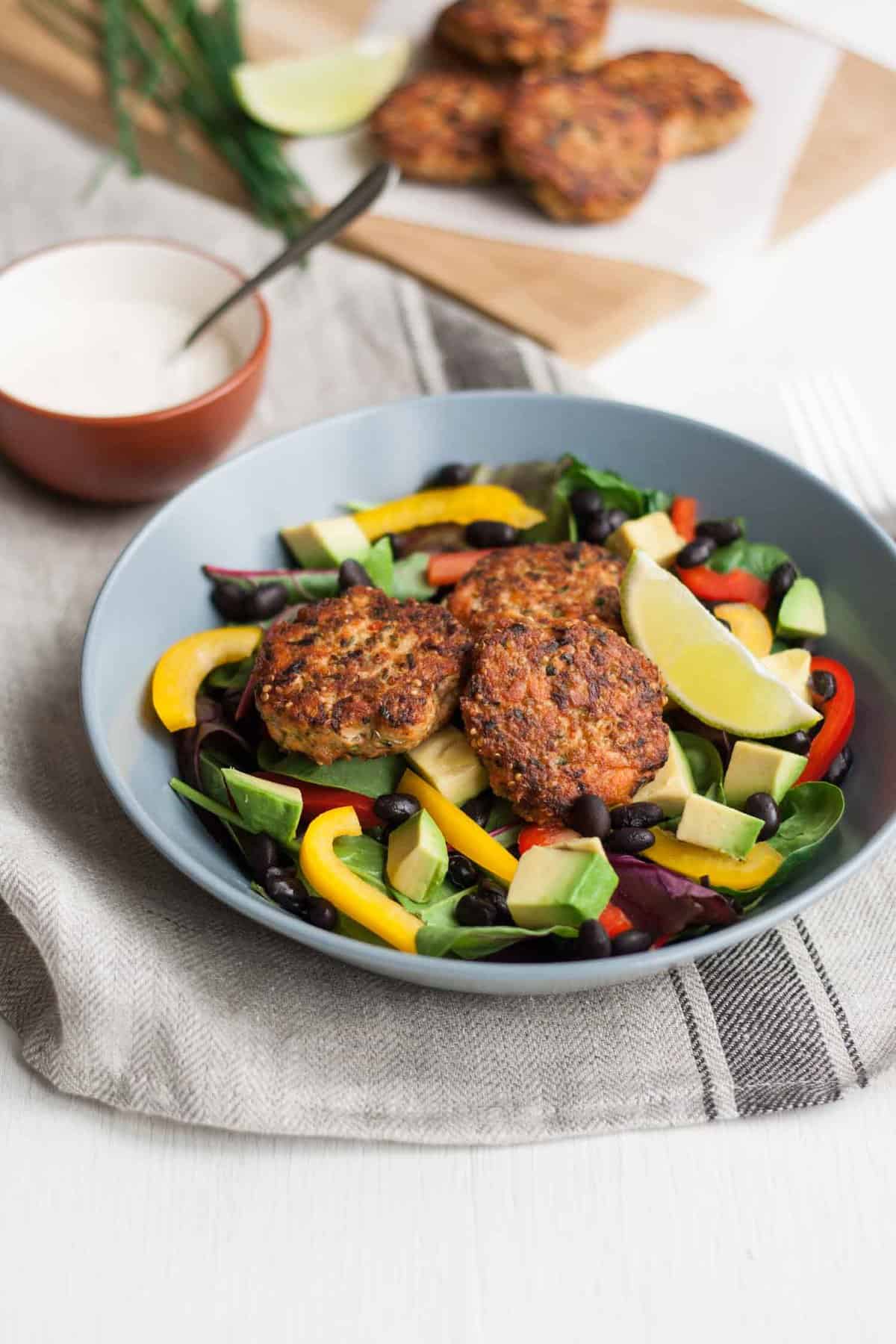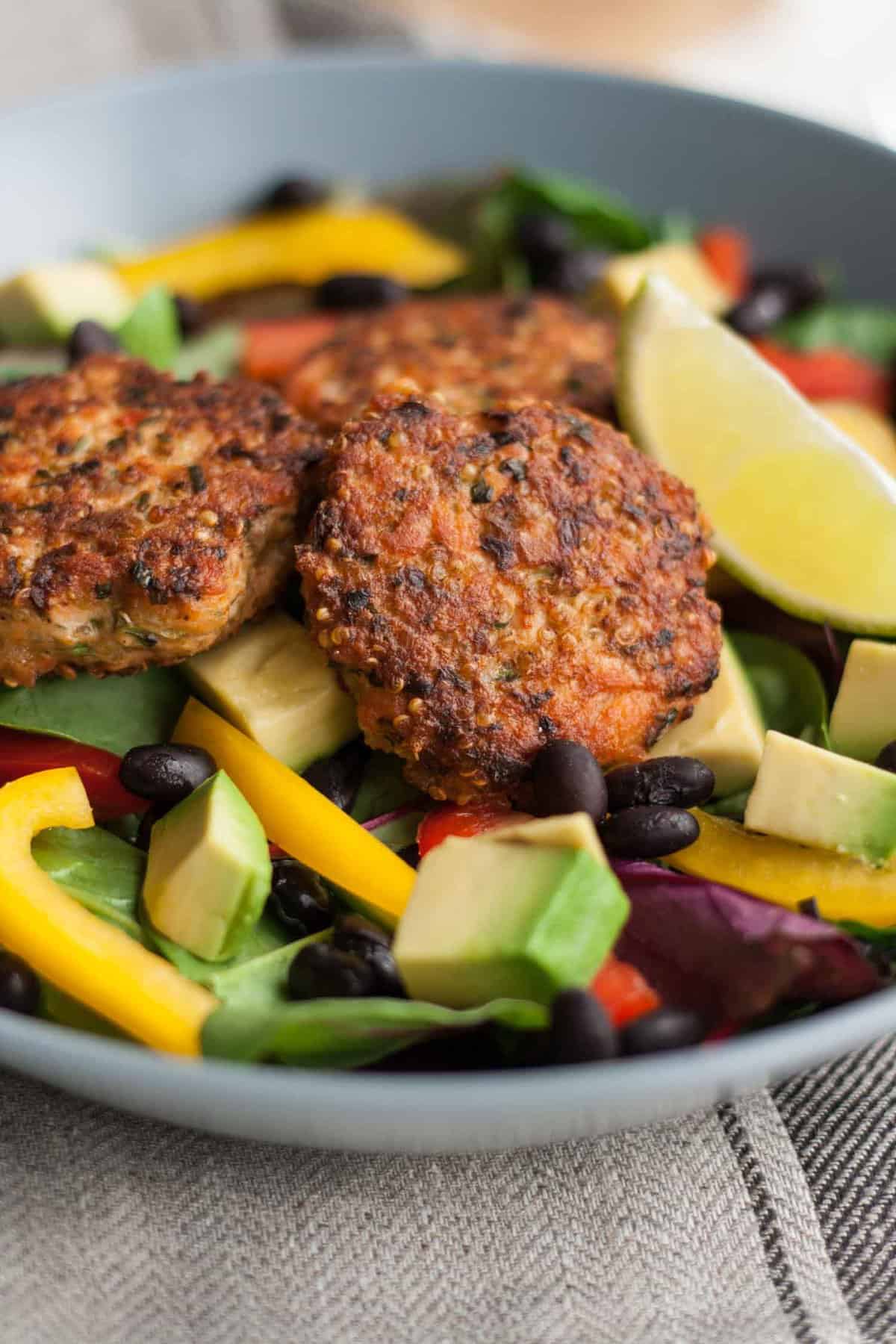 I don't know about you, but every day I try my best to eat a little more healthily. 'Eating healthily' is a contentious term for me, and in the world generally, I believe, but let's go with it. I trust that you know what I mean. At the end of a long day at work, despite the best of intentions, who really wants to eat a salad? Does anybody? Or is it just me who craves pizza, or other carb-y things after a tough day? Surely not! Come on, hands up.
No, I wake in the morning feeling ready for the day, drink up my smoothie (or spoon it from a bowl), eat a light salad or soup for lunch at work and then head home thinking of that delicious veggie bowl I planned to have for dinner. And then boom - I step foot in the door and I want pizza. It's like all of the stresses of the day come at me all at once and tell me that the one thing that's going to make me feel better is pizza. We all know in our hearts that that notion is wrong, but it's a compelling one. It doesn't always win, but sometimes it does. And I think we all know which outcome feels better, right? I think we all know deep down that's it's not really pizza we need, don't we?
So what is my point here, you ask? Well, this Cajun Salmon Slider Salad is pizza's nemesis, that's my point. When it is around, pizza doesn't even get a look in. And I know there must be plenty of you out there who get just how much of a big deal that is. (And I hope it goes without saying that I believe there is a time and a place for pizza, especially homemade ones, and just because I use pizza as an example, I could be talking about any number of foods).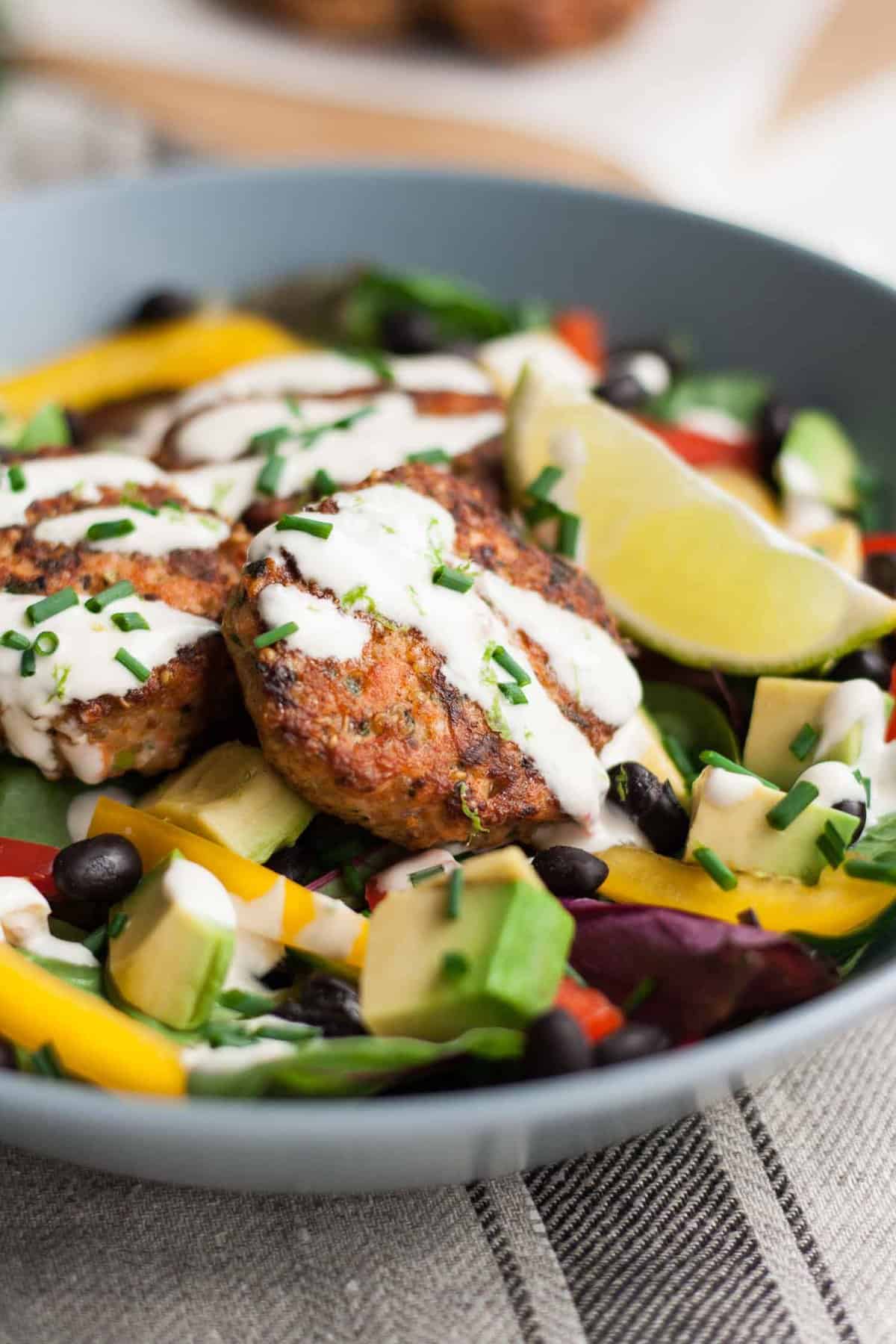 So. This Cajun Salmon Slider Salad is:
packed full of spicy, awesome flavour
a nutritious protein loaded bomb - from salmon, quinoa AND black beans
fresh and healthy tasting with buttery avo, crunchy peppers and tender leafy greens
taken over the top with a fiery yet creamy habanero lime dressing.
Put simply, this salad is life when you need it the most. It's restorative. It's real food. And that's what we're all about around here. Enjoy!