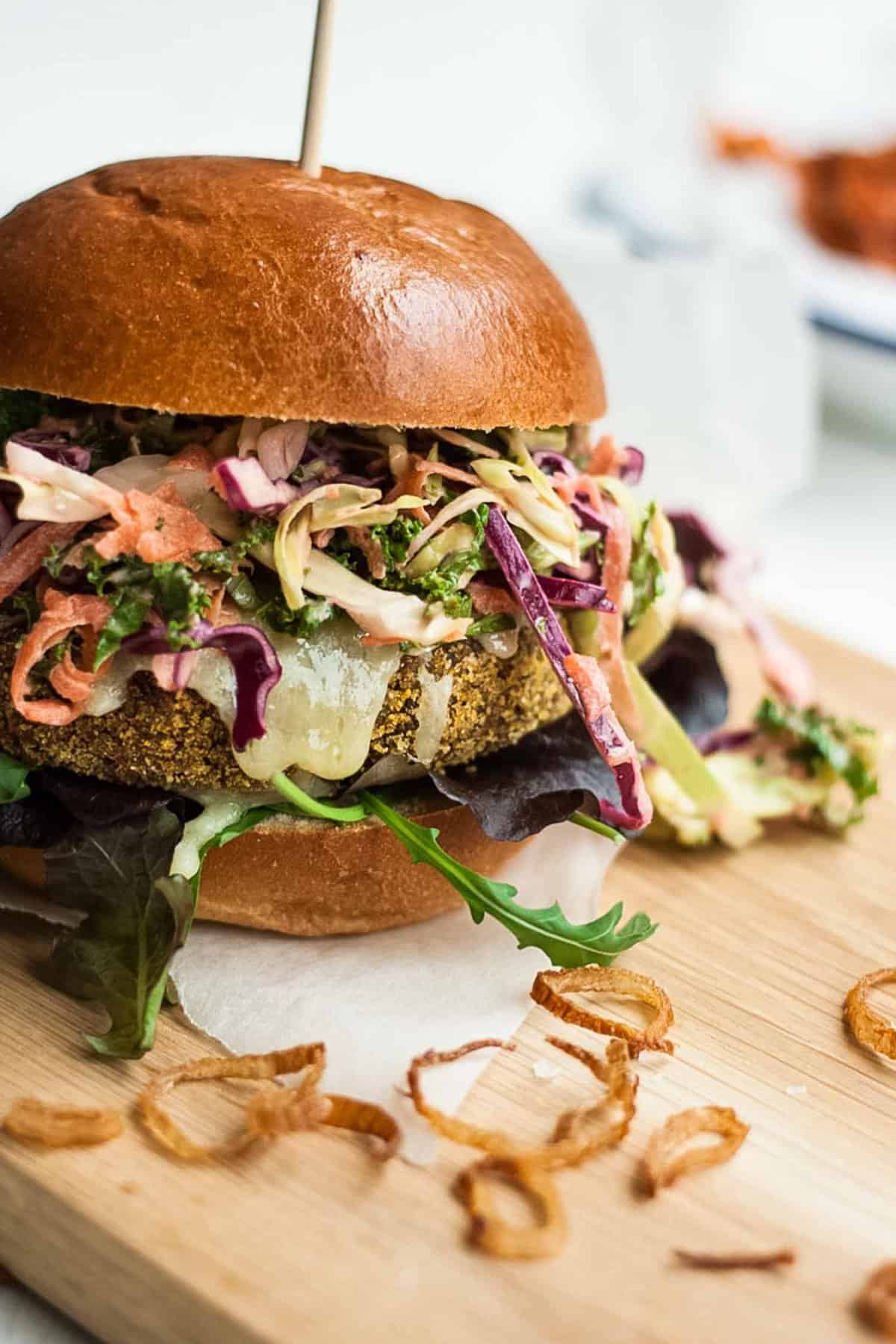 Oh, I do like a burger. Is a burger the epitome of comfort food? Ahh I don't know - there are so many competitors for that title! Burgers, pizza, pie...all the carby 'unhealthy' stuff. It's all so good. I'm a keen believer in the 'everything in moderation' school of thought, but I'll admit to feeling pretty smug when I can put comfort food that also happens to be nutritious on the table. The best of both worlds!
Eating well is important to me - both in terms of nutrition and in feeling that I've eaten a good, satisfying meal. Achieving both of those things at once is especially important in winter, when eating a cold, raw salad just won't cut it. I will tolerate a cold smoothie for breakfast and possibly a salad for lunch, but my evening meal must be warm and cosy.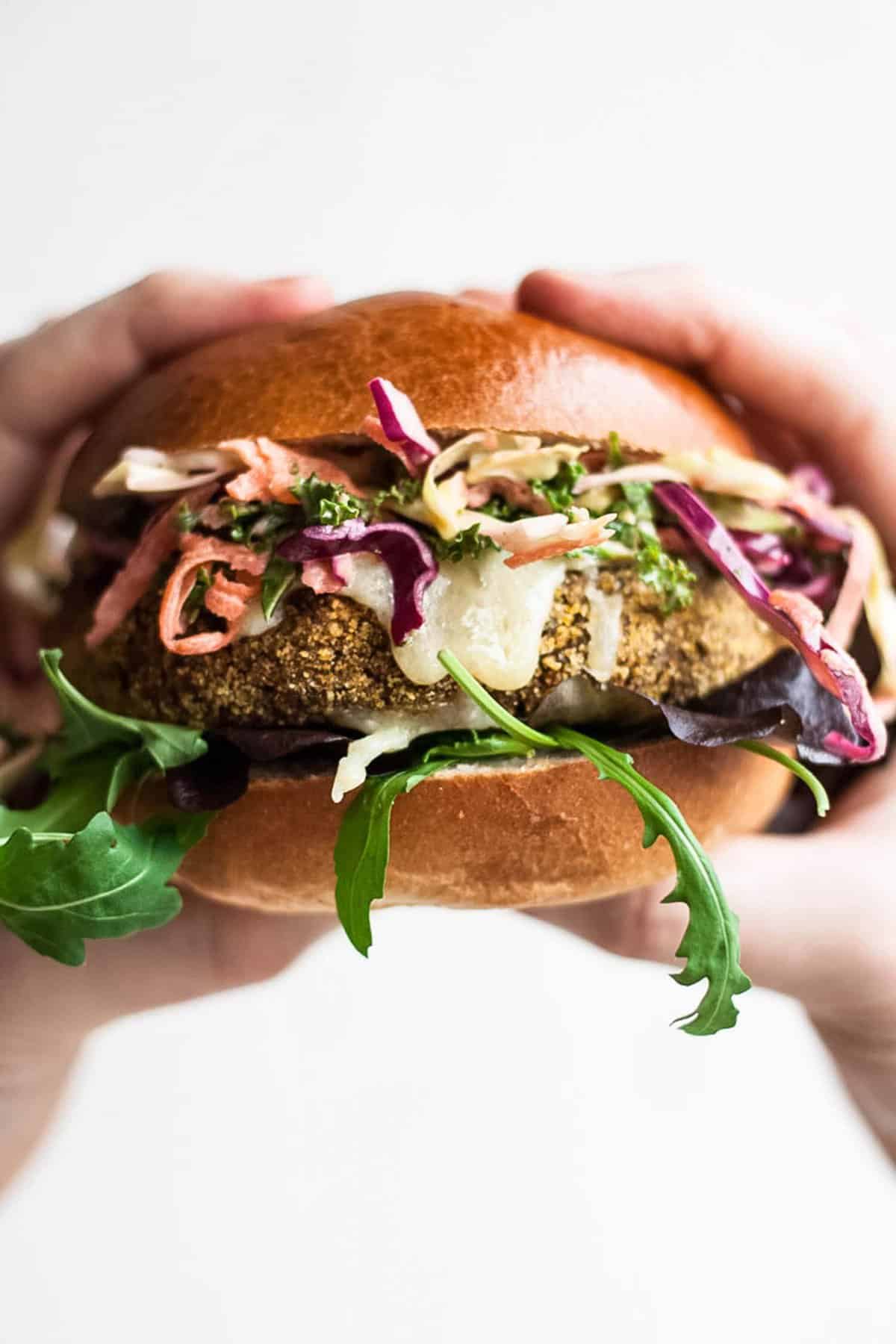 This veggie burger with chipotle kale coleslaw is every bit as comforting and satisfying as a regular burger - trust me, when I come home from work and want nothing more than to curl up on the sofa, watch TV and refuel, this does the job.
Side note: I got so excited yesterday when Netflix emailed me to tell me that House of Cards is back on again...eep! I have a feeling that this season is going to be messy. What with that and The Good Wife AND Better Call Saul all being back on - I'm gonna need a lot of burgers to power through it all. And probably a whole other day in the week...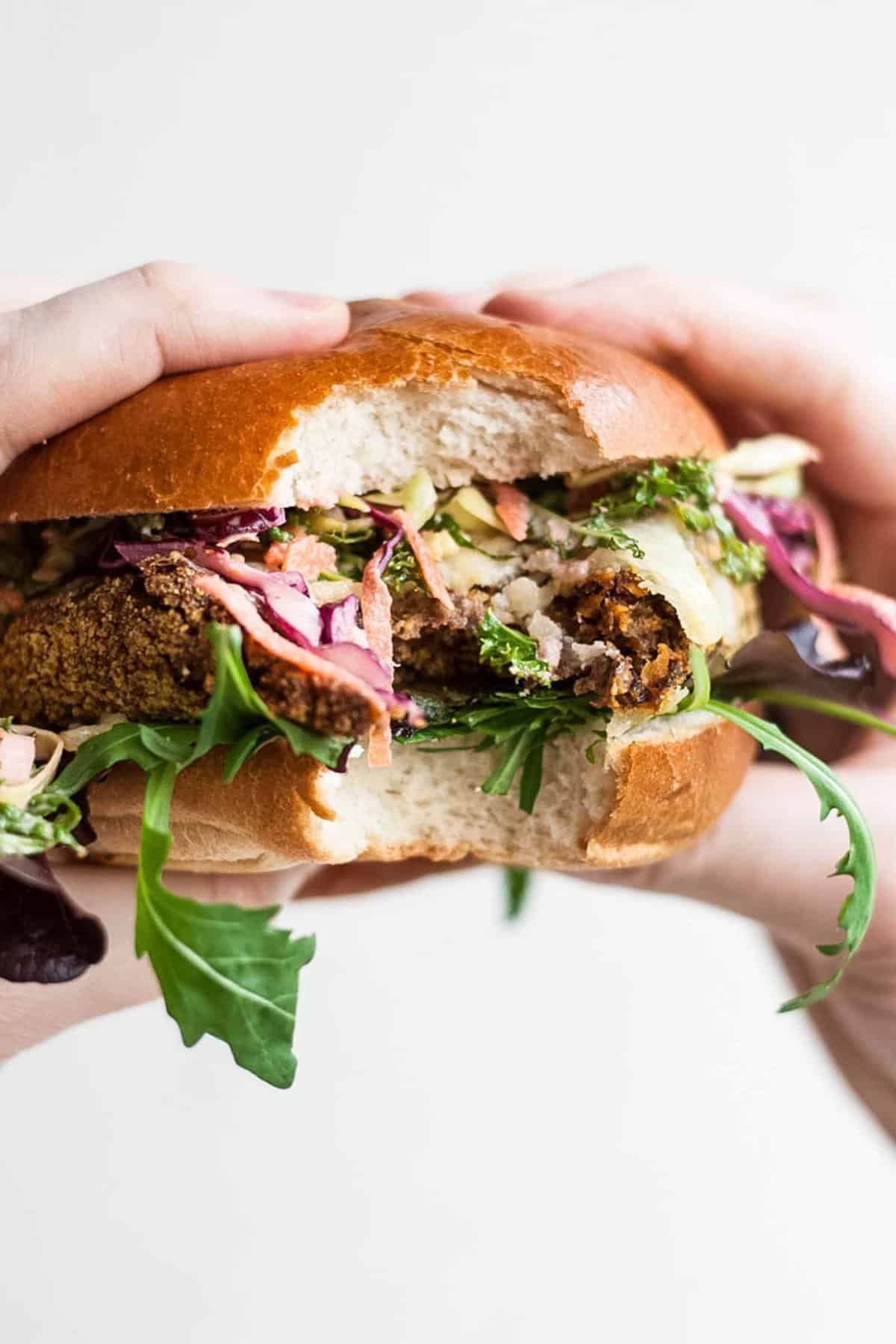 But I digress. This veggie burger is packed full of goodness. The burger itself was inspired by this falafel recipe from A Couple Cooks. I have made that recipe so many times I know it by heart and like most cooks, have a natural tendency to tinker with recipes. So whenever I make veggie burgers, I have that recipe in the back of my mind as a framework - they're always a little bit different, but this one came out especially well in terms of texture. These burgers are full of good stuff - beans, nuts and seeds, sweet potato and greens.
They're then stuffed inside a buttery brioche burger bun (you've got to have some carbs!) topped with melted cheese and a huge dollop of chipotle kale coleslaw. Oh that slaw. I'm an absolute coleslaw fiend. I love the stuff so much I could just eat a huge bowlful of it at once. This one has the peppy, smoky heat of chipotle and lots of tang from lime juice and apple cider vinegar. It's pretty addictive.
Another sidenote: about a year ago came the most terrible news for my Mexican food loving heart. Due to some EU regulations regarding too high levels of some chemical I can't remember the name of, the import of real deal chipotle chillies was banned. As in, they were actually destroying the precious pods as they entered the EU. As someone who bulk buys chipotles to make my own chipotles en adobo, this was BAD. So for the past year I've been rationing supplies, looking mournfully at my dwindling supply every time I open the fridge. Until just a few days ago, when I got the email from the chilli supplier announcing that they had begun producing bona fide chipotles smoked over authentic pecan wood right here in Europe! I contained my excitement I promise, I didn't squeal at. all. *coughs* They're not available yet, but when they are later this month, you can bet I'll be buying a few kilos just in case they take them away again!
Anyway. To the recipe! Don't be alarmed by the long list of ingredients - the recipe itself is actually super simple.