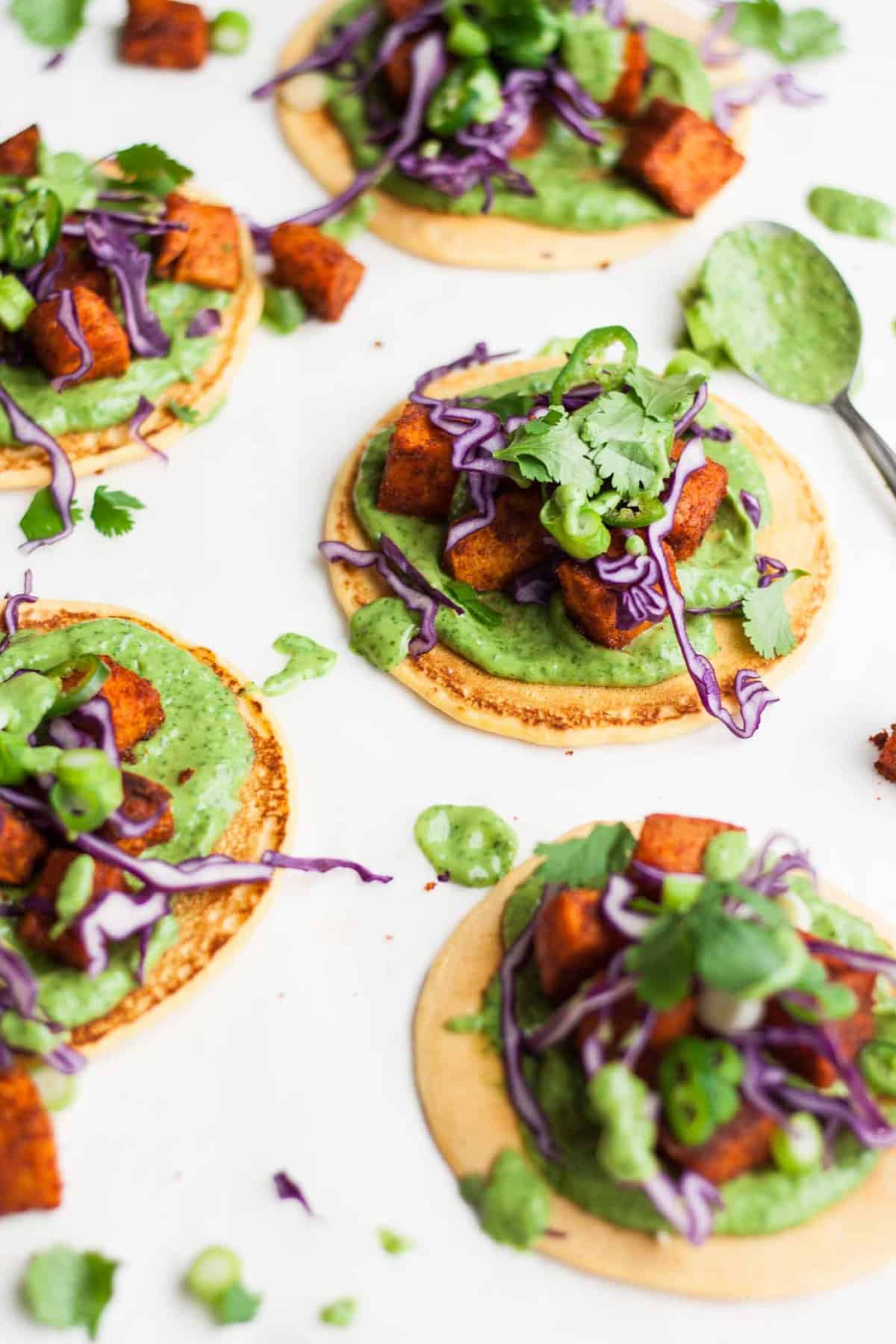 These are pizzas in the loosest possible sense of the word. But hey, they're little bases with toppings on, so I'm gonna run with it. Tandoori Sweet Potato Socca Pizzas. It works for me. And what is socca, I hear you ask. Socca is a flatbread made from chickpea (gram) flour, traditionally eaten in places like the south of France. In recent times it's become one of the trendy new things to eat and I had an urge to try it, even if I'm probably waaaay behind the times. If you've ever eaten an onion bhaji before, you'll know that anything made with chickpea flour has got to be good.
The result was a surprisingly flavoursome little flatbread. It's fairly dense, but in a good way. These hearty little socca rounds are the perfect vehicle for some delicious toppings, creating a light yet substantial lunch dish. These would even be good to serve at a gathering as the recipe is easily multiplied and the components can all be made ahead and assembled when needed. They also happen to be completely vegan and gluten free - bonus!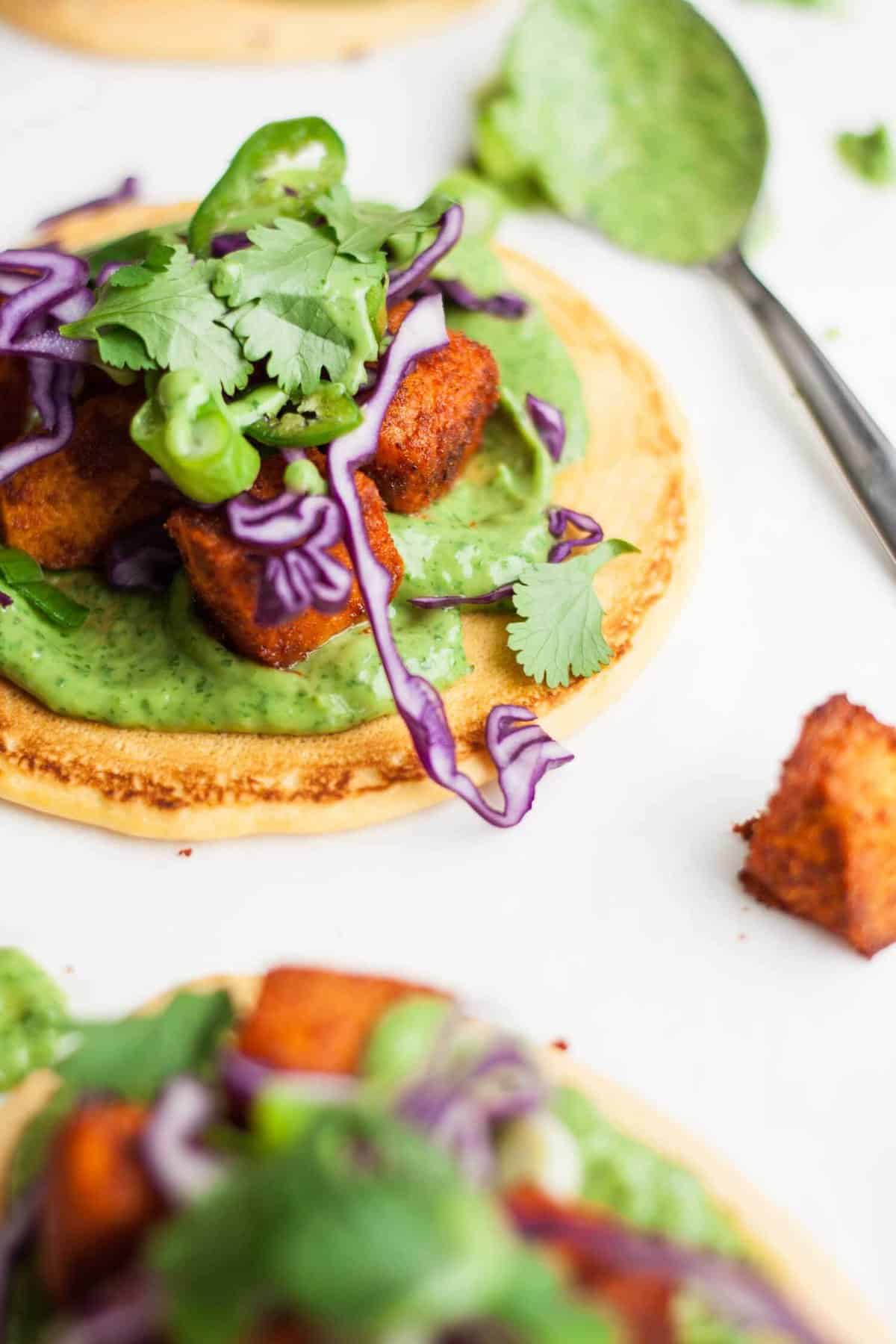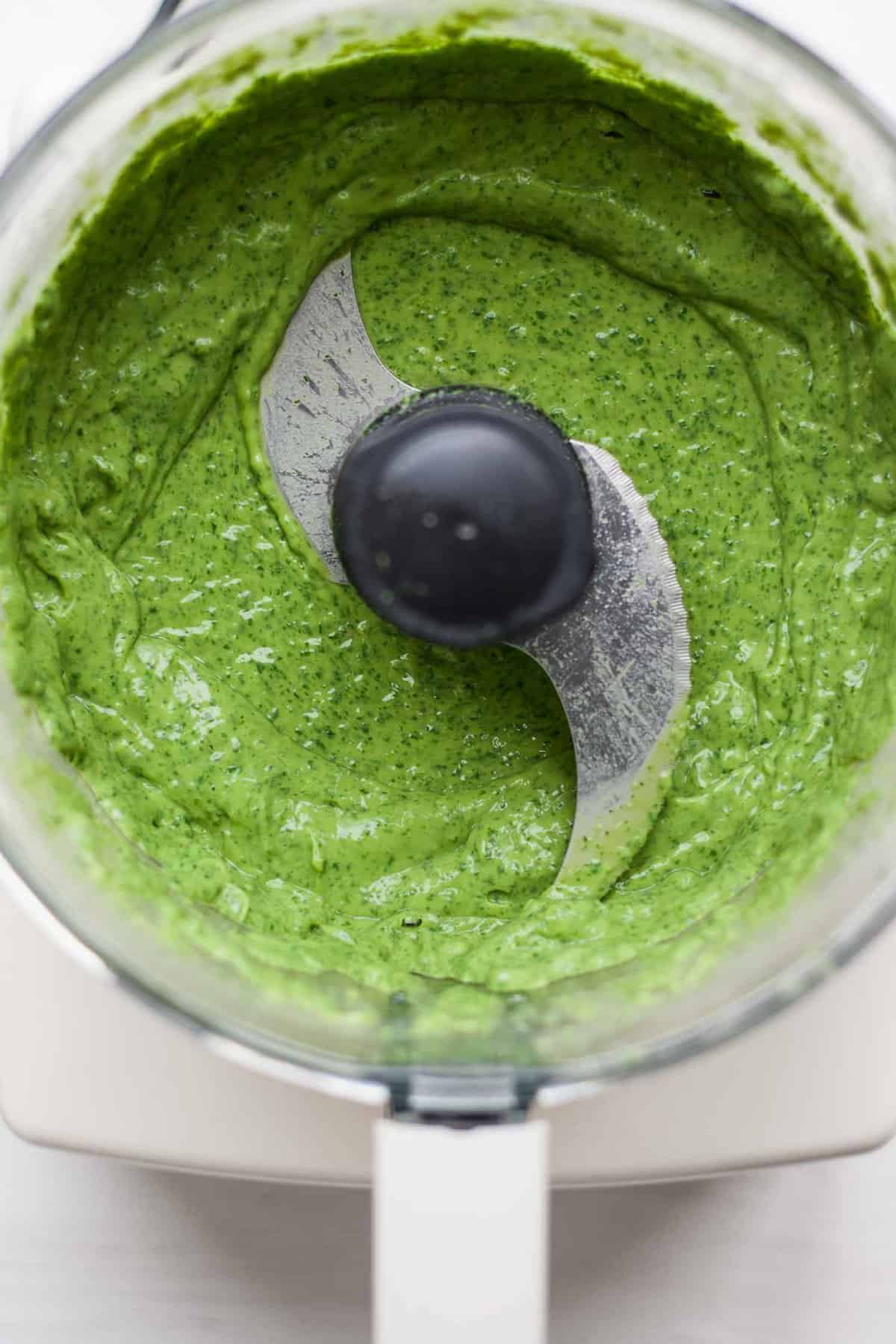 Let's talk about the sauce!
I used to be a major coriander hater, which I now realise is a pretty common stance. My parents used to cover their curries with the stuff and it used to make me gag. Intensely grassy and kinda soapy, that was not something I wanted spoiling my portion of curry. But now? I love the stuff! My palate really has changed hugely over the years, a fact for which I'm grateful. More delicious food for me! (But please, continue to keep the mouldy, stinky cheeses well away from me, thanks.)
I wanted the sauce for these to be cool and gentle, no garlic breath or chilli fire, just placid avocado, a touch of onion flavour and our friend, coriander, all balanced out with a little lemon juice and apple cider vinegar. The idea being that the toppings could then be a little more peppy and all the flavours would combine to make a flavour bomb in your mouth. It worked! You could use a different herb, such as parsley, if you're averse to coriander but I urge you to give it a try! I promise it doesn't taste like soap.
On top there are sweet potato cubes, very simply roasted with a coating of tandoori seasoning and an extra hit of chilli if you like it spicy, followed by crunchy red cabbage, a sprinkling of finely sliced spring onions and addictive pops of intense green chilli heat - don't skip the chillies! Jalapeños would be perfect here. In fact you could use pickled jalapeños too if you wanted to. That would be incredible. Go and make these now and see for yourself!