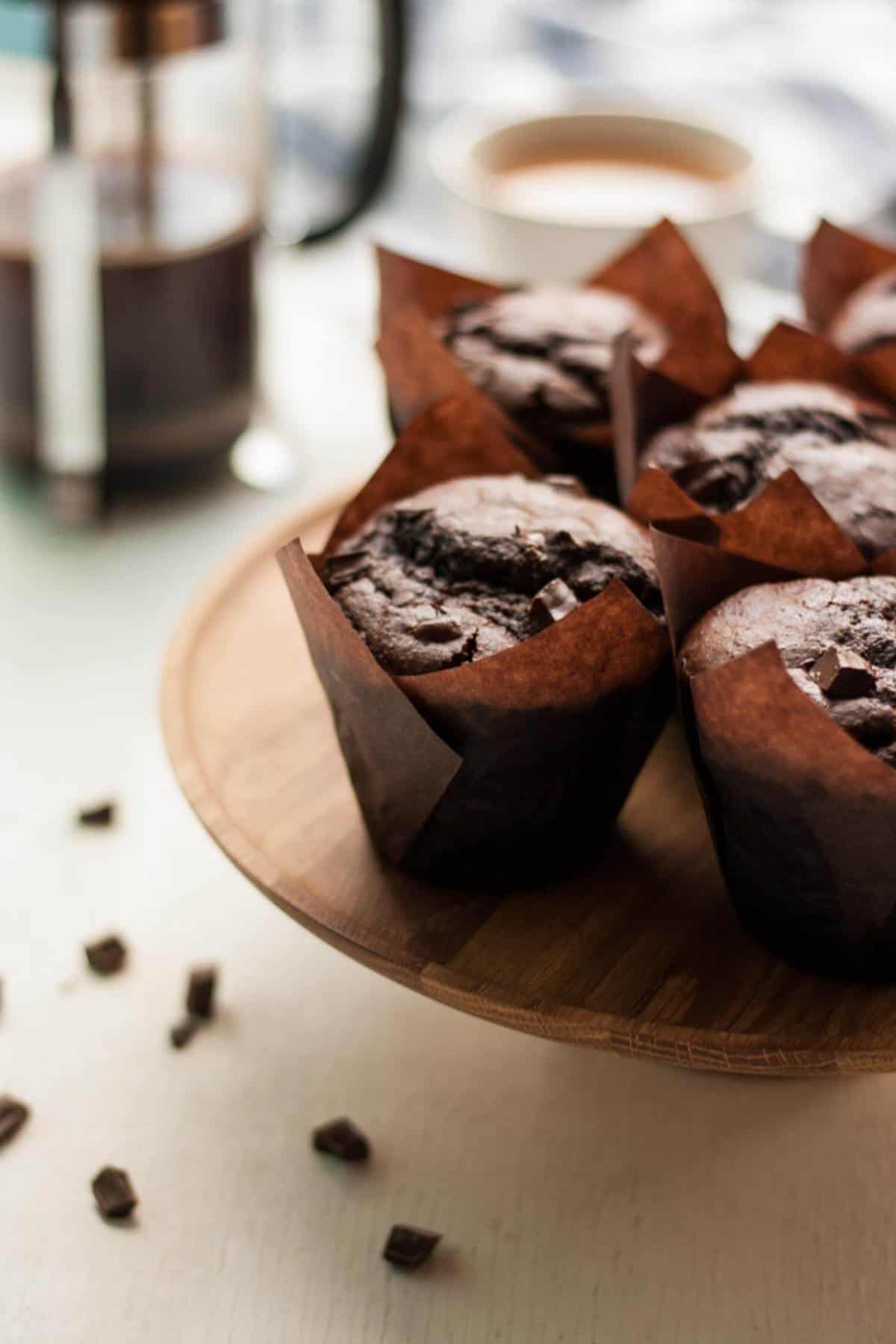 I think a sweet recipe was long overdue round here. Don't assume that the relative absence of dessert recipes on this blog is a sign that I'm not fond of sweet things - you'd be very much mistaken. It's just that I live in a house with one other person and I really can't bear to throw food away (and nor should I!). And I really do like sweet things so if they are lying around the house, I will eat them. But! Life needs balance and so does this blog.
My husband suggested that I should make a muffin recipe using sweet potatoes. Three attempts later, this double chocolate sweet potato muffin recipe was born! Of course, with the mass amounts of chocolate I managed to squeeze into these muffins, you can't really taste the sweet potato. But it lends a subtle sweetness and results in a seriously moist muffin. Especially when they first come out of the oven and you eat them whilst they're still warm and there are rivers of melted chocolate inside. Oh yes, these are good!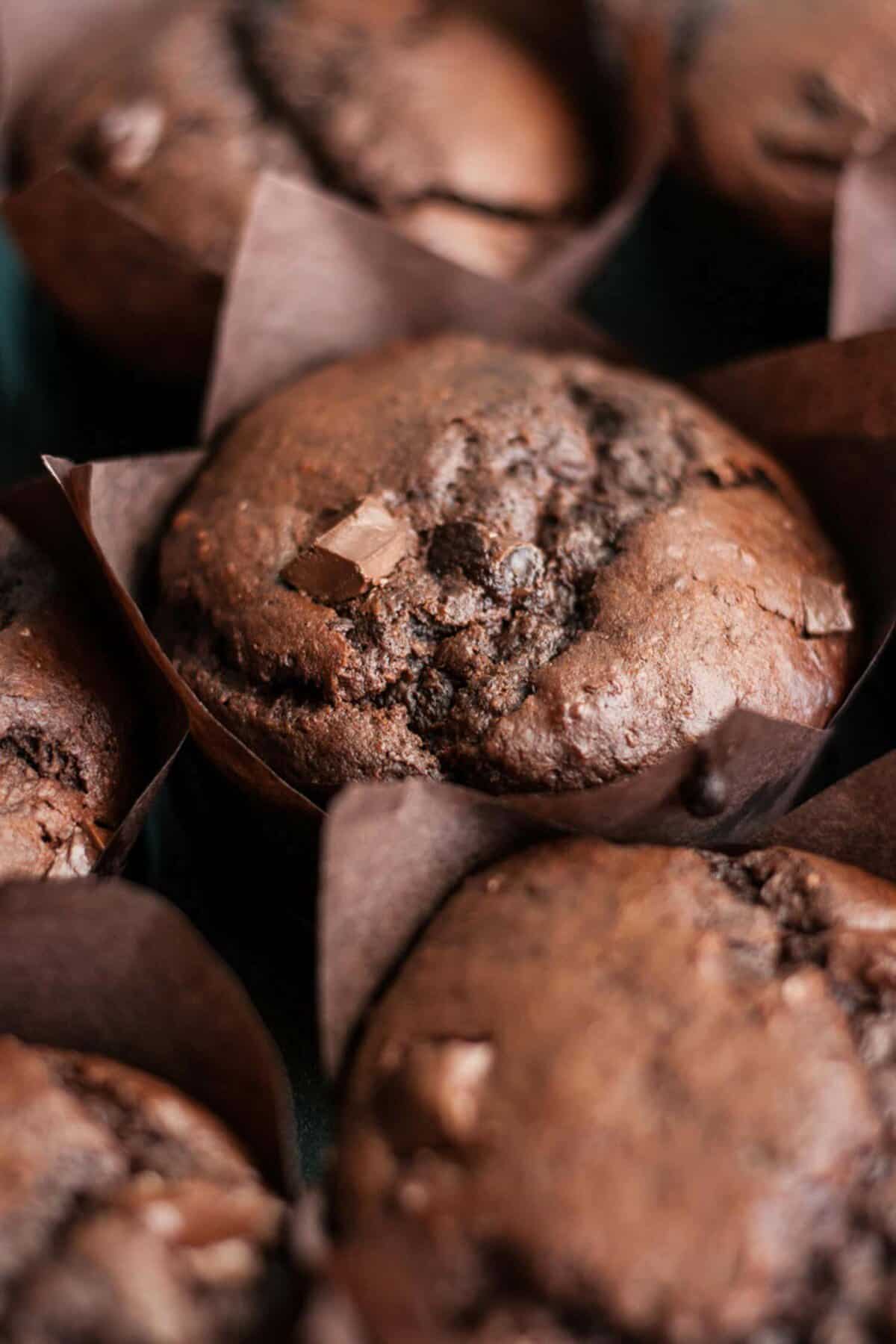 You know when you go to coffee shops and they have those huge muffins in tulip cases with the puffy tops? These are like that! I have never managed to make them like that until now. I mean, I wouldn't exactly recommend that you make your muffins that size, but I'm not going to dissuade you either... But those muffins in the picture? They were some big muffins.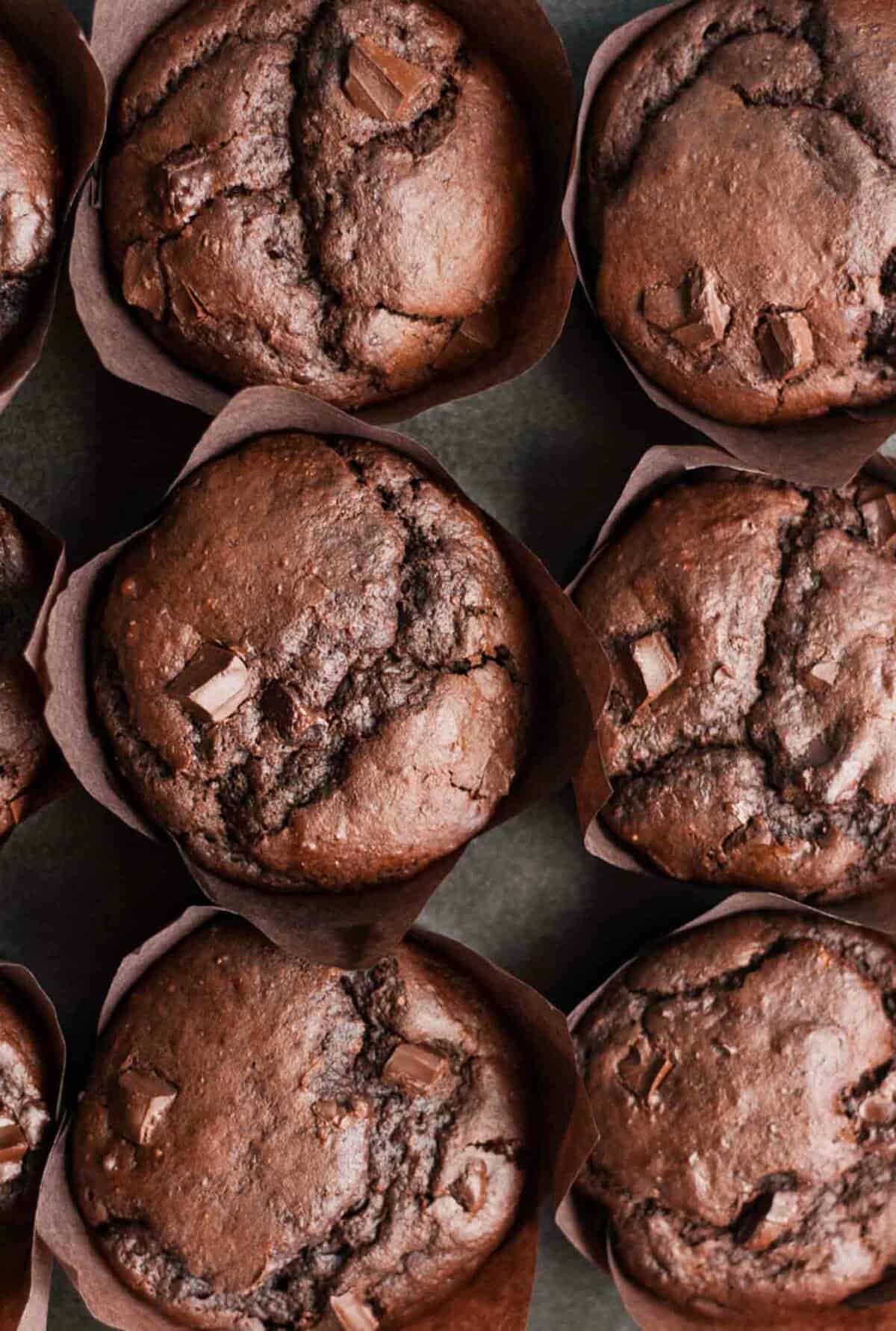 My husband took some to work with him (an effective way of getting the sweet stuff out of the house) and his colleagues LOVED them. They found that they weren't too sweet (but they're not bitter either, don't worry) and one of his colleagues couldn't wait to get home to eat hers and so she got crumbs all over her car - that's pretty dedicated! Is there anything worse than cleaning out the inside of your car? Or, in fact, just cleaning in general? Especially cleaning the kitchen after a spirited day of recipe testing...
Anyway, let's just say that these double chocolate sweet potato muffins have been rigorously tested. And they are super awesome and you should pick up the ingredients for them on your way home from work/school/wherever or hey, make a special trip solely for that purpose. Just do it!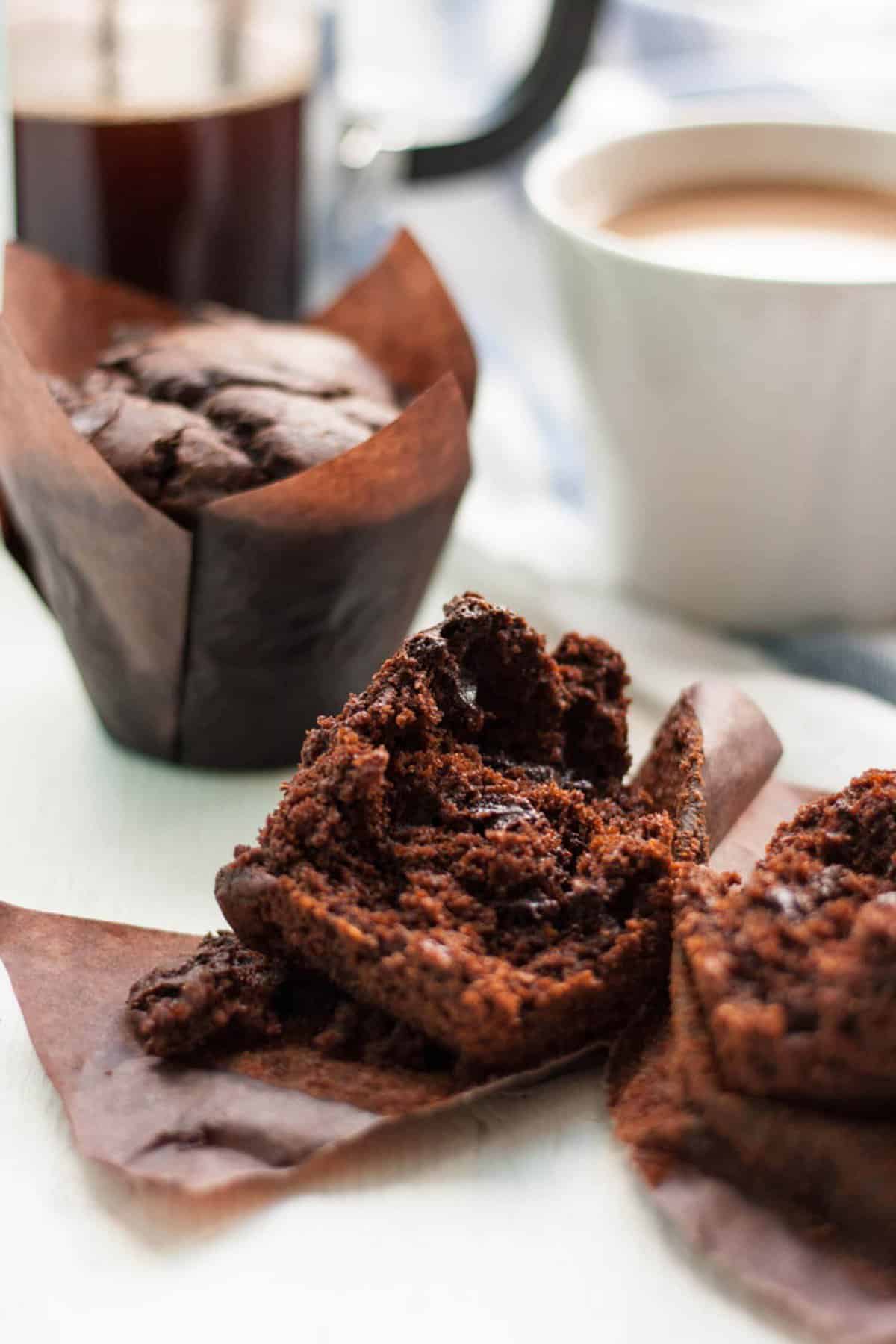 There really are lots of reasons why you should make these double chocolate sweet potato muffins. They are:
super chocolatey
gooey and moist
seriously decadent, and yet
almost healthy?
Almost. I mean come on, they have a vegetable in them! And spelt flour. And way less sugar than lots of traditional muffin recipes. If you're going to have something sweet, they might as well be these, right? And of course there are no excuses NOT to make them either - these are so easy to make. Bake a sweet potato whilst you have the oven on for dinner and then you're only a few short steps away from amazing dessert territory. You don't even need any special equipment, how's about that?
More muffin recipes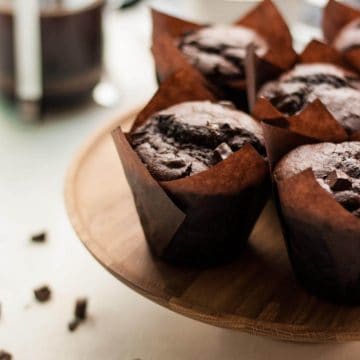 Ingredients
150

g

dark chocolate,

(5 ounces) 70% cocoa solids

75

g

butter

,

(5 tablespoons)

250

g

baked sweet potato

,

(1 cup) mashed

2

large eggs

250

ml

milk

,

(1 cup)

150

g

soft light brown sugar,

(1 cup)

½

teaspoon

vanilla extract

pinch of salt

110

g

spelt flour,

(1 scant cup)

110

g

plain flour,

(1 scant cup)

30

g

cocoa powder,

(4 tablespoons)

1

tablespoon

baking powder

1

teaspoon

bicarbonate of soda

,

(baking soda)

150

g

dark chocolate chunks

,

(5 ounces)
Instructions
Preheat the oven to 180ºC (350ºF). Line muffin tins with muffin cases.

Start by melting together the 70% dark chocolate and the butter. I find it easiest to do this by placing the chocolate and butter in a heatproof bowl set over a pan of simmering water. Ensure the water does not touch the bowl and stir occasionally until melted. Remove from the heat.

150 g dark chocolate,

75 g butter

In a large bowl add the mashed sweet potato and pour over the melted chocolate and butter. Using a balloon whisk (or a wooden spoon) mix together well.

Add in the eggs, one at a time, mixing well after each one. Next incorporate the milk, sugar, vanilla and salt - the mixture should be smooth and runny.

2 large eggs,

250 ml milk,

150 g soft light brown sugar,

½ teaspoon vanilla extract,

pinch of salt

Switch to a wooden spoon or spatula and gently fold in the flours, cocoa powder, baking powder, bicarb and chocolate chunks.

110 g spelt flour,

110 g plain flour,

30 g cocoa powder,

1 tablespoon baking powder,

1 teaspoon bicarbonate of soda,

150 g dark chocolate chunks

Divide the mixture between the holes of your muffin tin - when I made this recipe using regular muffin cases I got 15 muffins. Bake for about 20 minutes - they are ready when a skewer inserted into the centre of the muffin comes out clean.
Notes
The recipe makes about 15 regular sized muffins. When I made this recipe to take photos I filled those huge tulip muffin cases really full and got 10 muffins. If you want to make mega muffins, you'll need to bake for around 25 minutes.
These muffins are seriously chocolatey and not super sweet - if you prefer a less intense flavour then I recommend you substitute 70% dark chocolate for something with around 50% cocoa solids and replace the cocoa powder with the same amount of flour.
Use any kind of milk you like - I have used both cow's milk and almond milk to good effect.
Nutrition
Calories:
275
kcal
|
Carbohydrates:
38.3
g
|
Protein:
5.1
g
|
Fat:
12.1
g
|
Saturated Fat:
6.4
g
|
Polyunsaturated Fat:
1.3
g
|
Monounsaturated Fat:
3.4
g
|
Cholesterol:
38.2
mg
|
Sodium:
315.1
mg
|
Potassium:
330.7
mg
|
Fiber:
3.3
g
|
Sugar:
18.2
g
|
Vitamin A:
168.2
IU
|
Vitamin C:
0.4
mg
|
Calcium:
91
mg
|
Iron:
2.2
mg
Did you make this recipe?
Leave a comment below with how you got on and don't forget to give the recipe a rating ⭐️⭐️⭐️⭐️⭐️. You can also tag @eatloveeats on Instagram - we love to see your creations!