This post contains affiliate links from which we could earn a small commission. Please read our Privacy Policy for more information.
These apple oatmeal muffins are so quick and easy to prepare. They're enriched with nutty brown butter, fall spices and dotted with chunks of apple to make the best autumn snack or breakfast. You definitely can't forget to drizzle these oatmeal muffins with the brown butter caramel before devouring them!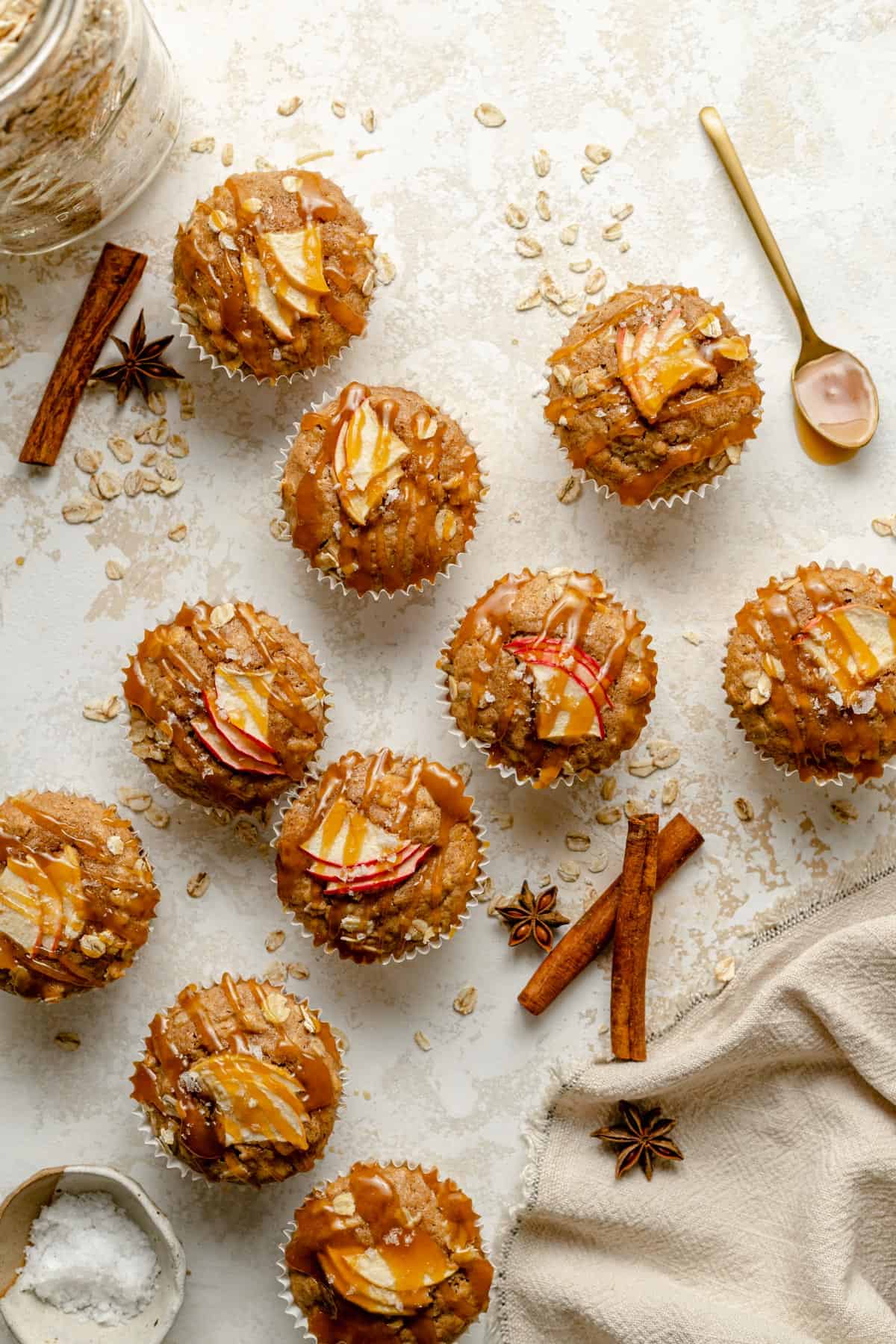 We've been blessed with a blast of nice weather at the end of summer this year, which has been absolutely needed in the run up to autumn. I am definitely feeling ready for autumn now though. There's one thing I always associate with fall and that's baking. We've been baking up a storm testing recipes for you. And today, we've got a beautiful apple oatmeal muffin recipe for you. Perfectly light and fluffy with complementing nutty flavours from the brown butter.
I LOVE brown butter. I mean who doesn't? The French have got a way better name for it though; beurre noisette, meaning hazelnut butter. It really does taste so delicious and nutty. We've got some other recipes you may want to check out that use brown butter. Check out this pumpkin gingerbread or this plum and blackberry crisp; they're both perfect at this time of year too.
These apple oatmeal muffins are so reminiscent of apple pie, it's unreal. Warming spices and crisp apples are the perfect combo, right? Still with me? Now just imagine apple pie flavours drifting from the oven and then topping these divinely scented muffins with a brown butter caramel drizzle. The caramel just takes these to the next level... I mean we all love sweet, salty and nutty brown butter caramel right? Don't feel daunted about caramel, it is so quick to put together you'll be enjoying these in no time! Just look at that drizzle in the photo below if you need any more convincing! 🤤
Let me know in the comments what you enjoy most about fall baking and what you love about these muffins. Don't forget to leave a rating on the recipe too! 😍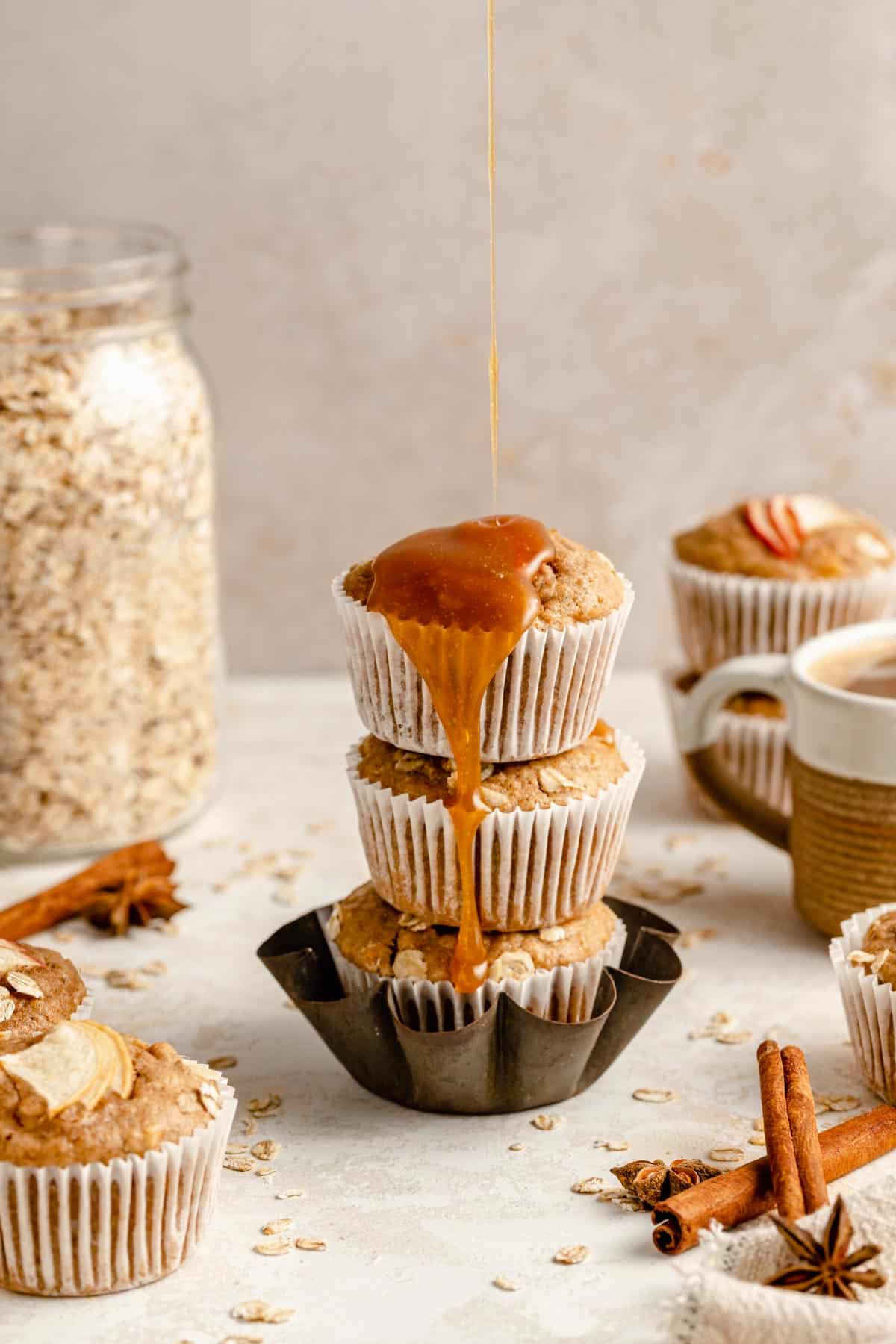 What ingredients do I need for these oatmeal muffins?
These muffins only need simple ingredients which are easily available in most grocery stores; there are some suggestions below if you can't find certain ingredients. You'll need the following: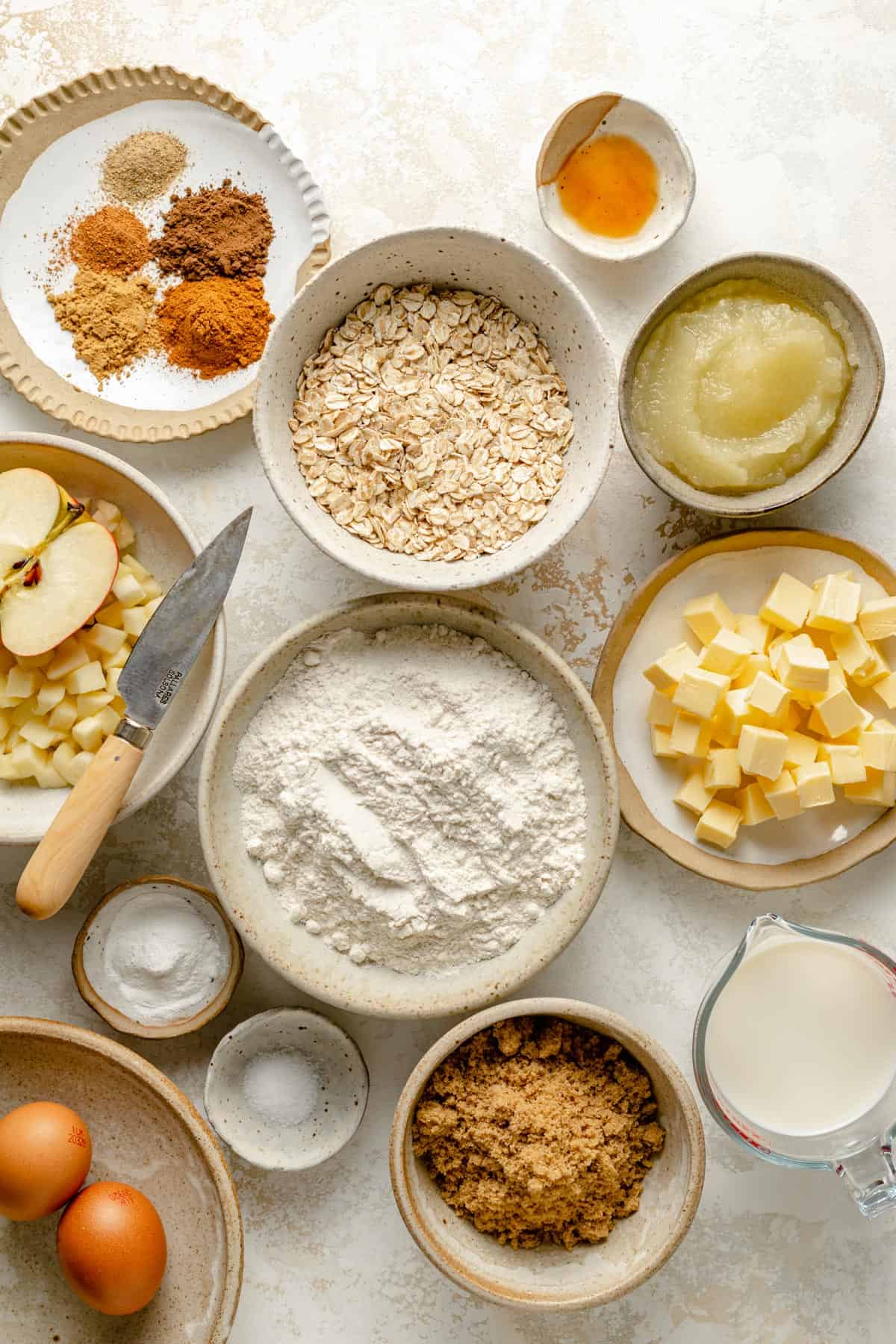 Dry Ingredients - you'll need standard all purpose flour for these muffins, old fashioned rolled oats (I like the jumbo ones), baking powder for your raising agent and fine sea salt to enhance all the flavours.
Sweetener - the muffins get a bit of sweetness from soft brown sugar which also adds a caramel flavour. You can use coconut sugar as a substitute if you like.
Spices - you'll need your apple pie inspired ground spices: cinnamon, ginger, allspice, nutmeg and cardamom.
Wet ingredients - you'll need medium eggs (US large), milk (we use dairy but any non dairy alternative will work) and apple sauce (we use smooth applesauce, in the UK this is available in the condiment aisle at most supermarkets but make sure it's smooth). You will also need a quality vanilla extract.
Butter - I use unsalted butter to create our brown butter as we add salt separately in this recipe but salted butter works well too.
Fruit - to make these apple oat muffins we use a nice crisp, sweet but tangy apple, such as a pink lady, or you can use a honey crisp. Anything will do, just steer clear of any floury apples if you can.
Toppings (optional) - you can top the muffins with additional old fashioned rolled oats, chopped hazelnuts and sliced apple on top.
For the caramel - the caramel is so easy to make and you'll only need salted butter, soft brown sugar, double/heavy cream and a little vanilla extract. You won't regret making this quick caramel.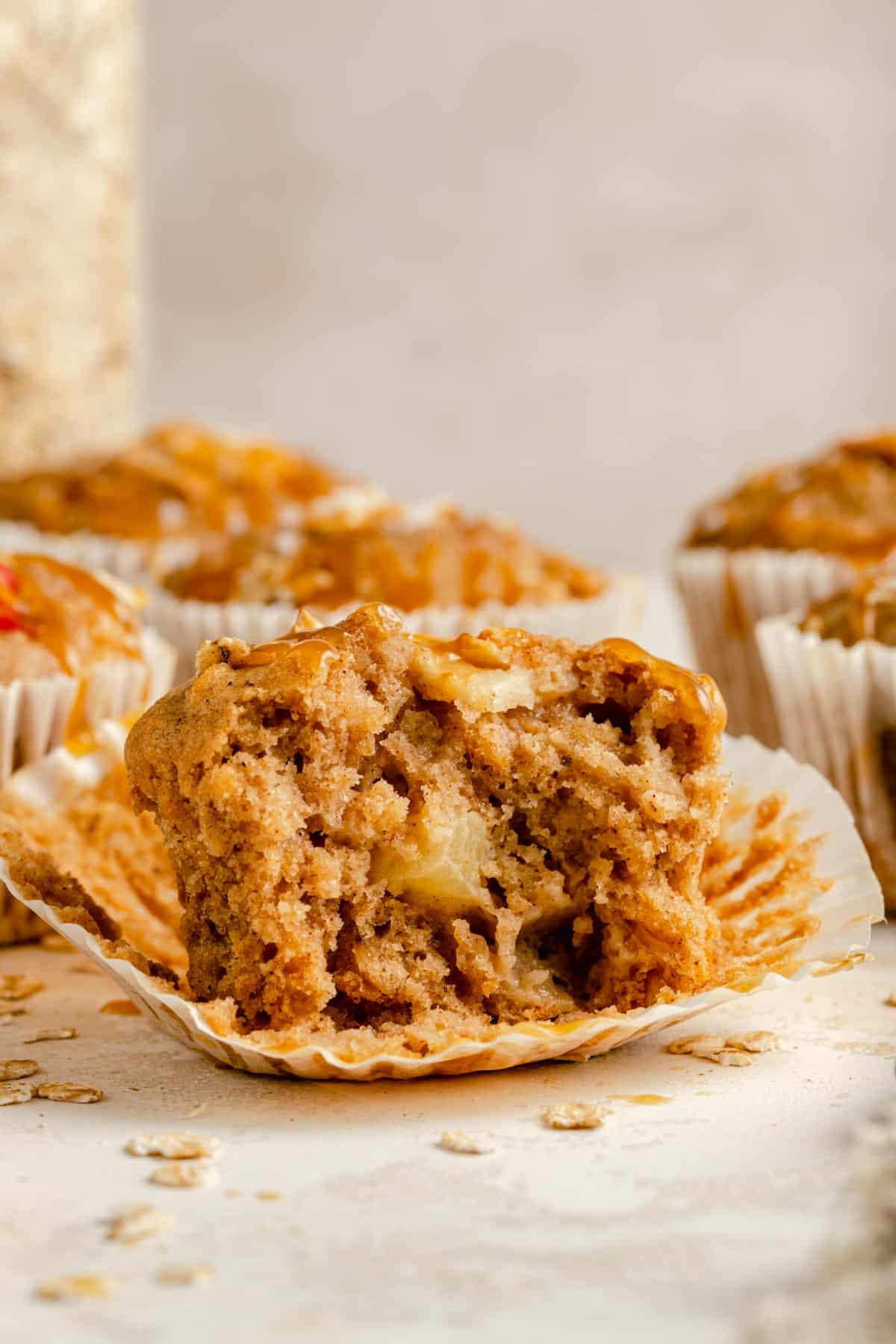 Change it up a bit with these customisations
Fancy changing it up a bit? Here are some suggestions:
Change the fruit - Pears are lovely at this time of year too and you can switch out directly for the apple. I would highly recommend using a crisp pear though, not one that will disintegrate when cooking as it might knock off the moisture content of the muffin.
Make it gluten free - You can make these gluten free if you like by directly substituting out the all purpose flour for gluten free all purpose flour. Just ensure your oats and baking powder are also gluten free friendly.
I would not be able to recommend making these apple oat muffins vegan as I have not specifically tested the recipe with dairy free butter or a flax egg. If you do give it a go though, let us know how you get on in the comments!
How do I make these apple oatmeal muffins?
These autumnal oatmeal muffins take no time to throw together. Once you've got all your ingredients ready, this step by step guide will help you have a successful fall baking session.
Brown your butter by constantly whisking the butter in a pan over medium heat until it foams and turns brown, then set aside to let cool slightly.
Whisk together the flour, oats, soft brown sugar, baking powder, spices and salt in a medium bowl and set aside.
Whisk together the eggs, milk, applesauce, slightly cooled brown butter and vanilla extract until combined.
Tip #1 - Keep an eye on the brown butter as it can catch and burn quite quickly. Once browned, pour into a separate bowl to stop the browning process.
Add your dry ingredients to the wet ingredients.
Stir to combine it all together, don't overwork it though, some streaks of flour are just fine.
Gently fold the cubed apple throughout the muffin batter.
Tip #2 - Over mixing the muffin batter will lead to a tough muffin crumb as the gluten starts to build. We want light muffins 😚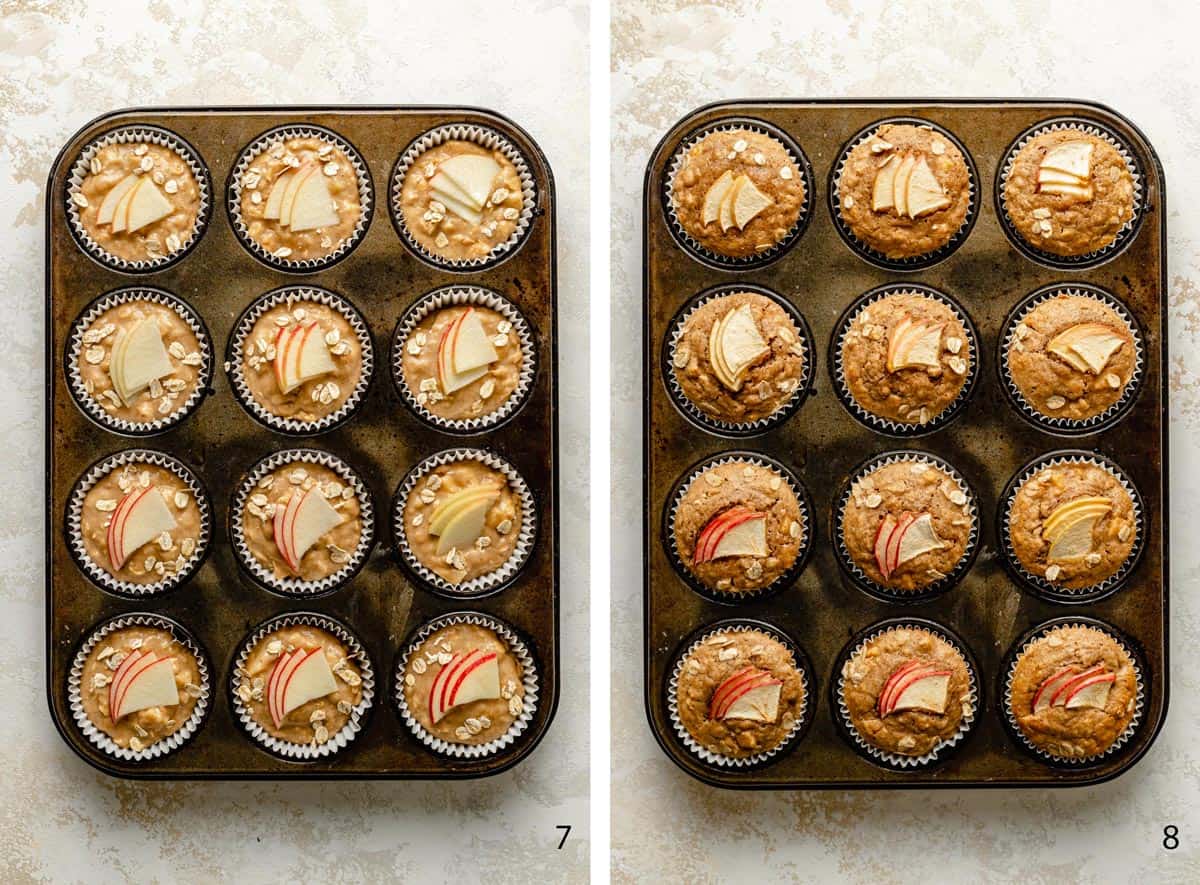 Divide the batter evenly between 12 muffin cases and top with the oats and apple slices if using.
Bake the muffins at 180C/350F for 20-25 minutes until a toothpick comes out clean.
Brown Butter Caramel
Get all your caramel ingredients ready as this is a very quick caramel to make.
First brown the butter like above over a medium heat, until foamy and brown. Don't let it cool.
Quickly add and whisk the brown sugar through the browned butter.
Immediately pour in the cream and whisk together. Keep whisking, it will bubble up and thicken, take it off the heat when thickened and stir through the vanilla extract.
Want to keep these for later?
How to store these apple oat muffins

I would recommend storing these muffins in an airtight container for up to 3 days, if you have drizzled over the caramel I'd recommend transferring them into the fridge, but ideally I would recommend storing them without the caramel drizzle.

We have not tried freezing these, but imagine they would be fine for up to 3 months stored well wrapped in an airtight container. Just make sure to freeze without the caramel on top and then defrost before eating. 
Must try fall baking recipes...
I hope you love these apple oatmeal muffins with brown butter caramel as much as we do. If you make them, be sure to leave a comment, rate the recipe and tag me on Instagram! I love to see your creations!