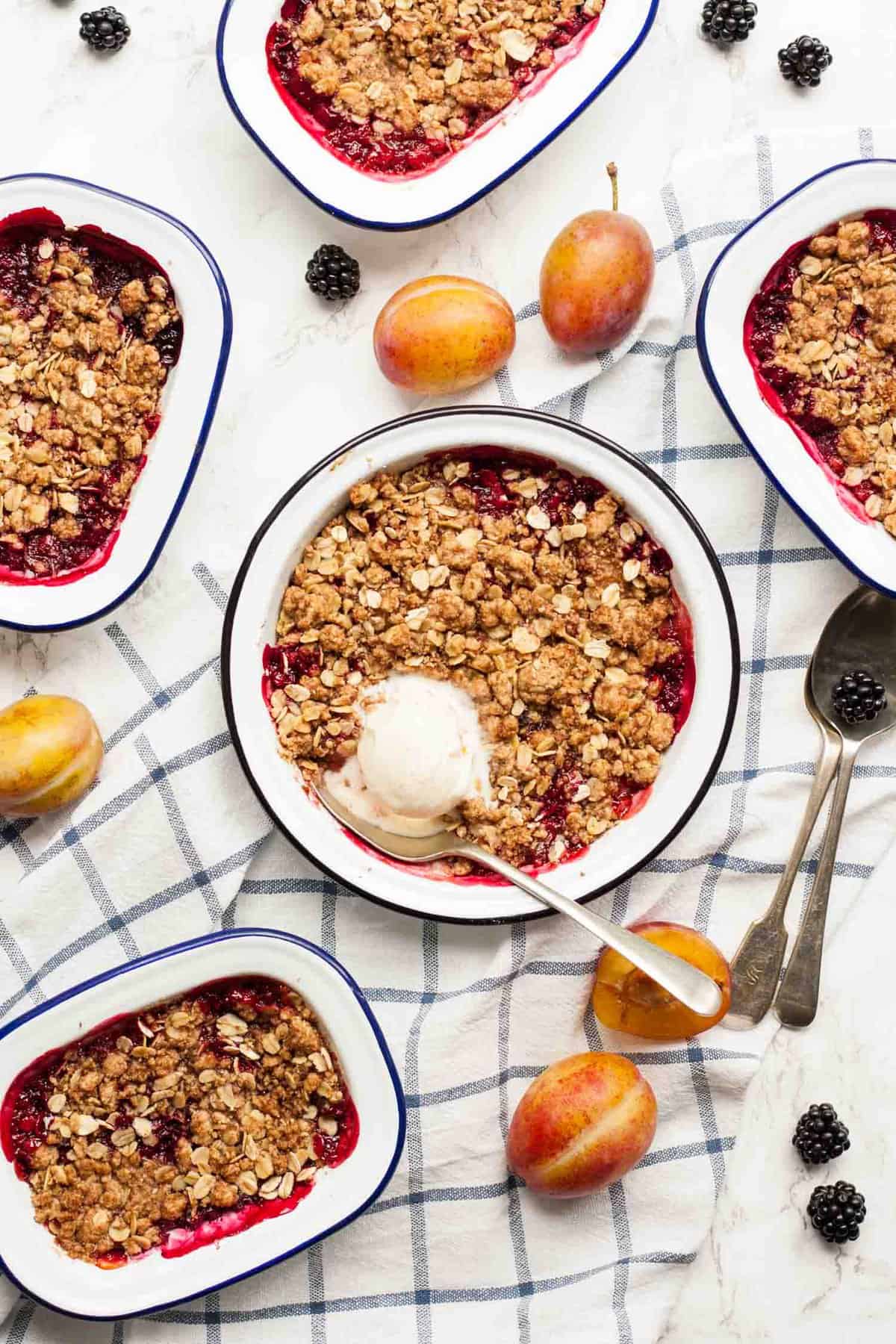 I wasn't sure whether to call this a crumble or a crisp. To call it a crumble would be true to my roots, but a quick search on the internet told me that the main difference between a crumble and a crisp was the presence of oats in the topping and well, I did indeed use oats. So here's my Plum and Blackberry Crisp (though if you wanted to call it a Plum and Blackberry Crumble that would be just fine with me too).
Is there anything more autumnal than a crumble/crisp? It's hard to believe that we're almost in Autumn, especially with the mini-heatwave we've had this week! 29°C in September?! Err, yes please! But I dunno, despite being a die-hard lover of all things summer, I'm ready for some autumnal food, aren't you? I'm ready for some cosy stews, warming soups and of course, a hot, bubbling plum and blackberry crisp to make use of the abundance of late-summer fruits we have available. Topped off with a huge dollop of ice cream, of course.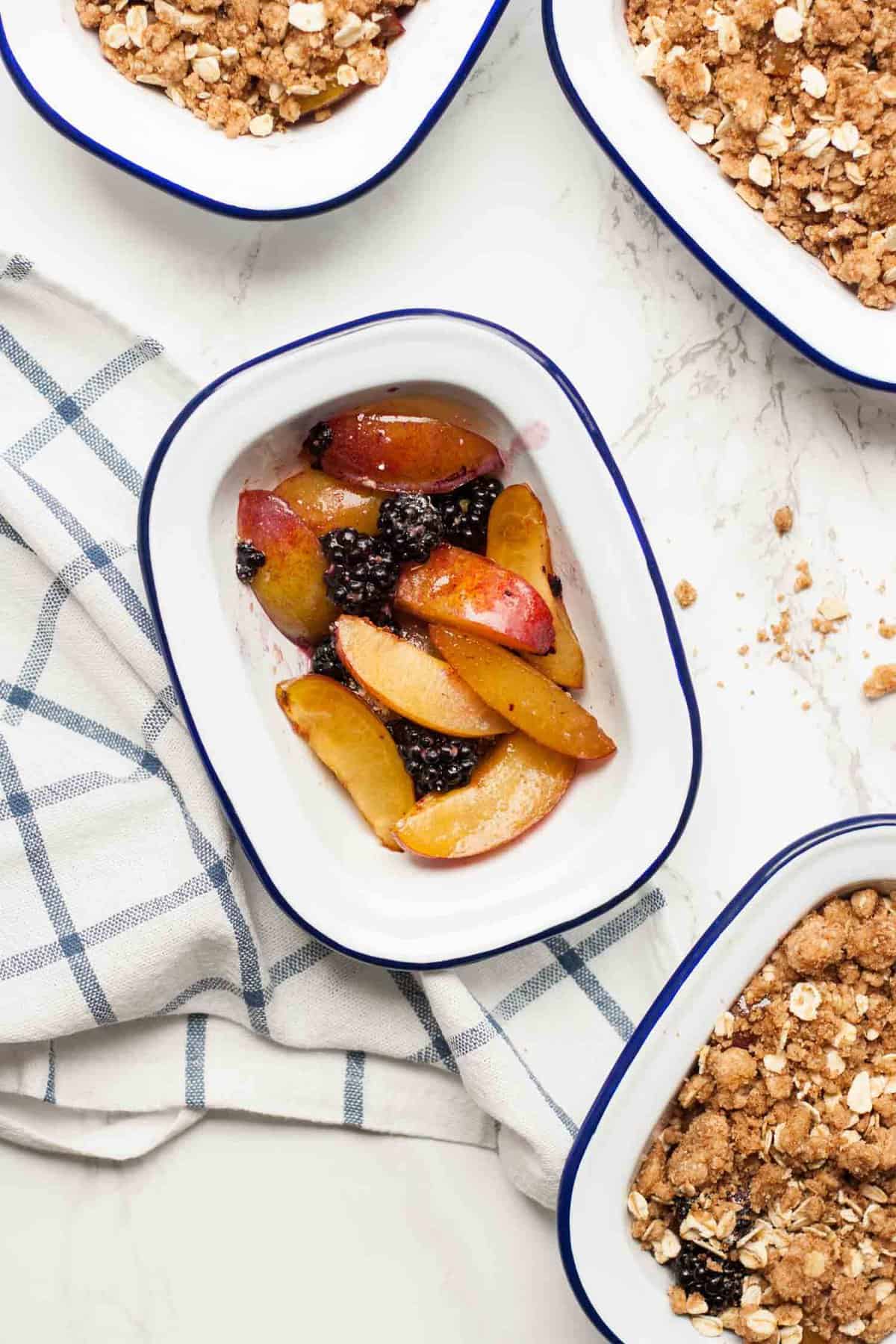 One of my favourite late-summer rituals is to go foraging for blackberries in the fields not far from my house. There's just something so satisfying about going for a stroll, tupperware (or basket, if you're fancy) in hand, to pick those bountiful berries. The air is still warm, the landscape is green and pleasant, the cows are munching the grass... and I'm struck with a wave of gratitude. I'm so lucky to be here on this beautiful, plentiful planet. In just a few strides from my house I'm able to pick handfuls upon handfuls of the sweetest, juiciest berries - what a gift! So let's put them to good use, shall we?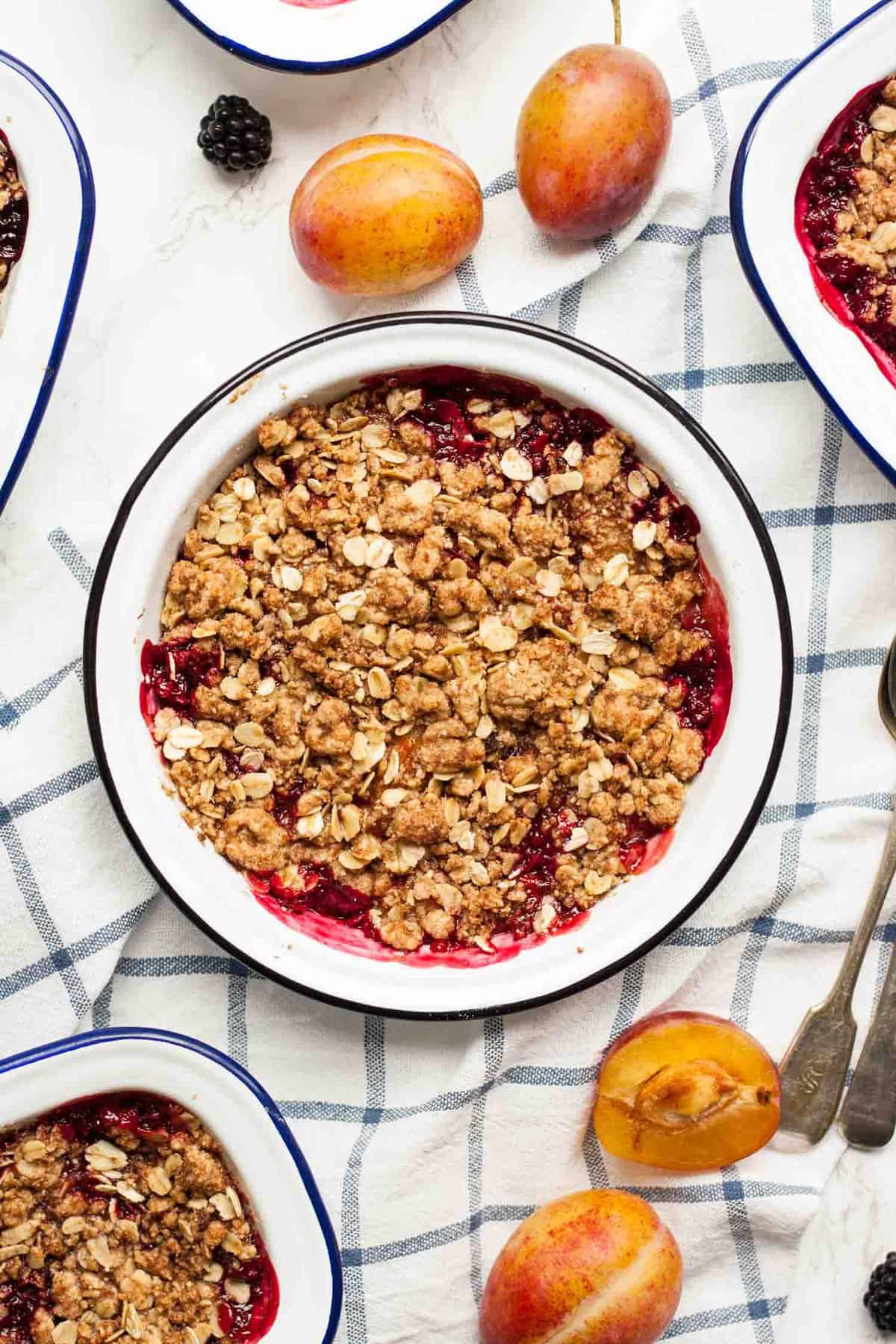 I wanted to pair the blackberries with another favourite of mine - plums. For this I used some of our wonderful Victoria plums and their sweetness paired beautifully with the tart blackberries. In fact - this was by far the most delicious crumble/crisp I've made in quite some time! And of course, the colour the fruits made as they mingled together and bubbled up through the crisp topping was a bonus too! Mmm yes, I'd like an extra thick jumper in that exact shade please.
The crisp topping is so good I could eat it all by itself! For extra flavour I browned the butter (always a good idea!) and left it to harden again in the fridge. I then used a combination of spelt flour (my new favourite flour, can you tell?), rolled oats, ground almonds, soft brown sugar and warm spices to make a nutty, caramely topping that you'll want to just eat straight from the bowl with a spoon! The smell of the brown butter combined with the spices is intoxicating, you've been warned!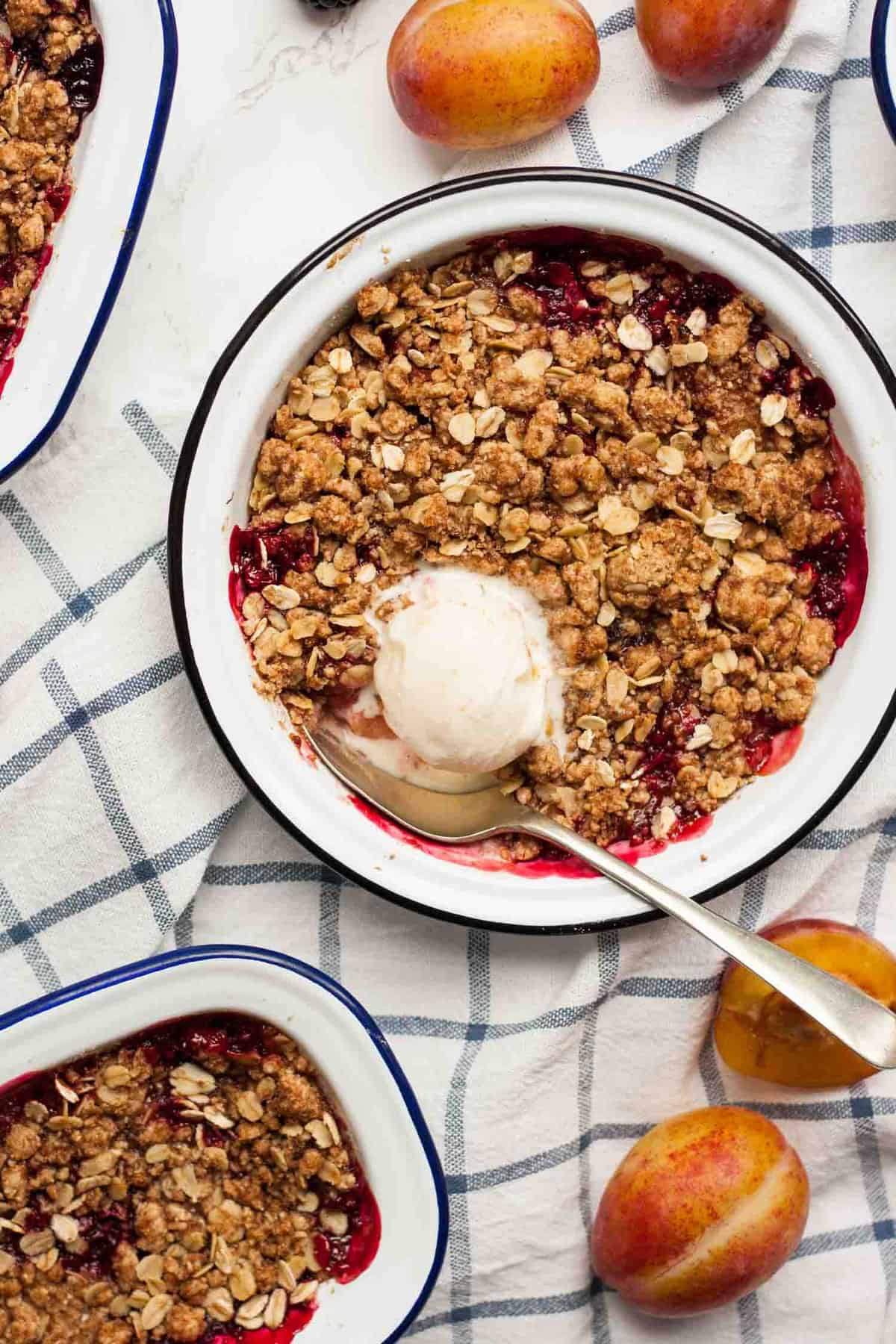 So what are you waiting for? Go and get yourself some blackberries and plums, potter around in the kitchen for a bit, then wrap yourself up in a jumper (weather permitting - shorts and t-shirt are just as good) and cosy up and share this plum and blackberry crisp with somebody you love. I can't think of a better way to usher in the Autumn, can you? If you like this, you'll absolutely love this Easy Pear and Chocolate Crumble (Gluten Free). Or if you have some late summer strawberries try our Strawberry Crumble which is just epic!
Related Recipes
📖 Recipe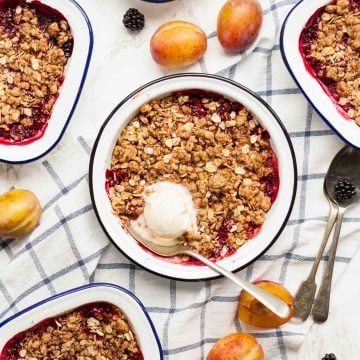 Ingredients
100

g

unsalted butter

,

(7 tablespoons) diced

110

g

spelt flour,

(1 cup)

50

g

rolled oats,

(½ cup)

25

g

ground almonds

,

(¼ cup)

50

g

light brown sugar

,

(¼ cup)

25

g

dark brown sugar,

(2 tablespoons)

½

teaspoon

ground cinnamon

¼

teaspoon

freshly ground nutmeg

pinch of salt

450

g

plums

,

(1 lb)

150

g

blackberries

,

(1 cup)

3

tablespoons

light brown sugar

2

teaspoons

spelt flour
Instructions
Start by browning the butter. Place the butter in a small saucepan and set over a medium heat. Once the butter has melted, keep cooking, swirling every now and then, until the milk solids turn a reddish brown and start to smell fragrant. This should take around 5-10 minutes. Remove from the heat and pour into a small heatproof bowl. Leave to cool until the butter has re-solidified. (You can speed this process up by placing the bowl into the freezer for about 10 minutes).

Preheat oven to 180°C (350°F).

Place the flour, oats and ground almonds in a large bowl and mix together. Dice the browned butter and add this to the dry ingredients. Rub the butter into the dry ingredients until it's the size of peas.

110 g spelt flour,

50 g rolled oats,

25 g ground almonds

Stir the sugars, cinnamon and nutmeg into the flour, salt, oat and butter mixture. Set aside.

50 g light brown sugar,

25 g dark brown sugar,

½ teaspoon ground cinnamon,

¼ teaspoon freshly ground nutmeg,

pinch of salt

Remove the stones from the plums and chop each half into 4. Place into a bowl with the blackberries and sprinkle with the sugar and flour. Mix briefly.

450 g plums,

150 g blackberries,

3 tablespoons light brown sugar,

2 teaspoons spelt flour

Divide the fruit between 6 small pie dishes or one regular size pie dish. Sprinkle the crumble mixture evenly over the top and lightly press down.

Bake for 25 minutes or until the crisp topping is golden brown and the fruit has bubbled up around the edges.

Serve warm with plenty of vanilla ice cream.
Nutrition
Calories:
345
kcal
|
Carbohydrates:
48.6
g
|
Protein:
6.3
g
|
Fat:
14.2
g
|
Saturated Fat:
8.6
g
|
Polyunsaturated Fat:
0.6
g
|
Monounsaturated Fat:
4
g
|
Cholesterol:
35.8
mg
|
Sodium:
392
mg
|
Potassium:
392.2
mg
|
Fiber:
6.6
g
|
Sugar:
20.9
g
|
Vitamin A:
129.5
IU
|
Vitamin C:
12.4
mg
|
Calcium:
36.1
mg
|
Iron:
1.6
mg
Did you make this recipe?
Leave a comment below with how you got on and don't forget to give the recipe a rating ⭐️⭐️⭐️⭐️⭐️. You can also tag @eatloveeats on Instagram - we love to see your creations!